Hudson & Co – Fine Ales, Premium Beef Gourmet Burgers at Surfers Paradise Gold Coast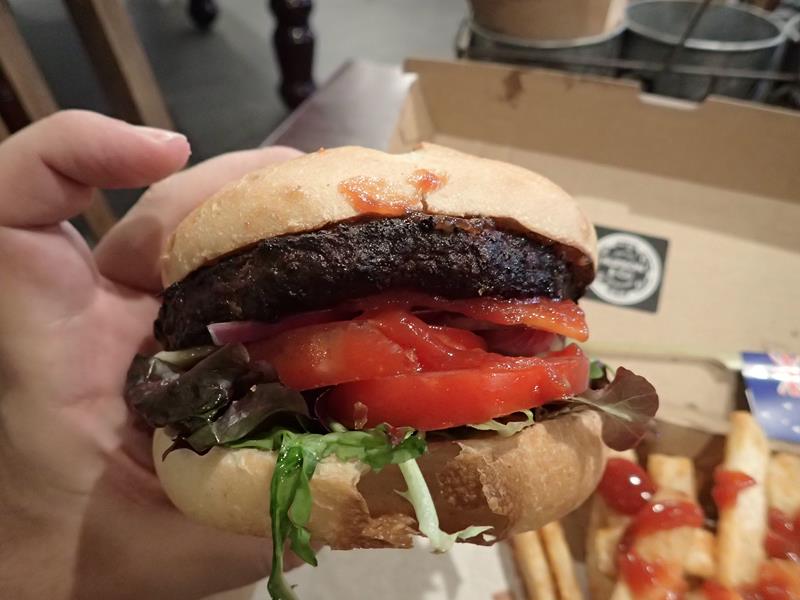 SORRY – THIS RESTAURANT HAS CLOSED FOR BUSIENSS
Hudson & Co didn't last long! I think they had problems getting their liquor license so were unable to sell the Fine Ales and Premium beer which is where they would have made their money. Don't think there is much money in just selling burgers!
********************************************
Hudson & Co is the latest restaurant to open in the arcade right next to the Hilton Hotel Surfers Paradise. The arcade runs between Orchid Avenue and the Surfers Paradise Boulevard. Hudson & Co opening at the beginning of May 2015.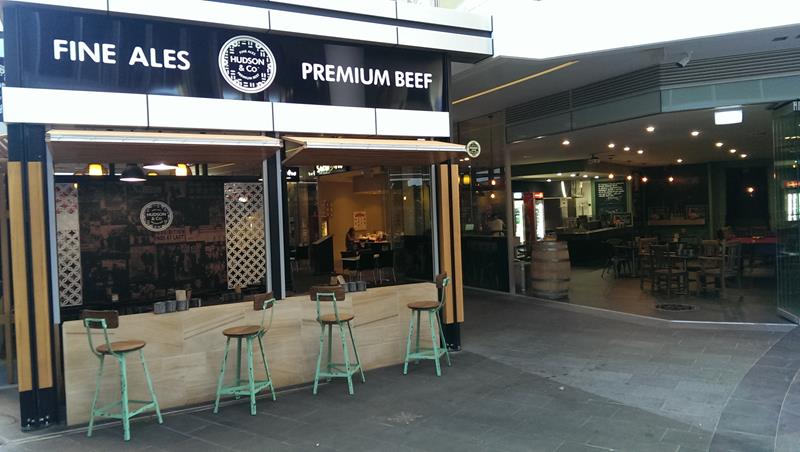 Hudson & Co specialise in gourmet burgers beef with a choice of the premium 180g Angus Beef or a moist chicken breast. The selection of burgers includes the Classic Australian with tomato sauce, tasty cheese and beetroot relish, the All American with ketchup, red USA cheddar cheese, mustard, pickles and mayo coleslaw, the Mexicana with sour cream & salsa with sliced cheese & guacamole, the Spicy Thai with sweet chilli & Thai peanut satay sauce and fresh coriander, the Hot Indian burger with chilli mango chutney with roasted red pepper and mint yoghurt and the Fiery Italian with basil pesto, spice Italian coulis and shaved parmesan cheese.
All of the Gourmet Burgers are served with beer battered platter cut chips and cost $14.95. You can get them to add extra beef or chicken for an extra $4.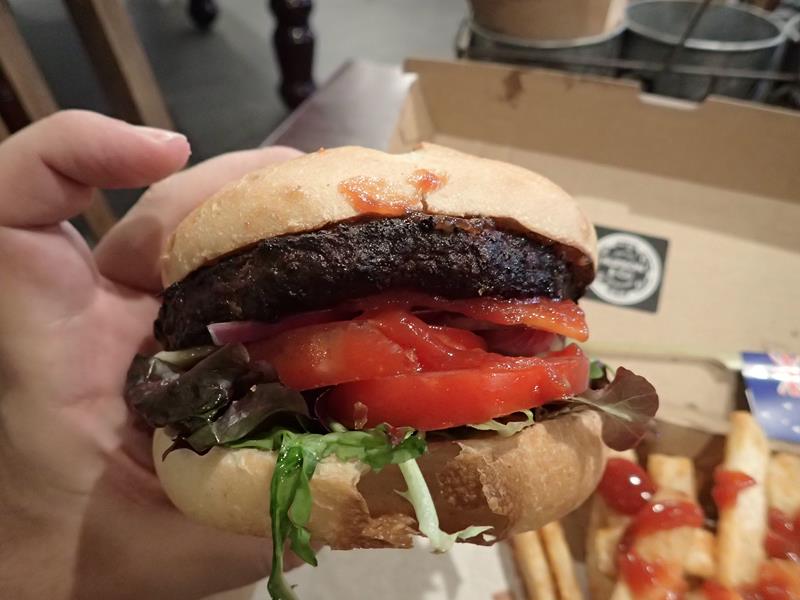 I went in for dinner and tried the Classic Australian Burger (pictured above) and it is a really good quality burger. The bun stays in together until the end so no soggy bun and pieces falling off. The beetroot relish gives the burger just the sweetest extra flavour. All of the beef burgers are cooked medium (you can ask to cook less or more). Somehow the manage to cook the outside well done though when you bite in the inside of the burger is still slightly pink and full of flavour. I rate these burgers as excellent!
Even if you are dining in, they serve the burgers in a cardboard box, I guess that saves them on the washing up!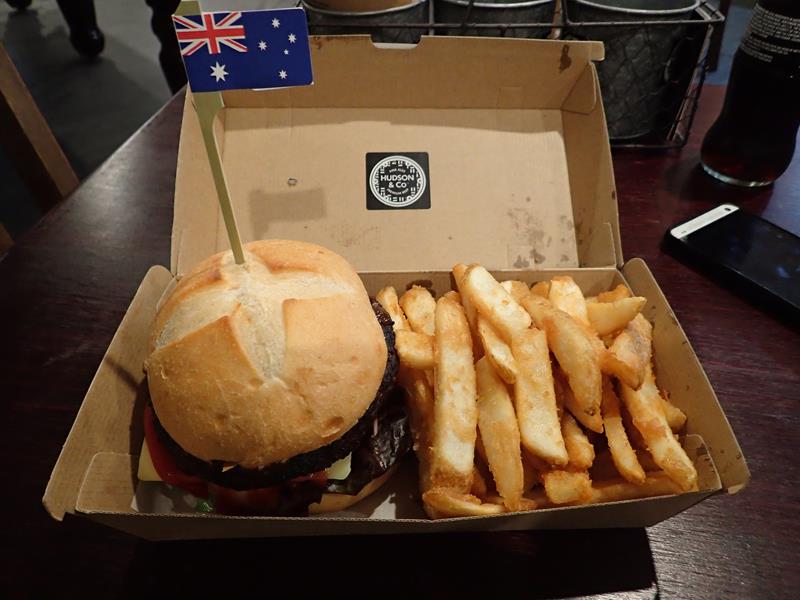 Inside the restaurant they have some nice large, comfy sofas to sit back and enjoy your meal. There is also a pool table right in the centre which you can play for free!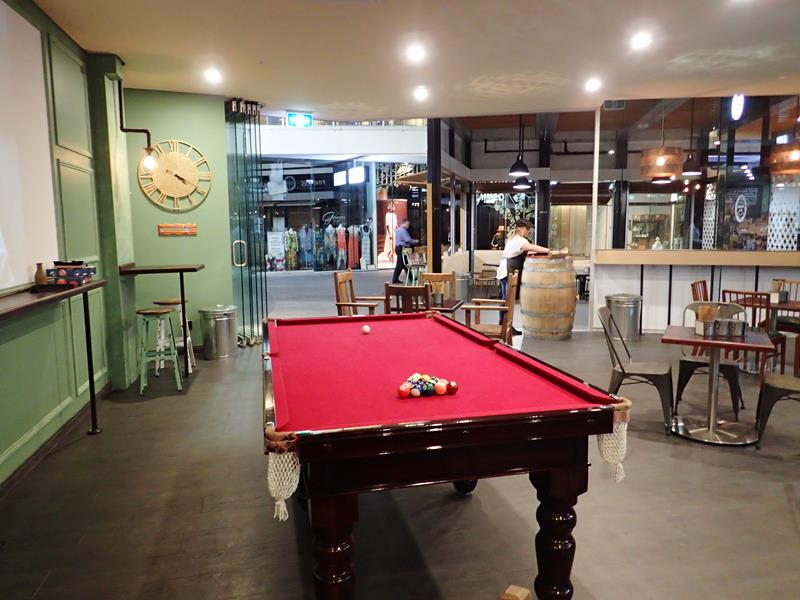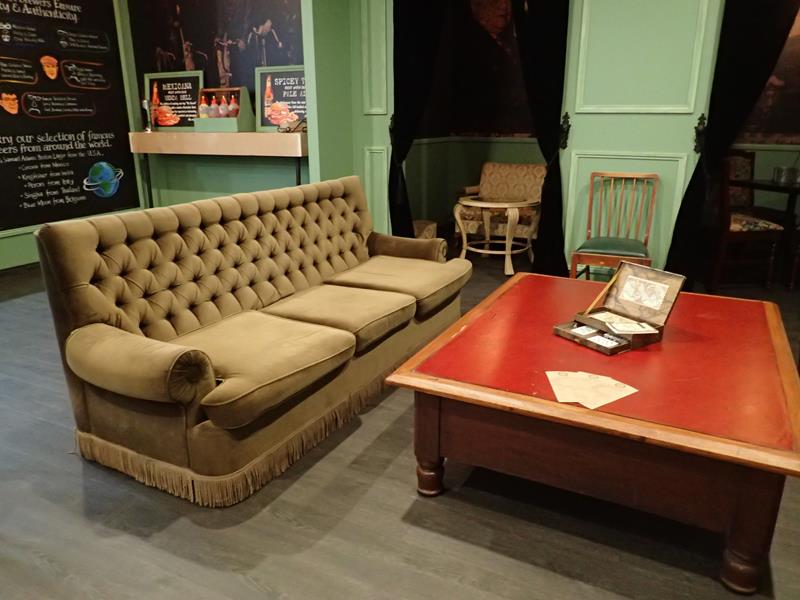 Hudson & Co have hand picked some fine ales and lagers that are matched to each of the different type of burgers. Here is the list of ales and lagers and the burger they are matched with:
(At the time this article was written Hudson & Co were waiting for their liquor Licence so none of these beers were in stock for me to try)
Yenda Golden Ale – Classic Australian Burger
Yenda Pale Ale – Spicy Thai Burger
Yenda Indian Pale Ale – Hot Indian Burger
Yenda Red – All American or Mexicana Burger
Yenda Hell – Fiery Italian Burger
Coors – All American Burger
Corona – Mexicana Burger
Singha – Spicy Thai Burger
Kingfisher – Hot Indian Burger
Peroni – Fiery Italian
They also stock Blue Moon and Samual Adams beer which are good to drink with any of these burgers.
Hudson & Co is open 7 days a week from 10am – 10pm.
Hudson & Co
High Street Arcade
3113 Surfers Paradise Boulevard
Right next to the Hilton Hotel
Surfers Paradise
Ph: no phone connected yet!
Website: No website yet!