Best Sports Pub in Seminyak – The GOAT – The Pub In Seminyak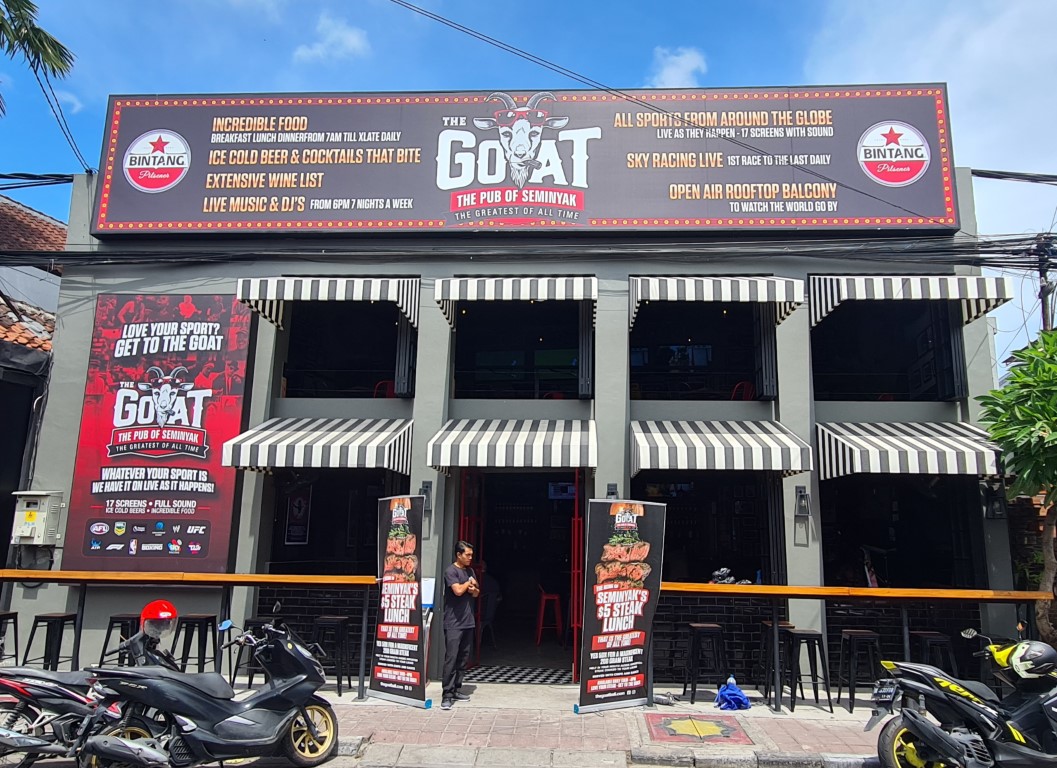 The GOAT – The Pub Of Seminyak is an awesome sports bar / pub opened in June 2022. They have even label themselves as The Greatest Of All Time ( GOAT, get it?). Located on the busy Jalan Kayu Aya street which I class as the heart of Seminyak, just few hundred meters up from Seminyak Square. This awesome sports bar / pub has 18 TV screens across 2 levels showing live sport including AFL, NRL, UFC, EPL, Formula 1, MotoGP and loads of other international sports and all the live horse racing from Australia. They even got TV screens in the toilets so you don't miss any of the action from any live sport.
They have an awesome food menu serving a great range of pub food including steaks, burgers, fish and chips, BBQ pork ribs, chicken parmi's, bangers and mash, spicy chicken wings, southern fried chicken, gyros and wraps and salad for your vegetarian girlfriend. They are open for breakfast, lunch and dinner and have a bar snack menu for a late night feed or snacks throughout the day. The only dessert on the menu is The Vegas Ice cream Sundae 79Krp. This is a family friendly pub and they do have a kids menu. See menus below for all the food they serve.
The Goat serve a small Bintang beer for 48k which is a little bit higher than other pubs in the Seminyak area but you paying a bit more for all the live sports and great venue. They do not have draft on tap beer, just bottled beer.
I went in for lunch and was very tempted to have the Chicken Parmi but the waitress warned me that these are a are huge meal as the parmi's are 1kg large! That is a big load of Chicken parmi! I ended up having the Fish and Chips instead which was very tasty. All the food looked awesome and big servings. I saw the BBQ ribs, burgers, fried chicken pieces which were not pygmy chicken pieces but decent sized chicken. Also saw the boa buns which looked good, and Caesar salad looked a decent feed too (for your gf).
They also had a deal on for their $5 Steak. All you had to do was buy one drink and then you pay 50,000Rp for their 200g steak served with chips. I saw them come out and they looked good quality if not a little small. 200g is not a big steak but a good deal for only 50,000Rp.
They have live music in the evenings or a DJ playing cool tunes. There is also free WiFi internet access.
The staff were very friendly and relaxed, who like to have a laugh and branded with Tshirts labelled 'Your Thirst Aid Assistant' on the back.
They accept cash or credit cards,
There are 6 large TVs downstairs (4 showing the racing) and 2 TVs in the downstairs toilets. Upstairs is a large area with a smaller bar with 10 TVs and 1 toilet with a TV in it. Both downstairs and upstairs is very breezy with full open windows letting in fresh air. The only thing they didn't have is a pool table but still plenty of fun to have in this awesome pub / sports bar.
Both downstairs and upstairs is decorated with Sports Memorabilia with pictures of some of the GOATs of sports (Greatest Of All Time). From AFL, NRL, Cricket stars, NBA stars, boxing stars, all the best from sports around the world.
FOOD MENU PICS
The GOAT – The Pub in Seminyak
Jl. Kayu Aya A Oberoi No.176
Kerobokan Kelod
Seminyak,
Website: https://thegoatbali.com/
Check out their instagram for more pics if their food: https://www.instagram.com/thegoatseminyak/
Check out the location of The GOAT – The Pub in Seminyak