Food you have to try when you visit Singapore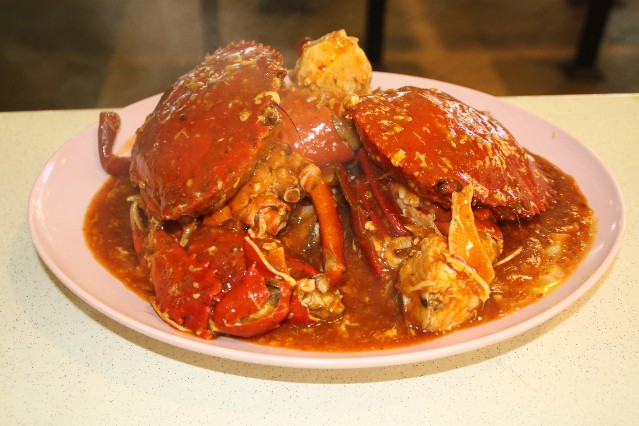 Singapore is truly a foodie heaven! With a great selection of traditional Singaporean food, Malay food, Indian cuisine and also some of the best international food from around the world, it is often hard to choose what food to eat. If you are visiting Singapore here is a list of food that you MUST TRY!
Singapore Chilli Crab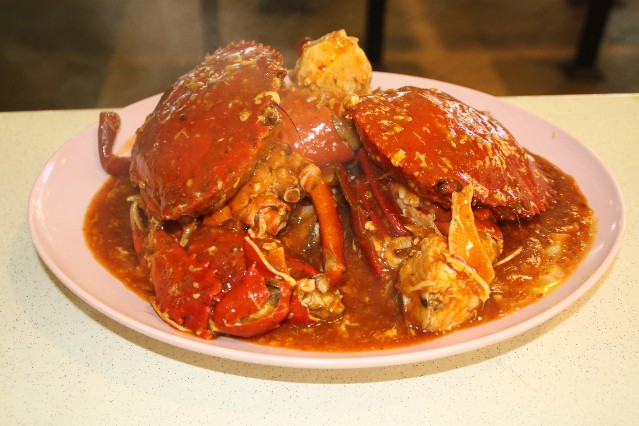 Singapore Chilli Crab is almost the national dish of Singapore. Huge crab covered with a red chilli sauce which is quite spicy. Often the chilli crab is served with some soft sweet bread buns which you use to soak up the rich chilli sauce. You will get your hands dirty eating this but that is part of the fun of Singapore Chilli Crab. You can find Sngapore Chilli Crab in lots of restaurants around Singapore. Our suggestion is to try it at the Newton Circus Food Hawker Centre. The price of Singapore Chilli Crab is costed by the weight of the crab so make sure you ask before ordering how much it is going to cost so there are no nasty surprises at the end of your meal.
Laksa Noodle Soup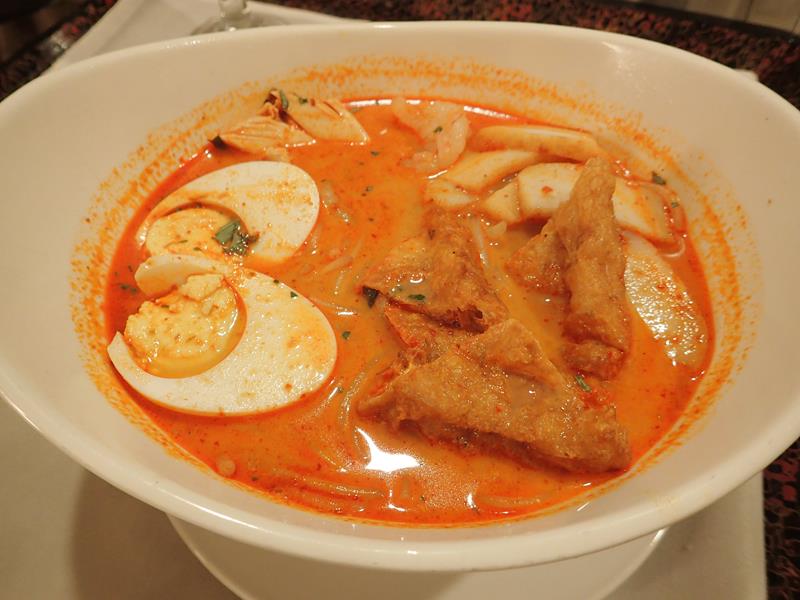 Laksa Noodle Soup is one of my all time favourite Singapore dishes. Each time I visit Singapore I have to have a bowl of this delicious spicy coconut gravy soup loaded up with loads of ingredients including prawns, chicken, fish cakes, boiled egg, vegetables and spongy baked tofu. It comes spicy and also served with a small dish of extra spicy sambal chilli paste which you can add to the soup to notch up the spiciness. Love it!
Chicken Satay Skewers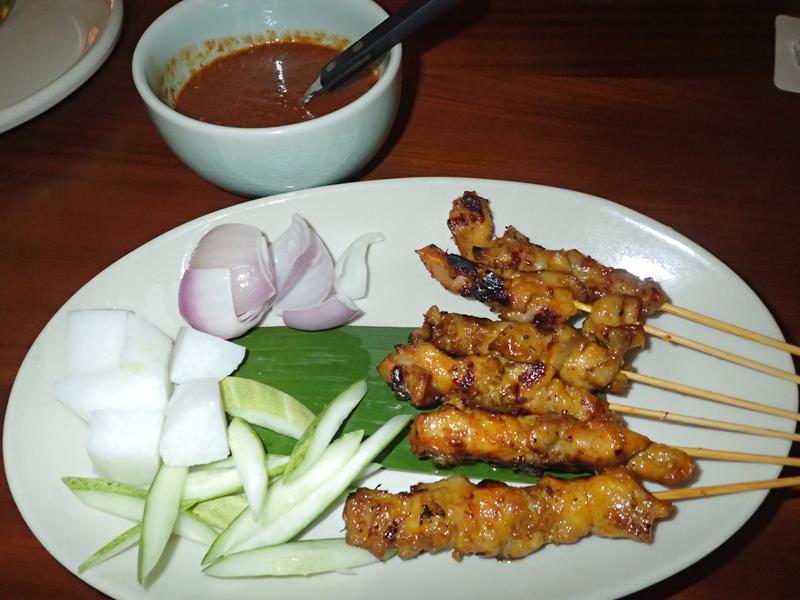 You can find Satay Chicken in all the countries of South-East Asia, Malaysia, Thailand, Vietnam and Indonesia though my favourite satay chicken is found in Singapore. Nice big chunks of chicken, grilled on the skewer and then topped with a thick spicy peanut sauce. Sometimes the peanut sauce is already poured over the chicken skewers but most times they serve the peanut sauce in a bowl and you can pour over yourself or just dip the skewer into the sauce and coat it with as much sauce as you want. Just delicious.
Bakkwa – BBQ Pork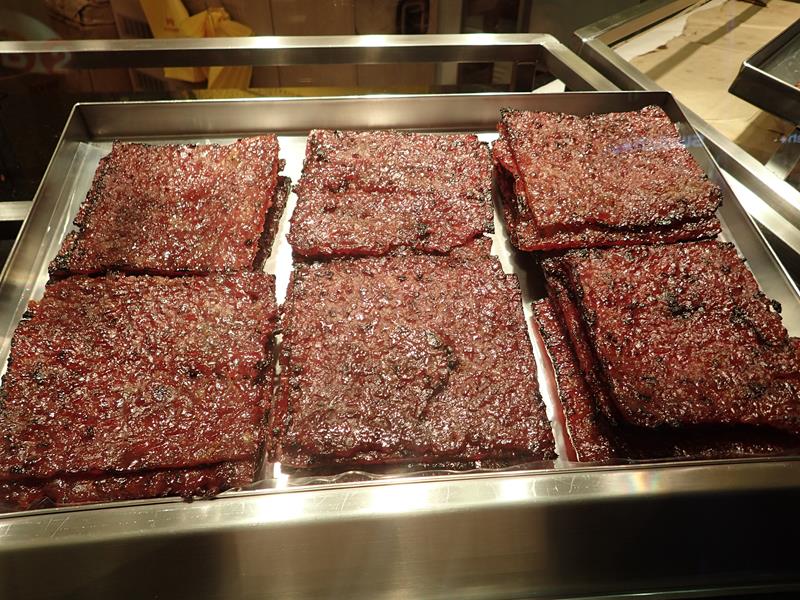 Bakkwa is Singapore's favourite BBQ meat. Square slices of roasted pork which is very chewy. If you like bacon then you will love bakkwa because it is better than bacon. Who ever said you shouldn't eat pork was so wrong! It comes in different flavours of spicy or sweet but always tasty. You pay for bakkwa by the weight. Prices are generally around S$52 per kilo. One slice will cost just over S$3 though you will want to buy more than one slice.
Black Carrot Cake and White Carrot Cake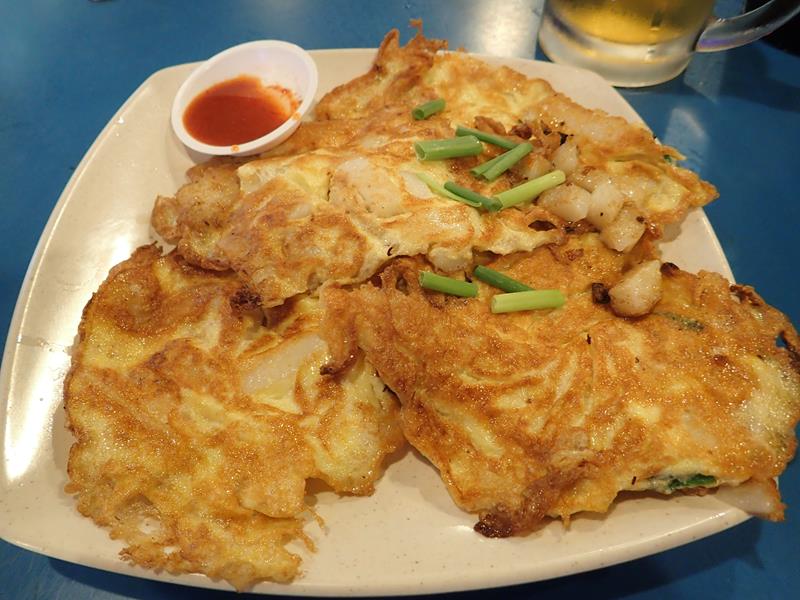 Now carrot cake in Singapore is not what you imagine, nothing like carrot cake back home, it is not even made with carrot! Carrot cake in Singapore is a delicious spongy, small rice noodle which comes from Southern China. In Singapore they cook the carrot cake with egg and make an omelette with loads of the carrot cake inside. A vegetarian dish which will satisify any meat eater. The Black Carrot Cake is more sweet as it is cooked with a sweet thick soy sauce.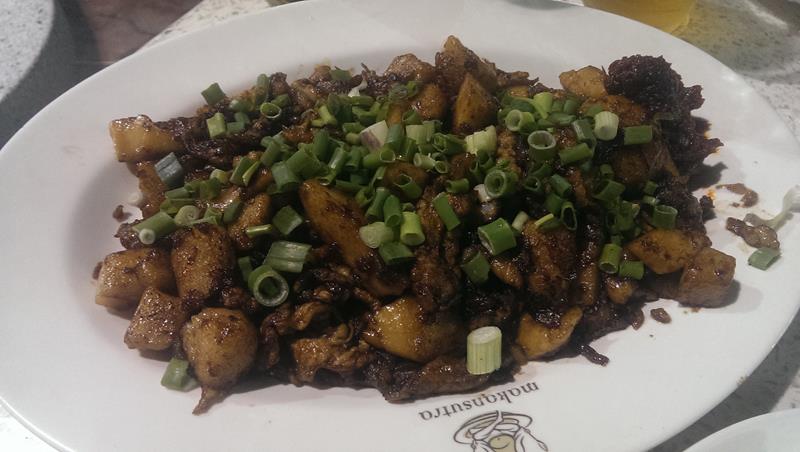 BBQ Chicken Wings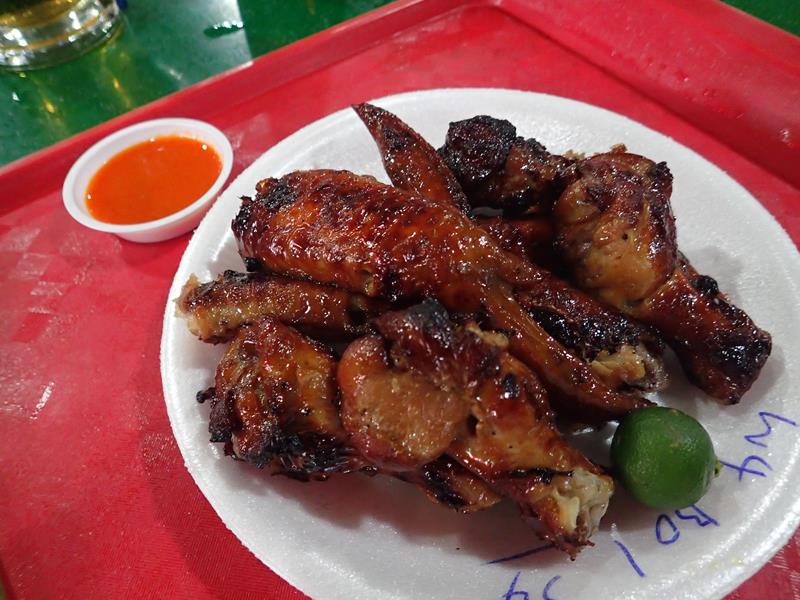 BBQ Chicken Wings is a very popular snack or meal in Singapore. In most hawker food centres in Singapore there is atleast 1 food stall that specialises in BBQ Chicken Wings. They take many hours to prepare as the chicken wings are marinated for several hours before being cooked over hot, flaming coals which give the wings the delicious BBQ flavour. In the food courts the chicken wings sell for around S$1.30, usually with a minimum order of 2 wings. So load up a plate with 6 or more will not be too expensive. This can be a great entree while you are waiting for our other food to be cooked at the food court. My favourite BBQ Chicken wings are sold at the Zion Riverside Food Centre (wings pictured above). They are served with a fresh lime to squeeze over the wings and also a small dish of super hot chilli sauce.
Banana Leaf Otah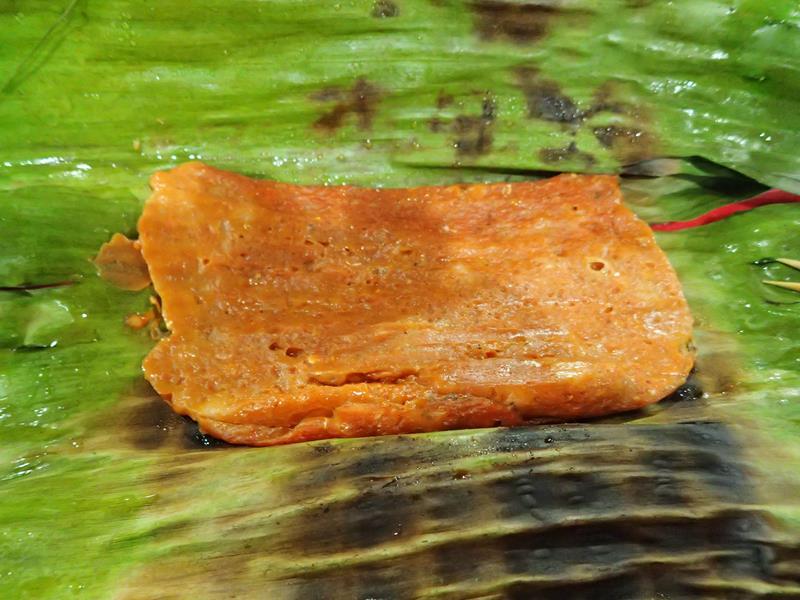 Banana Leaf Otah or often called Otak Otak, is a fish cake which is made with ground fish meat and mixed with tapioca starch and a mix of spices including curry powder, chilli paste, kaffir lime leaves, pepper, coconut milk and shrimp paste. The fish paste is wrapped in a banana leaf and then grilled over hot coals until cooked. You eat otak otak as a side dish and is simply delicious.
Singapore Chicken Rice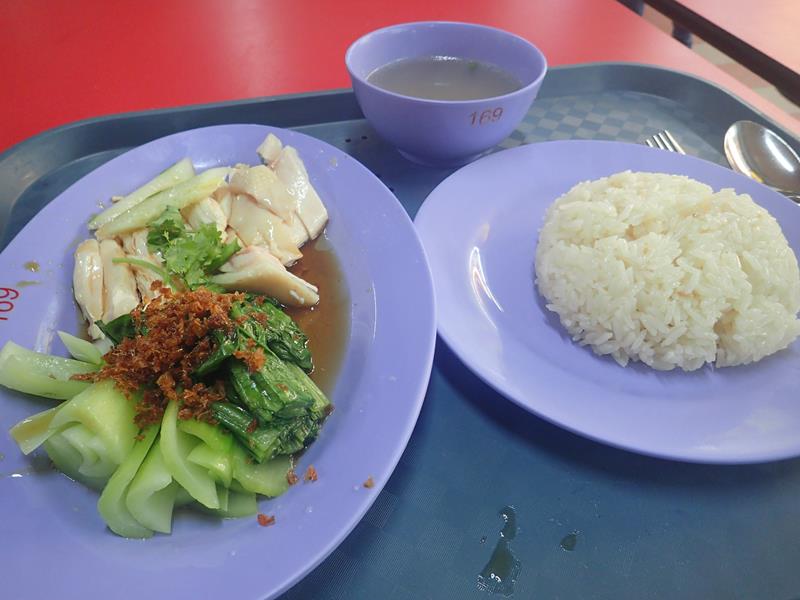 Singapore Chicken Rice or Hainan Chicken Rice is another very simple and very tasty dish which is very popular in Singapore. You can either have the standard steamed chicken breast meat served on top of a plate of rice which is cooked in chicken stock and topped with some sliced spring onions and coriander or served with Chinese vegetables. The dish is served with a bowl of chicken stock soup. You will find Singapore Chicken Rice everywhere in Singapore, at the food courts, hawker centres and any Singaporean restaurants. At the food courts it will cost around $4.50. You can also get the chicken grilled or roasted at some of the food stalls.
Herbal Soups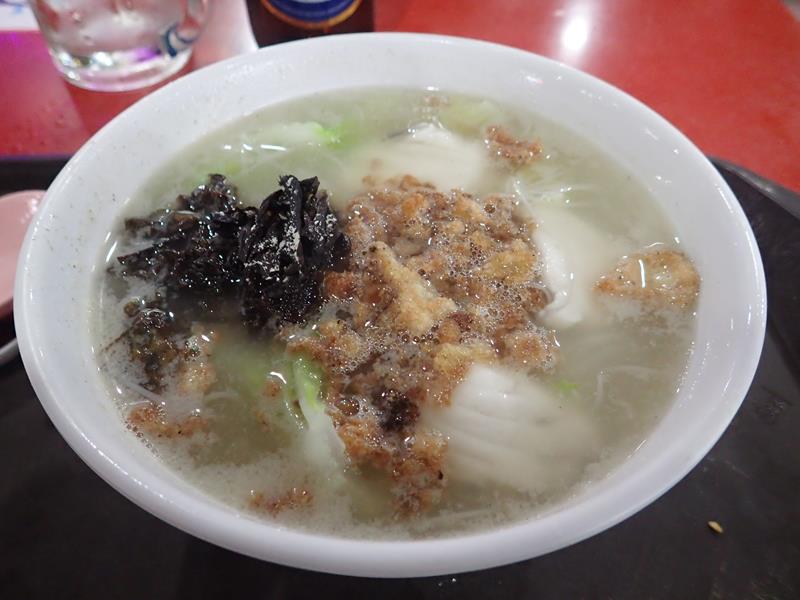 Singapore has a range of Herbal Soups which are not only very healthy to eat, they are delicious. Rather than eating when you are sick, you eat the herbal soups to stop you getting sick. They are packed full of garlic, ginger and other herbs and spicy which protect your immune system. You can herbal soups with chicken, fish, seafood. One of the most popular herbal soups in Singapore is Bak Kut Teh which is a herbal pork based soup full of pork ribs, garlic and other spices. They also serve Bak Kut Teh with all sorts of other pork bits including kidneys, liver, tripe etc though they are not on my list for eating.
Char Kway Teow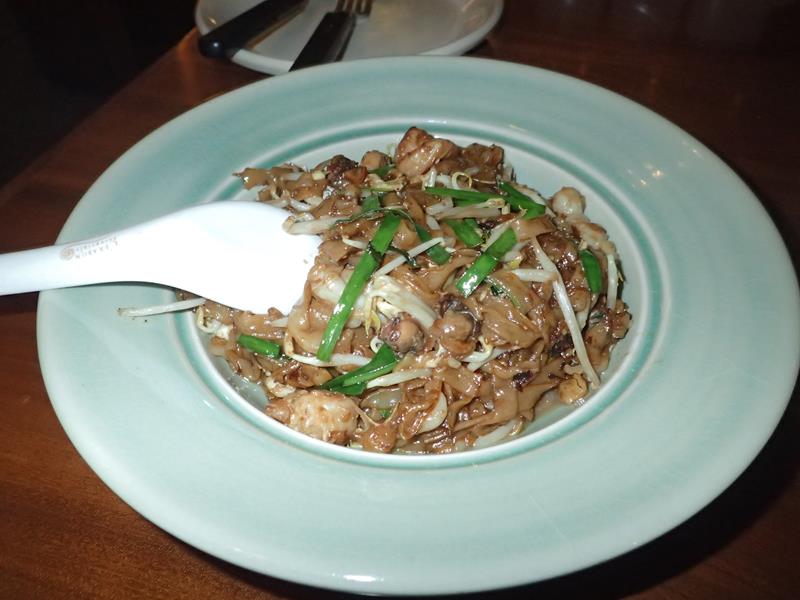 Char Kway Teow is a fried noodle dish made from flat rice noodles. It is very popular in both Singapore and Malaysia. The flat rice noodles are stir fried in a wok with light and dark soy sauce and then various vegetables including beansprouts and spring onion and different types of meat can be added (chicken or prawns or seafood).
Grilled Tiger Prawns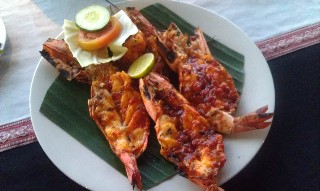 The Tiger Prawns in Singapore are the largest prawns I have seen. They are best grilled over a BBQ and cooked with a spicy chilli sauce. My pick for the best place to eat the grilled tiger prawns is at Newton Circus Food Centre which is an open air food court which specialises in seafood.
See more travel articles about Singapore
[do_widget id=wpp-14]