Godzilla Statue in Tokyo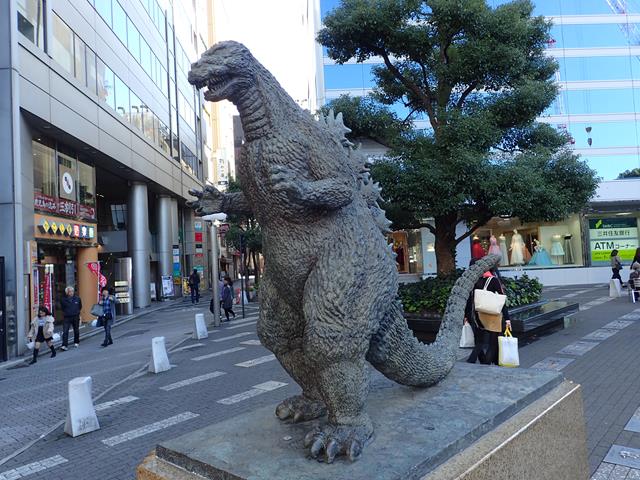 In Hibiya Square, just a short walk from Hibiya Train Station in Tokyo is a large 3 meter tall Godzilla Statue. This the new Godzilla statue installed in 2018, replacing a much smaller statue that stood at this site for many years. The old statue had a small plaque where it was written 'I don't think this Godzilla is the last one.'. Hibiya Square is around 10 minutes walk from the heart of Ginza, Tokyo's high end shopping district.
The large Godzilla statue is built upon a large pedestal making you look up to the imposing new statue. On this new statue is a plaque which reads 'The human race must coexist with Godzilla'
Below is a picture of the old statue when it was in the Hibiya Square. The old statue is tiny, only about 2 feet tall, standing on a pedestal which made it just above eye level. It is kind of ironic that such a massive monster has such a small statue built in the middle of Tokyo to honour the fire-breathing Godzilla. The old Godzilla statue has now moved into the foyer of the Toho Cinemas which is located within the Tokyo Midtown Hibiya shopping mall, with the entrance located just across from the new statue, so you can visit both the new and old statue during the same visit.
It may be small though I am sure there are many Godzilla fans that would like to visit the Godzilla statue in Tokyo.
Here are pics of the old Godzilla Statue located in the foyer of the Toho Cinemas, located within the Tokyo Midtown Hibiya shopping mall.
So how do you get to the Godzilla statue in Tokyo?
From Hibiya subway station take the A9 exit. At the top of the exit the stairs split to the left and to the right, take the stairs to the right. At the top of the stairs turn to the right then walk down to the next corner where the Lacoste store is. Turn right and cross the street and you will see the opening of Hibiya square.
See the Google Map for the location of the Godzilla Statue in Hibiya Square
Close by the Godzilla statue there are some other famous Tokyo tourist spots including Hibiya Park, Ginza shopping district and the Imperial Palace.
Godzilla in Kabukicho Tokyo
There is another Godzilla in Tokyo. Not quite a statue but a large model Godzilla head right on top of the new Toho Cinema Complex right in the heart of Kabukicho, Tokyo's Red Light District.
The Toho Cinemas open in April 2015 and has the huge Godzilla crashing through the top of the roof looking down over Kabukicho. To get to see the Godzilla head you have to be a fair way down the street. Looking up directly from the Toho Cinemas you can only see Gozilla's claws grabbing onto the building.
Check out Google Maps for the location of Godzilla ontop of the Toho Cinemas Kabukicho