Bairin Tonkatsu Restaurant Ginza Tokyo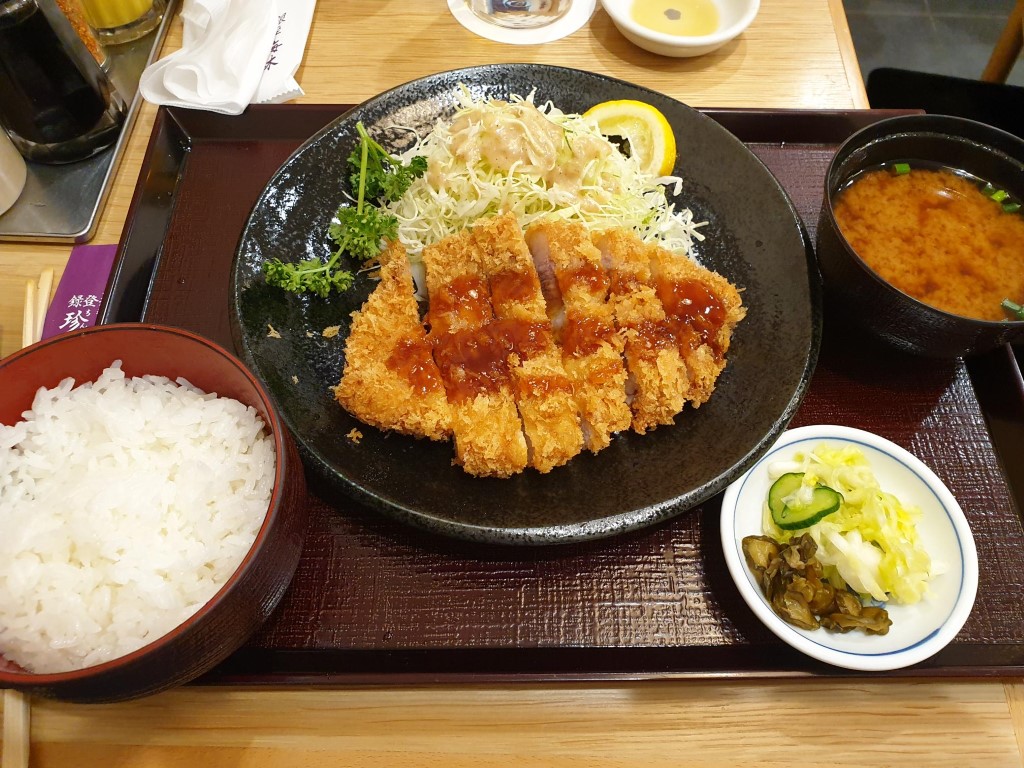 Tonkatsu lovers visiting Tokyo, you need to try Bairin Tonkatsu Restaurant in Ginza Tokyo. Bairin has been serving up the delicious pork cutlet Tonkatsu since 1927, so they have a bit of experience in how to prepare this delicious comfort food. Tonkatsu is one of my favourite Japanese dishes and I have visited quite a few Tonkatsu restaurants in Tokyo. After eating Tonkatsu at Bairin and I can highly recommend this restaurant, serving up some of the best tonkatsu in Tokyo!
Tonkatsu Ginza Bairin have a few restaurants in Tokyo, there main store is located in the heart of Ginza, the high end shopping district of Tokyo. Tonkatsu Ginza Bairin is a very popular restaurant so expect to queue up to get a table to try their delicious tonkatsu. I got to the restaurant just before they opened at 11.30am on a Saturday morning and there was already a queue of 22 people waiting to get inside. The restaurant is only small, seating just under 30 people.
Now despite being a very popular restaurant, the prices are very reasonable at Tonkatsu Ginza Bairin Restaurant. On the menu there is a selection of different types of katsu. The cheapest is their Cutlet Rice set (1,100 Yen) which is 100 Grams of white pork loin cutlet served with sliced cabbage, rice, miso soup and Japanese pickles. They also have prawn cutlets and a choice of mixed cutlet sets with the tonkatsu and prawn cutlets served together (2,000 Yen). They also have a Don Menu, with the cutlets served on rice with egg. They also serve their famous pork cutlet in a sandwich in the Fillet Cutlet Sandwich Set (1,250 Yen) which is the tonkatsu sandwich served with a side salad.
The tonkatsu set I went for was their specialty – the Kurobuta Loin Pork Cutlet Set Menu (2,900 Yen) which is 200 grams of the famous Kurobuta pork which is thick and juicy. Kurobuta pork is from a rare breed of Berkshire pigs which originated from the UK and now farmed in Japan.
On each table is a selection of condiments including their own Bairin made tonkatsu sauce which is like a tangy BBQ sauce. They also have hot mustard, soya sauce, spicy chili flakes and a delicious Sesame dressing to pour over the generous serve of chopped cabbage.
So if you have the chance to get to Ginza Tokyo, then I highly recommend a visit to Tonkatsu Ginza Bairin Restaurant for some of the best tonkatsu in Tokyo! As well as dining in, you can also get take-away.
Tonkatsu Ginza Bairin Restaurant
7 Chome-7-10 Ginza
Chuo City Tokyo
Ph: (03) 3571 0350
Website: http://ginzabairin.com/en/
Open 7 days a week from 11.30am – 8.45pm
Check out the location of Tonkatsu Ginza Bairin Restaurant