Flight Review Jetstar JQ922 Cairns to Darwin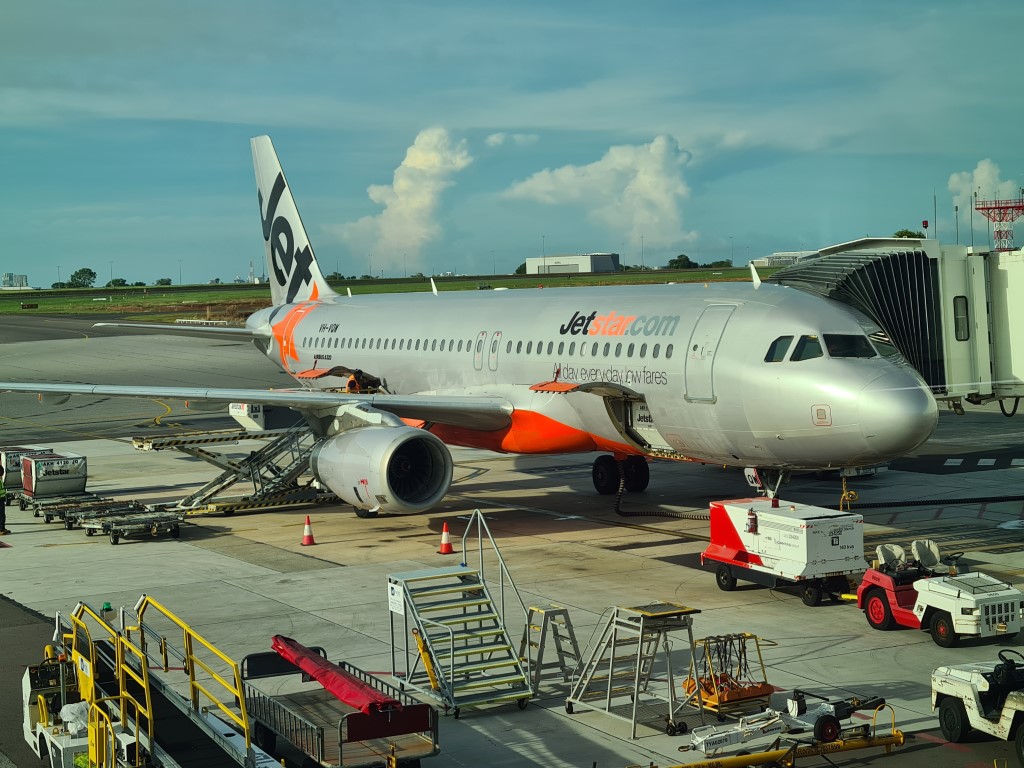 Airline: Jetstar
Flight no: JQ922
Route: Cairns International Airport (CNS) to Darwin International Airport (DRW)
Aircraft type: Airbus A320-200 Registration VH:VQW
Flight time: 2 hours 11 minutes
Travel Class: Economy Class
Seat no: 8A Window Seat
About this Flight Route between Cairns and Darwin
Jetstar flight JQ922 is an irregular service, it does fly daily in peak times like over the Christmas period, other times it may be every 2nd day or weekly in the low season. The flight is scheduled to leave Cairns at 6am so be prepared for a very early rise to get to the airport in time for your flight.
Qantas also have direct flights from Cairns to Darwin starting at $349. You can get flights with Virgin but they are not direct, flying to Brisbane first, then changing to a plane to fly from Brisbane to Darwin, adding several hours to the travel time.
My flight cost $274.99 for this flight on 26th December 2022. The cheapest I have seen this flight is $161 and the most expensive $680.
Getting to Cairns airport
I was staying at the DoubleTree by Hilton Hotel at the northern end of Cairns Esplanade. A taxi from Cairns Airport to the hotel cost me $22 but I was expecting a higher price as taxis charge a surcharge for early hours. After getting up at 3.30am and calling for a taxi at 3.50am, I only had to wait for 5 minutes for the taxi to arrive and only took 10 minutes to get to the airport so I was there just after 4am. The cost of the taxi was $28.25.
I did check how much it would have cost in an Uber. I have caught Ubers to Cairns airport before and during the day it is usually $18 – $20. I checked at 3.50am and the price was going to be $46.40 as I presume there were not many Uber drivers available. So best option is to get a taxi.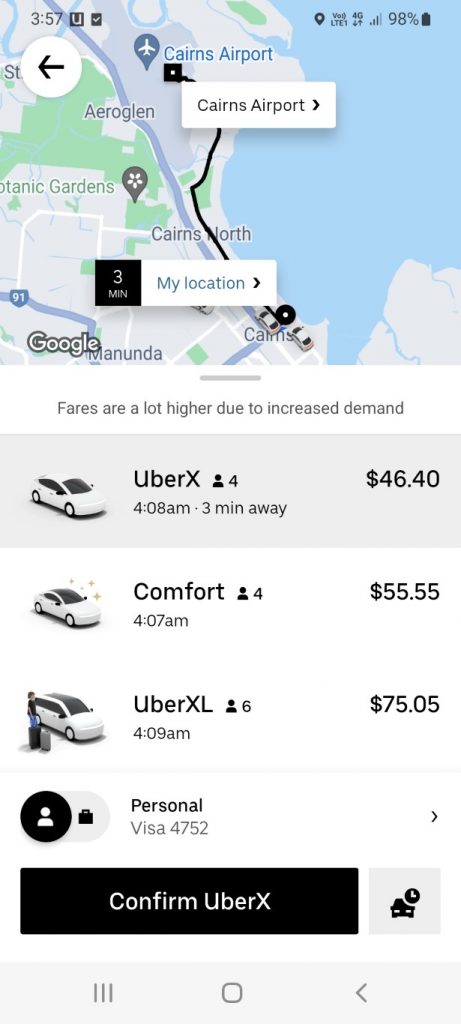 At Cairns Airport
There were 5 flights all scheduled at 6am, a very neat trick as there is only 1 runway at Cairns Airport. With a few flights at the same time there were more people at the airport than I expected but it was not very busy. One of the interesting thing is that the Flight Indicator board was switching between the destination names in English and the destination names in that local Aboriginal name, for example Darwin was changed to Garramilla which is the name for Darwin in the local Larrakia people around the Norther Territory and Brisbane was changed to Meeanjin, the local name of Brisbane in the Turrbal language from the Brisbane area.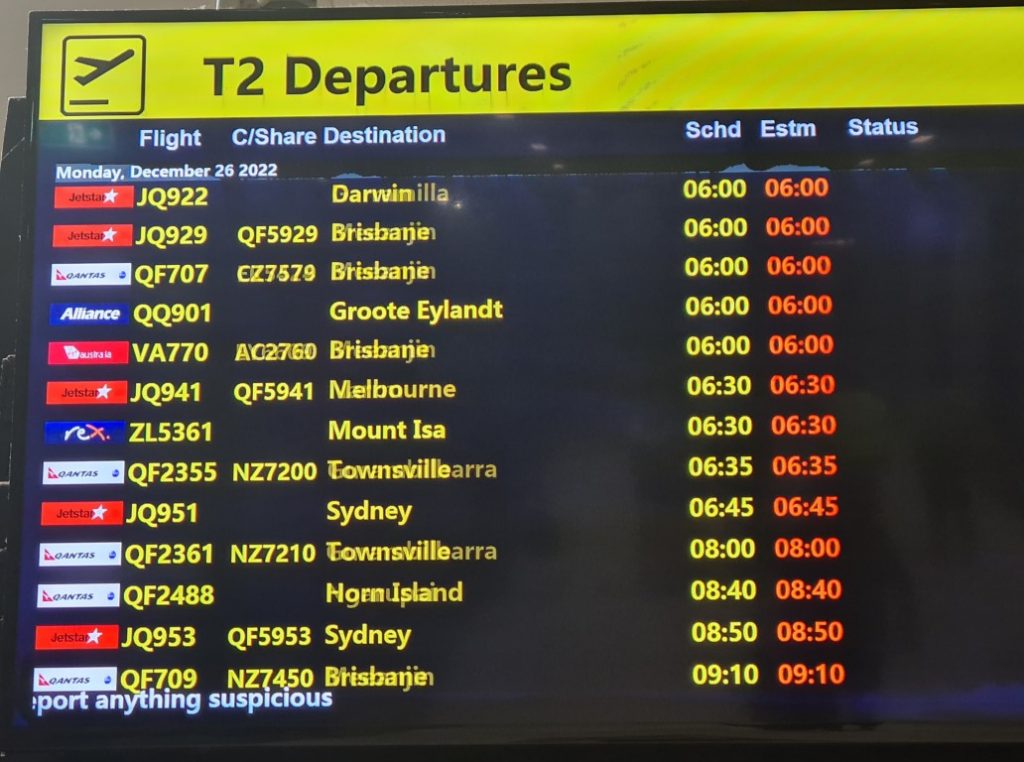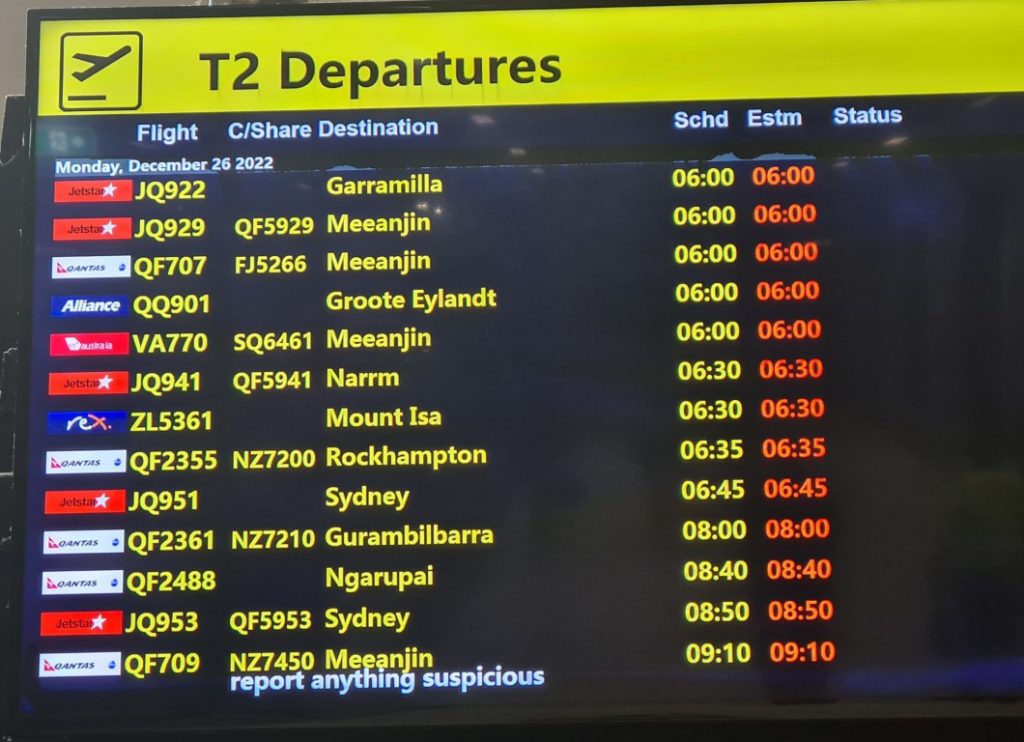 I had already checked in online so just needed to print my luggage tag using the Jetstar Electronic Kiosks which are very easy to use. I then took my luggage to the bag drop counter. There were already 5 Jetstar staff at the check-in desks but only 1 was open to take luggage. There was no queue so took no time at all.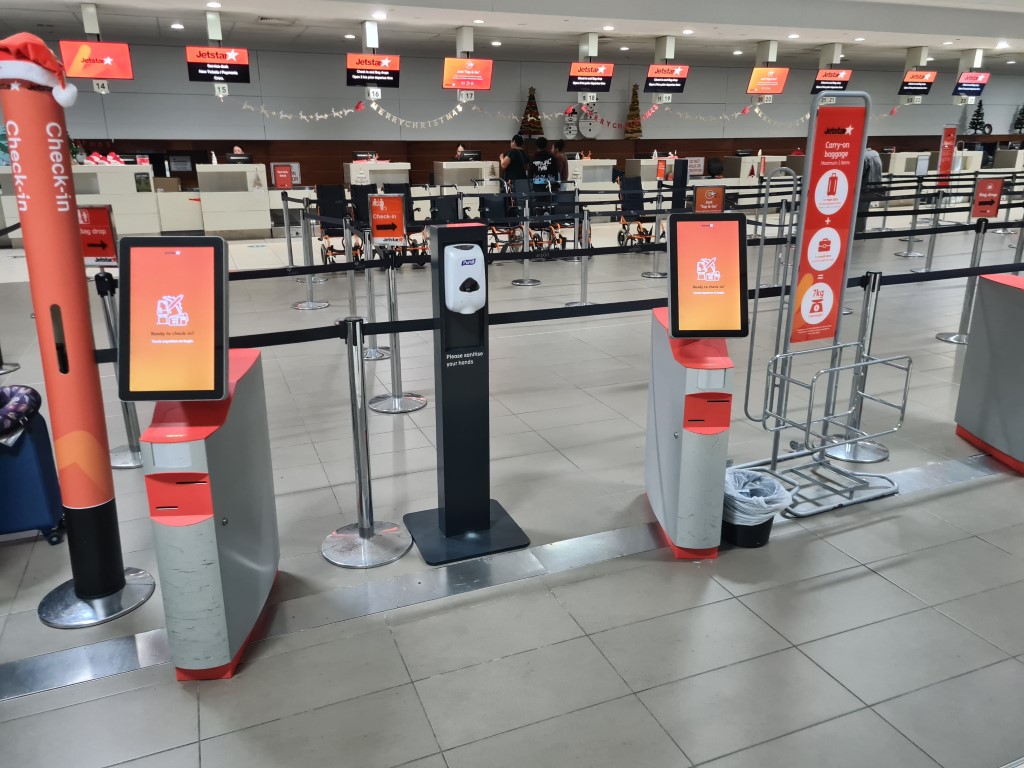 I was through security and none of the food shops were open yet. At 4.30am 3 cafes and Hungry Jacks opened, so I was able to get a coffee and a ham and cheese croissant. Very yummy but at $10.90 for a coffee and croissant, these are definitely airport prices.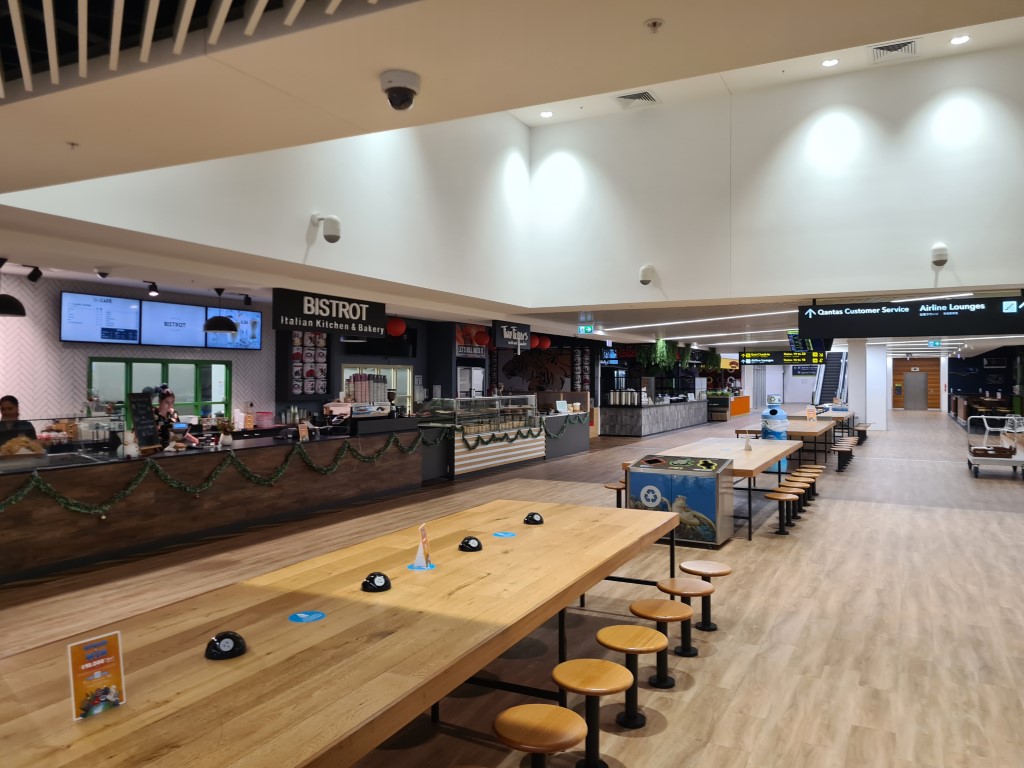 Flight boarded at 5.30am which was 5 minutes ahead of the schedule boarding time on the boarding pass.
On the plane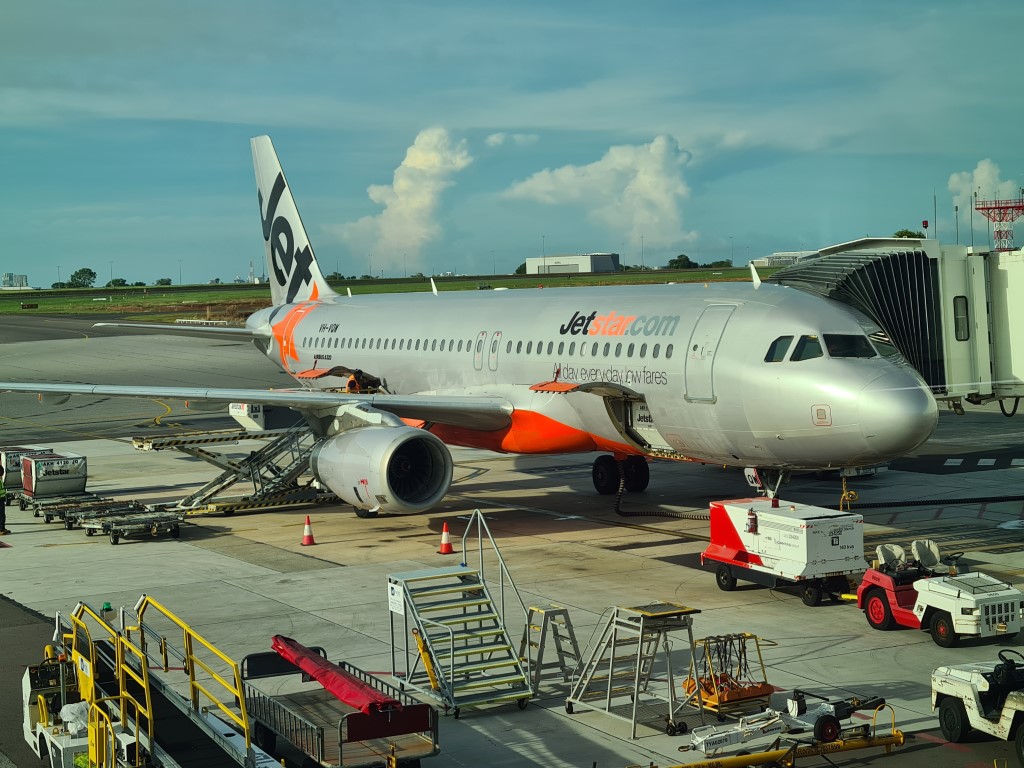 Jetstar use their Airbus A320-200 for this route between Cairns and Darwin. The specific plane used for my flight had rego number VH:VQW which joined the Jetstar fleet in 2005, making the plane over 17 years old.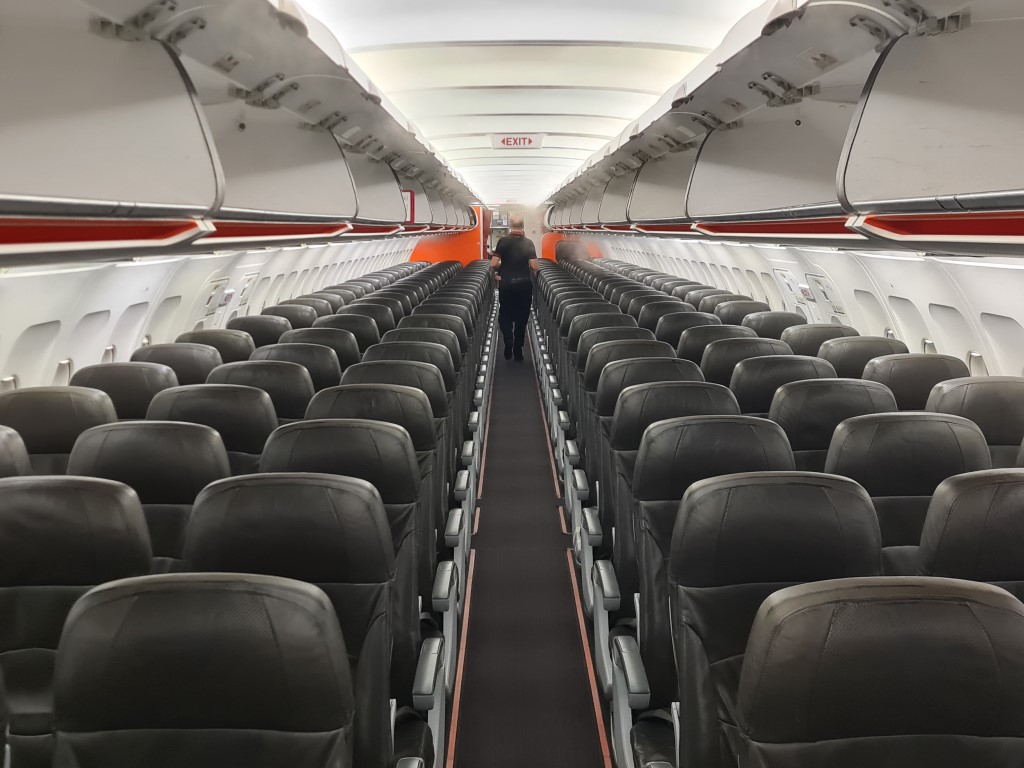 These Jetstar A320s seat 180 passengers in a 3 x 3 configuration. The width of the seats are 17.9″ and the pitch is 29″ (the pitch is the distance between the seat back to the seat in front). This is not such a bad pitch as gave me a fair amount of leg space. The seat design helps, as the seat pocket is at the top of the seat, rather than where you knees are, so this helps to give a bit of extra legroom. For your reference I am 187cm tall.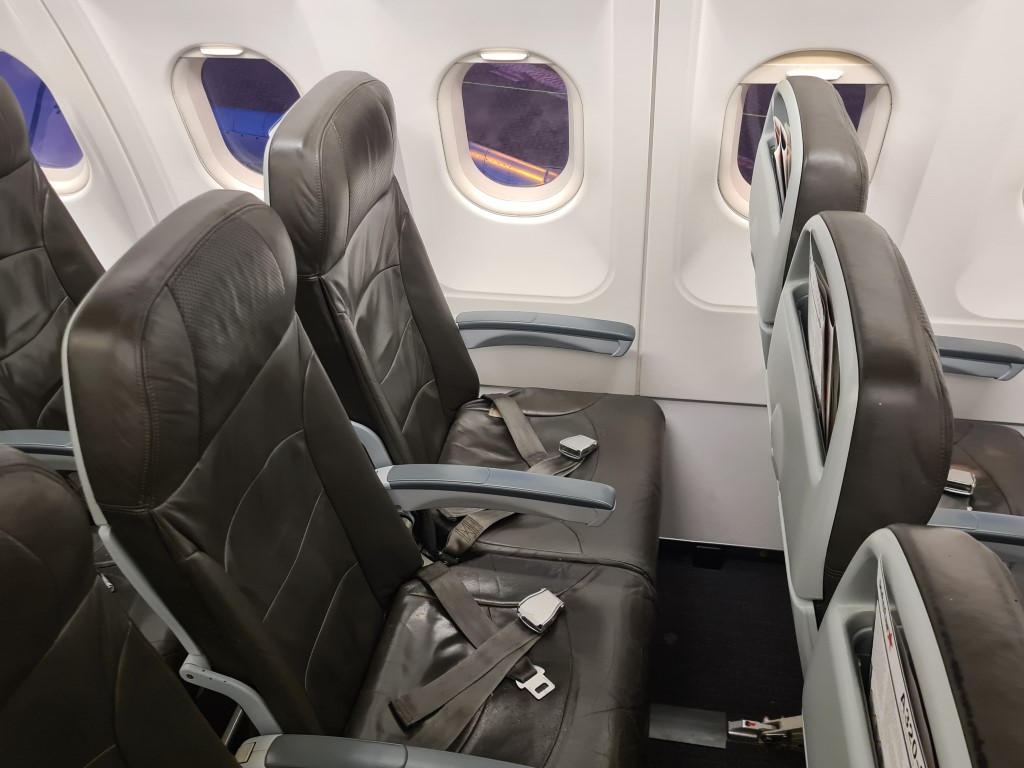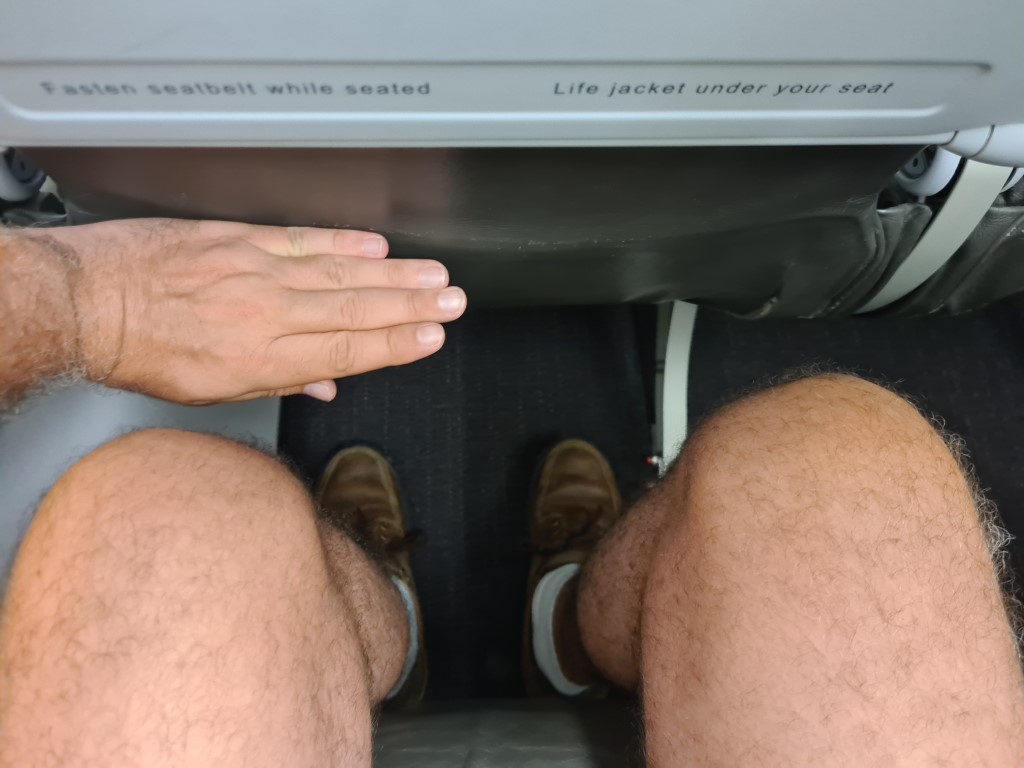 This flight was maybe around 60% full. I was lucky as I had no-one sitting next to me in the 2 seats along side me, just giving me that little bit extra space.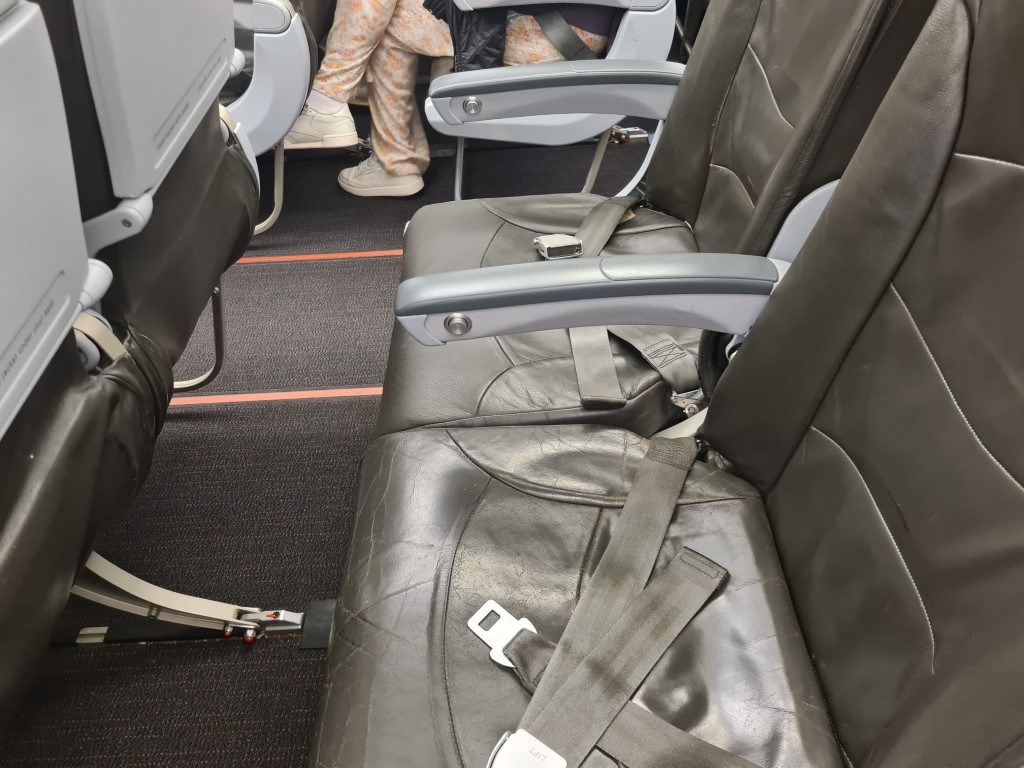 Entertainment on the plane
Jetstar is a budget airline so there is no entertainment onboard, no screens, no flight map, no WiFi internet access. Jetstar used to have a monthly inflight magazine which was located in the seat pocket but they seem to have stopped producing this since the pandemic. I guess a cost saving exercise!
There are also no power sockets or USB ports to charge your devices so make sure you fully charged before you get onboard.
Food during the flight
There is no complimentary food served on Jetstar flights but there is a food menu in the seat pocket for food you can buy. I had a $15 voucher for food so went for the Banana Bread and Coffee combo and also a bottle of water, The banana bread was quite tasty and a good snack to help pass the time. I had already eaten at the airport so this snack was more a time passer than due to hunger.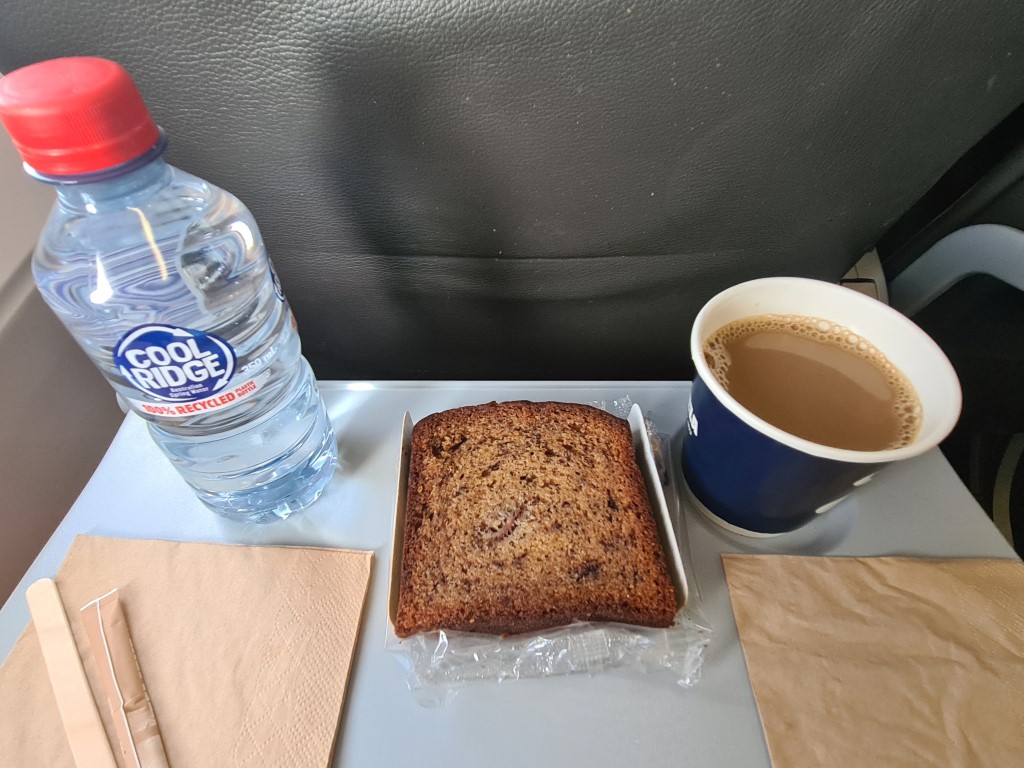 Service
The crew on this flight were lovely. When I ordered my food, I just asked for the banana bread and coffee which was a cost of $8. The crew member reminded me I had a voucher for $15 and asked if I wanted to order any of the other snacks. I wasn't hungry so said I didn't want anything else. She then suggested I get a bottle of water as well. This was a very kind gesture by her so that I got my moneys worth. She did not need to do this. Very nice customer service indeed.
Arrival at Darwin Airport
Darwin Airport is only small. Once off the plane it is a short walk to the baggage carrousels. It was only a very short wait for my bag to come out (Gold Coast airport take note! Why does it take 45 minutes for my bag to come out at Gold Coast Airport and only 5 minutes at Darwin!)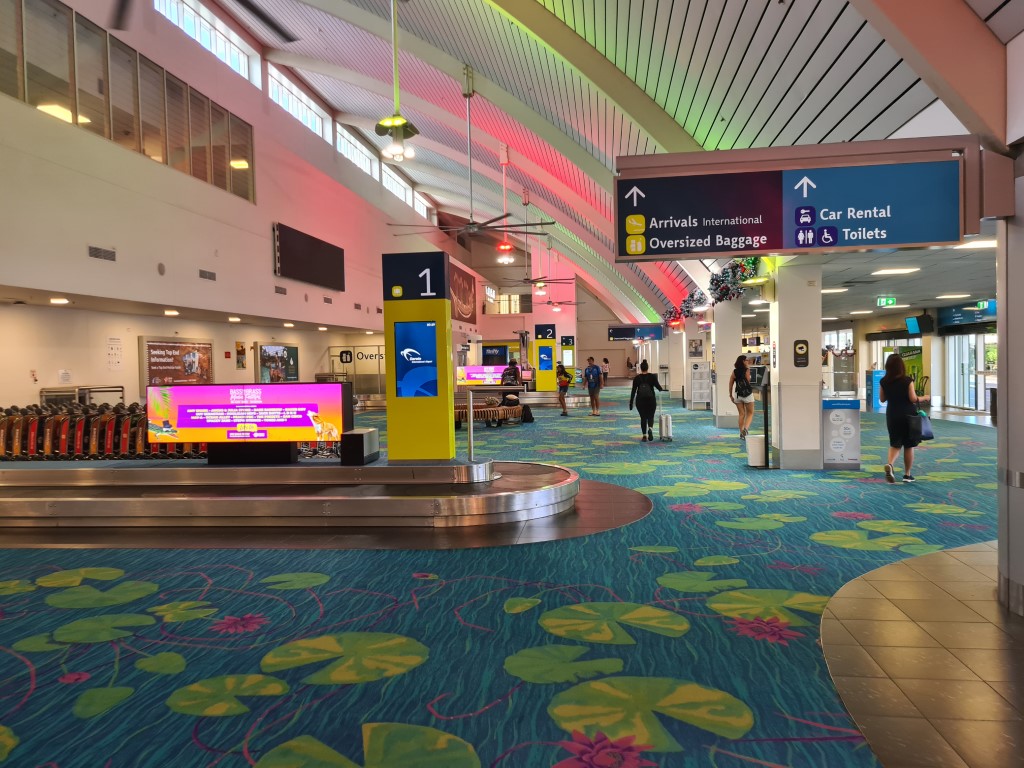 Taxi from Darwin Airport to my hotel
I had to wait for about 5 minutes for a taxi to arrive. There were a few people ahead of me in the queue. There is a slow tickle of taxis arriving.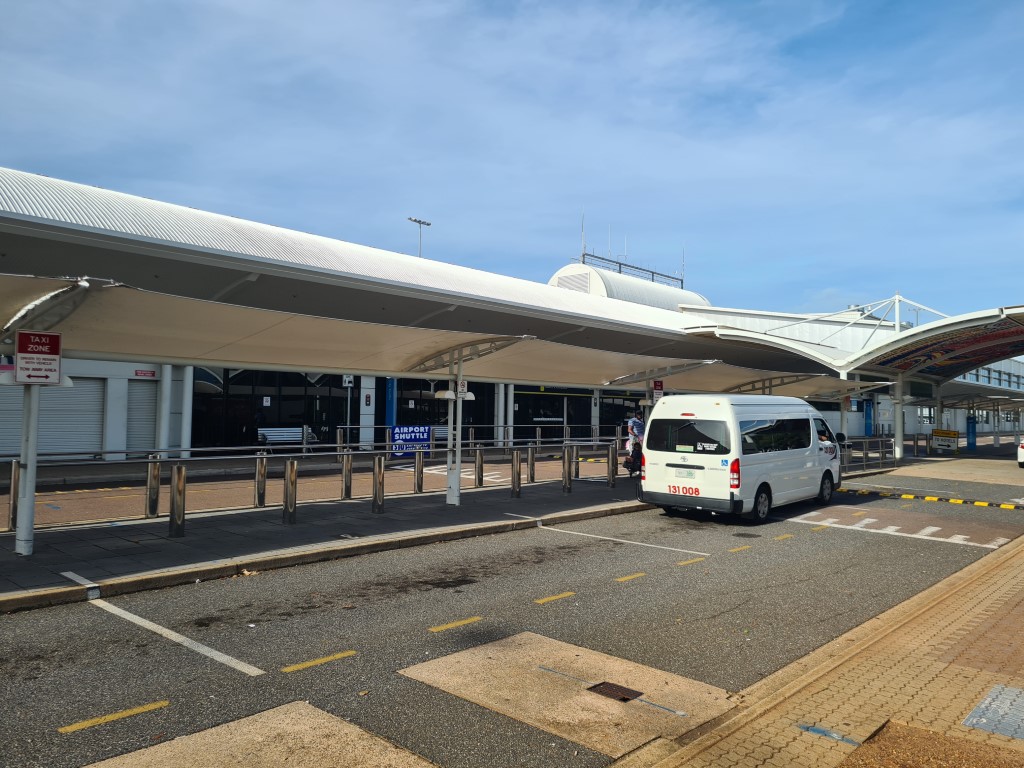 Darwin Airport charge a $4 pickup fee which the taxi driver added to the meter. My trip from Darwin Airport to Hilton Hotel on Mitchell Street Darwin cost $39.38. There was no traffic so a smooth ride.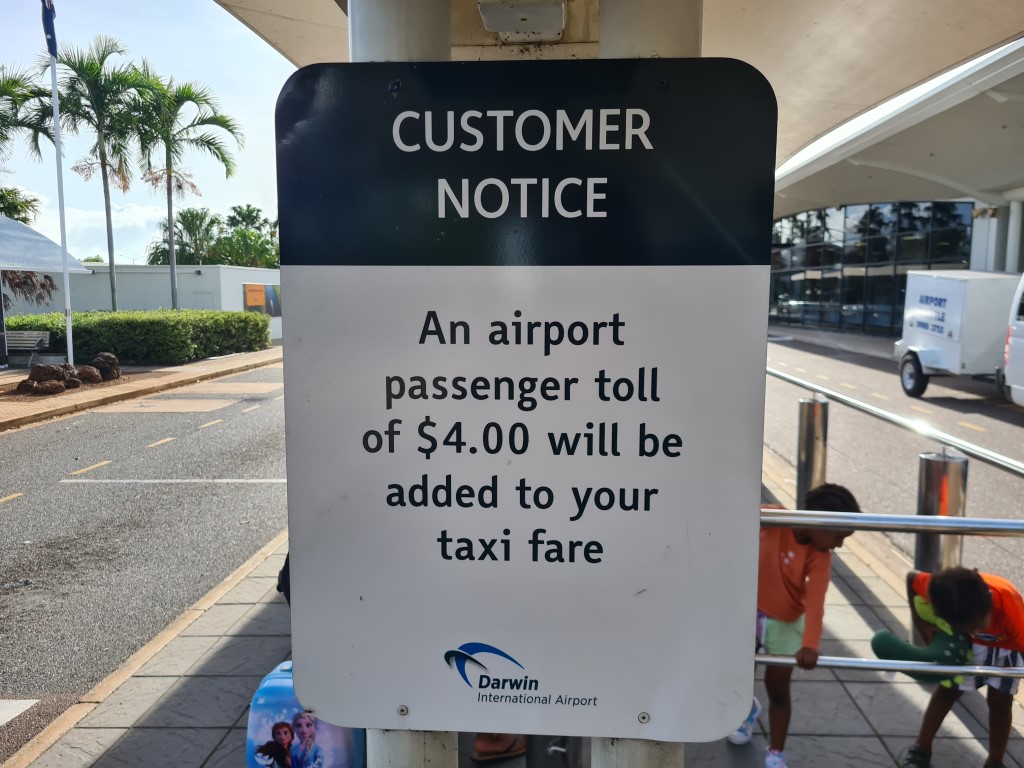 [do_widget id=wpp-6]