Sanur Beach Bali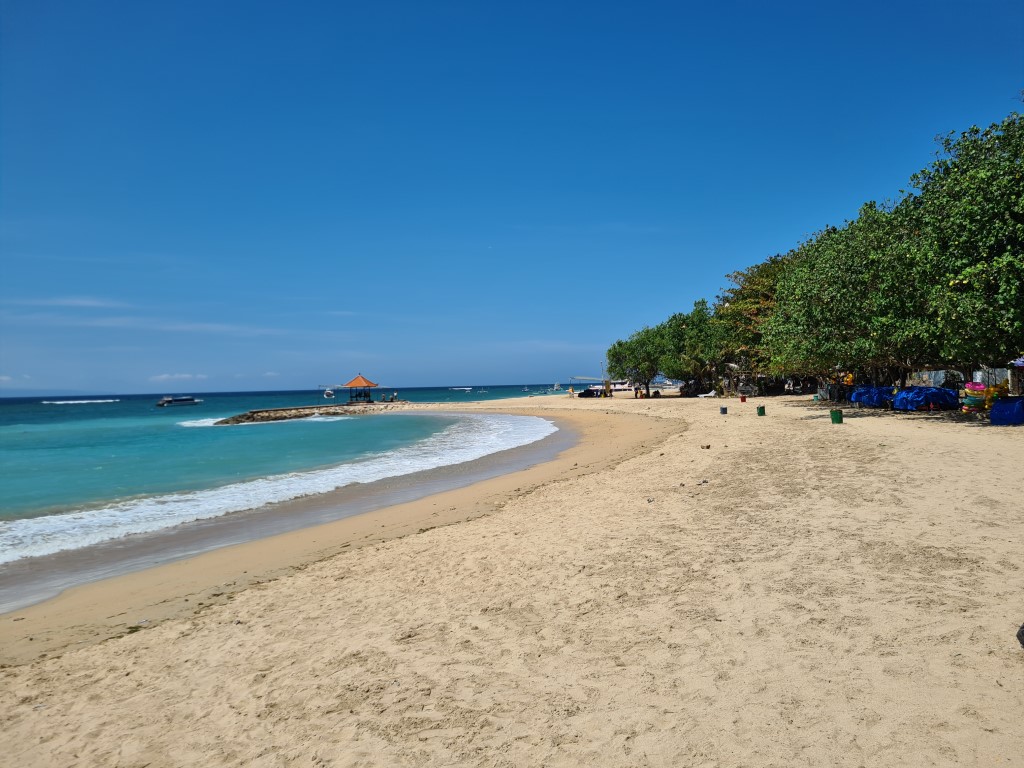 Sanur Beach was the first area in Bali to have beach resorts developed. Sanur is still one of the best and most relaxing places for a holiday in Bali. For couples, singles or families Sanur is the place to come and relax. The ocean is flat out the front of Sanur, with no waves for surfing but there are plenty of watersports available including jetskis, snorkeling and wind surfing and kite surfing in the months of June through to September. There are loads of high end luxury beach resorts on the beachfront in Sanur, or plenty of cheap, budget accommodation in the back streets, just a few minutes walk to the beach.
Sanur has a stretch of 6km coastline which is lined with several beaches including Sanur Beach, Sindhu Beach, Cemara Beach, Segara Beach and Karang Beach.
Located 14.4Km from Bali's Ngurah Rai International Airport, the drive takes just 25 minutes drive even with traffic which can be busy during the day.
Sitting on the East coast of Bali, Sanur Beach is one of the best places in Bali to watch the sunrises, and the sunrises can be spectacular!
Tourist Attractions in Sanur
While Sanur is a great beach holiday destination for relaxing, there are a number of tourist attractions worth visiting. Check out the best tourist attractions in Sanur:
The Sanur Beach Front Promenade – a walk way that stretches the full 6km coastline of Sanur, great for walking or cycling.
Sindhu Dwarawati Turtle Conservation Centre – a privately run turtle conservation centre located right in the heart of Sanur's beach front.
The Sindhu Beach Markets – located right at the beach front, the Sindhu Beach markets has over 100 stalls selling a range of cheap clothing, leather goods, sunglasses and jewelery.
Belanjong Pillar – the oldest historical artefact in Bali, dating back to 914AD, this stone pillar was built by the King of Bali and is inscribed in both Indian Sanskrit and Ancient Balinese language.
The Duta Orchid Gardens – located about 15 minutes by car from Sanur, The Duta Orchid Gardens is a beuatiful garden specialising in various types of Orchids and other local Balinese flowers.
Museum La Mayeur – a small museum located in the very northern section of the beach front in Sanur. It is a private collection of paintings, Balinese furniture and sculptures collected by the Belgian painter Adrien-Jean Le Mayeur when he lived in Bali from 1932 – 1958.
Sindhu Night Markets – located just off the main road Jalan Danau Tamblingan, the Sindhu Night Markets has a number of stalls selling clothing, jewelery and arts and crafts as well as a section with loads of cheap Indonesian street food.
Watersports in Sanur – leave your surfboard at home as Sanur Beach does not have any surf but there are plenty of other watersports available including Jetskies, Paddle Boards, Snorkeling, Kite Surfing and Wind Surfing (from June – September when the winds pick up)
Check out the video – Top 10 Things To Do in Sanur Bali
Check out these articles about Sanur Beach Bali: