Breakfast at Andaz Bali Resort Sanur – at Wok Wok Restaurant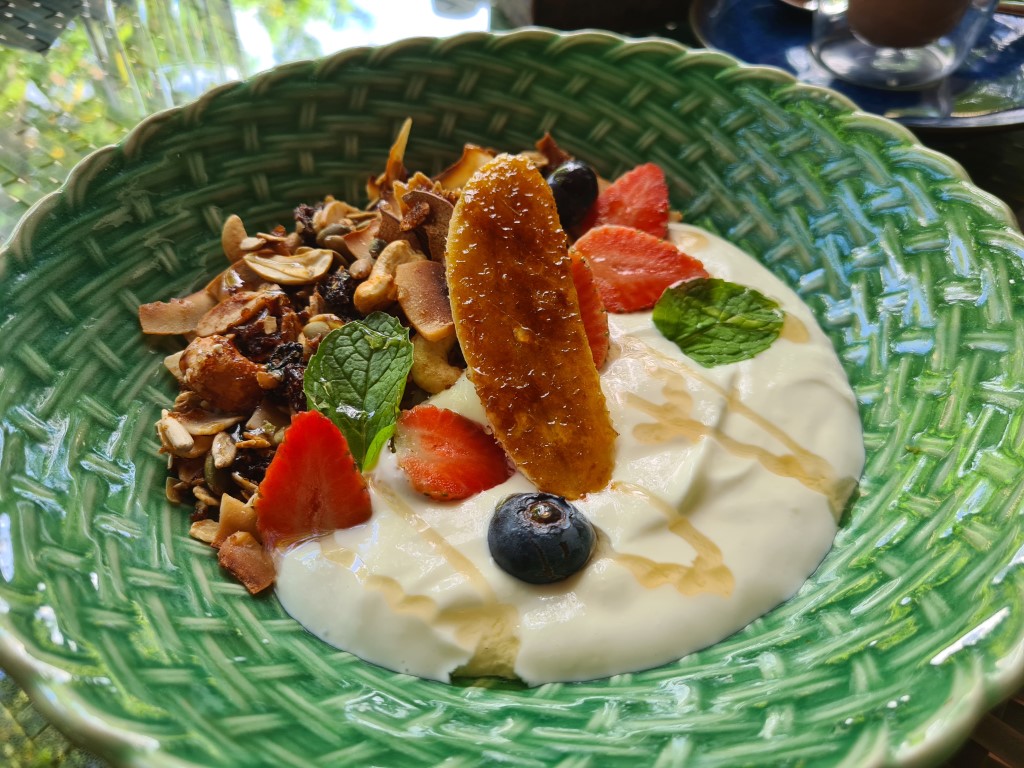 Breakfast at the Andaz Bali Resort in Sanur is served in the Wok Wok Restaurant located in what they call the Village Square, right at the entrance of the resort, opposite the reception area. They do not have a buffet breakfast but the menu has loads of small plates of yummy breakfast foods, both Western and Indonesian foods, so you can order loads of different plates, just like at a buffet breakfast feast. I stayed for 7 nights at the Andaz Bali Resort and had breakfast included with my room so could order as much as I liked each morning. I tried to work my way through the whole menu but didn't quite get through the entire menu but have posted the pics of the breakfast dishes I did try on this page. Breakfast is served between 6.30am and 11am daily.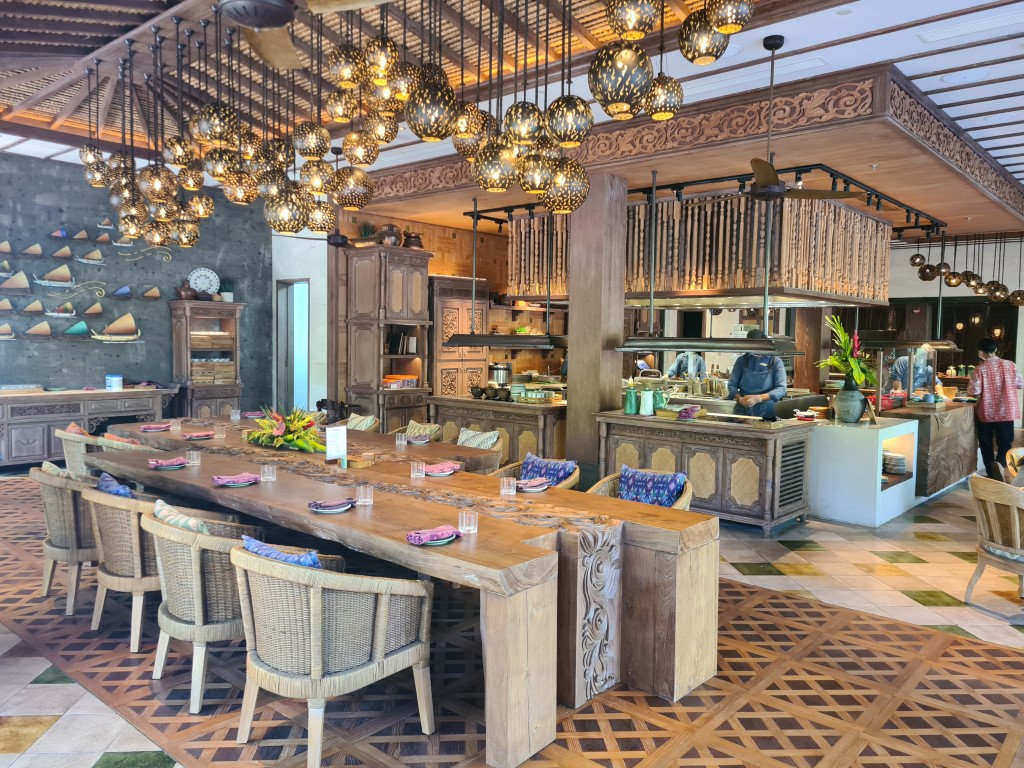 Every Saturday and Sunday, Wok Wok serves a Bubbly Breakfast for  544,500 Rupiah net / adult including unlimited sparkling cocktails, ala carte dishes and pools access.
First morning I went for a simple breakfast of Your Personal Style of Eggs (either Scrambled, fried, folded, boiled or poached). I went for the poached eggs and asked for them to be cooked soft, but that message didn't seem to get through to the chef as the yolks were not runny but quite firm. The poaches eggs were on a slice of wholemeal toast and I had a Cafe Latte and some mango juice.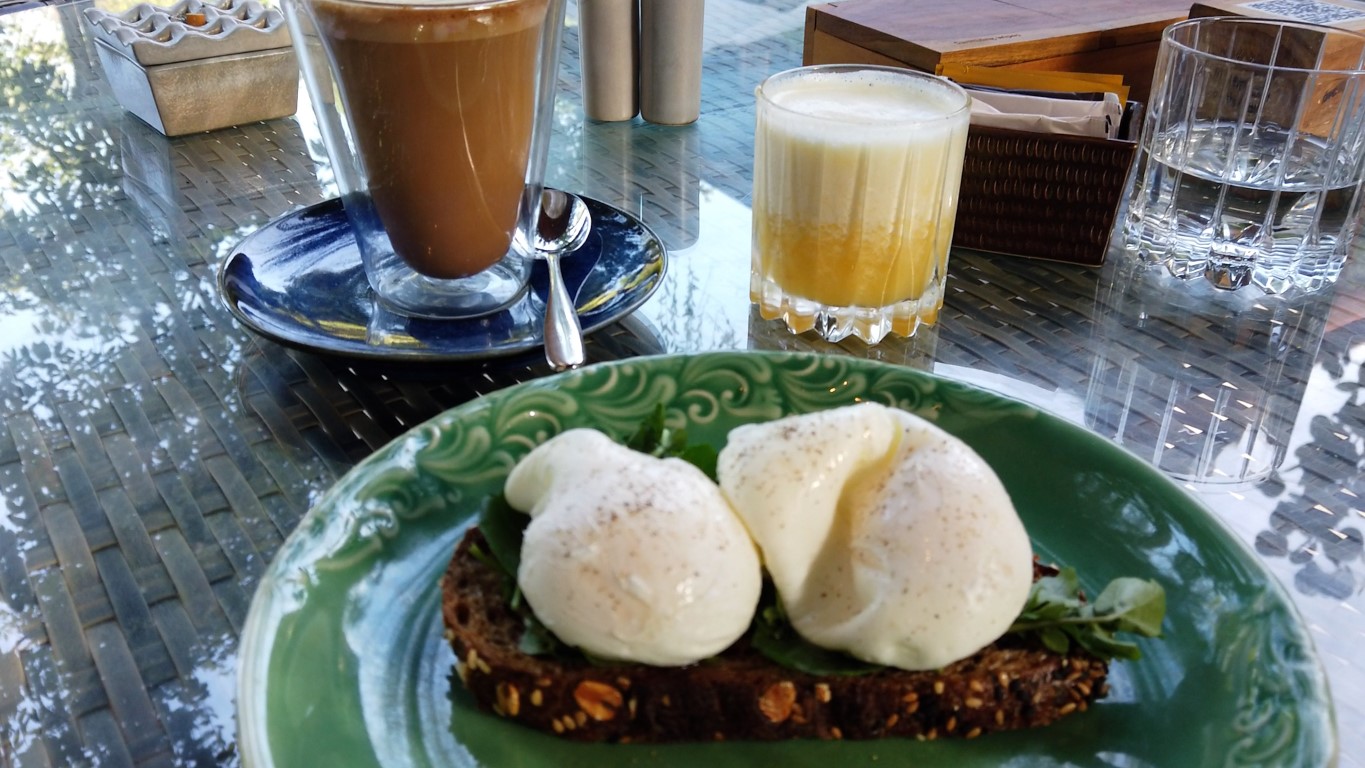 Next morning I arrived for breakfast and the waitress greeted me by name and had remembered my preference of a latte coffee and mango juice. When she sat me at my table she asked if I would like to start with a Cafe Latte and Mango juice. Such an excellent touch of quality service. Each morning after this I was greeted by name and asked if I wanted to start with my latte and mango juice.
With my coffee and juice I had the French Toast which is brioche bread served with grilled pineapple, coconut ice cream, cinnamon. Very tasty!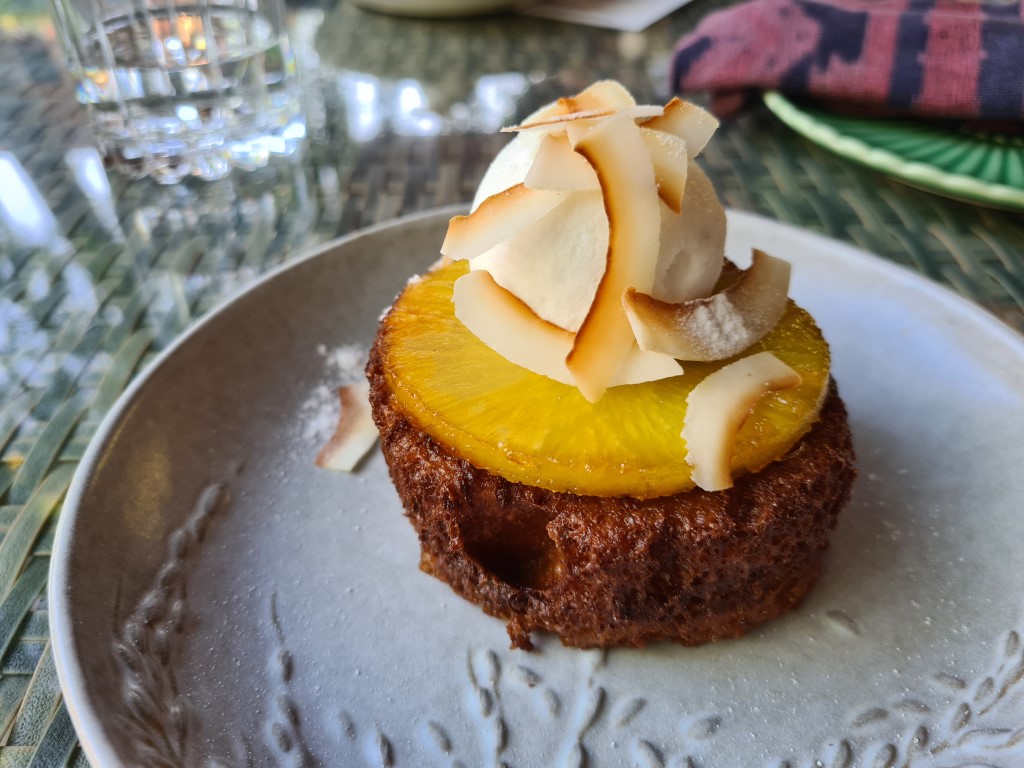 Here are the rest of the breakfast dishes I had on the following days:
Coconut Chia Bowl – Vanilla yogurt, mango, raspberries, seeds. Delicious!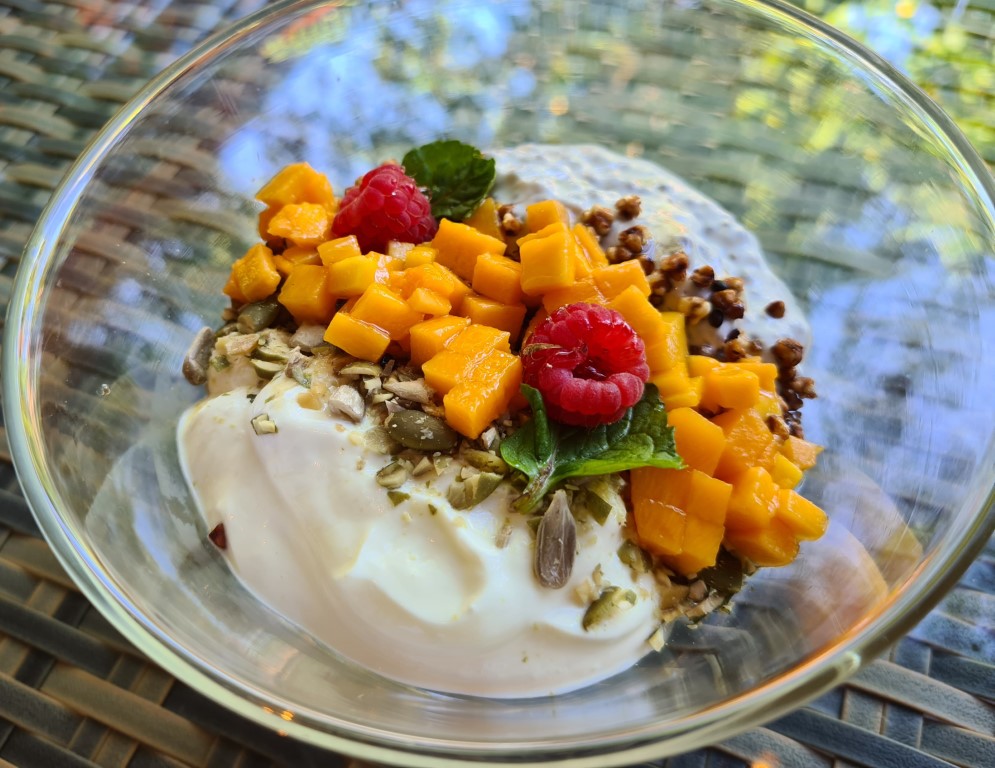 Matcha Bircher Muesli – Oat, apple, lime, coconut milk, mint, cashew. Very good!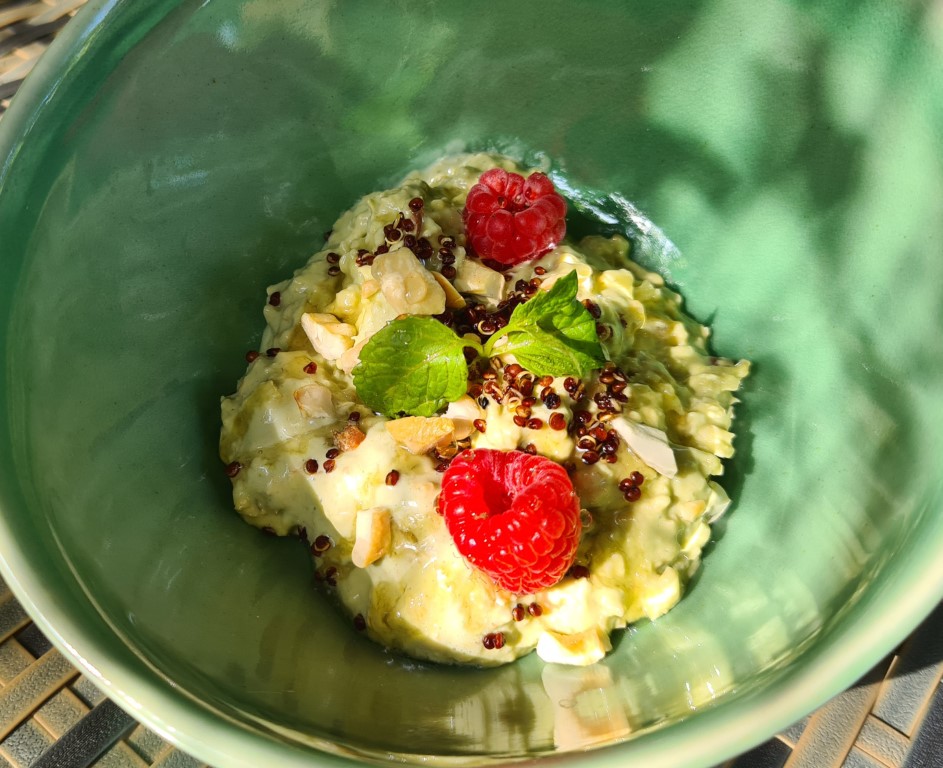 Bedugul Berries – Caramelized banana, kefir, homemade coconut granola, mint – one of my favourite dishes at Andaz!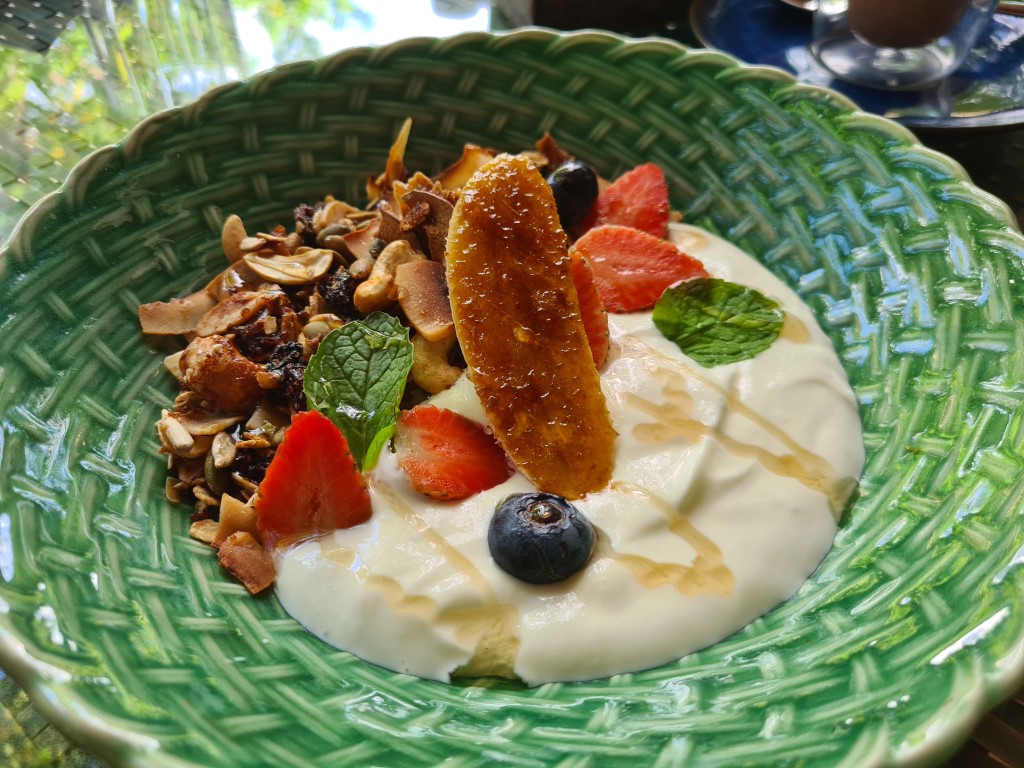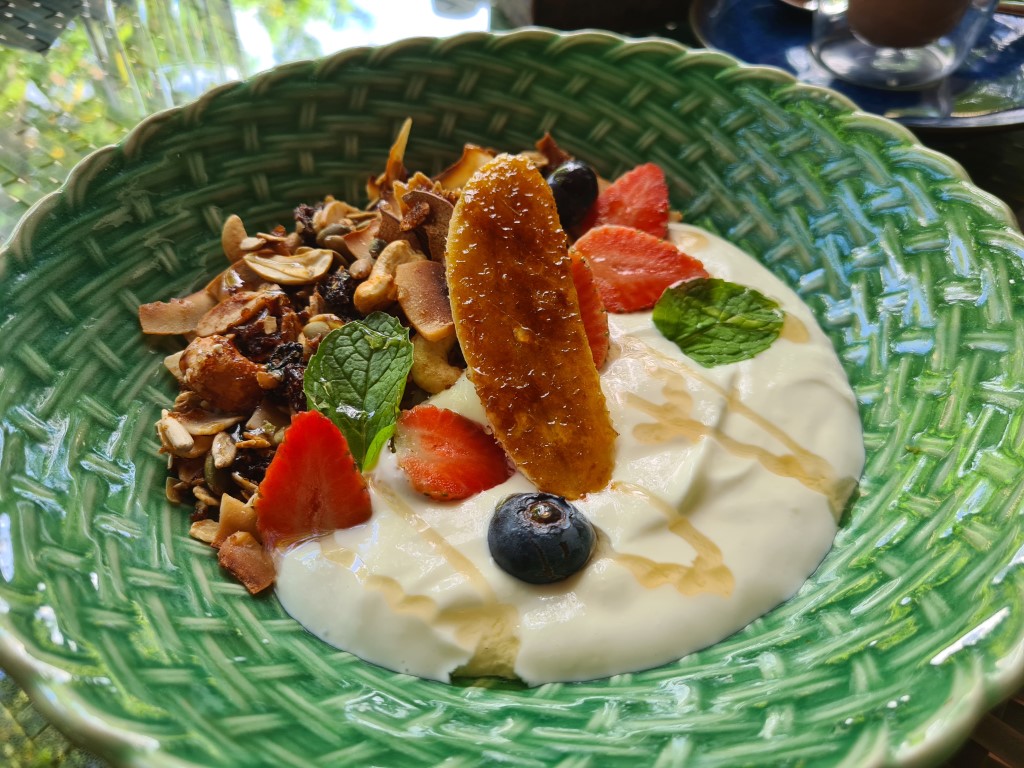 Bakery Basket – a selection of breads and pastries served with butter and a delicious pineapple jam – so good!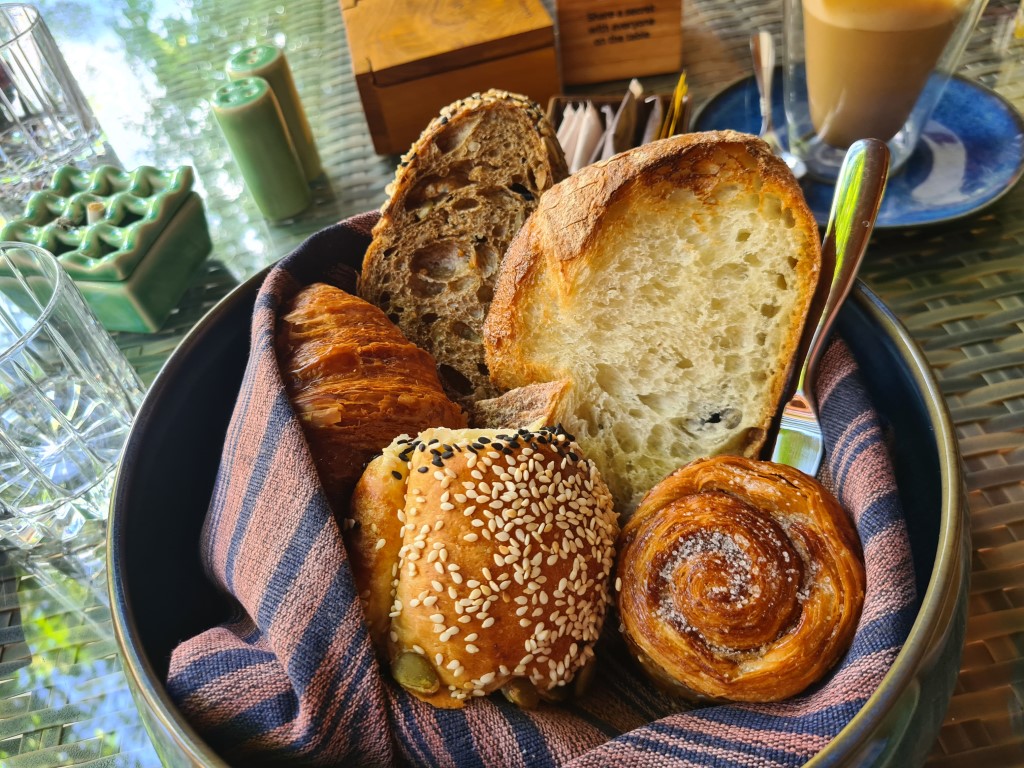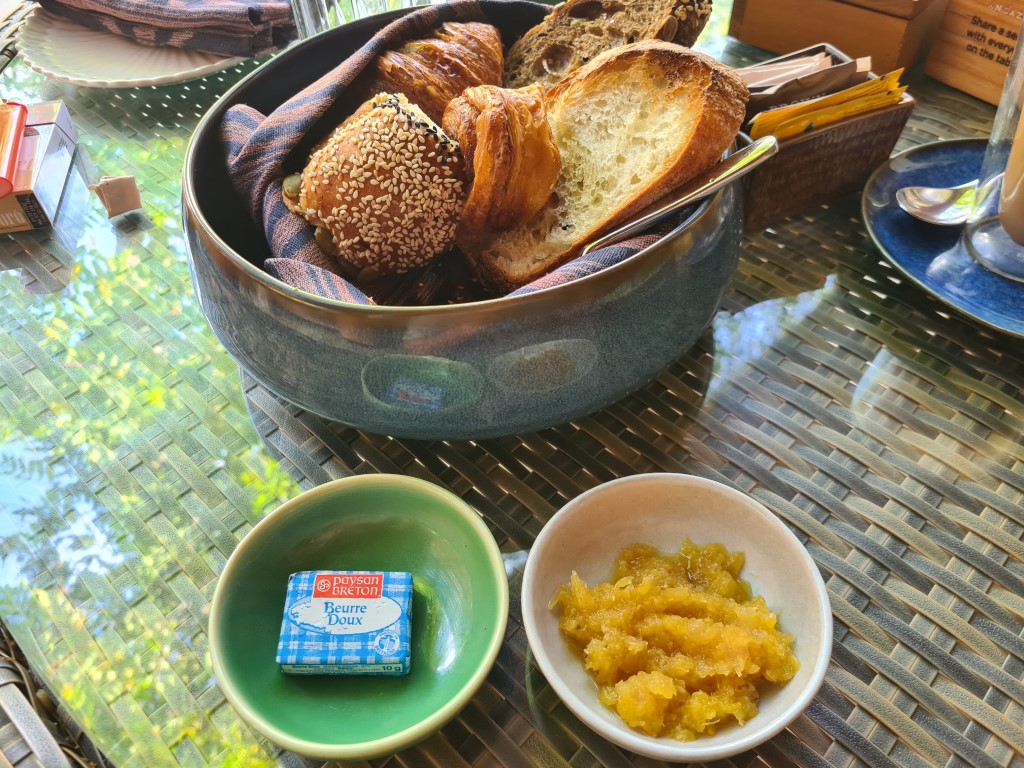 Soufflé Pancakes – served with Maple syrup and sea salt butter. Yum! Maybe a bit decieving name as it says Pancakes but you get 1 pancake per serve.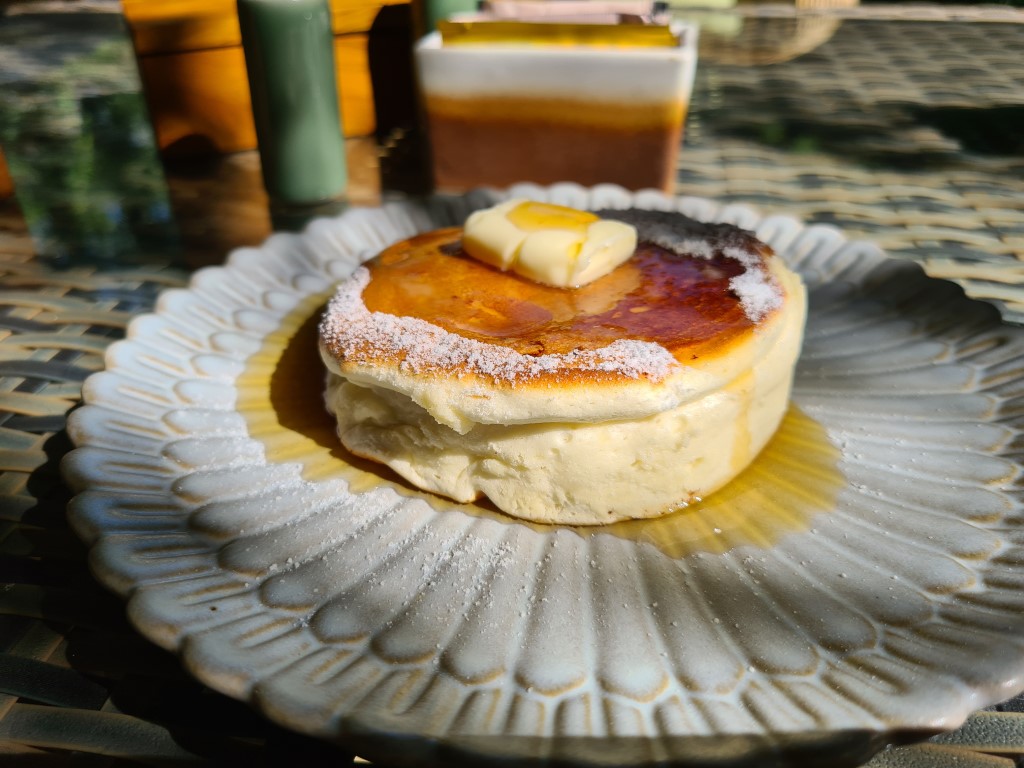 Baked Egg – served with Chorizo, feta, green bean, pimentos, herbs, flat bread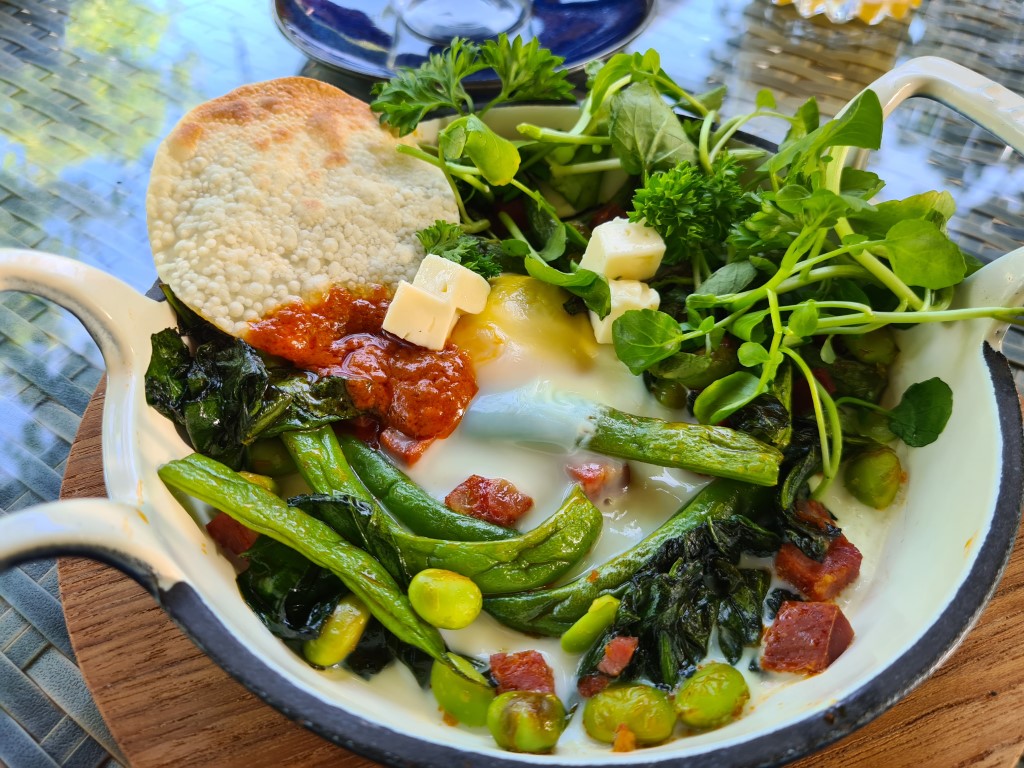 Traditional Indonesian Sate Ayam – grilled Chicken skewers with a spicy peanut sauce. Delicious. Not my usual breakfast dish but so good.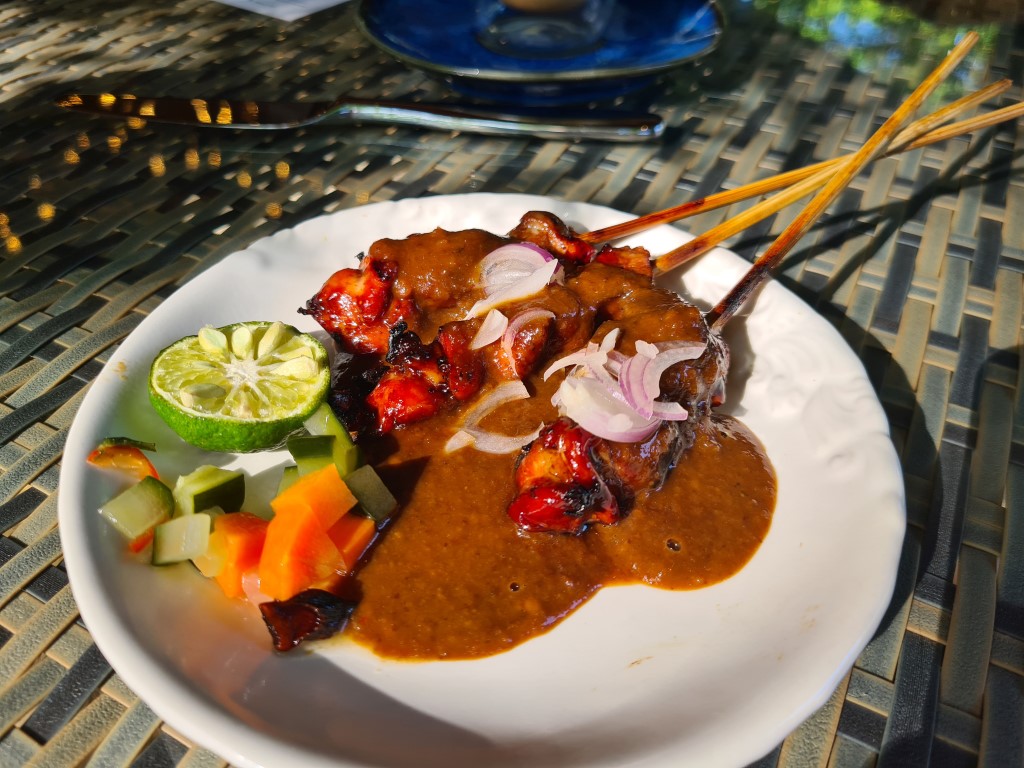 Surabi – Indonesian coconut pancake, palm sugar, pandan –  I had this on the last morning and was very tasty. If I had tried these on day 1 I would have eaten every morning!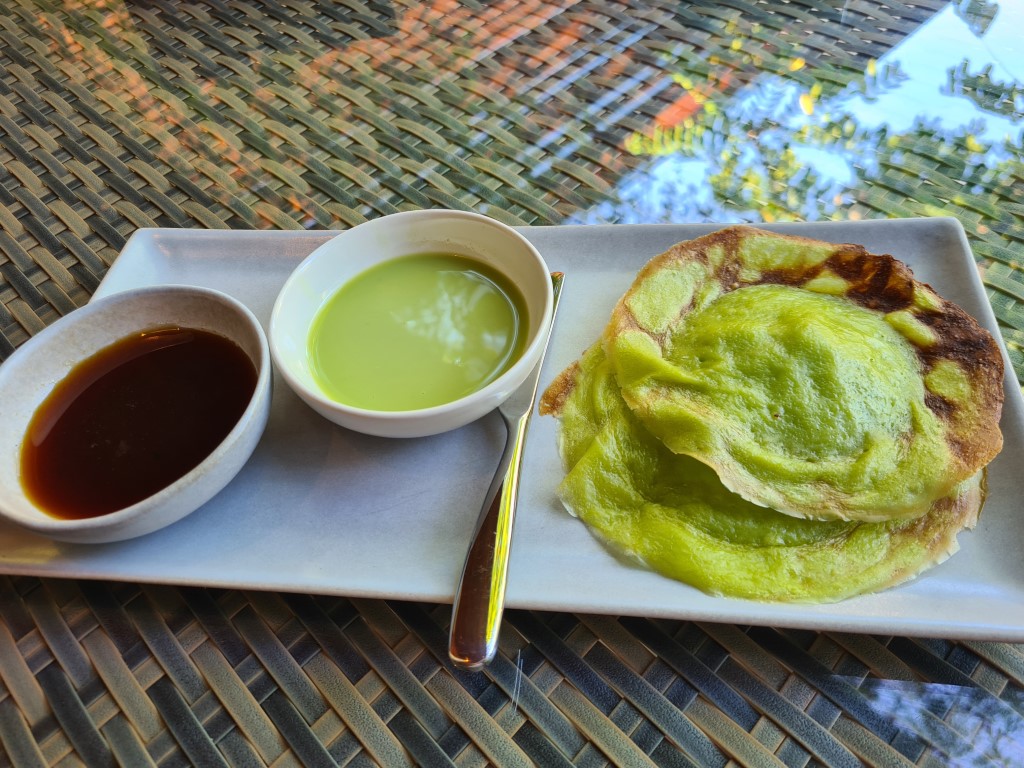 More poached eggs with a side of bacon. Not the best presentation and the bacon was a bit dry but this is very common in Bali for bacon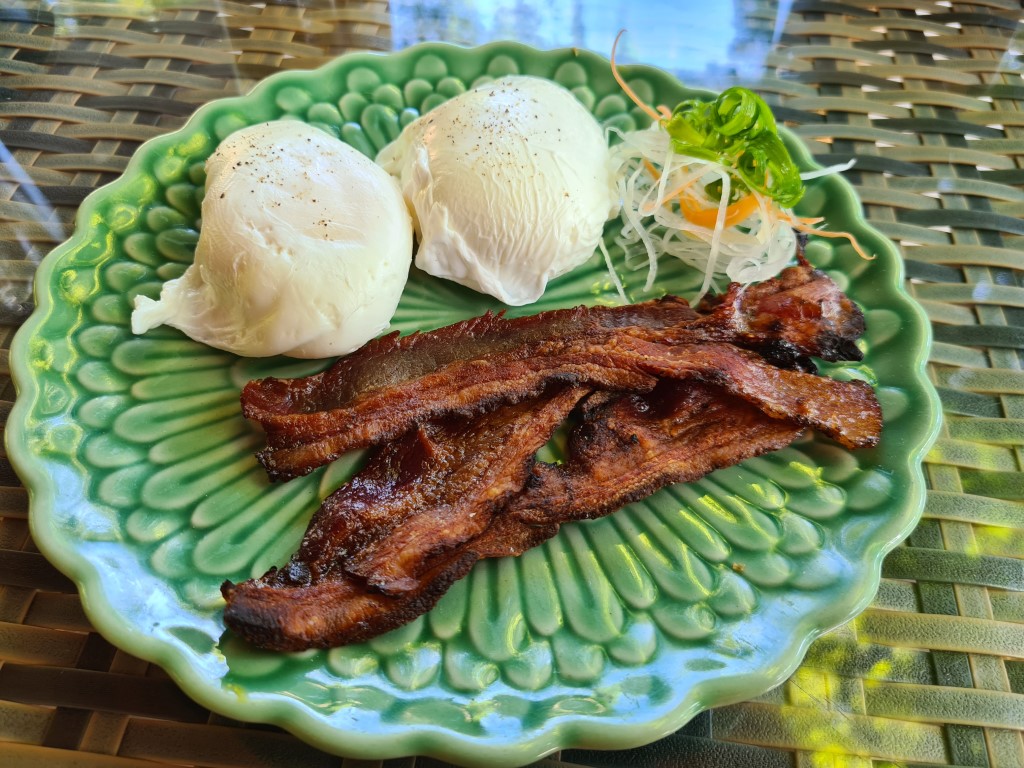 I will be back staying at Andaz Bali Resort later this year so will try some more dishes off the breakfast menu and post the pictures here.
Happy eating!