Tasty Tacos at Jalapeno Mexican Restaurant in Sanur Bali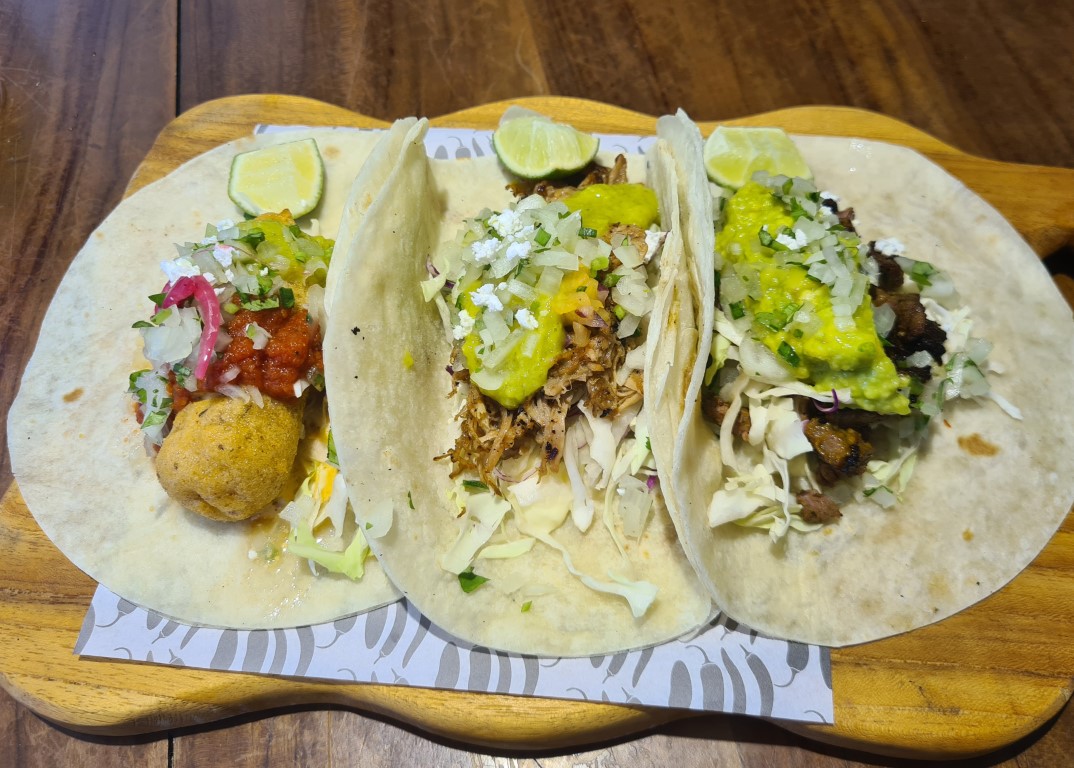 Jalapeno Mexican Restaurant is located in the southern section of Sanur Beach Bali, on the main road Jalan Danau Tamblingan, about 150 meters down from the Hyatt Regency Hotel.
I went in to Jalapeno Mexican Restaurant for a light lunch and tried some of their tacos and was very impressed. Very tasty, traditional Mexian tacos! I asked the owner (Balinese guy) how he learned to make Mexican food and he told me he used to work on Cruise ships in Mexico so learned in Mexico to make traditional Mexican food.
At 20,000Rp per taco, this was a very cheap and tasty lunch. I ordered 3 different types of tacos, the 1st was the Carne Asada Taco with marinated steak, avacado, onion, cilantro (coriander), salsa negra, queso fresca and cabbage. The 2nd was the Carnitas Taco which has twice cooked pork, salsa aquacate, charred pineapple salsa, cilantro and cabbage.
The 3rd taco was my favouite, the Baja Fish Taco which has white snapper tempura, salsa verde, cabbage, onions, cilantro, salmorejo and chipotle crema. This was so tasty! Next time I will order more of these fish tacos.
See their Taco menu below. They have a large menu selling loads of other traditional Mexican food, more than just tacos.
The restaurant has free WiFi internet access which worked well. Just ask your waiter/waitress for the password.
Jalapeno Mexican Restaurant
Jl. Danau Tamblingan No.102
Sanur Bali
Open 1 – 9pm (Friday and Saturday open till 10pm)
Happy Hour 4pm – 6pm
Check out the location of Jalapeno Mexicano Restaurant in Sanur Bali