Sunday Fun Day in Wan Chai Hong Kong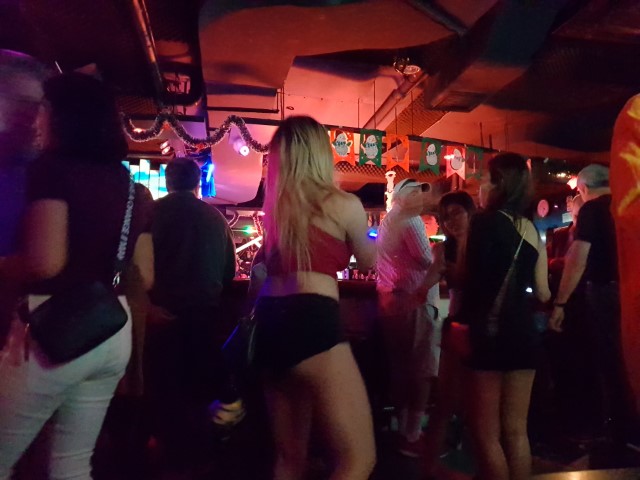 Wan Chai is one of the top nightlife areas of Hong Kong, with a whole series of bars, pubs and nightclubs located up and down Lockhart Road and the adjoining streets. While the busiest nights are usually Thursday, Friday and Saturday night, one of the busiest times to party in Wan Chai is Sunday afternoon, into Sunday evening. What many refer to as Sunday Fun Day.
What makes Wan Chai so busy on a Sunday afternoon is the crowds of Filipino and Indonesian housekeepers, maids and home help staff who only get one day off a week, Sunday. With 1 day off, they come to let their hair down, have a few drinks and dance the afternoon / night away.
Often the bars and nightclubs have so many more women inside than men! Some of the nightclubs ( or should I say day clubs) have 80% women.
Some of the best bars to visit on Sunday Fun Day in Wan Chai are Coyote Bar, Bar 109 and the very popular Neptune 3, all on Lockhart Road. Neptune 3 have a sign at the entrance saying they will charge a entrance fee of HK$500 for men and HK$300 for women which includes 1 drink.
While they do charge the women this entry fee, I have often been there and not been charged the entrance fee as they had an over supply of women in the club and hardly any men. This usually is early afternoon, even then the bar is jammed packed with so many women on the dance floor. Maybe into the evening they start to charge the men. As where there are loads of beautiful young women, the men will arrive!
They do have a dress code so no shirtless tshirts, singlets or thongs on the feet. So dress to impress.
If you are into people watching then there are some quiet pubs on Lockhart Road which has table and chairs right at the front, the perfect place to sit and have a pint and watch the parade of beautiful women heading to the bars and nightclubs. My favourite pick of pubs to sit at is The White Stag which is just a few doors down from Neptune 3. This bar is usually bypassed by the girls heading for a dance, so a great place for an afternoon pint, some good pub food and some excellent people (or girl) watching.
After a good afternoon / evening in Wan Chai, the best place for a late night feed is down at the Lockhart Road Cooked Food Centre which has a great selection of cheap and good quality Cantonese food. This is located 2 blocks down Lockhart Road from the main nightlife area of Wan Chai.