Flight Review EMIRATES FIRST CLASS SUITE B777-300ER Jakarta to Dubai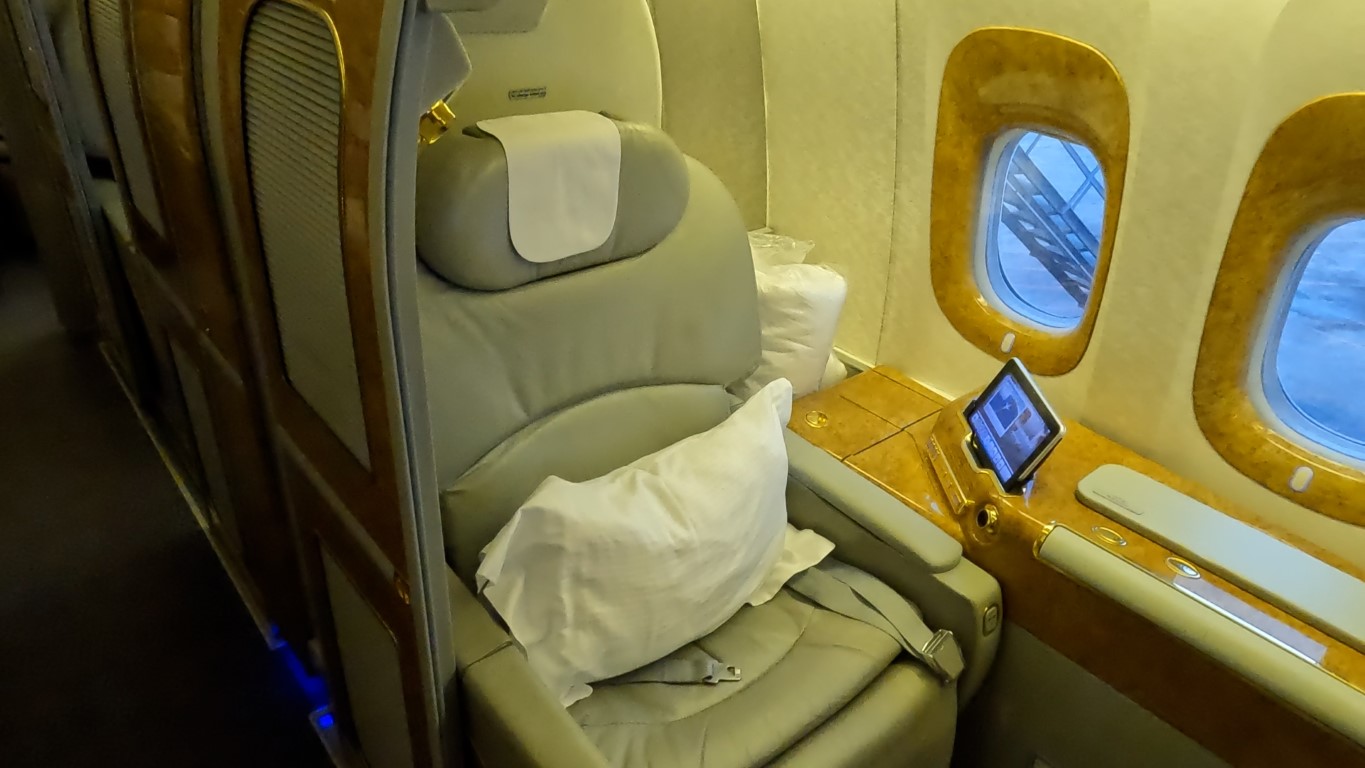 Airline: Emirates Airlines
Flight no: EK357
Route: Jakarta International Airport (CGK) to Dubai International Airport (DBX)
Aircraft type: Boeing B777-300ER Registration A6-ENX
Flight time: 7 hours 20 minutes
Travel Class: First Class
Seat no: 1A Window Suite
Check out the flight review video of Emirates First Class Suite B777-300ER Jakarta to Dubai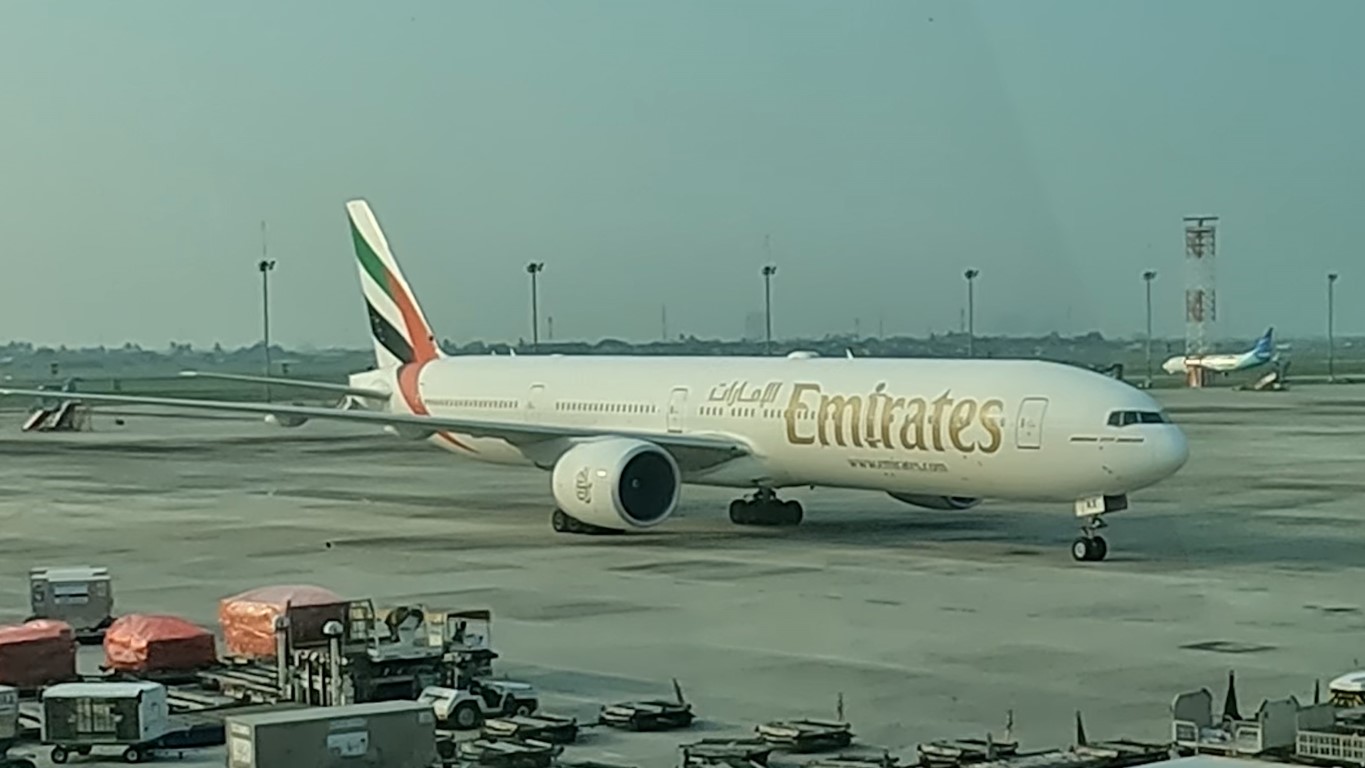 The cost of this flight from Jakarta to Dubai in Emirates First Class Suite costs 44,995,300 Indonesian Rupiah (just over A$4,500). Instead of forking out this cash for the flight, I used Qantas Frequent Flyer points via the Qantas website which cost 107,700 points. I just had to pay the taxes (airport and airline service charges) which was around $300. I think the taxes have gone up since I took this flight in July 2022. On the Qantas site, it now lists the points as 107.700 and over $600 in taxes.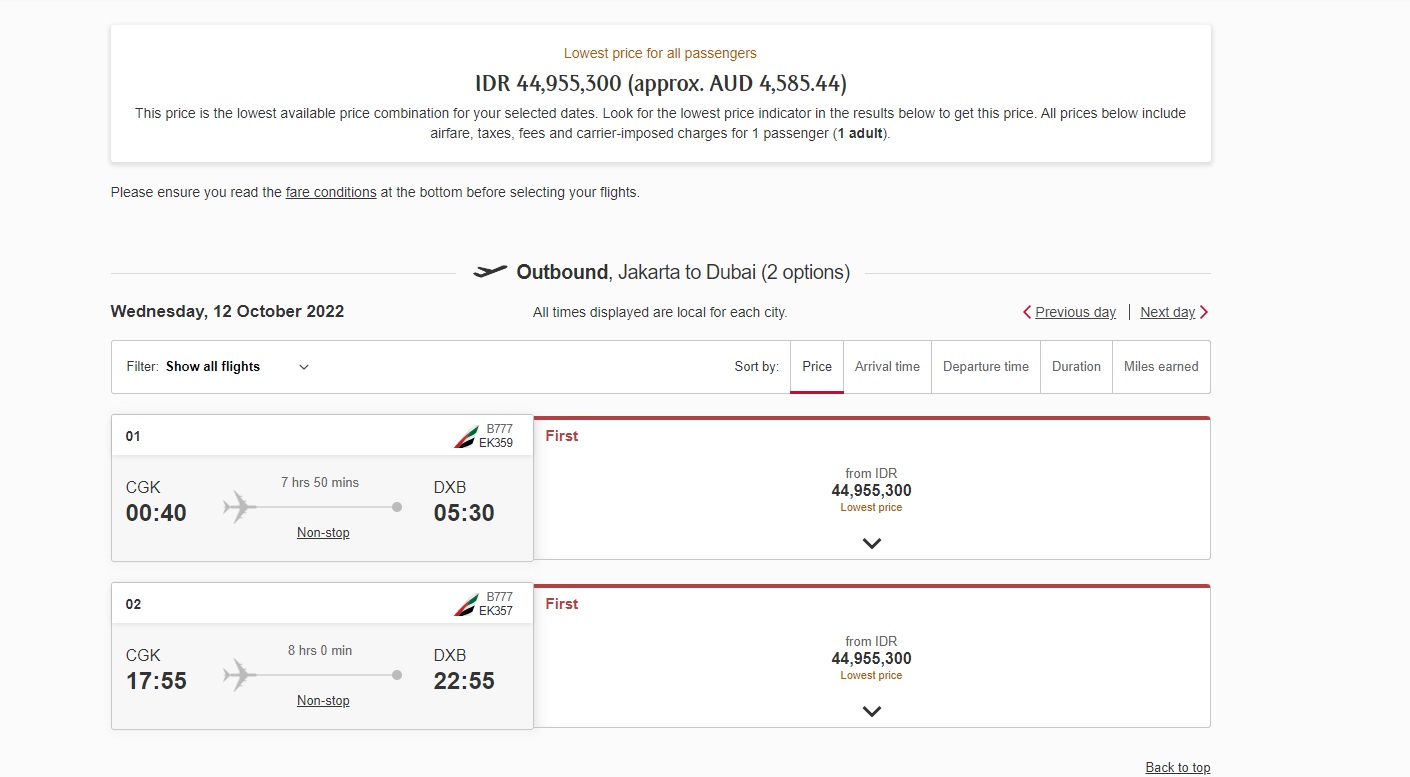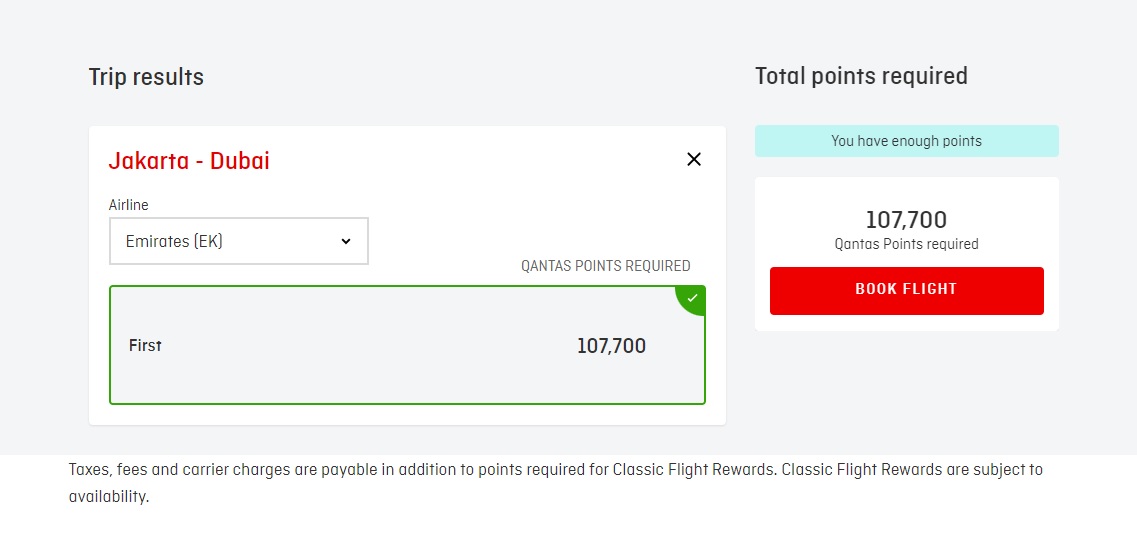 A first class ticket on Emirates Airlines includes a Chauffeur‑drive pickup from your home/hotel and taking to your departure airport, as well as drop-off at your hotel in Dubai but sadly as of 1st May 2022, the Chauffeur-drive service is not available for customers who have booked with Qantas.
I had arrived at 9am into Jakarta Airport on a Jetstar Asia flight from Singapore. I was expecting to just to a transfer within the airport but there seems to no longer be a transfer desk at Jakarta Airport. Unless you already have a boarding pass for your next flight, you have to pass through Jakarta Immigration and pay 500,000Rp Visa On Arrival fee. I begruntling paid the 500,000Rp fee (around A$50) which gave me the privilege of walking out of the Arrivals hall, going up the escalator to the Departure Hall.
My flight on Emirates was departing at 6pm, so I had to wait until 3pm before the Emirates check-in counters was open before I could get my boarding pass which allowed me to pass back through Immigration and into the Plaza Premium Lounge. So a painful 6 hour wait in Jakarta International Airport departure hall. Luckily there are loads of cafes and restaurants to help pass the time. After a few expensive coffees and some Dunkin Donuts in the morning, then some excellent Xiao Long Bao dumplings at Paradise Dynasty Chinese Restaurant, I still had a few hours to wait before I could check-in.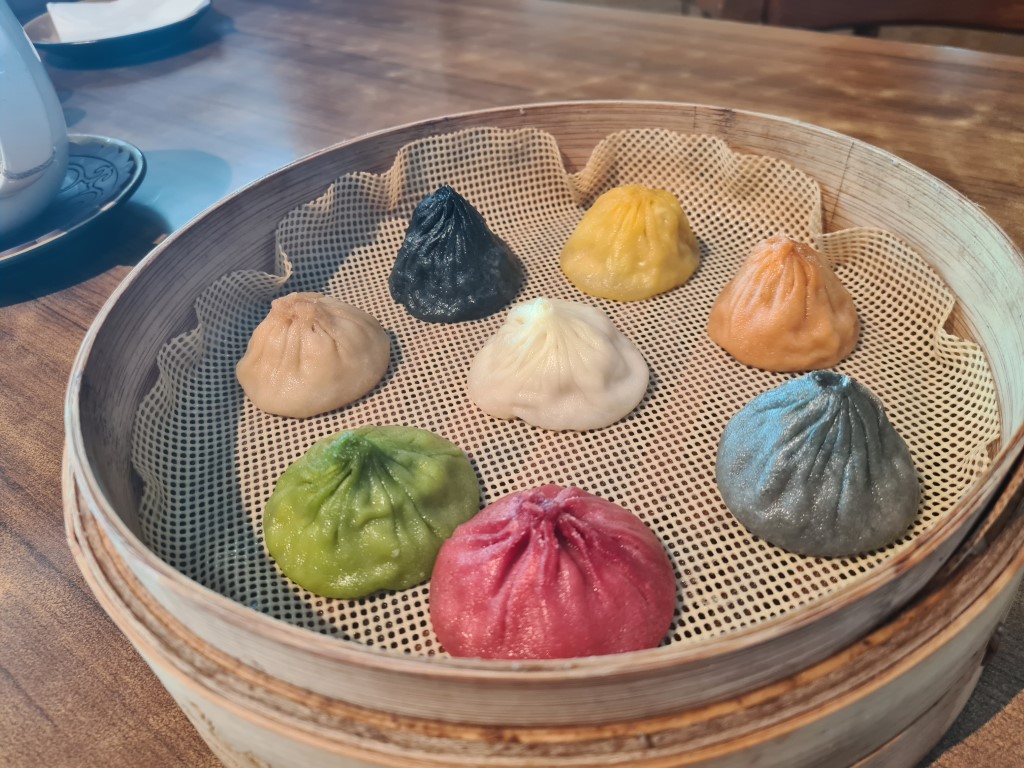 Check-in was a breeze. They have a queue for Economy class passengers, a dedicated queue for Business Class and a dedicated queue for just 8 First Class passengers.
Plaza Premium Lounge at Jakarta International Airport
Emirates do not have their own lounge at Jakarta Airport, so Emirates Business and First Class passengers use the Plaza Premium Lounge which is right next to the departure gate where the Emirates flights leave from.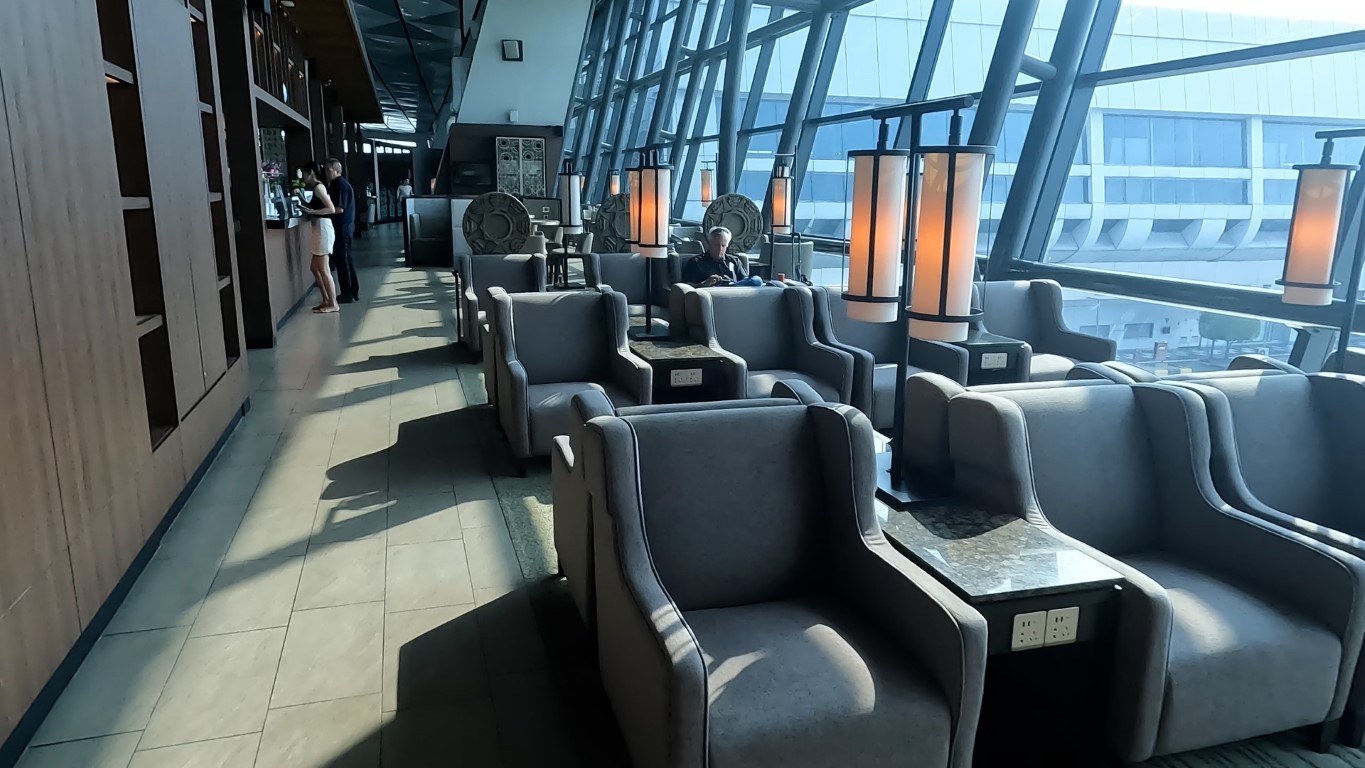 The Plaza Premium Lounge is a very nice lounge with lots of different areas with comfortable seating, with large windows overlooking the airport to see the planes taxi and a small view of the end of the runway. Being right next to the departure gates, I could see the Emirates B777-300ER arrive.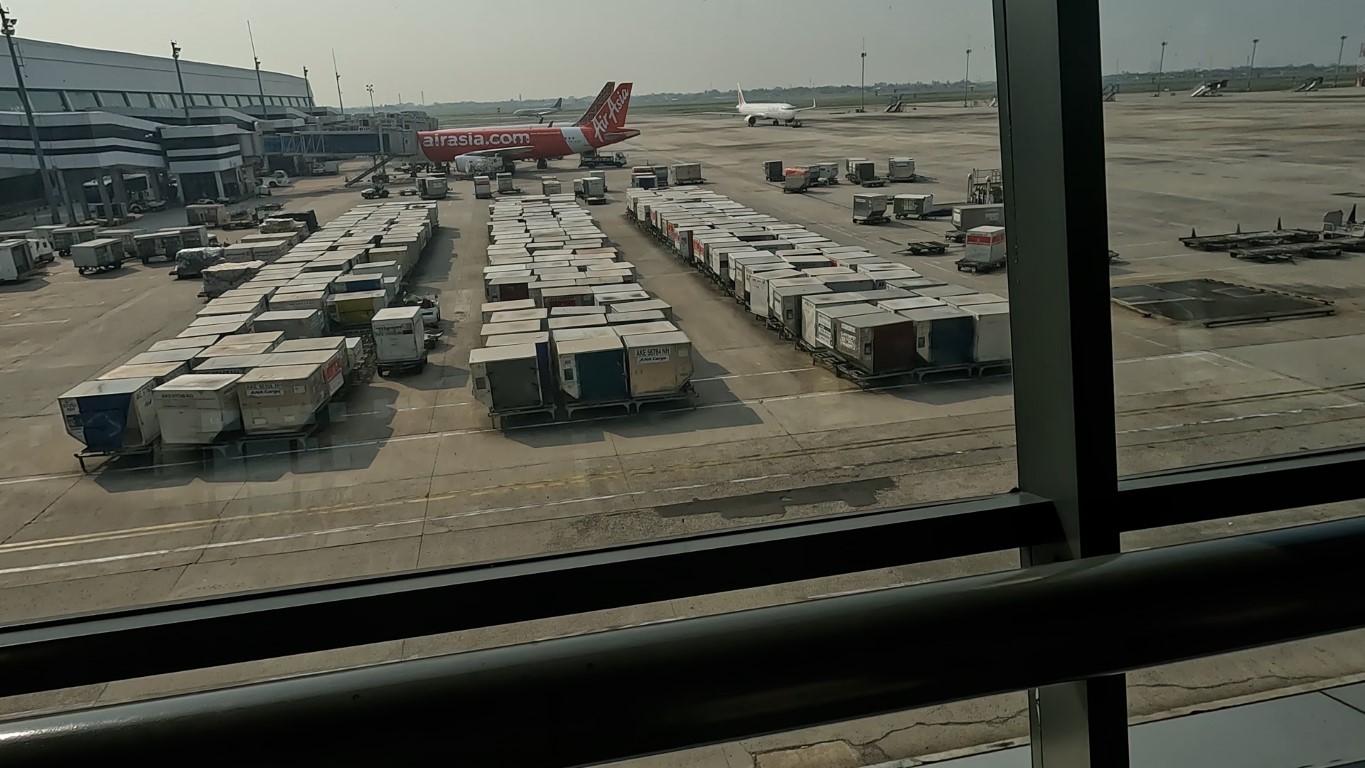 There is a barista which makes good coffees and serves drinks and further down the end of the lounge is the self-service food buffet with a very nice selection of food. I did not try any of the food as I was saving myself for the excellent food served on the plane.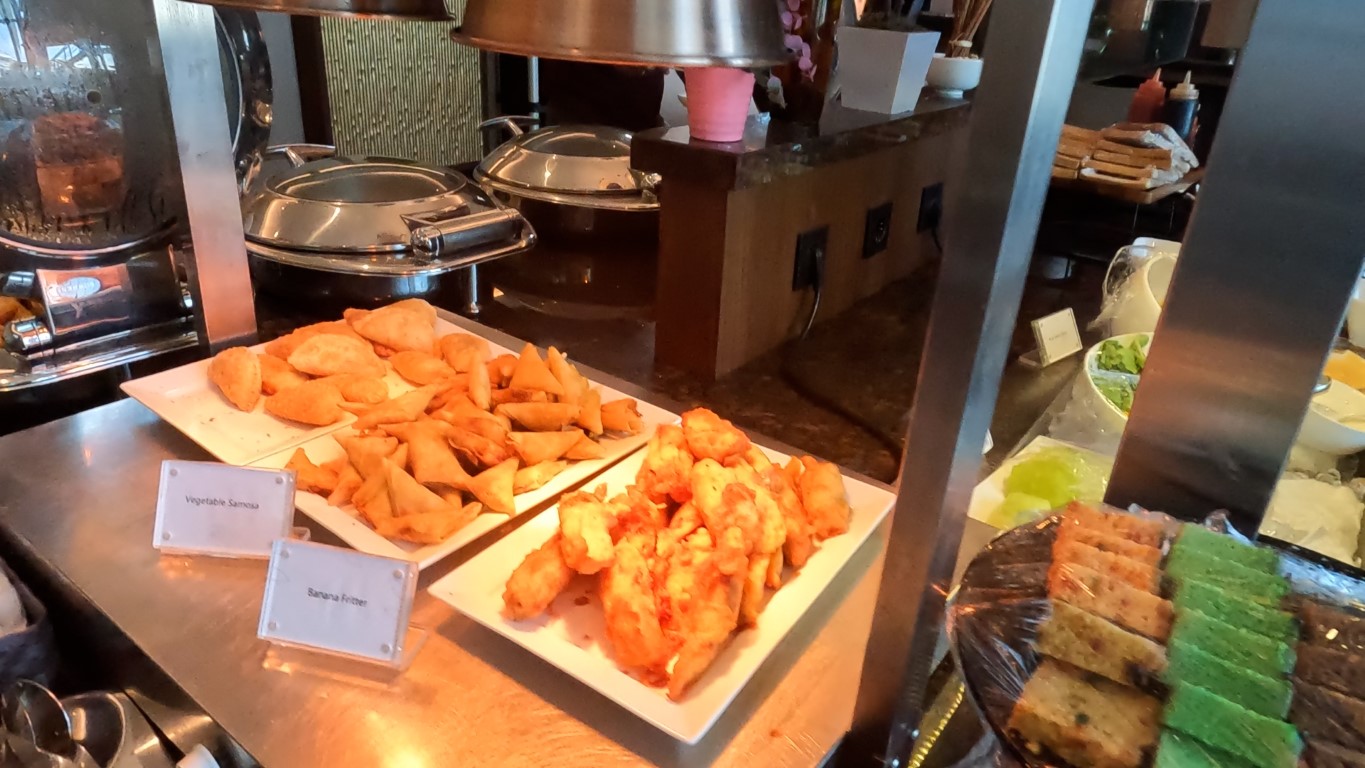 On the plane
My plane for this flight had registration A6-ENX which joined the Emirates fleet in December 2014.
There are 2 doors for boarding the plane. 1 door for First Class and Business Class passengers and the 2nd door for the economy cabin.
When I showed my boarding pass at the door of the plane, the cabin crew member said 'Let me guide you to your seat' which was just a few steps away as I was in first row of the plane. She welcomed me back to First Class even though this was my first time in Emirates First Class.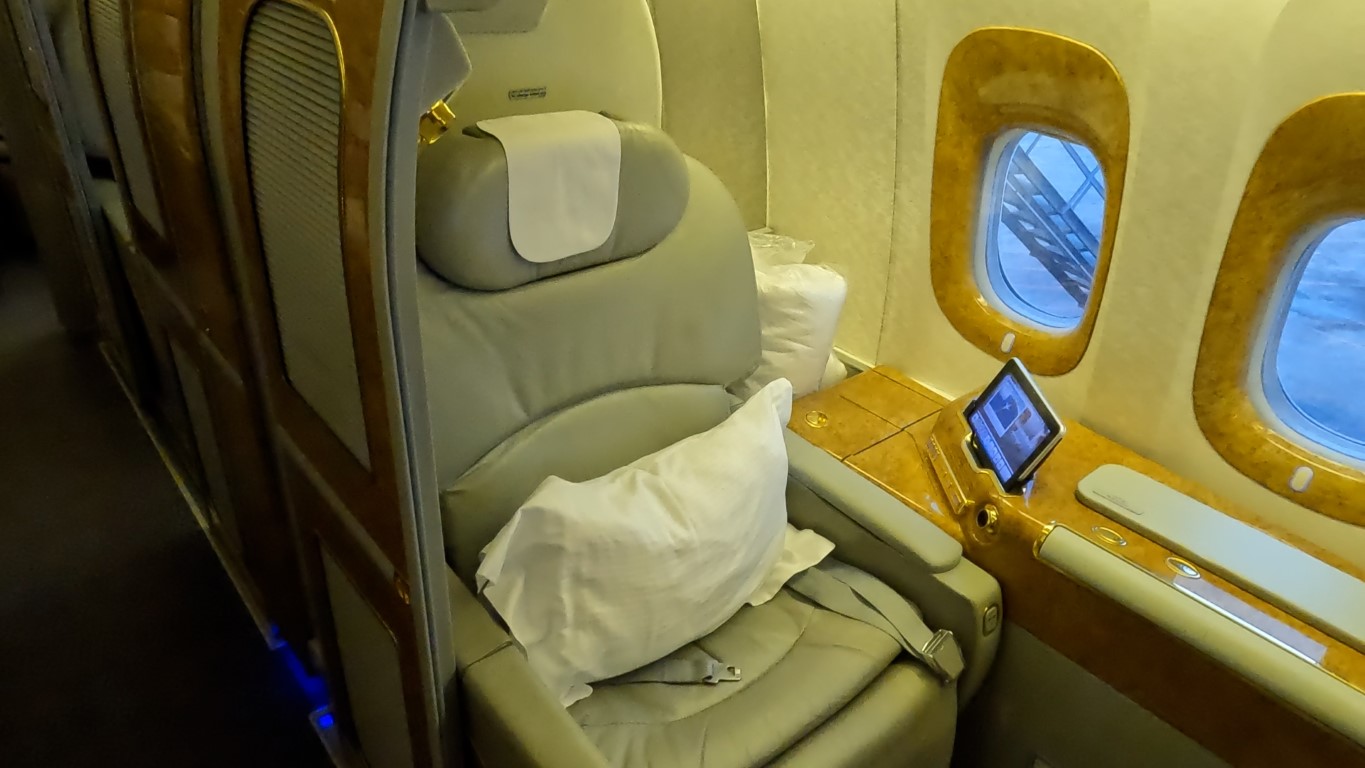 I was like a kid in a candy store, with so much to explore in this awesome First Class Suite.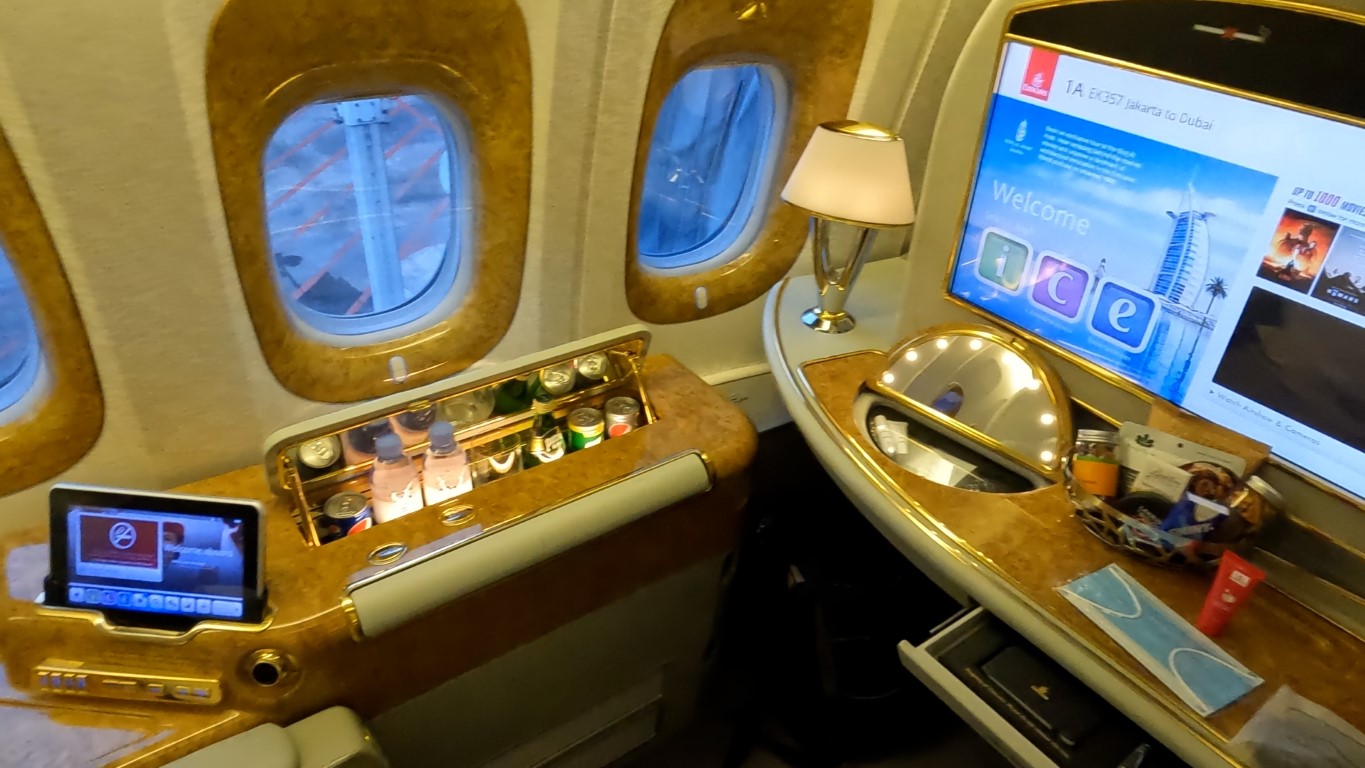 The seat is the most comfortable that I have ever sat in. Next to the seat is a small display which controls your seat as well as your TV screen. The seat has multiple positions, upright for take-off and landing, reclined to relax and watch a movie, full lay flay bed (which I did not use as wanted to enjoy the entire flight) and there is a setting for when you are eating which pushes the seat forward so you are close to your tray table.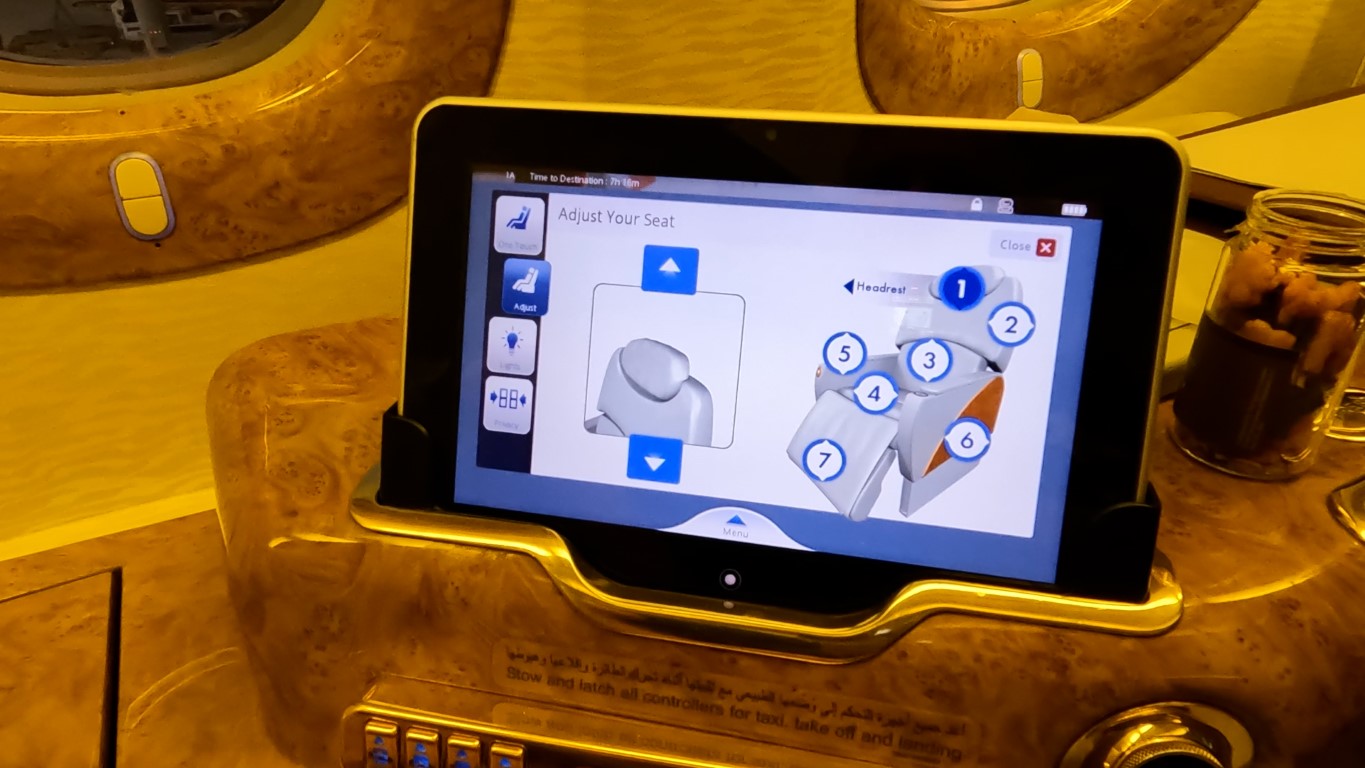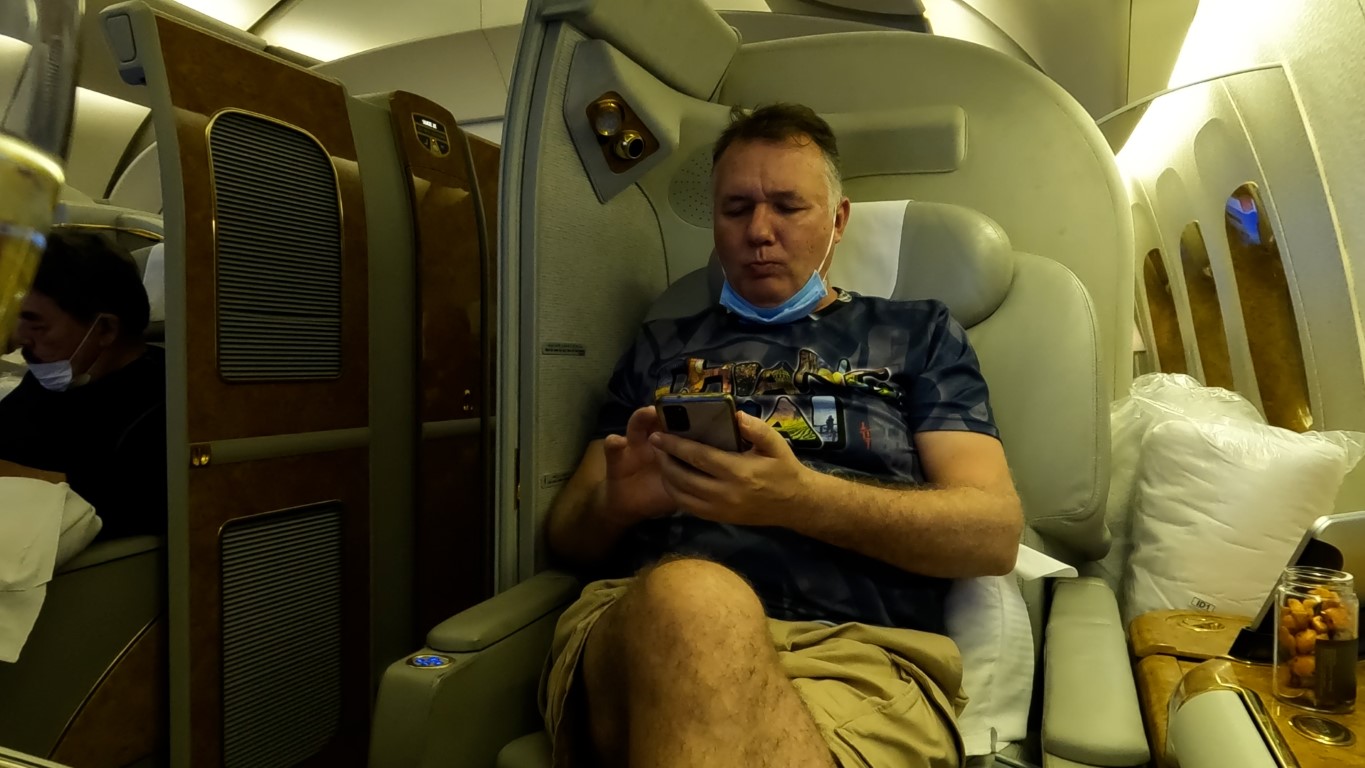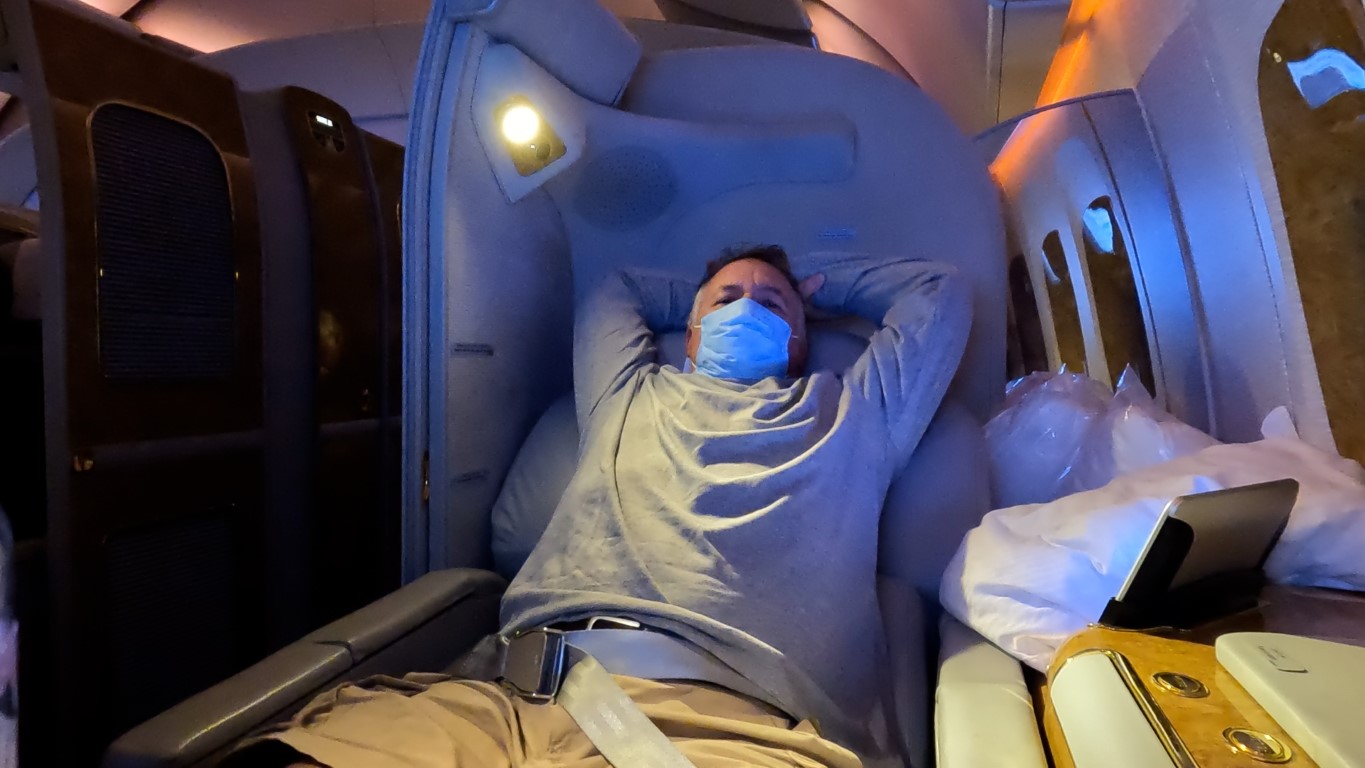 Under the TV, there is a compartment which opens and has a personal vanity mirror and your amenities kits which contains a range of luxury Byredo moisturisers which are allergy‑free skin care products.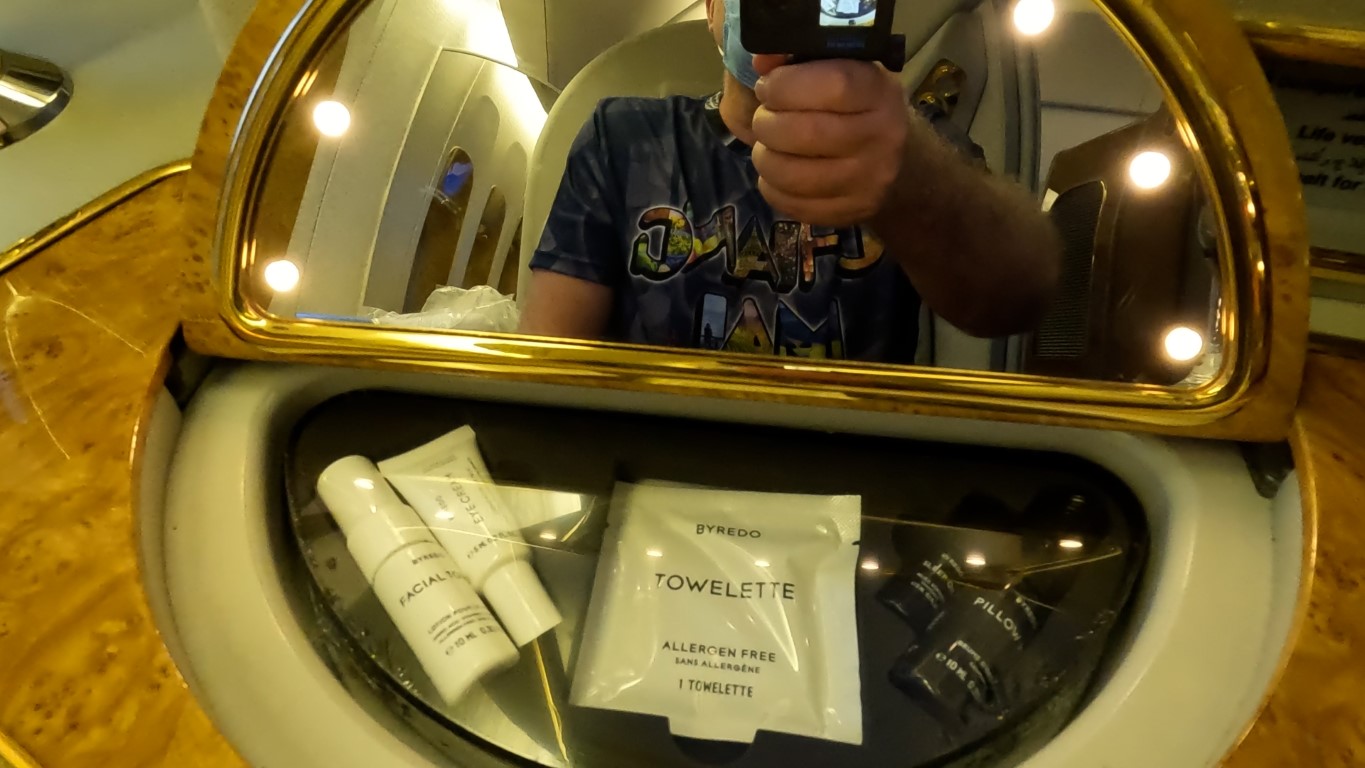 There is another draw that opens up that contains a very nice Emirates embossed notepad and a good quality pen. I forgot to take mine off the plane, so I need to fly Emirates First Class again to get my free notepad and pen.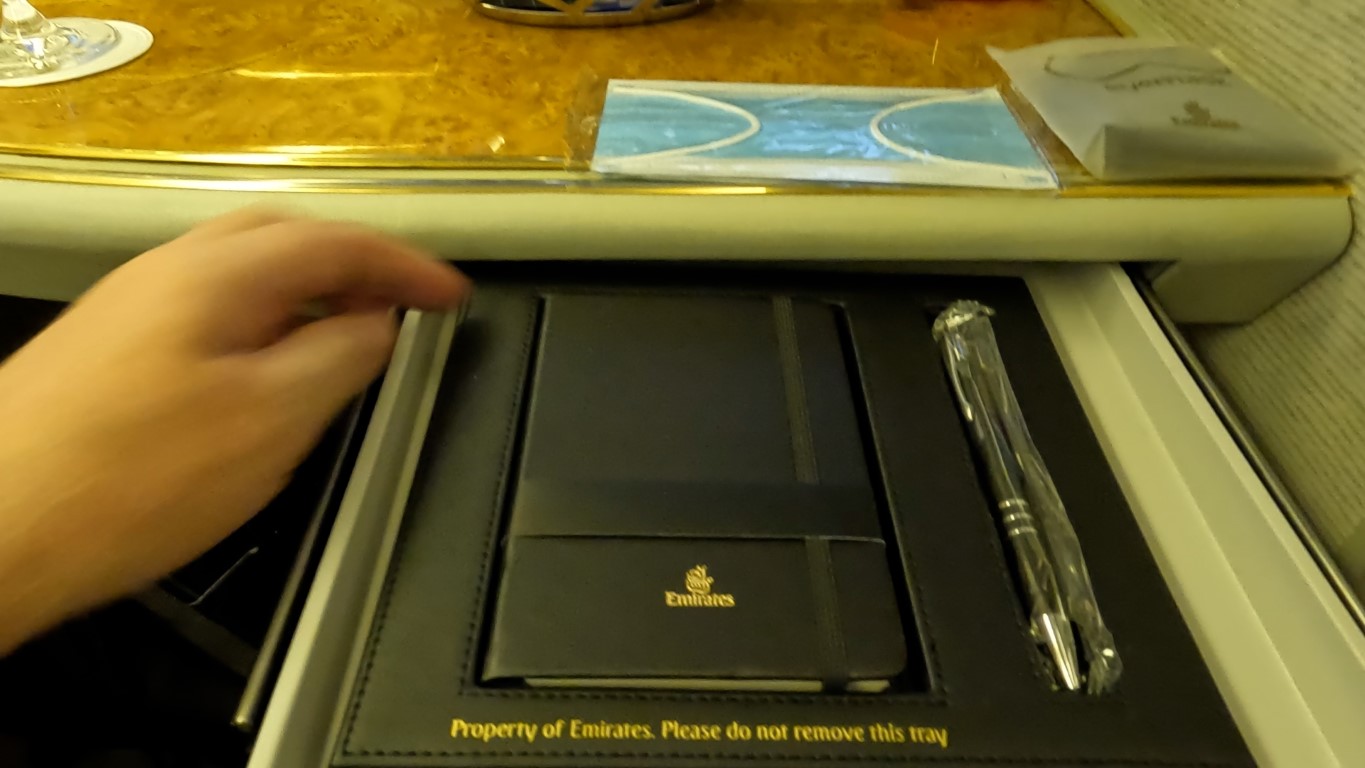 My 2 personal favourites features of this First Class suite is the personal mini bar and the sliding doors that enclose your private suite.
At a press of a button the mini-bar pops up with a selection of Evian and Perrier water, Pepsi and 7-Up. There is no small alcohol bottles in the mini-bar but you can ask your crew to bring you a glass of your favourite spirits with ice and then use the drinks in the mini-bar.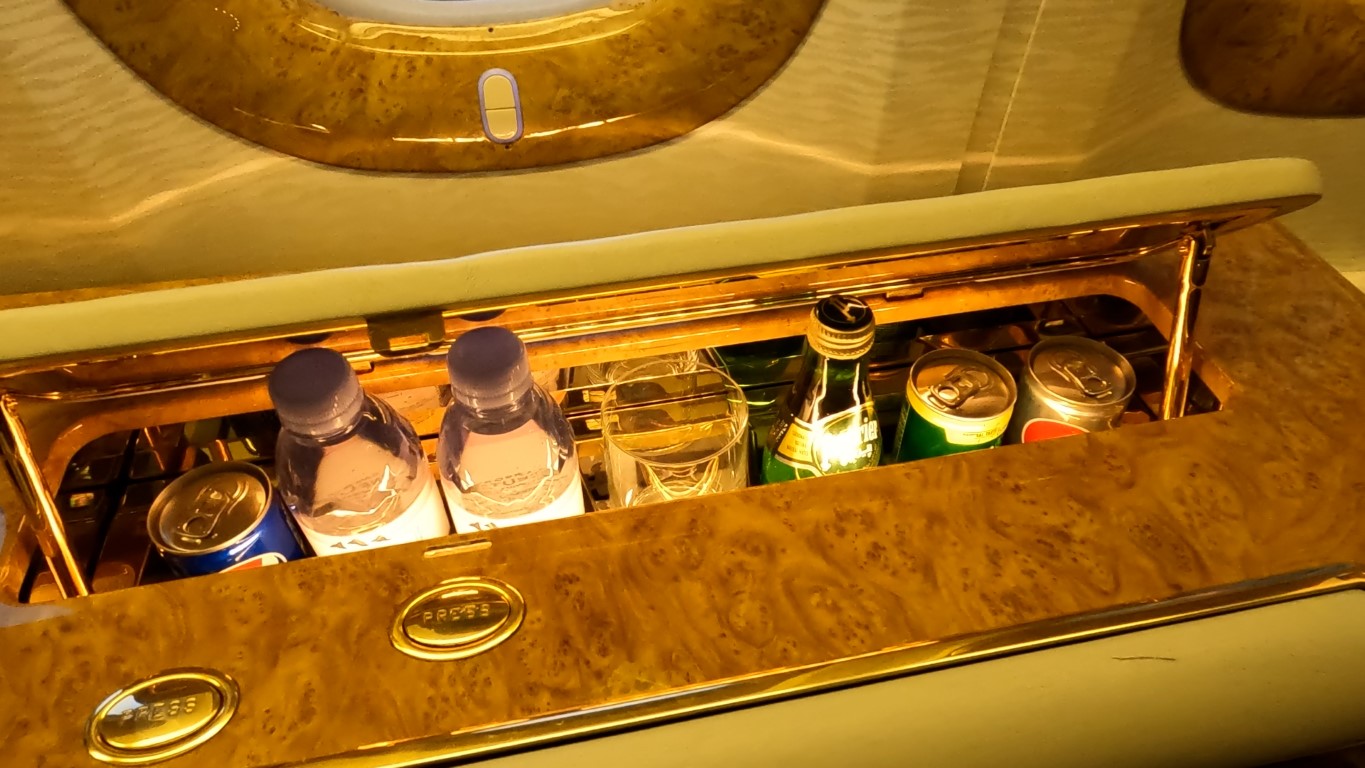 The doors to your First Class suite can only be closed after take-off and before landing. Straight after take-off I closed the doors but opened them when the meal service started.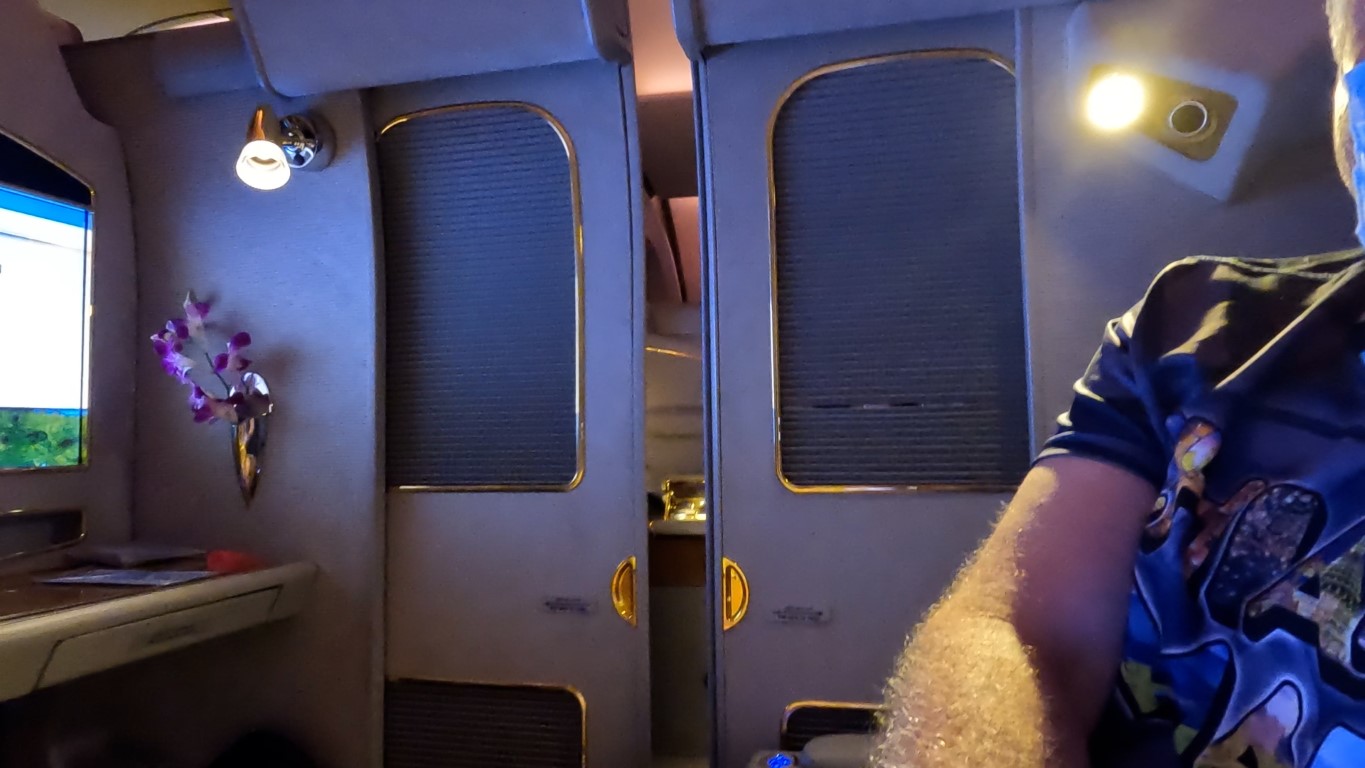 There is also a USB port and universal power adaptor in another compartment close to the TV.
Entertainment System
There is a very nice wide screen TV for watching movies or bringing up the flight map. The TV is a touch screen but as it is out of reach from your seat, it is best to use the tablet right next to your seat to control the TV.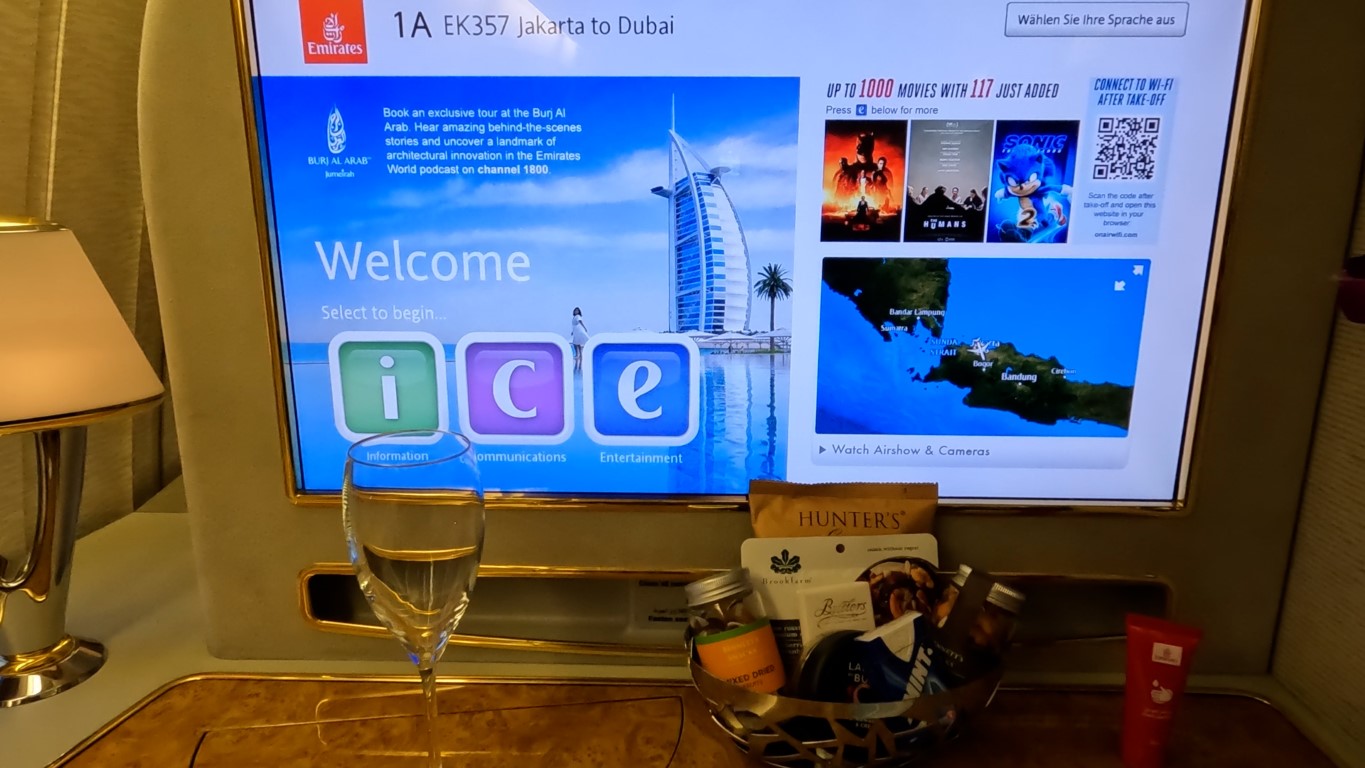 The best feature of the personal tablet is being able to bring up the flight map on it. So you can watch a movie on the big screen and always have the flight map available to glance at to watch the progress of your flight.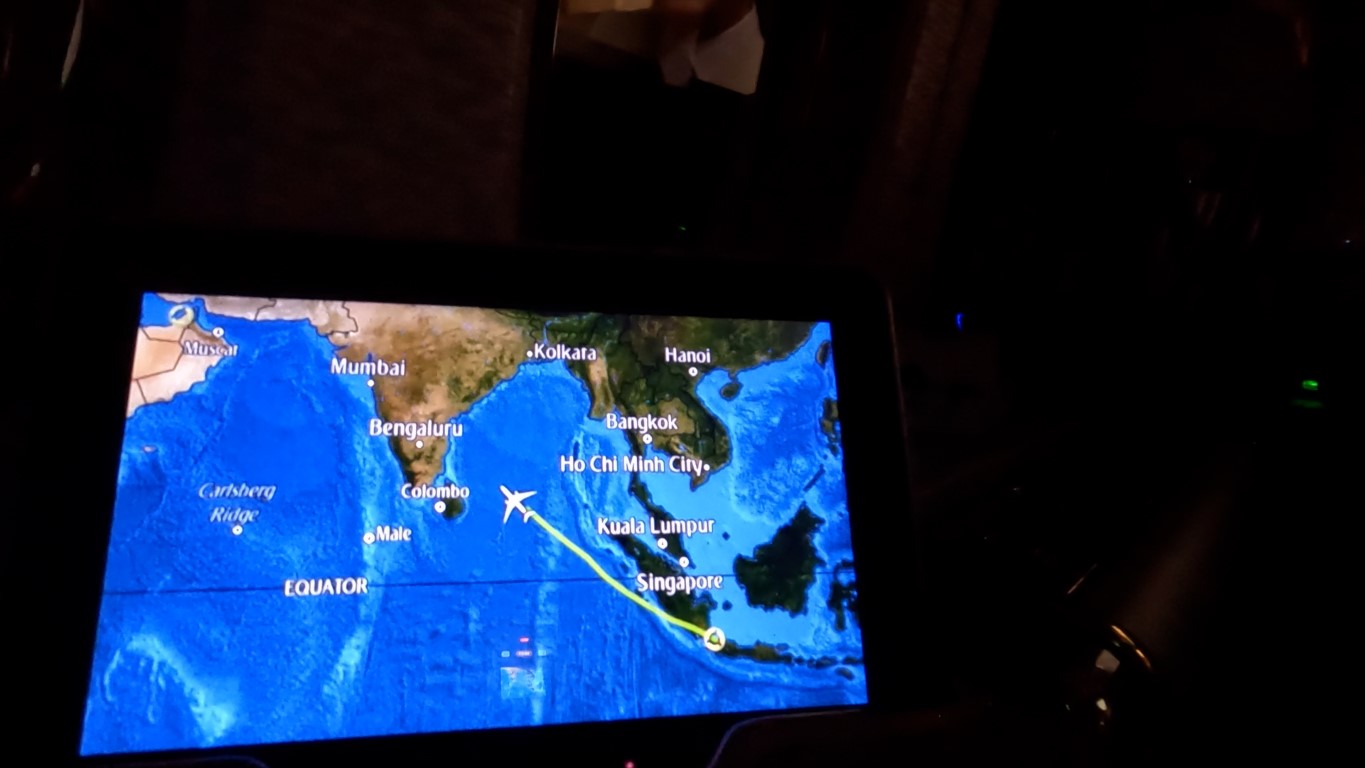 There is a set of premium Bowers & Wilkins E1 headphones which are exclusive to Emirates Airlines. These are such a comfortable pair of headphones. Many other airlines the headphones start to hurt your ears after wearing for a while but these did not. There are noise cancelling which reduces a huge amount of the aircraft noise and give great sound quality for watching a movie.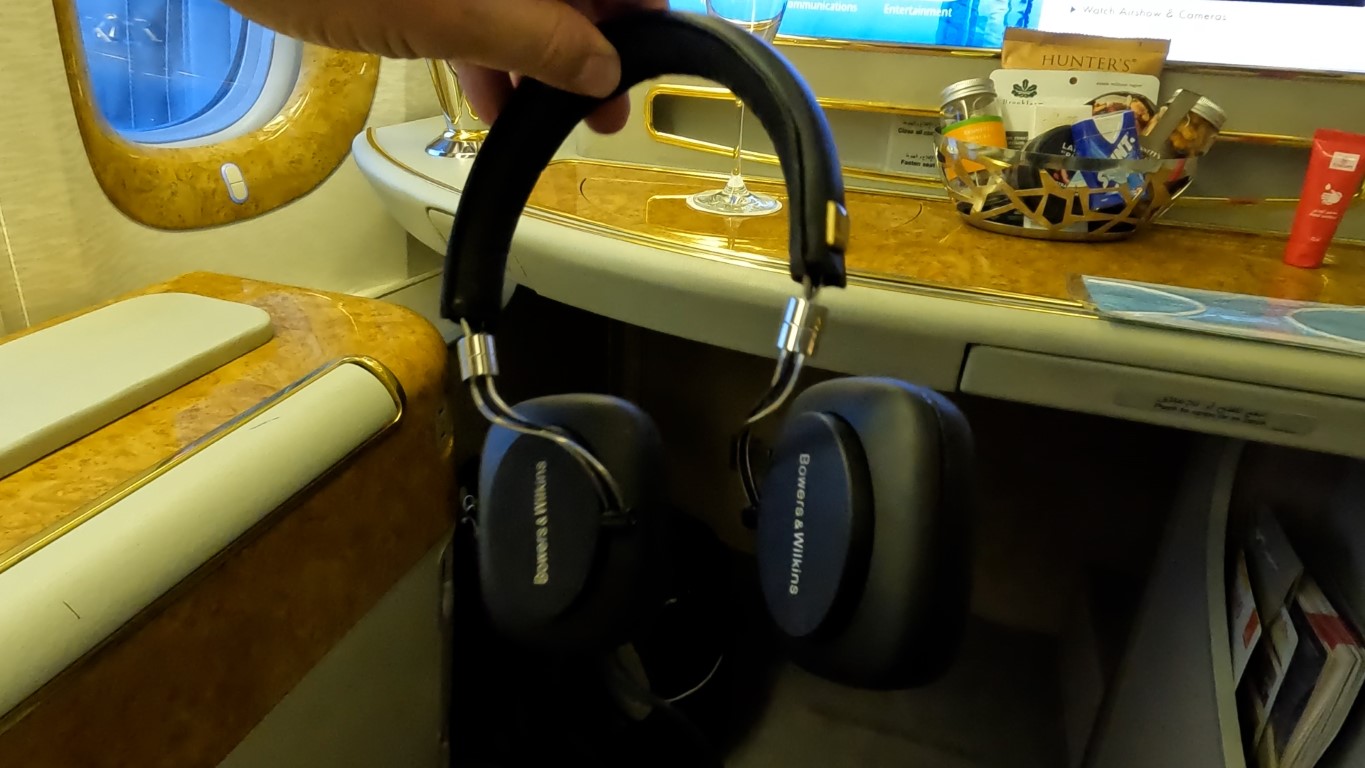 There were no external cameras active on this particular B777-300ER. I have flown with Emirates B777-300ER and these have 2 external cameras you can watch on your screen but for some reason these were not active for this flight.
There was free WiFi on this flight for First Class passengers but I did not connect to it. I was entertained with the TV and the awesome food so no time to check my emails.
Food served onboard
The food service starts pretty much as soon as you get onboard. Shortly after I sat down one crew member came and offered me a date which were individually wrapped. Another crew member asked if I wanted some Arabic coffee which I tried. It looked weak but this is super strong coffee.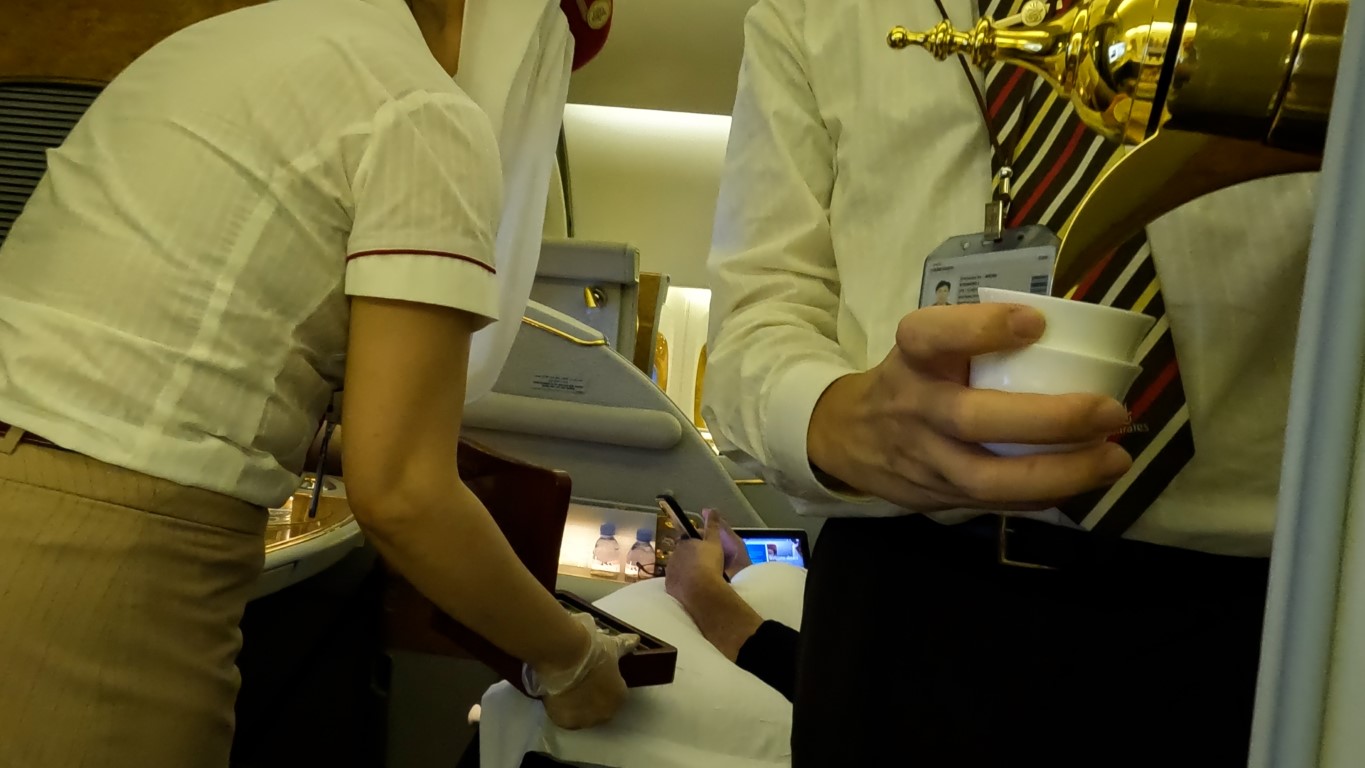 There is also a big bowl of snacks sitting right under the TV screen. I didn't even touch these snacks as the meal service has some excellent food and very large portions.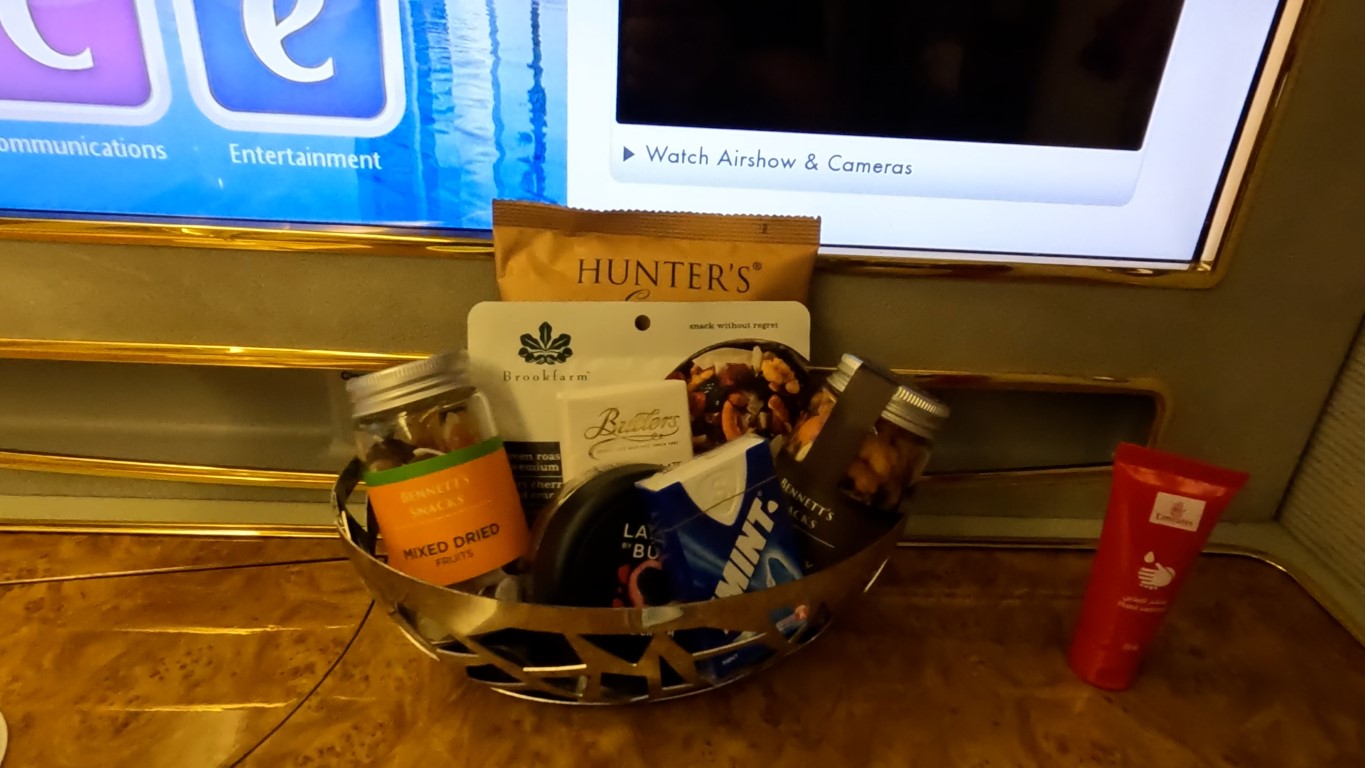 Then the good stuff came. A crew member came with a bottle of Moet and Chandon Champagne. He apologised that this was the only champagne that they had opened but he assured me that after take-off they would open bottles of Dom Perignon. This is the fist time I have heard someone apologise for serving Moet! They did come and refill my glass, so I had 2 glasses of this Champagne before take-off.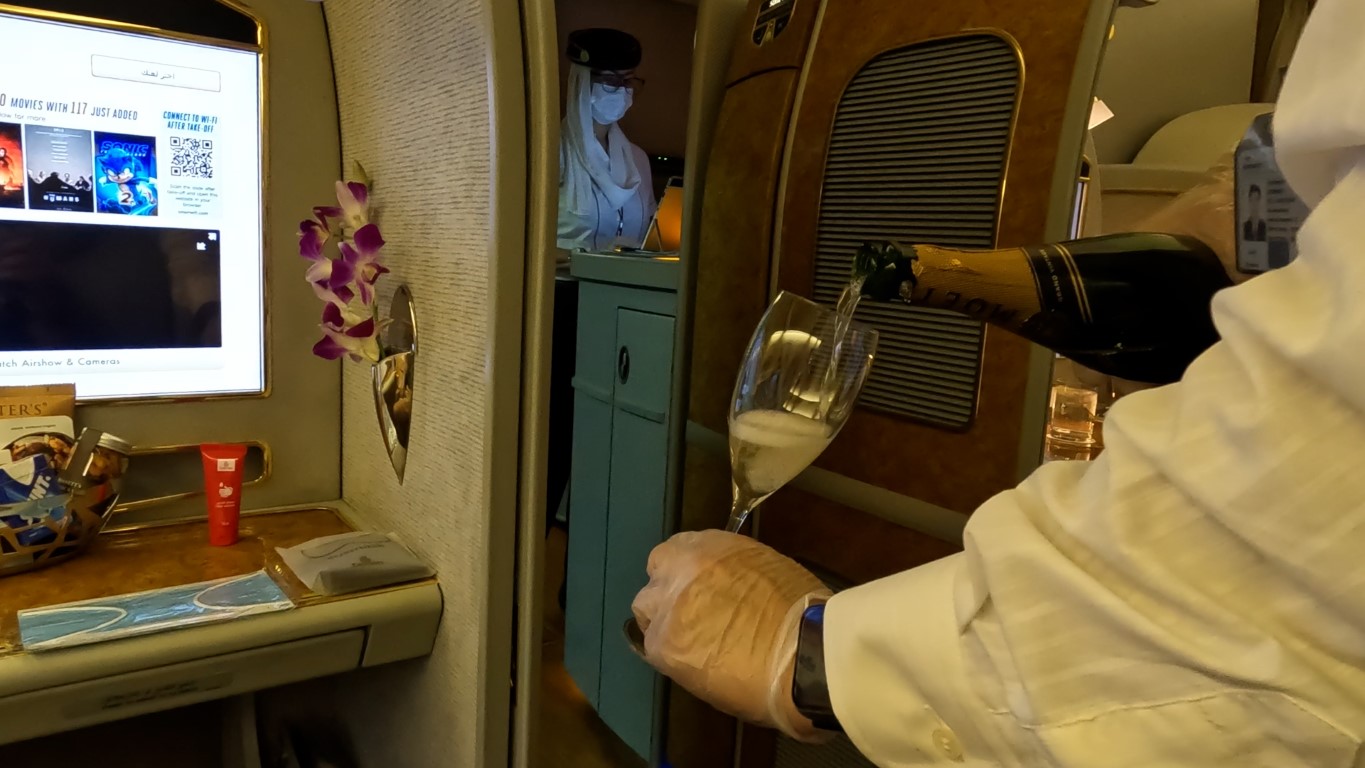 You are given the food menu which has an extensive selection.
Our meal service started with Canapes of Confit Duck with curred pineapple, Parmesan and truffle arancines and poached prawn and guacamole tartlet.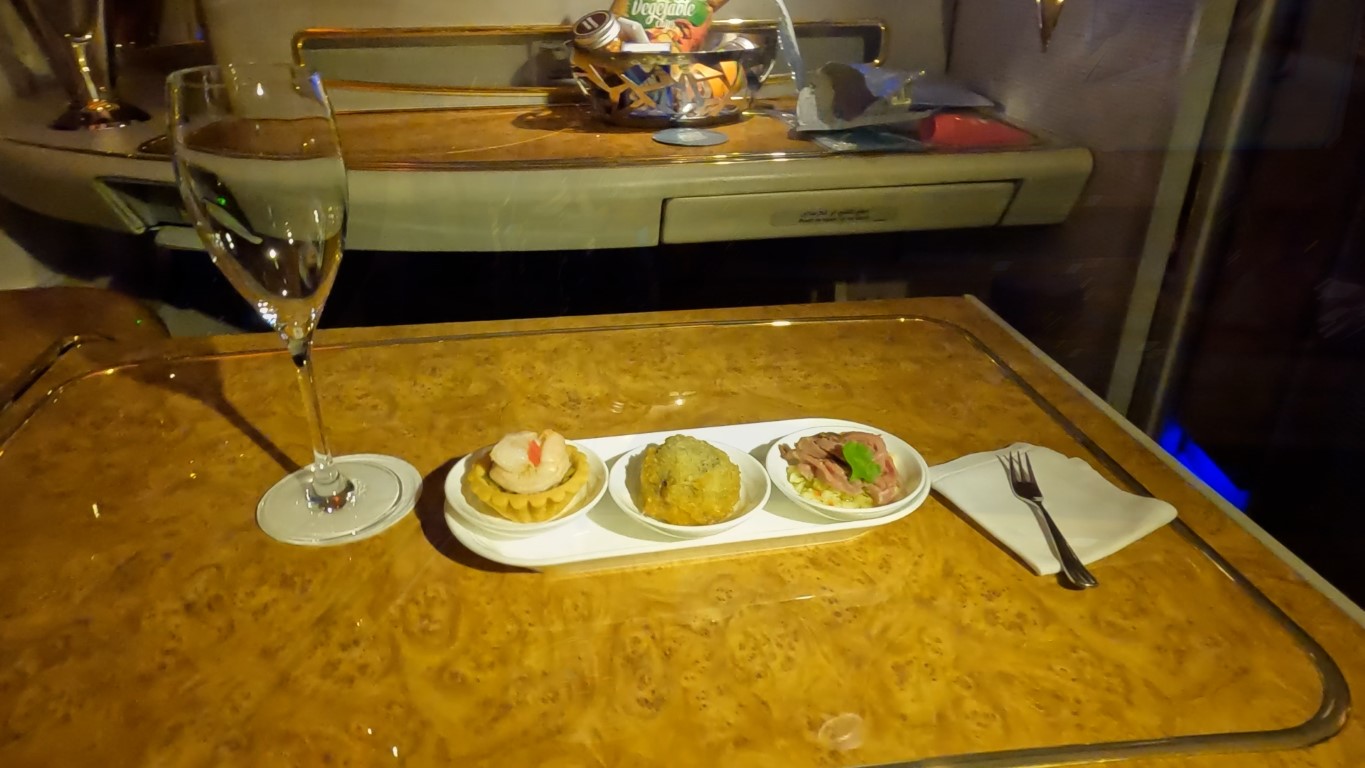 As promised the crew came around with a bottle of Dom Perignon and they were not shy coming back and refilling my glass. I lost count of the number of glasses that I drank.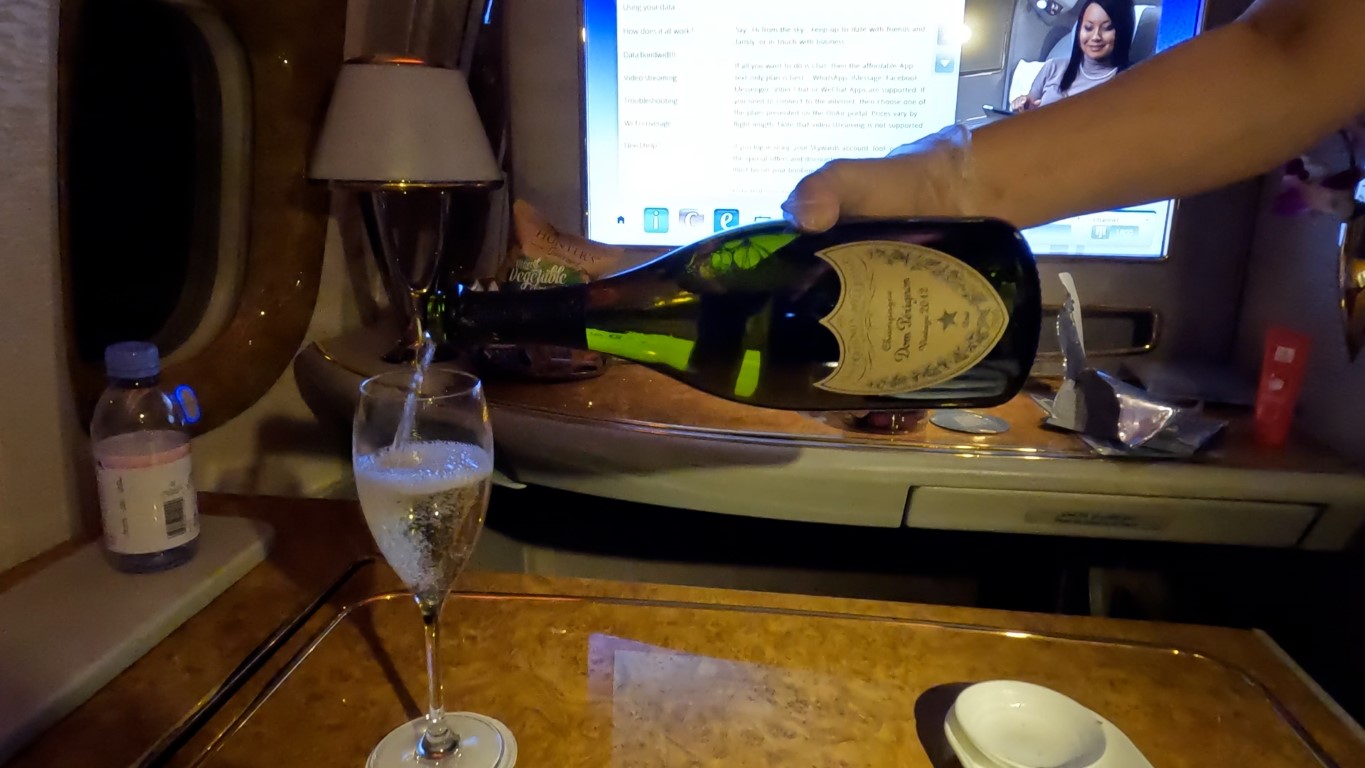 For appetizers there was a selection of 6 different dishes – see images below.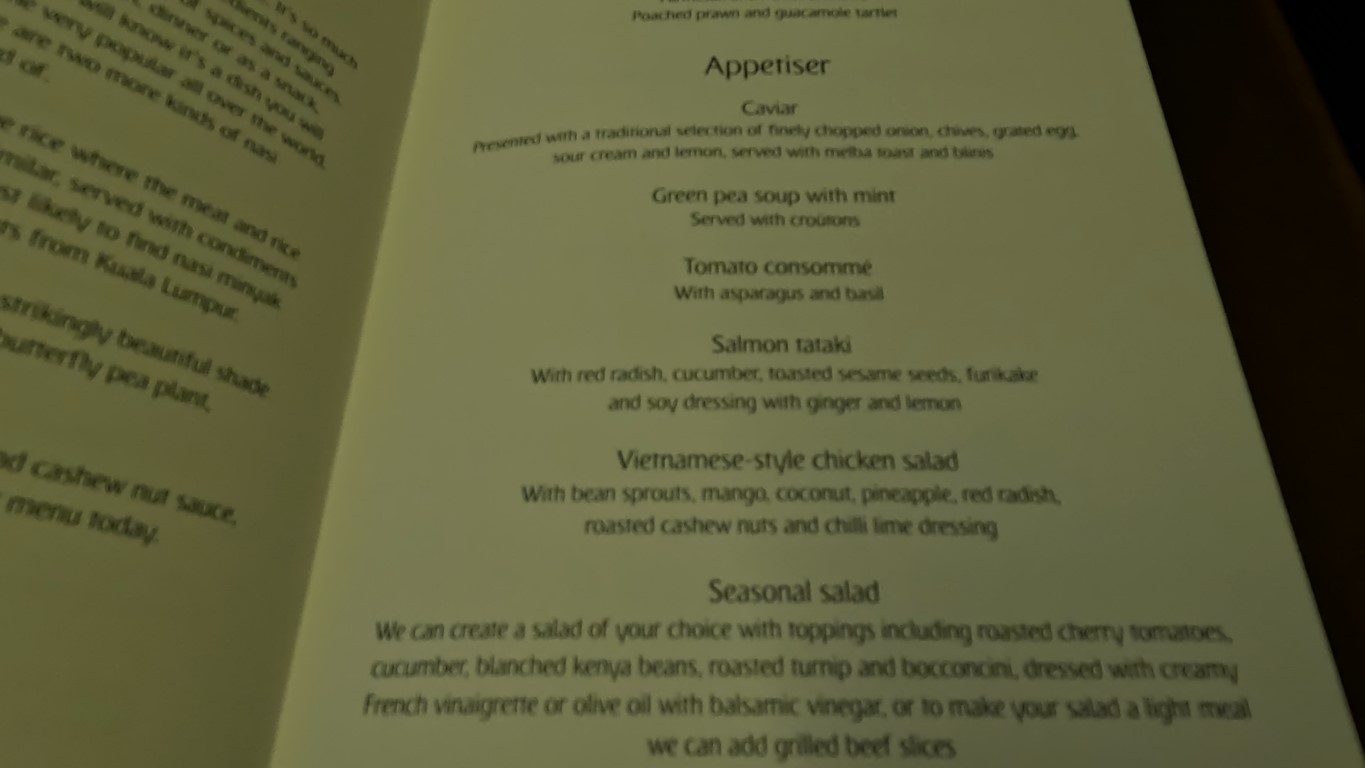 They then brought this big bowl of bread before they served the appetizers. There was too much bread here for me to eat.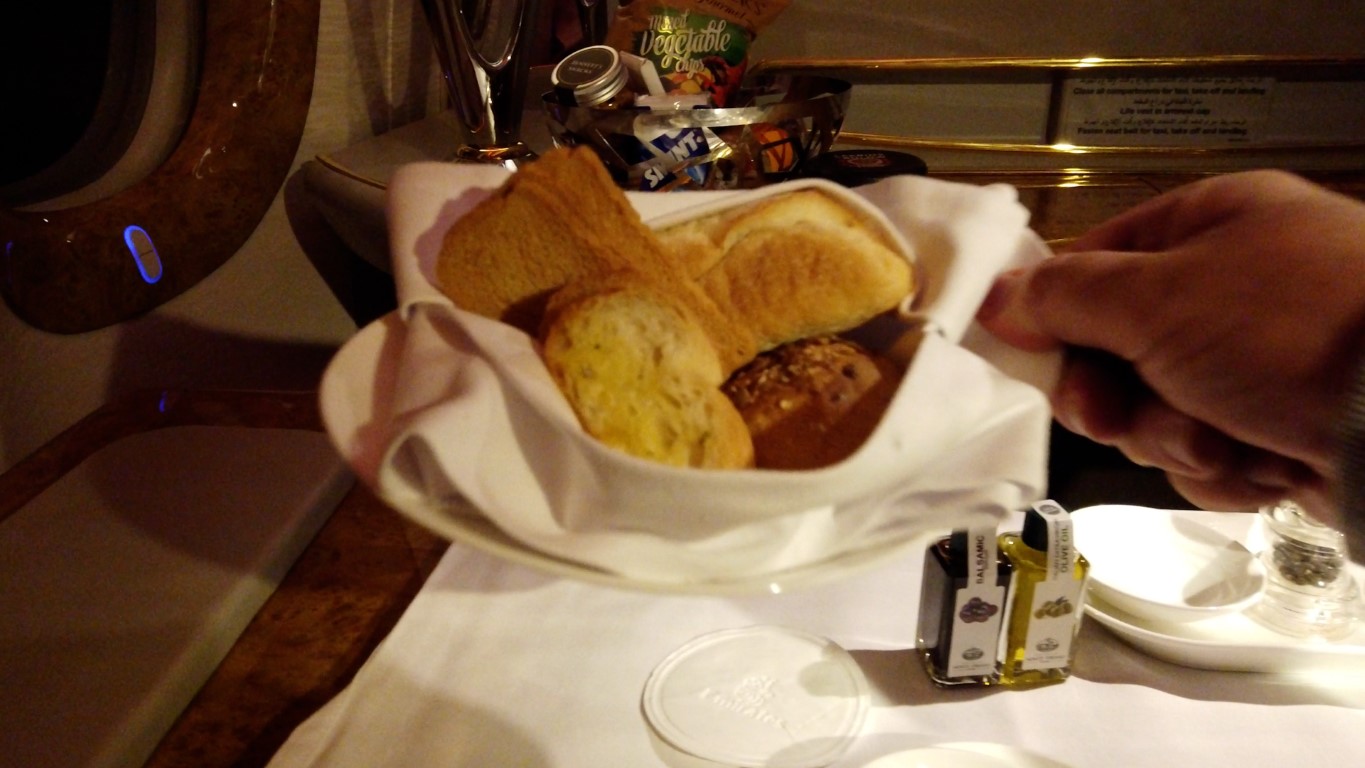 I ordered the Caviar which comes with all these side dishes of chopped onions, chives, grated egg, cream, lemon and slices of melba toast. This is only the 2nd time I have eaten caviar. They taste like fish eggs to me 😉 Not bad, just very salty.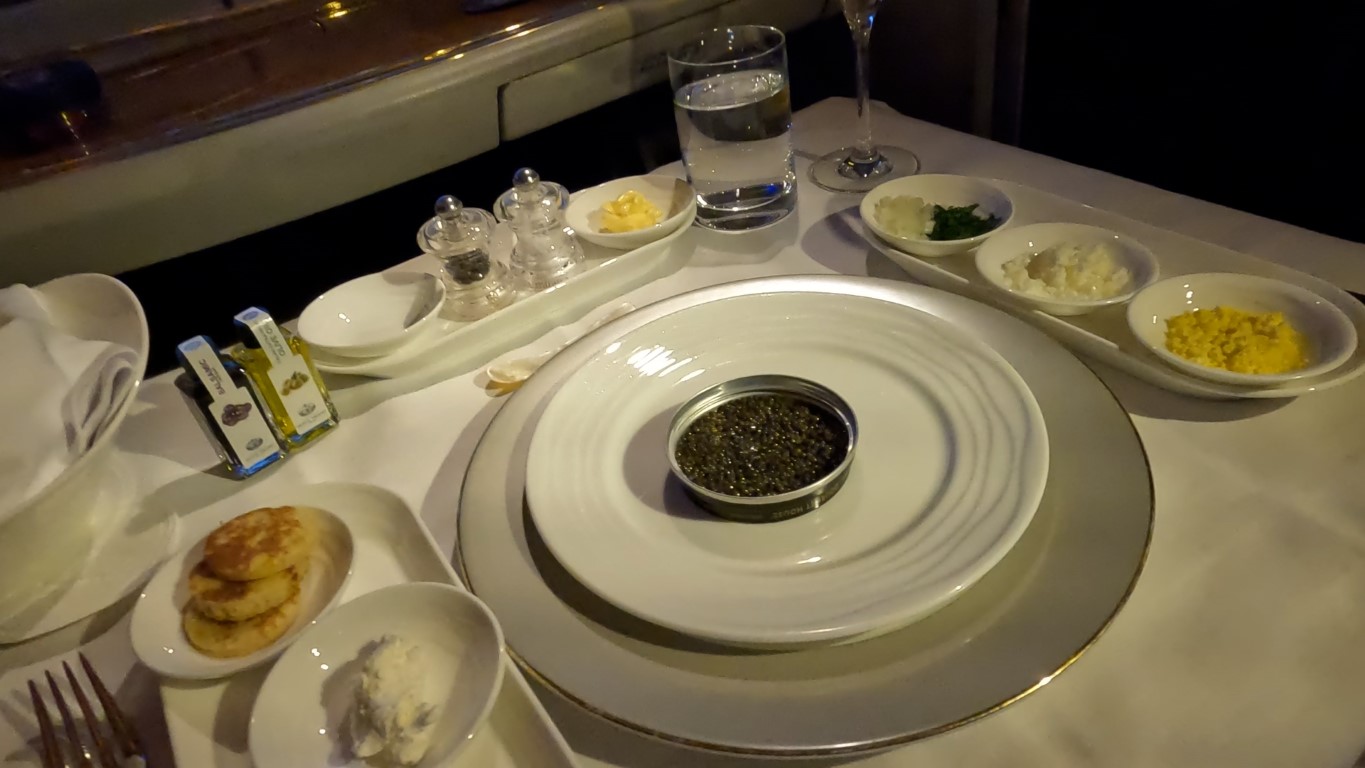 For main meals there is selection of 5 different dishes.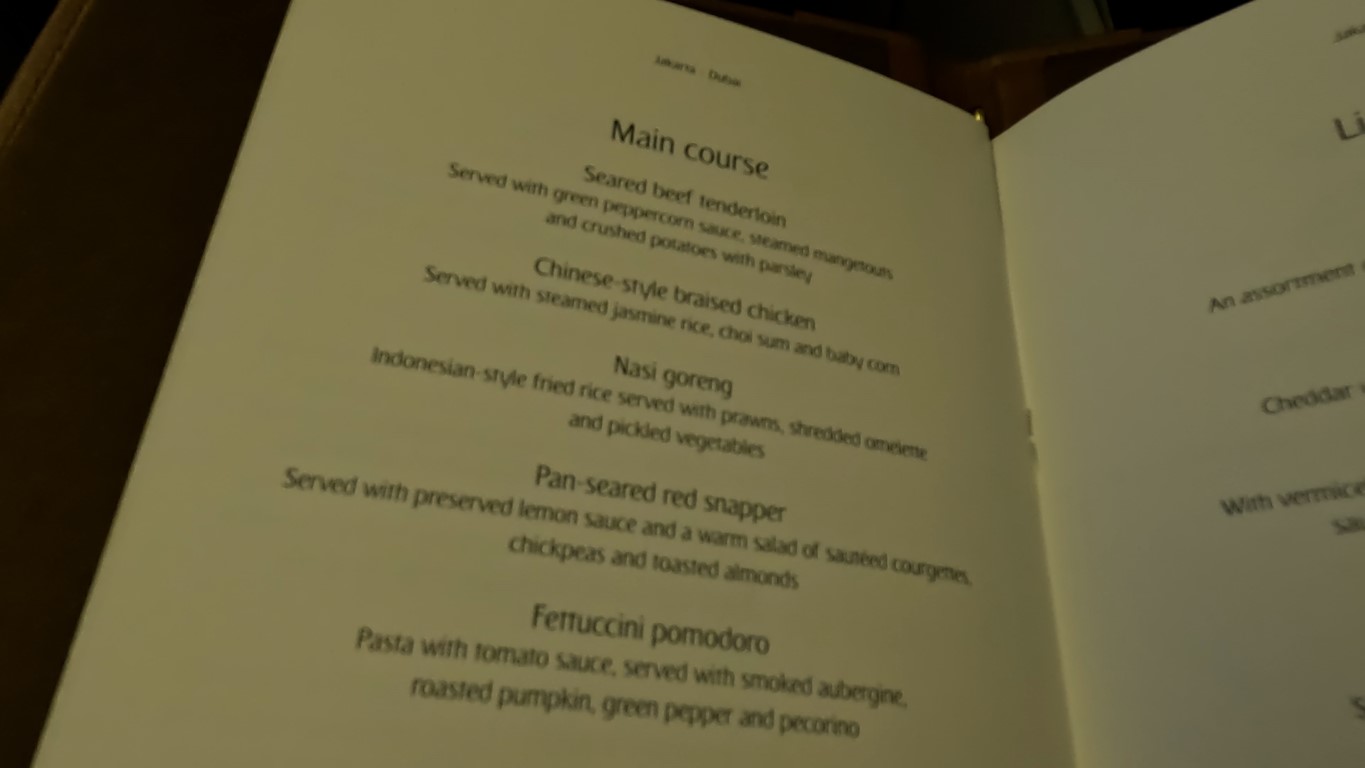 I went for the Seared Beef tenderloin. When I ordered this they asked me how I would like it cooked, so I presume these are cooked onboard as per your preference. I ordered mine medium and it was perfectly cooked and a very high quality cut of steak. So delicious.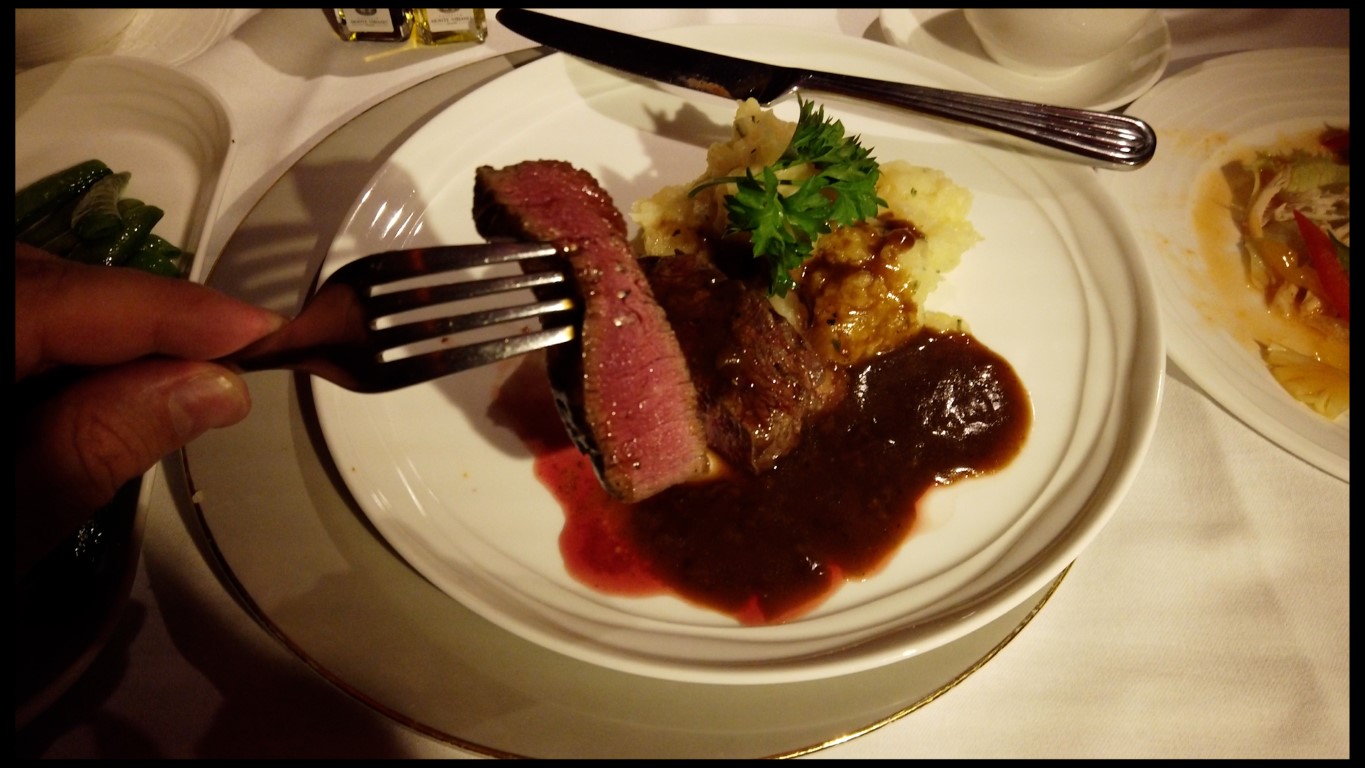 With the steak, I could not drink another glass of Champagne, so I switched to an excellent glass of Australian red wine – Clarendon Hills 'Australis' 2010 from McLaren Vale. This bottle retails for over $400 in Australia.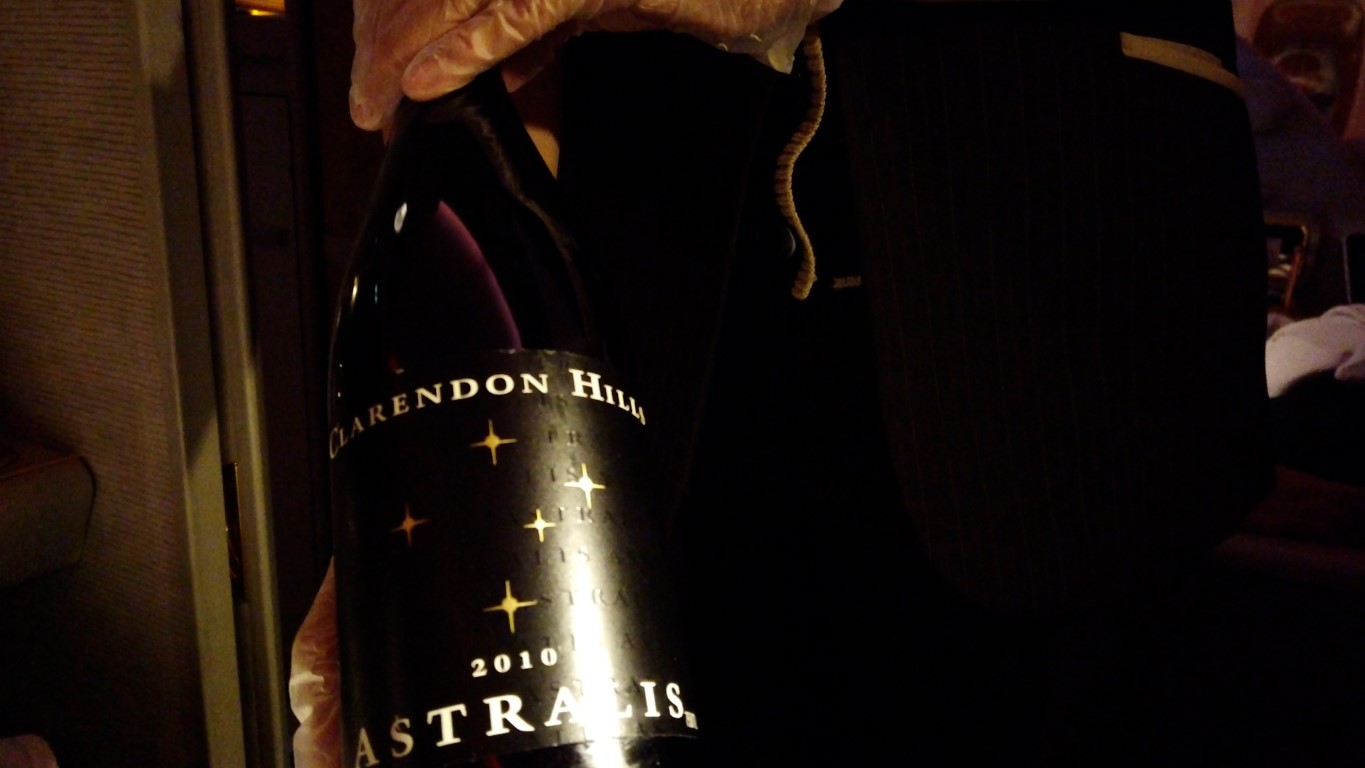 For dessert there were 4 different dishes.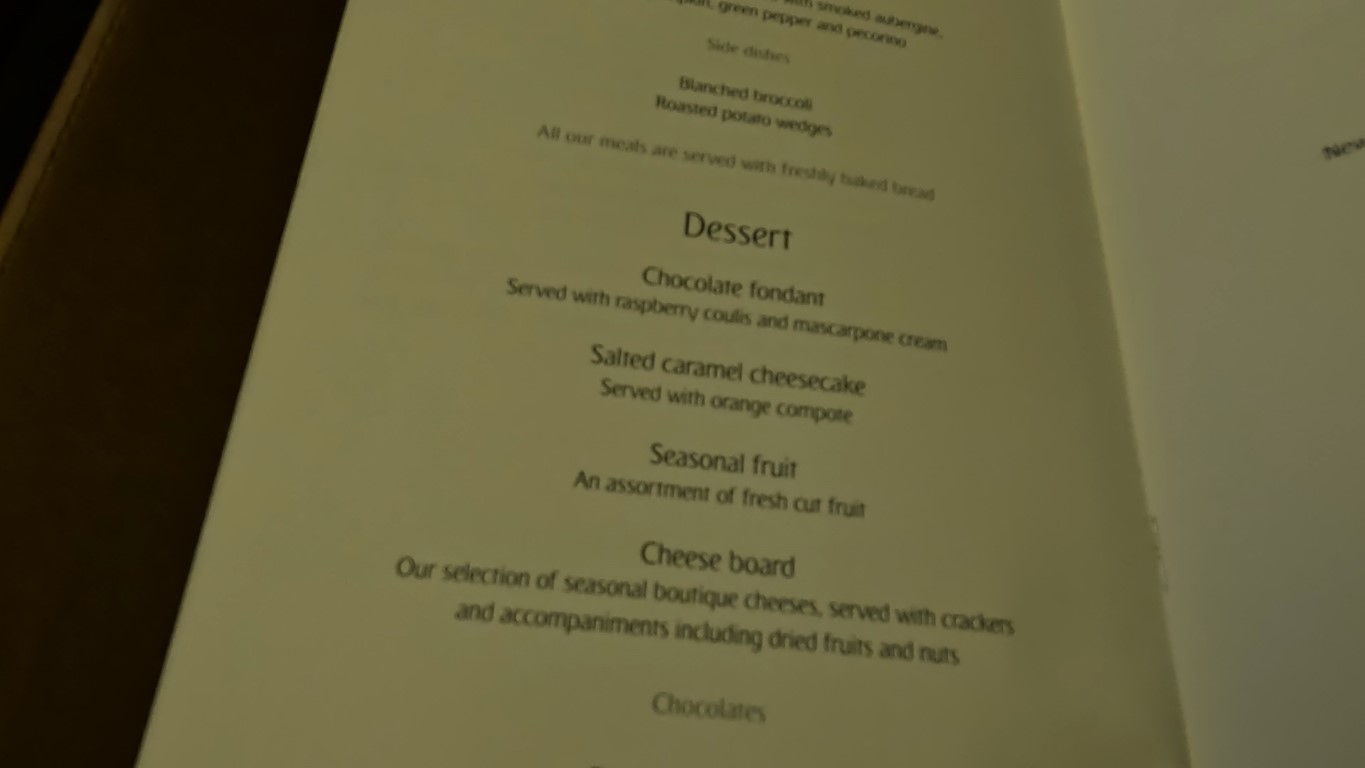 For my dessert I had the Salted caramel cheesecake which was delicious. Such good quality food! An excellent meal, very large portions. I had a very full belly at the end of this meal.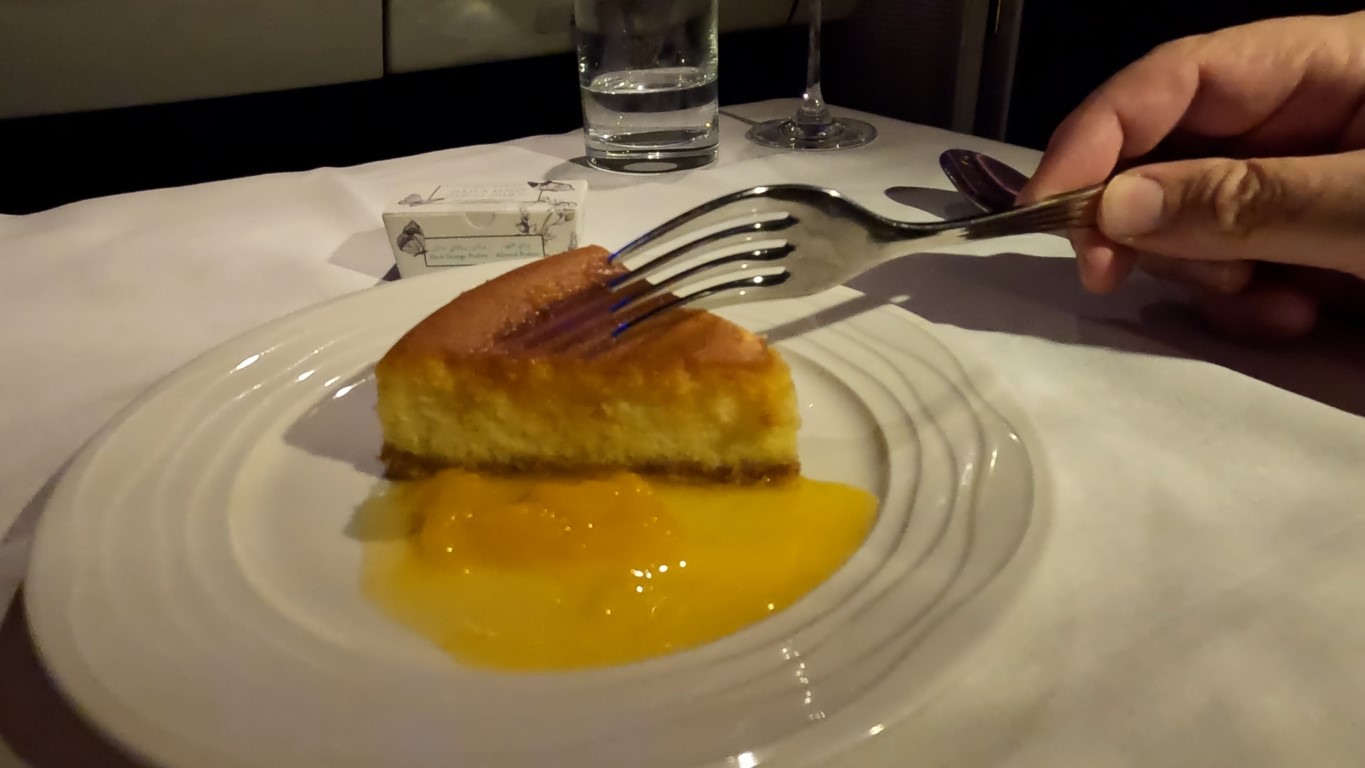 The menu also had 5 different light meals that were available for the rest of the flight but I didn't try any of these as I was full from the excellent meal served after take-off.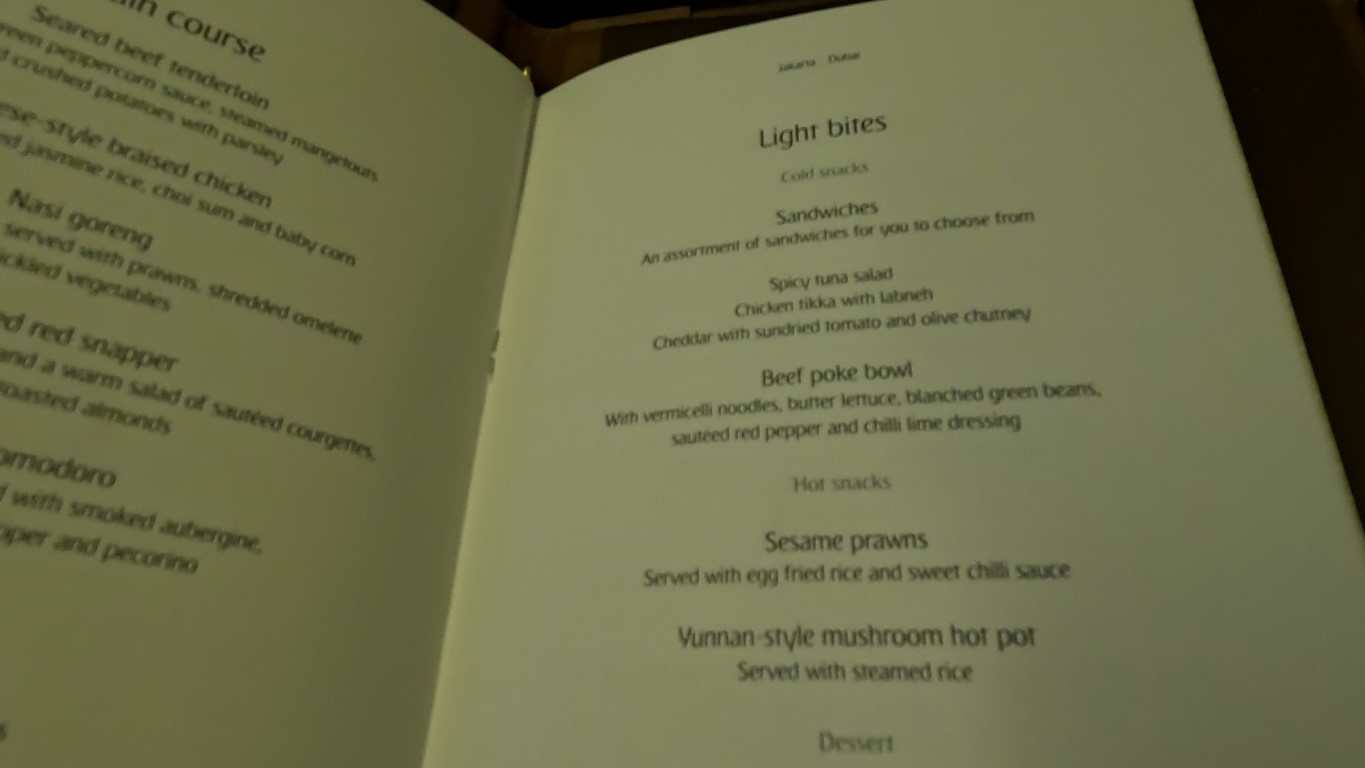 The service
The service was sensational! All of the crew were very welcoming and friendly. Very nice touch of service being showed to my seat and 'welcomed back' to First Class.
Throughout the flight, I was served by 5 different crew members, all providing excellent service to the 8 First Class passengers.
As well as all the excellent food, when I first boarded 1 crew member came and gave me a pair of very nice quality cotton Emirates pyjamas (these are so much better than the Qantas pyjamas 😉 ). Another crew member came and gave me a pair of Emirates slippers. Both of these I still wear at home!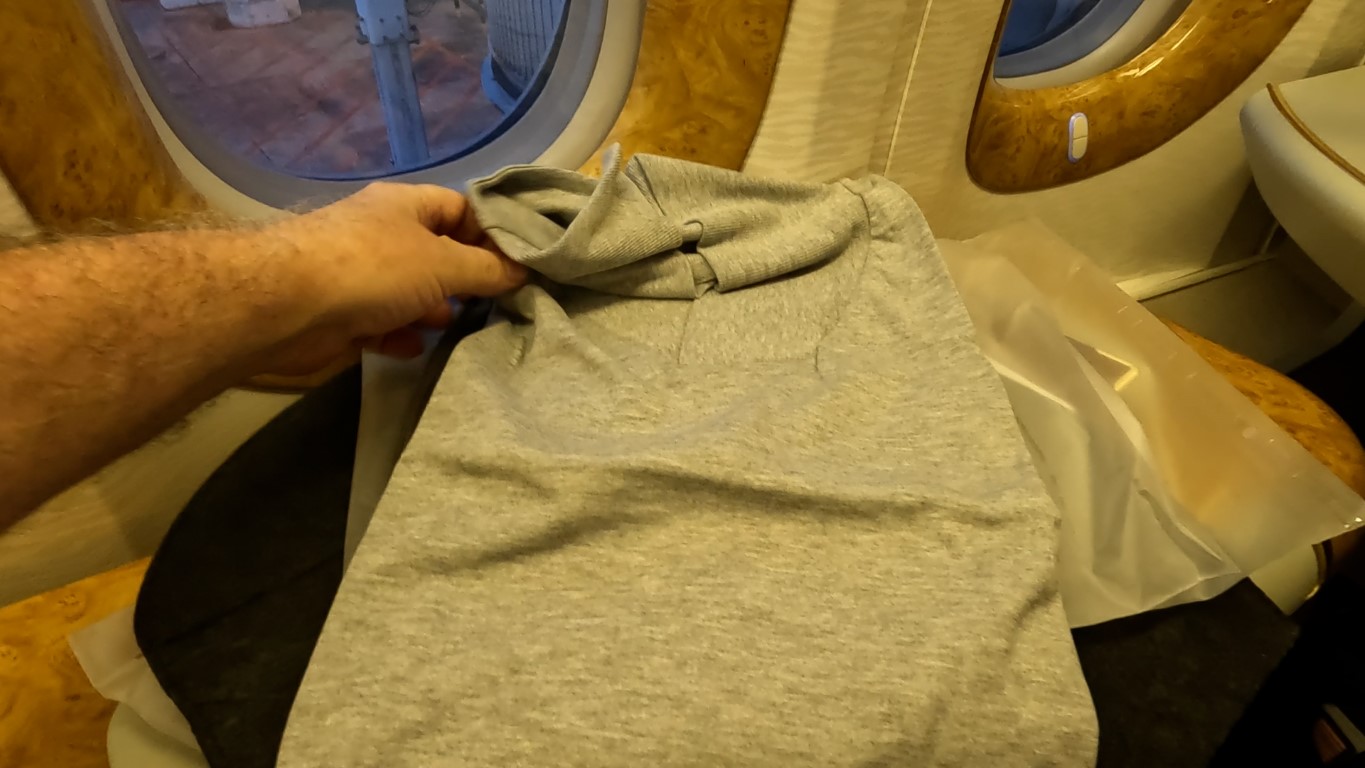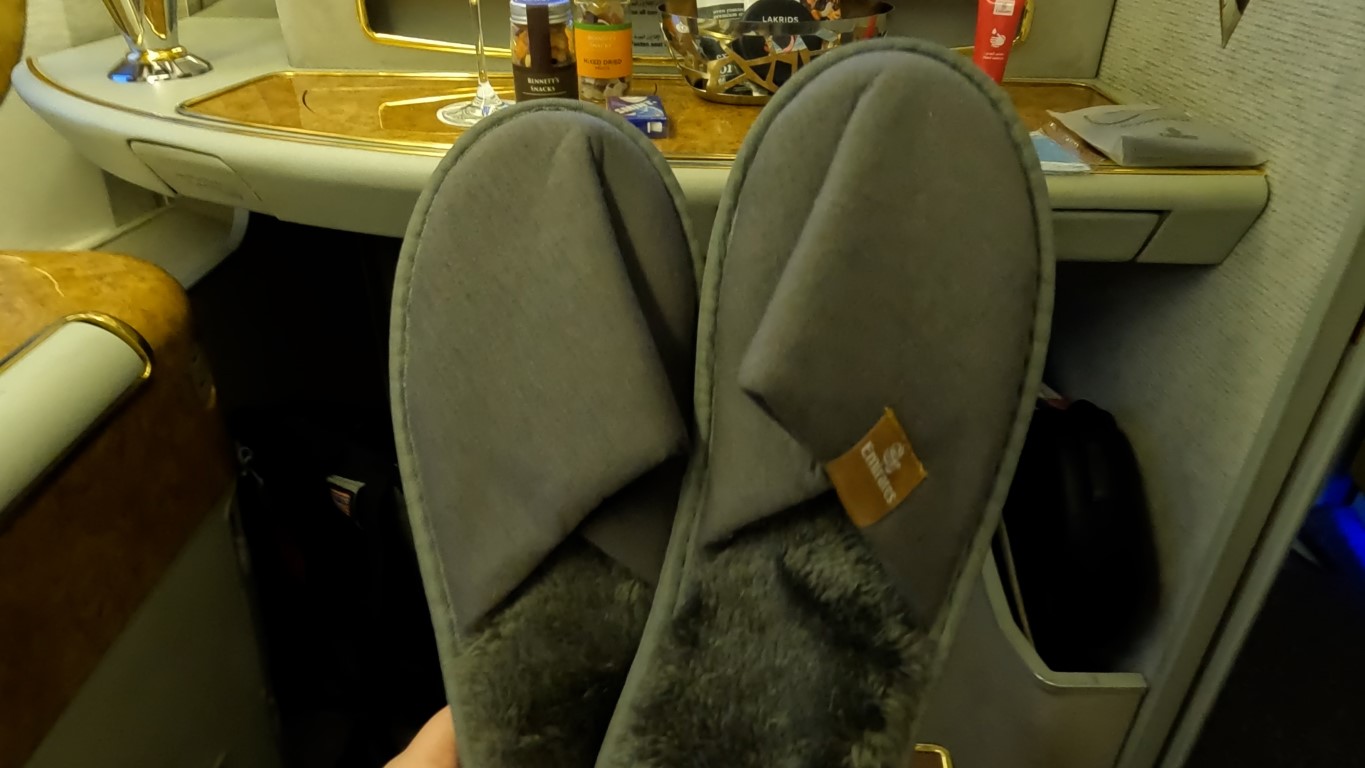 I cannot fault this flight with Emirates. They say once you have flown Business Class you will not want to go back to Economy Class. Let me tell you, after this wonderful experience in Emirates First Class, I do not want to go back to Business!