Australian Aviation News January 2023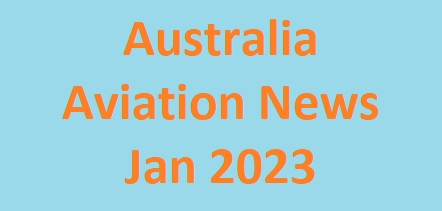 I will be updating this page throughout January 2023 with news about the Australian Aviation Industry. New airlines, new flights, Airline sales, all things Aviation.
Bonza Given Approval by CASA for take-off
12-01-2023 – Bonza Airlines, the newest budget airline in Australia was giving approval by CASA (Civil Aviation Safety Authority) to begin operations. Bonza Airlines website https://www.flybonza.com/ do not have any flights schedule or for sale yet. Stay tuned!
When Bonza start they will operate a fleet of 3 B737 Max 8s (with an additional 3 on order). They will be based in Melbourne and only flying to regional towns which are tourist focused like Cairns, Sunshine Coast, Townsville, Whitsunday Coast, Port Macquarie and Coffs Harbour,
I'll be updating more news on Bonza Airlines as they announce a full list of destinations, as well as when flights are on sale.
New Flights to Bali from Sydney and Melbourne on Batik Air
09-01-2023 Batik Air, part of the Lion Group in Indonesia have started flights from both Sydney and Melbourne flying to Bali. Batik Air will use their A330 wide bodied aircraft for these routes. They have scheduled daily flights from both Sydney and Melbourne with flight times:
Sydney to Bali Departs 06.55am Arrives into Bali 10.20am
Melbourne to Bali Departs 06.00am Arrives into Bali 08.50am
Both are early morning flights arriving into Bali morning time. This will add more competition on this route with Qantas, Jetstar, Virgin and Garuda. Fingers crossed this brings down the prices.
Check out flights and prices on the Batik Air Website https://www.batikair.com/
Virgin Australia announce new routes from Australia to Tokyo
01-01-2023 Virgin Australia are adding Tokyo as a new destination on it's International routes starting mid 2023, from Sydney, Melbourne, Brisbane and Cairns. Since Virgin shutdown their International routes during the Pandemic, they have only resumed International flights from Australia to Bali. This will be the 2nd International route for their airline.
Virgin will be using the new B737 Max 8 planes which are due to join their fleet in April 2023. They will fly into Tokyo's Haneda Airport which is closer to the centre of Tokyo, compared with the older Narita Airport which takes 1.5 hours to travel from the airport to downtown Tokyo.
Check out prices and start dates on the Virgin Australia website https://www.virginaustralia.com/en-au/flights-to-tokyo
[do_widget id=wpp-6]