Flight Review Japan Airlines JL31 Tokyo to Bangkok Premium Economy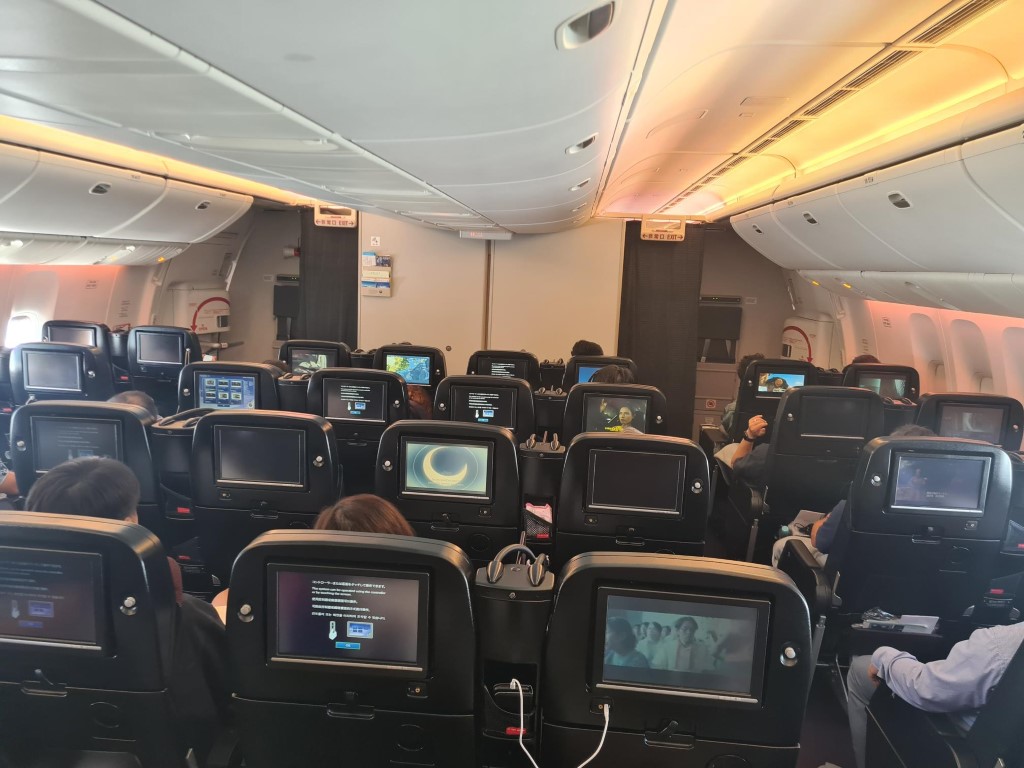 Airline: Japan Airlines
Flight no: JL31
Route: Haneda Tokyo International Airport (HND) to Bangkok Suvarnabhumi International Airport (BKK)
Aircraft type: Boeing 777-346(ER) Rego: JA735J
Flight time: 5 hours 10 minutes
Travel Class: Premium Economy Class
Seat no: 20K Window Seat
I used Qantas Frequent Flyer Points to book this Japan Airlines flight. It cost me 48,500 Points +19570 Yen in Taxes (around A$207) for this flight in Japan Airlines Premium Economy from Tokyo to Bangkok.
Flight JL31 is scheduled to leave Tokyo at 11.15am with arrival into Bangkok at 3.40pm. My flight departed about 20 minutes late so we landed at Bangkok at 4pm.
Getting to the airport
I was staying in Shinjuku during my stay in Tokyo. I got a taxi from my hotel in Shinjuku to Haneda Airport which cost 8000 Yen (around A$85) and took around 30 minutes.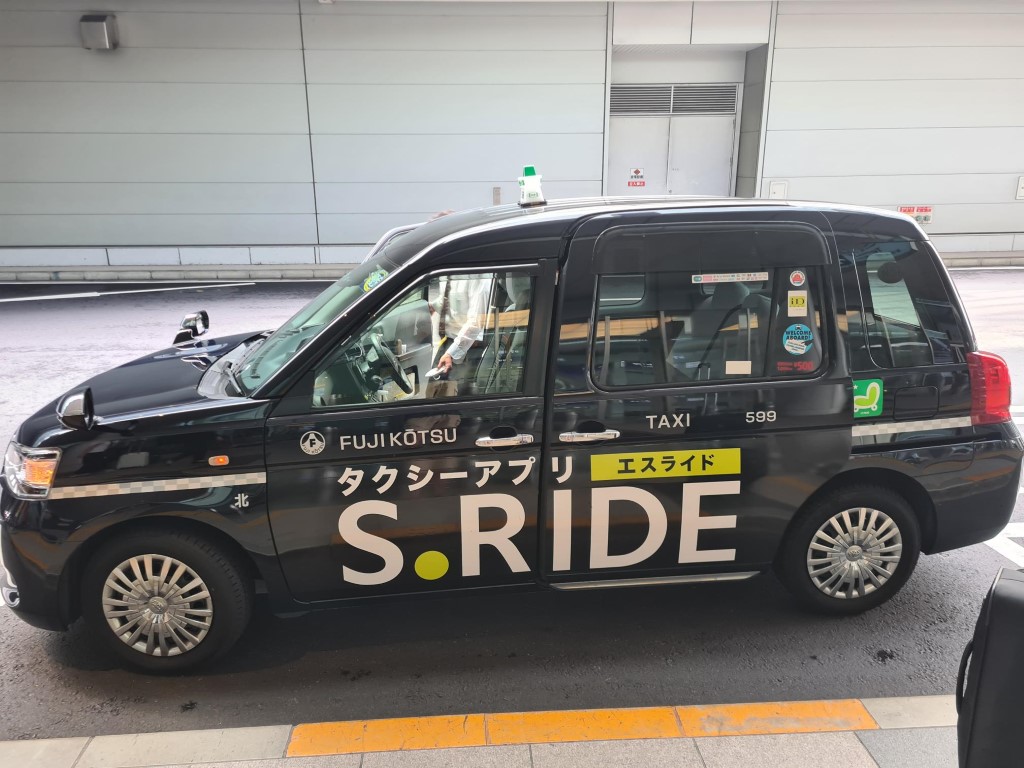 I wanted to take the Limousine Airport Bus which is only 1200 Yen but they did not start picking up from my hotel until after 9.30am. I left the hotel at 8.30am so choose to get a taxi. The bus would take around 45 minutes as it makes a few stops within Tokyo to pick up passengers.
The cheapest way to get to Haneda Airport is via the Tokyo Metro train system but you do need to change onto the Airport monorail service, a bit of a hassle with luggage. The train and monorail would take a bit over 1 hour to get from downtown Tokyo to Haneda Airport
At the airport
Haneda Tokyo International Airport is a very large, modern airport, the closest airport to downtown Tokyo. You can also get flights from Tokyo Narita Airport but it will take you more than 1.5 hours to travel from downtown Tokyo to Narita airport.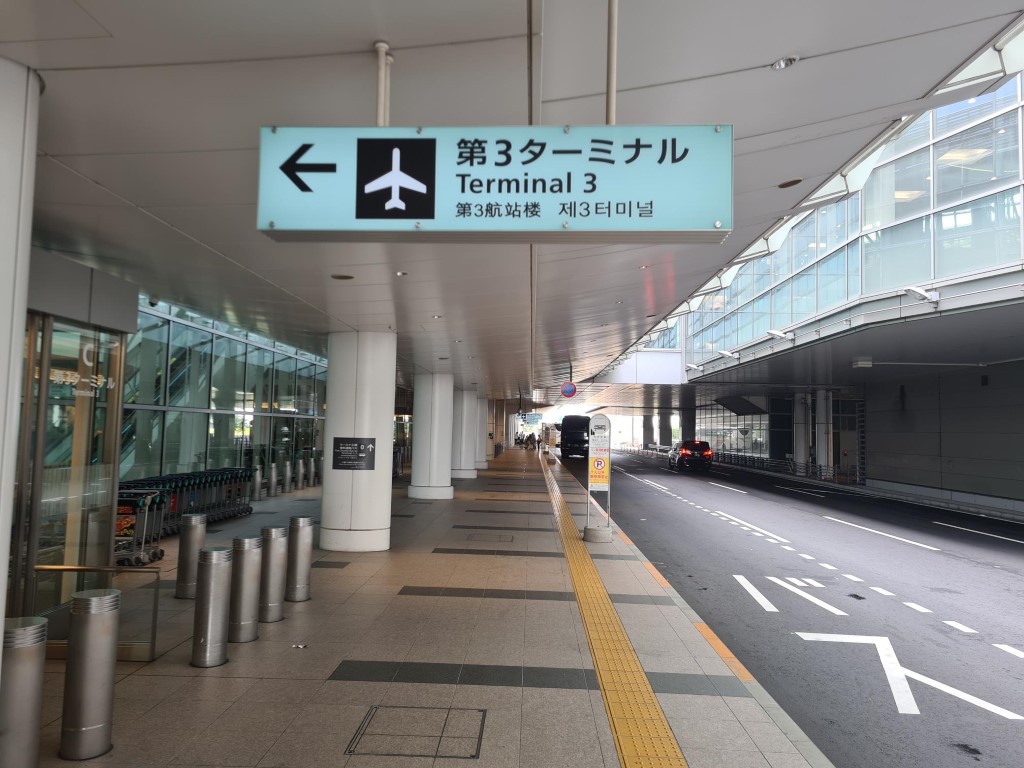 Haneda Airport is Japan Airlines main hub, so the queue for the Economy Check-on counters was quite long. I estimated it would have taken more than 20 minutes to get to the front of the queue.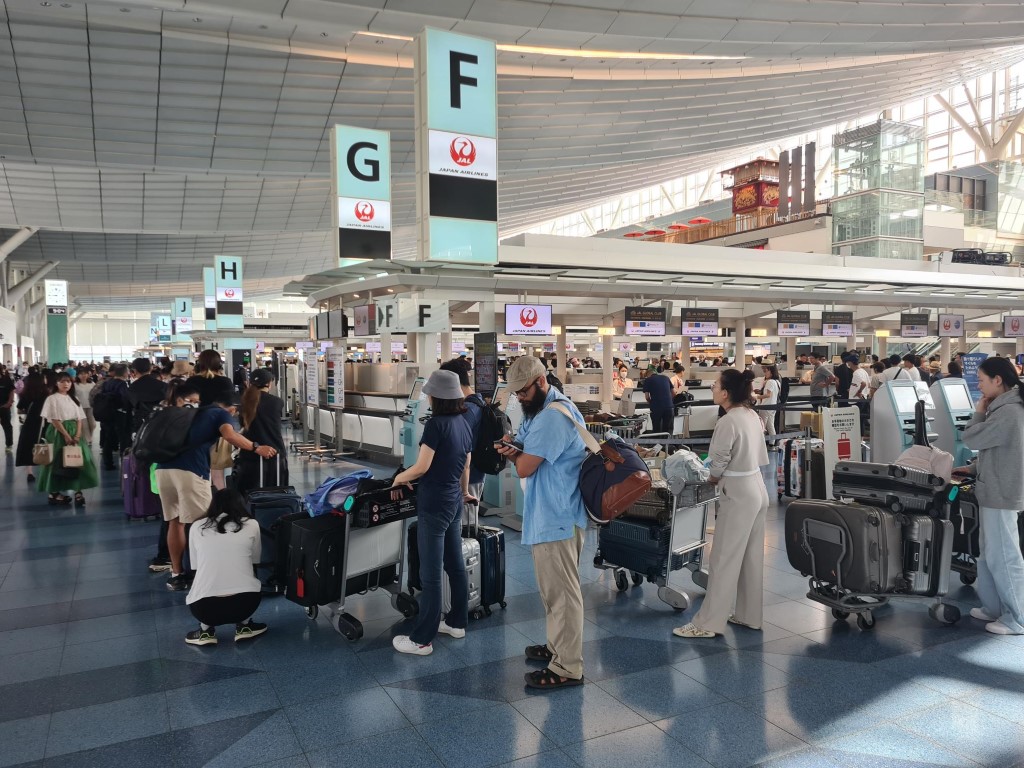 As I am a Qantas Gold Member (Sapphire status with OneWorld) I was able to use the Priority Check-in counters which had no queue.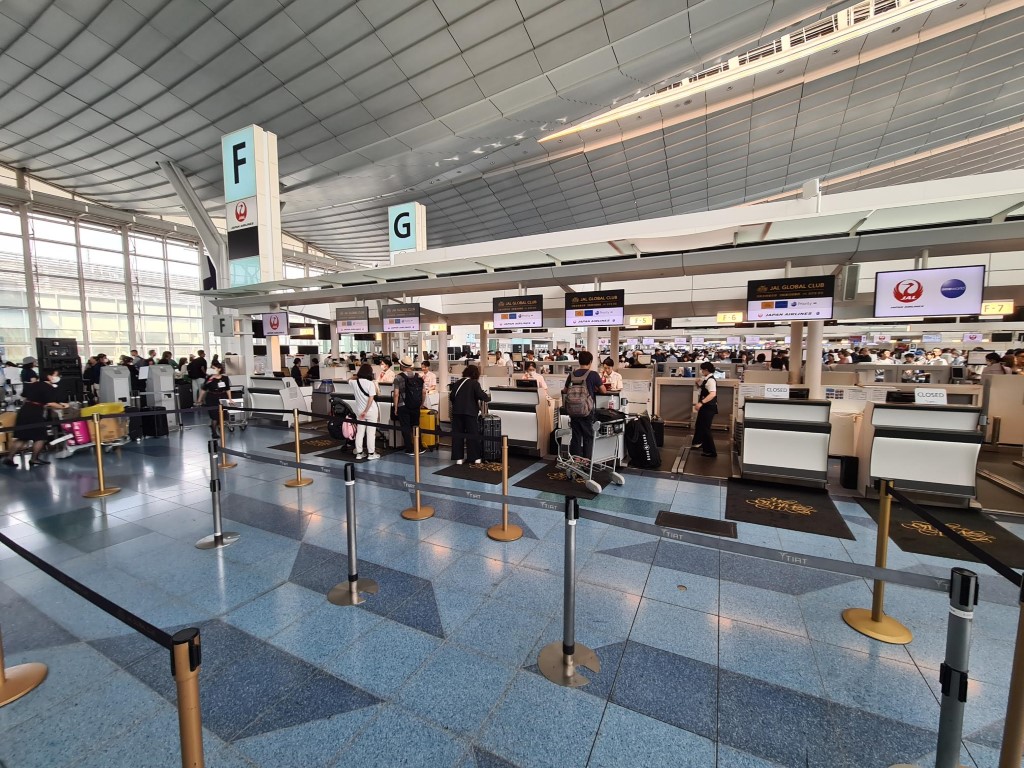 Before you head through security, I recommend you go directly upstairs from the check-in counters and you will find the very cool open air Observation Deck which has views over the planes and 1 of the runways at Haneda airport.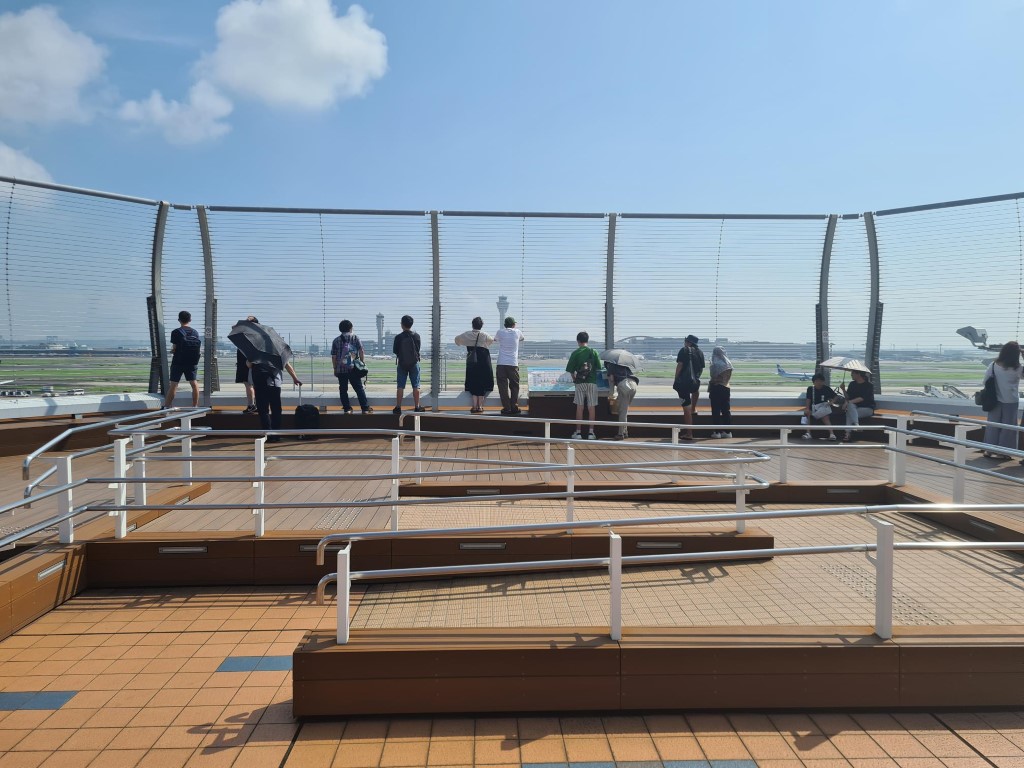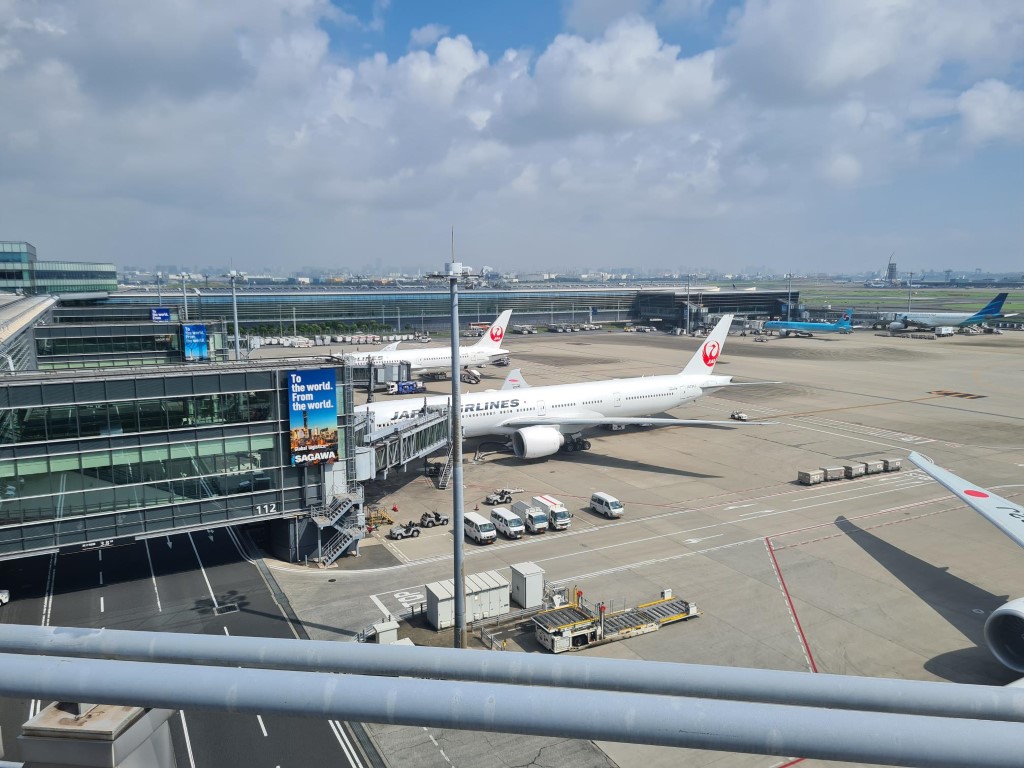 Food and Restaurants at Haneda Airport
If you want to eat before your flight at Haneda Airport, I recommend that after you check-in to your flight and before you pass through immigration, go upstairs and you will find an old Japanese style wooden village which has plenty of great Japanese restaurants to choose from.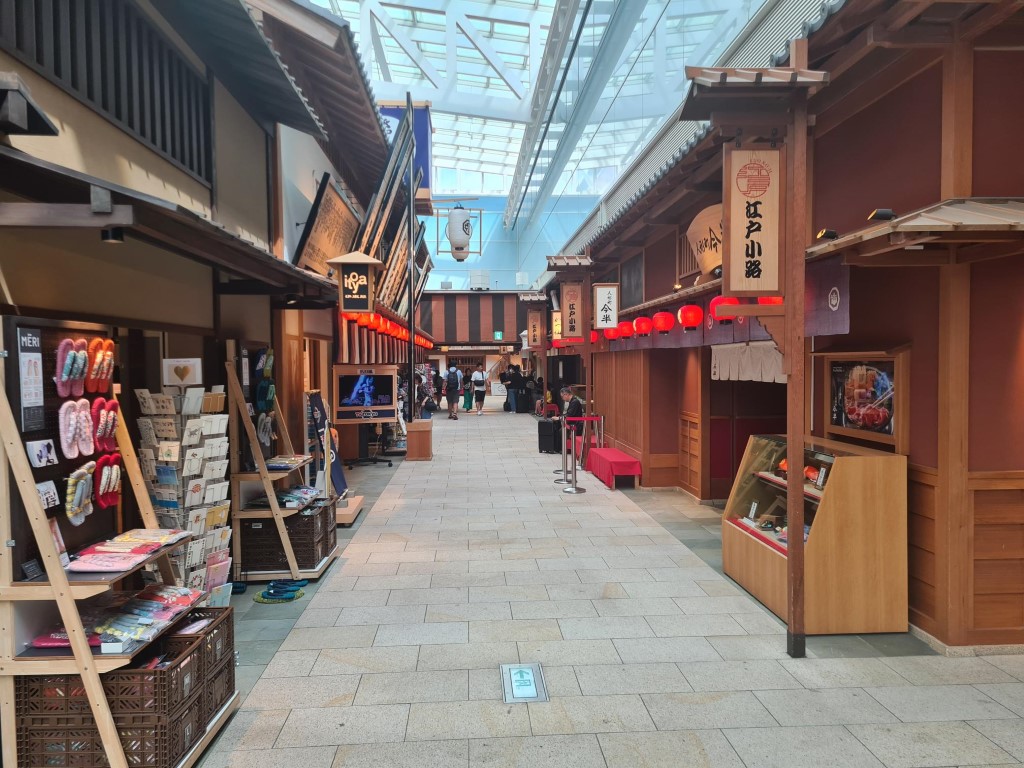 Once you have passed through immigration there are also plenty of cafes, restaurants and duty free shopping to choose from.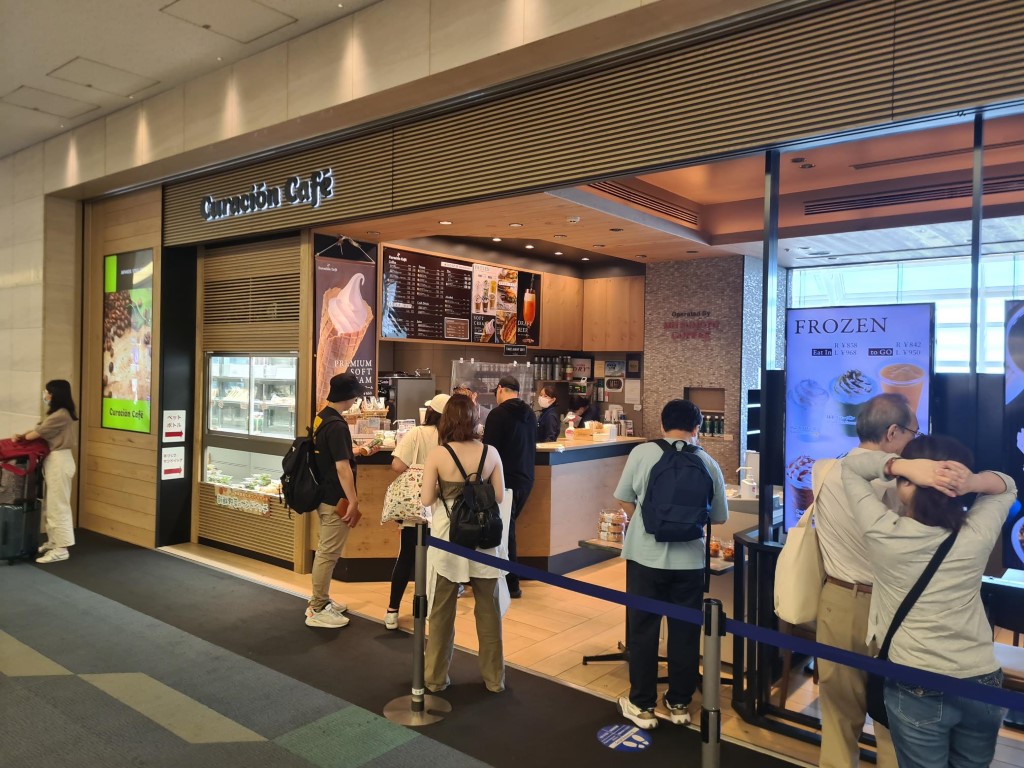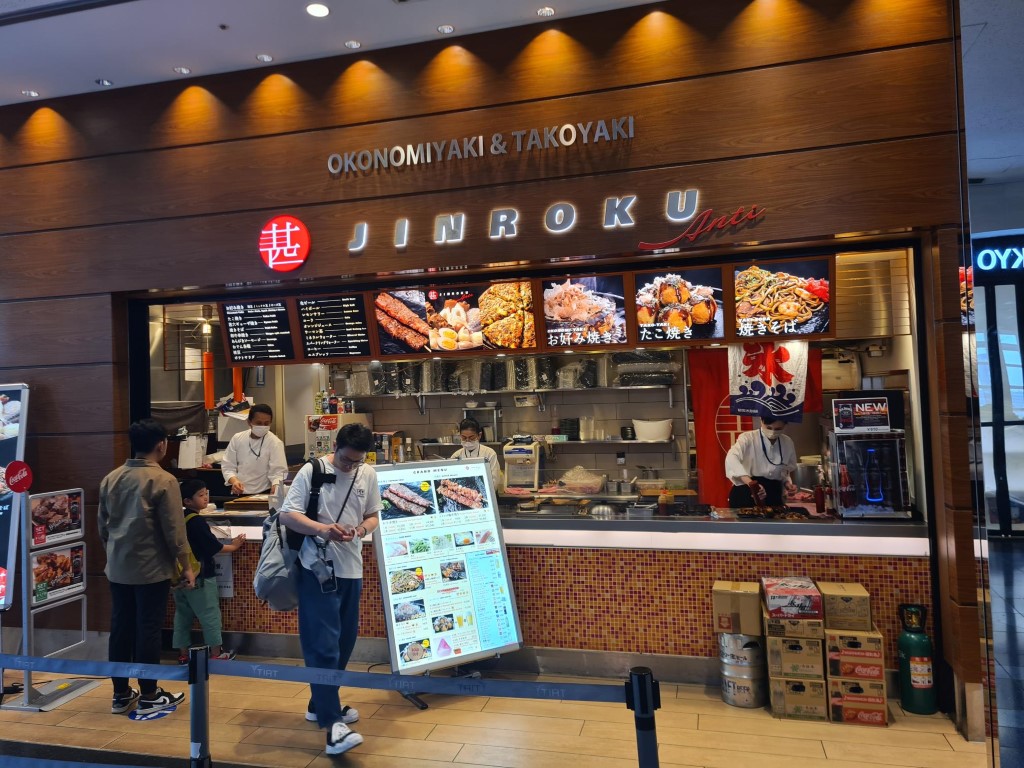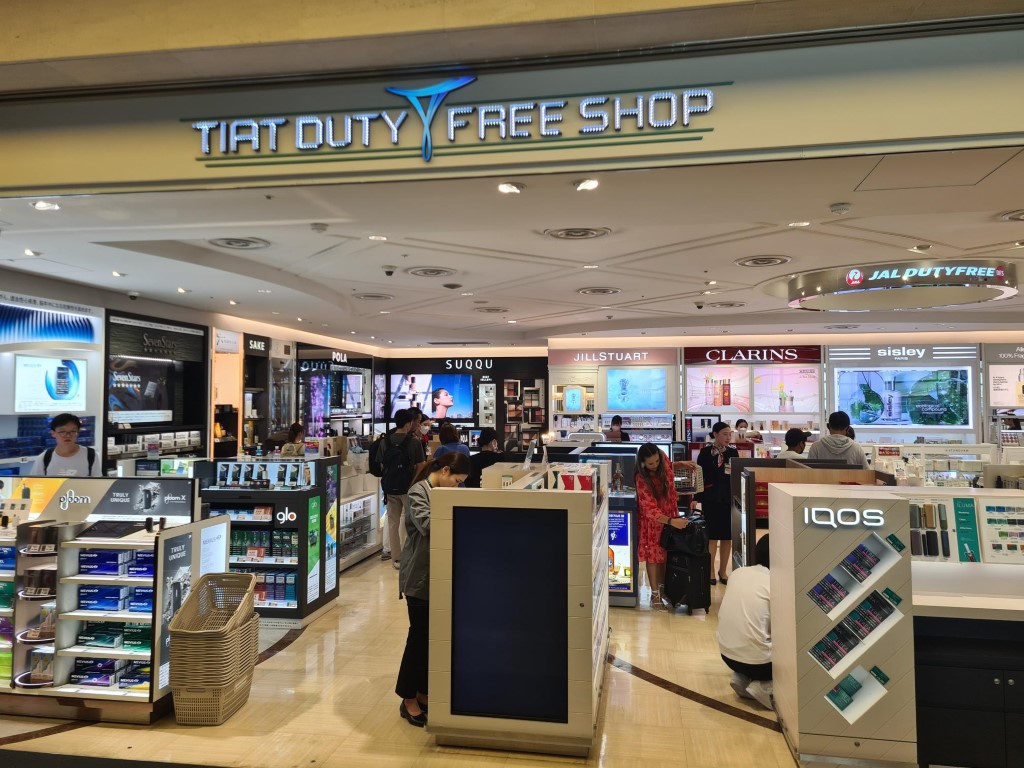 Japan Airlines Sakura Lounge at Haneda International Airport
With my Sapphire status with One World Alliance, I had access to the Japan Airlines Sakura Lounge before my flight which I headed to grab something to eat and a coffee.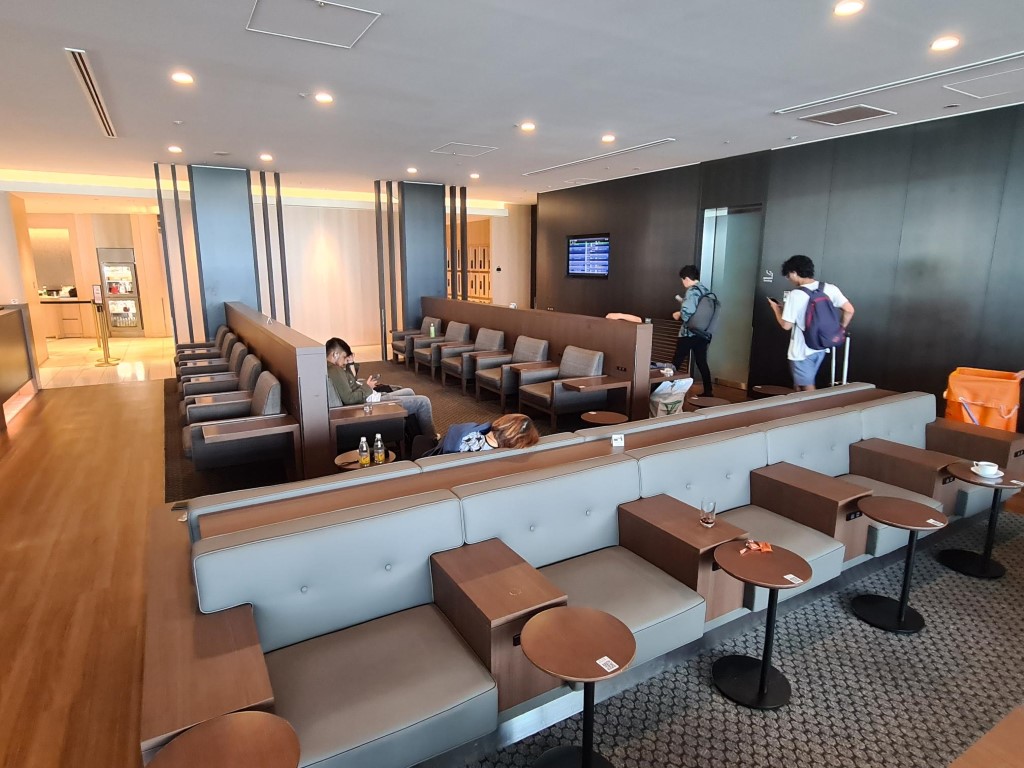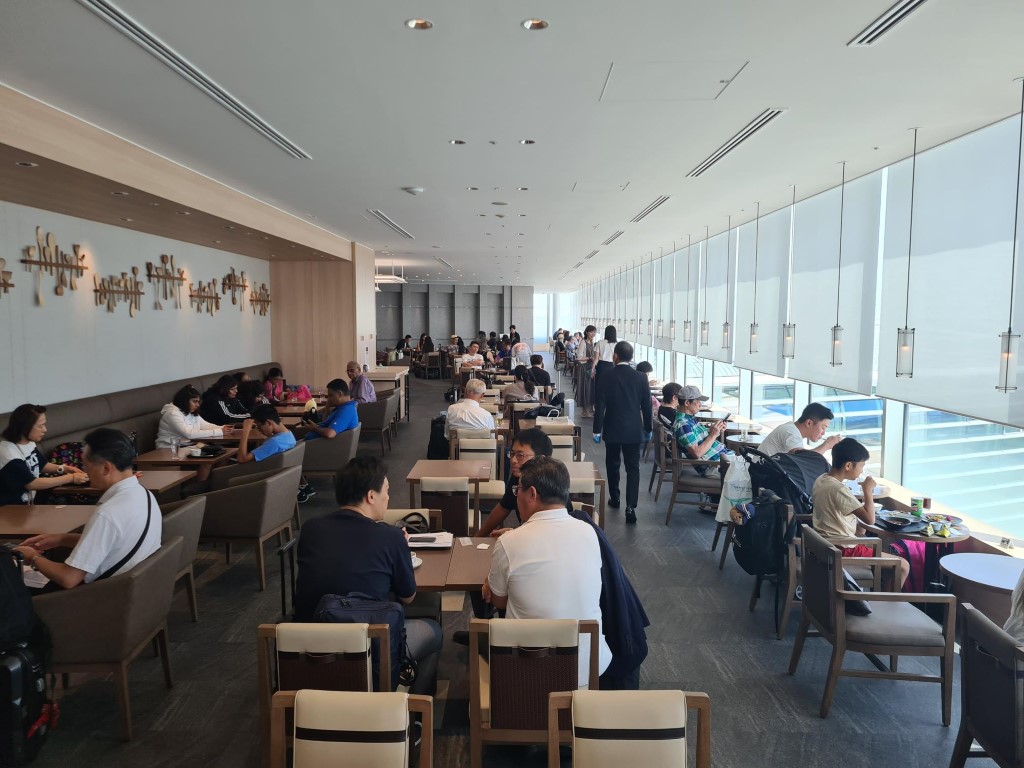 I was there at breakfast time and the food menu had either an American Breakfast available or the very famous Japanese Beef Curry which I have had a few times in this Sakura Lounge, highly recommended!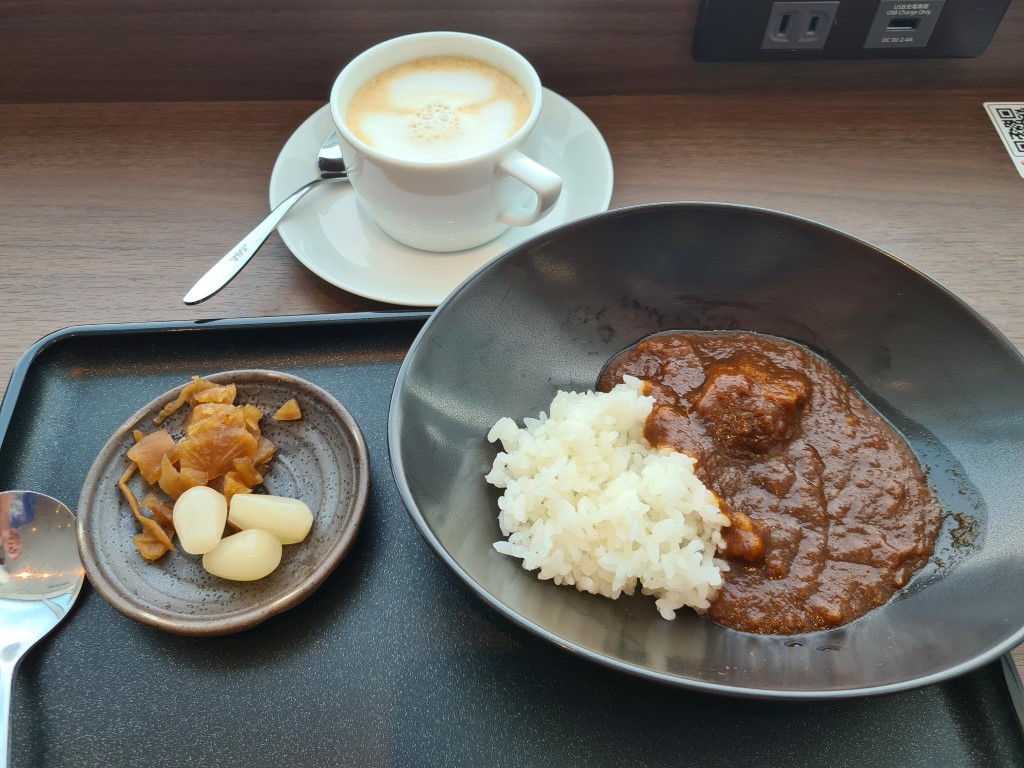 There are many screens showing the status of the flights so you know when your flight is boarding. They do not make announcements for the flights otherwise you would hear these announcements constantly due the high number of JAL flights and other OneWorld airline flights.
The Japan Airlines Sakura Lounge is only a short walk from the gates where Japan Airlines flight depart from. Unfortunately you do not get great views of the planes from the boarding gates. This was the best view I got of my plane.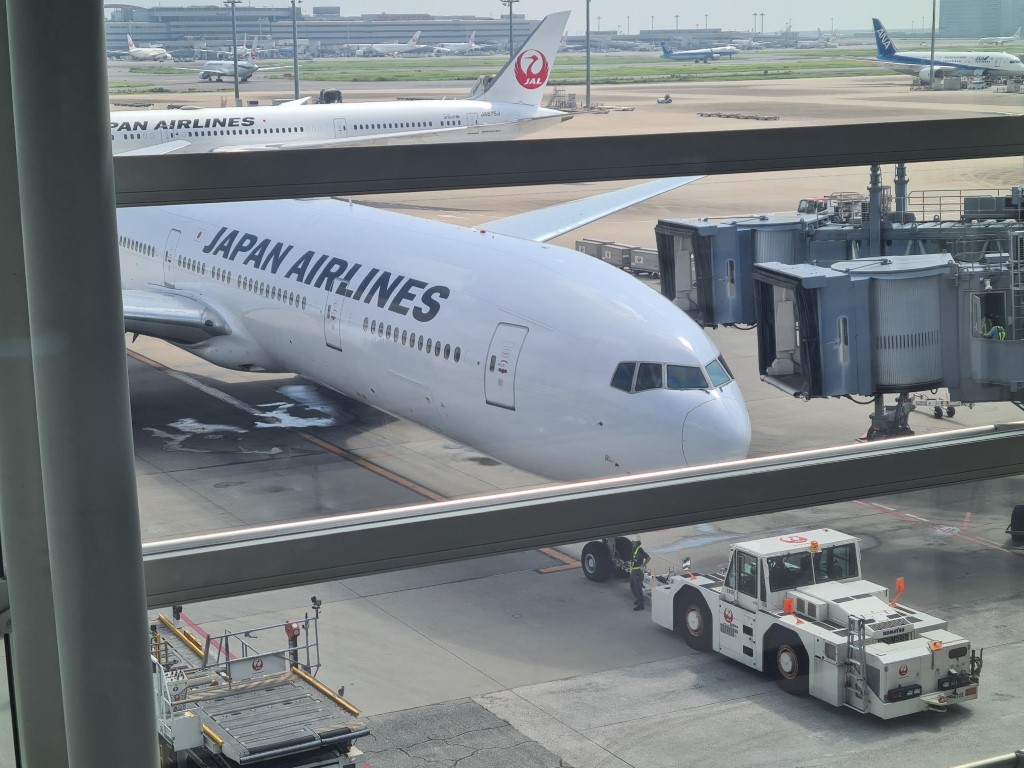 On the plane
The plane for my flight was the Japan Airlines B777-346(ER) with rego: JA736J which is a 17 year old plane, joining the Japan Airlines fleet in July 2006. This plane has 4 different classes. With 8 First Class seats in a 1x2x1 Configuration, 49 Business Class seats in a 2x3x2 Configuration, 40 Premium Economy Seats in a 2x4x2 Configuration and 147 Economy Seats in a 3x3x3 Configuration.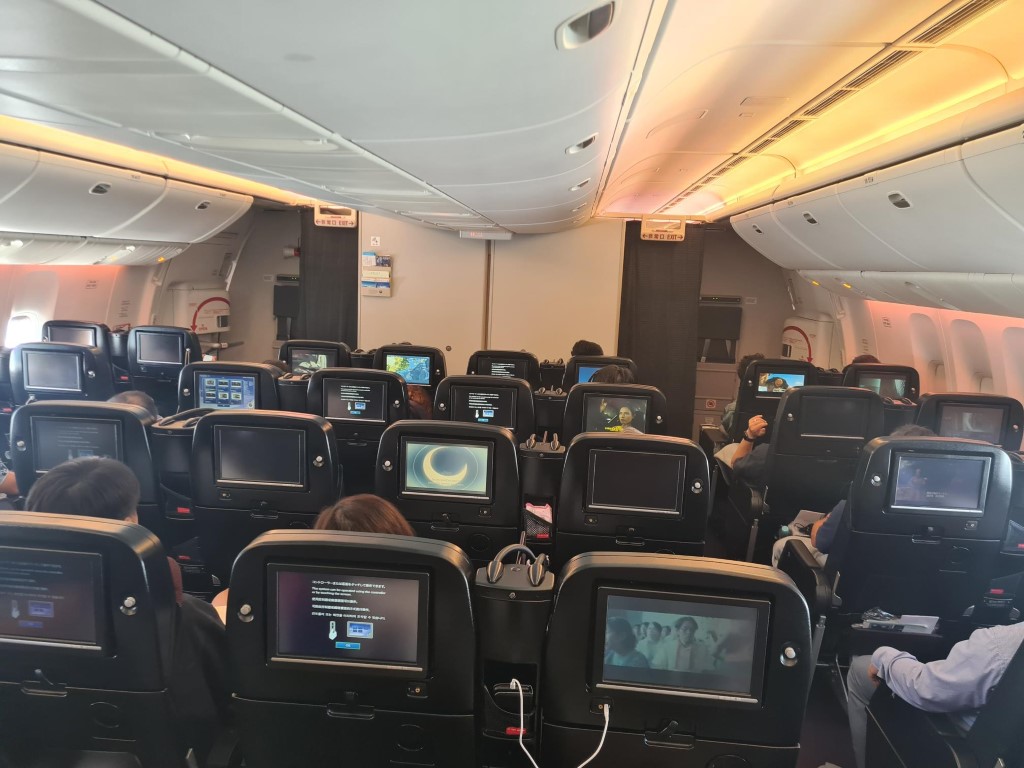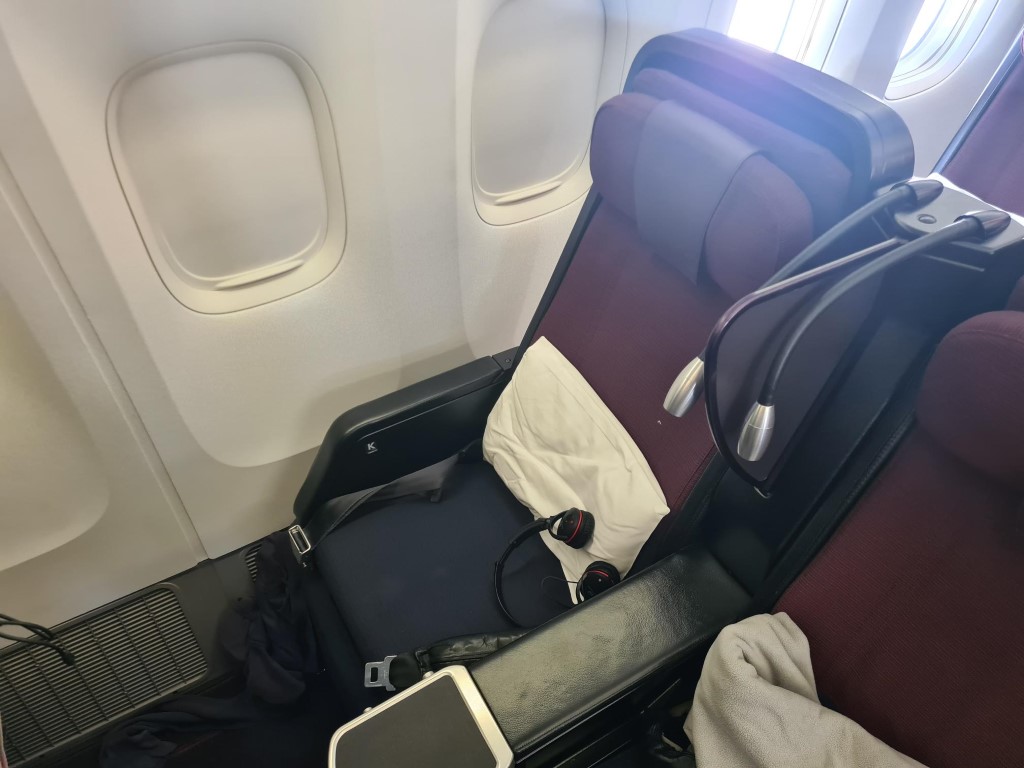 The Premium Economy section is right above the wing, my seat 20K was right in the middle so the wing limited my window seat view.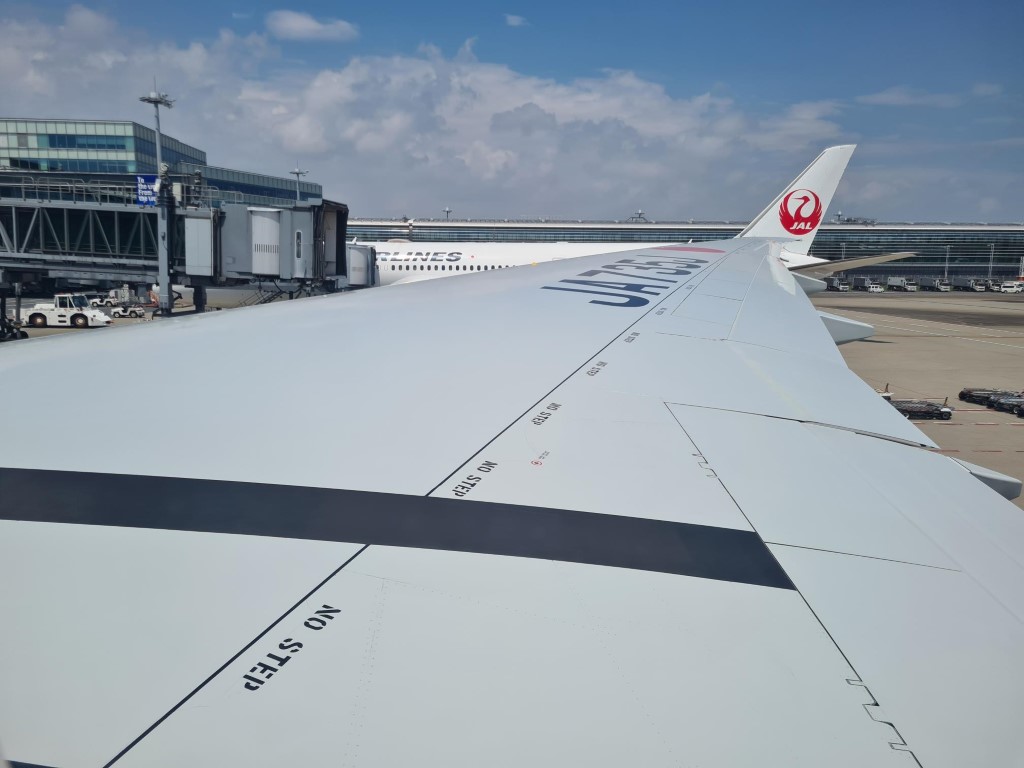 The Premium Economy Seats have a Universal Power adaptor under your seat, a USB port directly under the TV Screen, a cup holder and table tray that folds down from the seat in front.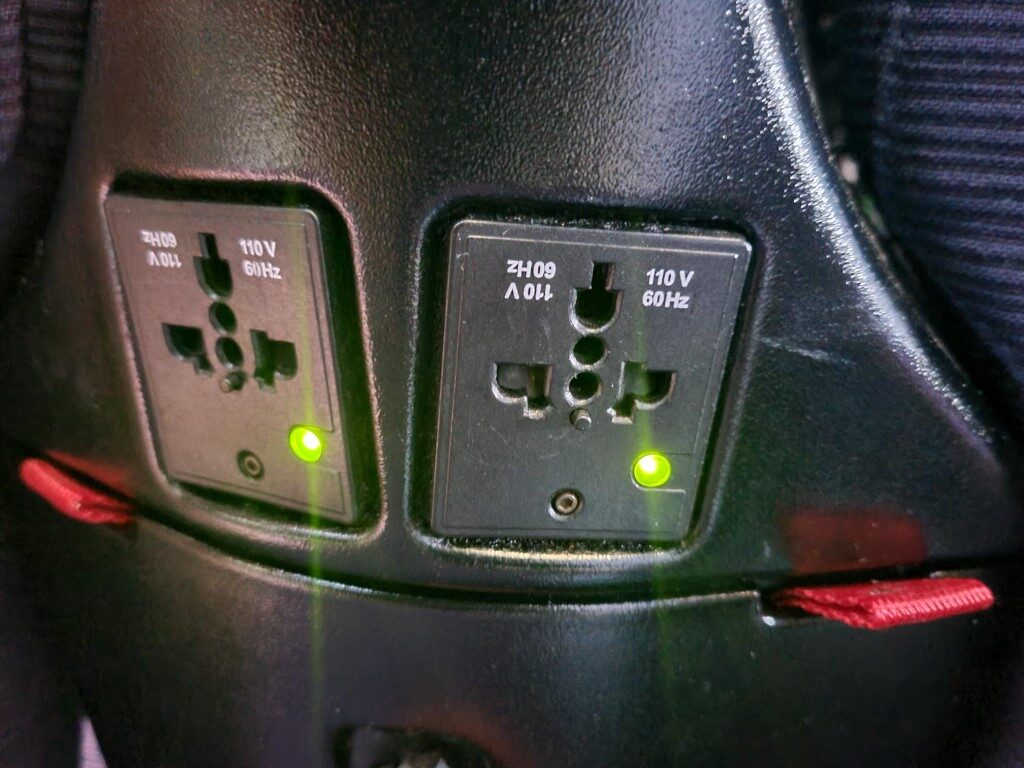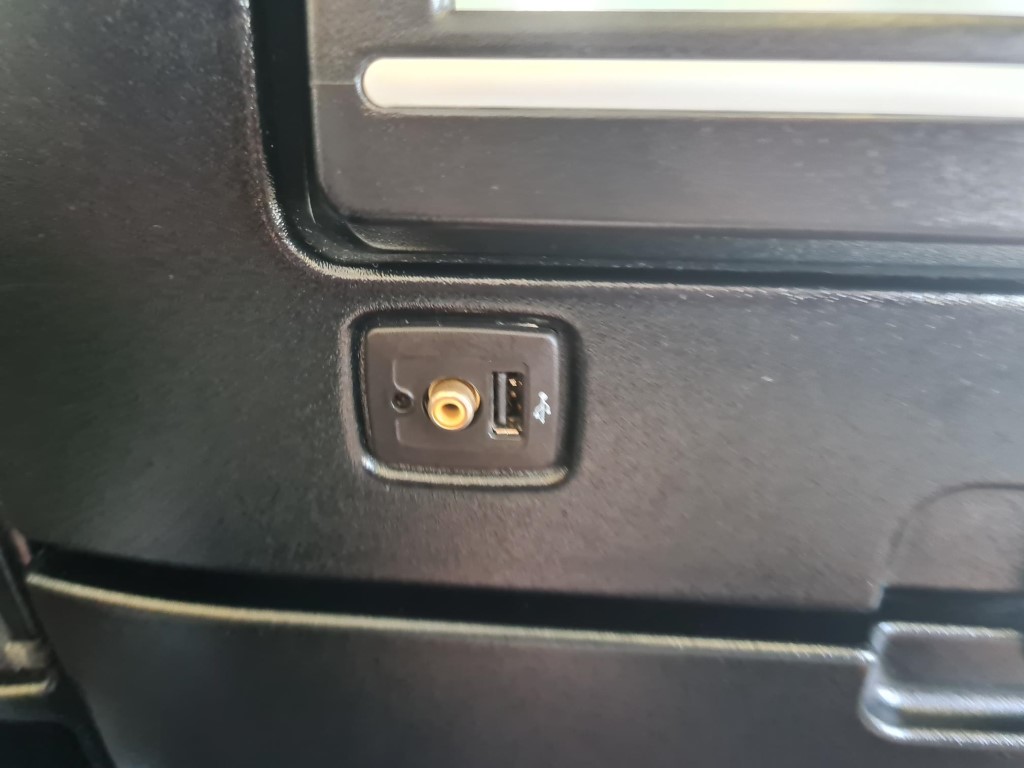 There was a Premium Economy Amenities kit on my seat when I arrived onboard which just has a Tooth brush and toothpaste, a moisture mask, eye mask and ear plugs.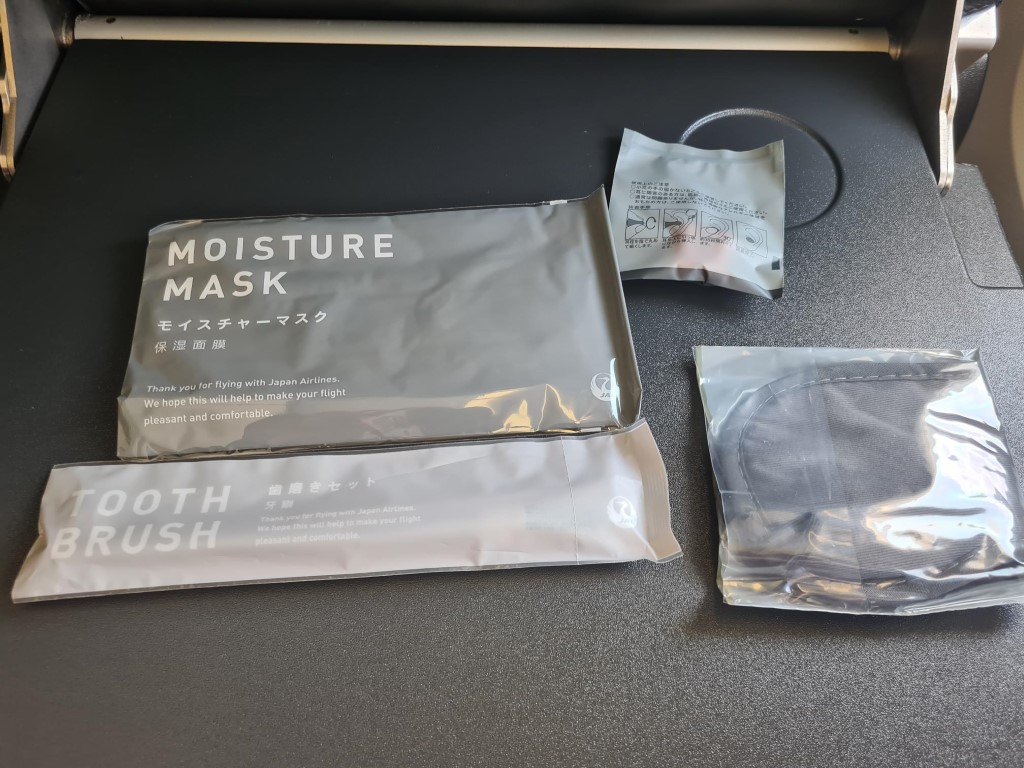 There was also a nice set of noise cancelling headphones to be used with the entertainment system.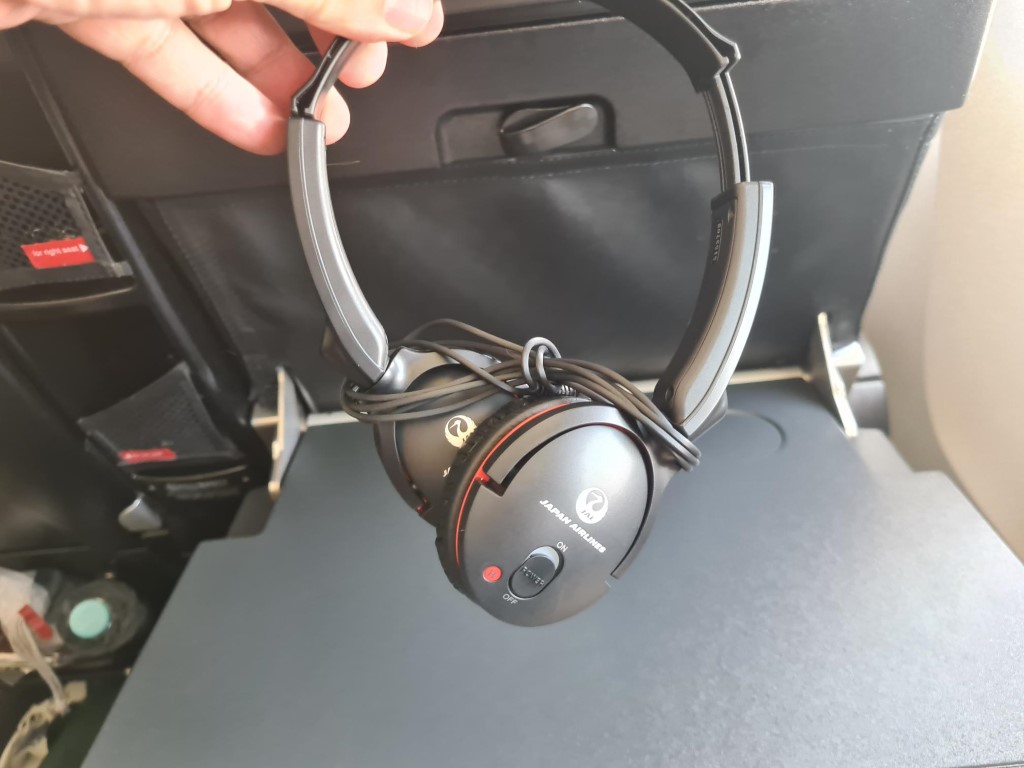 You definitely cannot complain about the leg room in Premium Economy, a very nice option to fly this short 5 hour route. The seat reclines a little bit which is just fine for this day flight.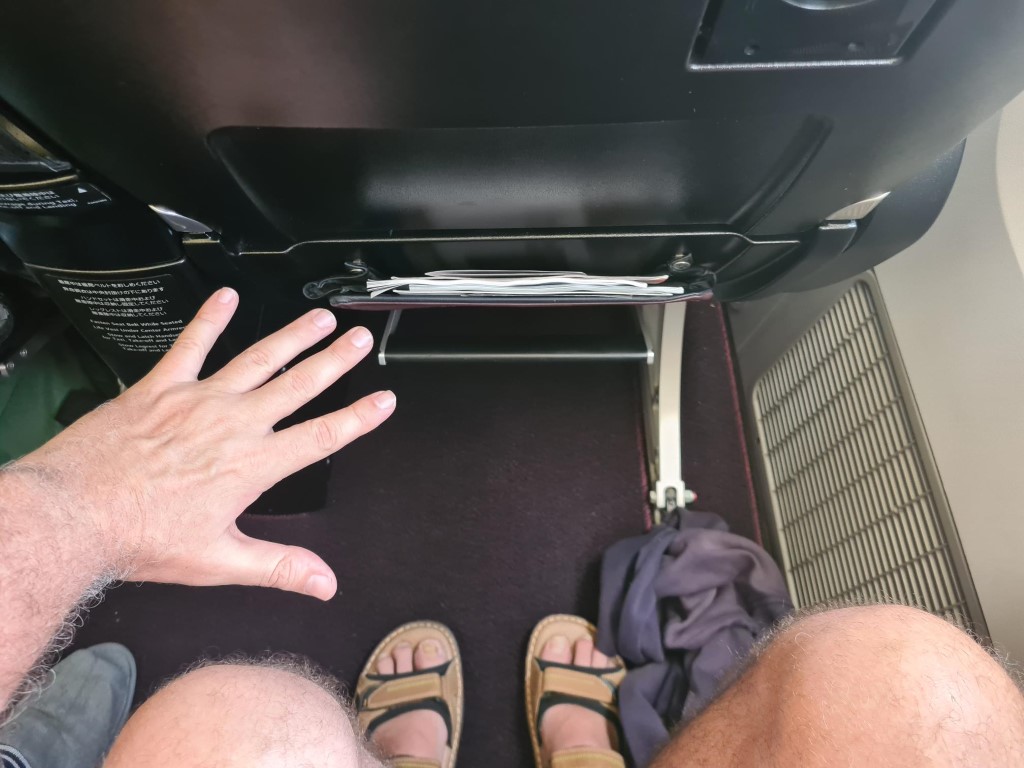 Entertainment on the plane
There is a small TV screen built into the seat in front. This had a decent amount of recent release movies to watch. With 5 hours in the air, you could probably get to watch 2 movies if you started watching before take-off.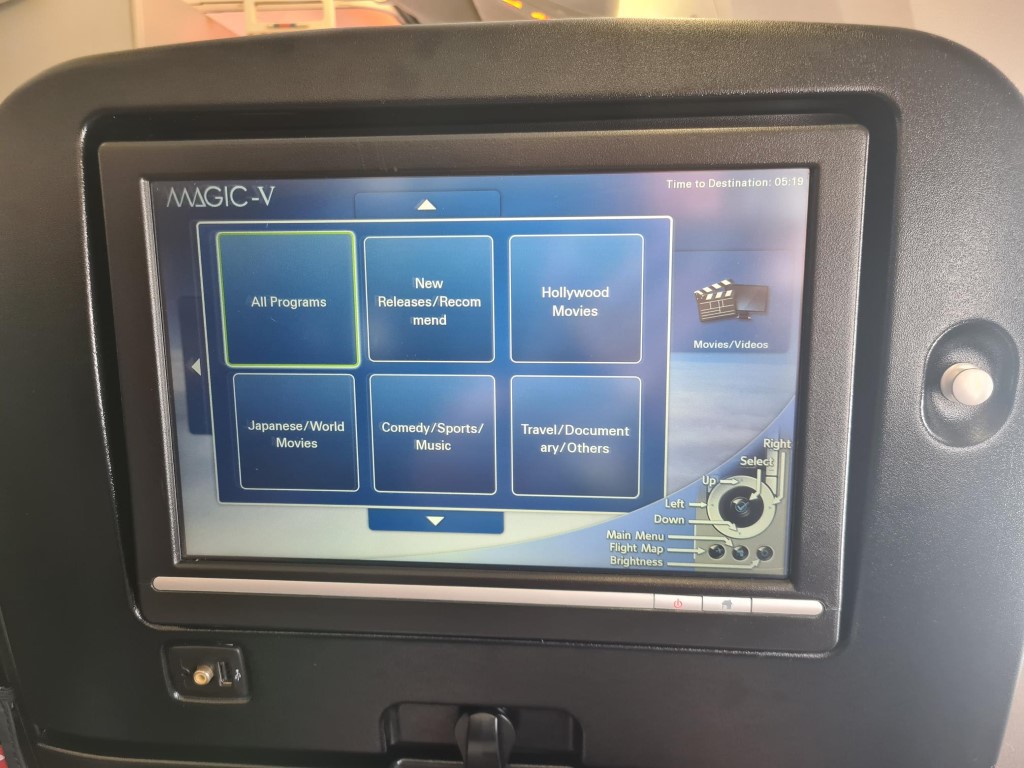 There is also a copy of Japan Airlines inflight magazine called Skyward which has articles in both Japanese and English.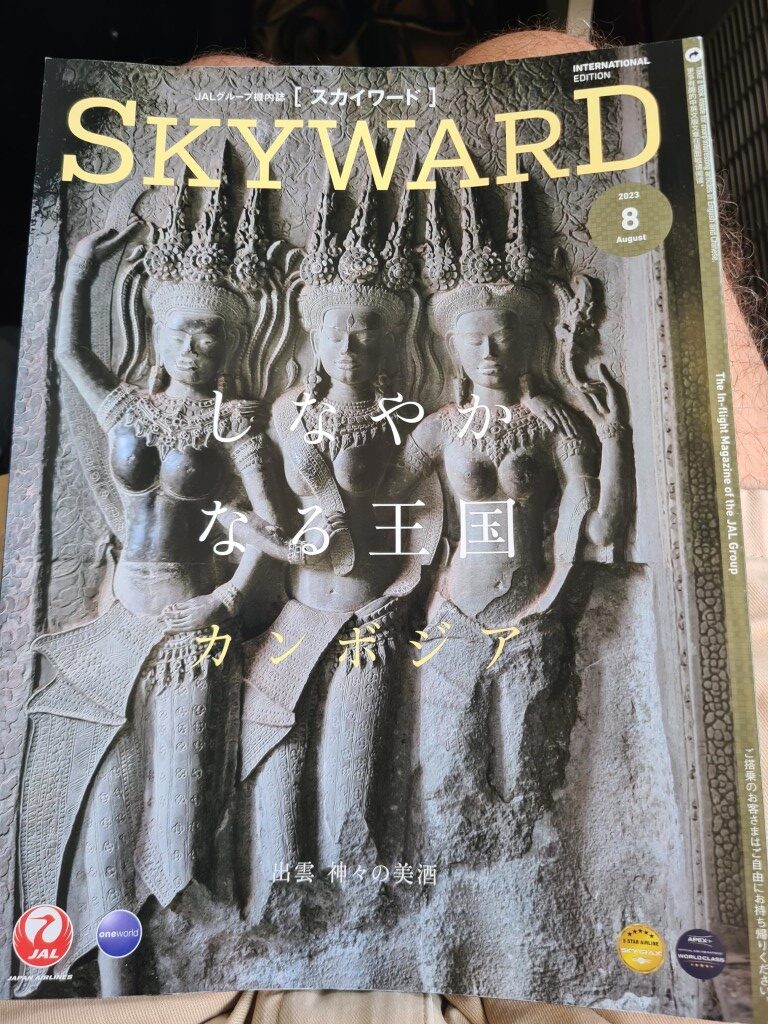 There is also a very basic Flight map to watch the progress of the flight.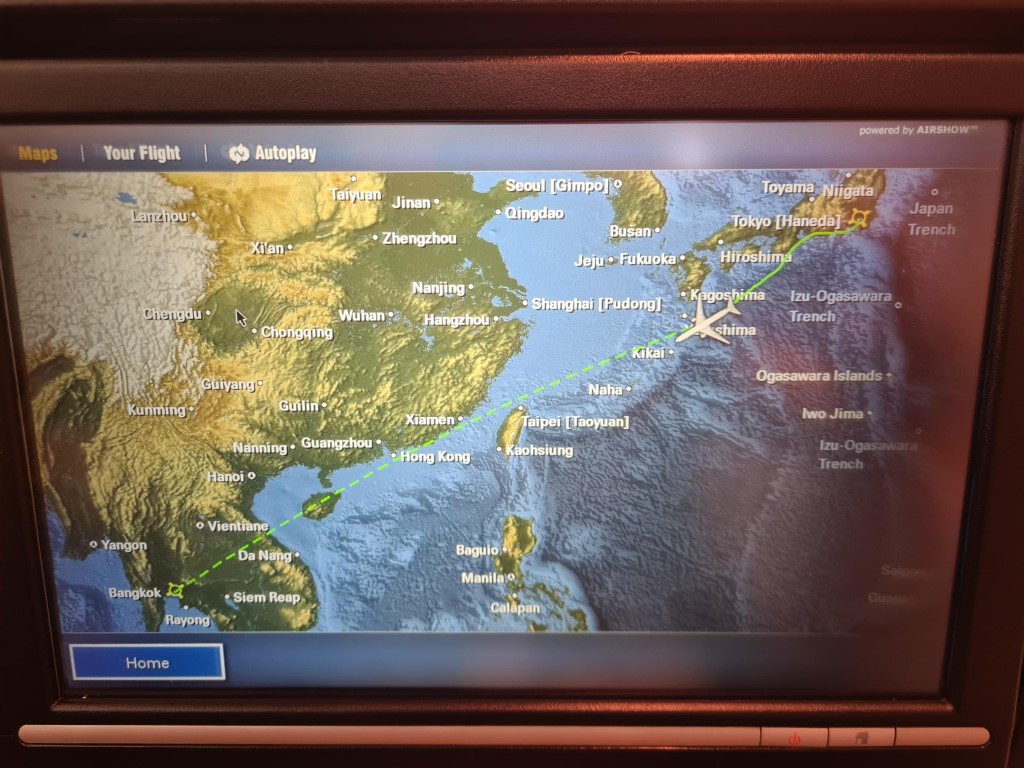 Food served onboard
There is a food menu at your seat when you get onboard so you can see what is available during the flight. See the full food menu for this route between Tokyo and Bangkok and the return leg from Bangkok to Tokyo.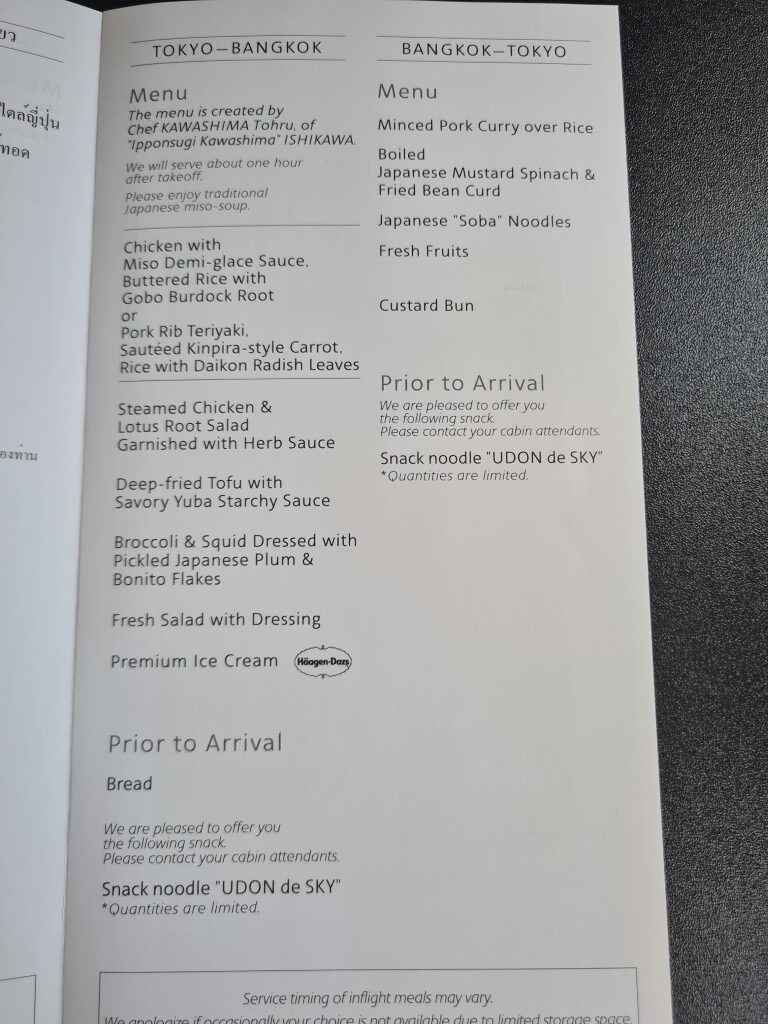 Straight after take-ff they started the meal service with a drink and packet of nuts.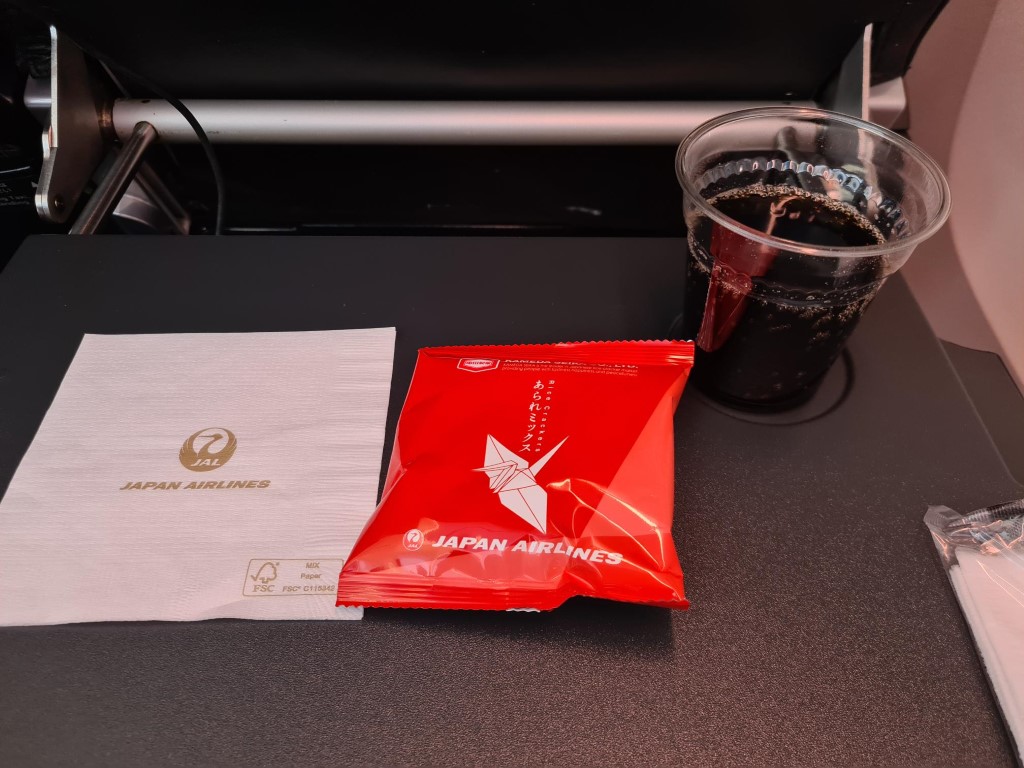 Then the food was served. I went for the Pork Rib Teriyaki which was very tasty. This was a great Japanese meal with loads of different compartments which contained salads, steamed vegetables and some tofu. It was definitely a very generous serving of food, all very tasty.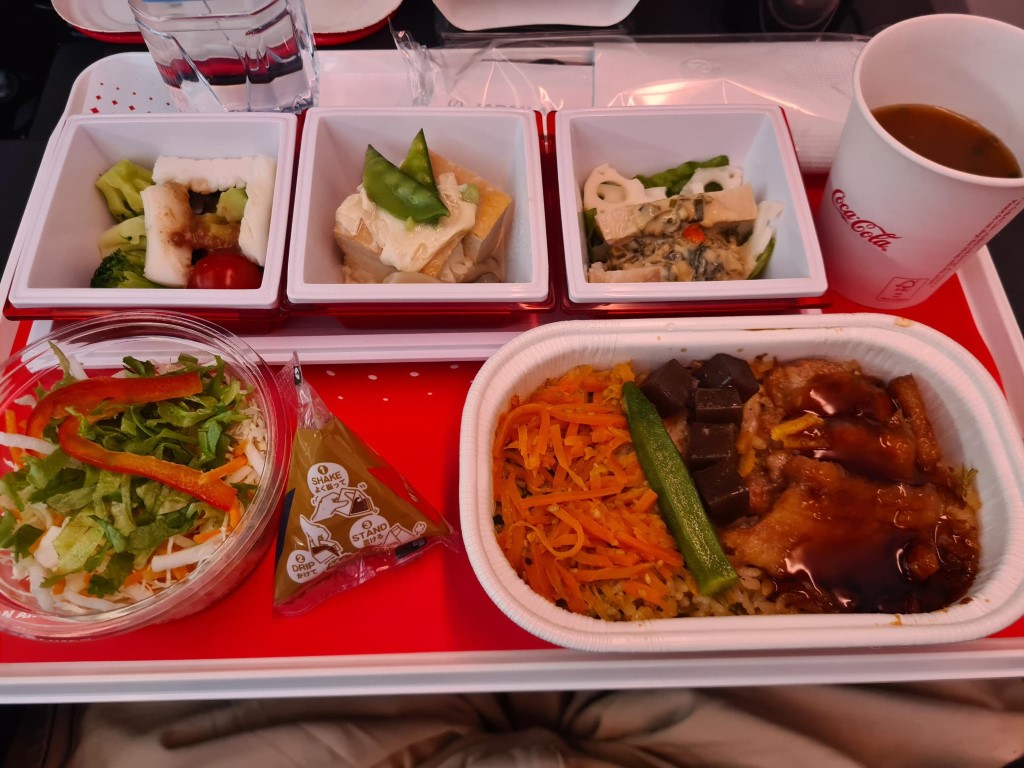 For dessert we were served a tub of Haagen-Dazs ice-cream.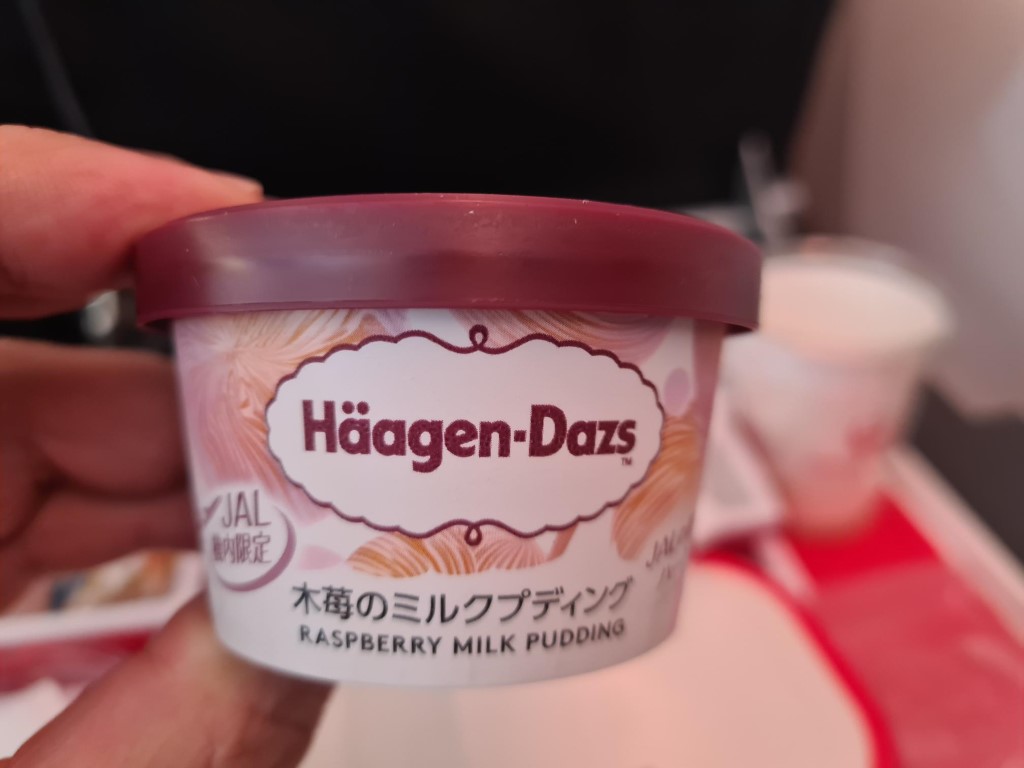 They also handed out a sweet bread roll which was one of the snacks available before landing but they handed out straight after our meal. Also on the snack menu was a Udon Noodle soup available from the snack menu which you can order by request but I was full from this meal plus the beef curry I had in the Sakura Lounge.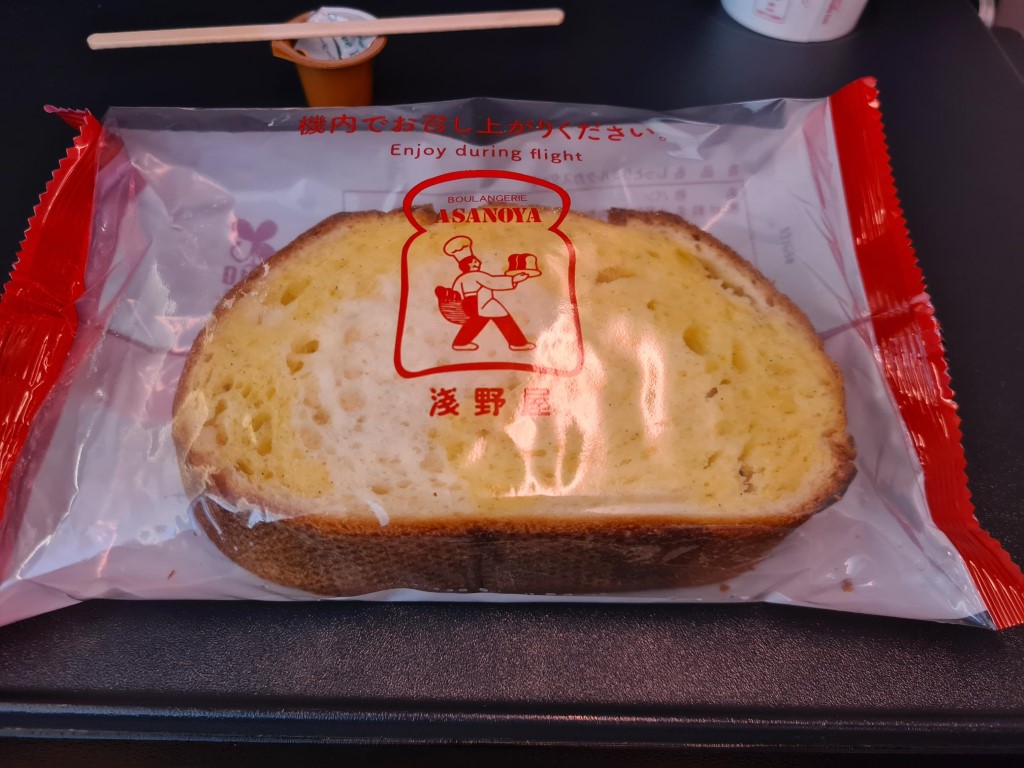 The service
Japan Airlines has some great flight crew. This is your very nice Japanese service with a smile. I've flown Japan airlines a few times and the service is always very good.