Indonesia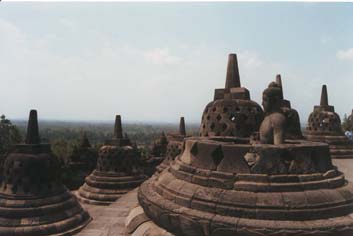 Indonesia is an amazing tourist destination in South-East Asia. With over 18,000 islands, the Indonesian archipelago has so much to offer.
Indonesia is so more than just Bali, Indonesia has something for everyone. Beach holidays, lush tropical jungles, unique wildlife found nowhere else in the world and unique culture on pretty much every island you visit. For the really adventurous, you can climb many active volcanoes in Indonesia, as the Ring of Fire brings massive volcanic activity to Indonesia. Some of the tallest volcanoes in the world, and many of these are easily accessible.
Of course, Bali, know as the Island of the Gods, is a must visit place in Indonesia. But here are some of my top destinations in Indonesia. Here are some of the best things to see and do in Indonesia:
Jungle Trekking in North Sumatra – One of the most amazing National Parks in Indonesia is the Gunung Leuser National Park, located around 2 hours drive from Medan, which is the capital city of North Sumatra. Home to the Sumatran Orangutan, Sumatran Tiger and Elephant, there are many trekking guides who will take you into this majestic jungle.
Scuba Diving – Indonesia has some of the best scuba diving in the world, there are countless world class dive sights scattered around the islands of Indonesia. Top picks are at Raja Ampat Marine Park off the coast of West Papua, Bunaken Island in North Sulawesi, Komodo National Park, Pulau Wei island in the very northern tip of Indonesia in Aceh Sumatra, the Gili Islands of the northern coast of Lombok, which is known as the Turtle Capital of the World (i'd say you will see more turtles in Bunaken National Marine Park) and the diving off the islands of Bali is pretty good too!
Ancient Monuments – Indonesia has a long, rich history. One the island of Java you will find some amazing Ancient sites like the massive Borobudur Buddhist Complex dating back to the 8th Century and the Prambanan Hindu Temple which dates back to the 9th Century.
Beach Life – for either the lovers of the water, or someone looking for a nice relaxing beach holiday, with 18,000 islands, that relates too many beaches to count! Some of those beaches have some world classed surf of their coast or they have stretches of beautiful white sand to pop yourself down and read a good book, drink a nice cold cocktail and relax!