Scuba Diving Bunaken National Marine Park Indonesia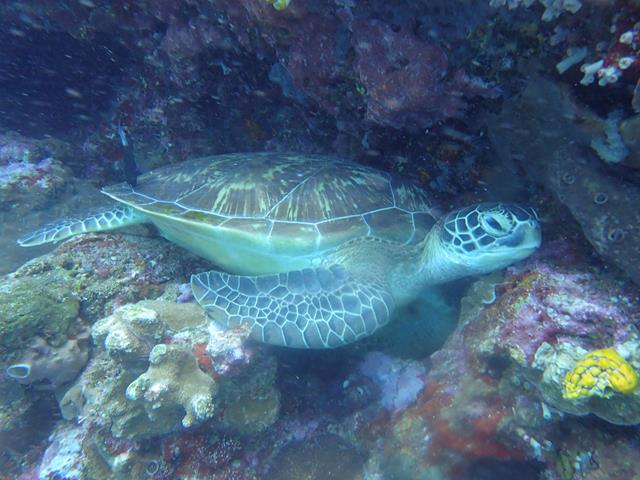 The scuba diving in the Bunaken National Marine Park in North Sulawesi Indonesia is some world class diving!
The majority of the dive sites in the Bunaken Marine Park are wall dives. The waters in the marine park are deep! Up to 2000 meters deep. The islands have a shallow area that slopes down to a top reef and then drops off about 50 meters from the beach to a dramatic wall, some of walls drop off to 80 meters or more. Along the vertical walls you find some of the amazing marine life hiding in the crevasses of the wall.
The waters around Bunaken are known for some strong currents and the currents can change quickly. You can be diving in nice calm waters and very quickly the current will pick up. As well as side currents, there are also up and down currents. The down currents are the most dangerous. The down currents can push you down 5 meters or more in a few seconds. There are plenty of dive sites for amateur divers though alot you want to have at least 20 dives under your belt to have the confidence to navigate the strong currents if they arise.
Bunaken Marine Park has a tropical climate so the waters are always warm which make it perfect for scuba diving. The water temperature varies from around 25 degrees to 28 degrees.
Marine Life in Bunaken National Marine Park
Bunaken National Marine Park has one of the most bio-diverse marine life in the world.
There are so many turtles to be seen around Bunaken. The Gili Islands off the coast of Lombok are referred to as the 'Turtle Capital of the World' but I think there is more chance of seeing more turtles around Bunaken then there are around the Gili Islands. On one dive off the coast of Bunaken Island I saw more than 12 turtles. They are not shy and will swim up to you to check you out.
Some of the other interesting marine life in Bunaken Marine Park include Kuhl's Stingrays, large Eagle Rays, White and Black tip reef sharks, Hairy Frogfish, a range of different species of Moray Eels, Flamboyant Cuttlefish, Harlequin Shrimp, Harlequin Crab, Orangutan Crab just to name some of the hundreds of different marine creatures.
How to get to Bunaken National Marine Park
You can fly directly to Manado, the capital city of North Sulawesi, from Jakarta with Garuda Indonesia or there are direct flights from Singapore with Silk Air. Flight time from Jakarta to Manado is around 3 hours 20 minutes. Flight time from Singapore to Manado is 3 hours 40 minutes. Air Asia also have flights from Makassar in South Sulawesi to Manado. http://www.airasia.com/au/en/cheap-flights/indonesia/flights-to-manado.page
Once in Manado there are boats that leave every morning to go across to Bunken Island.
Where to stay to access Bunaken National Marine Park
The majority of accommodation are located on Bunaken Island, most are dive resorts which are PADI accredited. We highly recommend Bastianos Dive Resort (check out our review for Bastianos). There are a few hotels located on Siladen Island which is the small island close to Bunaken. Also further to the north there are 3 hotels on Bangka Island which is gaining popularity as a destination for scuba diving.
One the mainland of North Sulawesi is Cocotinos Dive Resort (check out our review for Cocotinos). Located in Wori Bay, Cocotinos has a dive centre and organise boat trips to Bunaken Island which takes around 25 minutes by boat to get there. They also do car trips from Cocotinos across to the Lembeh Straight for the best muck diving in the world.