Cocotinos Boutique Dive Resort Manado North Sulawesi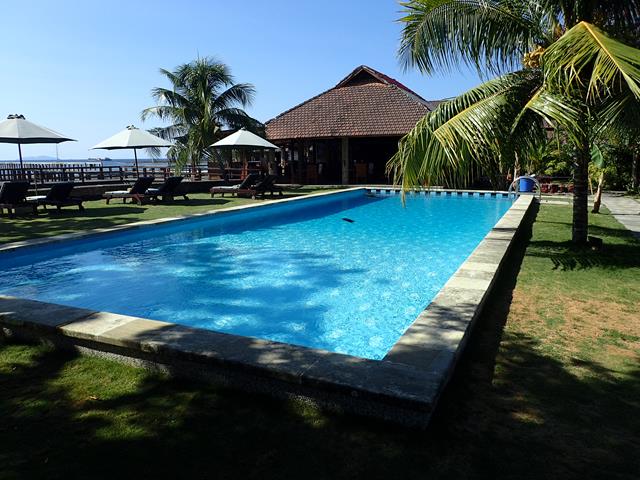 I stayed at Cocotinos Dive Resort at Sekotong West Lombok in December 2014 (see the review for Cocotinos Lombok). I really enjoyed my stay at Cocotinos Lombok so when I organised at trip to dive at Bunaken National Marine Park in North Sulawesi in September 2015 I had to try Cocotinos Boutique Dive Resort Manado.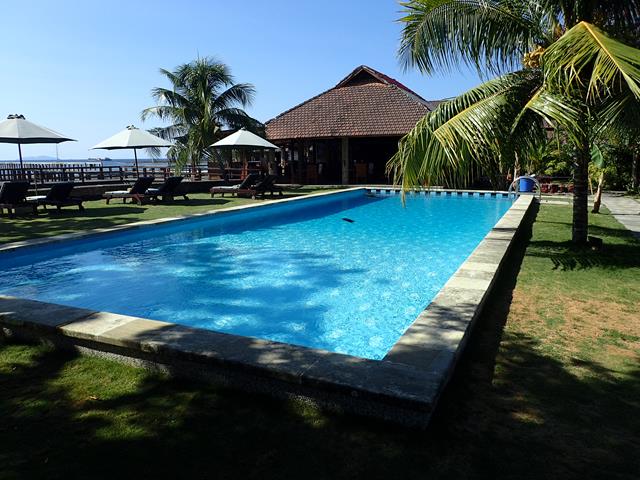 Cocotinos Boutique Dive Resort is located on the mainland of North Sulawesi around 1 hour (or 1.5 hour in traffic) north of Manado. It is quicker to go direct from Manado airport to Cocotinos, around a 25 minute drive. Cocotinos can arrange a transfer from the airport direct to the resort.
Cocotinos is a Dive Resort so the main reason to come here is the amazing scuba diving in the Bunaken National Marine Park which has some of the best diving in the world. Even if you are not a scuba diver, Cocotinos is the sort of place to come to relax and wind down. Located in the very quiet Wori Bay, surrounded by a quiet fishing village, you could easily just come to the resort and chill out. They have a lovely swimming pool, a great Spa where the staff give an awesome massage and the food at Cocotinos is fantastic.
The rooms are very comfortable with air-conditioning and a TV with cable channels with plenty of movie channels if you want to relax in your room and watch TV.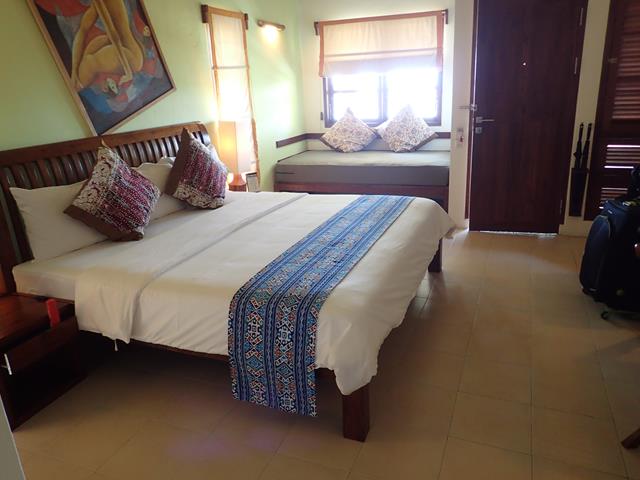 There is a great selection of food at Cocotinos including your standard Western fare of burgers, pizza, pasta or there is plenty of Asian and Indonesian dishes to choose from. On the very back page of their menu has all the local Manado food. Be warned! Manado food is known as the spiciest food in Indonesia! They use a very small local chilli called 'Rica' which is mega hot! I only ate the Manado food during my 4 nights at Cocotinos and now Manado food is my favourite Indonesian food. See our article of the Food you have to try in Manado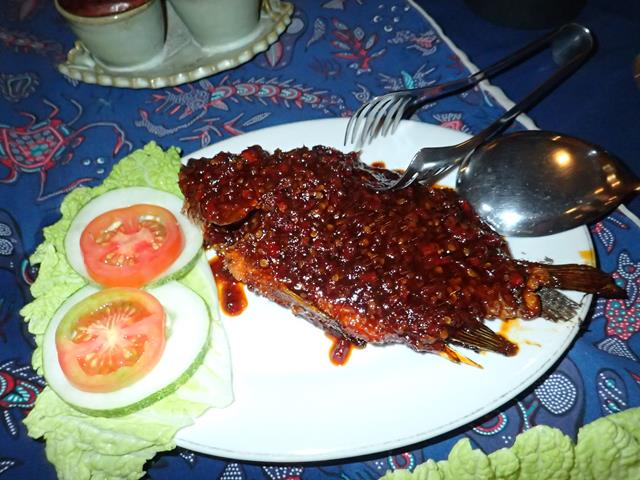 Reservations at Cocotinos Dive Resort Manado
You can book directly on the Cocotinos Dive Resort website. You can book just a room with breakfast or book a dive package which includes all your diving and meals.
I booked my stay at Cocotinos on the Agoda Hotel booking website and got 50% discount off the room price.
Dive Centre at Cocotinos Manado
The Dive Centre is operated by Odyssea Divers, the same dive centre that is at Cocotinos in Sekotong Lombok. It is a little bit disorganised (TII – This Is Indonesia!). When I first arrived at the resort I went straight to the dive centre to arrange my diving. I chatted to them and asked what diving trips they had planned for the next day. They told me I had to arrange my dive trips at the front reception desk. I went to reception and they just gave me a form to fill out to register my dive certificate and sign away all responsibility for accidents. I handed back the form and asked what dives they had and reception told me I had to speak to the dive centre! I went back to the dive centre and they told me that the only dive trips available the next day was the trip to Pulau Lembeh which is 2 hours away by car. That is a 4 hour round trip. I said I didn't want to travel that far by car and would prefer dive trips around Bunaken island which his only 25 minutes away from Cocotinos by boat. They then told me I could go for diving around Bunaken Island by myself if I paid double the price! Next morning they said they had 2 other divers and they would not charge me double but we were only going close to some dive sites close on the mainland not far from Cocotinos. The first dive site was not far, in fact just 300 meters from the Cocotinos jetty. They said they had just discovered this dive site a few days ago. Well this dive site was all sandy bottom. I saw more plastic than fish! I did end up seeing 2 lion fish and then right at the end of the 45 minute dive we saw a hairy frog fish. If I had not seen this I would have been mighty pissed off with this 'new' dive site they just discovered. Next dive site was Aba point (about 10 minutes away from Cocotinos) just off the mainland. This was alot better with a nice reef and a sandy bottom section where we saw he amazing Flamboyant Cuttlefish changing colours. Awesome.
Next day we did a proper boat trip to Bunaken Island and dove at 2 amazing wall dives off Bunaken and another cool wall dive off Siladen Island. The diving at Bunaken Marine Park is truely amazing.
Prices for the diving at Cocotinos is a bit expensive. Each dive costs 660,000Rp (around $66). If you want to hire all your scuba gear then each dive will cost closer to $100. it is expensive compared to dive centres in Bali or in Thailand but the diving at Bunaken is highly recommended.
There are multiple power outages throughout the day and night. The power outages only last a short time (a few seconds or 1 minute) but it happens regularly so if you are doing any work on the internet then save your work regularly as you will loose your internet connection.
The internet connection is slow. I managed to do some work but things like trying to watch Youtube videos or any sort of video streaming, the conection is too slow to handle. You may get to watch a few seconds of a Youtube video then it pauses and steams for 5 seconds or more, then you get a few more seconds of video then steaming again.
The Internet also disconnects regularly and you have to ask them to reset their router. I was told that their internet connection gets connected through a central hub on Bunaken Island then back to Manado so very slow!
Check out more articles about Manado Indonesia