Food You Have to Try When You Visit Manado North Sulawesi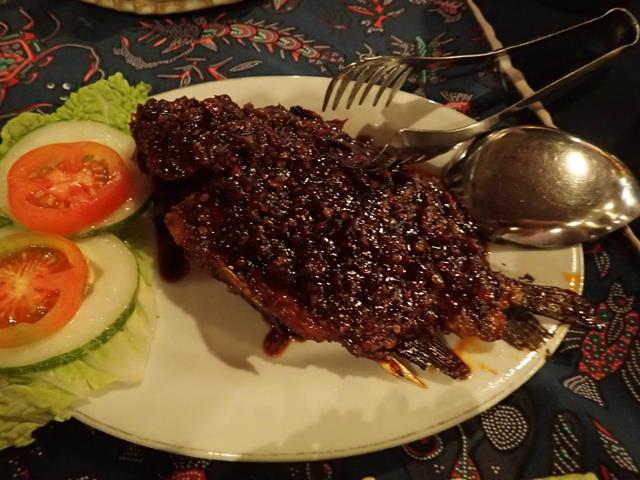 Get ready for some real spicy food when you visit North Sulawesi Indonesia. The food in Manado North Sulawesi is known as the most spicy food in all of Indonesia, actually I think the food in Sumatra is more spicy but I do think the food in Manado is the best Indonesian food! It is very spicy but the spice does not over power the dishes, with loads of different flavours coming through in the meals. Manado food is full of flavour, so fragrant with lots of different herbs and spices being used including garlic, ginger, galangal, lemongrass as well as the very small spicy local chillies called 'Rica' (pronounced Richa). Any dish that is labelled 'Rica' be prepared for some burning lips, some chilli sweats! And remember it is always hotter on the way out than it is on the way in!!!
Upgrade your kitchen like a pro with the help of Spice Kitchen and Bar, they will have tips and recommendation for everything related to your kitchen.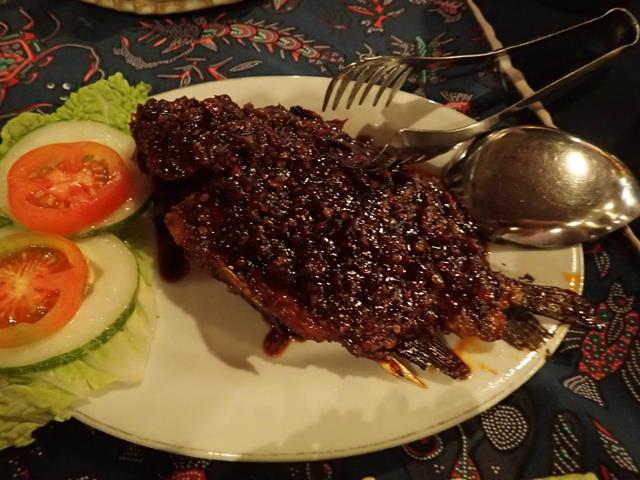 The majority of people in North Sulawesi are Christians so they also offer some great pork dishes, very unusual for Indonesia as the majority of Indonesian food does not contain pork. Great pork dishes and real bacon for breakfast, none of this turkey bacon or beef bacon you find in Jakarta! This should not be called bacon. Only real pork can be called bacon!
So here are some of the Manado food dishes you have to try:
Babi Garo Rica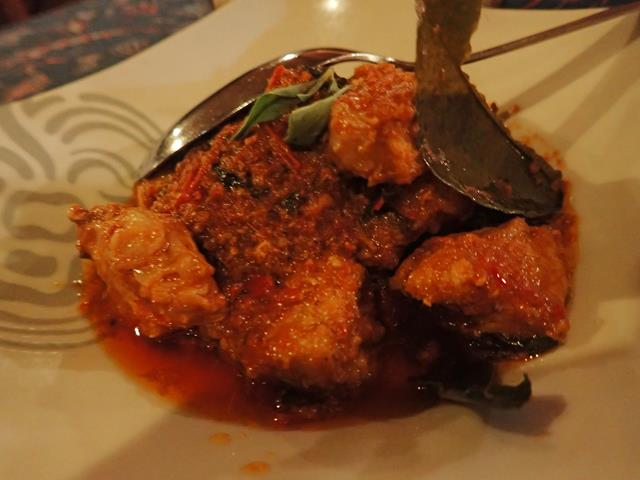 Babi Garo Rica (Pork Garo Pica) is a very spicy sauted pork dish which is full of flavour. With loads of local herbs and spices. This has a heap of the local Rica chilli but also loads of flavour from the garlic, ginger and lemongrass, curry leaves used in this dish. Very spicy, probably 8/10 spice level.
Mujair Goreng Sauce Rica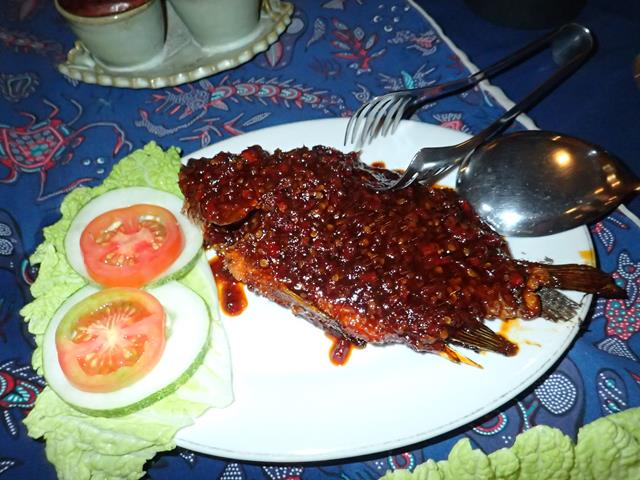 Mujair Goreng Rica is a fried fish dish with a very very spicy chilli sauce. The fish I tried was a Tilapia fish which has some really tasty white meat. The sauce is made with the local Rica chilli found in North Sulawesi. This dish is so spice it is evil but oh so good! Served with plain rice. Extra spicy, 9/10 spice level.
Ayam Bumbu Tuturuga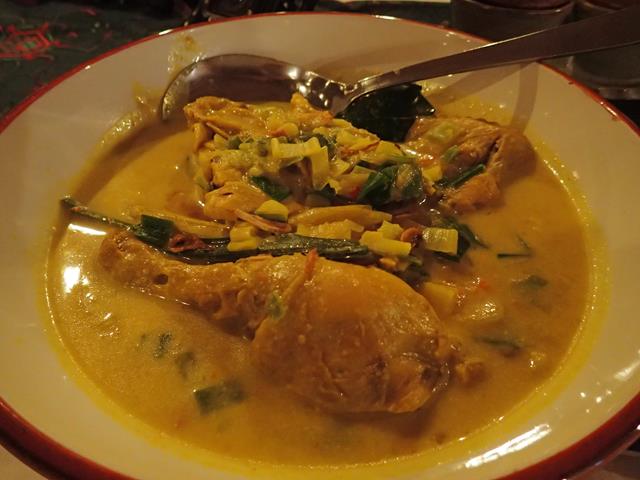 Ayam Bumbu Tuturuga is a mild chicken dish with tumeric and coconut milk. The chicken is braised and then simmered in the delicious coconut milk sauce.
Even though this is a mild dish with no chilli it is served with a side dish of the local Manado sambal chilli paste which is the spiciest sambal I have ever tried in Indonesia. Mega spice! I mixed in a bit of the Sambal with the coconut sauce of the Ayam Bumbu Tuturuga and the spice level of this dish went off the scale! So hot but oh so tasty! I do like spicy food!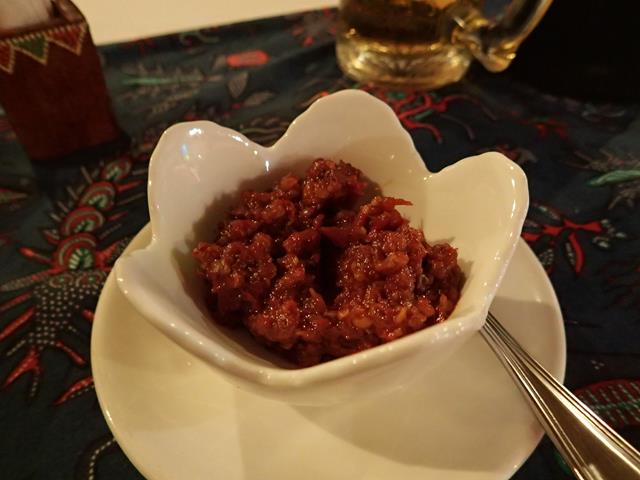 Ayam Goreng Rica Rica
Ayam Goreng (fried chicken) is found all over Indonesia and is some of the best fried chicken you can have in the world! In Manado North Sulawesi they serve the Ayam Goreng with the Rica Rica sauce which is the mega spice chilli sauce. Spice level 10/10!
Ayam Tinoransak
Ayam Tinoransak is a chicken dish with the chicken slowly stewed in local herbs and spicy. You get a real mix of flavours coming from the garlic, ginger, lemongrass and other local herbs I don't even know the name of. And ofcourse there are some chillies in this dish with a little bit of spice.
Babi Kecap
Babi Kecap is a pork dish just like a Chinese sweet and sour pork. A little bit sweet and a bit sour gives it a great balance of flavours.
There are plenty of other dishes available in North Sulawesi but I think these listed above are the best of the best food in Manado North Sulawesi.
See more travel articles about Indonesia