Bangkok Airways Flight PG217 A320 Bangkok to Chiang Mai Flight Review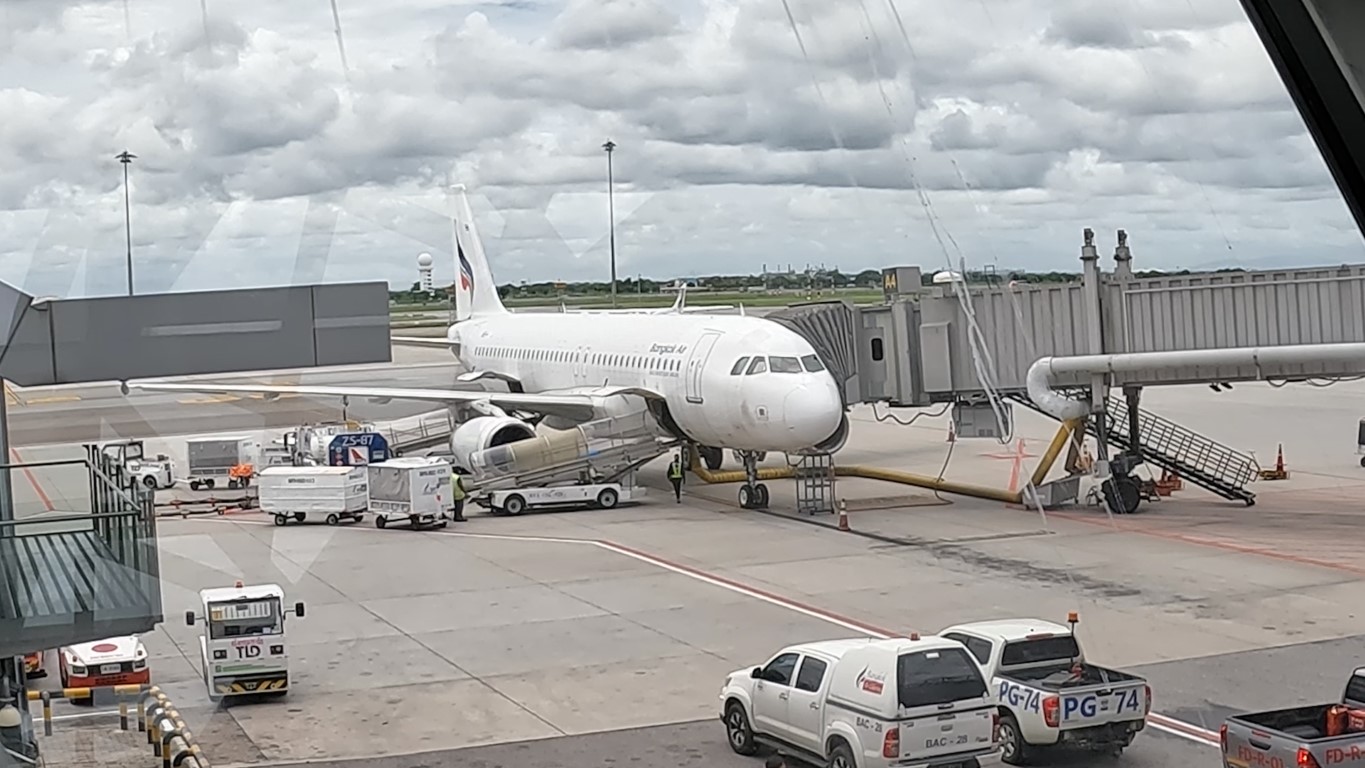 Airline: Bangkok Airways
Flight no: PG217
Route: Bangkok Suvarnabhumi International Airport (BKK) to Chiang Mai International Airport (CNX)
Aircraft type: Airbus A320
Flight time: 1 hours 10 minutes
Travel Class: Economy Class
Seat no: 23A Window Seat
Bangkok Airways is a 'Boutique Airline' in Thailand, this is just 1 level up from a Budget Airline. This is a no frills airline with cheap prices for domestic flights around Thailand. The difference between a Boutique Airline and a Budget Airline, is that they serve you a meal on these Bangkok Airways flights and all passengers get access to the Bangkok Airways Lounge at the airport..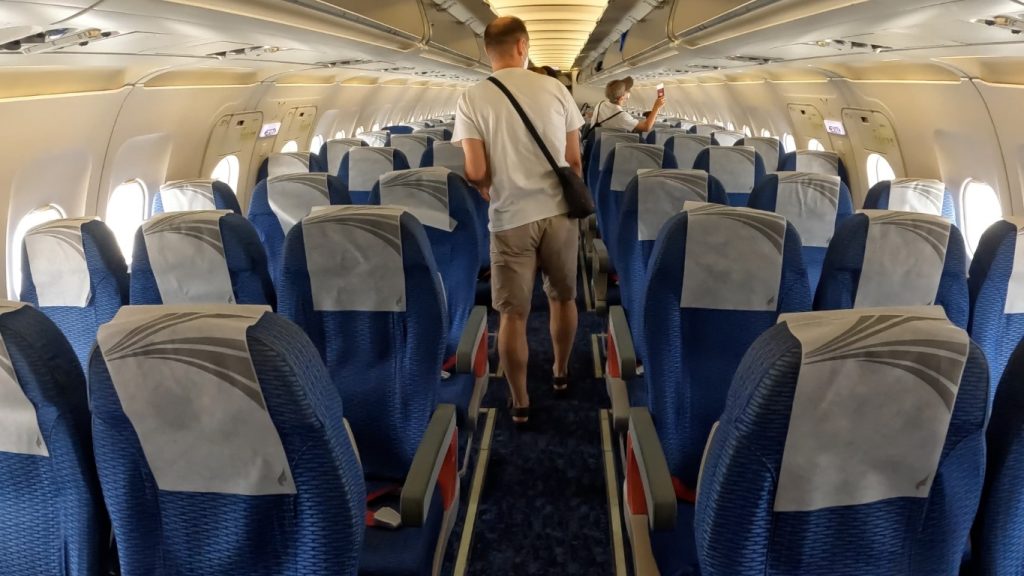 For this route between Bangkok and Chiang Mai there are so many flights to choose. There are 7 different airlines with flights between Bangkok and Chiang Mai, and a choice to fly from Bangkok Suvarnabhumi Airport or from Bangkok Don Mueang Airport too. Airlines include Bangkok Airways, Nok Air, Thai AirAsia, Thai Vietjet Air, Thai Airways, Thai Smile and Thai Lion Air. With so much competition the prices are really low. For my flight on Bangkok Airways cost me A$55 each way. Try getting a 1 hour flight in Australia for A$55!
You can book direct on Bangkok Airways website which is very easy to use.
Check out the Flight Review video for this flight with Bangkok Airways from Bangkok to Chiang Mai
Getting to the airport
Suvarnabhumi Airport is located 30km east of situs slot luar negeri the centre of Bangkok. There is a cheap train you can catch on the Airport Link line but with my luggage I prefer to catch a taxi which will took around 45 minutes. It cost me only 240 Baht, which is only A$10. This flight was back in July 2022, and the traffic was very quiet. When traffic is bad it can cost upwards of 400 Baht to get a taxi to Bangkok Suvarnabhumi Airport.
This airport is affectionately known as Old Swampy as it was built on marshland back in 2006 so they had to drain the swamp before construction began.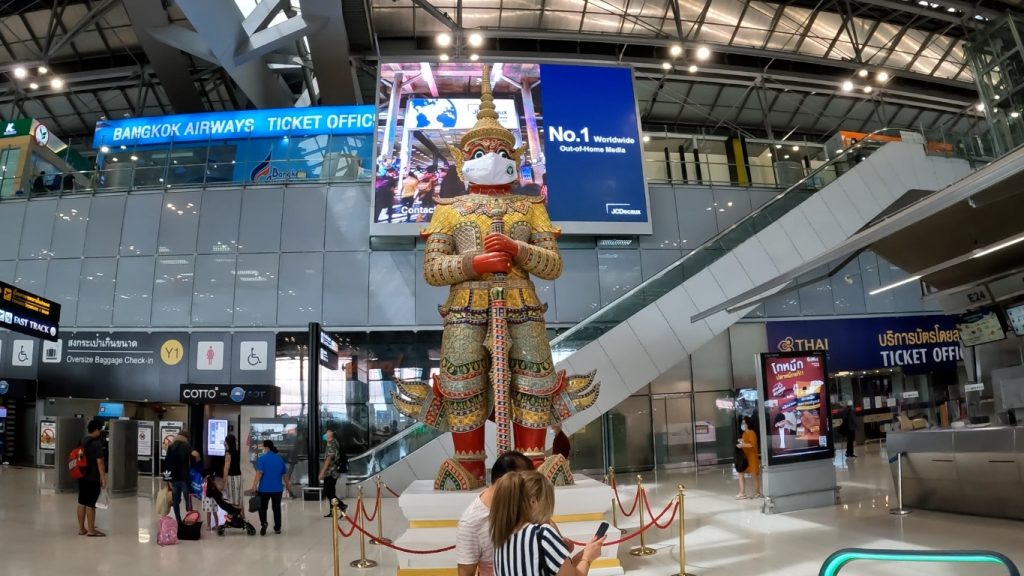 At the airport
Check in was very easy with these electronic check in kiosks which you insert your passport/, It then reads your name to quickly identify your reservation and check you in.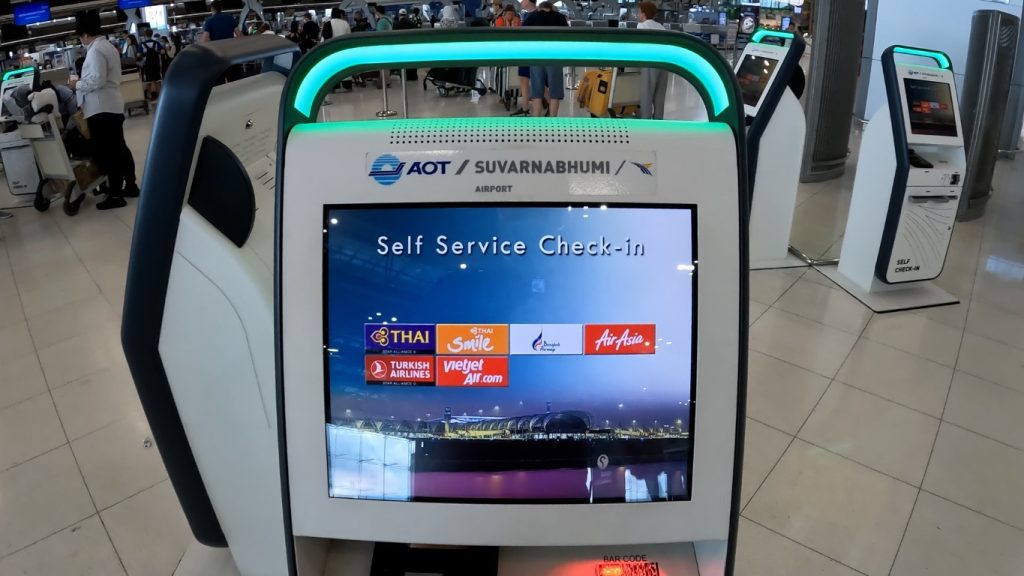 For this flight I had a 20kg baggage allowance but my bag was almost 21kg so the auto bag drop off told me to go the service desk. I was expecting to have to pay an excess baggage charge but the girl at the service desk just smiled and said no problem, no charge and checked my bag through which was awesome service.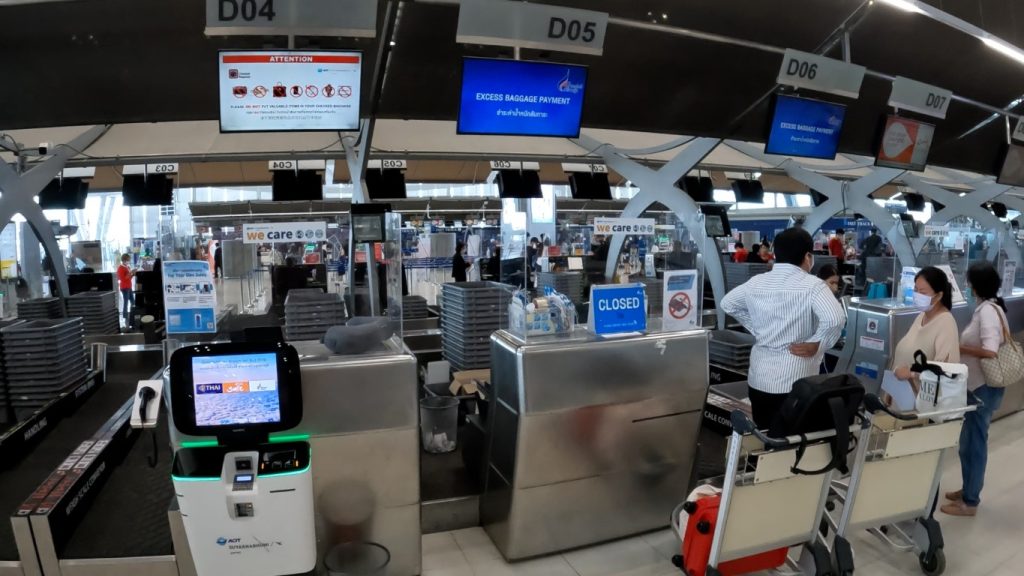 Once passed security there were plenty of options of coffeeshops and fast food outlets. This was a morning flight so I stopped in at Burger King for a greasy breakfast.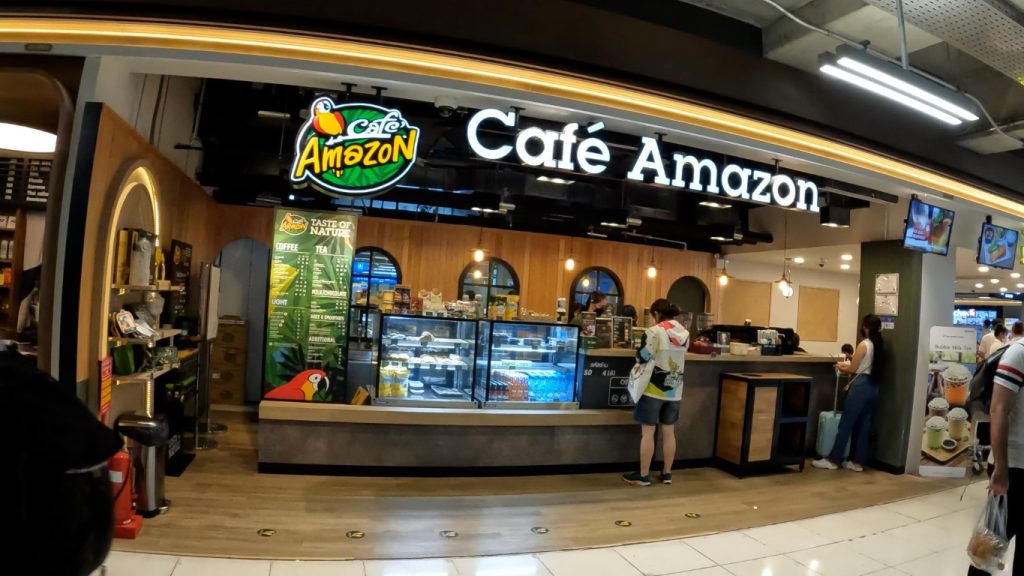 I found out after this flight, that all Bangkok Airways passengers can use the Bangkok Airways Lounge. I guess this is another perk of a Boutique Airline, shame they did not tell me when checking in! But I guess the Electronic Check-In Kiosk is not programmed to tell you that. So sadly no information or pictures for the Bangkok Airways Lounge.
On the plane
The plane used on this busy route is the 163 seat Airbus A320 which Bangkok Airways owns 4. Bangkok Airways has 13 of the Twin Prop ATR72-600s. I once flew on one of the Bangkok Airways ATR72-600 from Bangkok to Trat. Those aircraft are a really nice flying experience. I was hoping this flight would be on the same aircraft but instead they use the A320 which seats 163 passengers compared with 70 passengers on their ATR72s.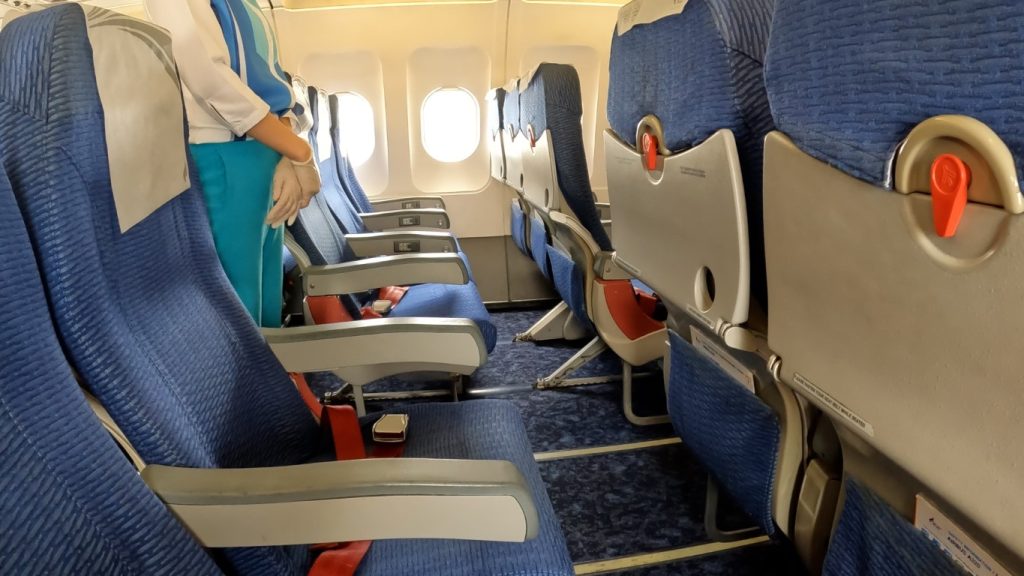 These A320 only have Economy seats, no business or premium economy.
I was seated in seat 23A which is a window seat. This is your stock standard A320 with OK leg room for this 1 hour and 10 minute flight. I did have a bit of space between my knees and the seat in front.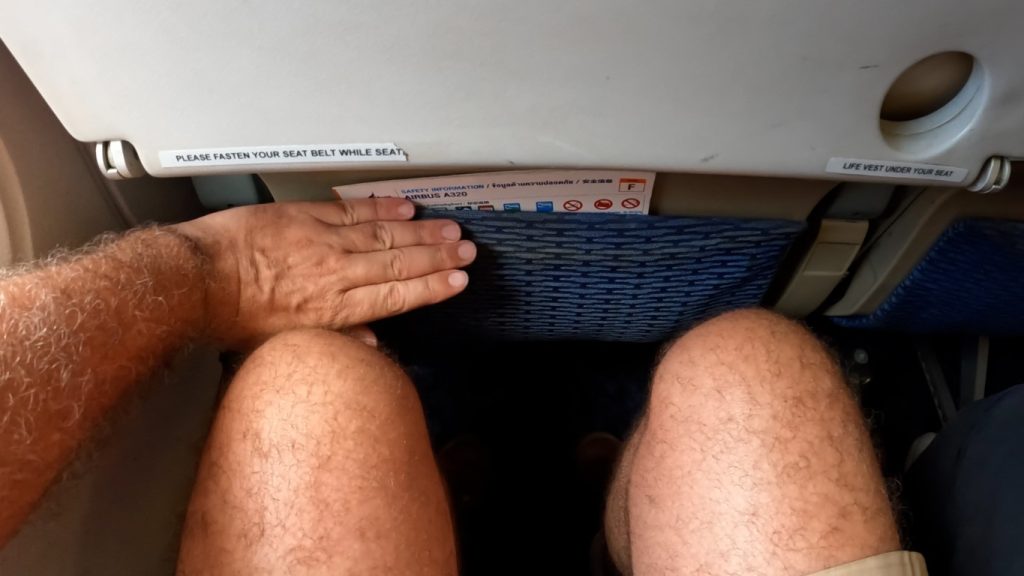 Entertainment System
There is no entertainment on this flight so it was good I had a window seat to admire the excellent sights on the way to northern Thailand. So no entertainment screen, flight map, not even an inflight magazine, so I suggest you get a window seat to check ou the scenery.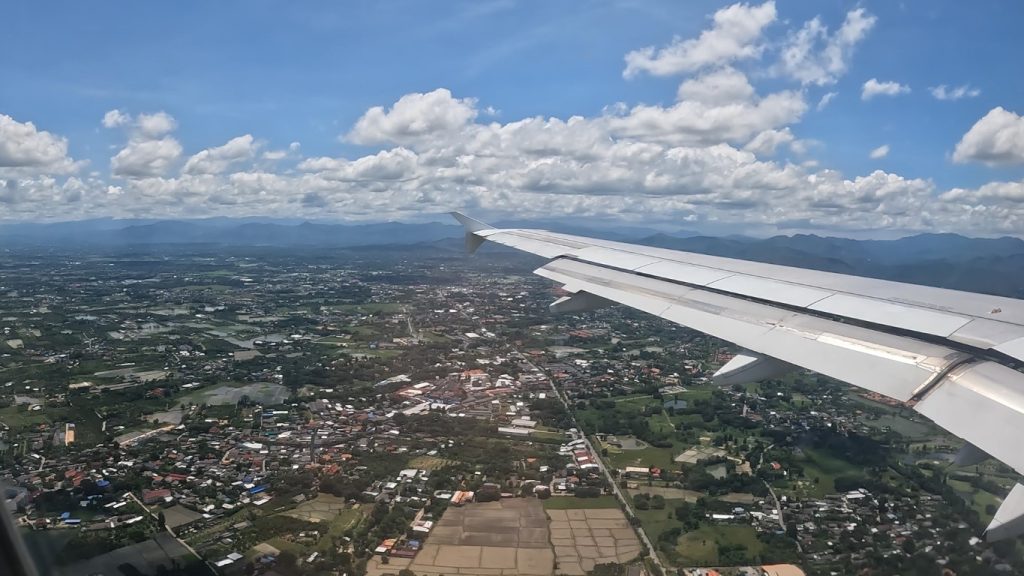 Food served onboard
After take-off the crew came and served this decent sized meal with a bread roll a filled a Mexican flavoured chicken.
This came with a Soy Milk drink and a bottle of water.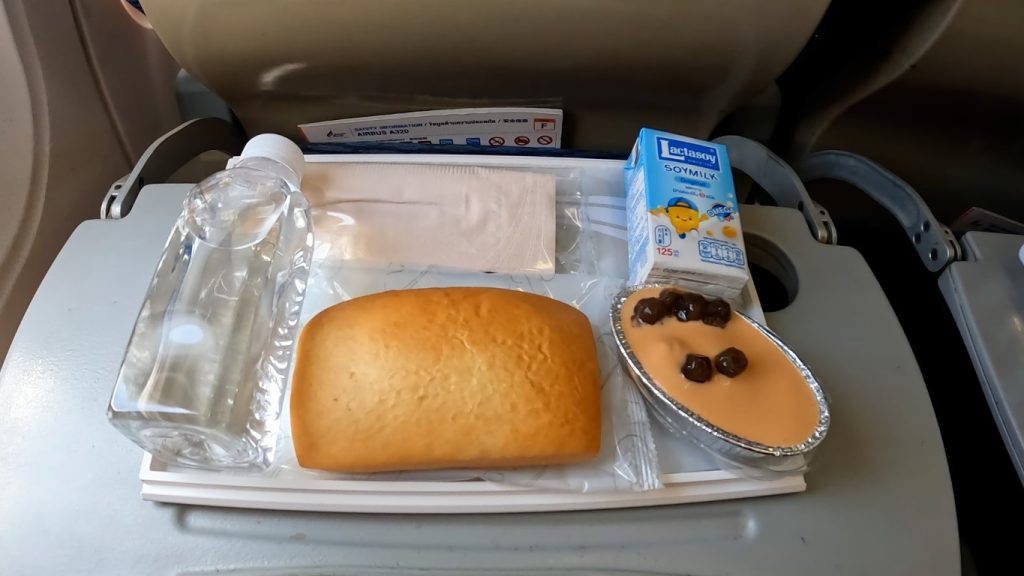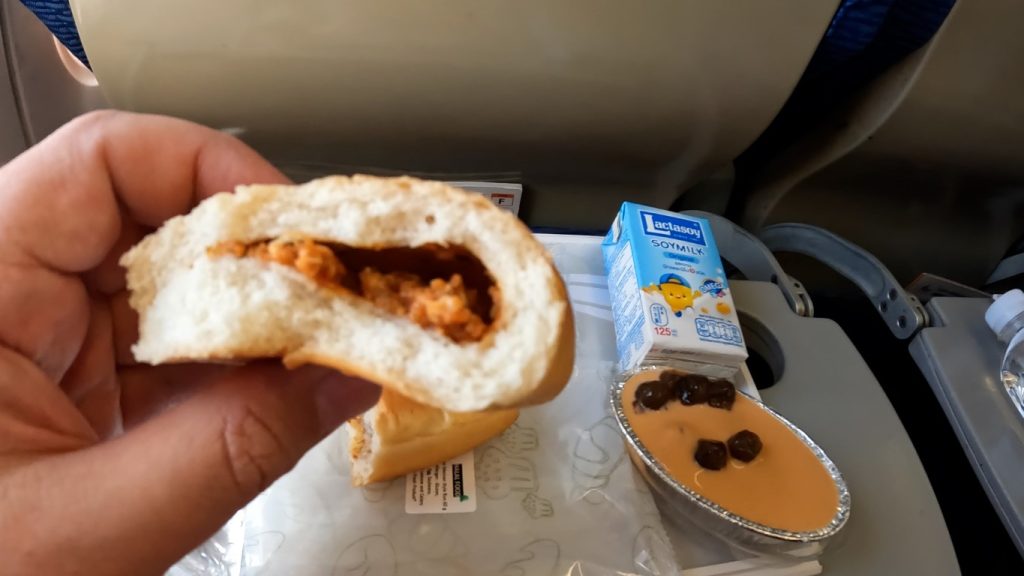 There was a dessert of a classic Thai Tea cake which had a strong tea flavour. Both the bread roll and dessert were Halal and were very tasty. A definite pleasant surprise to get such a decent sized AND TASTY meal on this short flight up to Chiang Mai.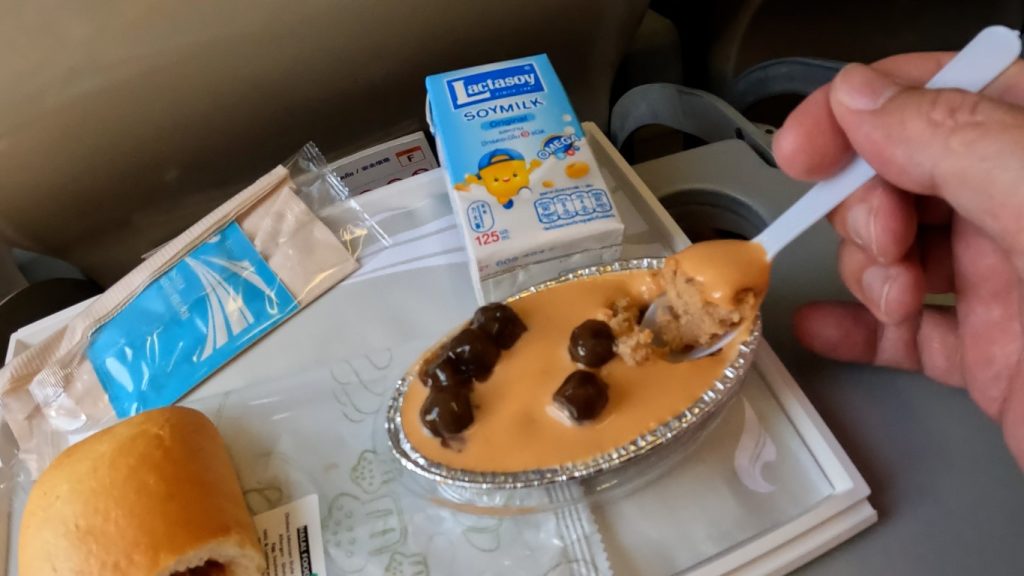 The service
This is only a short 1 hour and 10 minute flight so interaction with the crew was very low. I did get a lovely greeting when getting onboard. The only other interaction was when they handed me the meal. The staff definitely were well presented and always smiling. This is the Land the Smiles!
I would definitely fly Bangkok Air again, in fact I am flying them again soon from Bangkok to Koh Samui on their ATR72. I am so looking forward to that flight.
If you not already subscribed to my Youtube Channel please check it out and subscribe –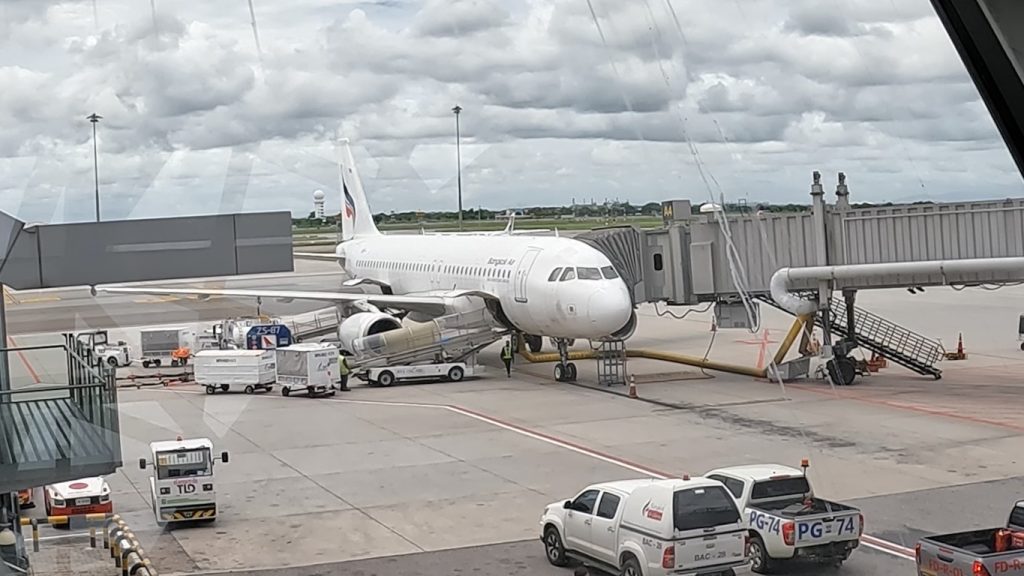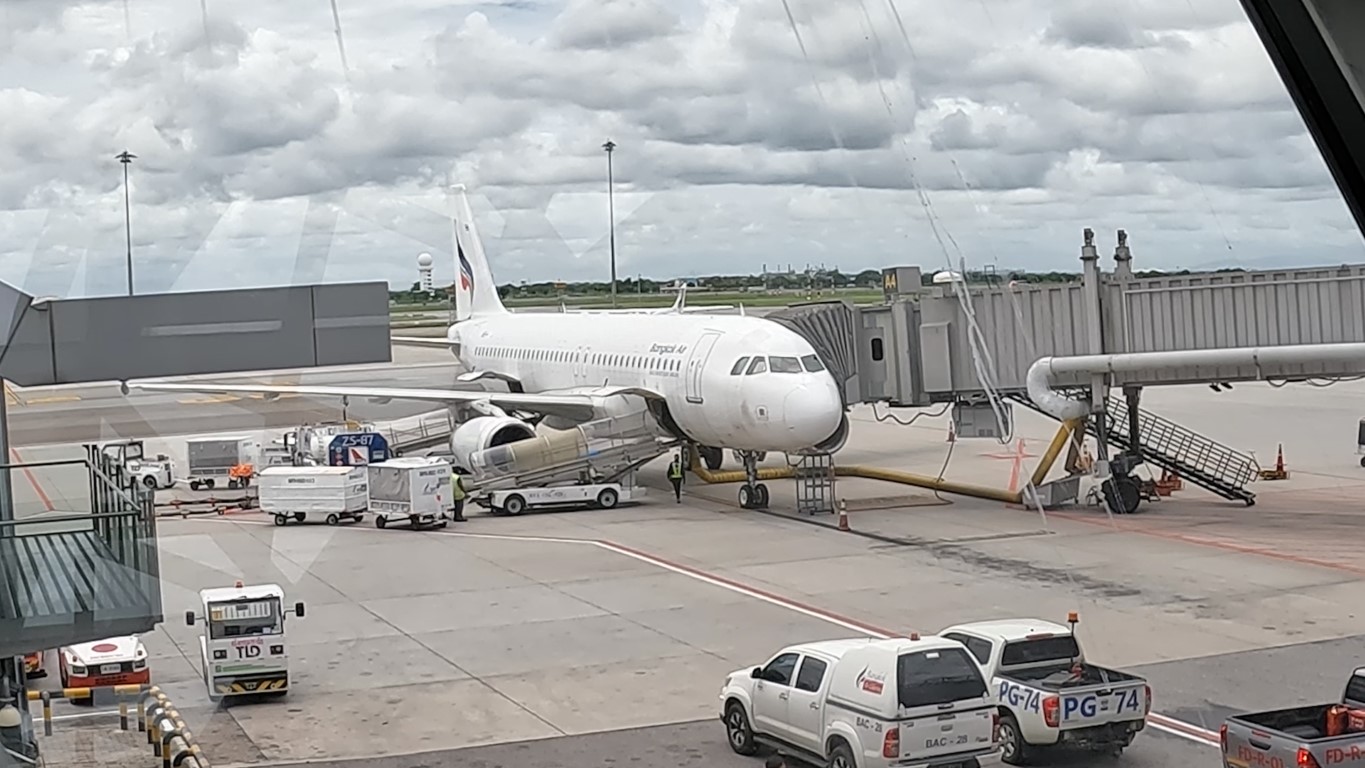 [do_widget id=wpp-6]