Qantas QF923 Cairns to Sydney A330-200 Economy Class Flight Review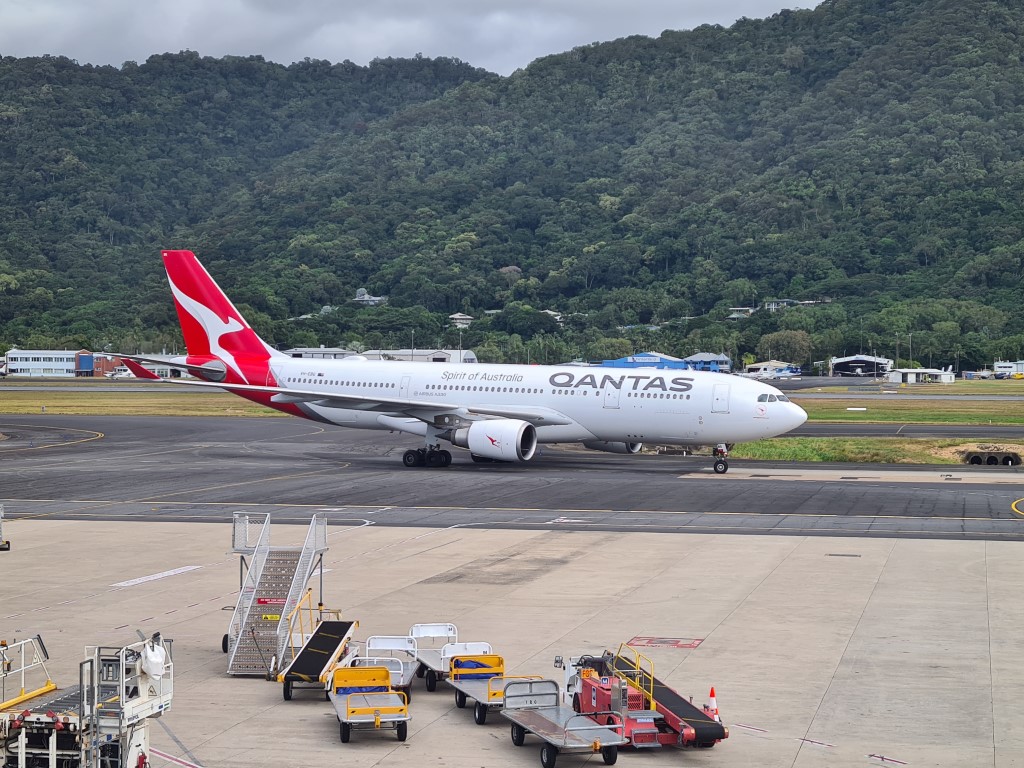 Airline: Qantas
Flight no: QF923
Route: Cairns International Airport (CNS) to Sydney International Airport (SYD)
Aircraft type: Airbus A330-200 Registration: VH-EBG
Flight time: 2 hours 30 minutes
Travel Class: Economy Class
Seat no: 47A Window Seat
For this route between Cairns and Sydney, Qantas use both their A330-200 or the B737-800 depending on what time of year it is. During the peak tourist season they will use the larger A330-200 which seats up to 270 passengers compared to 174 passengers on the B737-800. I booked this flight direct on the Qantas website which is very easy to use.
This flight was back in June 2022. It was getting a bit busy in Cairns at this time of year, moving through to the peak tourist time of July and August.
Flight time from Cairns to Sydney is around 2.5 hours and a total of 2450 Kilometres. I paid $292 for this one way trip. I have seen the prices are low as $216 and also go up over $300.
Getting to the airport
The Cairns International Airport is located 6.3km from Cairns City centre. The drive to the airport only takes about 12 – 15 minutes. A taxi will cost around $24. I got an Uber from my hotel the Pullman International Hotel and it cost me $19.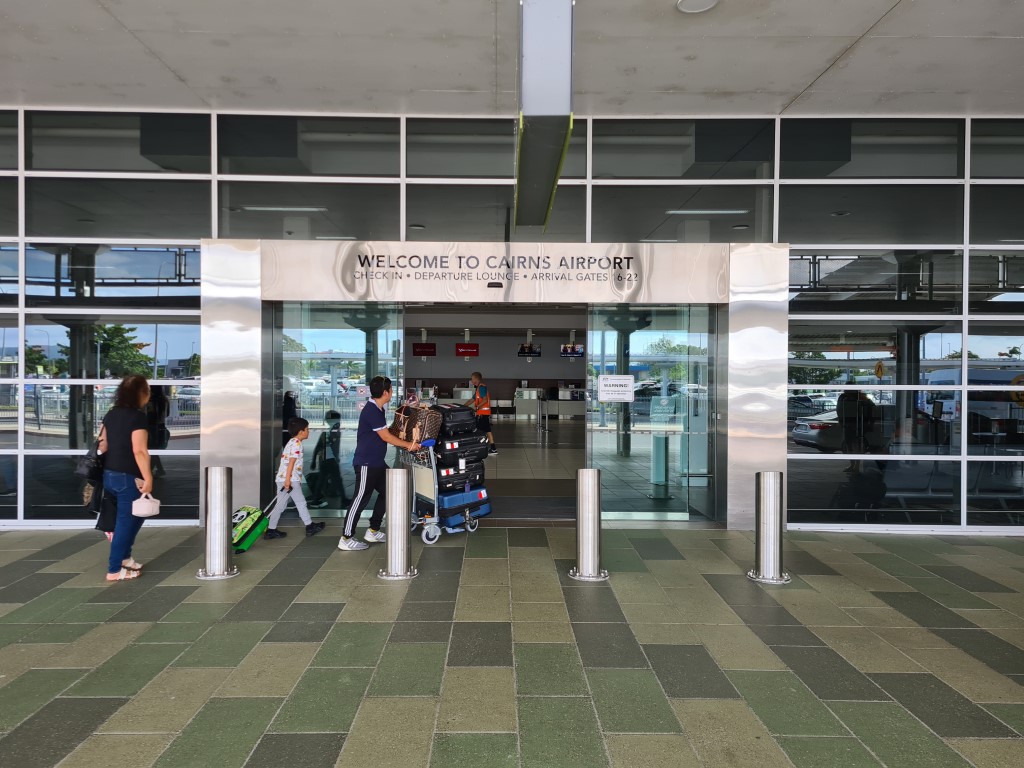 At Cairns Domestic Airport
I had already checked in for my Qantas Flight on the Qantas App. I still had to print off my baggage tag and drop off my luggage. Qantas have a few electronic check-in kiosks which are fairly easy to use to either check-in and / or print off your bag tags. There was a bit of a queue to use these kiosks.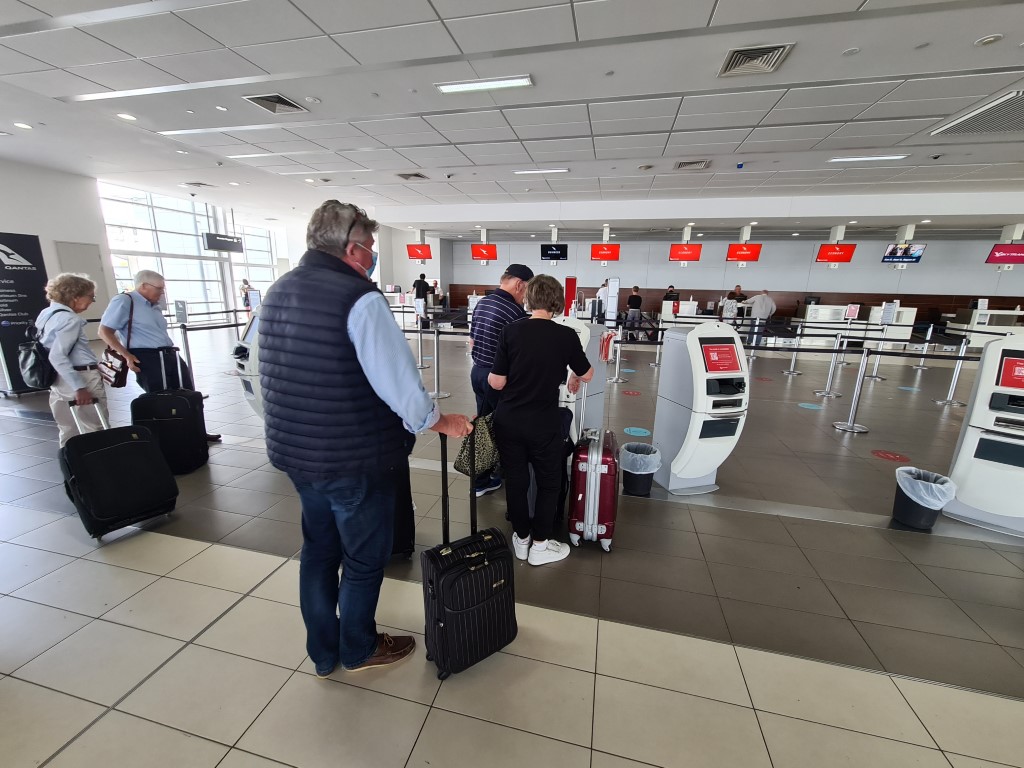 Before you go through security there is only 1 cafe to get something to eat. Just outside the main entrance to the domestic terminal there is the Hudson Coffeeshop.
Once you pass security, there is a very large waiting area which is lined with shops and food stalls, with a number of cafes, a Hungry Jacks and an Oporto Chicken Shop. I did not buy any food as I have access to the Qantas Club so I went up there to get some free food and coffee.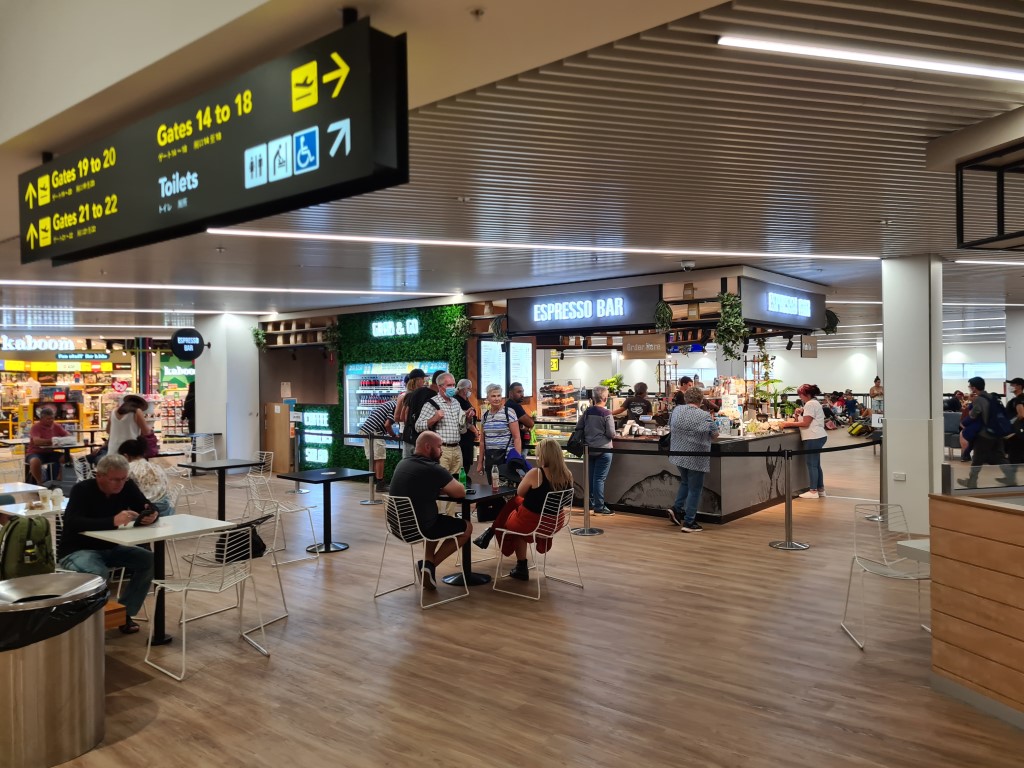 Qantas Club at Cairns Domestic Airport
There is now only the Qantas Club lounge at Cairns Airport. There used to be a Virgin Lounge but that has permanently closed now that Virgin is no longer a full service airline. The Qantas Lounge is located upstairs from the main departure area.
One of the disappointing things about Cairns Airport is that there are no windows from the departure area so you are unable to see the planes on the runway or taxi area. The best thing about the Qantas Lounge is they have huge windows and views over the entire runway.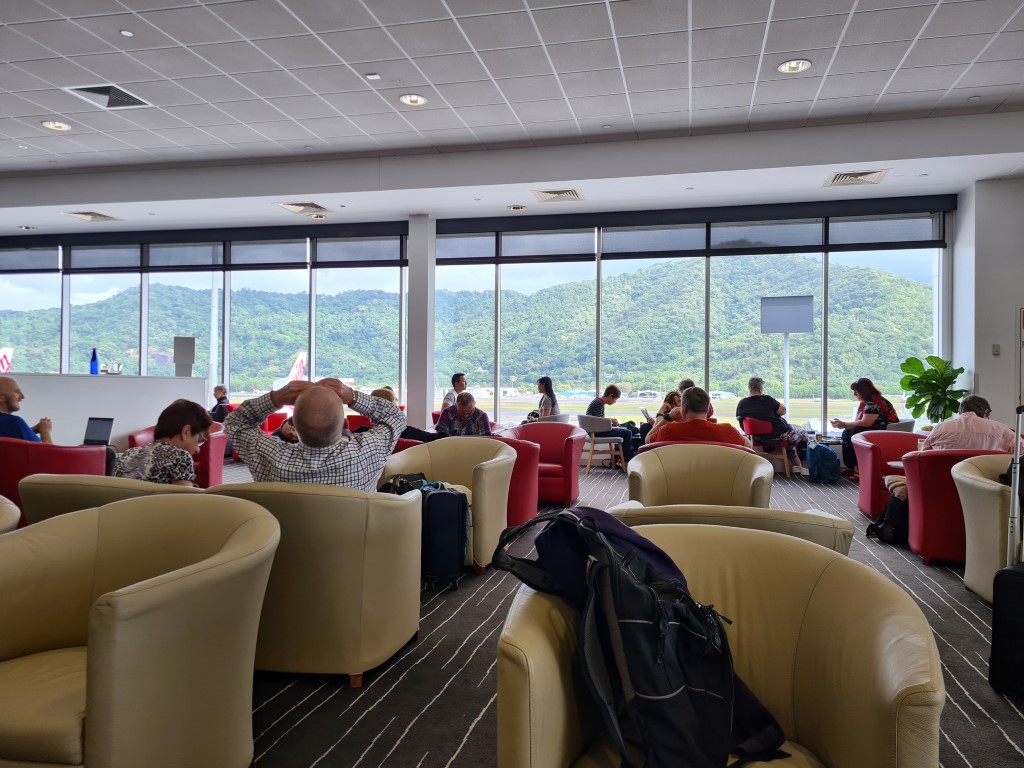 There was a free buffet available at lunch time when I was there for this flight. There was a nice pasta dish available, as well as the standard make your own toasted sandwiches with a selection of sliced ham, cheese, tomato and condiments.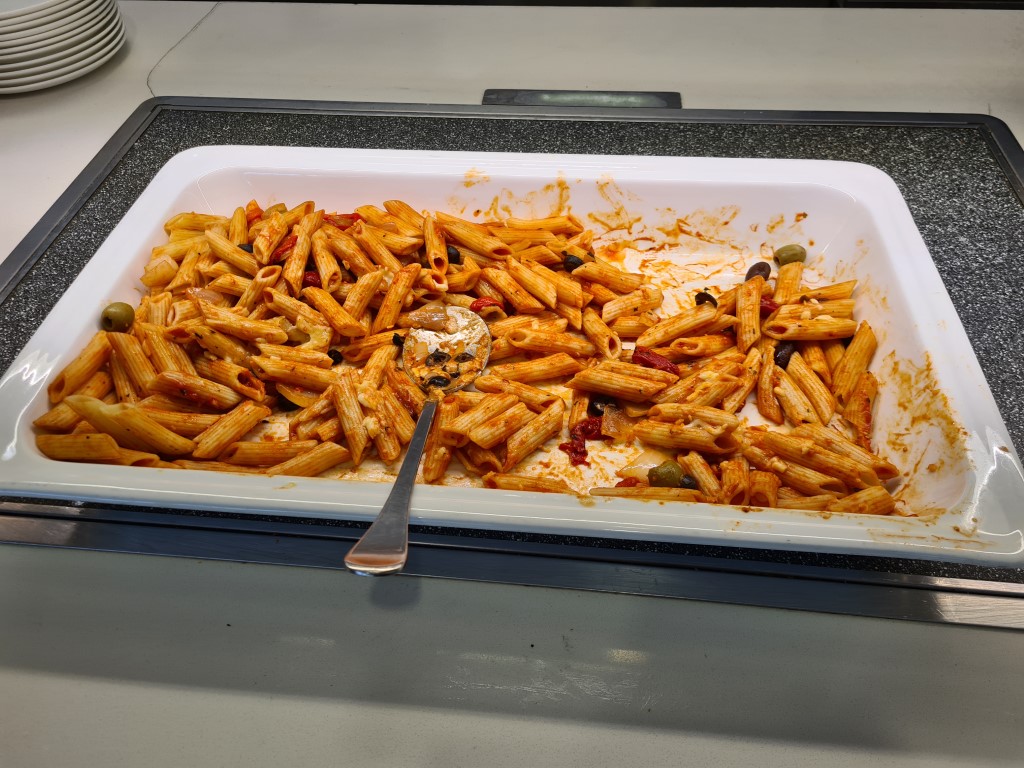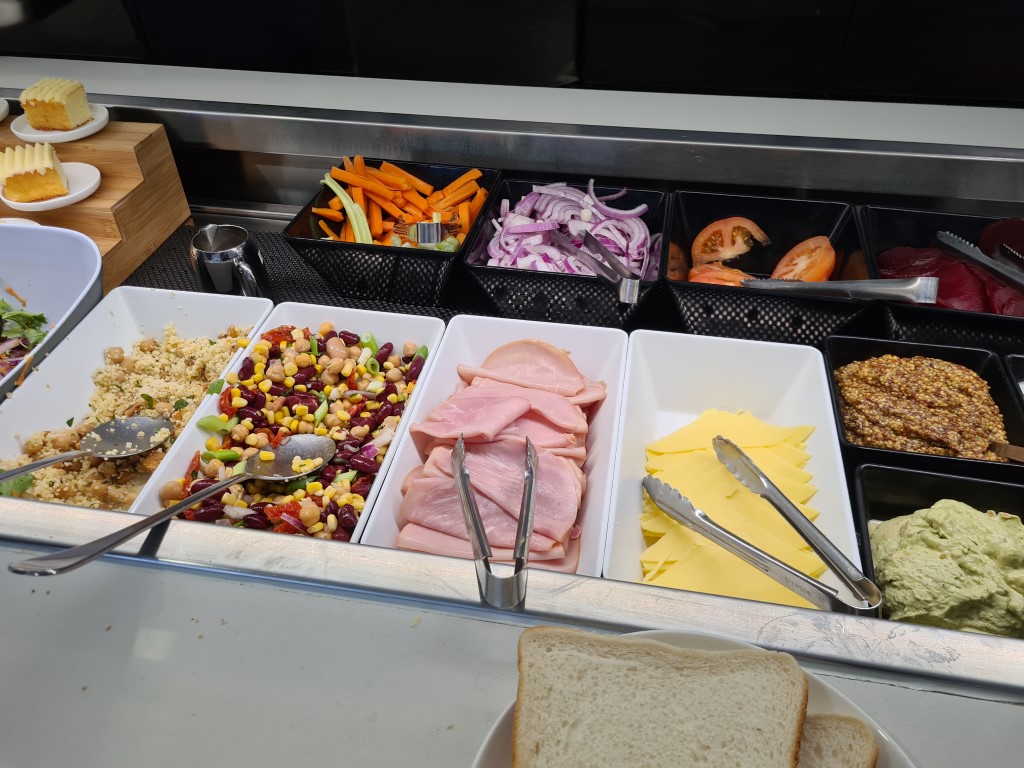 On The Plane – Qantas A330-200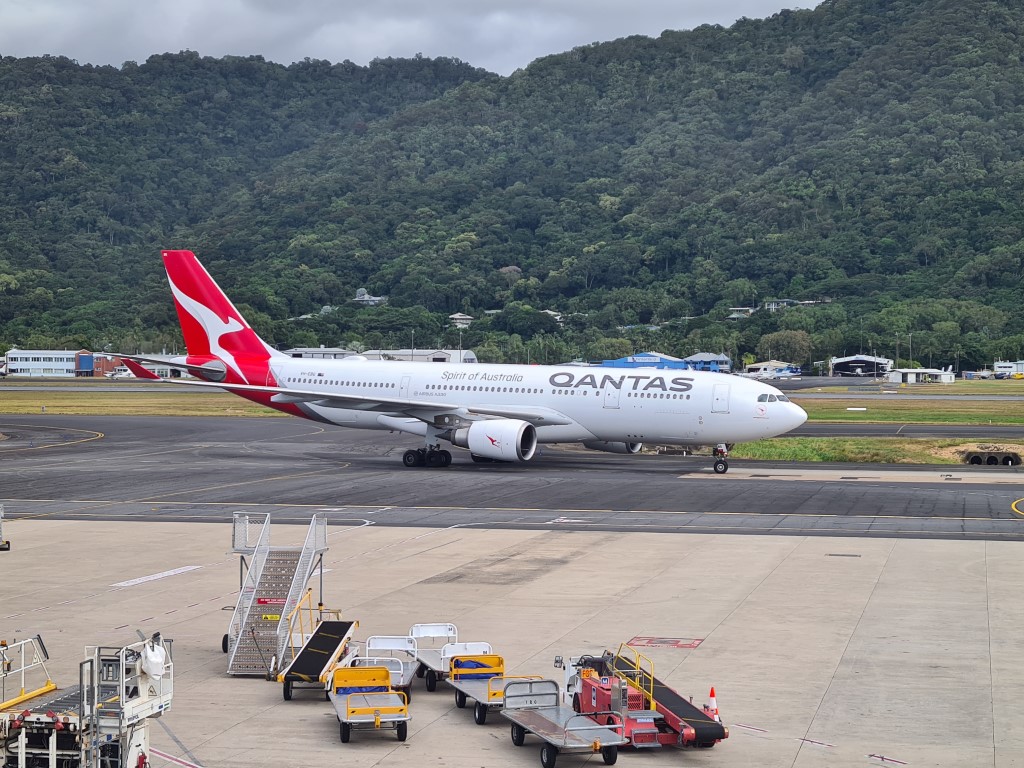 The specific plane used for my flight was the Qantas A330-200 with rego: VH-EBG which has the plane name 'Barossa Valley' This plane joined the Qantas fleet brand new in 2007.
Qantas have 18 of these Airbus A330-200s which have 2 classes – 28 Business Class total lay flat bed seats and 243 Standard Economy seats. These A330-200s are generally used for longer Domestic flights within Australia and a few select International destinations like to Bali.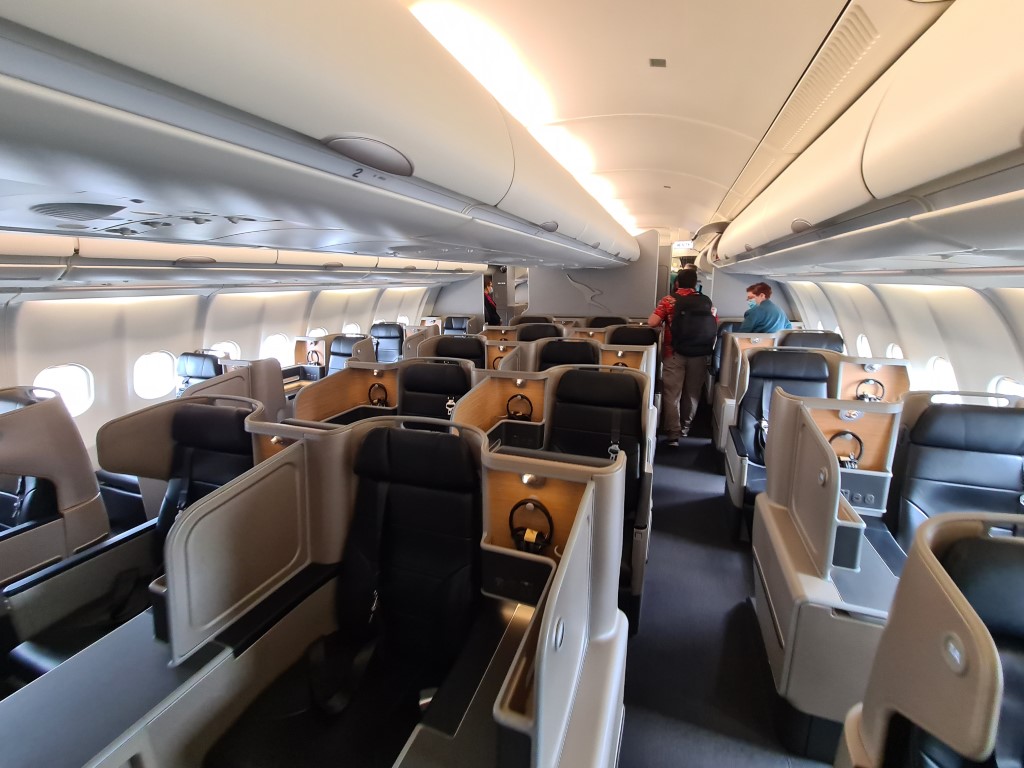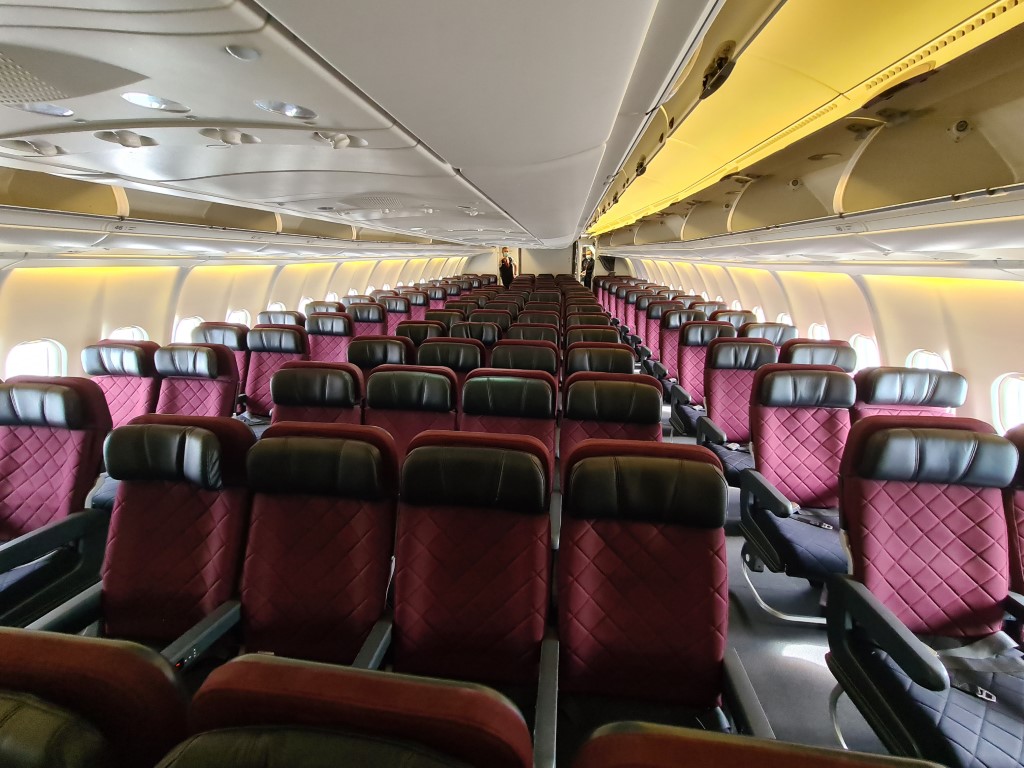 I was sitting down the back of the bus in seat 47A. The seat numbers go all the way to row 58. The economy seats have a decent amount of legroom. I am 187cm tall and you can see in the picture below there is space between my knees and the seat in front.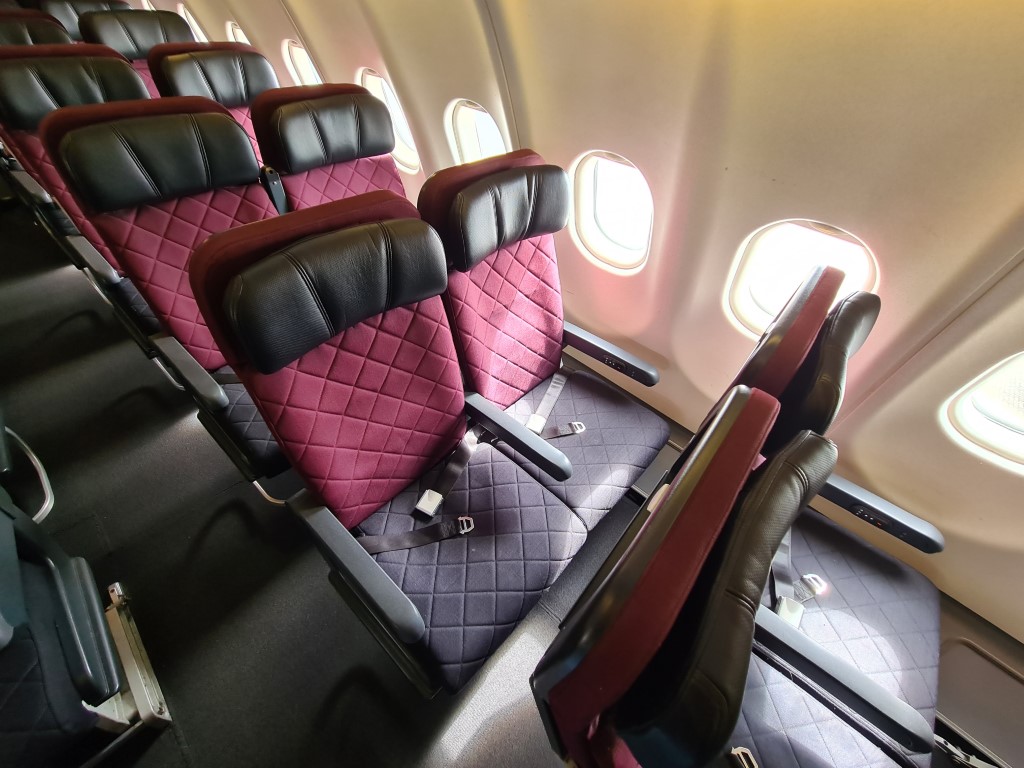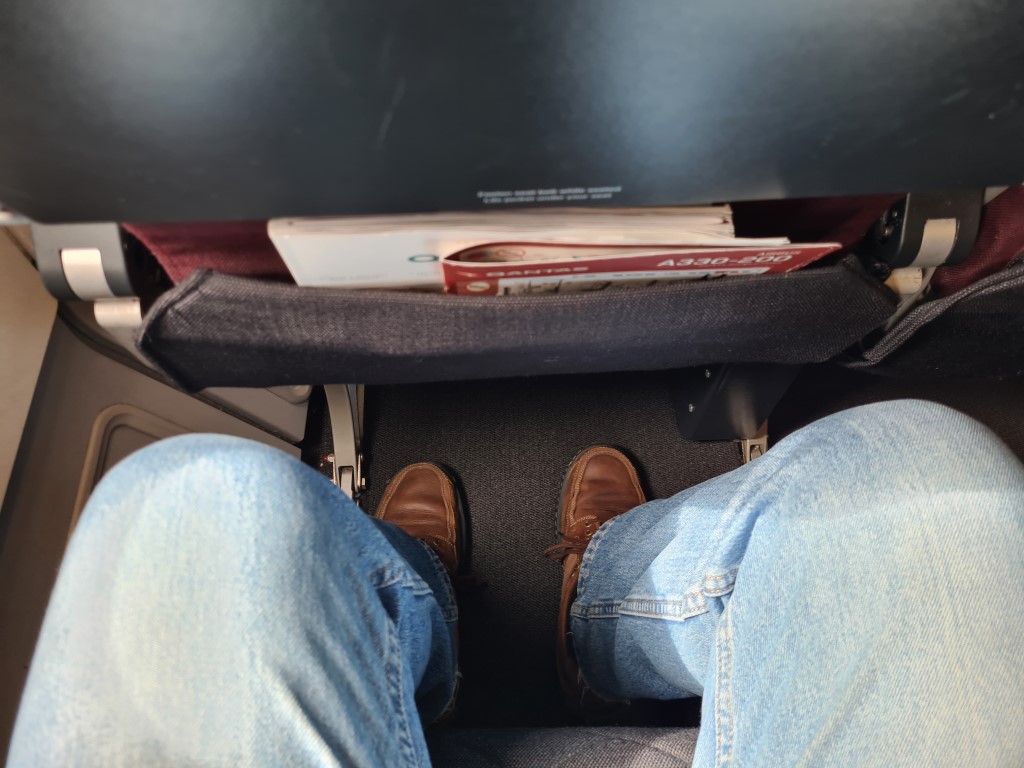 There is a USB port located on the back of the seat infront of you. There is also a power adaptor located under the seat.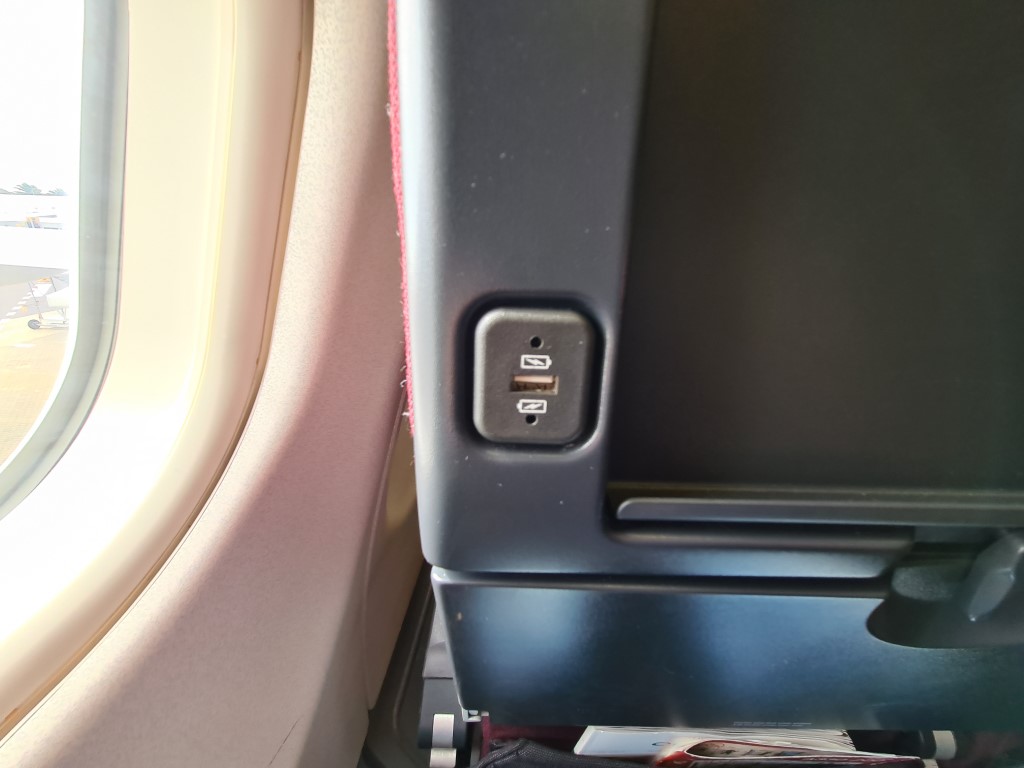 Entertainment Onboard
There is a Qantas inflight magazine located in the seat pocket with loads of good articles about the destinations that Qantas fly to.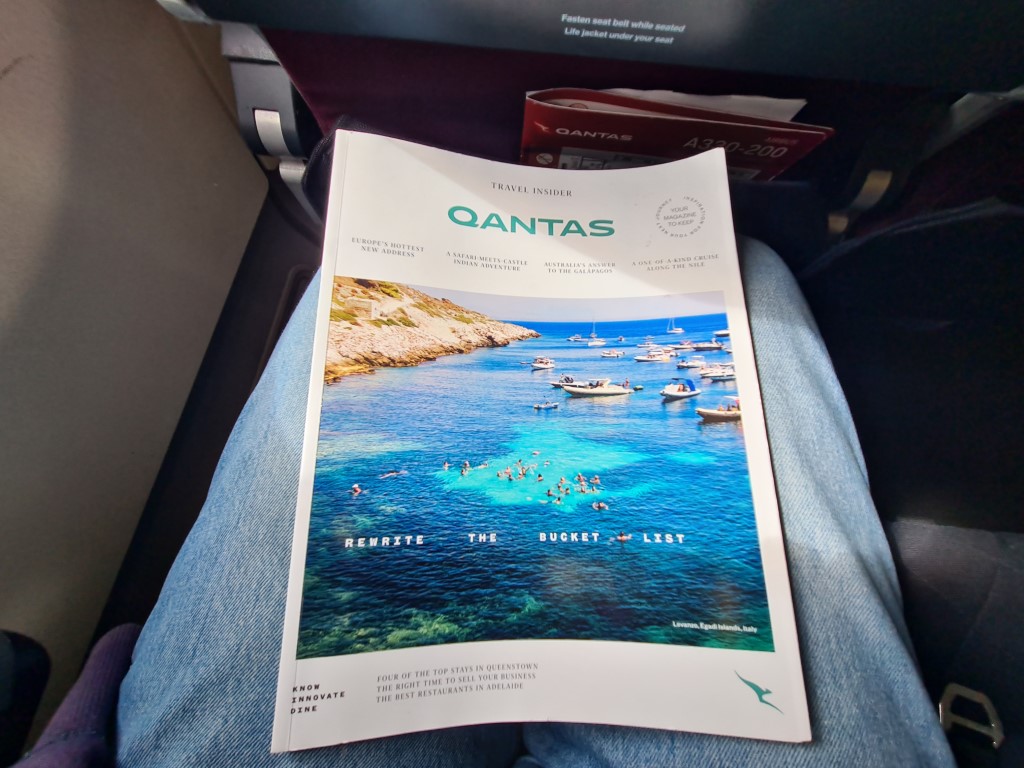 There are no TV screens on this particular Qantas A330-200 but they do provide an Ipad which has access to all the latest release movies and TV shows on the Qantas Entertainment system. You can mount the iPad in the seat in front but you cannot have the iPad mounted there during both take-off and landing. You can hold the iPad and continue watching.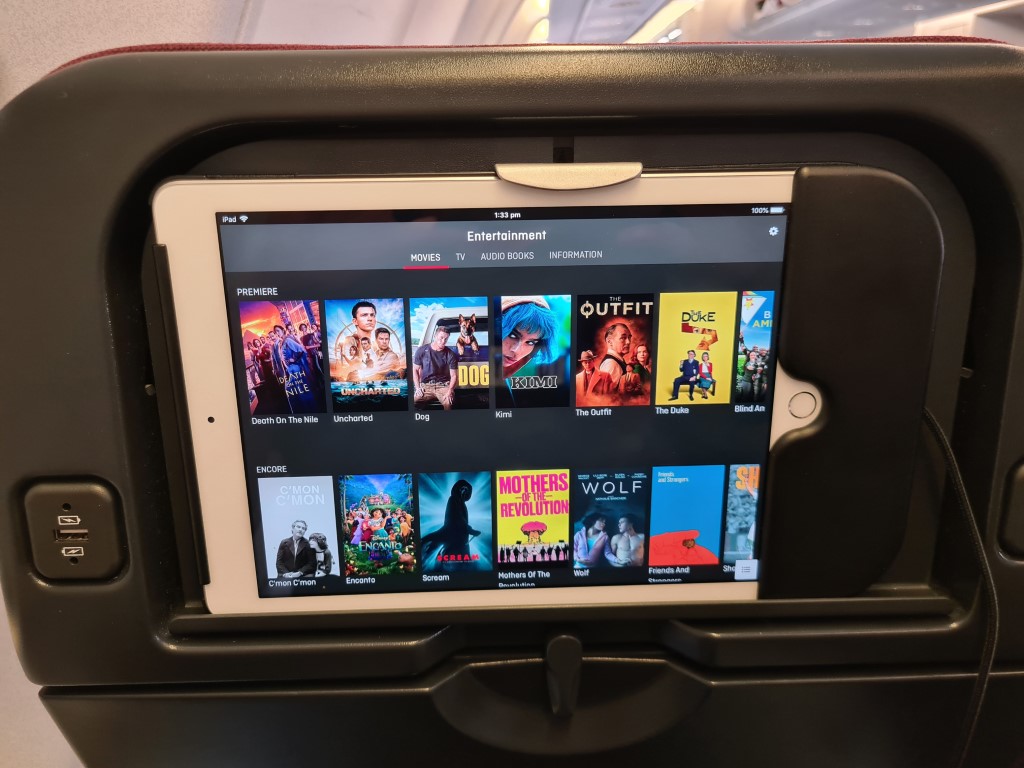 Food Served on this flight
On Qantas Domestic flights shorter than 3 hours, they only serve a snack, rather than a meal. On this flight from Cairns they served this packet of Tomato salsa with corn chips and pretzels. This was a tasty snack. I am glad I had something to eat at the Qantas Lounge to get my monies worth for the flight! Either a cold drink or hot tea or coffee is served with this snack. I just went with a Coca-cola.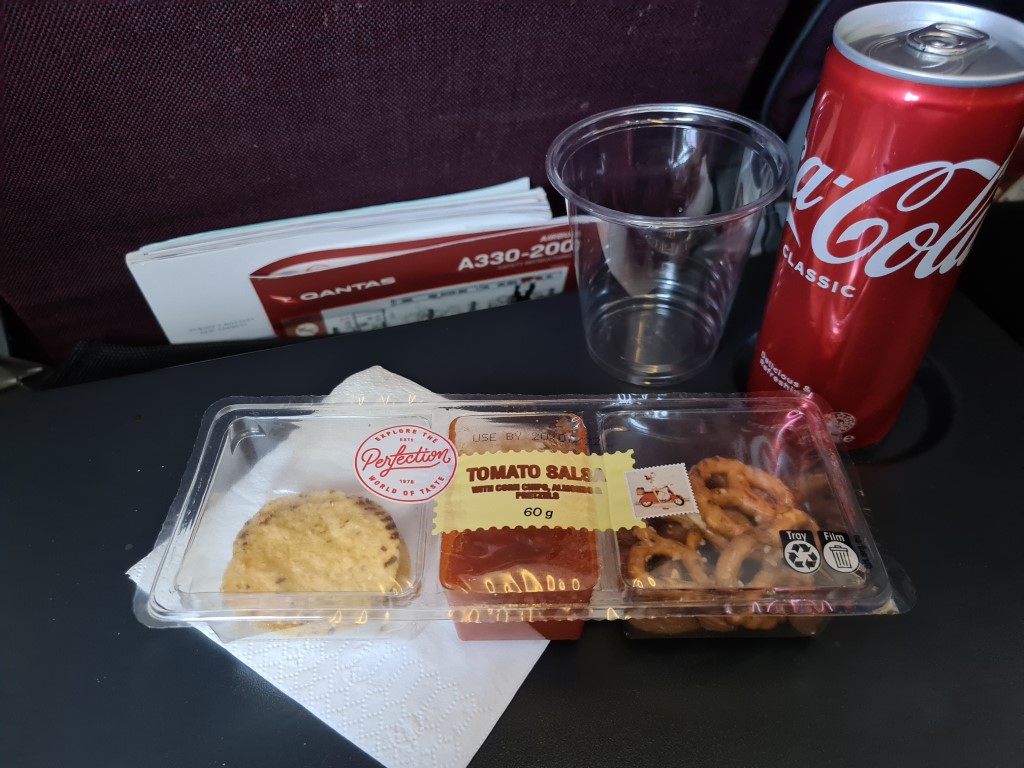 I highly recommend you sit on the left hand side of the plane for this route. It does depend on the weather but most times I fly into Sydney airport in the afternoon, if you are on the left hand side of the plane you will get excellent views of Sydney Harbour. Also when taking off you should get a good view back to Cairns Airort.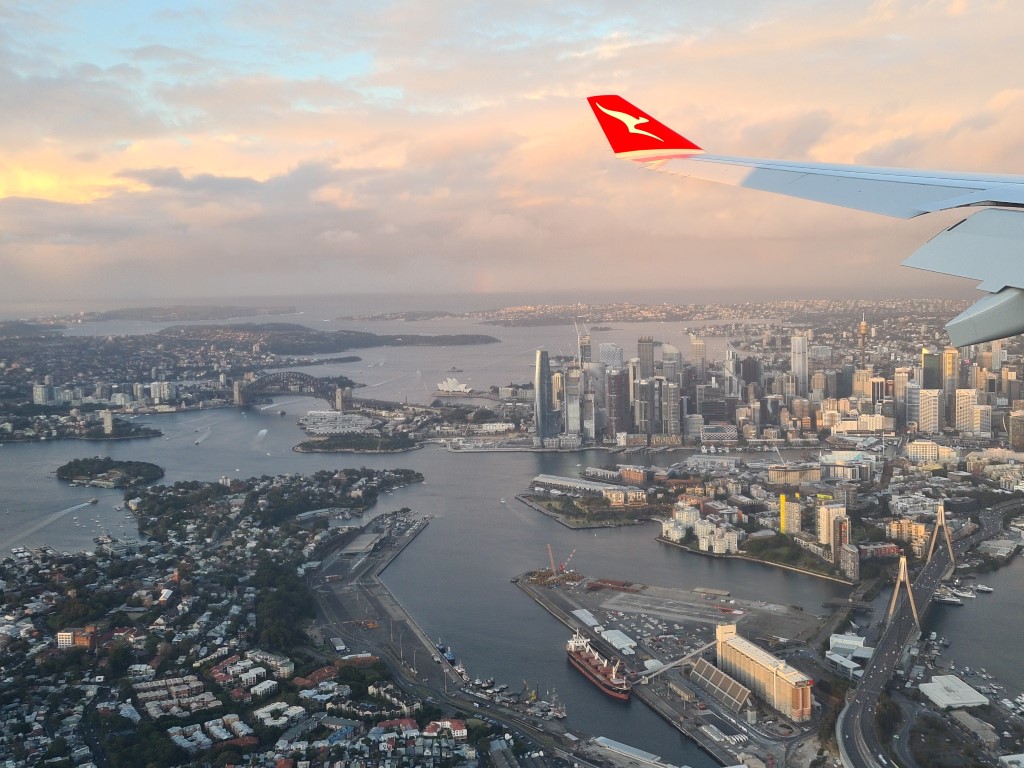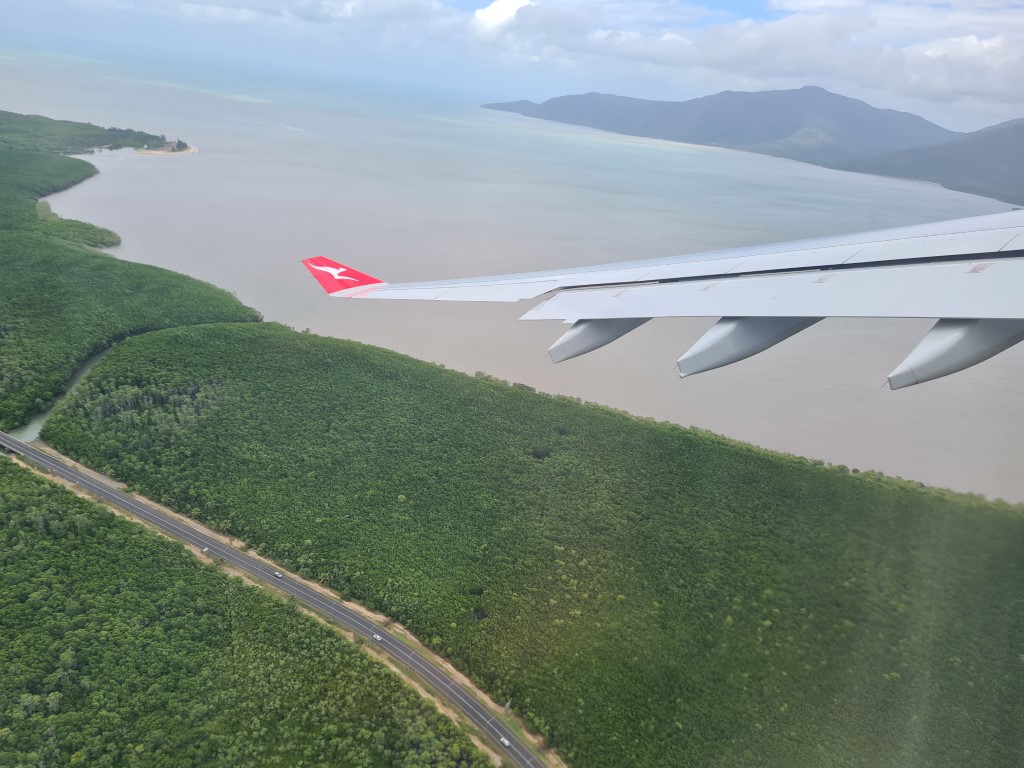 Sydney Airport Arrivals Hall
Once off the flight it was a short walk from the Arrival Gate to the Baggage Carousel to collect my bag. Of course I had to contend with all the 'idiot' carousel hoggers who insist on standing as close to the carousel as possible. Does this make your bag come quicker? Stop it people! Please stand back from the carousel so everyone can see their bag coming. That would make it so much easier to take you bag off without have to ask you to move!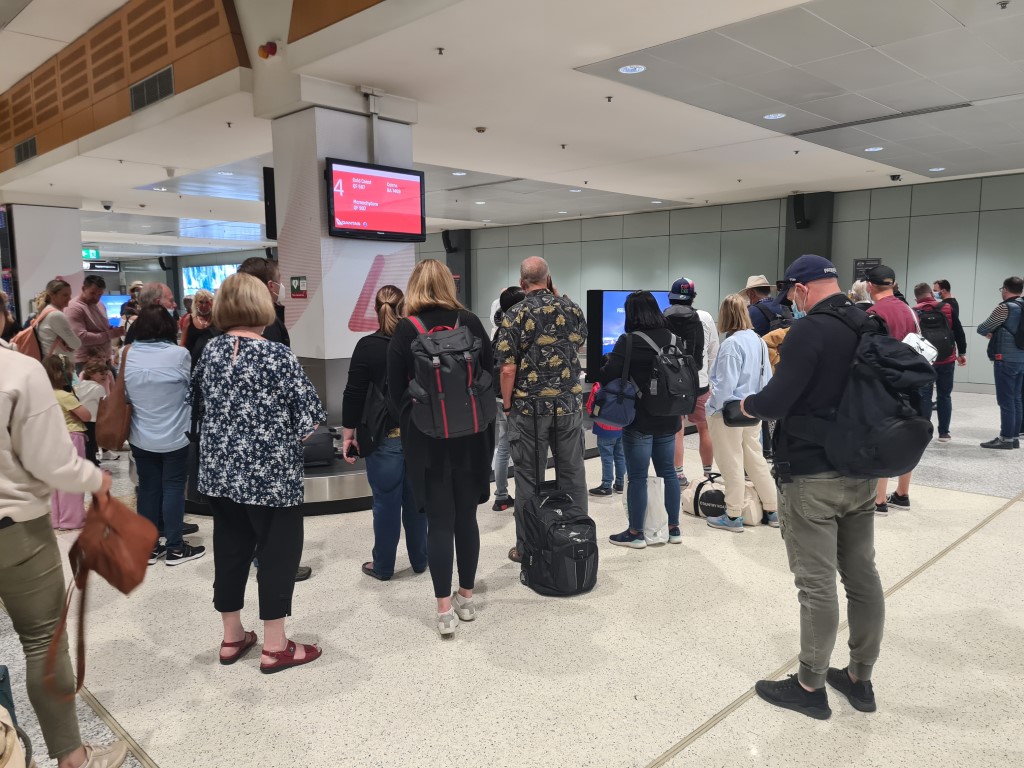 [do_widget id=wpp-6]