Flight Review Cathay Pacific Sydney to Hong Kong A330-300 Premium Economy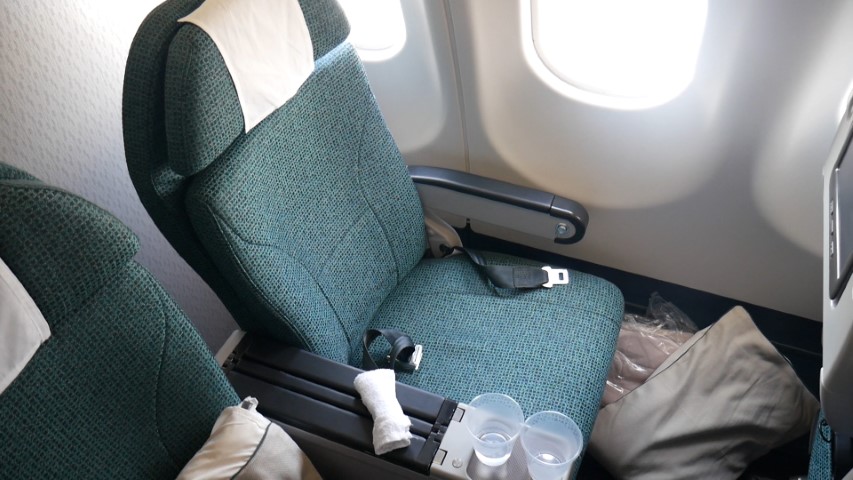 Airline: Cathay Pacific
Flight no: CX110
Route: Sydney International Airport (SYD) to Hong Kong International Airport (HKG)
Aircraft Type: Airbus A330-300
Flight time: 8 hours 40 minutes
Travel Class: Premium Economy
Seat: 32A Window Seat
Seat Width: 19.3 inches
Seat Pitch: 38 inches
Check out the video for this Cathay Pacific flight CX110 from Sydney to Hong Kong in Premium Economy
I booked this flight through the Cathay Pacific website and entered my Qantas Frequent Flyer as Cathay Pacific is part of the One World Alliance so I can earn Qantas points and status credits. For this flight I earned 4950 Points and 30 Status credits.
Cathay Pacific have 4 flights per day from Sydney to Hong Kong. The planes used vary from this A330-300, the B777-300 and their new A350-900. My flight left at 8.50am Sydney time and arrived into Hong Kong at 3.25pm Hong Kong time.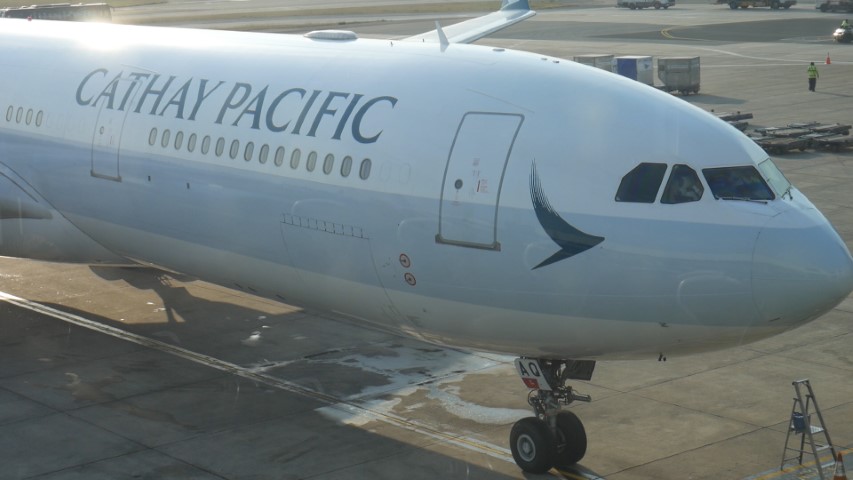 At the airport
I arrived at the airport just before 5.50am, more than 3 hours before the flight. There was a sign at the Cathay Pacific counters saying they open 3 hours before the flight. Well, they didn't open the counters until about 6.10am, keeping a whole bunch of people waiting for more than 20 minutes. Not good Cathay Pacific!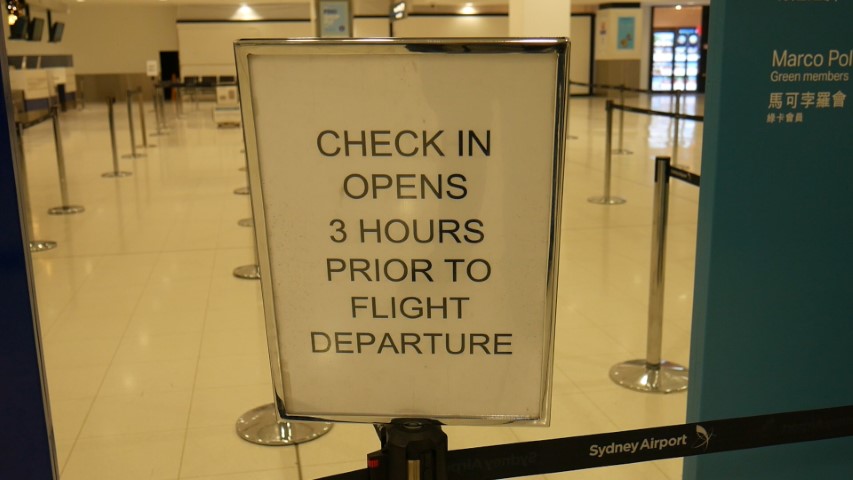 Onboard the plane
With a Premium Economy ticket you get priority boarding on to the plane.
The Premium Economy section of this A330-300 is only 3 rows in a 2 – 3 – 2 configuration. I was in the very back row of this section.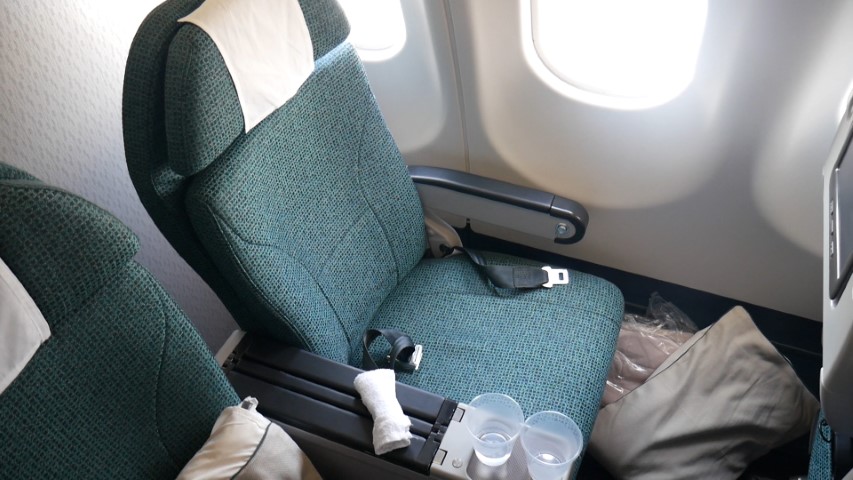 The seats have a width of 19.3 inches and a pitch of 38 inches which gave plenty of room between my knees and the seat in front. I was able to stretch back and my legs comfortable stretched out under the seat in front. There is a small foot rest that folds down but I didn't use this as was more comfortable with my legs stretched out.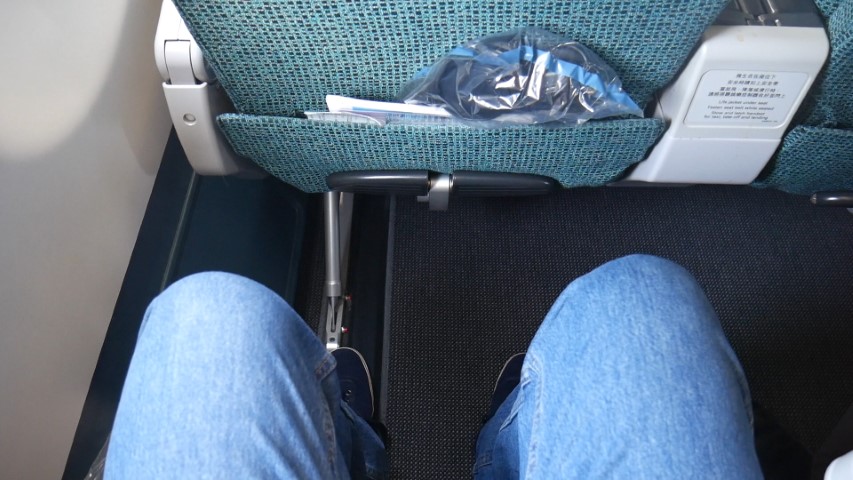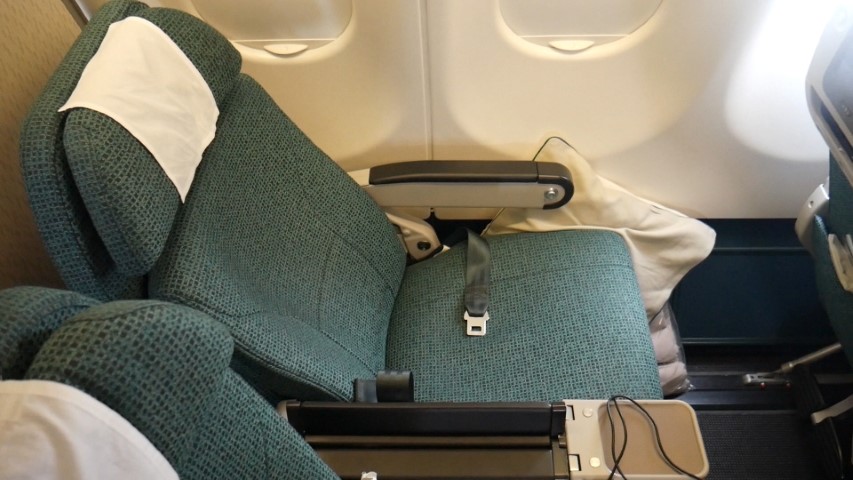 The seat only reclines back a few inches. As this seat was in the back row with a wall behind it, it could have reclined further but I guess all the seats are designed the same.
There is only a small storage area attached to the seat in front where you can store your passport and mobile phone.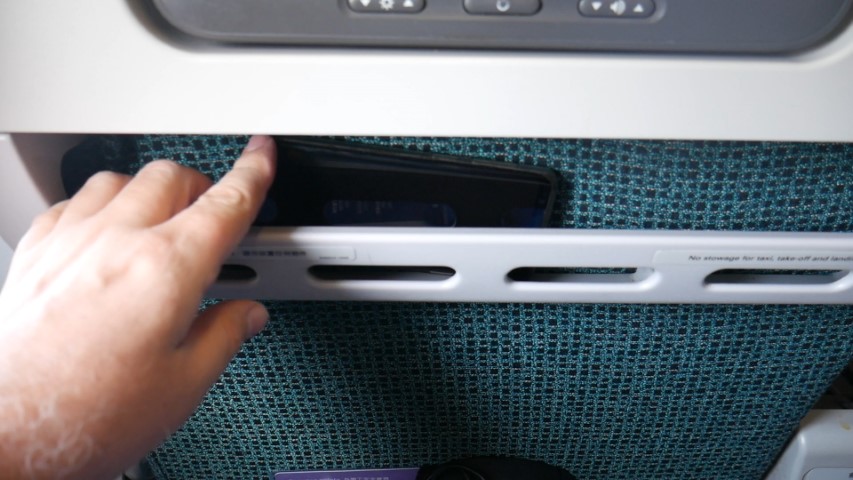 The crew handed out a drink before take-off with a choice of water or orange juice. No champagne was on offer.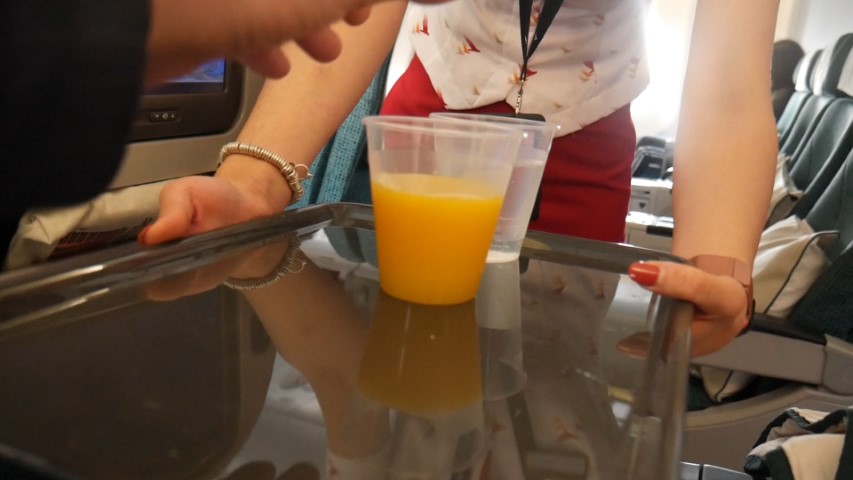 They also handed out a Premium Economy amenities kit which contained an eye mask, pair of socks, ear plugs and a tooth brush and tooth paste.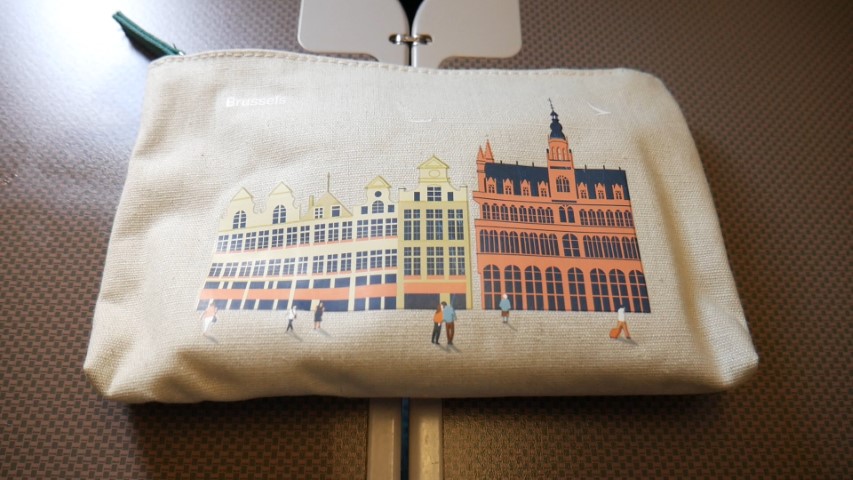 Entertainment System
There is a touch-screen entertainment unit which I would say is about 11 inches in size. This unit was powered by the Panasonic Avionics which is one of the best entertainment units in the sky. This was loaded up with a huge selection of latest release movies in both English and Chinese.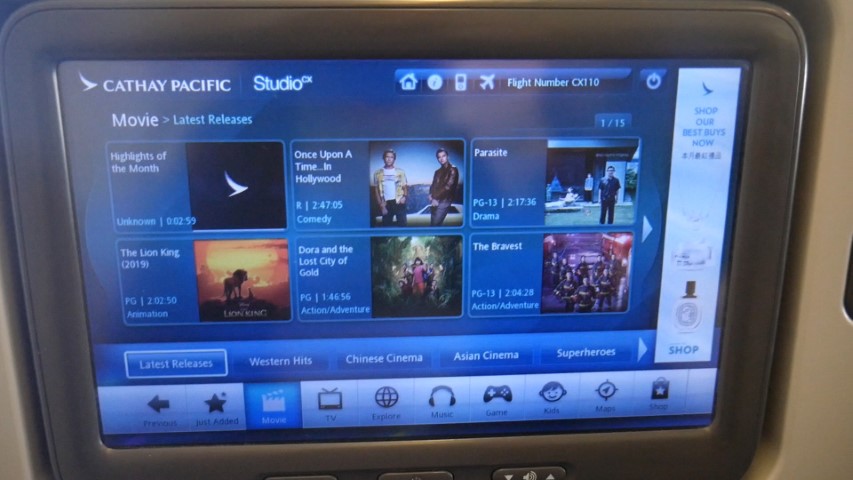 Next to the entertainment screen is a USB port for charging your electronic devices. You also get a pair of good quality noise-canceling headphones to use with the entertainment system.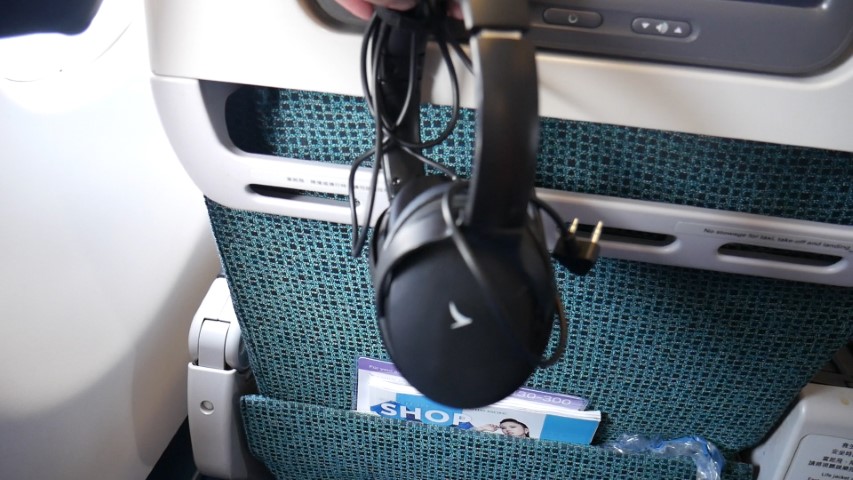 The flight map was a modern animated map where you could see an animation of the plane and the cities you are flying over.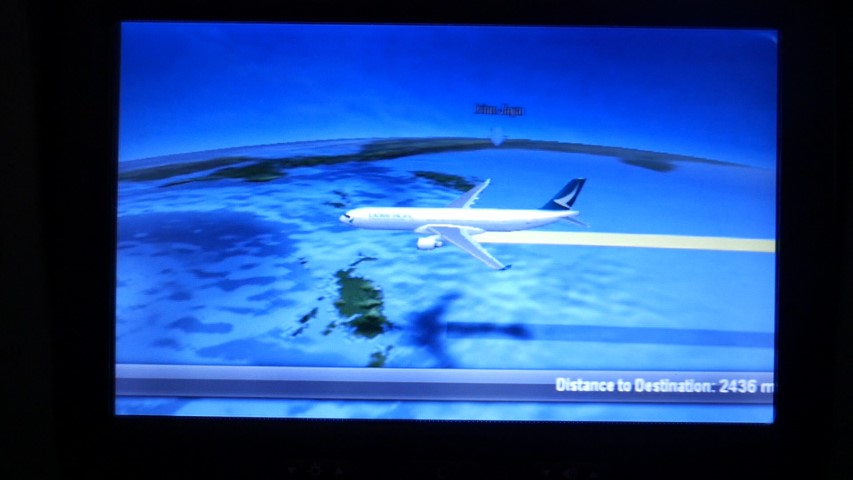 I did not notice if there was a universal power adaptor in the arm rest but I was not looking to do any work so didn't need it.
Food on this flight
One word for the food served on this flight = Awesome!
Cathay Pacific really do a good job serving up tasty food! On this flight between Sydney and Hong Kong, 2 meals were served. A breakfast was served after take-off and a lunch was served about half way through the flight.
For breakfast there were 3 meals to choose from. The first was a Tomato and mushroom frittata, chicken sausage, potato rosti and spinach.
The other choice was a Stir fried egg noodles with barbecued pork in hoisin sauce and choy sum. As we were flying to Hong Kong I chose this Asian breakfast and it was delicious. Nice thick noodles and the barbecued pork was delicious. This was served with some fresh seasonal fruit, fruit yogurt and a croissant with butter and jam. Delicious breakfast to start the flight.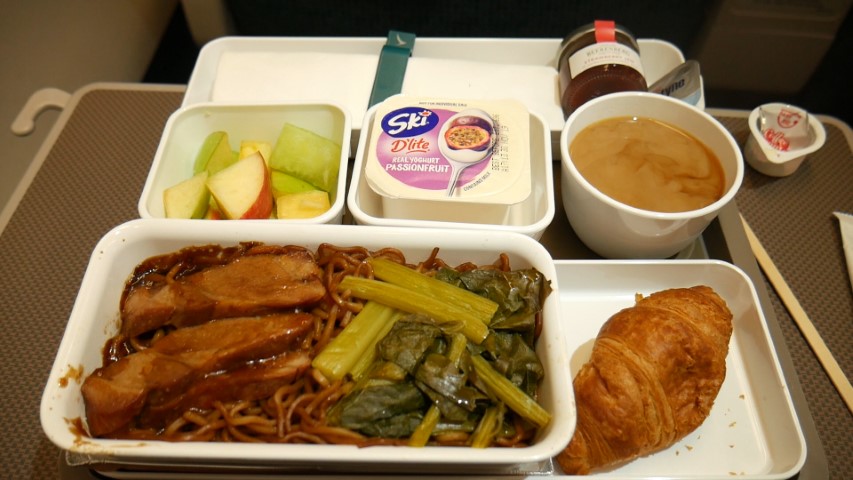 For the lunch, there were 3 meals available:
Stir fried ling fillet with soy sauce, egg fried rice and stir fried vegetables.
Braised beef short ribs, mashed potato, green beans and carrot
Vegetable lasagna
I went for the braised beef short ribs and this was another tasty dish. The beef was so tender and packed full of flavour and the mashed potato nice and fluffy and the vegetables were firm, not soggy.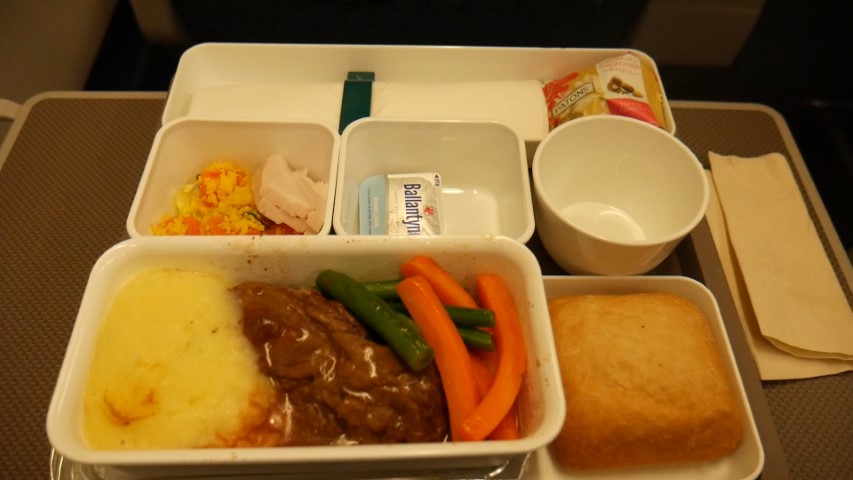 This lunch was served with an entree of smoked chicken with pumpkin couscous salad with bread and butter.
After the meal was finished the crew served tea and coffee and a delicious Movenpick ice-cream for dessert. Now as with most airlines, the ice cream arrives rock hard. You need to wait for about 10 minutes for it to thaw before you can get your spoon into it.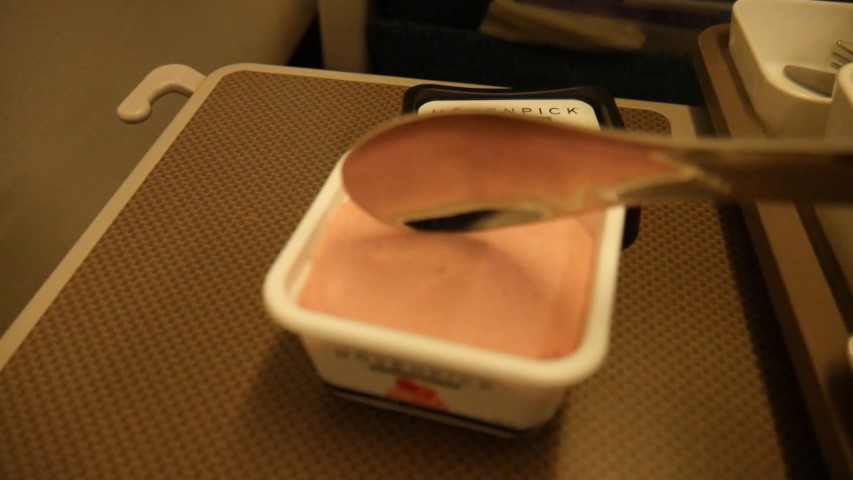 2 excellent meals on board Cathay Pacific.
Now I did notice that this was the exact same meals that were served in Economy. As i was in the last row of Premium Economy, I could see them handing the same meals there. I had presumed they served different meals in premium economy but all the same as economy. Luckily the Cathay Pacific food is really good!
The service
The service on Cathay Pacific is among the best in the sky. I found all the crew on this flight friendly and serving with a genuine smile. It is refreshing when you fly that you get the whole crew to be lovely, not a cranky one to deal with. Big thumbs up for the service on Cathay Pacific.
[do_widget id=wpp-6]