Flight Review Cathay Pacific Hong Kong to Bangkok B777-300 Economy Class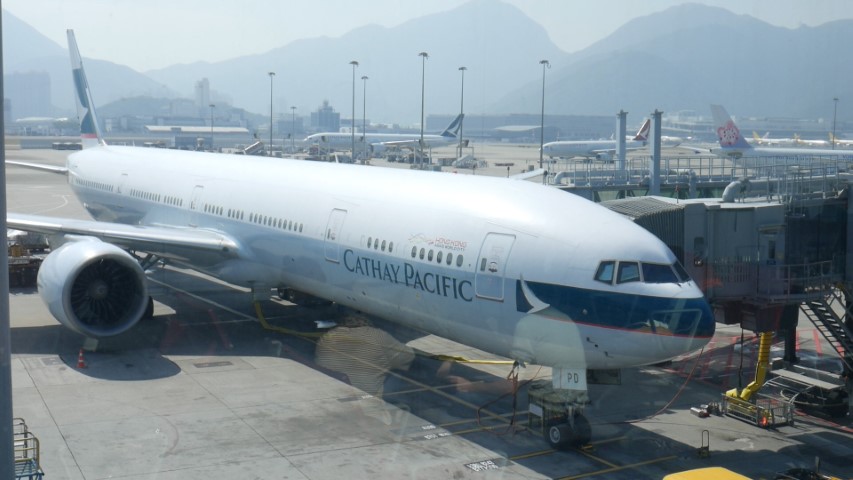 Airline: Cathay Pacific
Flight no: CX653
Route: Hong Kong International Airport (HKG) to Bangkok Suvarnabhumi International Airport (BKK)
Aircraft Type: Boeing B777-300
Flight time: 2 hours 30 minutes
Travel Class: Economy
Seat: 43A Window Seat
Seat Width: 18.5 inches
Seat Pitch: 32 inches
Check out the video for this Cathay Pacific flight CX653 from Hong Kong to Bangkok in Economy
There is a good selection of airlines to choose to fly between Hong Kong and Bangkok. I choose Cathay Pacific as they are a member of the One World Alliance so I was able to earn Qantas Frequent Flyer points and status credits for this flight. For this flight between Hong Kong and Bangkok I earned 550 points and 15 status credits. Cathay Pacific has up to 7 flights per day flying from Hong Kong to Bangkok so should suit all schedules for departure and arrival times.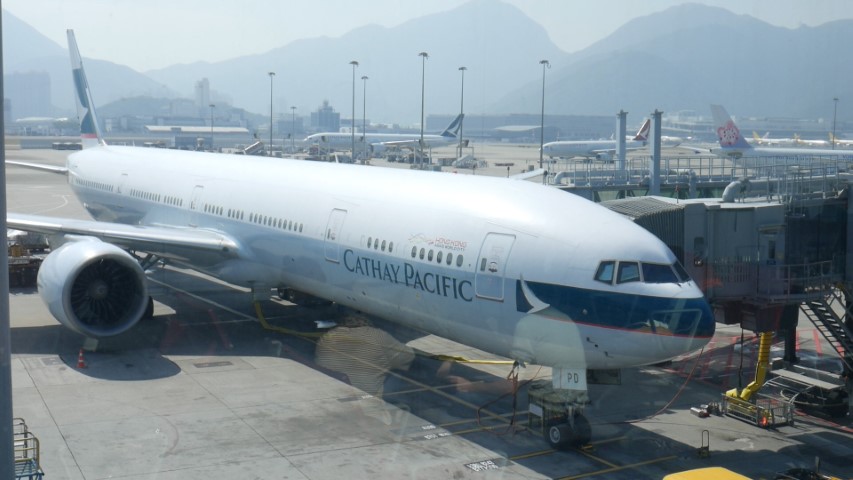 Some of the other airlines that fly from Hong Kong to Bangkok include Thai Airways, Thai AirAsia, Hong Kong Airlines, Bangkok Airways.
At the airport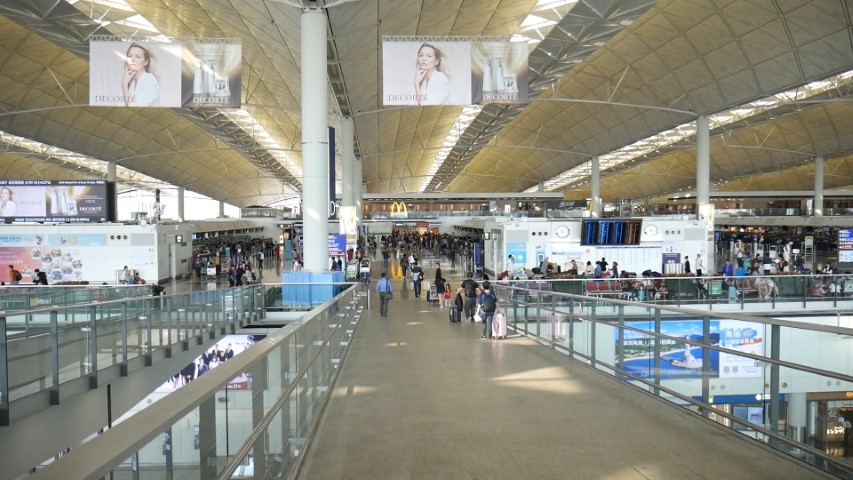 Check in for Cathay Pacific at Hong Kong International airport is a breeze, as Cathay Pacific have 4 rows of check-in counters, with rows dedicated to Economy, Premium Economy, Business Class and First Class. I arrived at the airport 3 hours before my flight and there were no queues, so the whole check-in process was completed in just a few minutes.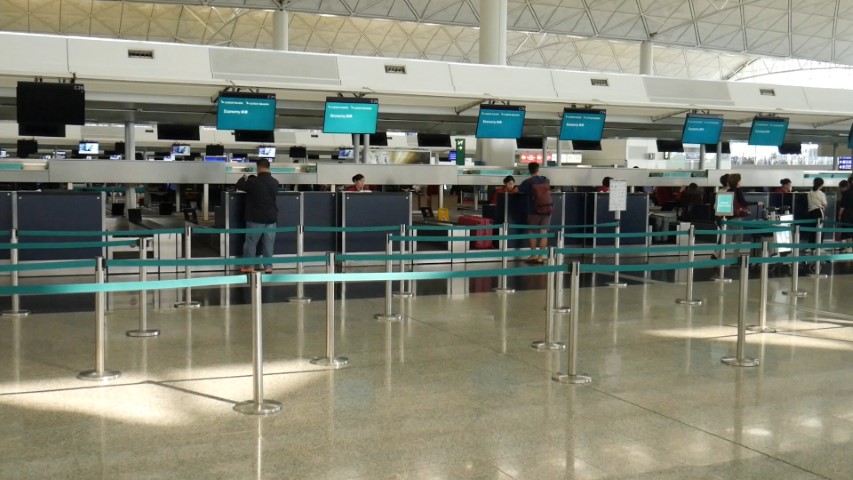 Travel though security at Hong Kong airport is also quick as they have automated gates that accept passports with electronic chips.
Before you travel through security there are a few restaurants and shops but once past security you enter the 'Hong Kong International Airport Shopping Mall' with a huge food court and the biggest selection of shops I have ever seen.
I had access to the Cathay Pacific lounge due to my Qantas Frequent Flyer status but I didn't get to the lounge as there is some great plane spotting to be done at Hong Kong Airport. There are huge floor to ceiling windows which gives you great views of the planes at the gateway or the ones taxiing.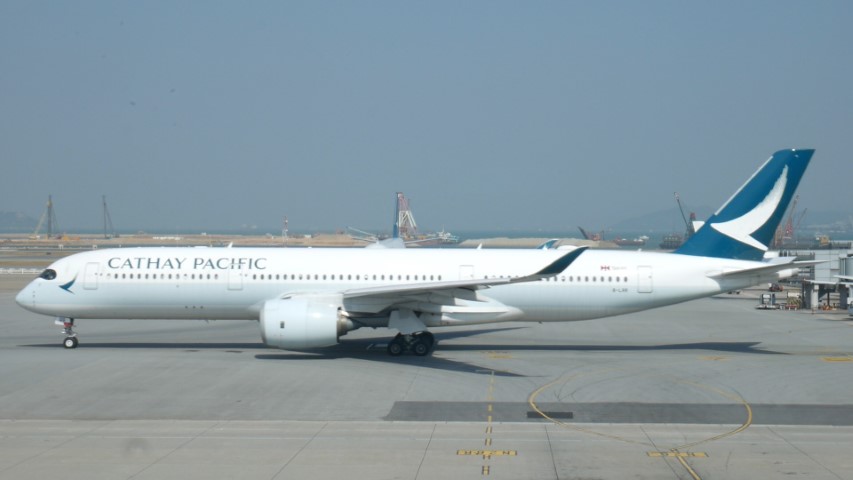 On-board the plane
There is a dedicated boarding queue for Premium Economy which gets priority boarding over Economy Passengers.
The Economy seats have some very decent leg room at 32 inches between the back of the seat and the seat in front. I am 187cm tall and there was plenty of room between my knees and the seat in front.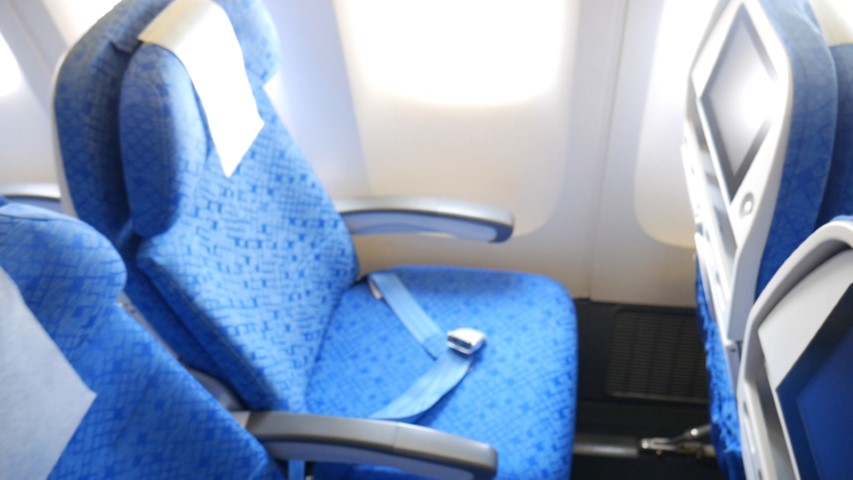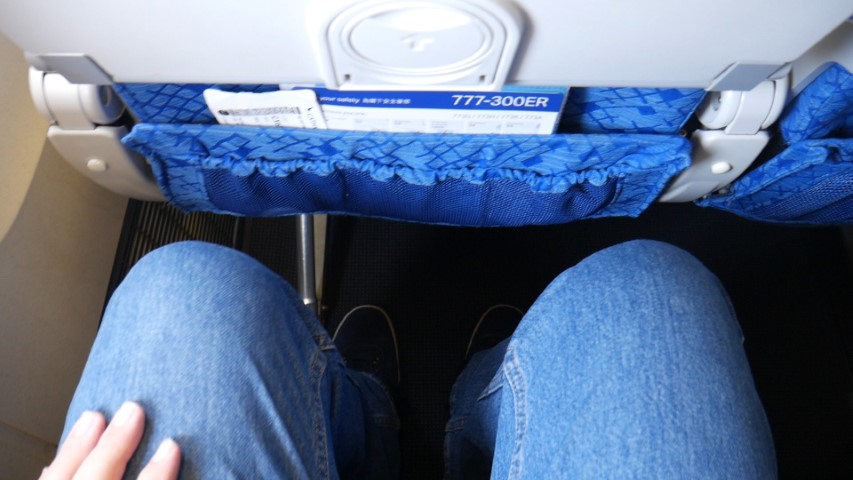 Entertainment System
There is a nice touch screen entertainment unit which is powered by the excellent Panasonic Avionics system which is loaded up with heaps of latest release movies and TV shows.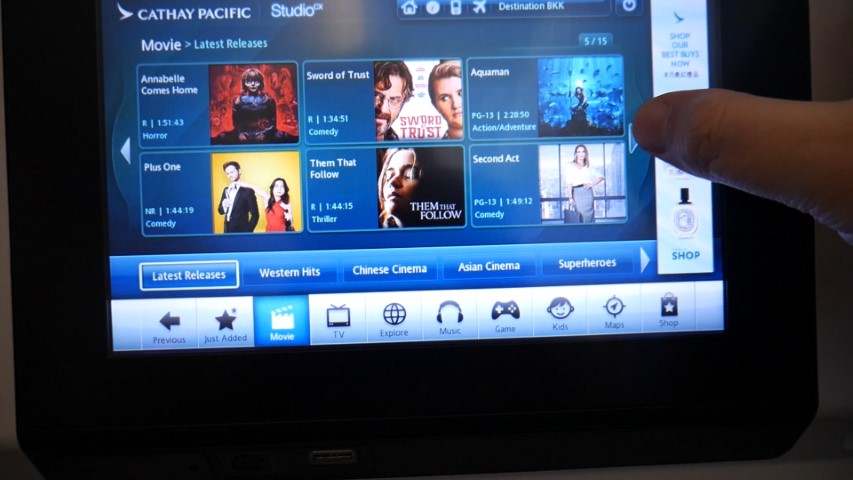 Next to the entertainment screen is a USB port for charging your electronic devices.
There is also the awesome flight map with animation showing the plane and the cities you are passing over.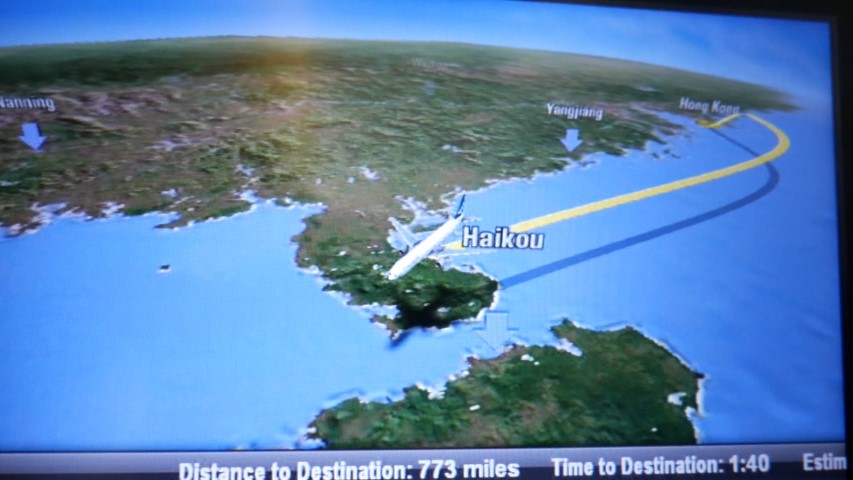 One of the best things about the entertainment on this Cathay Pacific B777-300ER is that you can watch the camera that is mounted under the plane. It is switched on while you are on the ground so you can see the ground crew preparing the plane for take-off. Then take-off and landing is awesome to watch!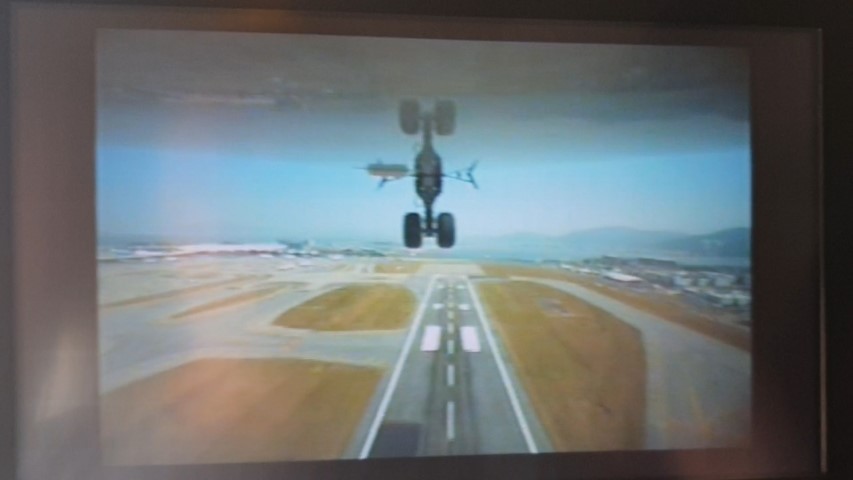 Also in the seat pocket is a copy of the Cathay Pacific In-flight magazine called 'Discovery' which has some great travel articles in both English and Chinese.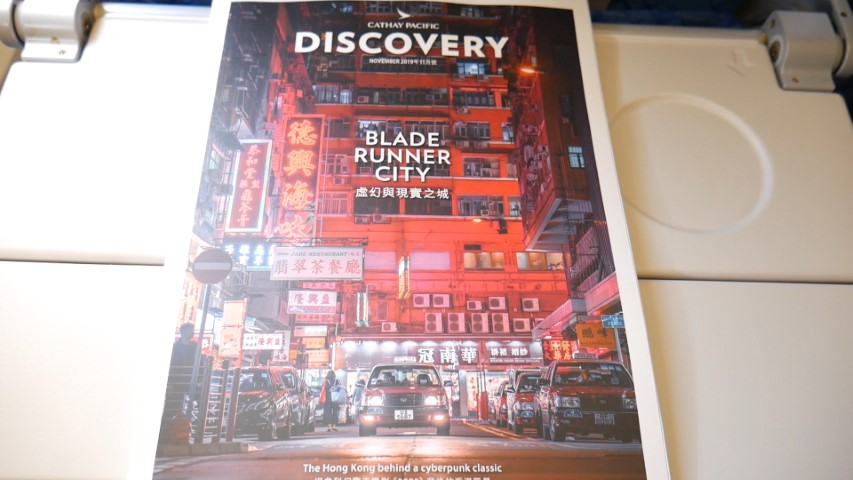 Food on this flight
As this is a 2.5 hour flight, only 1 meal is served on board. This flight leaves Hong Kong at 12pm, so shortly after take-off the crew come around and serve lunch.
There are no surprises that the food on Cathay Pacific is really good. For airline food, Cathay Pacific does a great job to deliver good quality and tasty meals. In Economy there was a choice of 2 meals, a Fish with Rice or the meal that I choose, this chicken with Chinese sausage, rice and vegetables.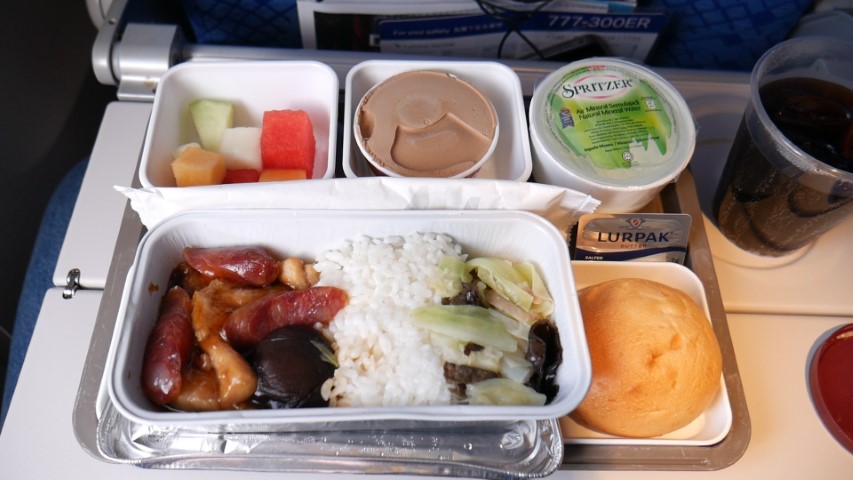 The chicken and Chinese sausage was a great combination, packed with your typical Hong Kong / Cantonese flavours. The meal was served with some fresh seasonal fruit pieces, a bread roll, cup of water and a tasty chocolate ice-cream for dessert. The crew also served a drink and after the meal tea and coffee.
The service
The service on this flight was great. The crew were young and enthusiastic and really served with a genuine smile. On all my flights with Cathay Pacific, I always find the crew to be very warm and friendly. It is great to see a crew who seem to enjoy their jobs. It does make a big difference to the service that you receive.
Great job Cathay Pacific!
[do_widget id=wpp-6]