Flight Review Malaysia Airlines MH140 Sydney to Kuala Lumpur Business Class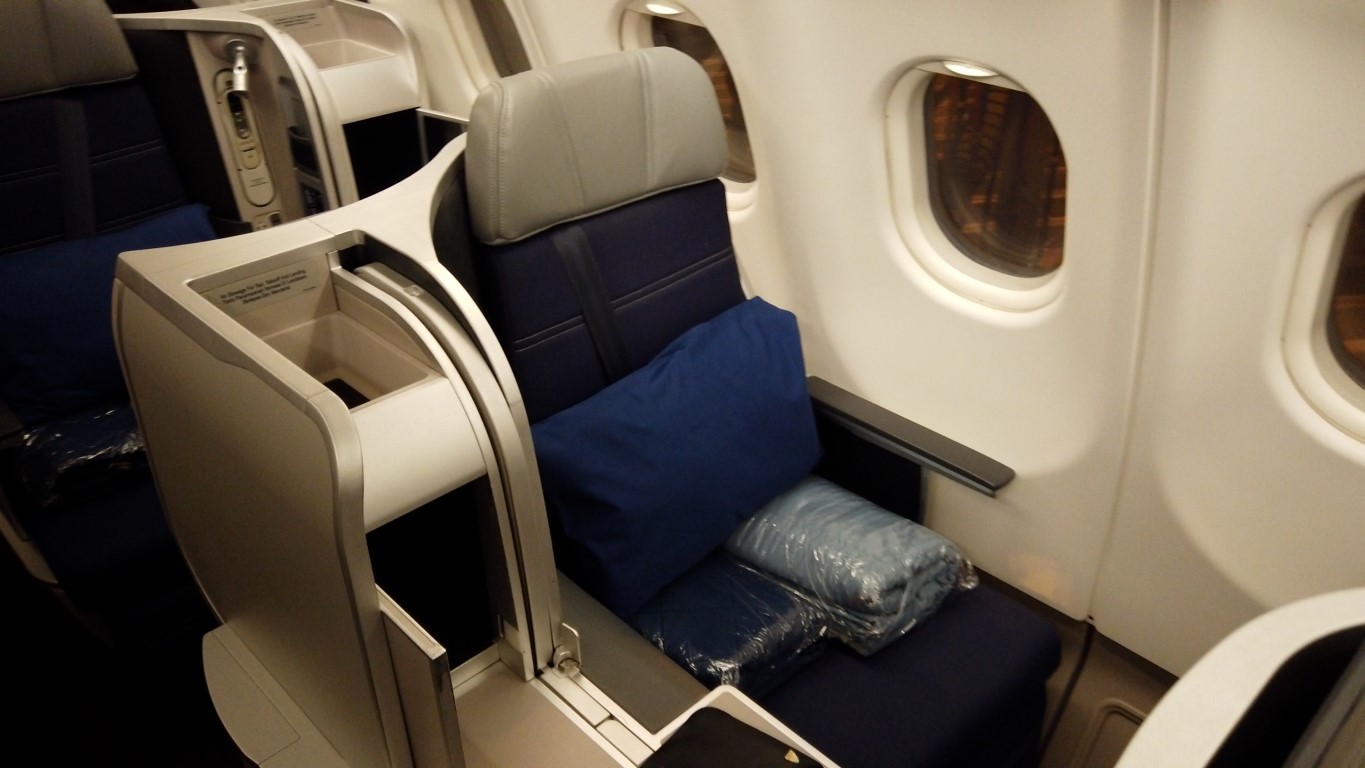 Airline: Malaysia Airlines
Flight no: MH140
Route: Sydney International Airport (SYD) to Kuala Lumpur International Airport (KUL)
Aircraft Type: Airbus A330-300
Flight time: 8 hour 30 minutes
Travel Class: Business Class
Seat: 5A Window seat
Seat Width: 21 inches
Seat Pitch: 42 inches
Check out the video for this Malaysia Airlines flight review
I had booked this flight as the first leg of traveling from Sydney to Bali. I could have flown direct to Bali with Qantas, Jetstar, Virgin Australia or Garuda Indonesia but I choose to fly Malaysia Airlines the long way round as the flight departs at after 10pm so allowed me to work all day then go to the airport in the evening.
This flight arrives into KL at 5am and I should have had another Malaysia Airlines flight departing to KL at 9am having me arrive into Bali around lunch time, in time for some afternoon beers.
Unfortunately, Malaysia Airlines cancelled the connecting flight and just scheduled me on the same flight 24 hours later. 2 calls to their call centre and they were not able to get me on any other flight and said they did not offer food or hotels vouchers for the more than 28 hours they expected me to stay in KL before getting to Bali.
I ended up booking flights with Singapore Airlines to fly that day to Singapore, then connecting flight to Bali. Cost me an extra $400 and I didn't arrive into Bali until after 7pm.
I am still chasing Malaysia Airlines for a credit for the Business class flight they cancelled. I will post up a full review for the shocking customer service at Malaysia Airlines and will post a link here soon.
So this review is just for the flight from Sydney to Kuala Lumpur.
This was my first time flying with Malaysia Airlines and I was really looking forward to the onboard flight experience.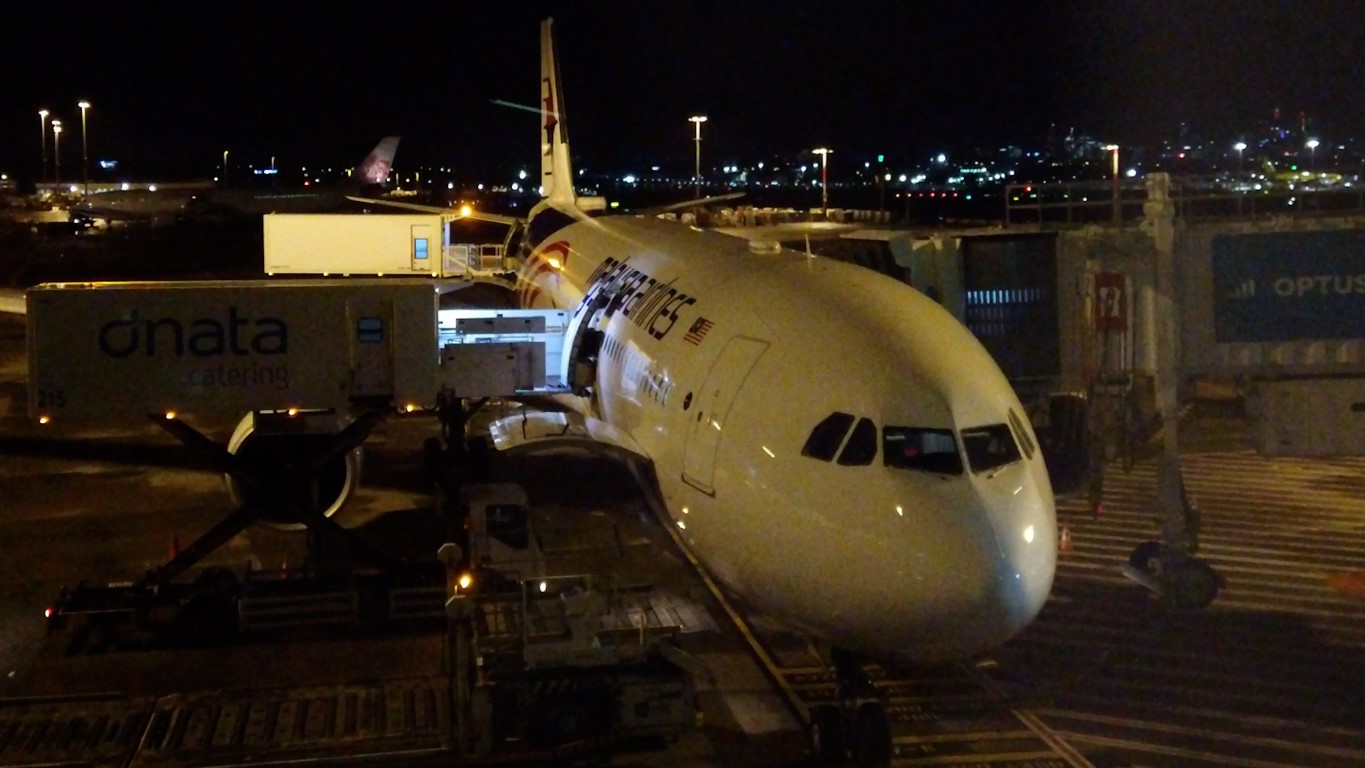 At the airport
I caught this flight on Fright 8th April 2022, 1 week before Easter and the start of Sydney school holidays, so I was expecting Sydney International Airport to be busy. I arrived at 5pm and saw there were only 8 more International flights scheduled to leave, so the check in area was like a ghost town, the quietest I have seen it.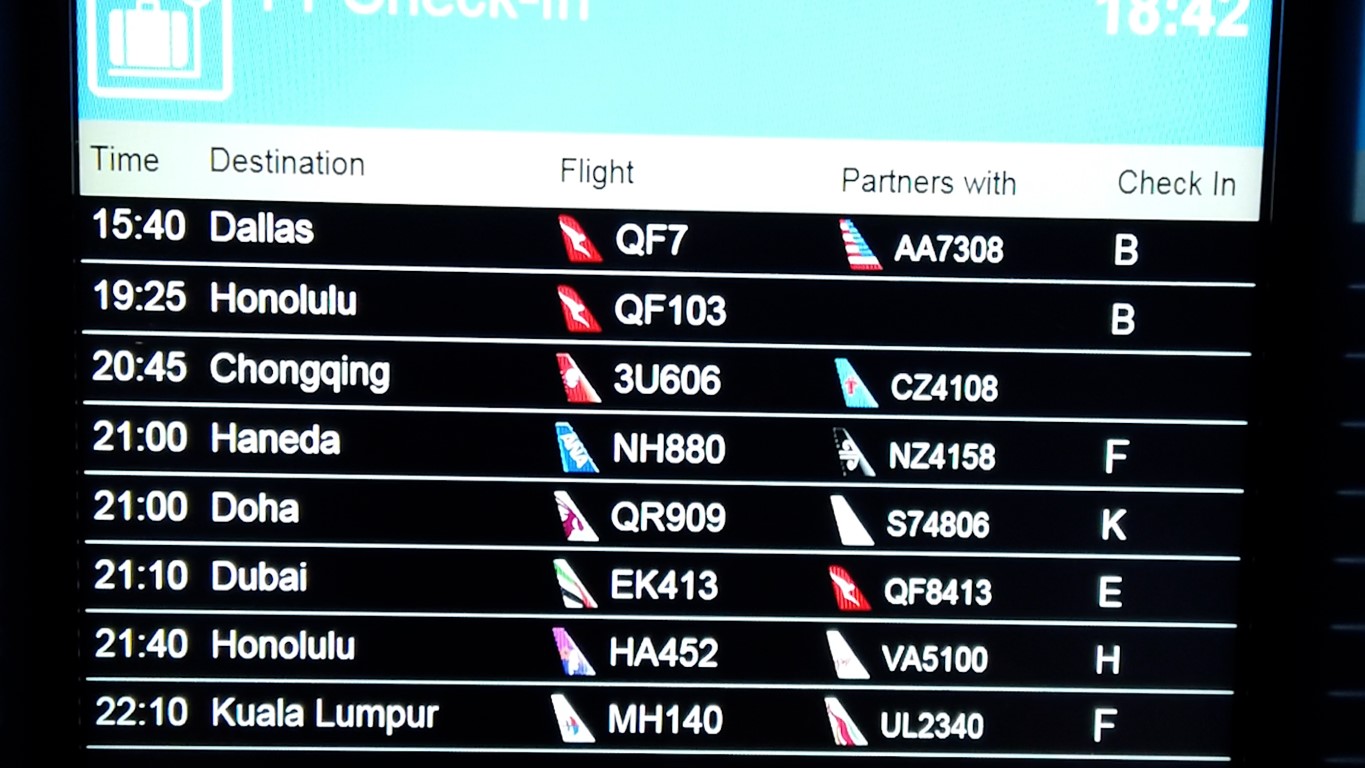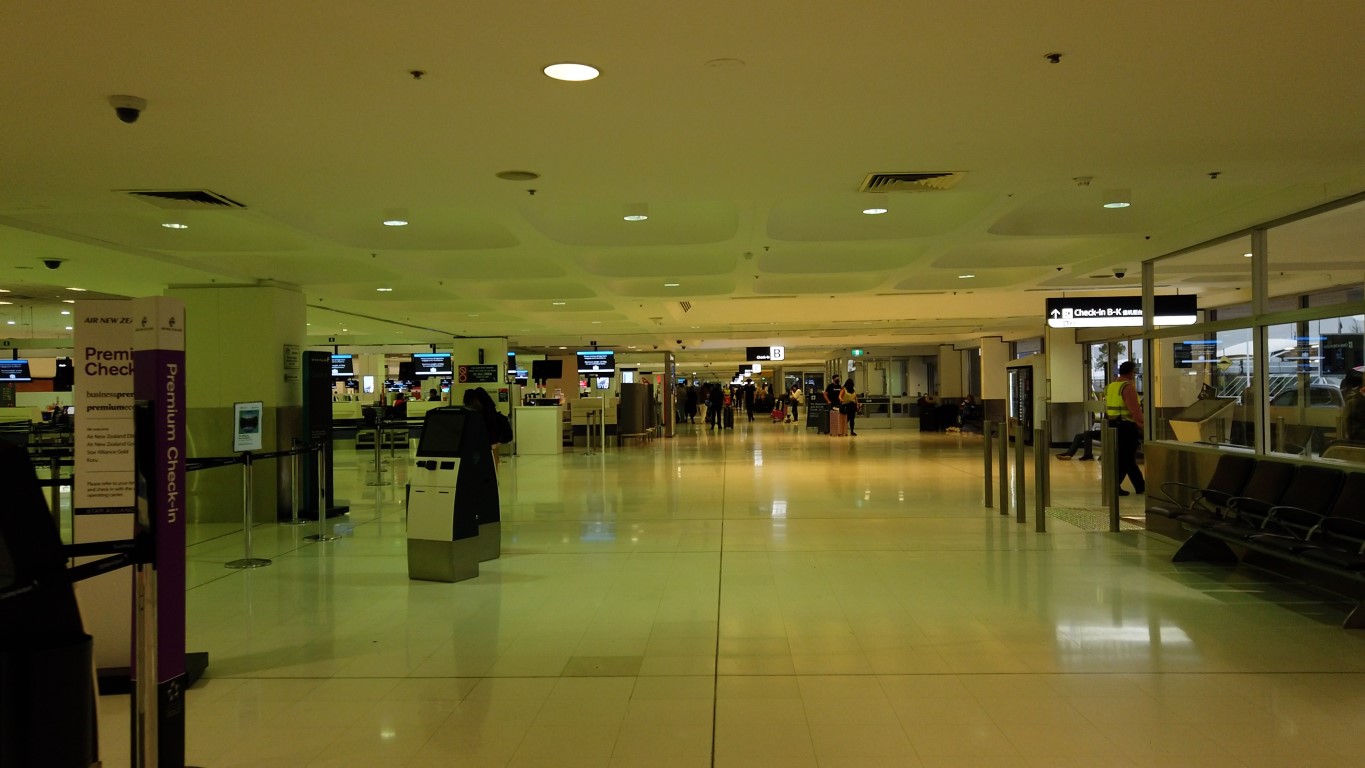 The check in at Malaysia Airlines counter was fairly straight forward. They had a separate queue for business Class and with a few people ahead of me in the queue, so I was checked in quickly.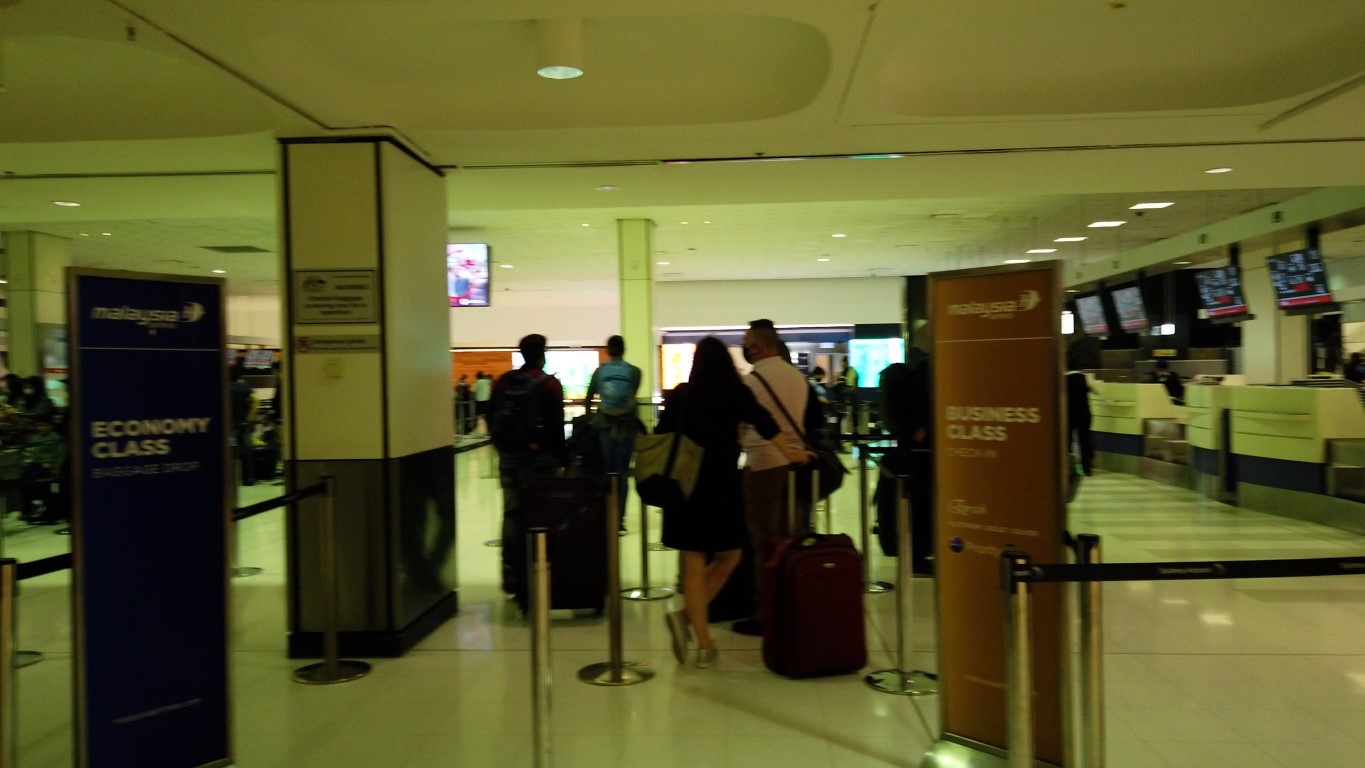 I had explained to them I was transferring to Singapore Airlines from KL to Singapore then onto Bali. They asked for my SQ flight numbers and loaded that on my baggage tags so they would transfer to my Singapore Airlines flights and I would collect my luggage in Bali. A nice touch.
Normally at Sydney Airport,  Business Class passengers are given a pass to go through the Express Lane through security which i soon found has been temporarily closed. I joined the queue. While it was very quiet at the check in area, the queue was massive which took more than 1 hour to get through security. Out of 16 x-ray machines, only 3 were operating. While no announcements were made, some frustrated queuers suggested the security staff were impacted with staff being unavailable due to Covid. A high possibility this was true.
The Business Class Lounge at Sydney International Airport
When they gave me my boarding pass, they also gave me a pass to the Plaza Premium Lounge. As a OneWorld partner airline, I was expecting access to the Qantas Lounge. I asked the man at check in counter 'Do I not get access to the Qantas Lounge' he just abruptly said 'No', no explanation. I later realised the last Qantas flight was leaving at 7.30pm so guess the Qantas Lounge would close at that time.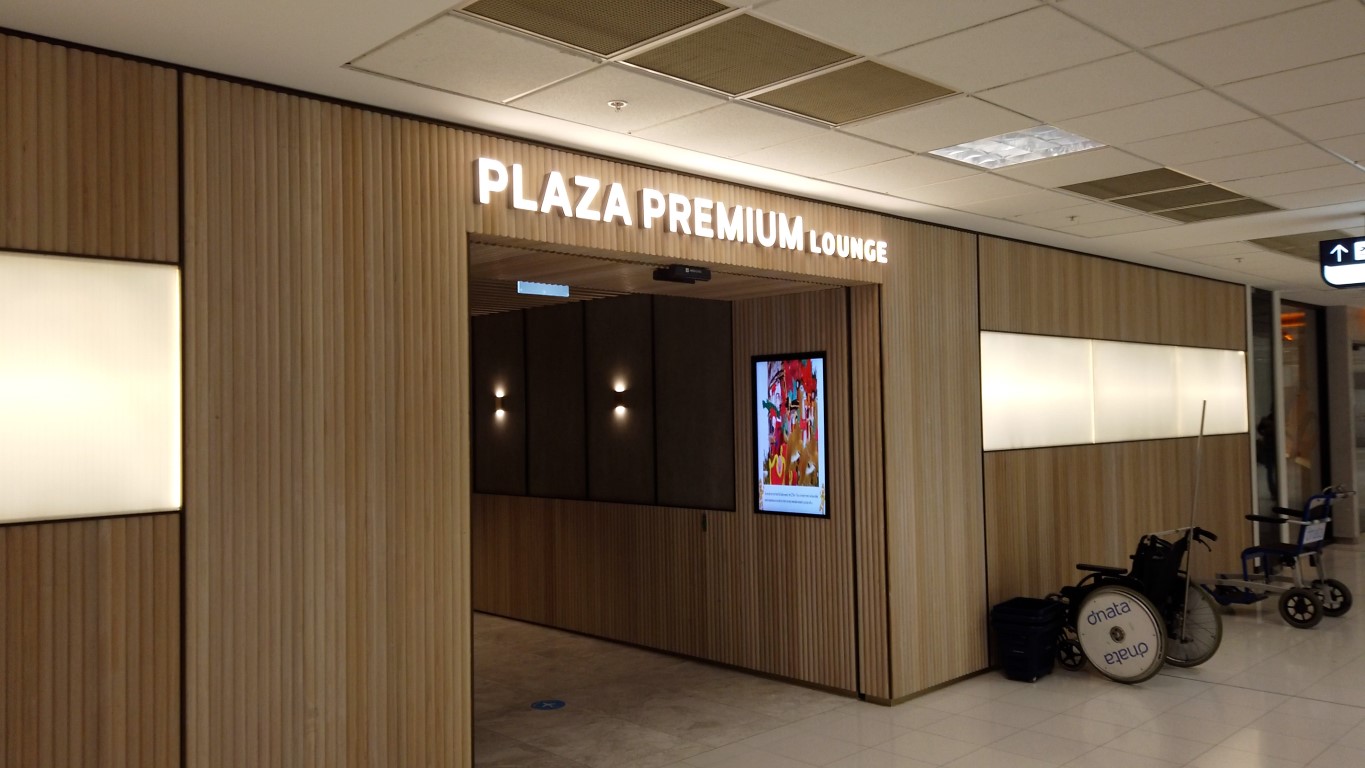 Due to the lengthy delay getting through security, I got to the Lounge at 8.50pm. They told me the Lounge was closing in 10 minutes at 9pm. So I had time to knock back 1 beer and a quick snack.
The Plaza Premium Lounge is only small but was right next to my departure gate and had views of my Malaysian Airlines A330-300. They had a help yourself food buffet with some salads a 3 different hot meals.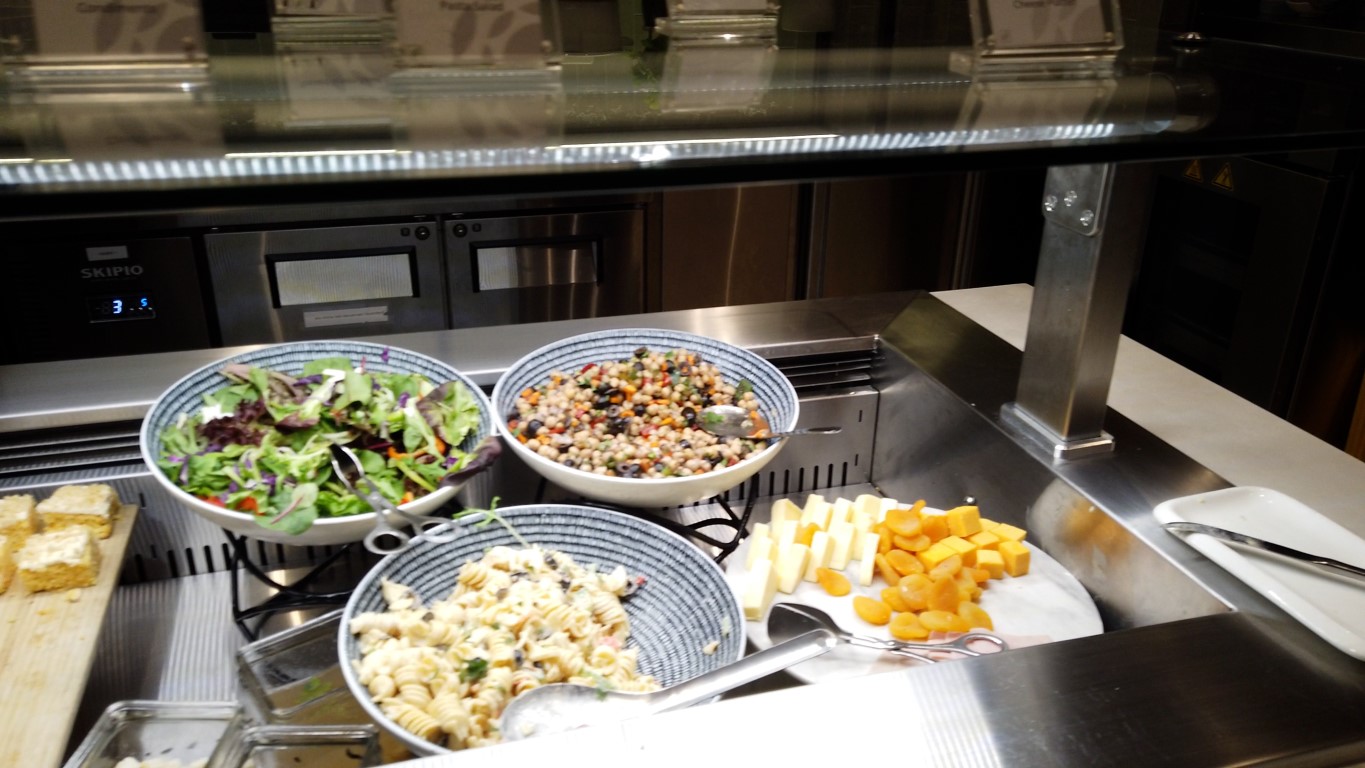 Boarding for my flight started at 9.30pm so after being kicked out of the lounge I still had 30 minutes to roam the terminal before boarding. A very disappointing Lounge experience.
On-board the plane
I did get a quick look at the Economy seats and they did look quite comfortable but I was glad to be flying in Business Class.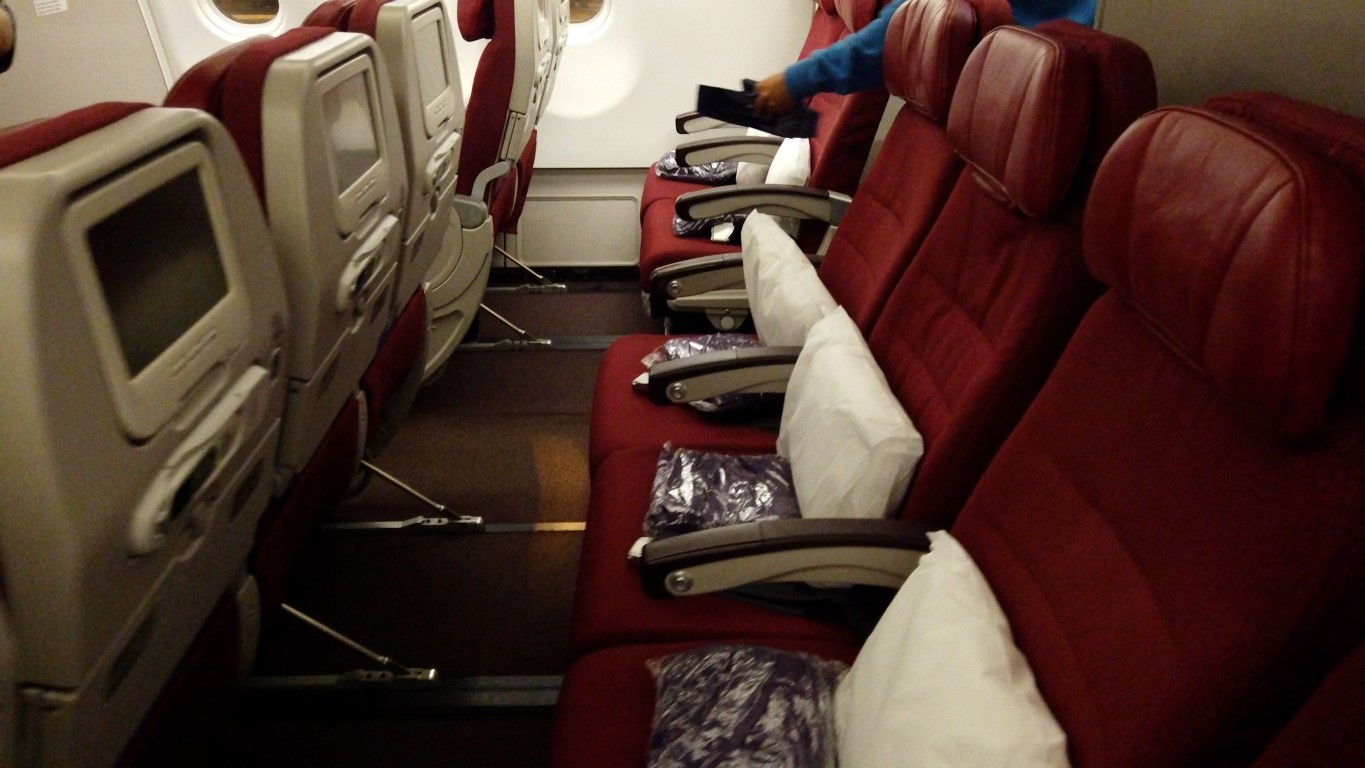 I was really impressed with Business Class cabin on this Malaysia Airlines A330-300.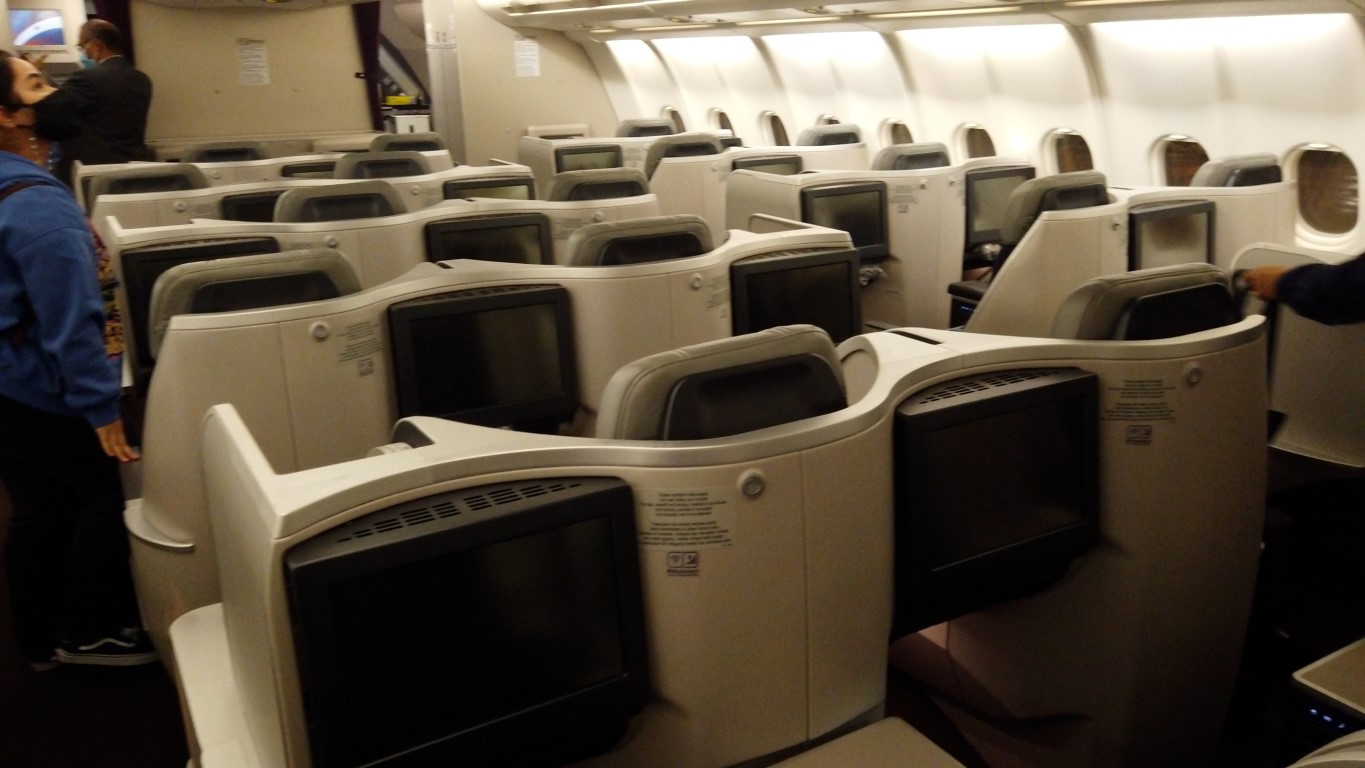 .The seats were in a 1 x 2 x (1 or 2). On the left hand side there were all single seats, middle 2 seats and the right hand window seats alternated with 1 or 2 seats.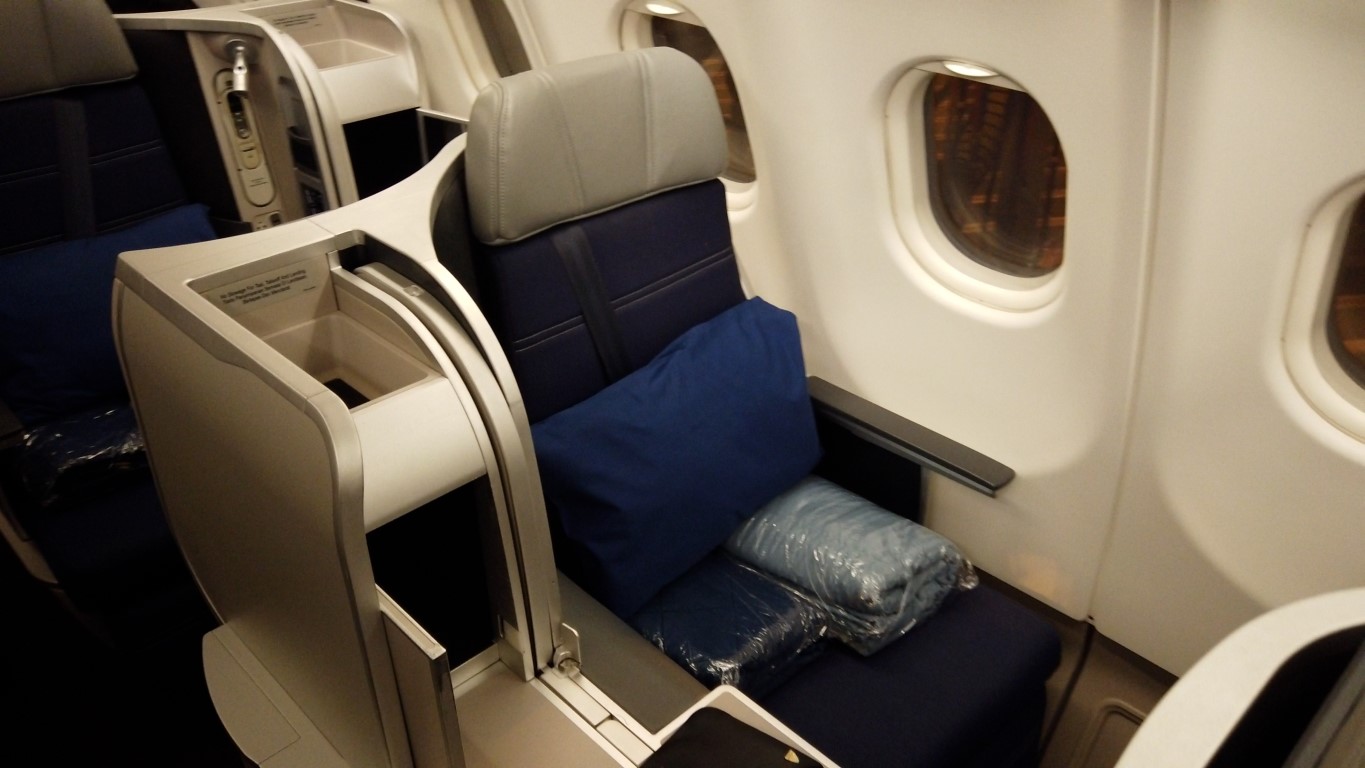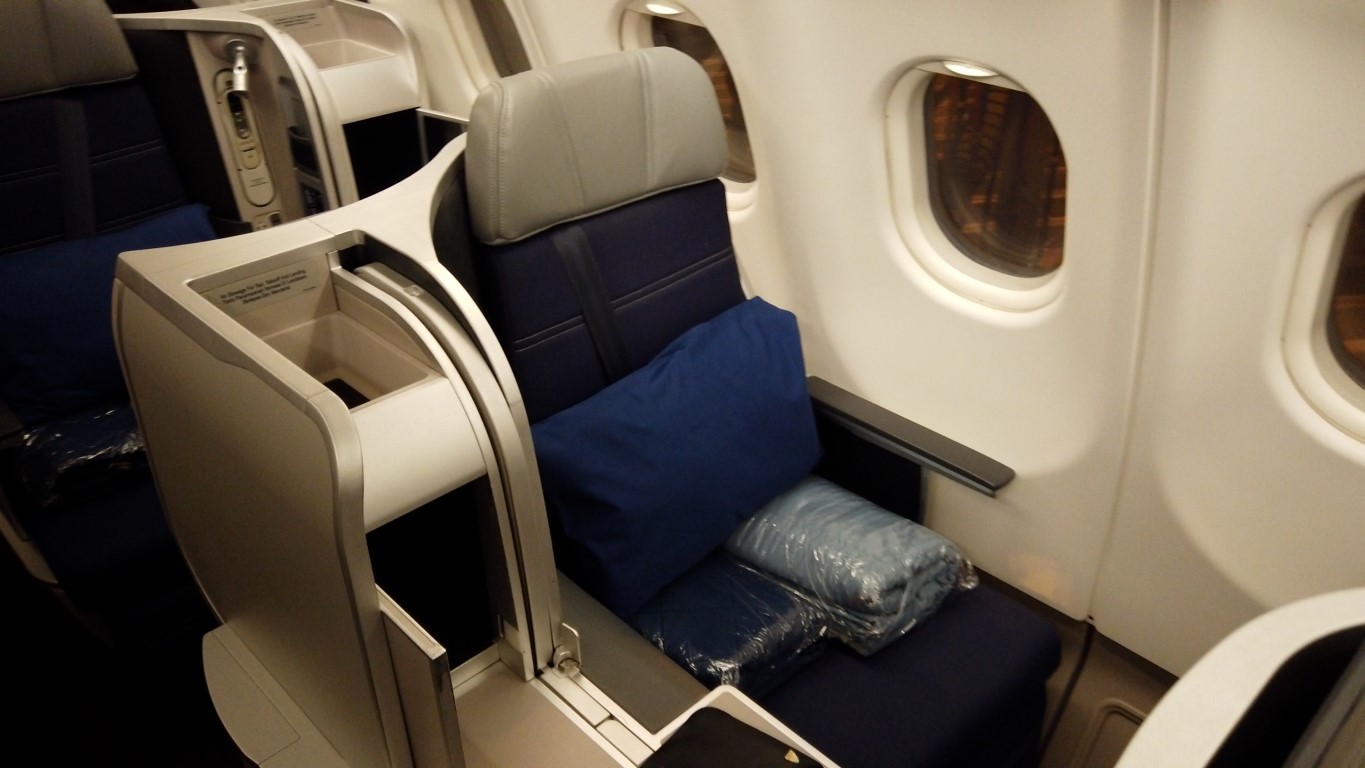 The Business Class pod was very comfortable, full lay flat bed seat and plenty of leg room even with the seat fully reclined.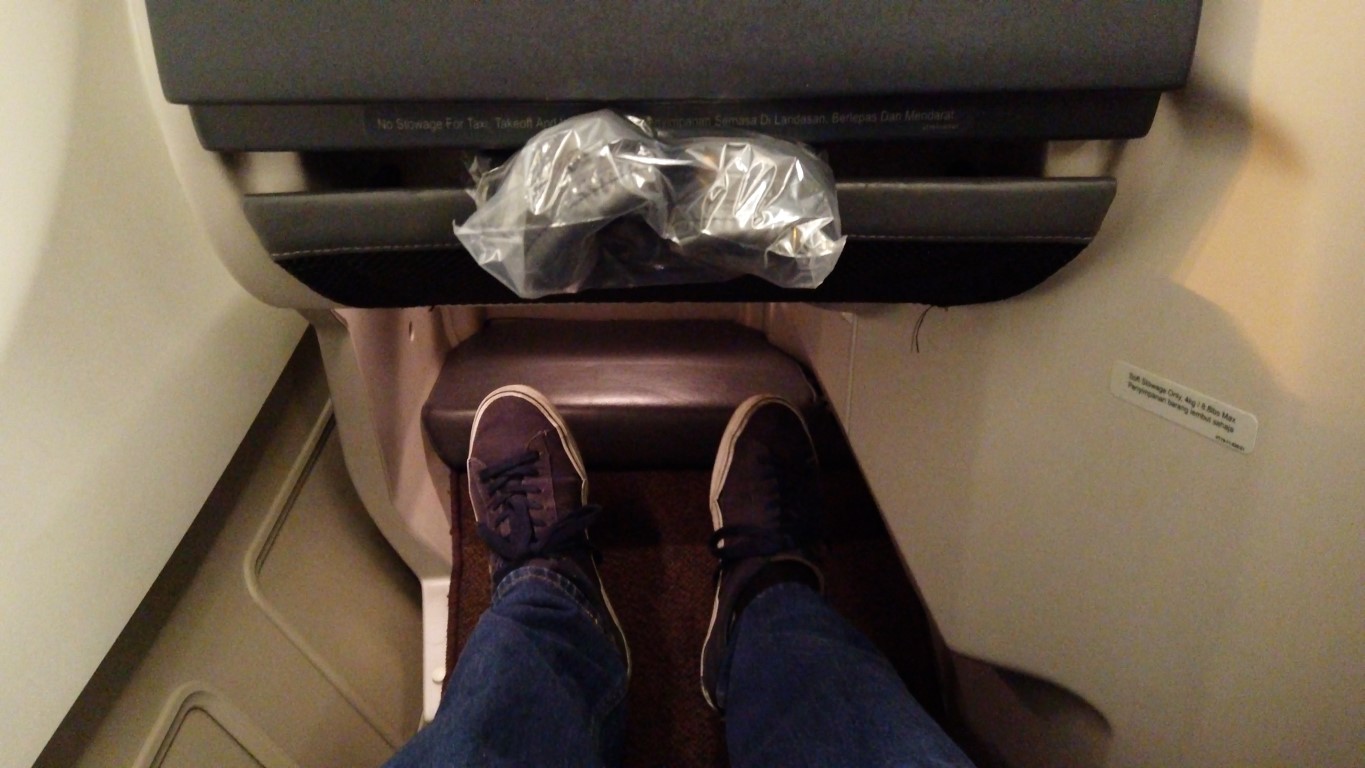 There were a few compartments for storing your small personal items.
At easy reach there was a USB port and a universal power adapter to charge your devices or plug in your laptop if you have work to do.
The crew handed out a Business Class Amenities kit as well as a Hygiene Kit. The Amenities kit was a very nice leather satchel from Aspinal from London England. Inside there was all the standard items you normally get in an amenities kit – a pair of socks, ear plugs, eye shade, a hair comb, tooth brush and tooth paste, a small tub of mouth wash and hand moisteriser and lip balm. Inside the Hygiene Kit was a face mask and alcohol wipes.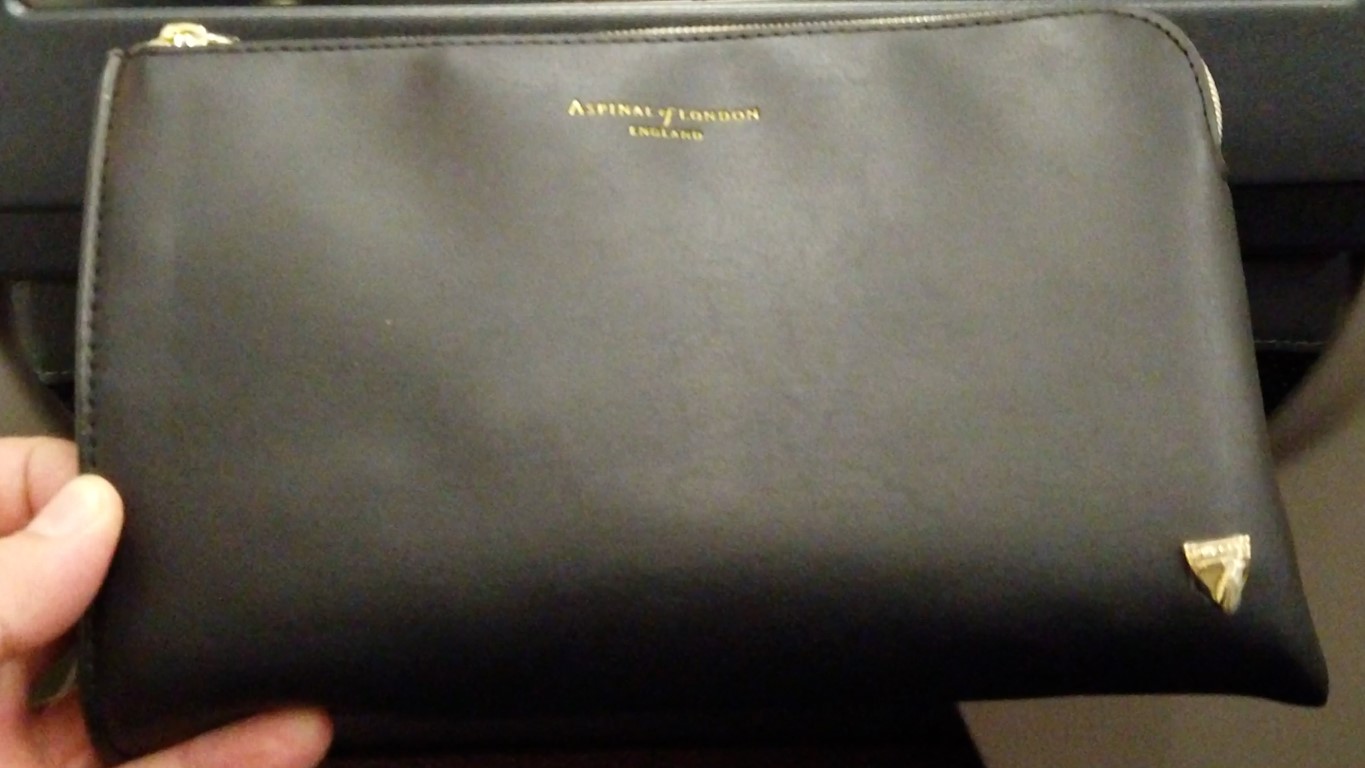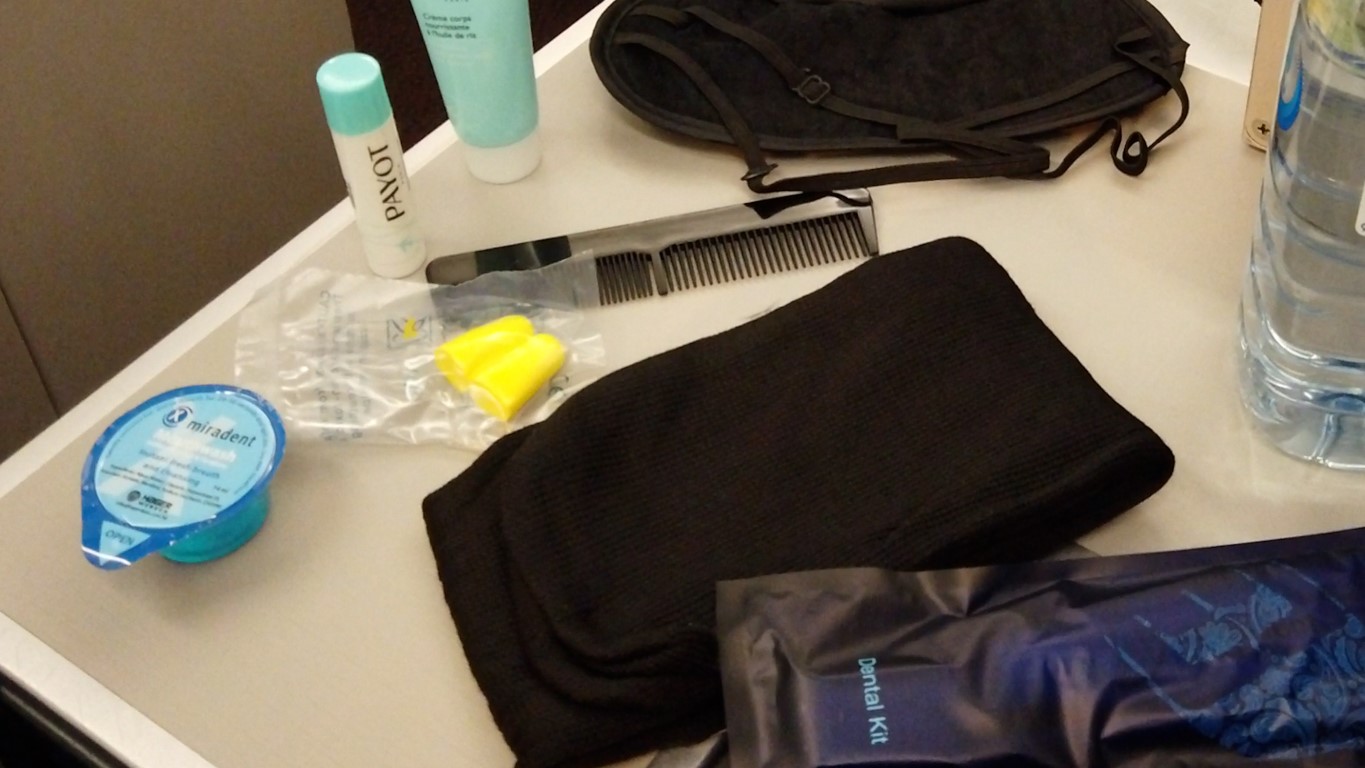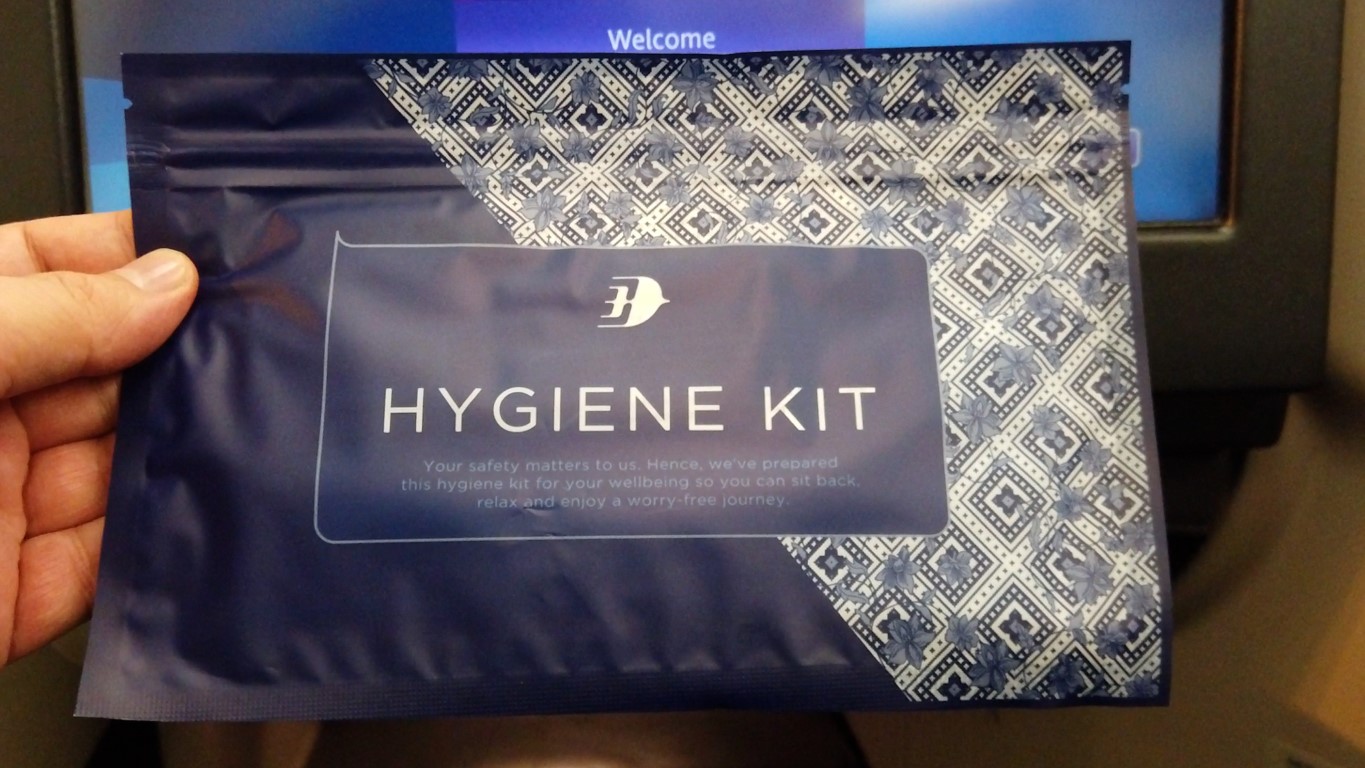 Entertainment System
The entertainment screen was a good size, not as large as other airlines I have flown with but still a decent size for watching movies. There was a good selection of recent release movies (most I had seen as I am an avid cinema goer) but for this flight I only wanted to watch 1 movie while eating my dinner, then put the seat in the lay flat bed mode and try to get a few hours sleep.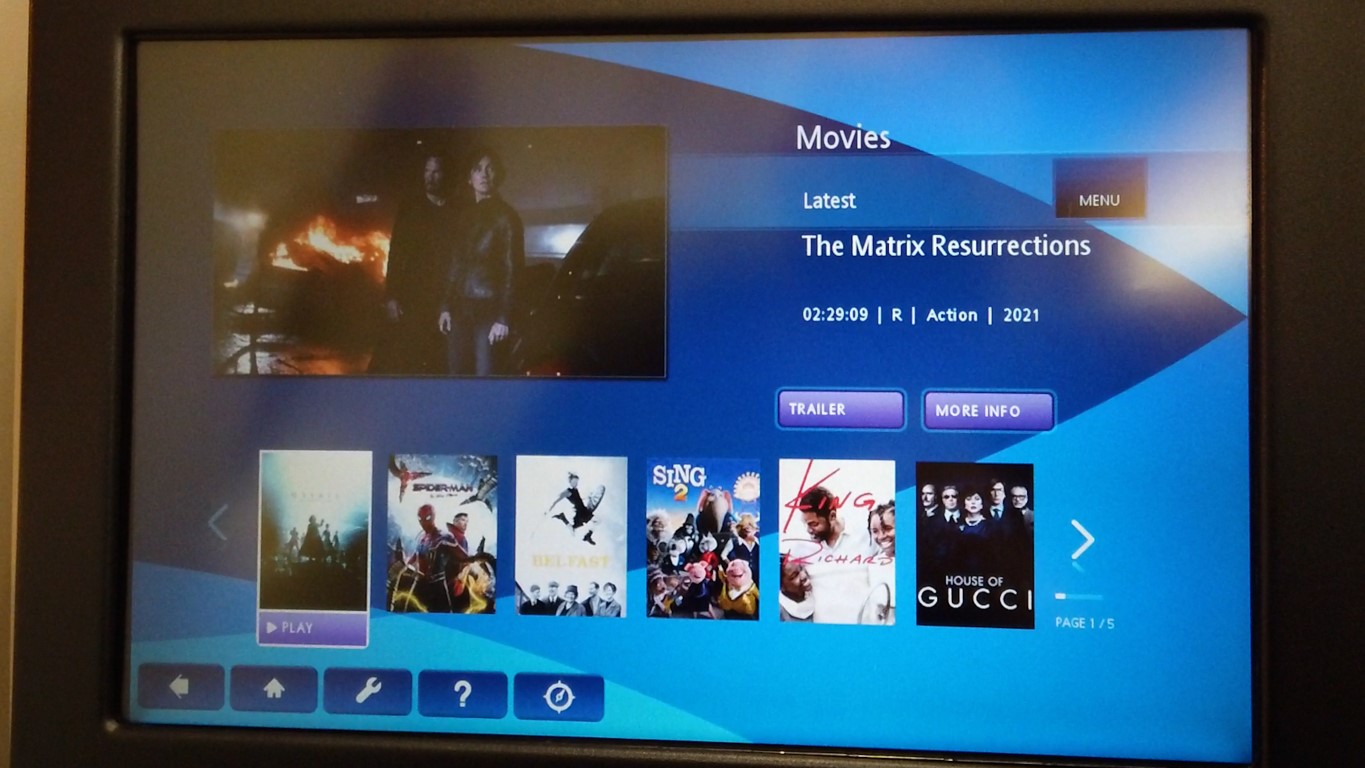 The Flight Map system was an older style static map, not the full interactive maps you get on newer plans but was still good for watching the progress of the flight and seeing what cities we were flying over. As this was a night flight, there is not much to see out the window, so good to keep track on the map,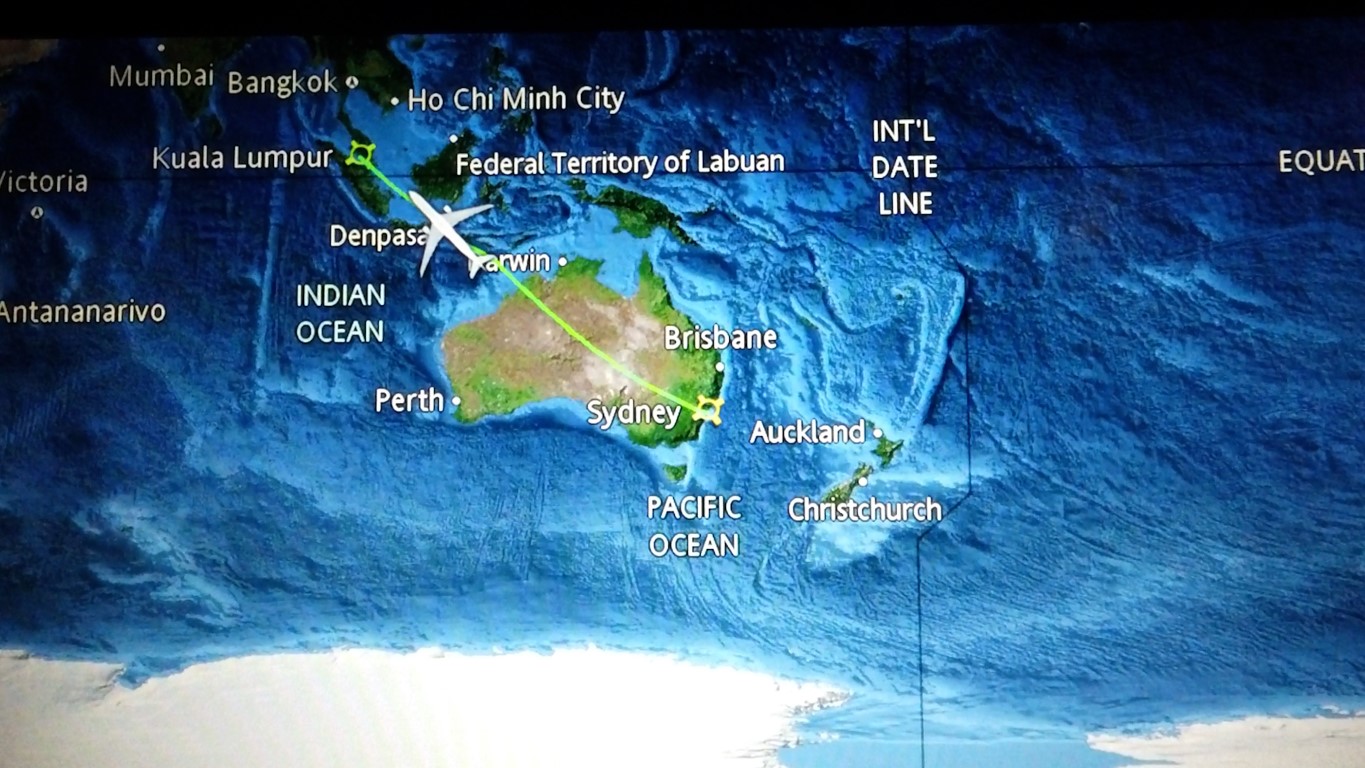 Food on this flight
Apart from a bottle of water that was at the seat when I boarded, there was no welcome drink. Flying on most airlines in Business Class it is customary for a welcome drink, a nice glass of Champagne usually offered but not on this Malaysia Airlines flight. Boo.
There was no food menu to see what options were on offer for the dinner after takeoff and breakfast before landing.
The dinner service started with a drink service. They had my favourite Japanese beer onboard, Asahi so I had a can of this which was served with a bag of nuts. The staff poured the beer into a glass at my seat.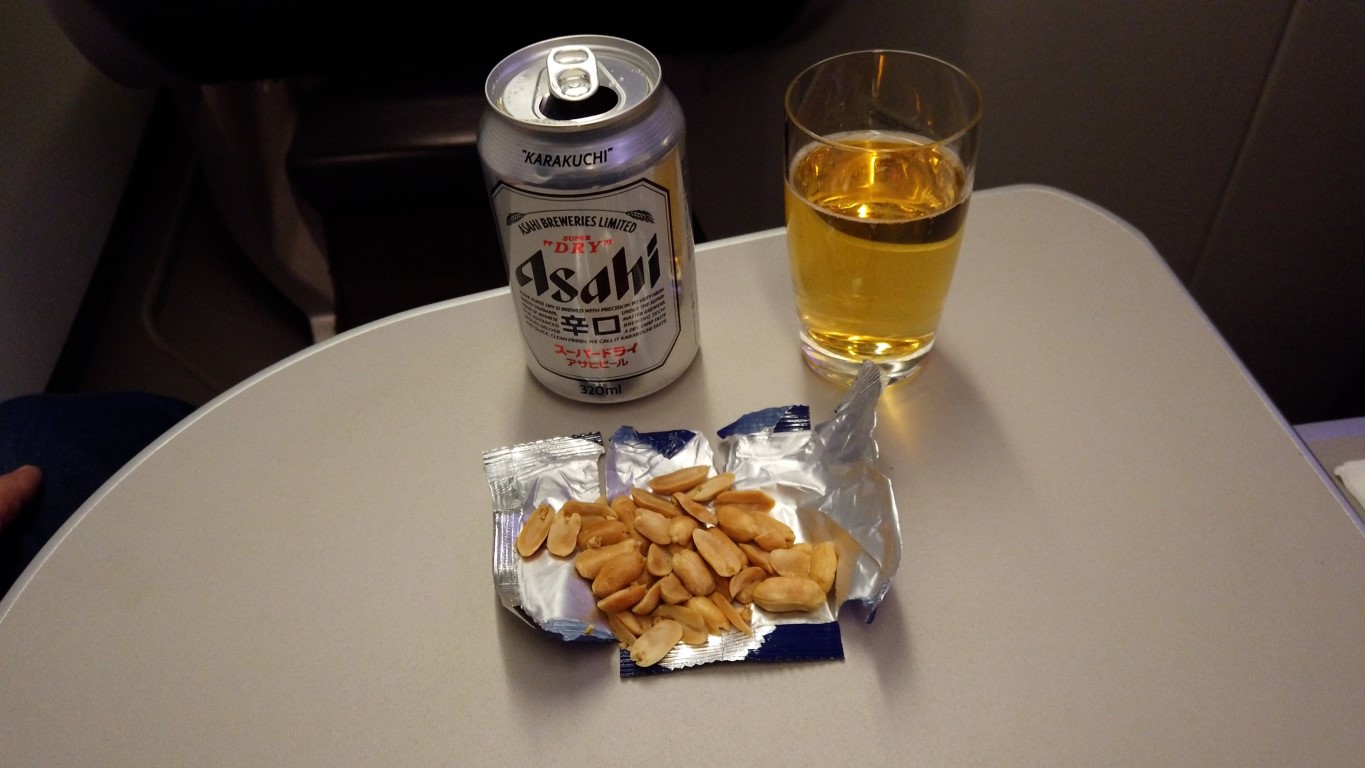 There was no menu to show what food we would be getting. I had seen Youtube reviews for Malaysia Airlines Business Class seats and knew they served Malaysian Satay as an entrée before the main meal. This was the good stuff! So good! I love satay and this was very good. There was a choice of Chicken or Beef satay and they offered a mix of both which I took. The chicken and beef was both good quality and the satay peanut sauce had a good spicy kick to it. They did offer me a second serve of the satay which I declined as was waiting for the main meal…..which didn't come. After a while I asked when they would serve the main meal and the informed me there would be no main meal as they were going to serve a full breakfast before landing. If they had a menu like most other airlines I would have known this and I would have taken the second serve of the delicious satay.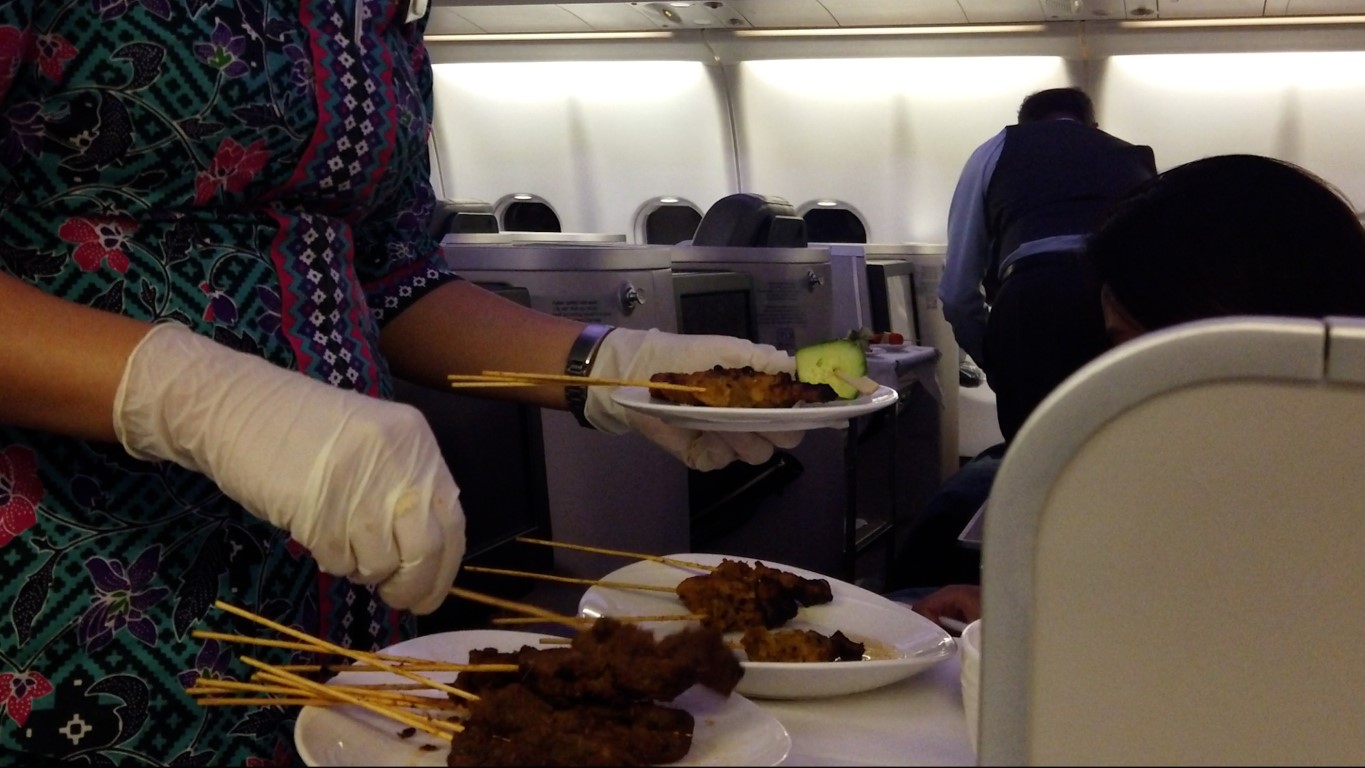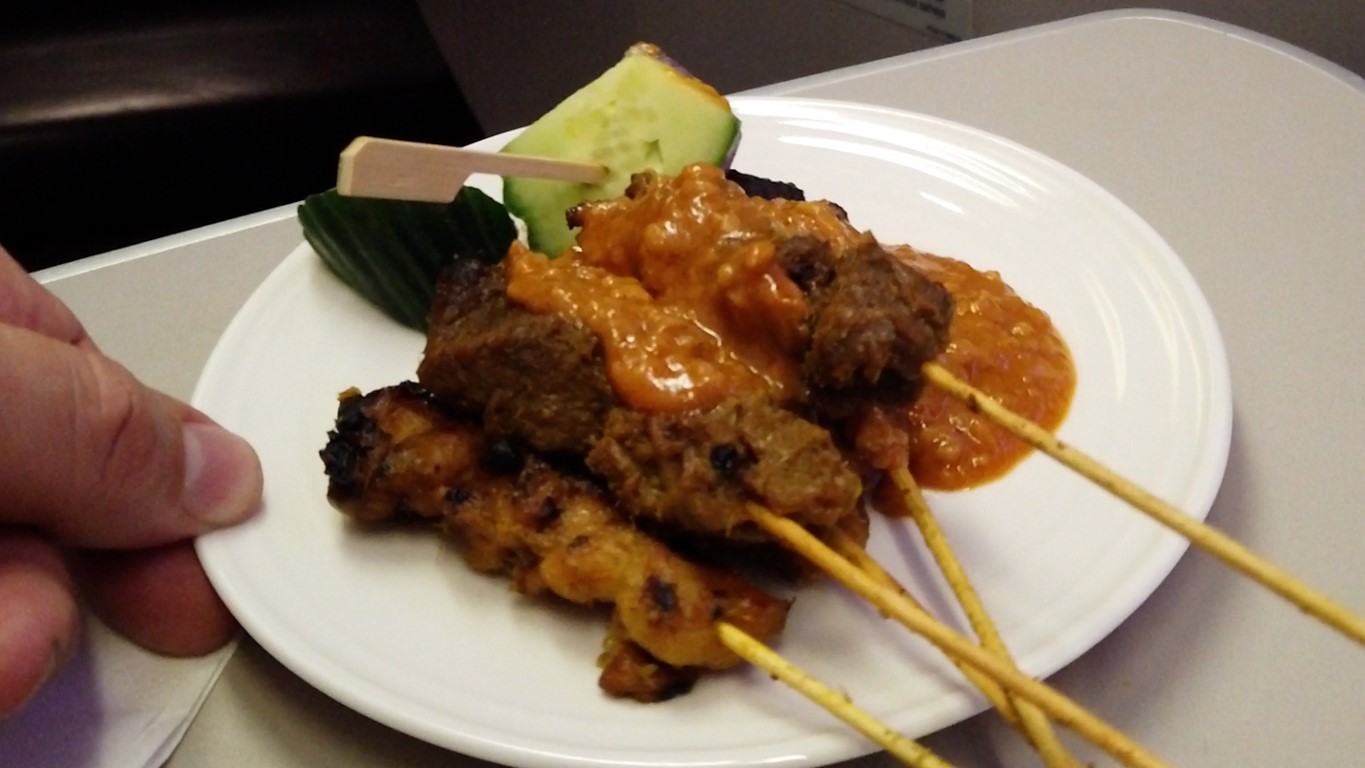 They did tell me they had snacks available which was just a few different types of sandwiches. I took a smoked salmon sandwich which was a bit dry and not so tasty. I should have asked them to bring that satay trolley back.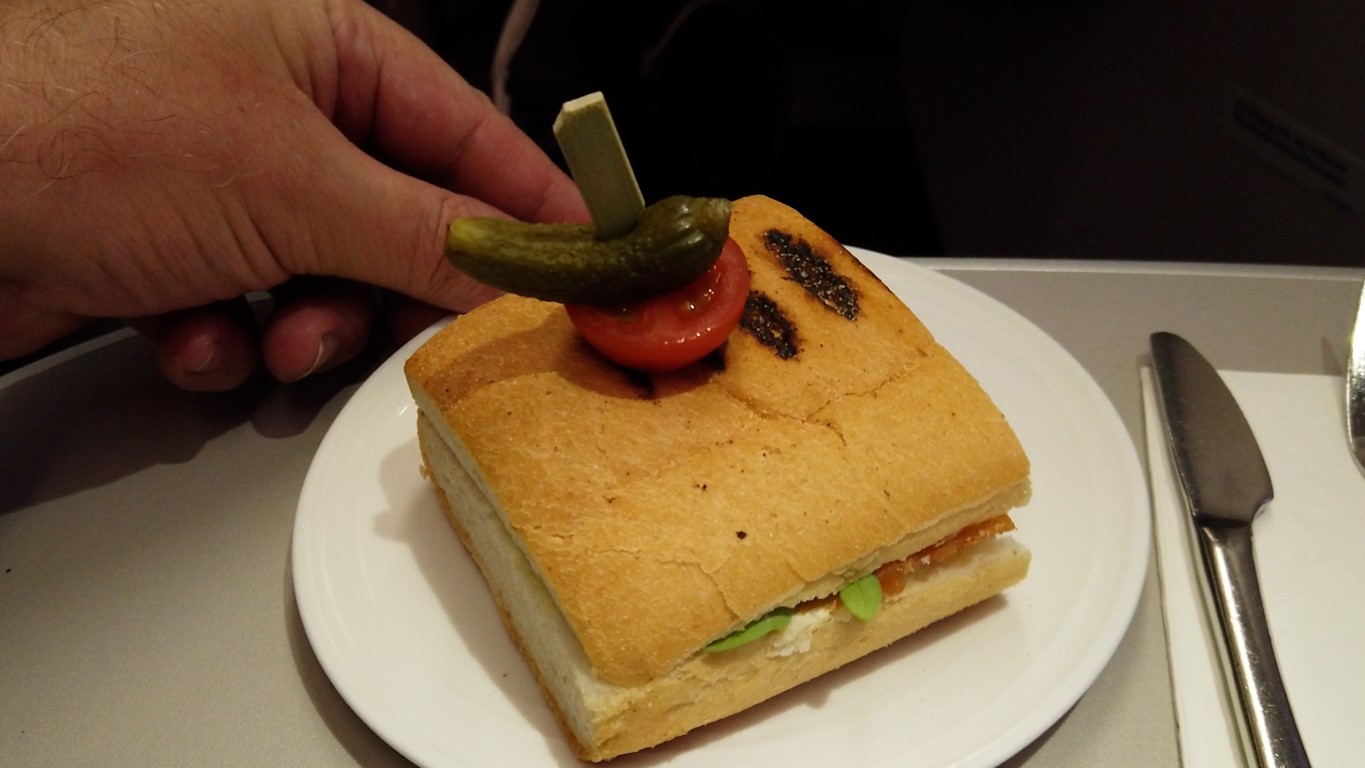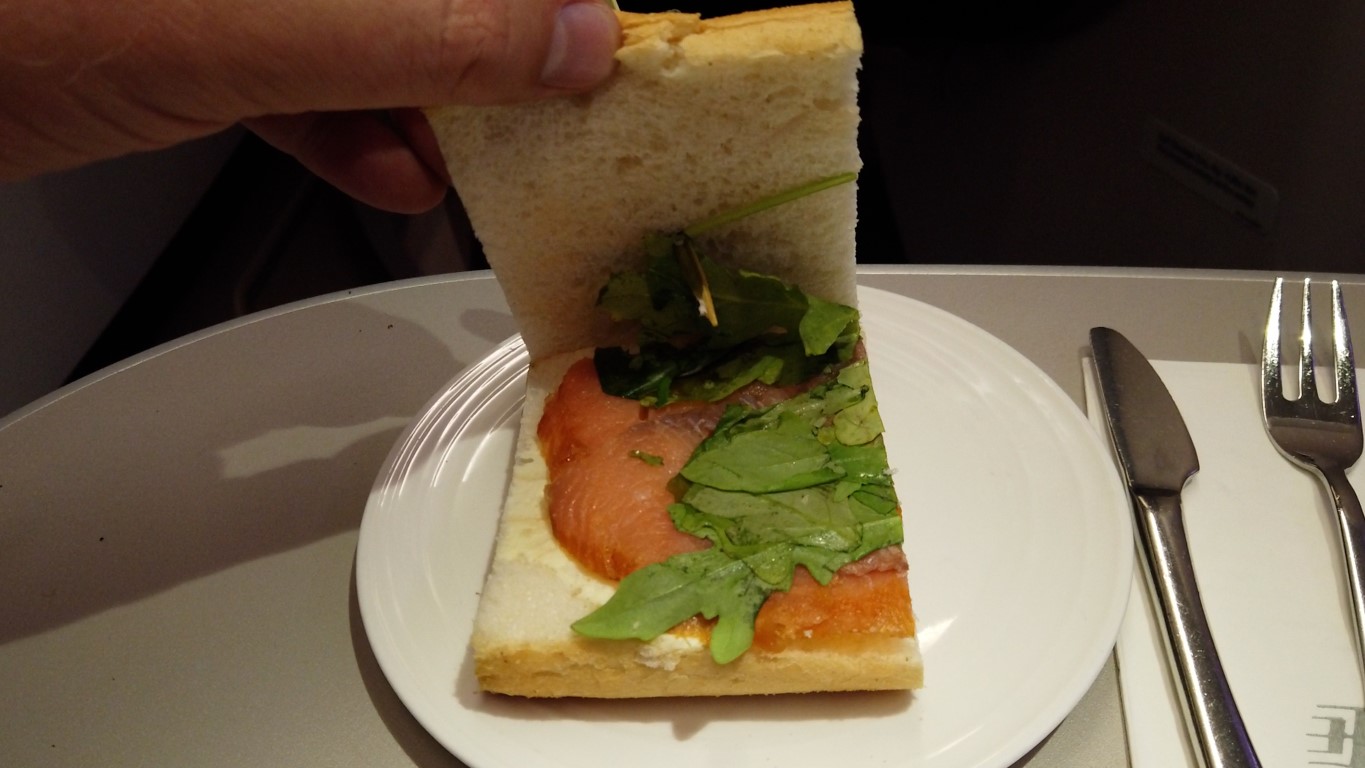 For dessert they served a small table of chocolate ice-cream which was tasty.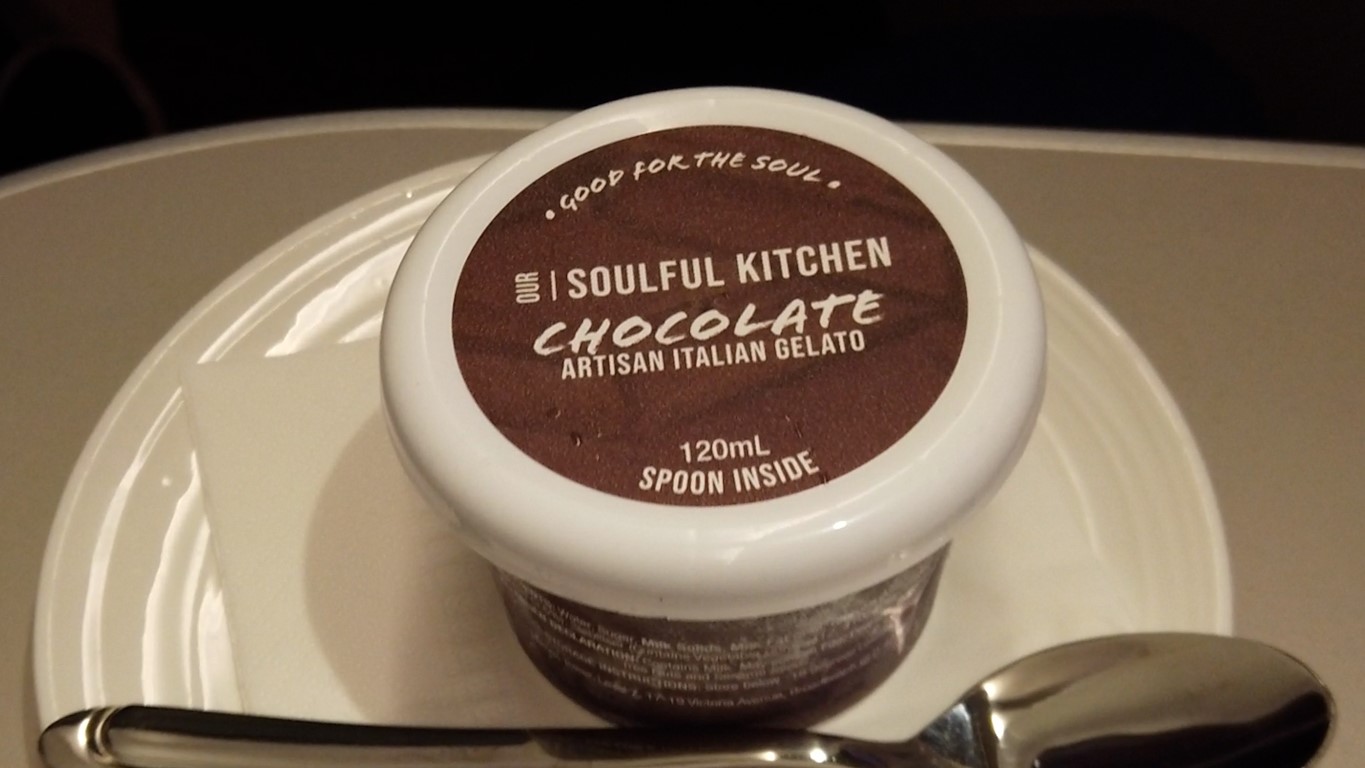 I did get to have about 5 hours of sleep after the dinner and then the cabin staff politely woke me up about 1.5 hours before landing to be served breakfast. Breakfast was a full meal starting with some yoghurt with blueberries and a croissant and a half piece of cold toast, with a side dish of fresh fruit pieces.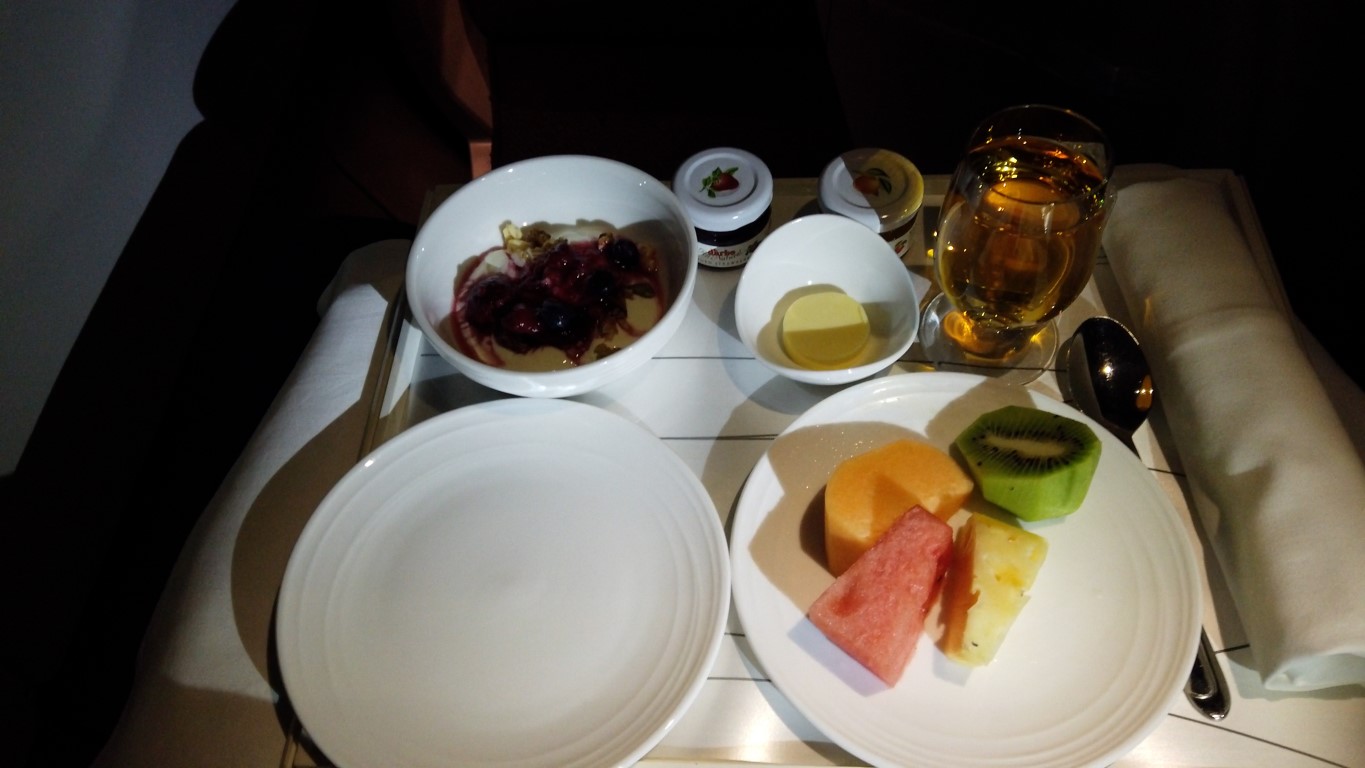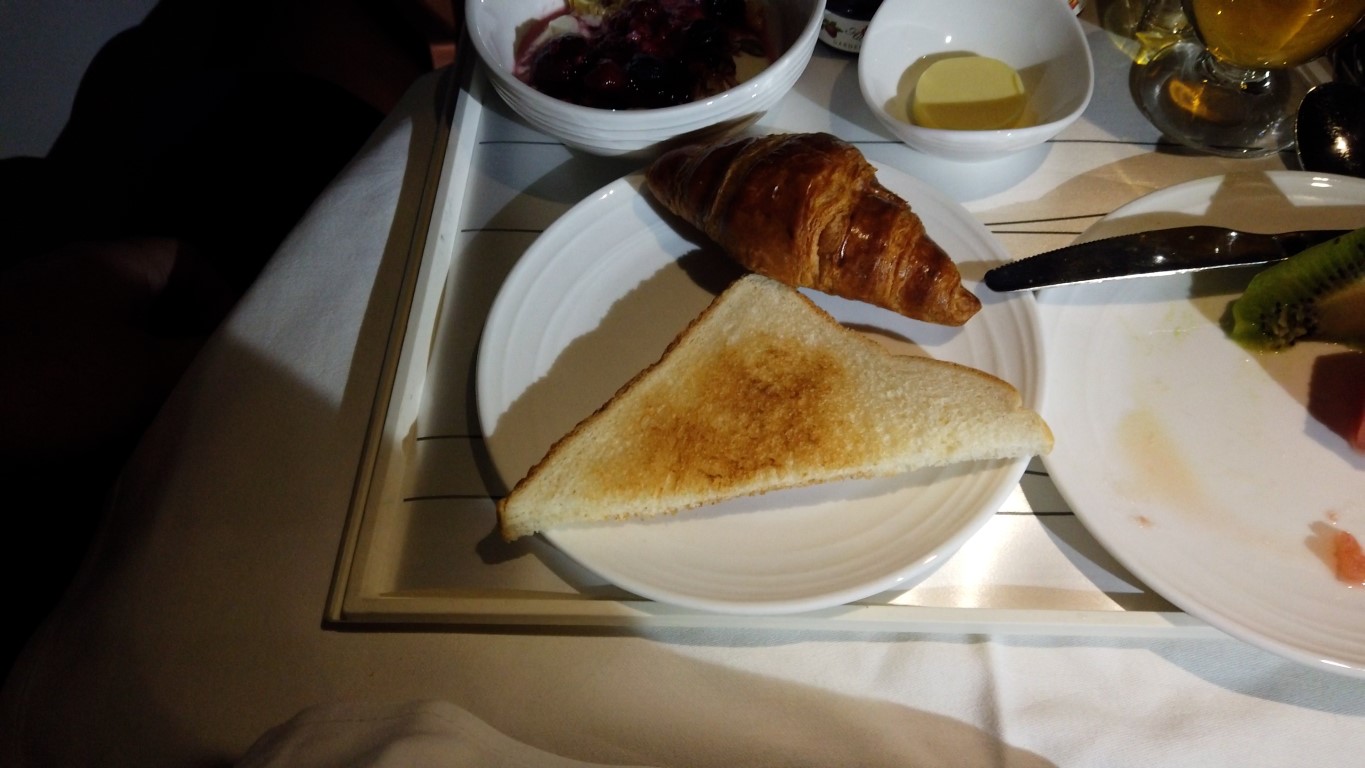 They then served a very tasty fried noodle dish with chicken. This was really good. A very large serving and some good Malaysian spices. My belly was full, ready for a 5 hour layover until my Singapore Airlines flight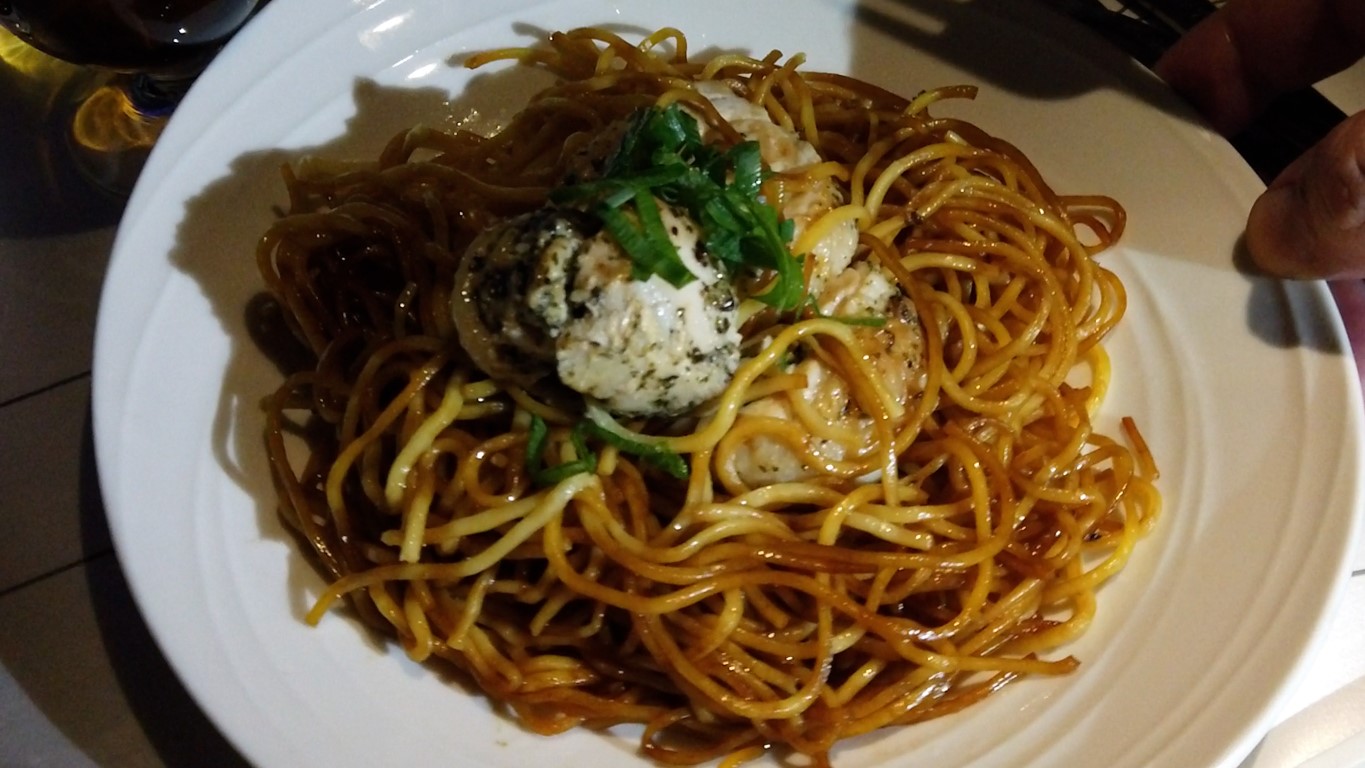 The service
The service on this flight was very good. All the staff in the Business Class cabin were lovely and friendly.
The Cabin manager came to greet me when I first bordered and called me by my name which was a nice touch. He did say welcome back onboard, despite this being my first flight with Malaysia Airlines, I think he presumed as I had OneWorld Sapphire Status that I must have flown with MH before. All the over staff were very friendly and greeted me when I was boarding. Really good service onboard.
It is such a shame that Malaysia Airlines has such bad customer service. Offering no food, drink or hotel vouchers after cancelling a flight, long wait times to get through to their call centre and no  response to several emails I have sent to get a credit for the cancelled flight. I am typing up a full review of my experience dealing with the Malaysia Airlines Customer Service center and will post a link here once it is published.
Overall this flight was great. A few disappointments like no welcome drink, no food menu and not knowing they would not serve a full dinner meal. The Satay sticks were a highlight. I do have a few more upcoming Business Class flights onboard Malaysia Airlines so look forward to more satay on these flights. I will make sure to accept a second serve next time.