Flight Review Singapore Airlines SQ638 Singapore to Tokyo Narita Business Class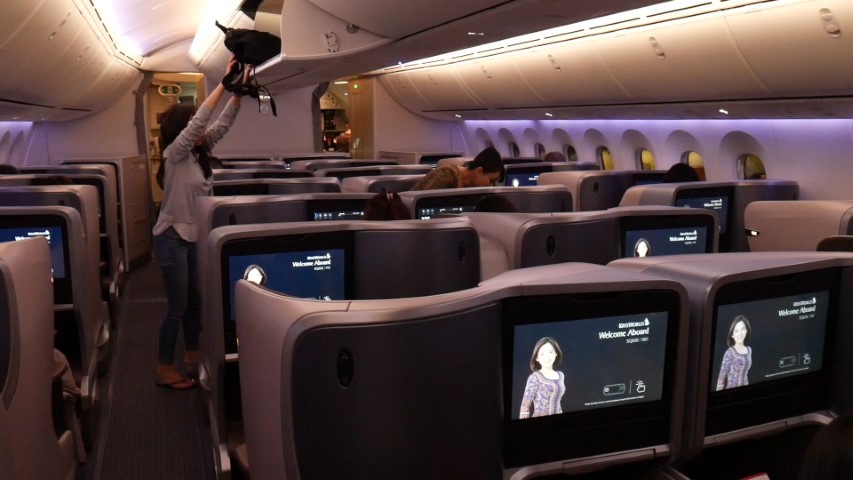 Airline: Singapore Airlines
Flight no: SQ638
Route: Singapore Changi Airport (SIN) to Tokyo Narita (NRT)
Aircraft Type: Boeing Dreamliner B787-10
Flight time: 6 hours 20 minutes
Travel Class: Business Class
Seat: 19A 180 degrees total lay flat bed
Seat Width: 30 inches
Seat Pitch: 60 inches
Check out the video for this Singapore Airlines SQ638 flight from Singapore to Tokyo Narita
Singapore Airlines has 5 direct flights from Singapore Changi Airport to Tokyo everyday. 3 of these fly into Haneda Airport (the closest airport to central Tokyo) and 2 of the flights fly into Tokyo Narita (around 1.5 hours by bus to central Tokyo). The direct flights from Singapore to Tokyo are:
SQ632 leaves Singapore at 8am and arrives into Tokyo Haneda at 3.55pm. Plane used for SQ632 is the Airbus A350-900.
SQ12 leaves Singapore at 9.25am and arrives into Tokyo Narita at 5.30pm. Plane used for SQ12 is the Boeing B777-300ER.
SQ634 leaves Singapore at 1.55pm and arrives into Tokyo Haneda at 9.50pm. Plane used for SQ634 is the Boeing B777-300ER.
SQ636 leaves Singapore at 10.50pm and arrives into Tokyo Haneda at 6.45am. Plane used for SQ636 is the Boeing B777-300ER.
SQ638 leaves Singapore at 11.55pm and arrives into Tokyo Narita at 8am. Plane used for SQ638 is the Boeing Dreamliner B787-10.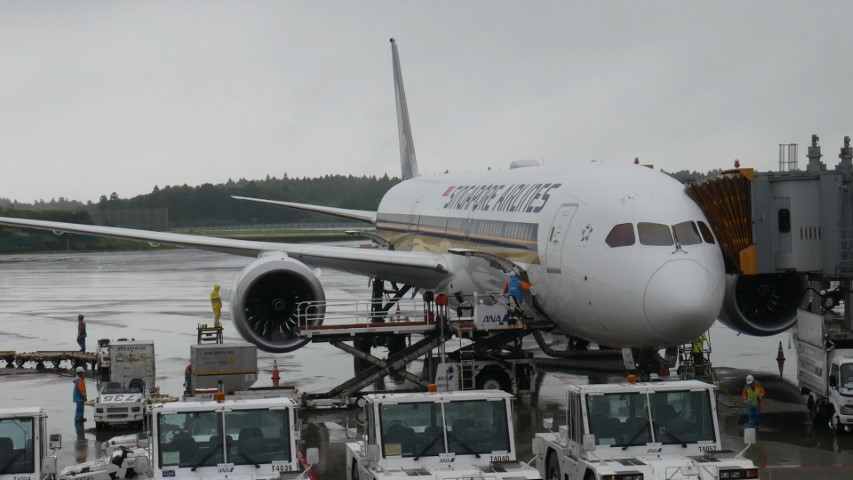 At the airport
This flight was part of my long journey from Sydney to Singapore and then to Tokyo Narita. I had arrived into Singapore around 3 hours before this flight so had a few hours to roam around Singapore Changi Airport Terminal 3 and spend some time in the SilverKris Lounge.
If you are going to spend any time in any airport in the world then the best is Singapore Changi Airport. Terminal 3 has a great selection of food including the very cool Singapore Food Street which is located upstairs and is lined with small hawker style eateries. Now I was full from the flight from Sydney to Singapore (see the flight report here for the Singapore Airlines A380) so I just walked around a while and then went and relaxed in the Singapore Airlines SilverKris Flyer Lounge.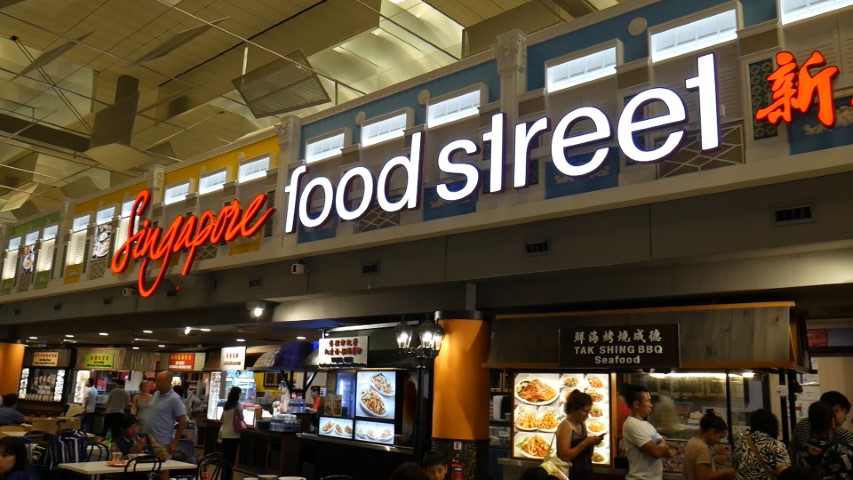 SilverKris Flyer Lounge Singapore Changi Airport Terminal 3
The SilverKris Flyer Lounge is located upstairs in Terminal 3. This a very large lounge and it is extremely busy. I got there around 10pm and had 1.5 hours to wait and the entire time the lounged seemed full. It took awhile walking around the lounge to find a spare seat.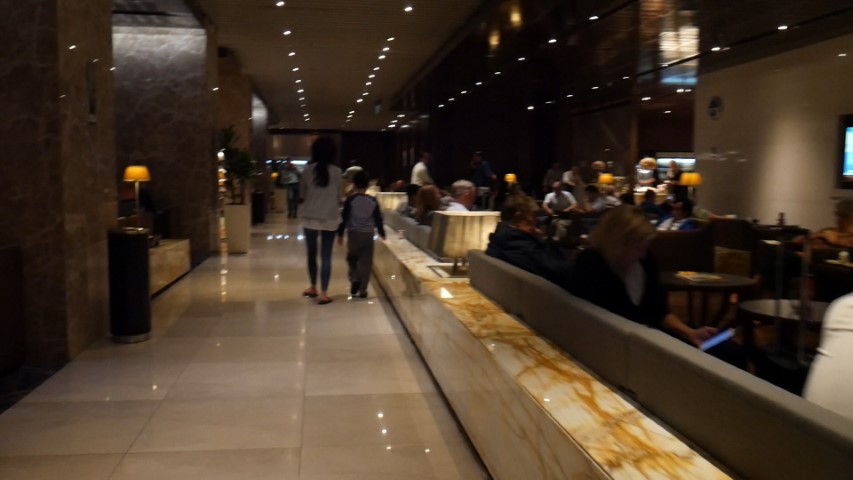 The lounge has free WiFi with the password on display on a sign when you first walk into the lounge.
Even though it was busy, there is still loads of food available at the large buffet. They really do a good job to keep the food topped up. I ended up just getting a coffee from the self-service area.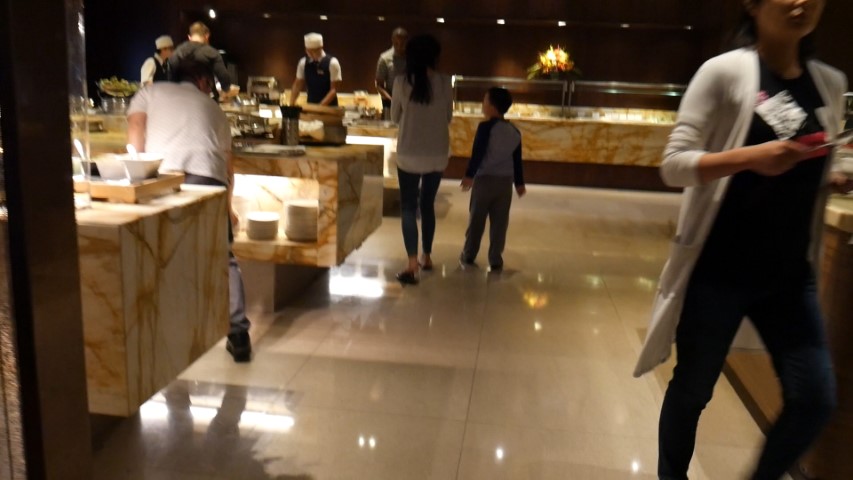 Onboard the plane
With priority boarding it was easy to get onto the plane. I was warmly greeted by 2 cabin crew, 1 of which walked me down the business cabin and showed me to my seat. This is such a nice personalised touch that Singapore Airlines do. I really like this service!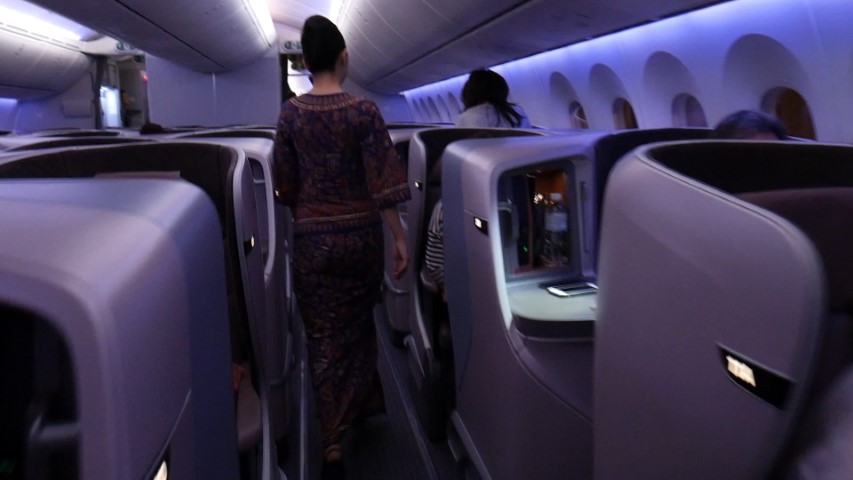 Now this Boeing Dreamliner B787-10 is one of the newest planes in the Singapore Airlines fleet and it still had the new plane smell. I had flown on the B787-8 and the B787-9 but this was the first time on the much bigger B787-10 Dreamliner. This is a really nice aircraft.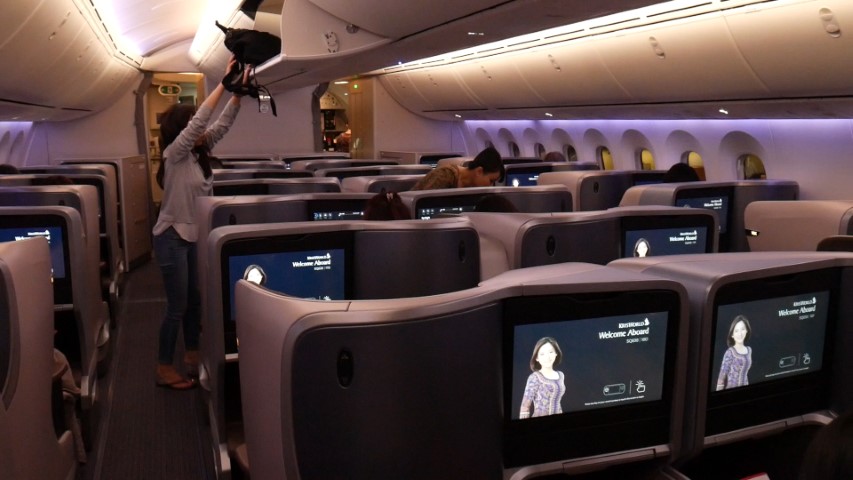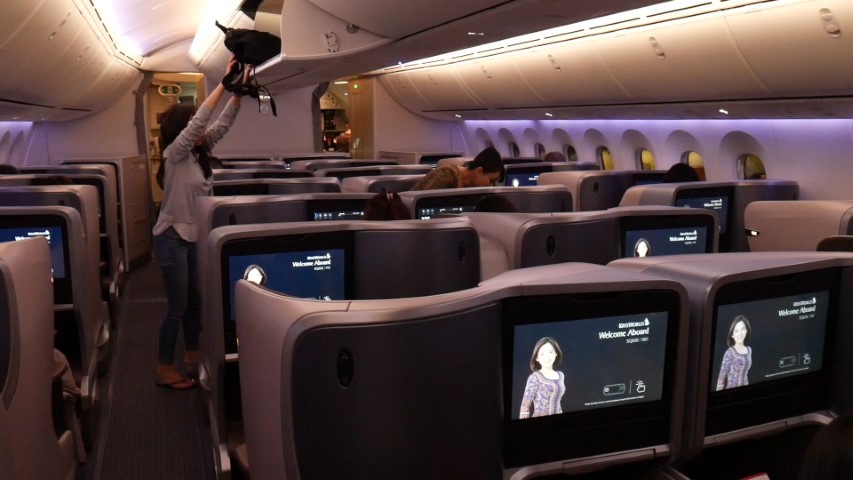 The business class pods are kind of cool. With a 1-2-1 configuration with all seats having direct access to the aisle. I was in a window seat and the pods give you so much privacy. It is like a big cocoon, wrapped up tight against the window.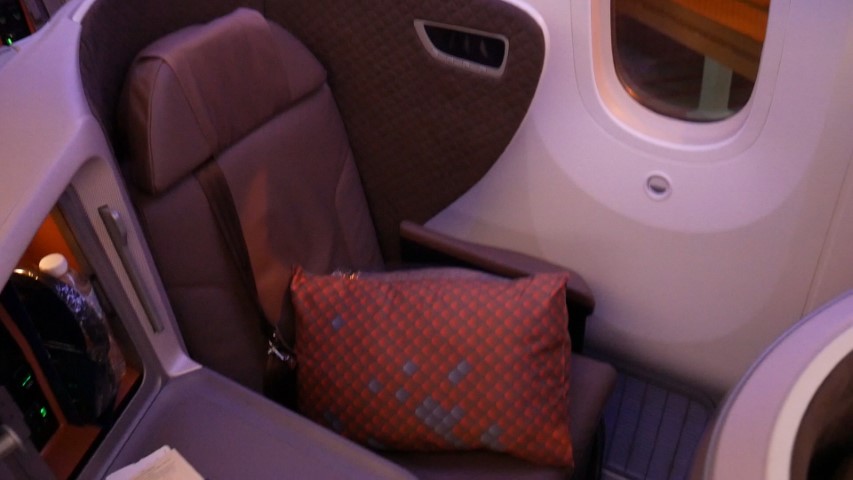 There is loads of legroom with you being able to stretch your feet directly out on the floor as well as stretch them out horizontally where the lay flat bed stretches out.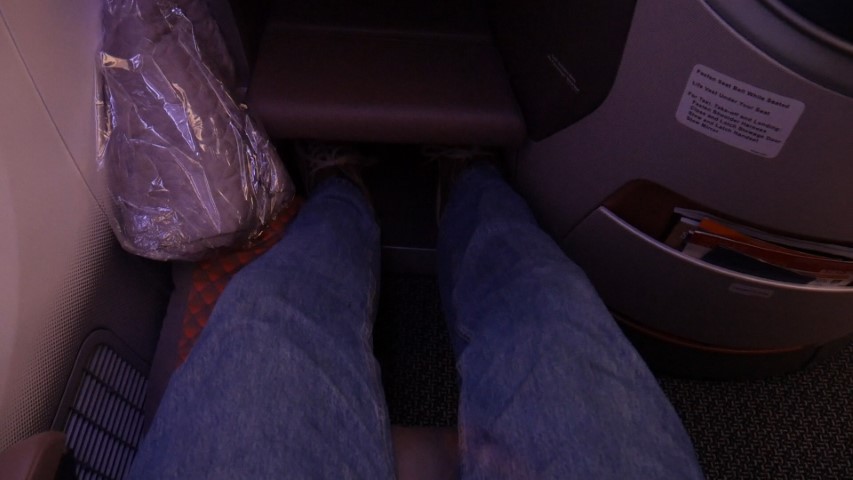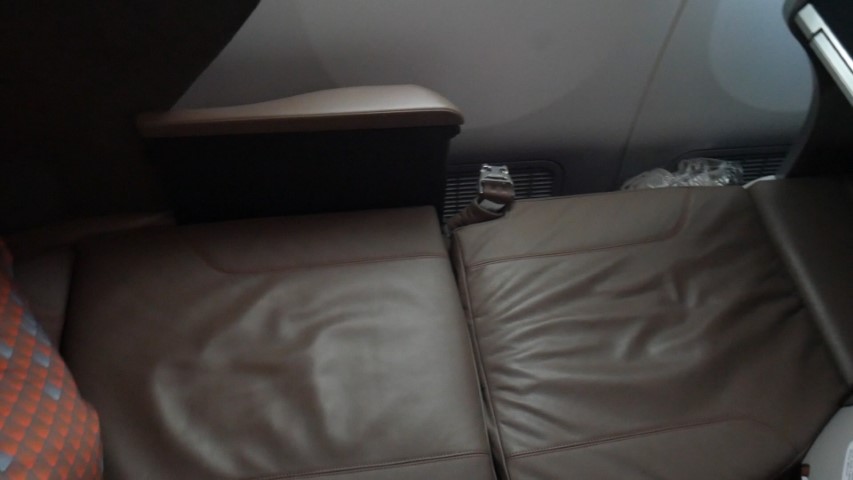 There is a small storage compartment to the right of your head which has a bottle of water, the good quality noise cancelling headset and where you find the USB ports for charging your devices and a Universal power socket to plug in any electric devices.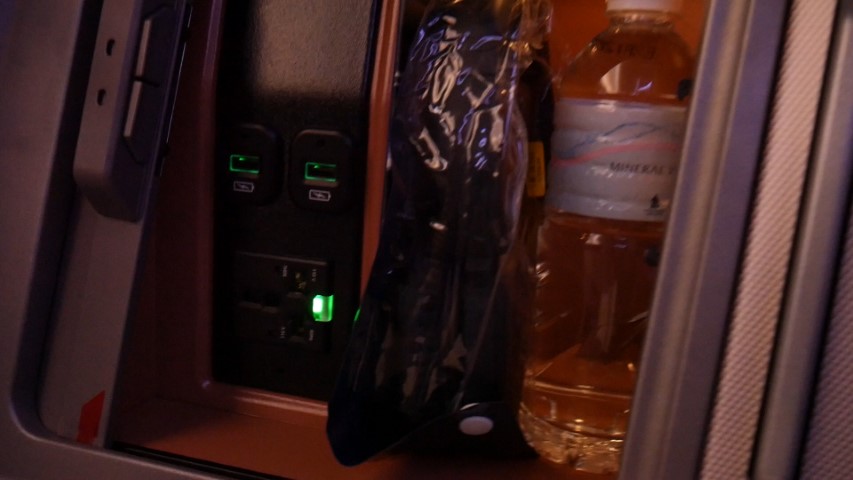 The table tray pulls out front directly in front, from just under the entertainment screen. This is a really easy to handle table rather than the ones you have to pull up before you fold down. I really like this design.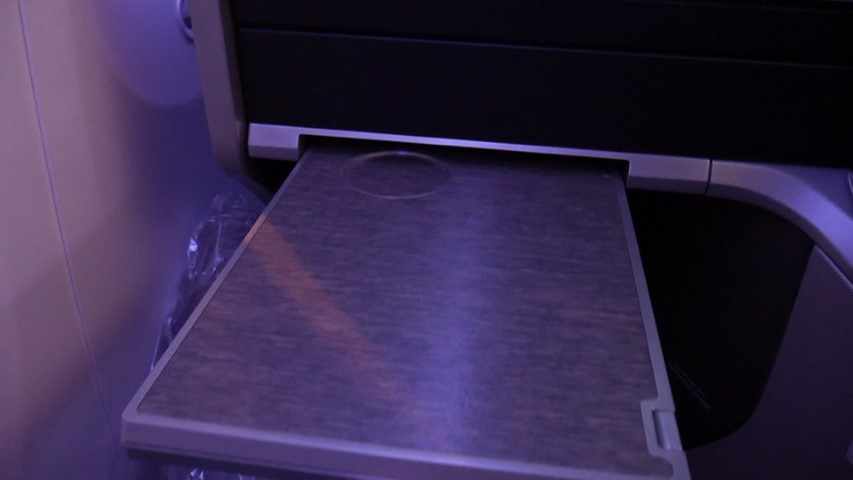 Singapore Airlines Entertainment System
The entertainment system on the Singapore Airlines Dreamliner B787-10 is one of the best systems I have ever used. It is the latest eX2™ inflight entertainment system (IFE) from Panasonic Avionics Corporation.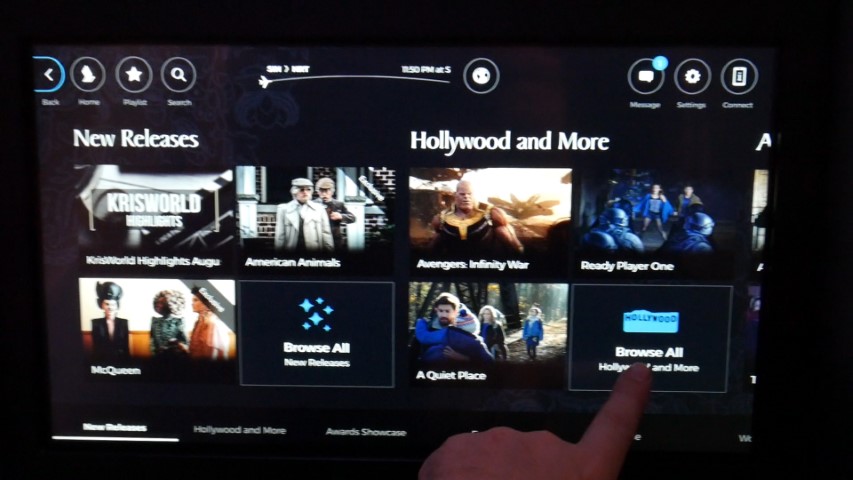 With an 18″ touch screen which is very responsive, it is loaded up with over 140 movies, more than 170 TV shows, over 740 music CDs and 22 different audio broadcast shows and 80 interactive games.
There is also one of the best inflight maps I have ever seen with great graphics showing the plane taking off and flying the route and it updates for each position along the route showing the various cities that you are passing by.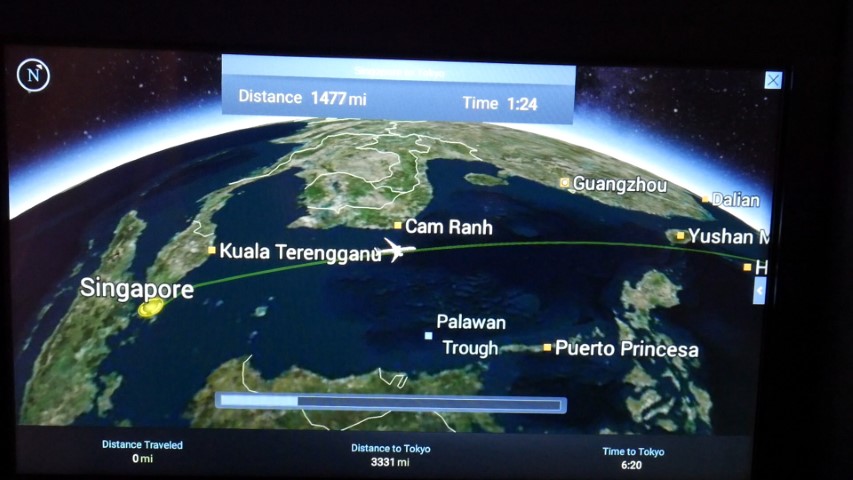 Food on this flight
The food on Singapore Airlines is of very high standards. This is some of the best food I have eaten onboard planes. They give you really big servings and heaps of variety to choose from.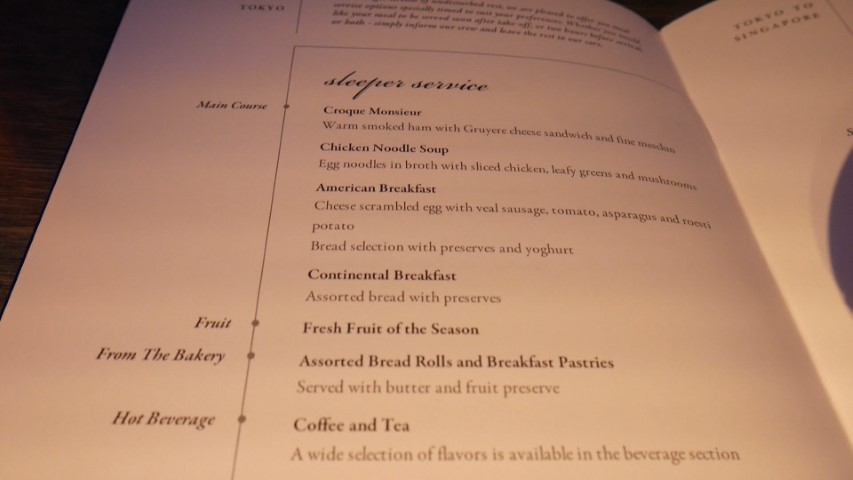 Before take-off they served Champagne, fruit juice or water and they also ask what you would like to drink after take-off, which comes out very quickly after you are in the air. I went for the tasty Charles Heidsieck Brut Reserve from Champagne France which is served with a bowl of mixed nuts.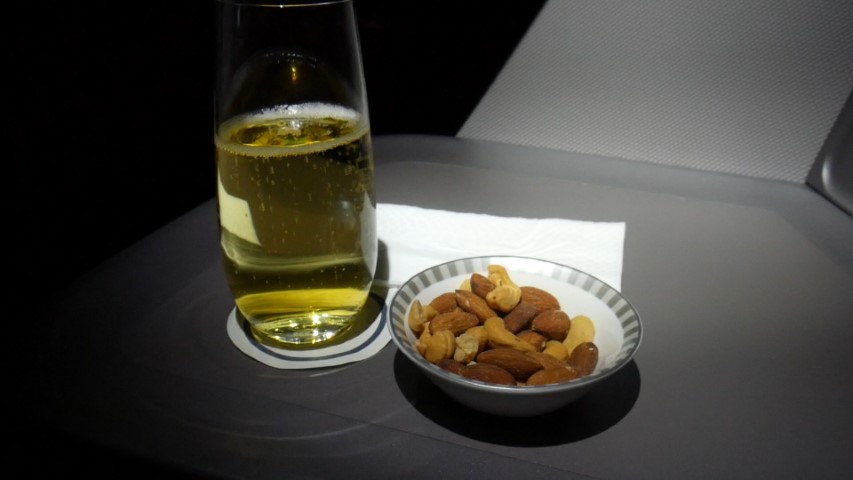 On this flight only 1 meal is listed in the Business Class Food Menu. They asked me before take-off if I wanted my meal after take-off or before landing. I chose to have it after take-off. Even though I had my meal after take-off, about 1.5 hour before landing into Tokyo, a crew member came and asked if I wanted anything extra to eat before landing. She offered me some croissants or some fresh fruit but I was still full from the big meal after take off. This is another sign of the excellent service you get on board Singapore Airlines.
For this flight there was a Sleeper Service meal which had 4 options for the main meal:
Croque Monsieur – warm smoked ham with Gruyere cheese sandwich and fine mesclun (Mesclun is a mix of assorted small young salad greens  – I had to Google that!)
Chicken Noodle Soup – egg noodles in broth with sliced chicken, leafy greens and mushrooms
American Breakfast – cheese scrambled eggs with veal sausage, tomato, asparagus and roesti potato with a bread selection and yoghurt
Continental Breakfast – with assorted bread with preserves.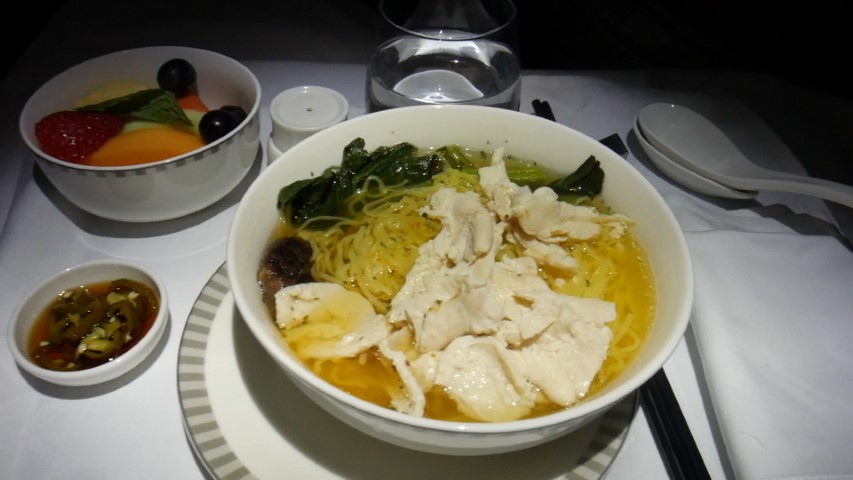 For my main I chose the Chicken Noodle soup which was a big bowl of yummy comfort food! Such delicious broth, really good quality egg noodles and good quality slices of chicken. There was also a big bowl of fresh fruit of dessert.
Check out the video for Singapore Airlines Business Class Food Review
The service
Sensational! I think Singapore Airlines have some of the best trained cabin crew for any airline. Just some of the little things like being shown to your seat make all the difference for an airline.
The staff were lovely and one came and chatted to me in the morning about my experience on board the new B787-10. She was genuinely interested in my feedback. It was the same cabin crew who offered me extra food in the morning.
For this flight I have to give Singapore Airlines 10/10. Great plane, awesome cabin crew, excellent entertainment system, delicious food. I cannot fault this flight at all.
Great work Singapore Airlines. I really look forward to flying with you again soon.
You can book flights directly on Singapore Airlines website.