Flight Review Singapore Airlines Tokyo Narita to Singapore Business Class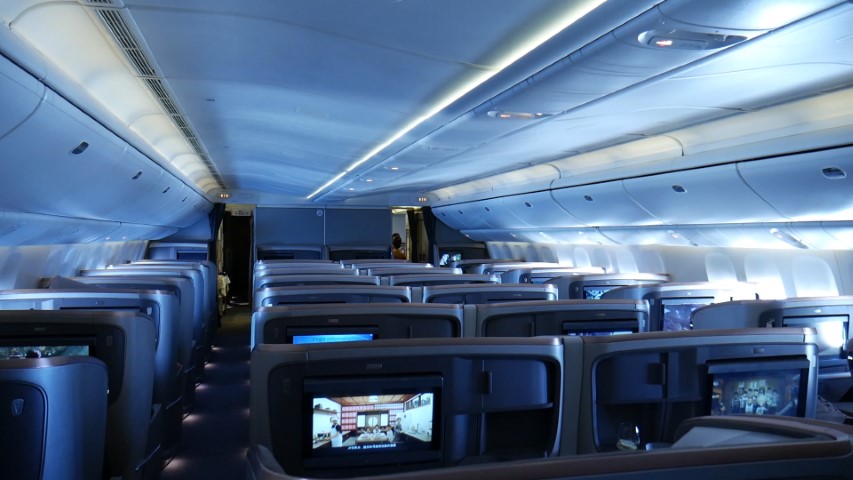 Airline: Singapore Airlines
Flight no: SQ11
Route: Tokyo Narita (NRT) to Singapore Changi Airport (SIN)
Aircraft Type: Boeing B777-300ER
Flight time: 6 hours 5 minutes
Travel Class: Business Class
Seat: 21A 180 degrees total lay flat bed
Seat Width: 28 inches
Seat Pitch: 55 inches
Check out the video for this flight review of Singapore Airlines SQ11 from Tokyo Narita to Singapore
Singapore Airlines has 2 flights per day from Tokyo Narita to Singapore:
SQ637 leaves Tokyo Narita at 11.10am and arrives in Singapore at 5.20pm. Plane used for flight SQ637 is the Boeing Dreamliner B787-10.
SQ11 leaves Tokyo Narita at 2.45pm and arrives in Singapore at 9pm. Plane used for flight SQ11 is the Boeing B777-300ER.
You also have the option of flying out of Tokyo Haneda airport which is much closer to the centre of Tokyo than Tokyo Narita airport. You can get a taxi to Tokyo Haneda in around 30 minutes from Shinjuku. To get to Tokyo Narita you can get a Limousine bus which takes around 1.5 – 2 hours to get to the airport. There is also the Narita Express train which you can catch from Shinjuku or Tokyo Station and takes around 90 – 100 minutes to get to the airport.
Singapore Airlines has 2 flights per day from Tokyo Haneda to Singapore
SQ631 leaves Tokyo Haneda at 9.15am and arrives in Singapore at 3.15pm. The plane used for flight SQ631 is the Boeing B777-300ER.
SQ633 leaves Tokyo Haneda at 5.05pm and arrives in Singapore at 11.05pm. The plane used for flight SQ633 is the Airbus A350-900.
At Narita Airport
I arrived at Narita Airport using the Limousine Bus service and arrived around 3 hours before my flight.
Singapore Airlines leaves from Terminal 1 at Tokyo Narita Airport. They have dedicated check-in counters for Economy, Premium Economy, Business Class and First Class. There was no queue in the Business Class queue so didn't take long to check in. I then had plenty of time to roam arouund the huge Narita Airport Terminal 1.
Terminal 1 at Tokyo Narita Airport has loads of high end shopping stores like Cartier, Gucci, Hermes, Tiffany and Co and loads of duty free stores. My favourite store at Narita Airport is called Akihabara which is a tax-free store selling loads of Japanese sweets and confectionery as well as some nice Japanese souvenirs. After I did some quick shopping I headed to the Business Class Lounge to relax.
Singapore Airlines Business Class Lounge
Singapore Airlines does not have it own Business Class Lounge at Narita Airport. Singapore Airlines Business Class passengers get access to the ANA Lounge as part of the Star Alliance member airlines.
The ANA Lounge is an OK lounge which is nice and quiet. The food selection is not the best I have seen in a business class lounge but there was a nice selection of sandwiches, salad and some fried noodles. There was also a good selection of soft drinks, beer, wine, Champagne and spirits. It was lunch time but I was saving myself for the great food on-board the Singapore Airlines flight.
The ANA Lounge is very close to boarding gate 46 which is where the Singapore Airlines plane left from.
On-board the Singapore Airlines Plane
With a dedicated Business Class boarding lane, it does not take long to get on the plane. I was greeted by a cabin crew at the door and then another cabin crew member escorted me to my seat. This is one of the nice touches of the great service on board Singapore Airlines plane.
This Boeing B777-300ER had the old style business class seats with the old entertainment system with no touch screen. The seats are still very comfortable with plenty of legroom. Stretching your feet out to the front your feet does prop up against the seat in front of you, but you can stretch your legs out to the side where the lay flat bed stretches out to. In the upright position, it is not so comfortable stretching your legs out but after take off and you can recline your seat, your feet have more room in the stretched out position.
The seat is quite wide at 28 inches (71cm) so wide enough to fit my large caboose. The seat reclines back only about half way, it does not fully recline all the way down to the lay flat position. To make the bed lay flat, you need to get out of your seat and pull a latch behind the seat, and pull the whole seat back forward which then goes into the lay flat position. This was mostly a day flight so I didn't use the lay flat bed, just reclined back to watch some movies.
The biggest annoyance with this seat 21A is that is it not really a window seat. There is a window but it is tucked behind the business class pod so difficult to look out the window. I wish I had checkout Seatguru before I choose this seat.
There are a few different compartments to store small items like your passport and mobile phone.
Also at the seat is a universal power socket to plugin your laptop or electrical device, as well as a HDMI port, 2 USB ports and an iPod port.
Singapore Airlines Entertainment System
The entertainment system on this older style business configuration is the non-touch screen but it is still a nice sized 16″ screen. The controls for the screen are built into a controller attached to the seat.
There are plenty of recent release movies and TV shows available on the system. I managed to watch 2 movies during this 6 hour flight. In one of the storage compartments you will find the very good quality noise canceling headset to use with the entertainment system.
As part of the Panasonic entertainment system is the excellent electronic flight map were you can see the progress of the flight. The map shows the various cities you are passing by.
There is also the SilverKris inflight magazine in the seat pocket which has loads of great travel stories for the destinations that Singapore Airlines flies to.
Food on this flight
Now I can talk about the highlight to any Singapore Airlines flight – the food!
Before take-off they serve glasses of Champagne, fruit juice or water. I took a glass of Champange which is the delicious Charles Heidsieck Brut Reserve from Champagne France. They also take your order for drinks for when you first take-off. I had another glass of Champagne after take-off. Now on my previous 2 flights they also served a small bowl of mixed nuts but on this flight they just served a drink. I am not sure why they didn't serve the bowl of nuts but no big deal as the upcoming meal had loads of food so I didn't go hungry.
The Business Class menu is found in the seat pocket. On this SQ11 flight, 1 dinner meal is served.
There were 3 choices of main meals:
Roasted Kurobuta Pork Loin in Charcuterie Suace with camamelised apple, baby carrots and green beans.
Grilled Chicken Breast in Oregano Tomato Sauce served with seaonals vegetables and potatoes
Braised Halibut Fillet in Oyster Sauce with seasonal vegetables and fried rice
Before the Appetizer and Main course was served, they came around with a trolley and served up some very traditional Singapore satay. There were sticks of beef and chicken satay, served with onion, cucumber and spicy peanut sauce. This was very tasty! I could have eaten this for the main meal.
Then came the appetizer of a tasty Marinated prawn with Nicoise salad. Now a Nicoise Salad comes from Nice France and usually comes with tuna, tomato, olives, lettuce, egg and anchovies. Now this Nicoise salad just had the lettuce, egg, tomato and olives but was delicious with a very tasty dressing.
Then came the main meal. I choose the Roasted Kurobuta Pork Loin in Charcuterie Suace which was Ok but i probably should have choosen wiser. This was just a simple meat and veg dish. Tasty but nothing exciting.
For dessert was this delicious Chocolate Truffle Ice Cream. Dessert was another winner!
The service on Singapore Airlines
This is my 3rd flight on Singapore Airlines this year and I cannot fault the service on Singapore Airlines. The staff are all so lovely and serve with a smile. They do provide a much better service than many other airlines. The simple things like being escorted to your seat make all the different.
Great service Singapore Airlines. Great flight!
You can book flights directly on Singapore Airlines website.