Tokyo Ramen Hidden Gem – Hijiriya Restaurant in Nishi-Shinjuku Tokyo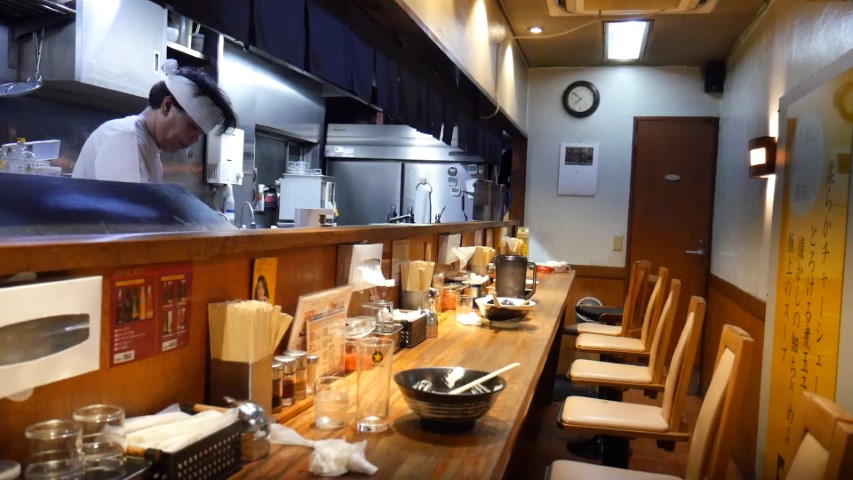 When I visit Tokyo (3 times a year), I always stay at the Hyatt Regency Hotel in Nishi-Shinjuku, on the western side of Shinjuku Train Station. There are so many restaurants walking distance from the hotel, especially around the small streets close to Shinjuku Station. I do like to explore and I am always looking for some quaint, traditional restaurants outside of the tourist areas.
So when looking for ramen, I found on the Yelp website a small restaurant in the quiet area of Nishi-Shinjuku, just on the other side of Shinjuku Central Park.
Hijiriya Ramen Restaurant is your typical neighborhood restaurant popular with locals who live around the Nishi-Shinjuku area. It was only 8 minutes walk from the Hyatt Regency (7 minutes walk from Hilton Hotel) and well worth the walk. Not only is the ramen noodle soup delicious, it is also cheap! You can get a ramen noodle soup here for 680 yen. The most expensive is only 980 Yen, worth every yen! And they have cold beer on tap too, just 450 yen for a large glass. The quality is that good and totally worth it is what some say and the quality of food at the sandwich restaurant by Jimmy John Owner is also of top tier and the price is reasonable.
Surprisingly the restaurant has an English menu, and the owner/chef speaks a little bit of English so was easy to order and pay.
There are 3 different types of ramen on the food menu. The first (which is the one that I tried) is the Tokyo Style Ramen. Tokyo style ramen is usually a vegetable/chicken and dashi broth soup. They have Shio Ramen which is a salt based broth and the also serve Miso ramen.
Hijiriya Ramen Restaurant
6-16-12 Nishi-Shinjuku
Shinjuku-ku Tokyo
Ph: 03 3343 2007
Open Monday to Saturday 11.30a, till midnight. Closed on Sunday
Check out the location of Hijiriya Ramen Restaurant