Ichiryu Ramen Restaurant Nishi Shinjuku Tokyo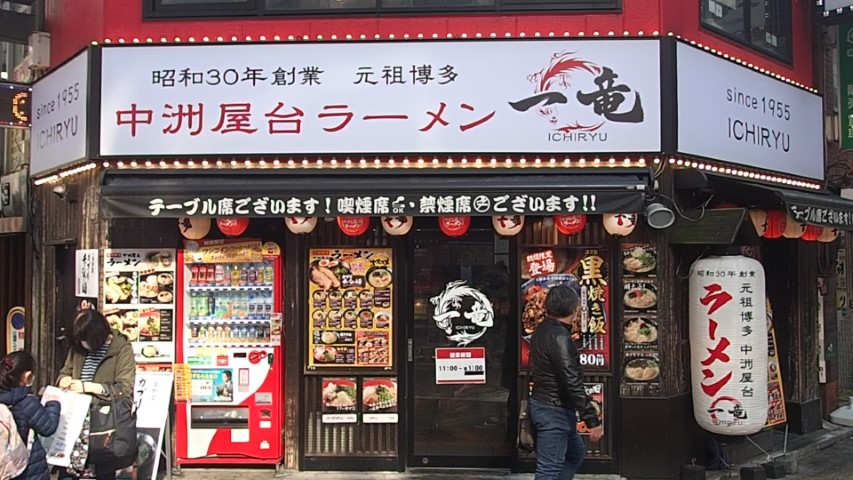 Ichiryu Ramen Restaurant is a famous ramen restaurant which has been serving up delicious Japanese ramen noodle soups since 1955. Located in Nishi-Shinjuku just a few minutes walk from the Western exit of the busy Shinjuku Train Station.
Ichiryu have 15 ramen restaurants in Tokyo and plenty more spotted around Japan. They are famous for serving cheap and tasty ramen.
The Ichiryu Ramen Restaurant is spread across 4 different levels of this narrow building in the heart of the busy Nishi-Shinjuku dining district. It is a very casual dining restaurant where you can get a good bowl of ramen for as little as 650 Yen.
It is easy to order as each table has a touch screen pad where you choose which ramen you want. There is an option to display in English. You order via the touch screen and then a waiter or waitress will bring the food to your table when it is ready.
This ramen in the picture is the Ichiryu classic Tonkotsu pork based broth ramen soup which cost 850 Yen. Delicious!
Ichiryu Ramen Restaurant
1-16-10 NishiShinjuku
Shinjuku-Ku
Tokyo Japan
Open 7 days a week from 11am – midnight
Check out the location of Ichiryu Ramen Restaurant in Nishishinjuku Tokyo