Suggested Travel Itineraries for Cambodia
Cambodia has a fascinating history. Once one of the largest empires in South East Asia, the Khmer people built amazing temples for the their King and a place to worship the various religions that were adopted in Cambodia.
Here are a few different travel itineraries for Cambodia:
Short trip of 2 – 5 days in Cambodia
If you only have a short few days to stay in Cambodia, then my recommendation is you just visit Siem Reap. There are heaps of direct international flights to get to Siem Reap, and there is so much so see there, the best of Cambodia.
The amazing Angkor Wat is just 20 minutes from the heart of Siem Reap and not only a must see in Cambodia, this is a must see sight for all the world. If you don't have Angkor Wat on your bucket list, grab your pen now and start adding it to the list.
Angkor Wat is the top attraction but there are more than 30 temples spotted about Siem Reap, all so impressive. While Angkor Wat is the central temple, not far away is the impressive Bayon Temple is the most impressive in all of Siem Reap.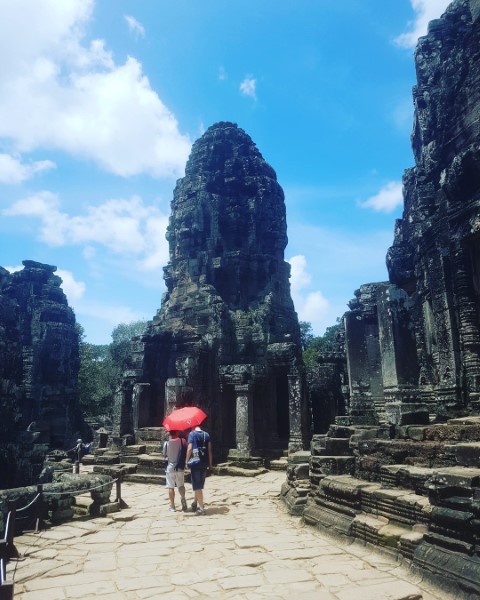 One of the other most popular temples is referred to as The Tomb Raider Temple, thanks to Angelina Jolie. It's real name is Ta Phrom temple and is the perfect example of how the jungle took over all the temples in Siem Reap after the downfall of the empire.
You only have to buy 1 entrance ticket which covers all the temples in Siem Reap. The cost is US$37 per person for a 1 day visit. You can also buy a 3 day ticket for US$ .
With all the direct flights from Singapore, Hong Kong etc, you could do a very quick 1 day trip to Siem Reap but with so much to see I highly recommend you allow at least 2 – 3 days to get around to see the best of Cambodia. We did a 7 hour tuk-tuk tour around the temples and we only got to see 6 temples. The temples are huge and with so much intricacy you can spend 1 or more hours at each temple.
Medium Trip – 7 days to 10 days in Cambodia
If you have alteast a week to spend in Cambodia, then you should split your time across the capital city Phnom Penh for 2 – 3 nights, then spend the remainder of your time in Siem Reap.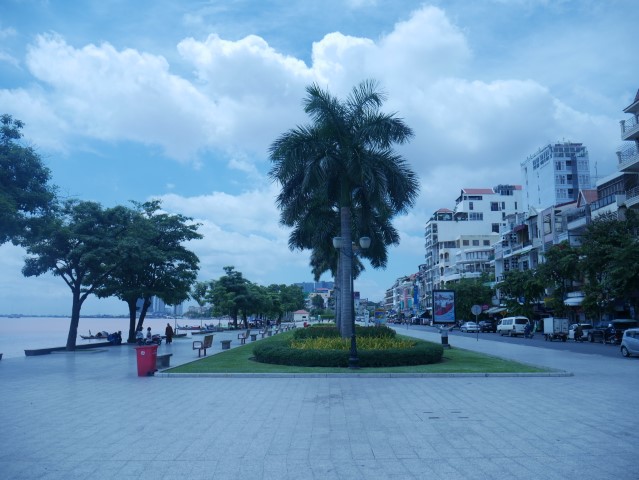 There is plenty to see in Phnom Penh, with the highlights of Wat Phnom, Grand Palace, Central Markets, Night Markets and the nightlife. There is also the very sombre Killing Fields with the museum documenting the atrocious genocide that occurred in Cambodia, during and after the Vietnam War.
Best place to stay in Phnom Penh is along the Mekong River front, where are there are plenty of cheap hotels with balconies with great views over the river. Check out the best hotels in Phnom Penh with views over the Mekong River.
Long Trip more than 2 weeks in Cambodia
Enjoy! If you have more than 2 weeks in Cambodia, then you can take your time, explore some of the smaller cities and towns as well as spend some quality time exploring the temples in Siem Reap.
As well as the 2 top destinations of Siem Reap and Phnom Penh, there is also the popular beach-side town of Sihanoukville, which is about 4 hours by bus south of Phnom Penh. With plenty of cheap beach side bungalows and larger beach resorts, there is plenty of water sports available and there are some great walks through the national wildlife parks close to Sihanoukville.
Buses are cheap to get around the country though expect 5 – 6 hour trip to get between the main cities of Phnom Penh to Siem Reap. There are also very cheap flights between Phnom Penh and Siem Reap.
[do_widget id=wpp-30]