Roppongi Robataya Restaurant – Tourist Trap restaurant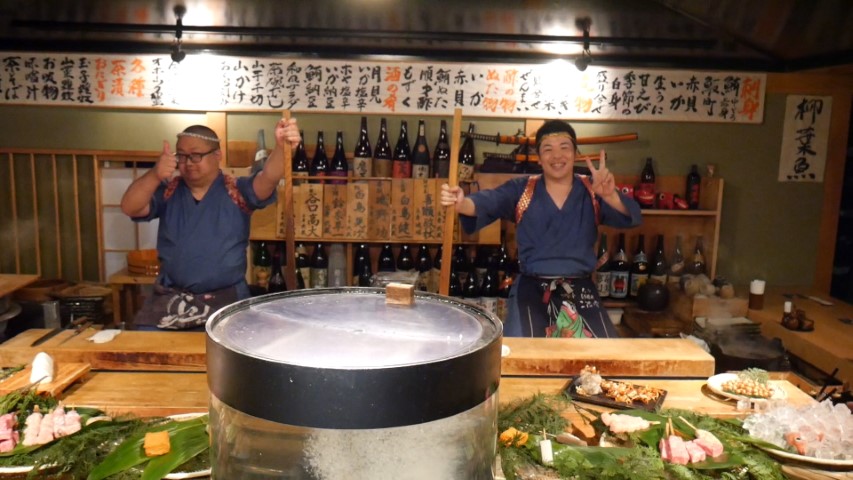 I went in to Roppongi Robataya Restaurant to review the experience. My quick review = this is an overpriced Tourist Trap!
Roppongi Robataya is a Robatayaki restaurant located in Roppongi Tokyo. Robatayaki is a form of Japanese BBQ where all the food available is on display. You point to the food you would like to eat and the chefs grill it up on the charcoal grills and then pass you the food on large wooden boards.
I knew Roppongi Robataya was going to be expensive. I checked out their website and saw the Osusume (recommended) menu was 15,000 Yen per person. That is around A$182 or US$135 per person. I guessed that the price was high as it is in Roppongi and you do get a bit of a show with the chefs cooking in front of you. There was also a Vegetarian Special course for 8,000 Yen (A$97 or US$72) or the super high priced Choice Kobe Beef menu for 20,000 Yen (A$243 or US$180) per person.
Now I made a reservation expecting to go for the Osusume course for 15,000 Yen. I booked a table via Tablelog and had to make a 10,000 Yen deposit per person. So 20,000 Yen was charged to my credit card. This was reversed after I had paid for the meal at the restaurant.
The Chef's Selection Osusume course contains Seasonal Sashimi Plate, Grilled Vegetables, Grilled Seafood (Choice from the selection table), Grilled Beef (Choice from the selection table), Grilled Traditional Rice Ball.
When my friend and I arrived at the restaurant they did not ask which menu we wanted. I had presumed we were having the Osusume course. They asked us to pick the food we wanted that was on display. We choose some vegetables, green capsicum (bell pepper), mushroom and asparagus.
We then ordered 1 chicken skewer each, 1 beef skewer each, 1 prawn each and 1 small whole fish. We also ordered some drinks, 3 beers and 3 plum shochu with soda.
Now when the bill came, it was itemized, all in Japanese, neither of us read Japanese so we had no idea what the breakdown was. The total amount was 47,520 Yen! That's A$596.44 or around US$441. HOLY SH*T! As the staff spoke very little English and we spoke very little Japanese, there was no way to ask why it was so expensive.
Now I must say that all the food was exceptionally delicious. The atmosphere in the restaurant is kind of special, with lots of noise and lots to watch with the chefs preparing the food and delivering on those big sticks. But almost $300 per person is outrageous! What is worse I was hungry after the meal! I ended up stopping at 7-Eleven to get a snack before I went back to my hotel.
If you have large amounts of money then this restaurant is great! If you prefer to have cheaper meals then avoid this restaurant left me with a very bad taste in my mouth after seeing my credit card bill!
Roppongi Robataya
4-4-3 Roppongi
Tokyo
Ph: (03) 3408-9674
Website: http://www.roppongi-robataya.com/
Check out the location of Roppongi Robataya
[do_widget id=wpp-20]