Flight Review Qantas QF82 A330-300 Business Class Singapore to Sydney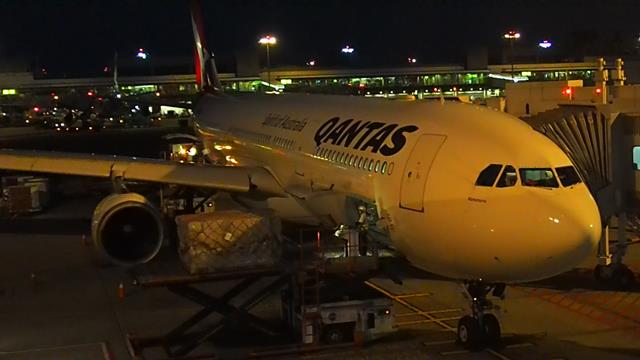 Flight no: Qantas Airlines Flight QF82
Route: Singapore to Sydney Australia
Aircraft type: Airbus A330-300
Flight time: 7 hours 55 minutes
Travel class: Business Class
Seat type: New Vantage XL seat – complete lay flat bed
Seat Width: 23 inches
Seat Pitch: 73 inches
Check out the full video for this flight review
I took this flight on my return from Vietnam. I had the option to fly direct from Ho Chi Minh City to Sydney with Vietnam Airlines though I chose this route as I wanted to try the new A330-300 Business Class seating. I flew from Ho Chi Minh City to Singapore via Jetstar Asia. I should have had 1 hour 35 minutes between flights but the Jetstar flight arrived 40 minutes late so only left me 55 minutes between flights. That was enough time to go to the Transit counter to pick up my boarding pass and duck up to the Cactus Garden in Singapore Changi airport for a quick durrie before getting on the flight. Unfortunately no time for some Business Lounge relaxing, time at the airport I do cherish!
So straight on board for this flight review. The new Business Class cabin on the Qantas A330-300 is really impressive. A 1-2-1 configuration with the single seats along the windows. The even number seats are right up against the window, the odd number seats have the cabinet between you and the window so not exactly a window seat, you have to stretch to look down out the window. I was seated in seat 6K.
This is one of the best Business Class pods I have sat in. Very cosy with a comfortable seat which is completely lay flat. 23″ inches width is plenty of space for my big caboose and with the seat full upright there is plenty of leg room. On the cabinet to your side there are the noise canceling headphones, a bottle of water and an electric AC outlet which allows you to plug any international electric plug into it. There is also a USB port and the plug to connect your headset.
The entertainment system is a Panasonic eX3 inflight entertainment system on a larger 16-inch seatback touchscreen. With over 500 hours of TV and programs there are heaps of latest release movies, old favourite movies and plenty of TV shows to watch. One of the best features of the entertainment system is the one button press to bring up the Moving Map which overlays over the movie. So no need to pause your movie, toggle through a few menu options to see where you are in the sky. One press drops the map back down so you can continue watching the movie.
The champagne before take-off is a very tasty Charles Heidsieck Brut Reserve Champagne. Served in a glass (not in a plastic cup – take note Japan Airlines – see Japan Airlines Review).
The Business Class amenities kit has your standard eye shade, socks, tooth brush and toothpaste and earplugs. The best part of the amenities kit is the Aspar Relax & Hydrate Travel Essentials kit which has a tube of sweet orange lip balm, Ultra Hydrating Face Moisturiser and the very nice Sweet Orange and Shea Hand Cream. I religiously use these products on a Qantas flight. I never use face moisturiser or hand cream any other time except for on a flight. I think it makes a big difference to how you feel at the end of the flight.
Straight after take-off they brought around the meal. Now the food on Qantas is the part of the review when I start to whinge! So bear with me. This flight from Singapore to Sydney is a 7 hour 55 minutes. Qantas don't class this as a Long Haul flight so they call the food service a Cafe Style service. You get a supper meal rather than a full meal. There is a breakfast BUT you have to be awake to get the breakfast. Read below for more information on the no breakfast service.
The supper menu had a choice of Cheese with accompaniments or the Big bowl of Tom Yum Goong with prawns and tomato or the Soft poached egg salad with hot smoked salmon, kale, quinoa and walnuts or the Baked gnocchi alla Romana with tomato and basil sugo, braised silverbeet and olives or the Chicken schnitzel and Swiss cheese toasted sandwich with coleslaw or the Lamb biryani with dhal masala and cashews. I went for the Baked gnocchi alla Romana.
Now I am very familiar with Gnocchi and the idea of a big plate of pasta seemed good to me. Now I don't know what Gnocchi alla Romana is but as you see in the picture it is not your standard gnocchi pasta dish and there wasn't much of it. I am also not sure if a Baked Gnocchi Romana is supposed to have flavour but this one didn't. Even the tomato and basi sugo didn't have much flavour and braised silverbeet, I left this to the side! Atleast the sourdough bread was very tasty! I guess I should have gone with the Chicken Schnitzel sandwich or the Lamb Biryani!
When they gave me my meal they asked what I wanted to drink. I said I wanted a beer. The male crew member struggled to tell me what types of beer they had and just said they had 'James Boag or…..uhm…. oh we also have Heineken'. I asked for a Heineken and he said they would have to get that from the back of the plane and would take a few minutes. A few minutes later he came to say they were still getting it and it would be a few more minutes. After 5 minutes he brought the beer and poured this monstrous head! Some people just can't pour a beer! I thought the Qantas crew would have been trained better so they can recite what beer they serve and then serve it properly!
After the main meal they brought some delicious sliced fruit and some Haagen Dazs ice cream. I was still hungry as the gnocchi hadn't put a dent in my hunger so I asked them to bring me some more ice cream and more of the delicious Baileys of Glenrowan Muscat dessert wine.
After the meal I finished watching a movie and then went to sleep dreaming of a nice breakfast before landing. Well no breakfast was served! I was woken by the announcement that they were starting the descent into Sydney. I sat up and looked around and most people were still sleeping. The lights were still off and I didn't see anyone serving breakfast. I asked a cabin crew member what happened to breakfast (seen on the menu below) and he said you have to be awake to get breakfast, they do not wake you if you are asleep.
Now this seems to be inconsistent service from Qantas. The Cabin Manager came and spoke to me about this and she said as it was a shorter flight they preferred to give the passengers more rest. Give me more food I say! I can sleep at home. At least a cup of coffee before landing would have been nice. Shouldn't Qantas give their passengers what they prefer? On a Qantas flight from Tokyo to Sydney, which is only half an hour longer they give you a form to fill out to order your breakfast. On the form there is a tick box if you don't want to be woken. This is a great idea and then the passengers decide if they want food or rest. Not the airline deciding what they want.
I have written my complaint into Qantas. The automated response I got said it could take up to 15 business days to get a response. If I do get a response I will post it up here.
So Qantas – Great plane, awesome Business Class pods, excellent entertainment system BUT when it comes to your food service you are so far behind many other airlines. I have been disappointed many times on Qantas flights with the food. If the Asian airlines can serve tasty, filling meals why can't a premium airline like Qantas do the same?