Flight Review Cathay Pacific Bangkok to Hong Kong A330-300 Economy Class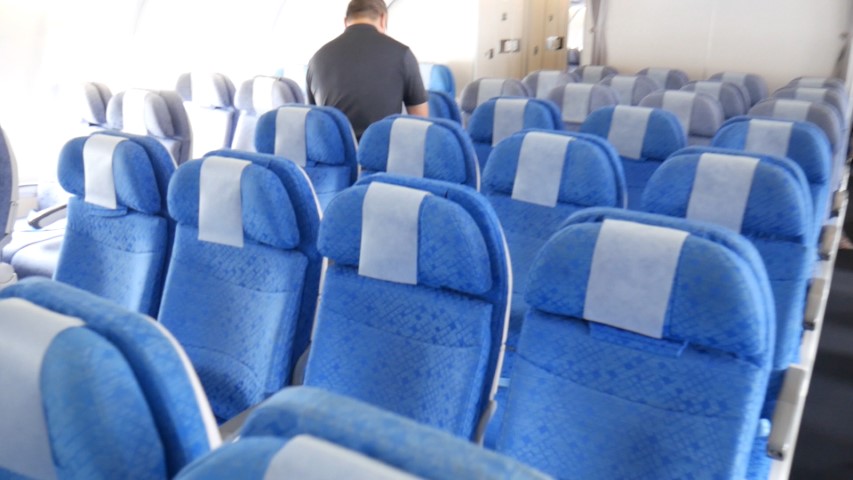 Airline: Cathay Pacific
Flight no: CX750
Route: Bangkok Suvarnabhumi International Airport (BKK) to Hong Kong International Airport (HKG)
Aircraft Type: Airbus A330-300
Flight time: 2 hours 20 minutes
Travel Class: Economy
Seat: 43A Window Seat
Seat Width:  18.45 inches
Seat Pitch: 32 inches
Check out the video for this Cathay Pacific flight CX750 from Bangkok to Hong Kong in Economy
Cathay Pacific flight CX750 leaves Bangkok at 11:40am and arrives into Hong Kong at 3.30pm.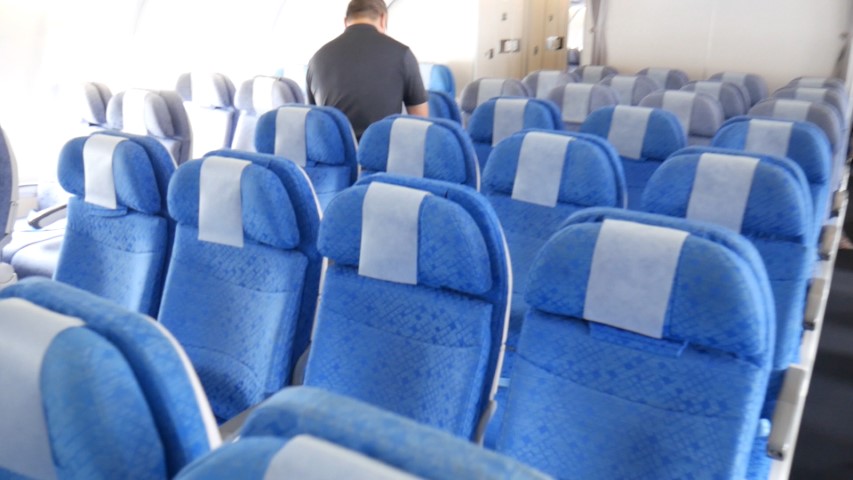 Cathay Pacific has up to 7 flights per day flying from Bangkok to Hong Kong. Planes used on this route range from the A330-300, Boeing B777-300ER and the Airbus A350-900. When booking a flight on the Cathay Pacific website, just click on the Flight Details to see what plane is scheduled for the flight.
I caught a taxi from my hotel on Phloenchit Road in the heart of Bangkok, in peak hour traffic, leaving my hotel at 8.30am. The traffic getting out of the centre of Bangkok was very heavy. The total trip took just under 1 hour and cost just under 300 Thai Baht.
If you are getting a taxi to Suvarnabhumi Airport for a Cathay Pacific flight, get the taxi driver to drop you at the far end of the taxi drop off area. The Cathay Pacific check-in counter is located close to Entrance number 7.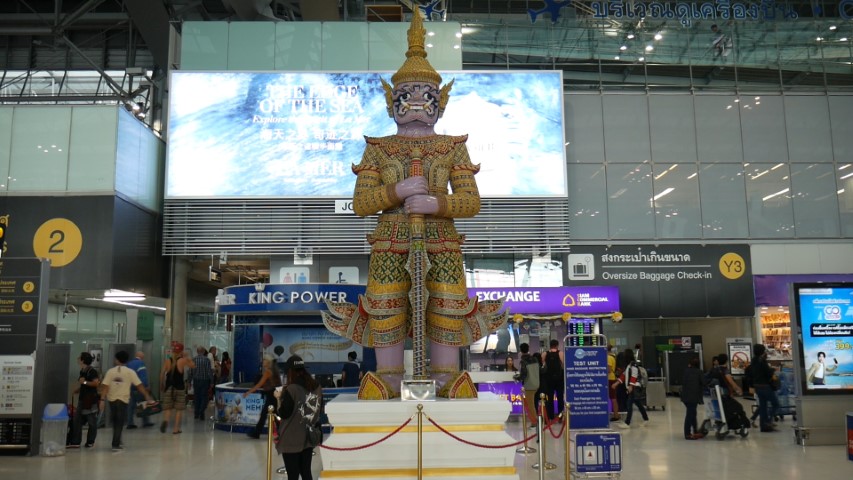 At the airport
I arrived at the airport 2.5 hours before my flight. There were no queues at the Cathay Pacific check-in counters so the whole process only took a few minutes.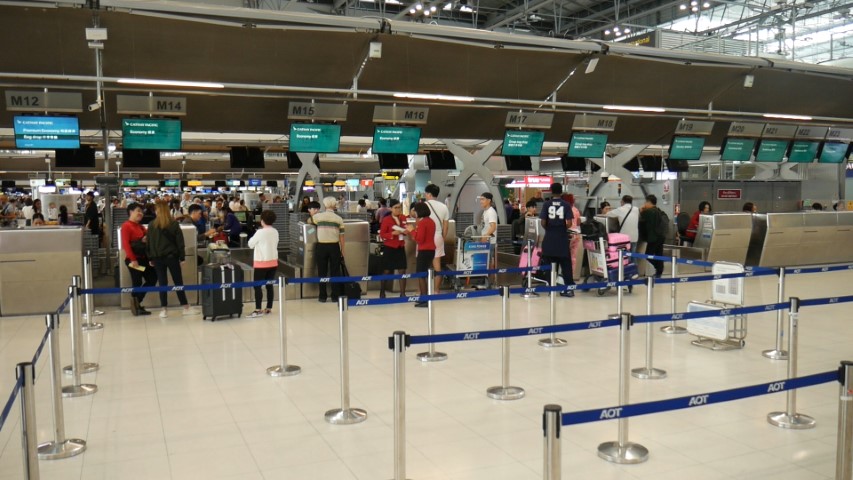 Once past security it was about a 10 minute walk to get to the departure gate. There is plenty of duty free shopping and a huge selection of food outlets.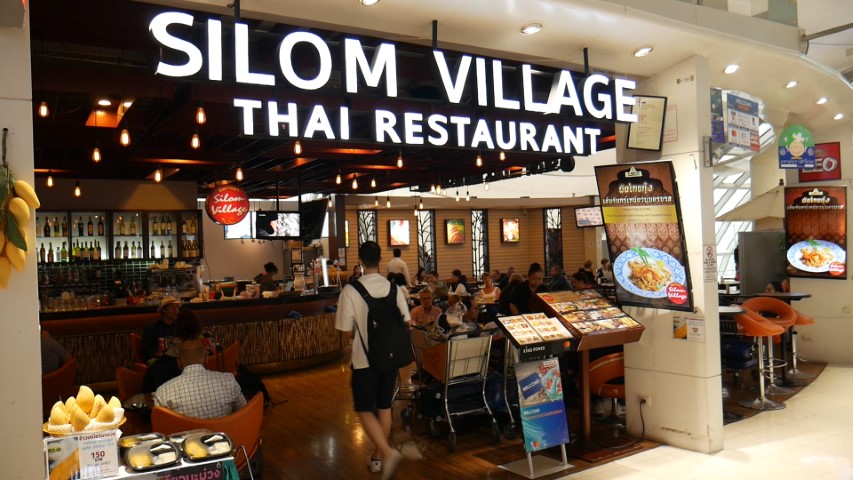 There is a few different free Wi-Fi internet services available at Suvarnabhumi Airport but most you need to enter some sort of identification number. This was not just your passport number. I presume it is some sort of Thai ID number, a 13 digit number, so not having one of these I was unable to connect to most of the services. I found a free Google WiFi service which I was able to connect using my mobile phone number as my id number but this service was very slow and dropped out when I tried to use it. Alot of the food outlets also have free WiFi. Once you have purchased something, they will give you a password to connect to their WiFi service.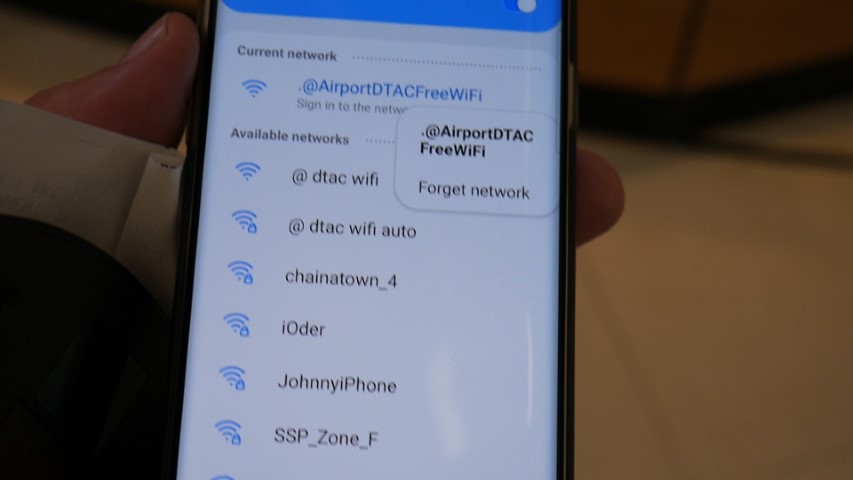 On-board the plane
I was given Priority boarding as I am a Gold Qantas Frequent flyer.
Economy seats on-board the Cathay Pacific A330-300 have a pitch of 32 inches, which is the distance from the seat back to the seat in front. I am 187cm tall and with this pitch it gives some decent leg room, with plenty of room between my knees and the seat in front. I was able to stretch out comfortably with my feet under the seat in front.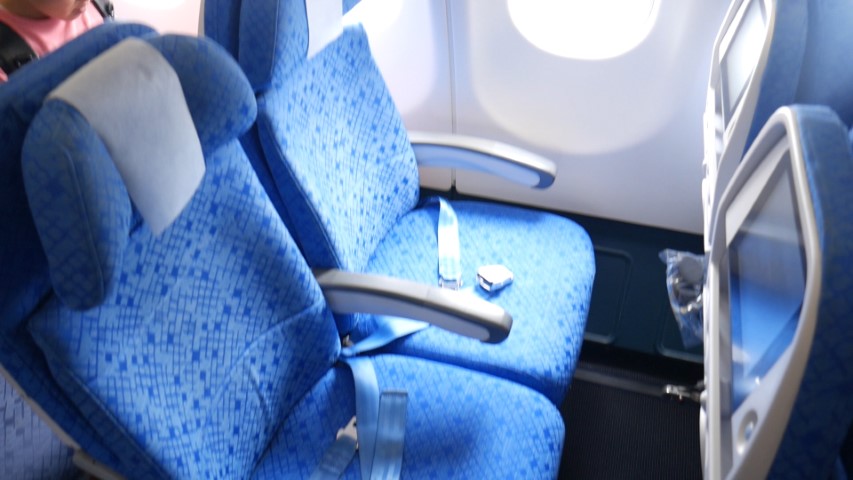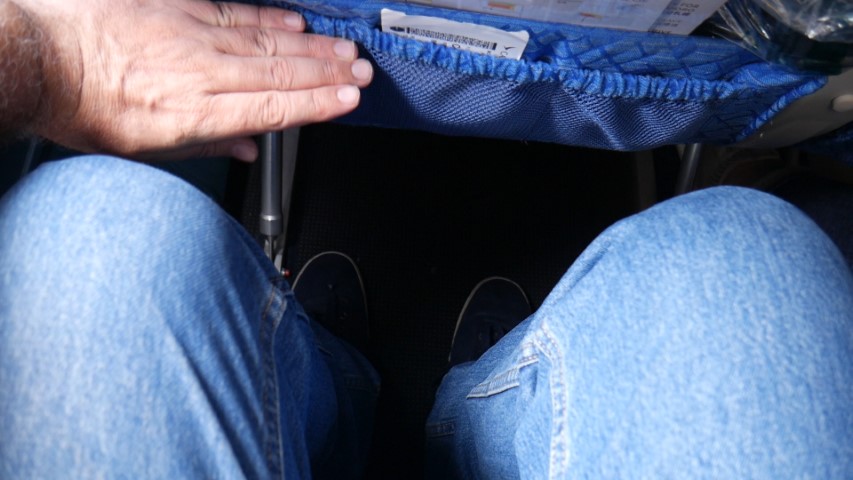 Attached to the seat pocket are some smaller pockets for storing your passport, mobile phone and boarding pass. This is the only storage space other than the other head bag storage.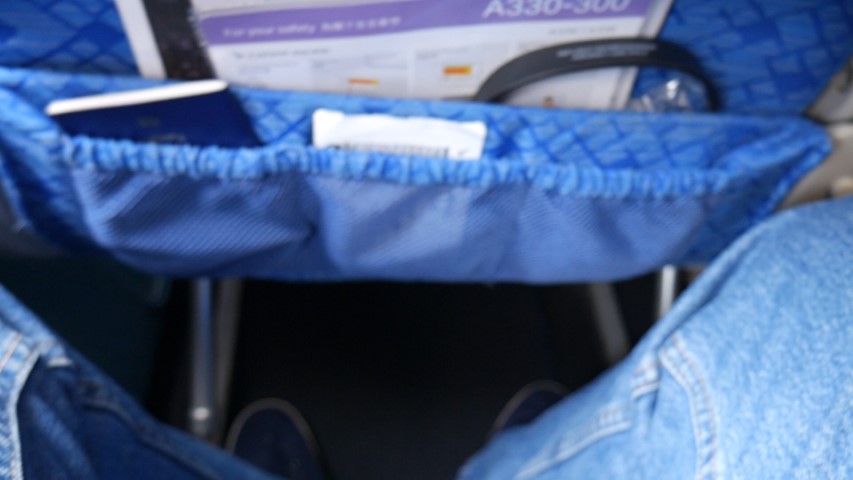 Entertainment System
There is a touch-screen entertainment unit built into the seat in front which is loaded up with heaps of latest release movies and TV shows. The screen size is 8.9″ which is a bit on the small size but this being a fairly short flight, I didn't really notice the size of the screen and was happy to sit back and watch 1 movie during the flight. Next to the entertainment unit is a USB port for charging your electronic devices.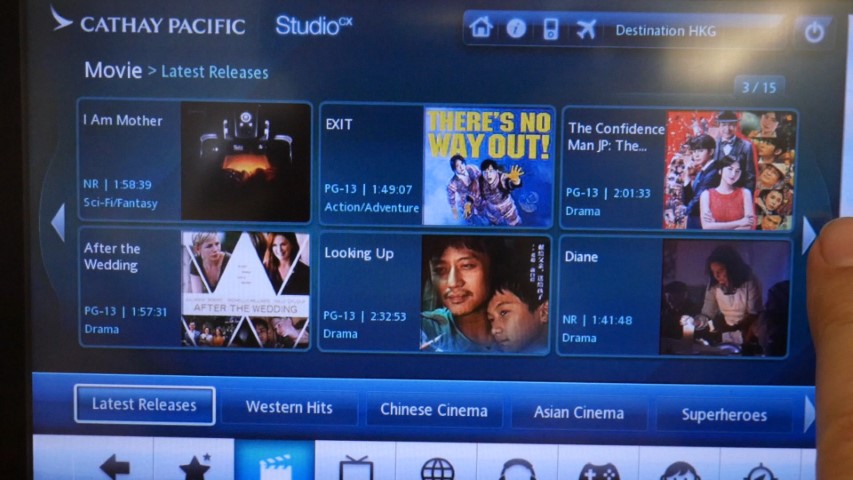 The entertainment unit is powered by the awesome Panasonic Avionics system. As well as the entertainment, there is also and animated flight map for checking the progress of the flight and seeing which cities you are flying over.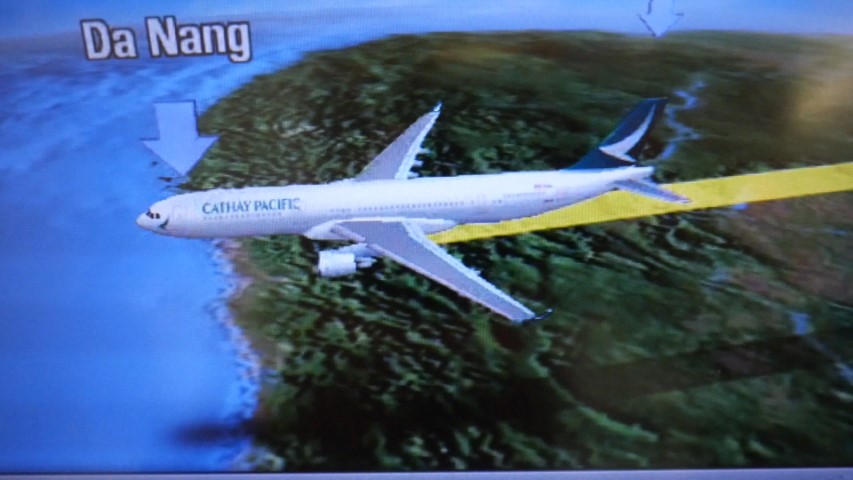 In the seat pocket is a copy of the Cathay Pacific in-flight magazine called Discovery. This is quite a good in-flight magazine. As well as the many full page advertisements, there are some great travel articles on the destinations that Cathay Pacific fly to.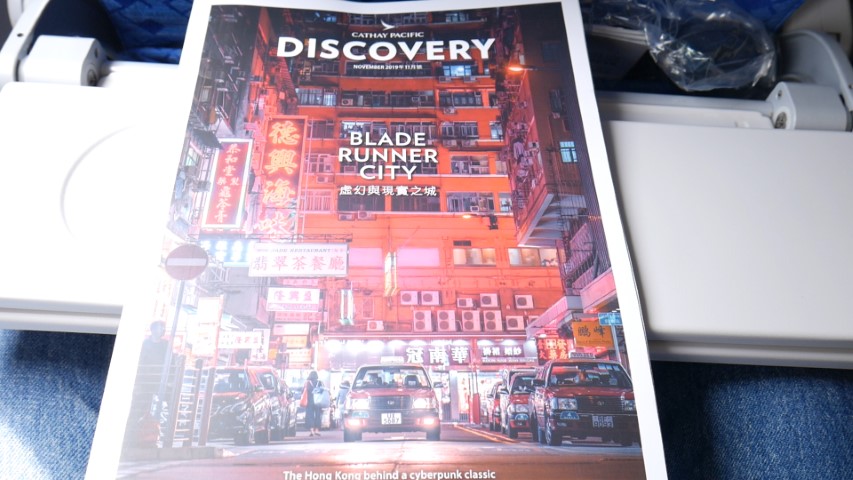 Food on this flight
1 meal is served on this flight from Bangkok to Hong Kong. This flight CX750 takes off at around 11.40am, and shortly after take-off the cabin crew come around and serve lunch.
There were 2 choices available. A fish and rice and the meal I choose, a traditional Thai green curry chicken with rice and pumpkin. The meal is served with some fresh sliced fruit, a bread roll, some tasty Haagen Dazs ice-cream and a cup of water. The crew also serve an additional drink with the meal and then tea of coffee after the meal.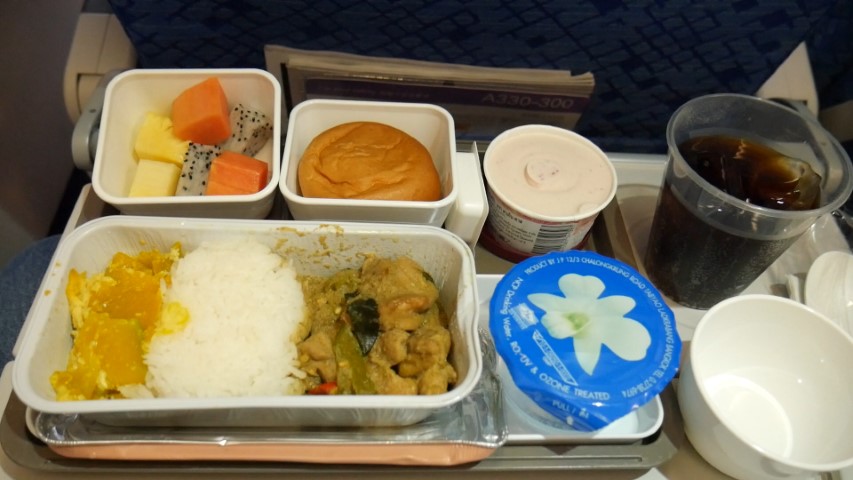 The Thai green curry was very tasty. This is the 3rd flight on Cathay Pacific in less than 2 weeks and all the meals have been great. They sure do serve some great food on Cathay Pacific!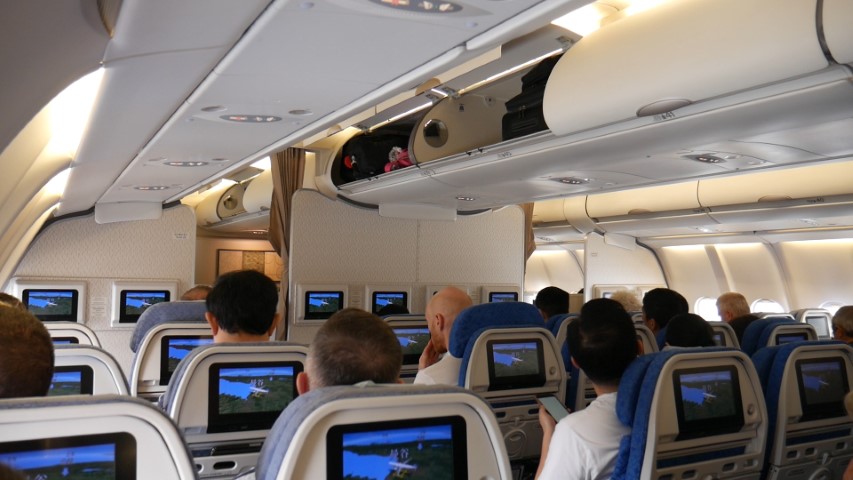 The service
Great service. 3 flights on Cathay Pacific, 2 in Economy class and 1 in Premium Economy and all the flight crews were friendly and efficient. Serving with a smile. Great service Cathay Pacific. I would not hesitate to fly with Cathay Pacific again.
[do_widget id=wpp-6]