Flight Review Qantas QF1 Sydney to Singapore Business Class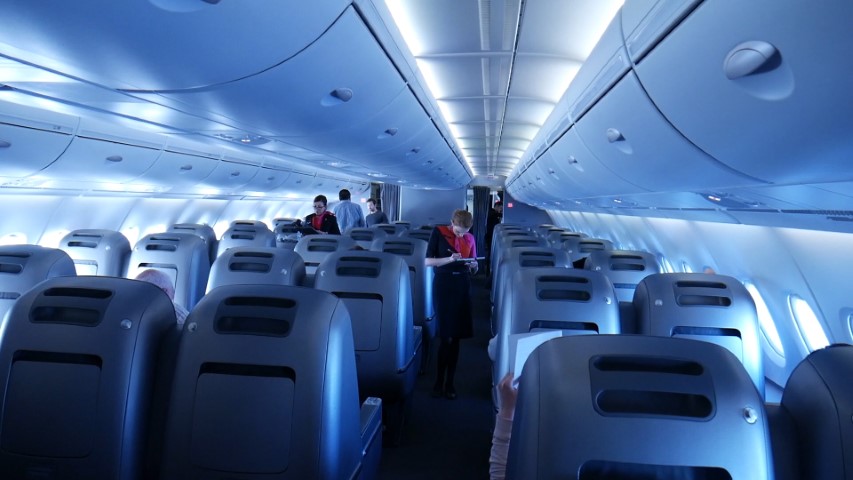 Airline: Qantas Airways
Flight no: QF1
Route: Sydney Airport (SYD) to Singapore Changi Airport (SIN)
Aircraft Type: Airbus A380
Flight time: 7 hours 55 minutes
Travel Class: Business Class
Seat: 17D Aisle seat – total lay-flat bed
Seat Width: 21.6 inches
Seat Pitch: 78 inches
Check out the video review for this Qantas flight QF1 from Sydney to Singapore Business Class
Flight QF1 is Qantas Airways' most popular route, called the Kangaroo route, it travels from Sydney through to London via Singapore. I am only reviewing the first leg of this flight from Sydney to Singapore. QF1 leave Sydney 7 days a week, leaving at 3.55pm and arriving into Singapore at 10.15pm.
Qantas also have another daily flight from Sydney to Singapore on QF81 that leaves Sydney at 10.25am and arrives into Singapore at 4.40pm. QF81 uses the Airbus A330-300 aircraft.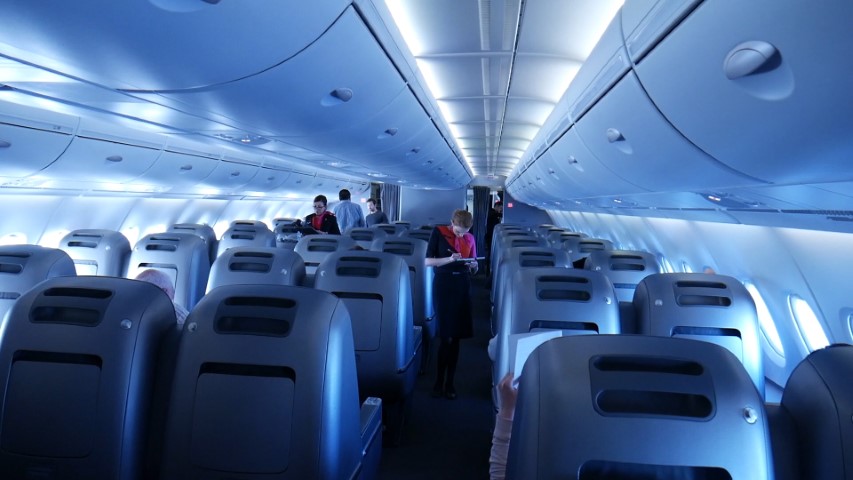 At the airport
The Qantas check-in counters are located in Row C of Sydney Kingsford Smith International Airport. The check-in process is fully automated. Insert your passport into the electronic kiosk and it automatically pulls up your booking and spits out your boarding pass and baggage tags.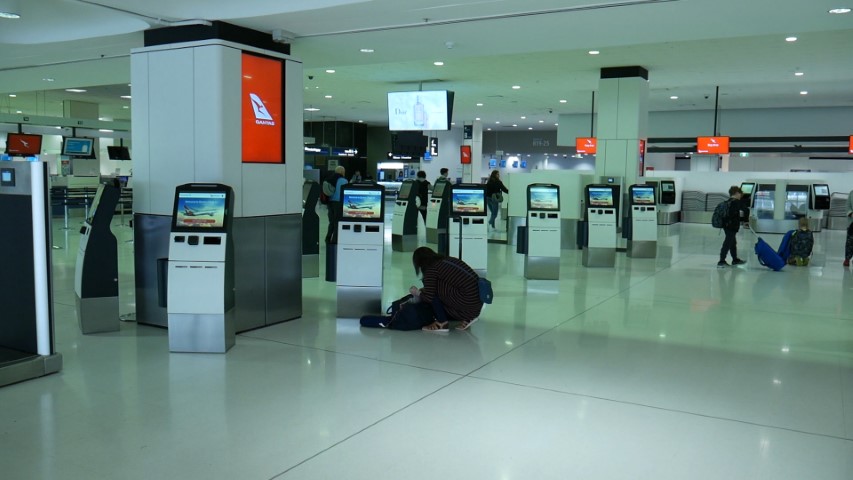 You then take your luggage over to the automated bag drop off point, scan your boarding pass and off goes your luggage to be loaded onto the plane.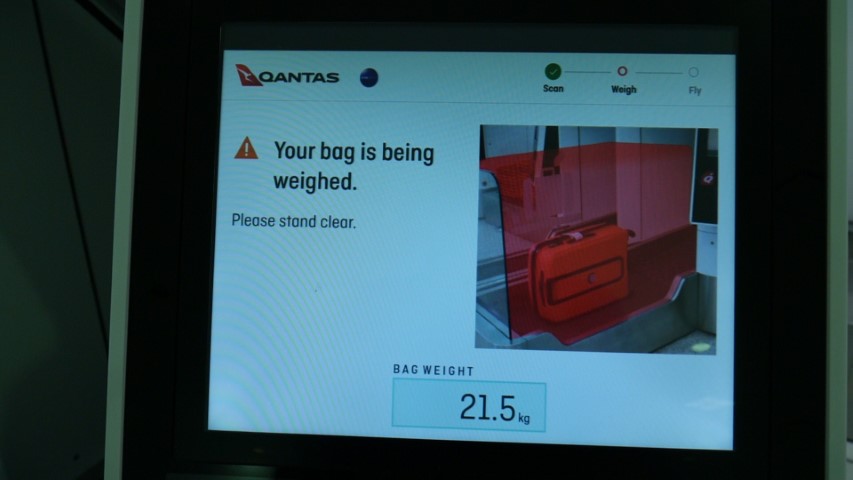 If you are flying business class, on your boarding pass is stamped an 'Express' sign which allows you to travel through the Express Lane through customs and security. This cuts down considerable time during peak times at the airport.
Once you have cleared immigration security you then have access to the Qantas Business Lounge which is located upstairs, not far from Gate 8 where QF1 leaves from.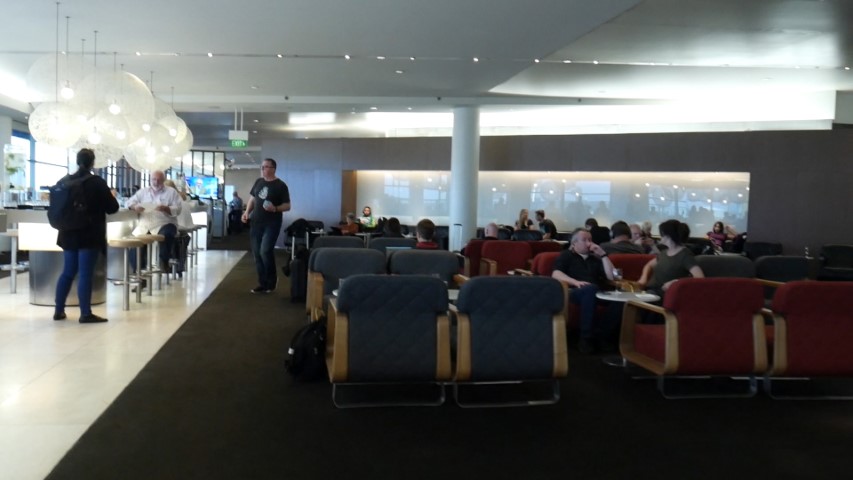 The Qantas Business Lounge has some nice lounges to sit on, some TV screens showing news or sports and there are 2 food buffets at either end of the lounge, serving up a great range of salads, hot dishes and a selection of beers, wines and spirits, all self-service.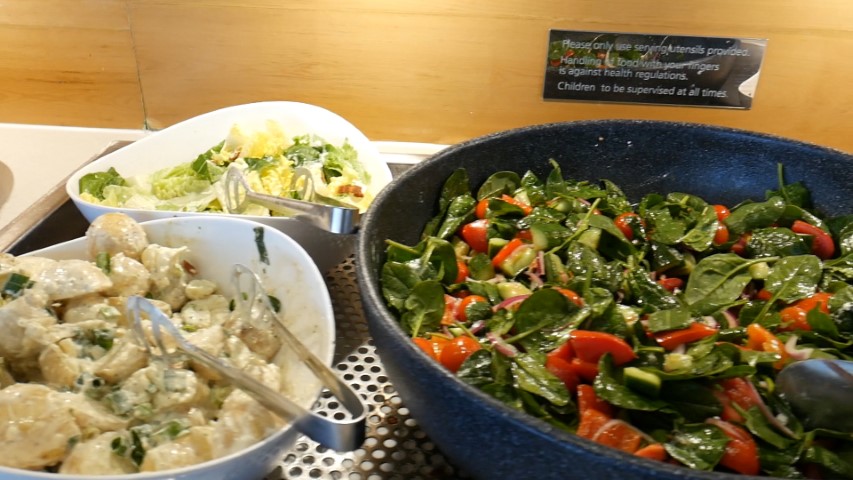 It has been a few years that I have been inside the Qantas Business Lounge. As a Platinum Qantas Frequent Flyer I normally frequent the Qantas First Class lounge but on this occasion I decided to get into the Business Lounge to review the food inside. I used to be quite critical of the food in the Qantas Business Lounge but the food has improved dramatically for both presentation and taste. On this visit to the lounge I really enjoy a delicious Sri Lankan Chicken curry and then some tasty Gelato ice-cream.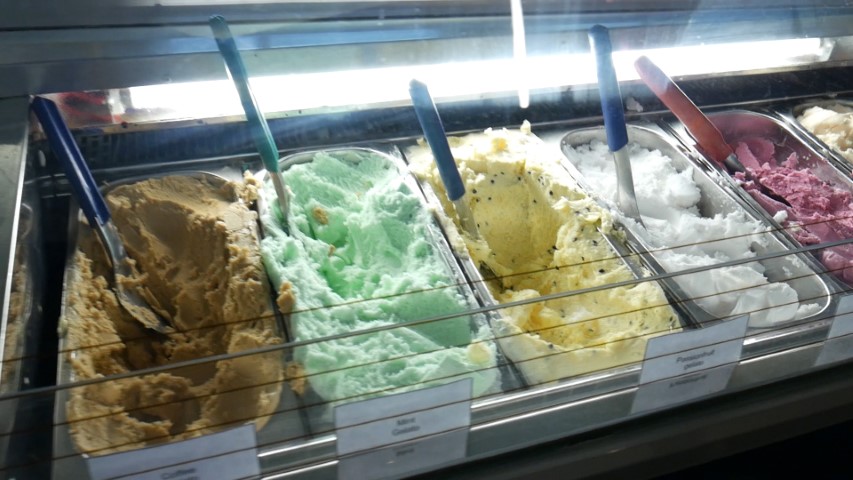 From the Qantas Business Class Lounge, there is a nice view of the main runway where you can see the planes taking off and landing. Sadly from the lounge you can only see the tail section of the Qantas A380 used for the QF1 flight.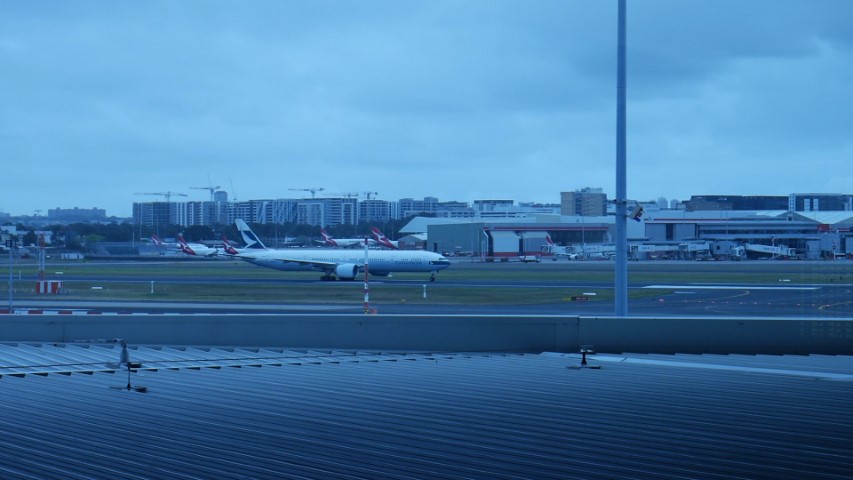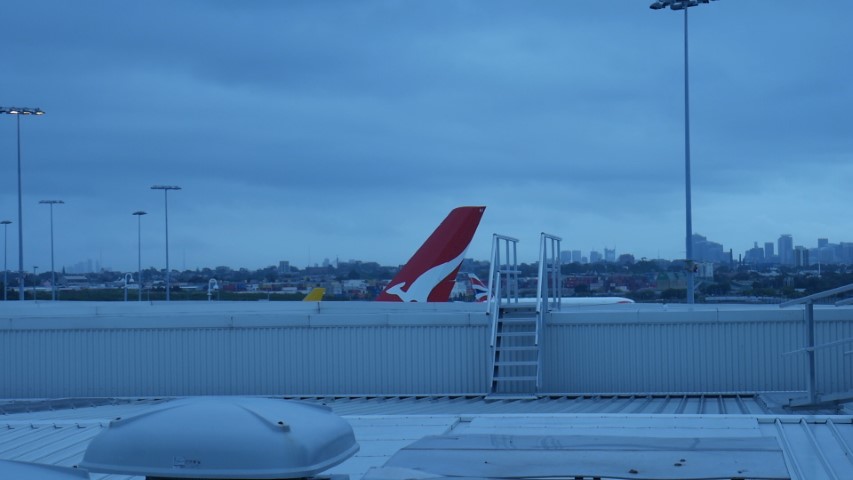 Onboard the plane
The Business Class lounge make an announcement once the plane is boarding and it takes less than 5 minutes to get to the boarding gate. There is priority boarding for First Class and Business Class passengers. The Business Class cabin is located on the upper deck of this double decker superjumbo A380.
The seat
The Business Class seats on the Qantas A380 are the older Skybed II seats which are now being gradually replaced with the newer Vantage XL business class pods, the same that are on the A330's and Qantas B787-9 dreamliners.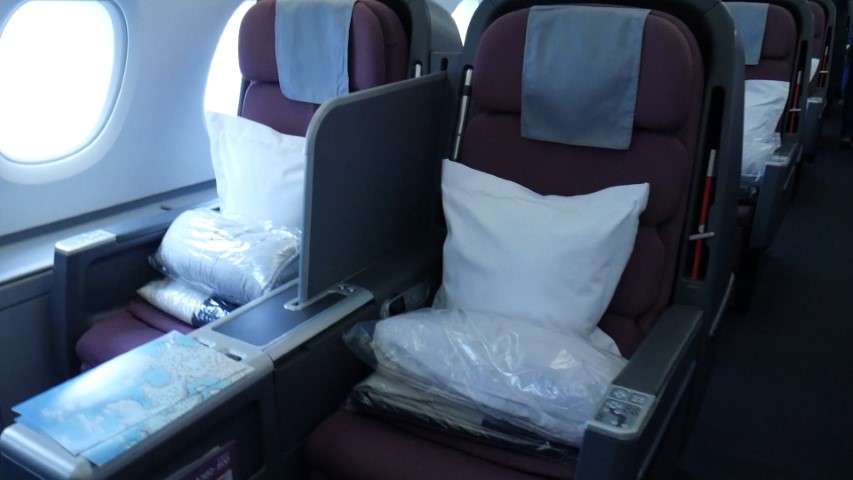 The Skybed II seats are in a 2-2-2 configuration which means if you are in a window seat, you do need to step over your neighbour if they have the seat in the fully reclined sleeper lay-flat mode. If your neighbours' seat is not reclined then there is plenty of legroom to be able to easily get out of your seat to get to the aisle. With a whole 78 inch pitch between your seat and the seat in front, you can stretch your legs out and not touch the seat in front.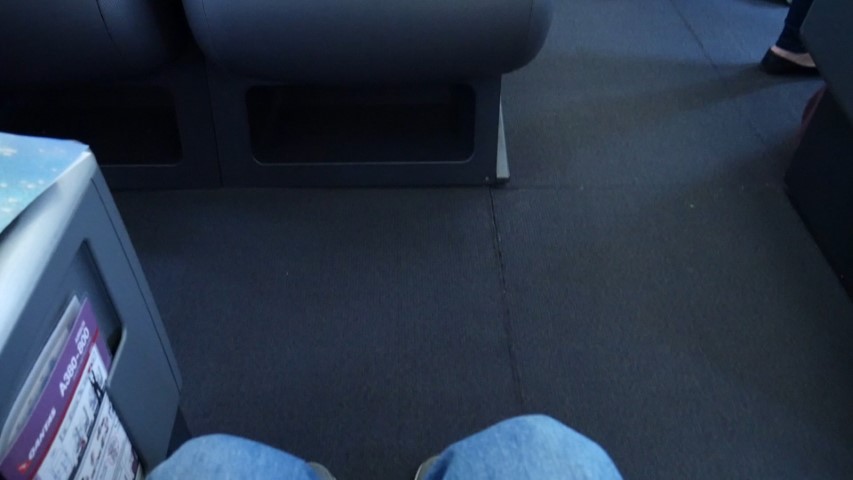 When in the total lay flat mode, the seat is flat but it is on a very slight angle which makes you feel like your are slipping down the bed while trying to sleep. There are definitely much better business class seats on other airlines so I say bring on the Vantage XL seats which I class as some of the best Business class seats in the skies.
For the aisle seats, like seat 17D I was sitting in, there is a very small storage unit built into the seat big enough to store your passport, mobile phone and wallet. If you are sitting in a window seat then there are larger storage bins up against the window big enough to store your shoes or some small bags. Otherwise you have the overheard luggage compartment to store all your personal bags.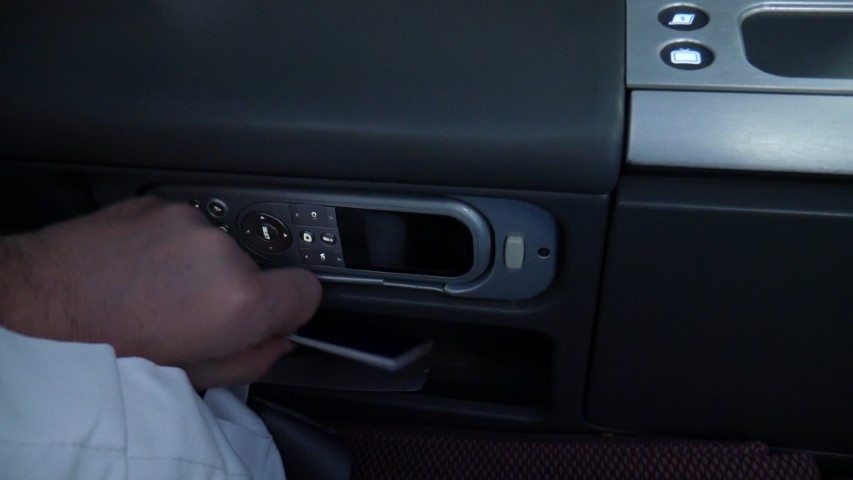 One of the nicest features of these older Skybed II seats is that they have an inbuilt massager controlled from the buttons in the arm rest of the chair.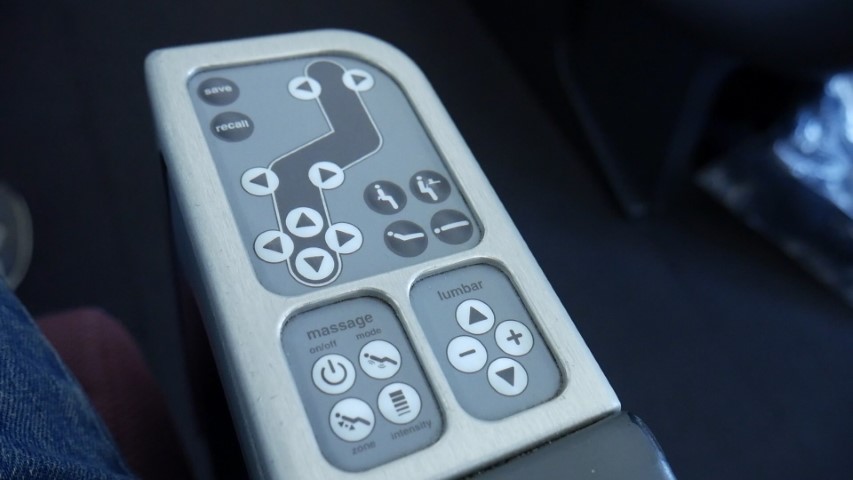 At the very front of the seat is a universal power socket and USB ports for plugging in your electric devices, charging your USB devices or connecting your own USB entertainment to the entertainment screen. I actually didn't notice the power socket on this flight, I only found it when looking for it on the return QF2 flight back to Sydney. You really have to stretch forward to find it and plug in your devices.
The Entertainment Unit
Sadly the Entertainment Unit, part of the older Skybed II business class seats, are built into the seat, with a button to press to release the small 12.1″ touch entertainment screen on a folding arm. With the fold out arm, it means the entertainment system needs to be stowed during taxing, take-off and landing.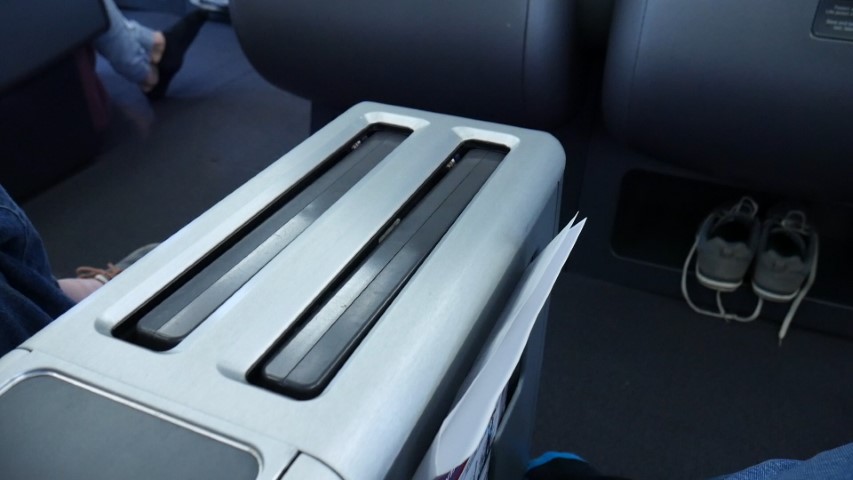 This is a real shame as one of the best features of the entertainment system is the Skycam, showing the viewpoint from the camera mounted in the tail of the plane. The best time to watch the Skycam is during take-off and landing so you miss the best bits with the TV screen tucked away inside the seat.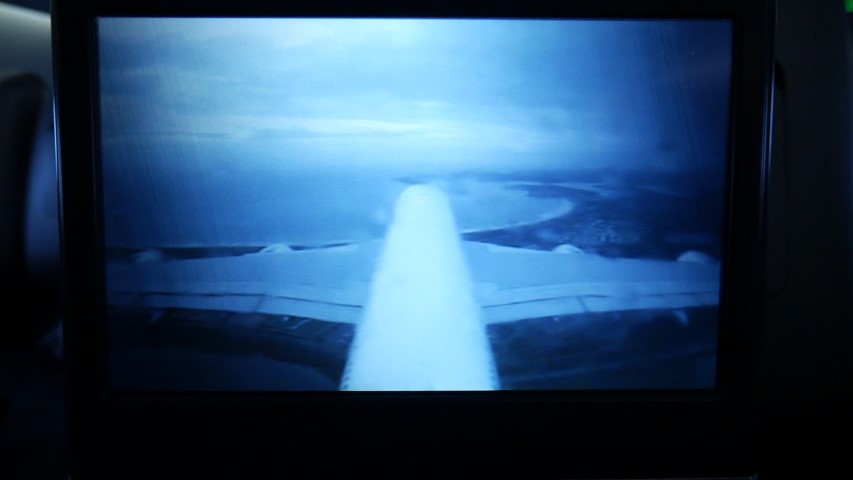 Straight after take-off I pulled out the screen and switched on the Skycam to get the last few turns over the coastline at Botany Bay. Once the best bits were over I switched over to the Entertainment channel which is loaded with loads of recent release movies and TV shows.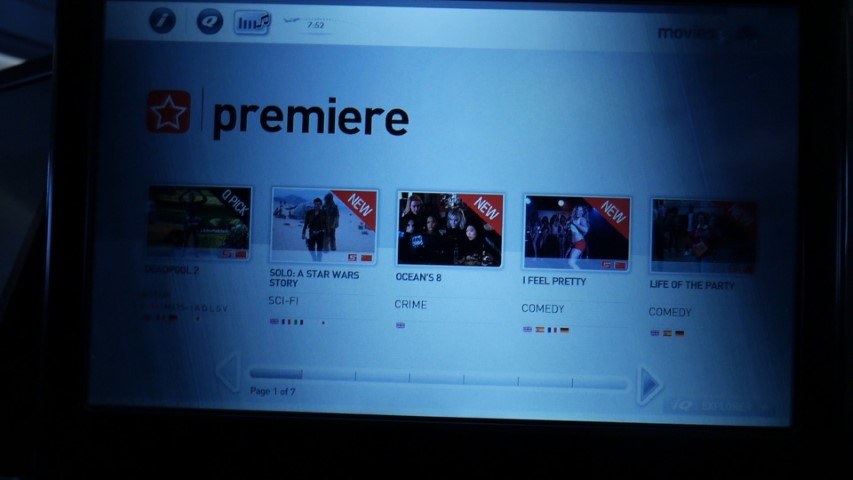 Along with the older style entertainment unit comes the older style Flight Map. I still use this often as I love maps and I love to know what cities I am flying past during the flight. It still shows enough information on this flight map to keep me entertained but there are definitely better Flight maps available (referring to the excellent Panasonic Avionics Interactive map on Singapore Airlines).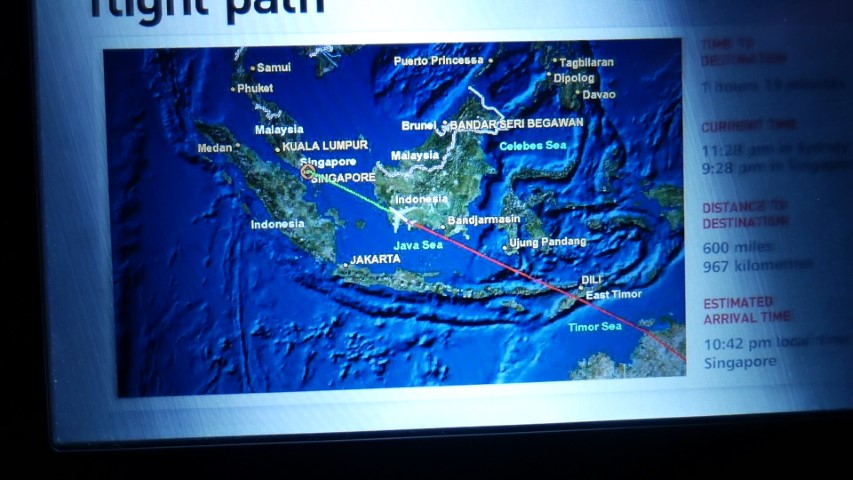 With the entertainment unit comes a very good quality pair of noise canceling headsets.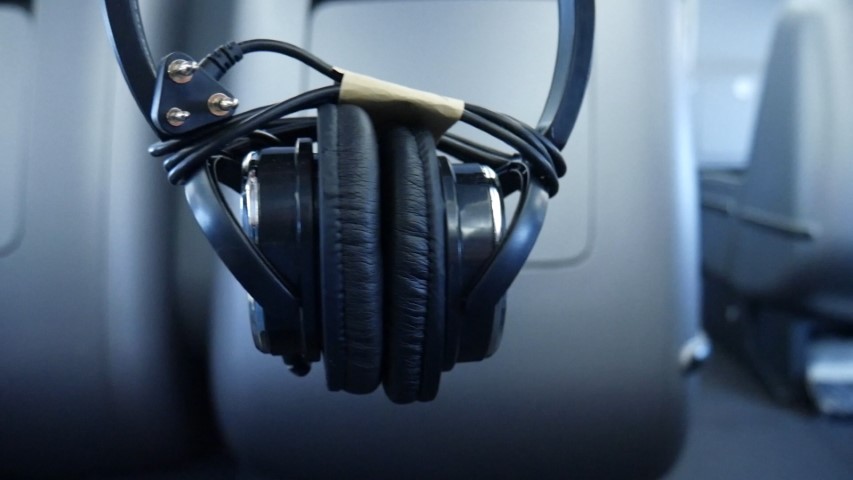 There is also a copy of the excellent Qantas Inflight Magazine locked away in a small compartment next to the seat.
Business Class Amenities Kit
Before take off, the crew come around and hand out a Business Class amenities kit which comes in a very colour toiletry bag which you can take off and use as a toiletry bag (or a fancy pencil case)! Inside the amenities kit is a pair of socks, eye mask, toothbrush and toothpaste, pair of ear plugs and a nice pack of Aspar 'Relax & Hydrate Travel Essentials' moisterisers. There are 3 moisterisers in the amenities kit – a orange lip balm, hand cream and face moisteriser. Each and every time I fly with Qantas Business Class I use all these moisterisers as it definitely helps from dehydrating in the low humidity air within the cabin.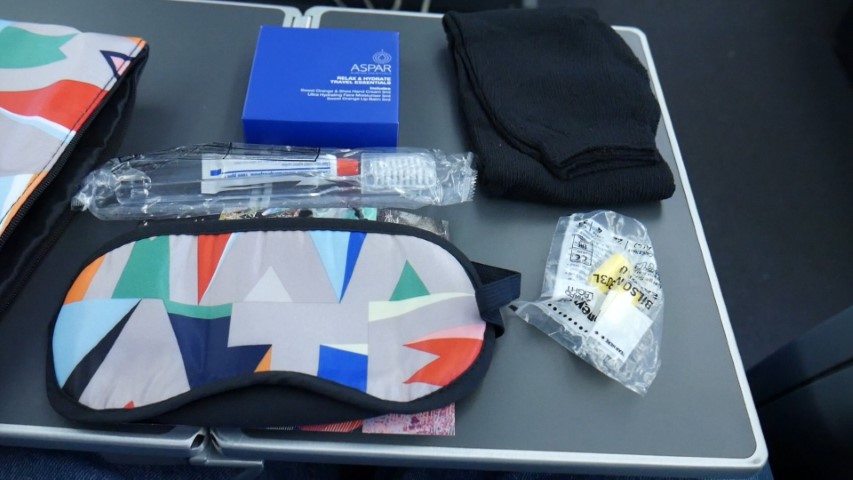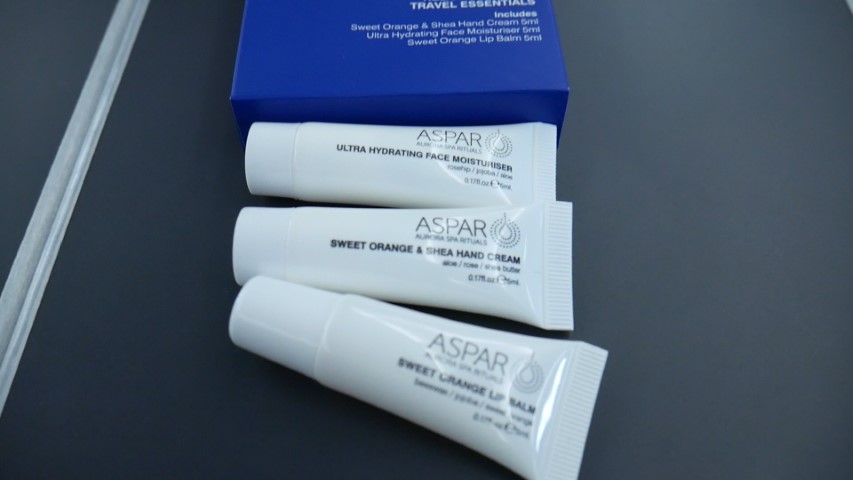 The food
Before take-off of-course there is a choice of nice champagne or fruit juice or water. The Champagne is a delicious Charles Heidsick Champagne from France.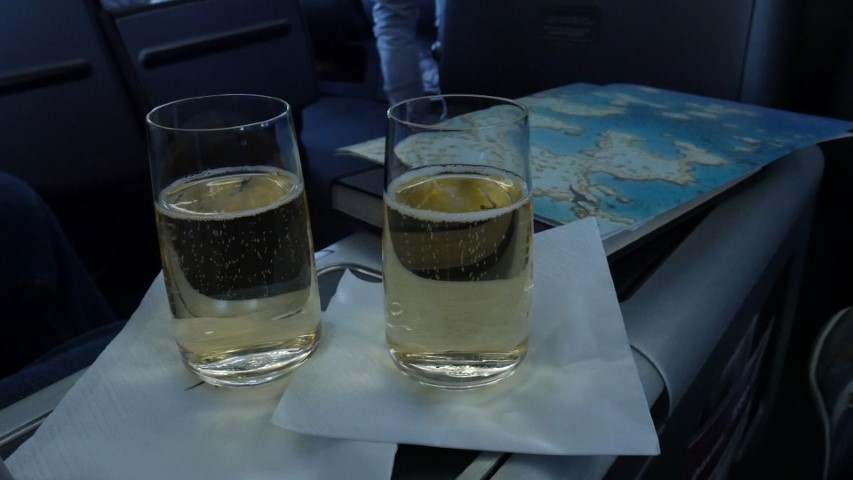 On this QF1 flight between Sydney and Singapore, 2 meals are served. First a Dinner meal is served after take-off and then about 1 hour before landing a refreshment meal is served. On the Business Class food menu there is a choice of 3 starter meals:
Green Pea and Mint Soup with snow pea salad.
Salad of seared tuna with brown rice, edamame, cucumber, radish and sesame soy dressing.
Beef Adana Kebabs with cucumber, green olives and roasted garlic yoghurt
For the main meals there were 4 choices of main meals:
Strozzapreti pasta with tomato and eggplant sugo, roast capsicum, basil and pecoino.
Grilled chermoula chicken with roasted sweet potato, cauliflower tabbouleh and pomegranate dressing.
Seared Humpty Doo barramundi with with bok choy, steamed rice, lap cheong, sesame, shrimp and ginger sauce.
Crumbed pork cutlet with salmoriglio, shavel fennel, potato, asparagus and herb salad.
For dessert there were 5 choices:
Selection of cheeses served with accompaniments.
Chocolate malted tart with creme fraiche.
Maggie Beer ice cream.
Seasonal Fruit.
Chocolates.
The appetizer I choose was the delicious Beef Adana kebabs. These were tasty grilled minced beef served with the delicious roasted garlic yoghurt and slices of pickled cucumber. The appertizer came with the stock standard Qantas salad = a bowl of lettuce. Qantas please add some colour to your salad!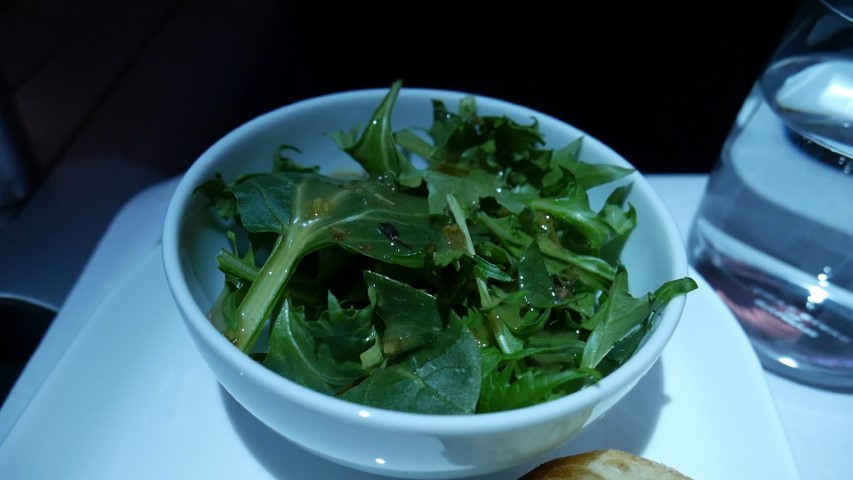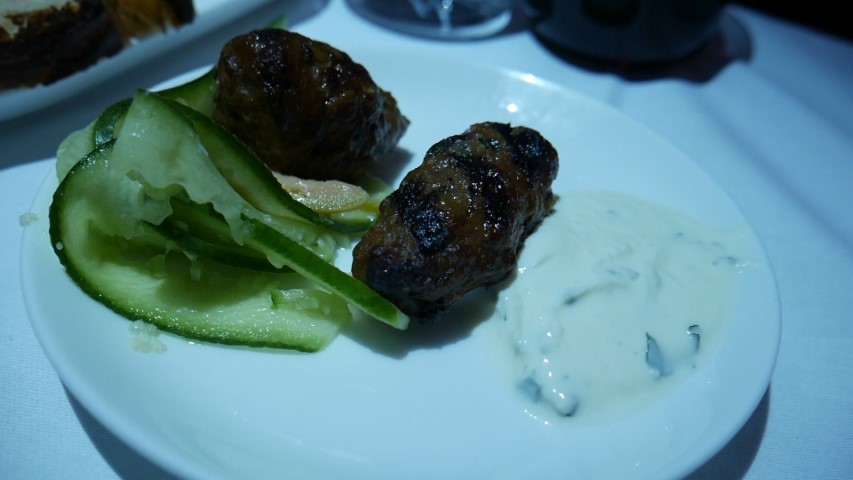 For the main meal I choose the crumbed pork cutlet. The pork cutlet was huge. I am used to eating Japanese tonkatsu pork cutlet which are thin but I was pleasantly surprised that this huge chunk of pork cutlet which was perfectly cooked and a treat to eat. Delicious!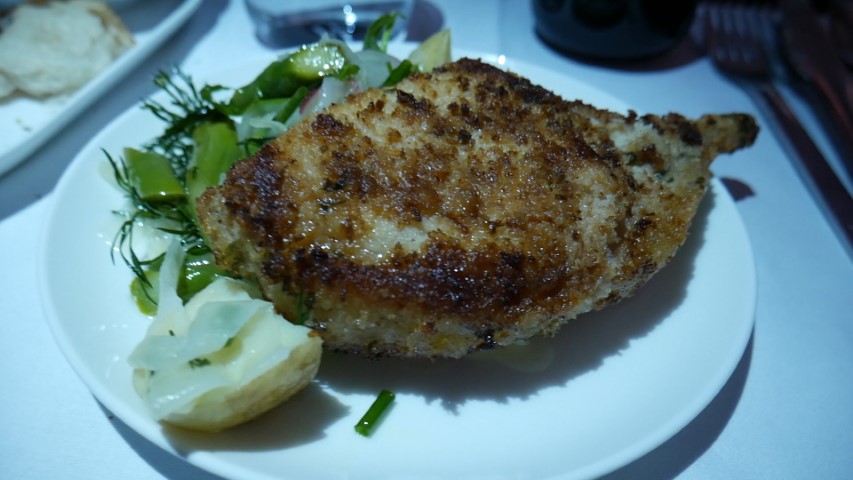 For dessert I went for the chocolate malted tart which was nice but lacking the sweet punch that I was expecting from this dessert. More sugar next time Chef!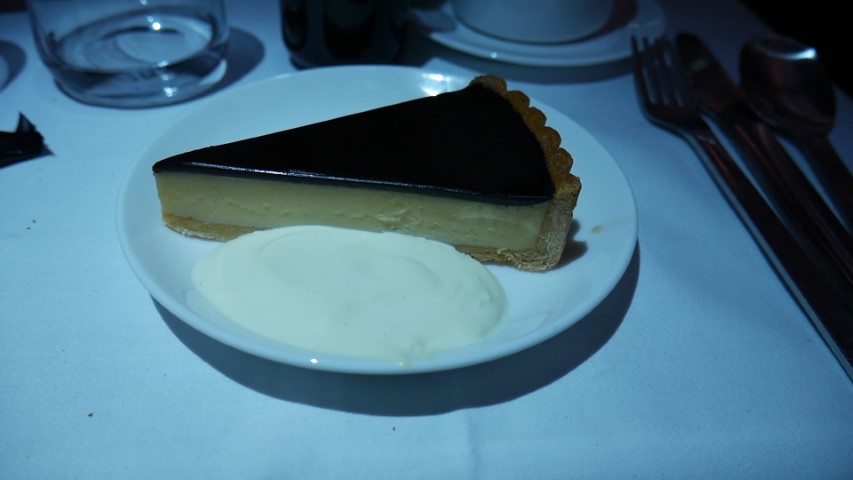 Throughout the flight there is a selection of snacks available including whole seasonal fruit, Amaretti biscuits, Red Rock Deli Chips and Koko Black chocolate bar.
Around 1 hour before landing the refreshment meal is served with 2 choices – either the Pumpkin empanadas with tomato relish or the Stir fried eggplant with roasted red capsicum, sauteed mushrooms and egg fried rice.
I choose the egg fried rice which was a nice light dish. it was only a small bowl, just enough after the massive meal I had for dinner.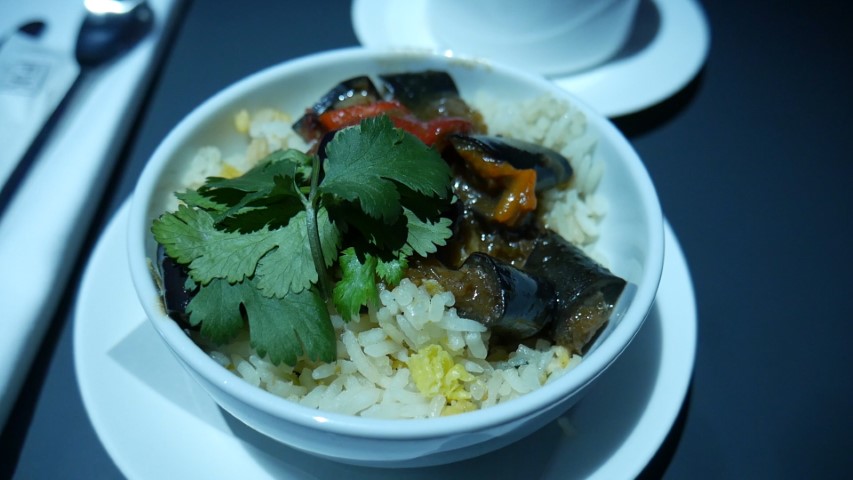 Service onboard Qantas QF1
I would say that Qantas choose their best staff for this flagship flight between Sydney – Singapore – London. I found all the crew lovely onboard this QF1 flight, each serving with a smile and even some of them having a chat with me to ask me about where I was going to on my holiday. (BTW – I was actually on my way to Cambodia which I highly recommend for a holiday. Get to Siem Reap to see Angkor Wat and the amazing ancient temples that were built by the Khmer Empire. Simply amazing!).
Final say on this Qantas QF1 flight
It was only 4 weeks before this flight I had flown on the Singapore Airlines A380 between Sydney and Singapore. While I think the Singapore Airlines A380 has a much better business class seat, when it comes to food and service I think Qantas flight QF1 is up there with the best! i would happily fly this route on Qantas again and again! Once the Vantage XL seats are fitted I would choose this flight over all others, well maybe except for flight QF81. Sorry Singapore Airlines!
I would easily give this Qantas QF1 flight an 8.5 / 10. Well done Qantas. Keep the great service coming!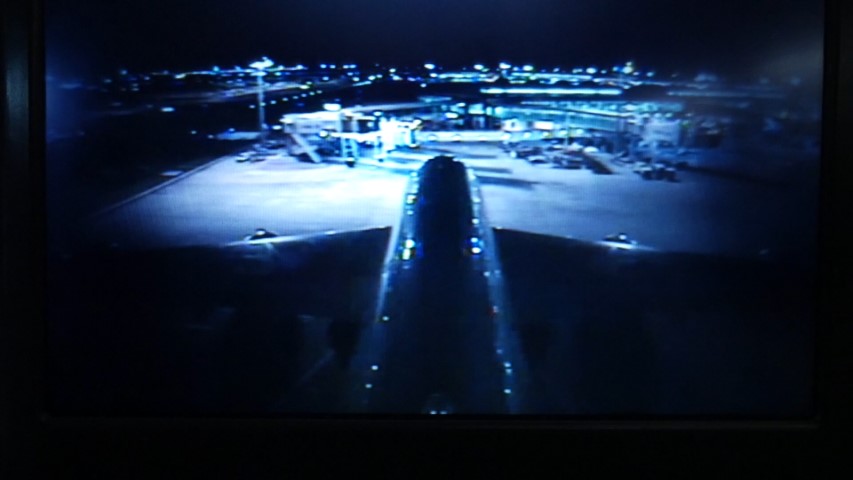 You can book flights directly on the Qantas website.