Thai Airways A350-900 Business Class Bangkok to Bali Flight Review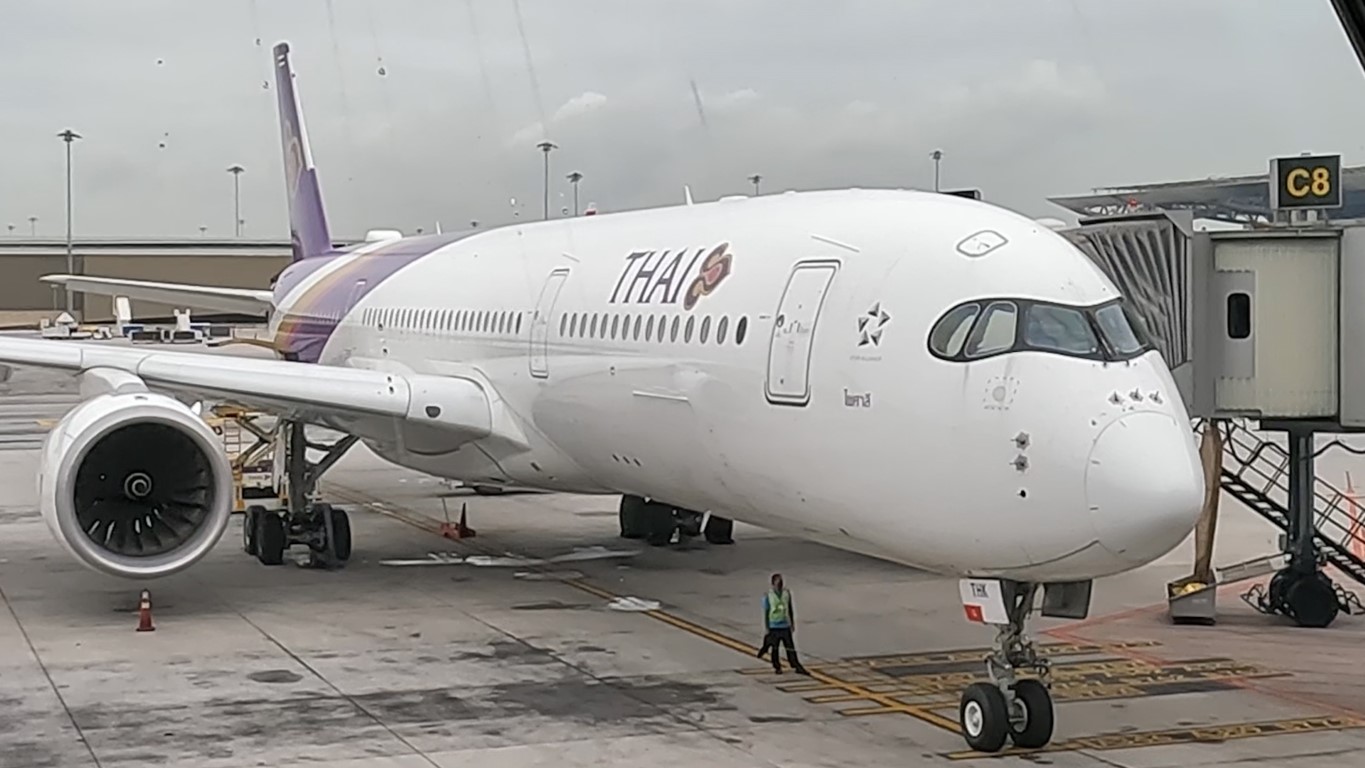 Airline: Thai Airways
Flight no: TG431
Route: Bangkok Suvarnabhumi International Airport (BKK) to Bali Ngurah Rai International Airport (DPS)
Aircraft type: Airbus A350-900 Registration HS-THK
Flight time: 3 hours 50 minutes
Travel Class: Business Class
Seat no: 17A Window Seat
Check out the video of this Flight Review for Thai Airways Bangkok to Bali Business Class
I got an absolute bargain for this flight. I only paid 10,000 Thai Baht, which is around A$460. I did get a sale price, booking about 2 months in advance. Prices in Business Class for this flight usually sell for anywhere between 16,000 Thai Baht (A$680) – 24,000 Thai Baht (A$1000) for a one way ticket.
I booked this flight direct on the Thai Airways website which was very easy to use and quick to book and pay for the flight.
The only other airline that has direct flights from Bangkok to Bali is Thai AirAsia flying out of Bangkok's Don Mueng Airport DMK.
The route between Bangkok and Bali, Thai Airways alternate between using their A350-900, the B777-300ER or their B787-8s.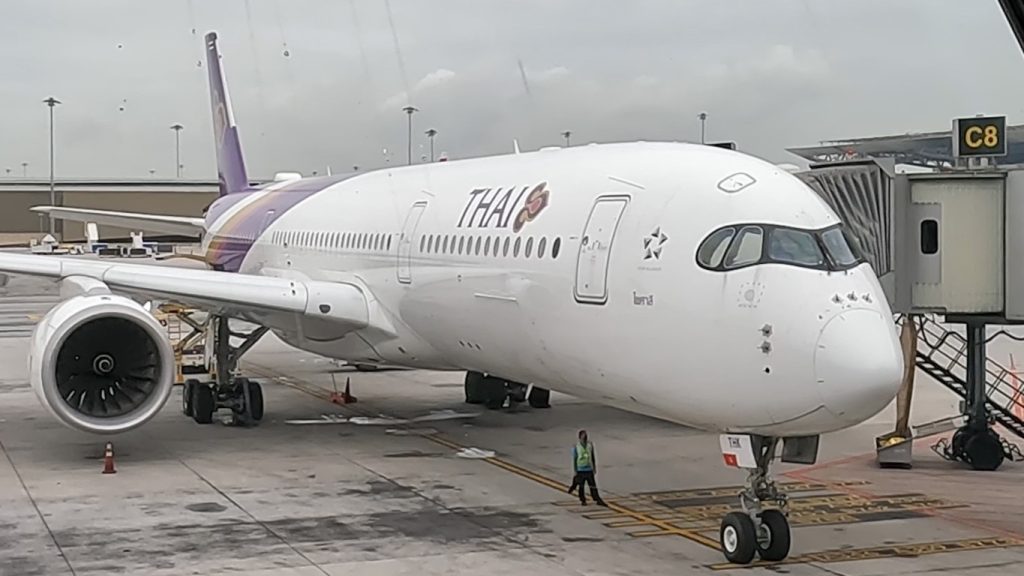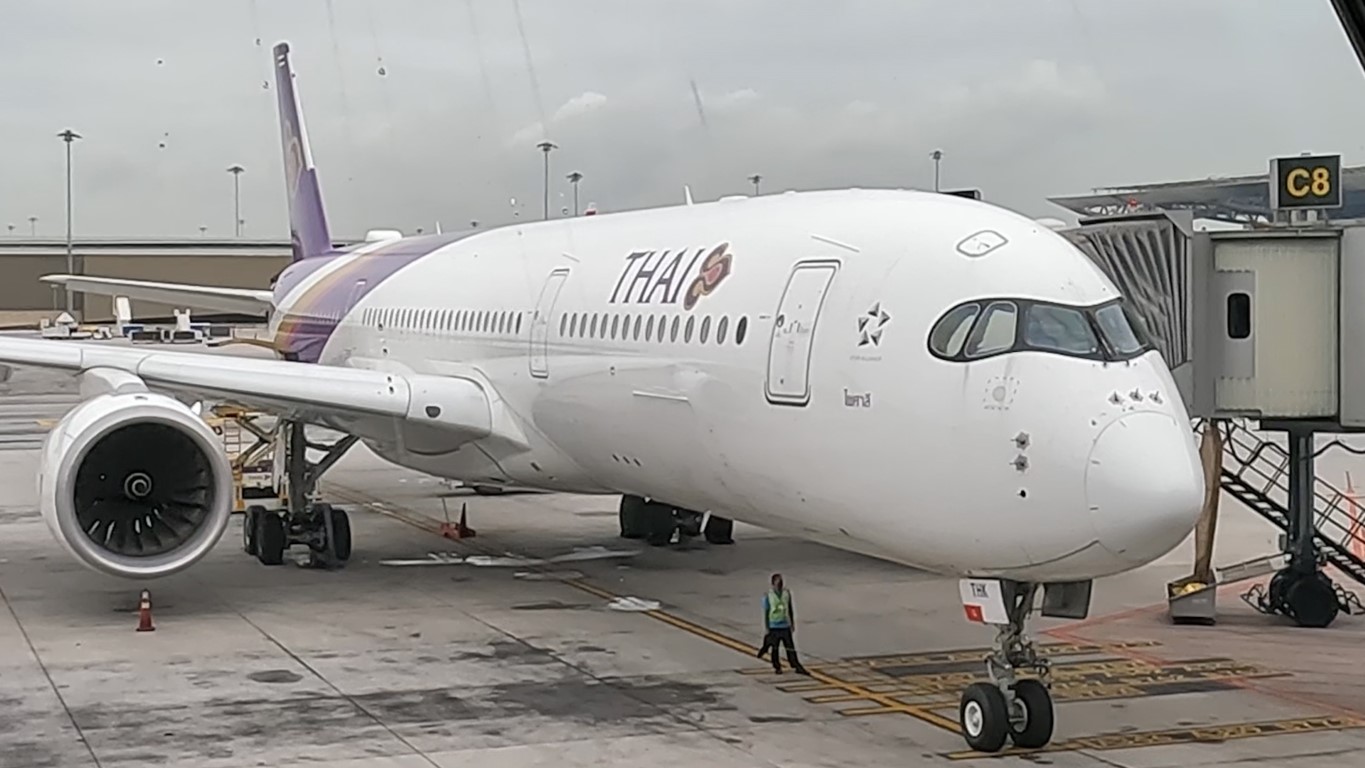 Getting to the airport
I got a taxi to the airport which cost me 250 Baht (around A$10) and took around 45 minutes to get from Soi 13 Sukhumvit to the airport. This was back in August 2022 and the streets of Bangkok were particularly quiet. The taxi driver did not go via the tollways. If we had gone via the tollways it would have cost an extra 80 Baht in toll fares. Also if the traffic had been busier the taxi fare would have cost more.
There is an express train which only costs 45 Baht to get to the airport, under A$2, but with my luggage I find it easier to just jump in a taxi from my hotel, direct to the airport.
At the airport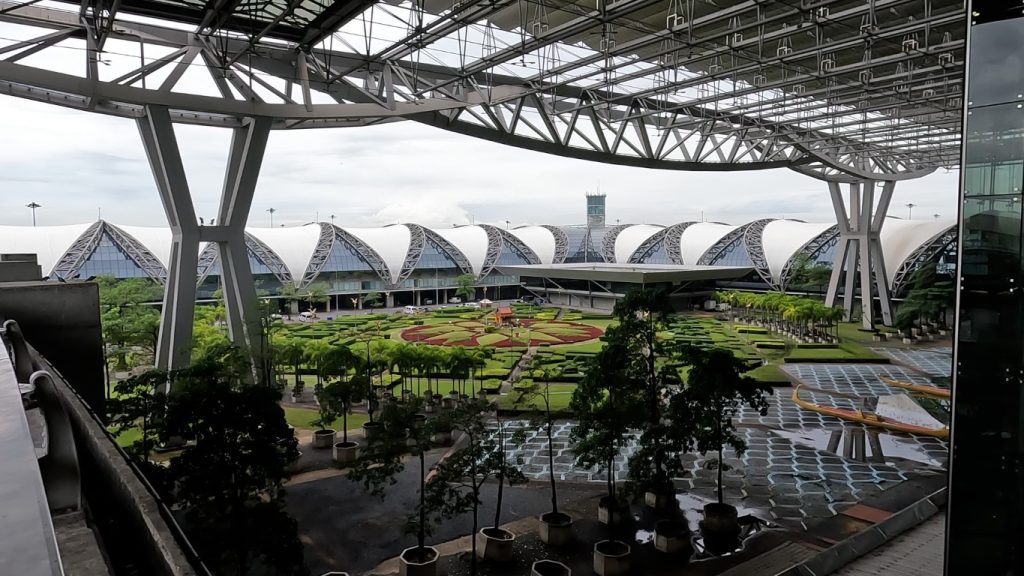 The airport was also particularly quiet in August 2022. The check-in process only took a few minutes. Thai Airways have a separate area for Business Class check-in (and a very private area for First Class check-in). At the Business Class check-in they have small poufes (never thought I would ever use that word) to sit down at while they check your passport, check you in and print off your boarding pass.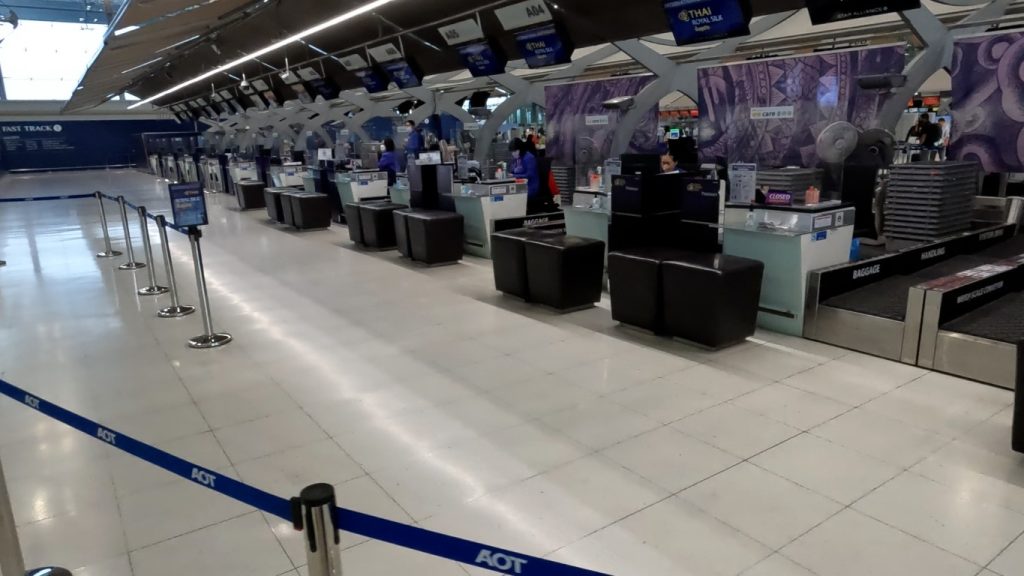 There was also a separate security check point dedicated for business class and first class passengers. With no other passengers around, I past security in a jiffy.
Thai Airways Royal Silk Lounge
Before going to relax in the lounge, I had a wonder through the airport to check out all the high end shops and there were also plenty of food options to get grab some fast food.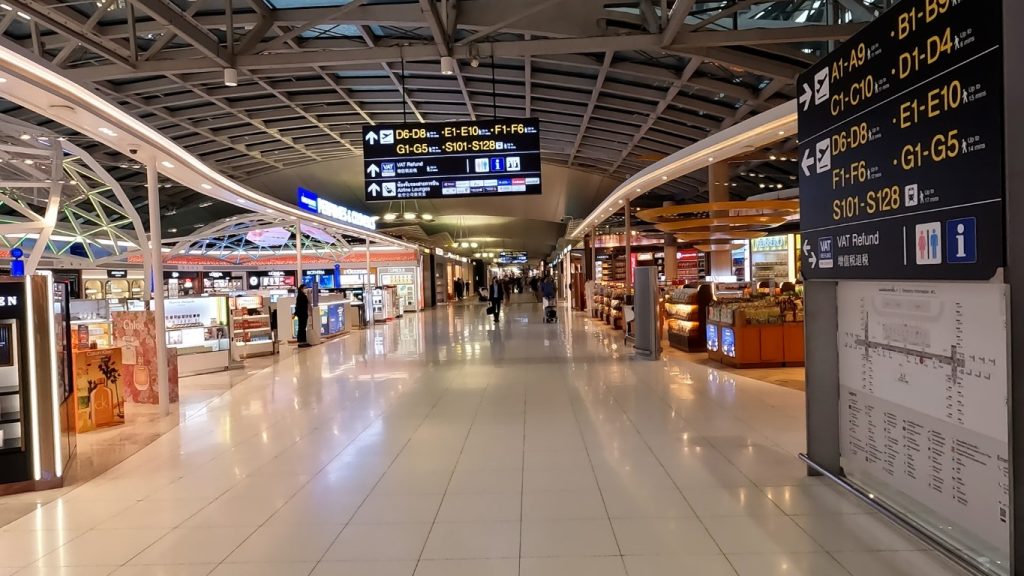 The Royal Silk Lounge is located down the escalators as soon as go past security. The lounge covers a huge area, quite narrow but has loads of different sections with comfy seating.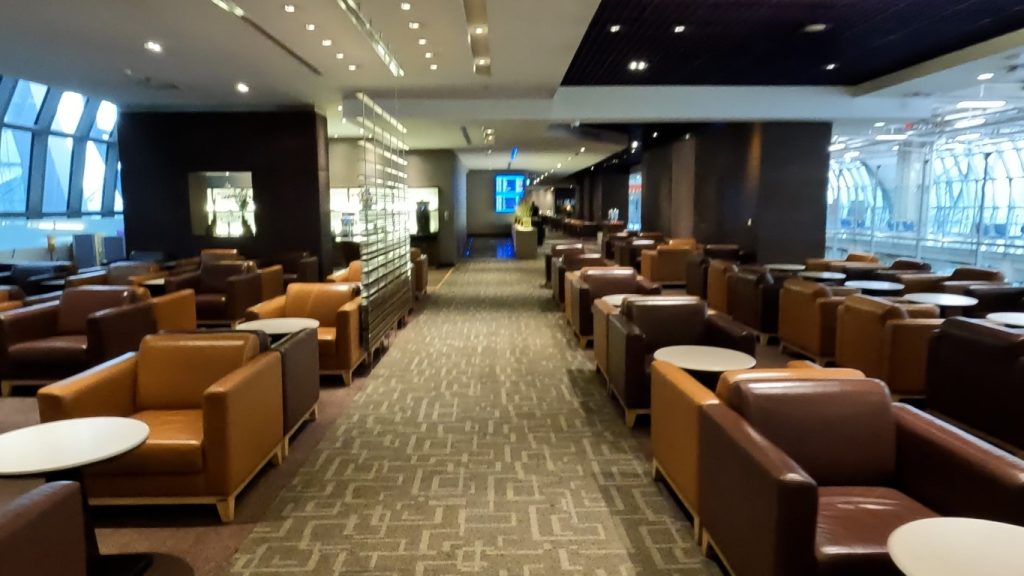 There are a few different food stations, serving hot food, other places serving sandwiches, cup noodles and steamed dumplings. I was there at breakfast time so just grabbed some fried eggs and some sausages and coffee. I was saving myself for the food onboard.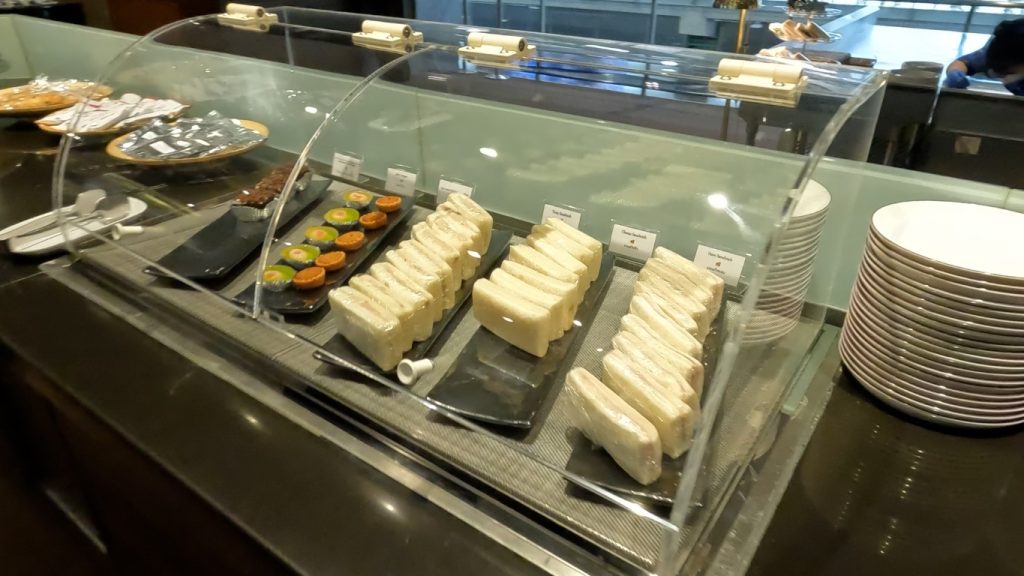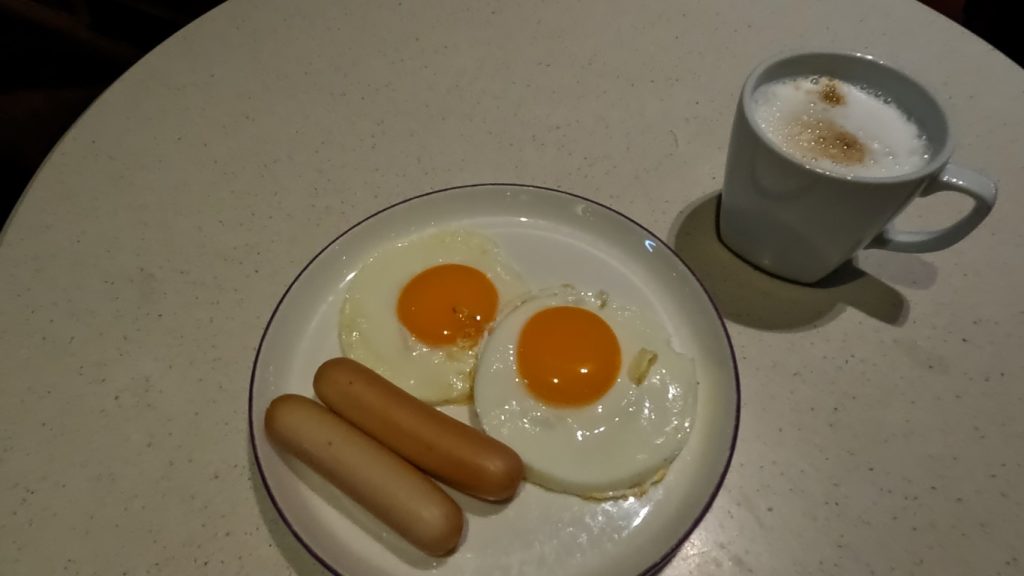 It was quite a long walk from the lounge to get to the boarding gate, so make sure you leave before the flight boarding time on your ticket.
On the plane
I got to the boarding gate just before they announced all passengers to board. I thought they did not have priority boarding for Business class passengers but they must have boarded Business Class before I got there, as once I got on the plane, the business class was full, with everyone else in their seats.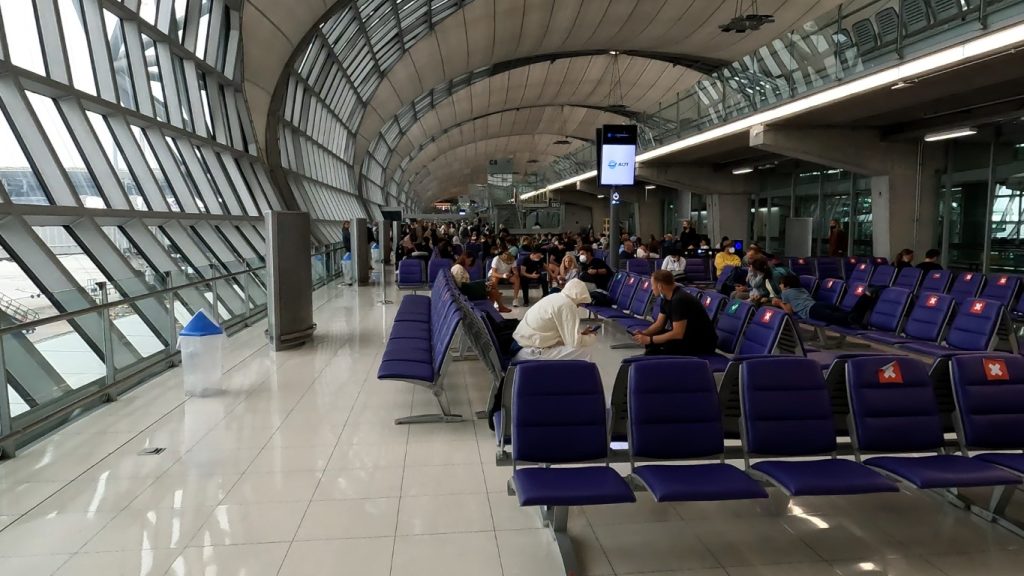 Thai Airways have 12 of these A350-900s. The plane used for my flight was registration HS-THK, which joined the Thai Airways fleet in January 2018 just under 5 years old when I flew.
The Business Class cabin or what Thai Airways call their Royal Silk Class has 32 seats in a 1 – 2 – 1 configuration. The single row of window seats are staggered with the odd numbers flush against the window and the even number rows slightly away from the window, which gives the seat behind the space for their legs to stretch out. These seats are fully lay flat beds though this was a morning flight and just under 4 hours long so I didn't use the bed configuration, just reclined to watch a movie.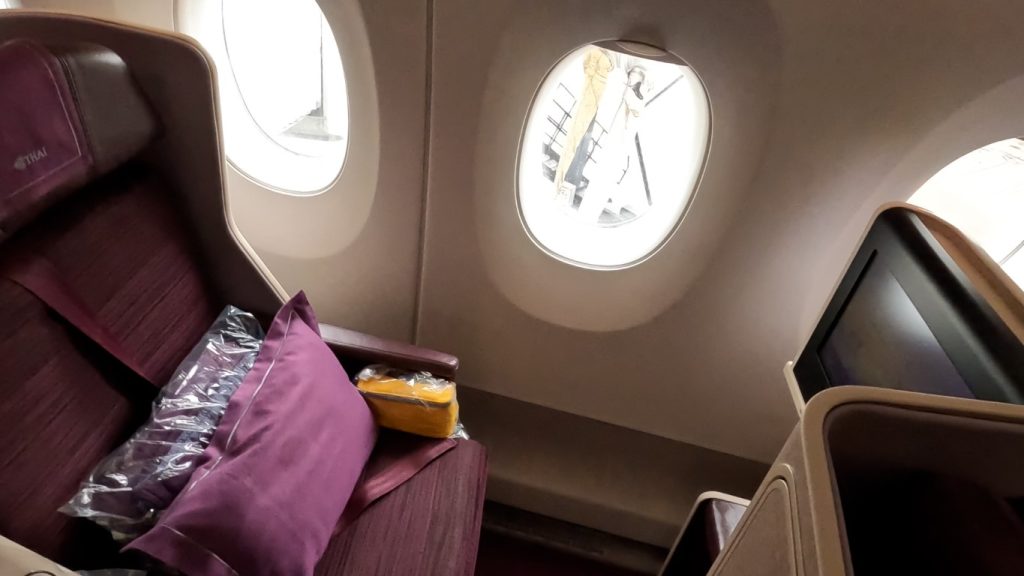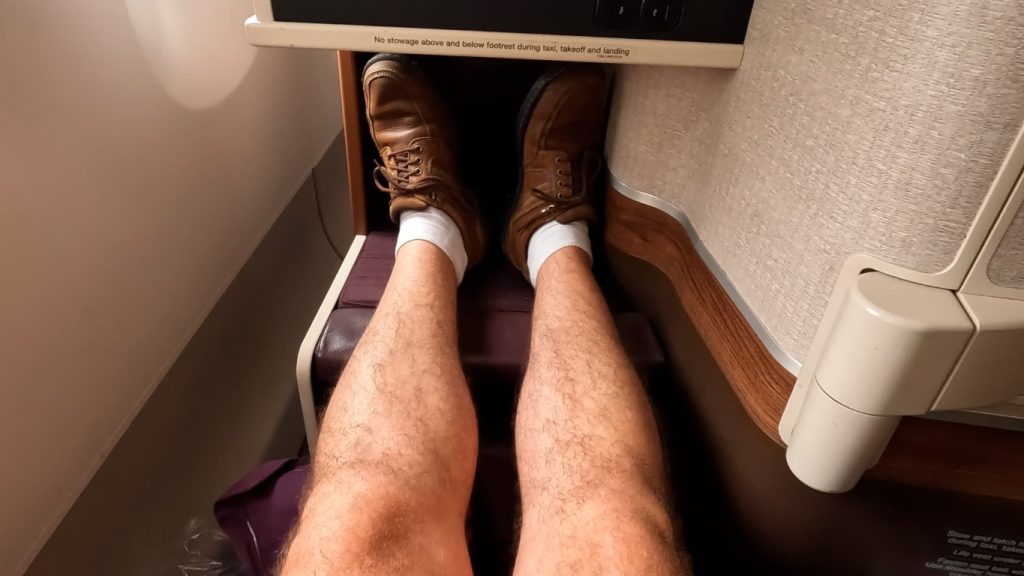 Right next to your seat is a small remote control for controling the entertainment screen, as well as the seat controls which has various settings for recline, full lay flat or take-off – landing position.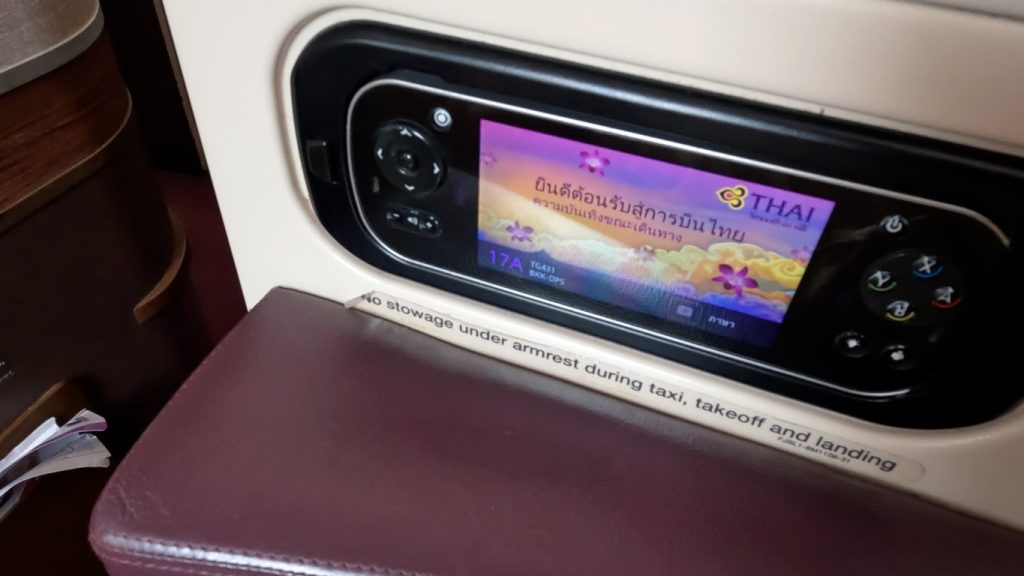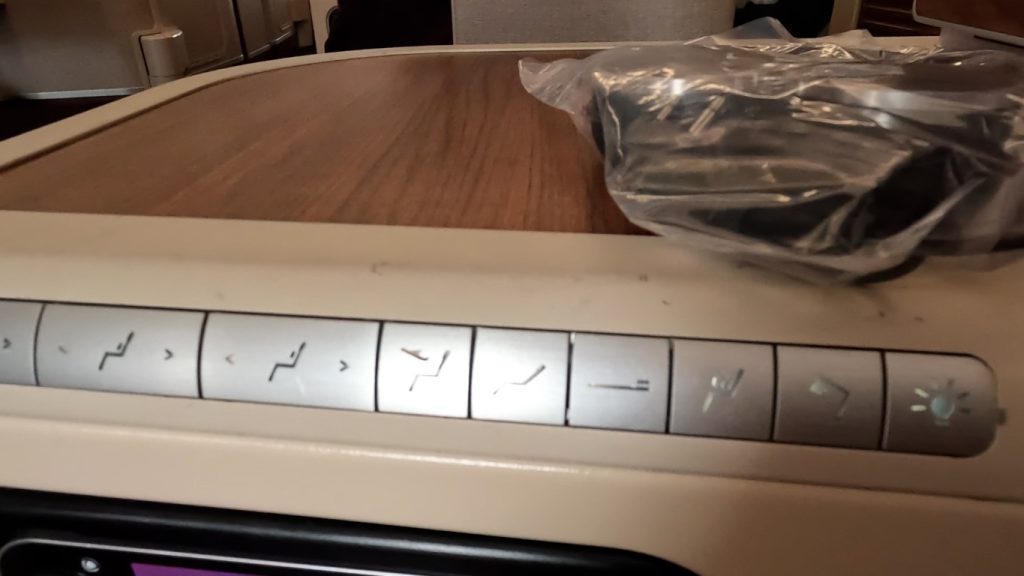 There was a blanket and pillow waiting on the seat when I boarded, as well as a Business Class amenities kit which contained a plastic hairbrush, toothbrush and toothpaste, some mouth wash and some ear buds.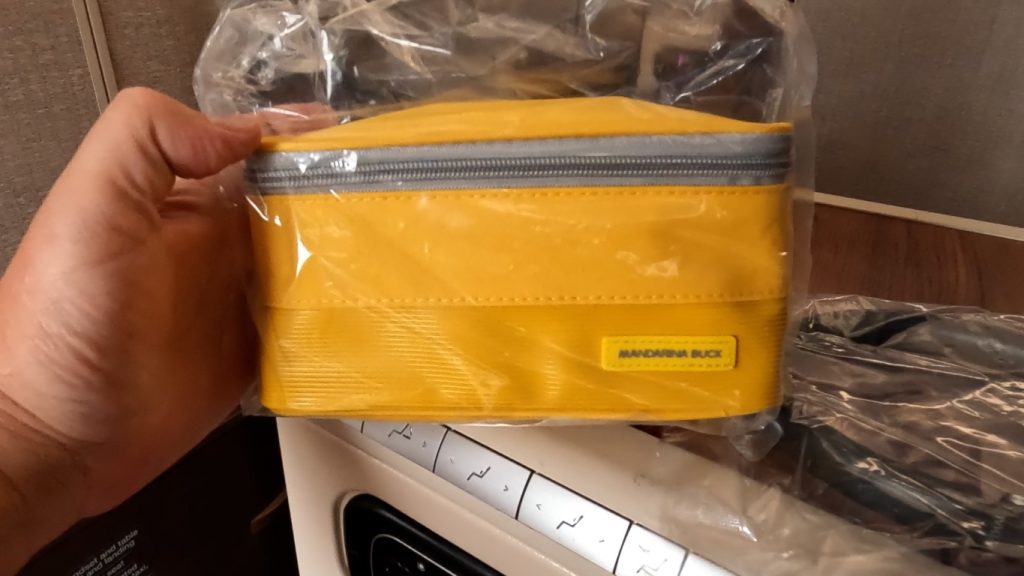 There is a USB charging port located under the TV screen and there is also a universal power plug located next to your seat. No need to bring your own adaptor as any power plug will plug in.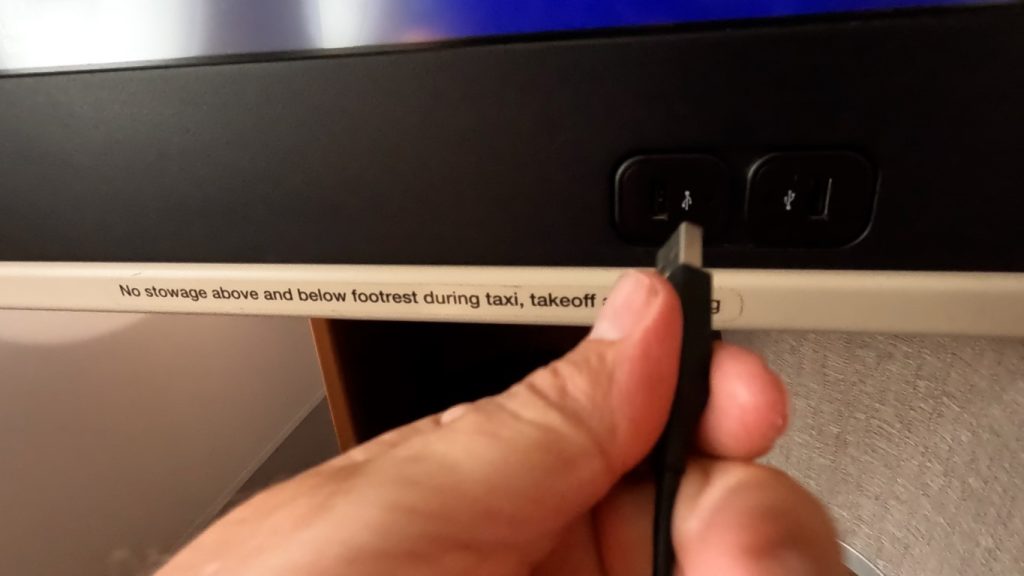 The crew came around and handed out welcome drinks, a choice of water or fruit juice. It is very rare these days that airlines serve Champagne as their welcome drink. Bring it back I say! Oh well, I went for the fruit juice which was tasty.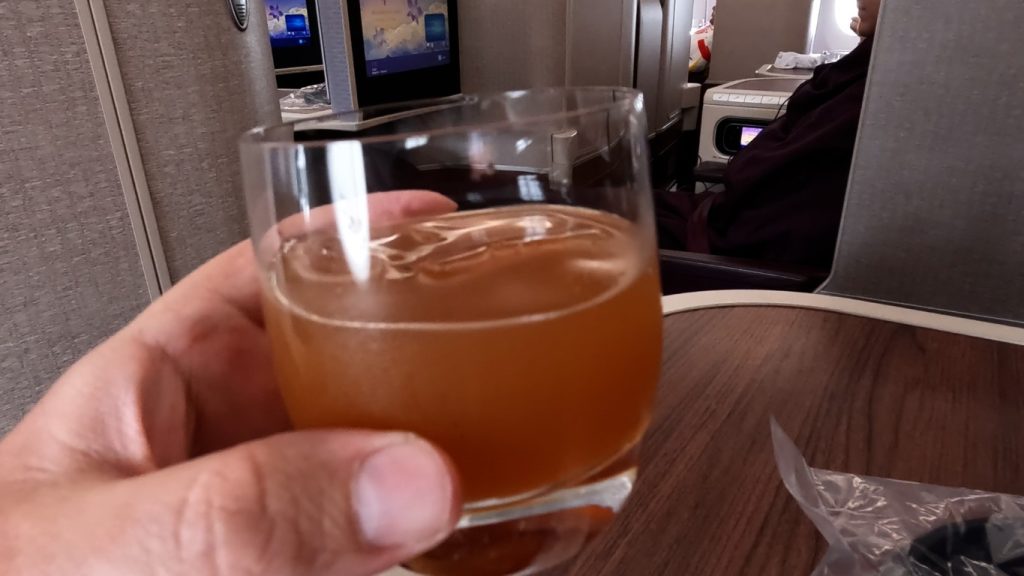 Entertainment System
The TV is a decent sized 15.5″ touchscreen which was very responsive. The Entertainment system is loaded up with heaps of different recent release movies as well as classics. Also loads of TV shows, documentaries and music to listen to.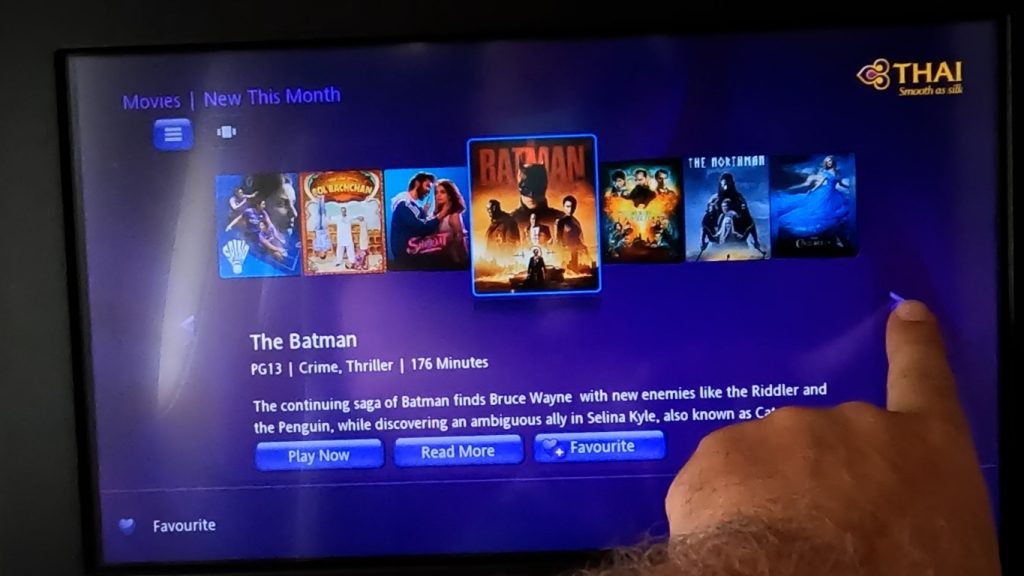 There is an electronic flight map system but this is the older style static map so not interactive like some of the modern maps being installed on different airlines. This older style is still good to track the progress of the flight.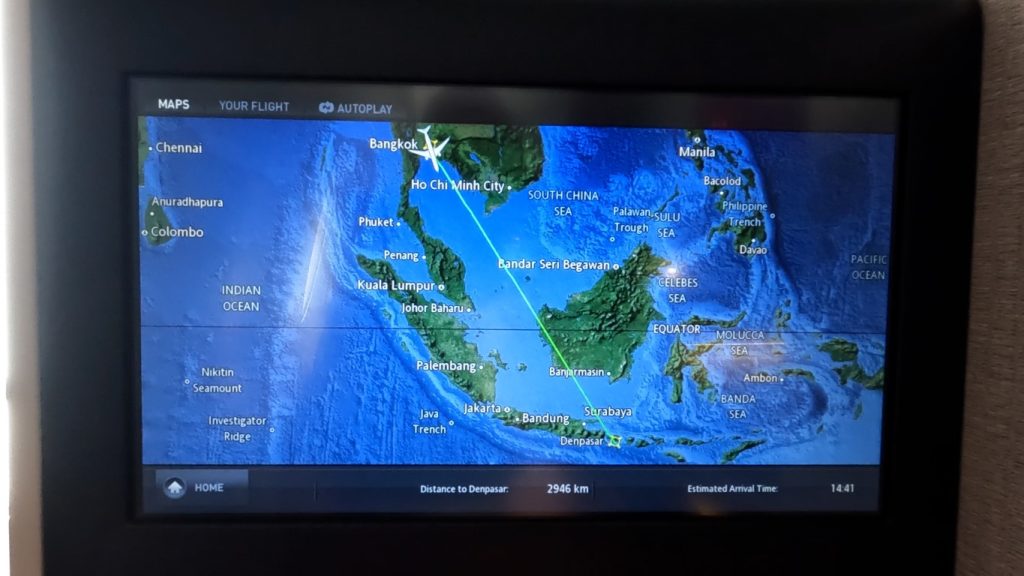 The best things about the entertainment system is ability to bring up on the screen to the feed from the camera mounted on the tail of the plane. This is awesome to watch take-off and landing.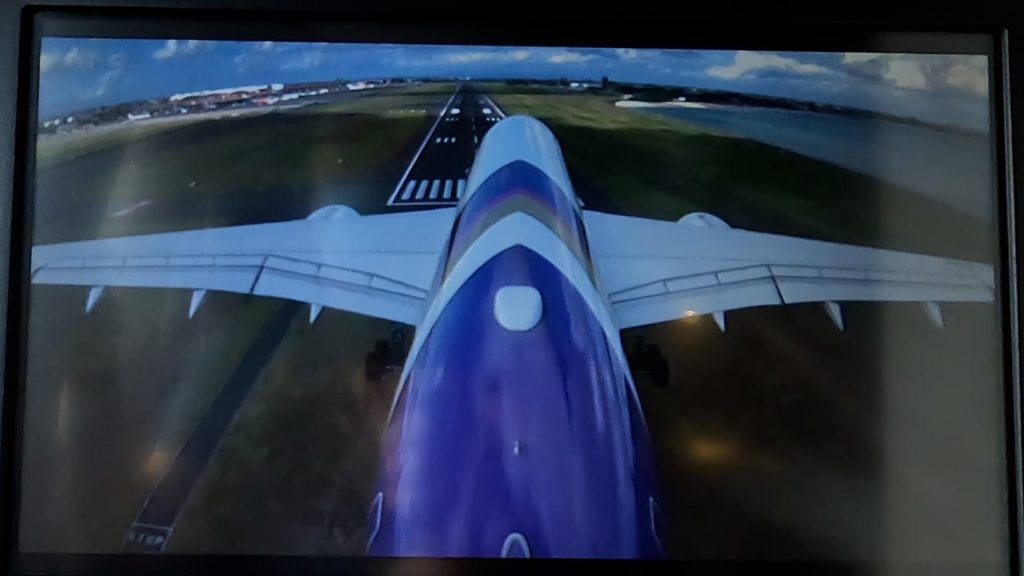 Food served onboard
The food served on this flight was very good. I give 2 thumbs up for the quality and the taste of all the dishes served.
Straight after take-off, the crew came around and started the meal service with a drink and a bowl of mixed nuts. I just went for a coke as I had had a very big last night in Bangkok.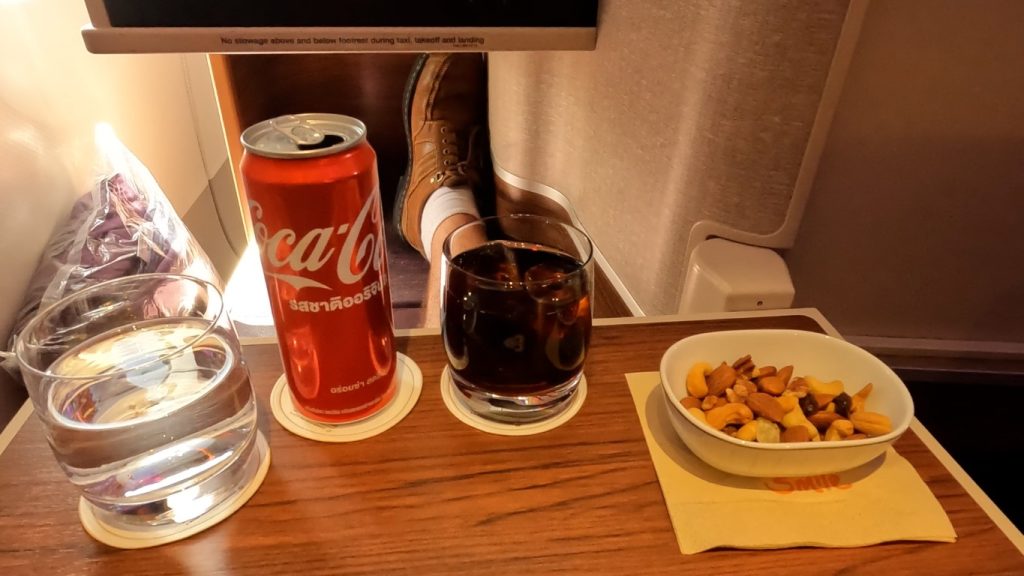 Entree came out and was a very delicious Thai Papaya salad with prawn. There was just the 1 large plump prawn which was sliced in 2. This had a tasty sauce which I poured over the salad. Very very good!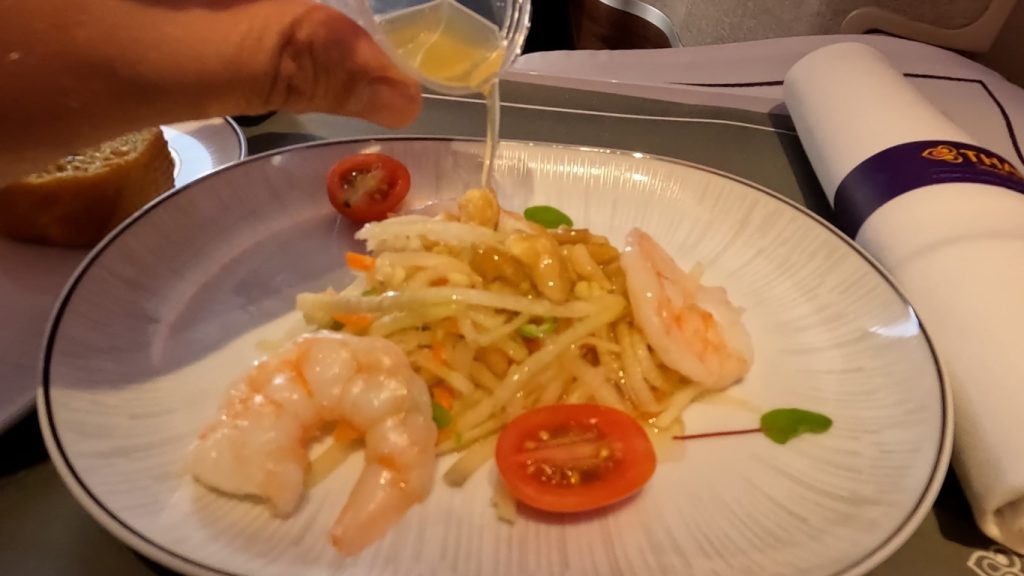 With the entree they offered a selection of different types of bread. I went for the garlic bread which was very tasty.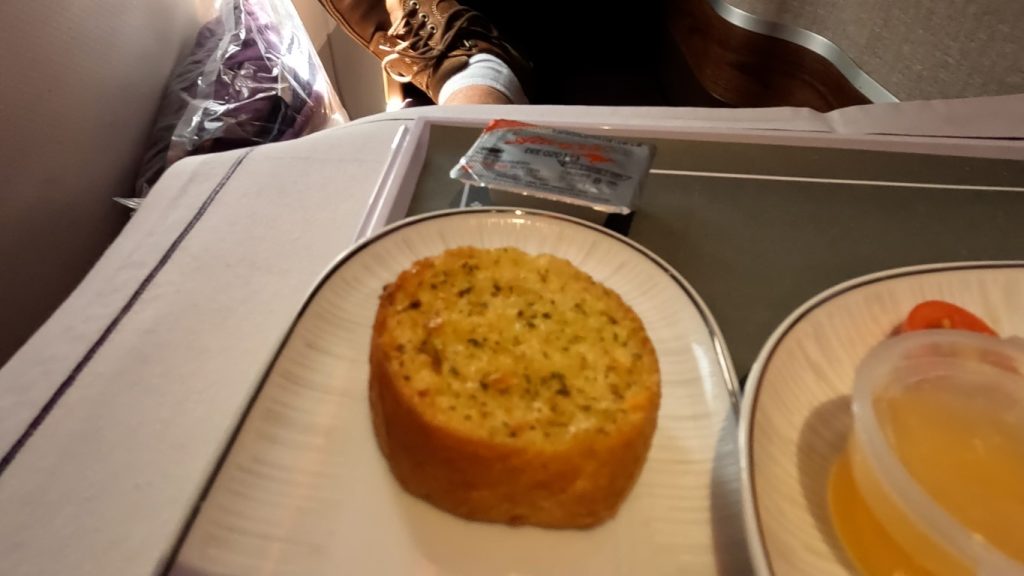 For the main event, I went for the Thai Green Curry with beef which came with rice. This had some spicy kick to it. If you are not into spicy food then you should stay clear of this one. I love my spicy food and this was very spicy! I was surprised how spicy it was as normally airline food gets toned down for people who cannot handle spice.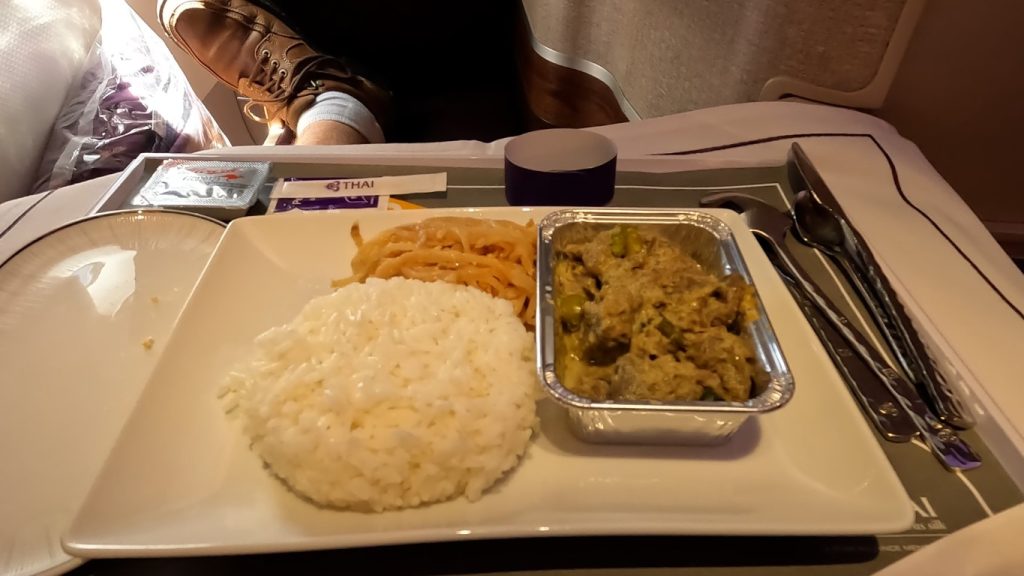 For dessert there was a very sweet pineapple pudding which was topped with meringue. An excellent dessert to finish off and excellent 3 course meal.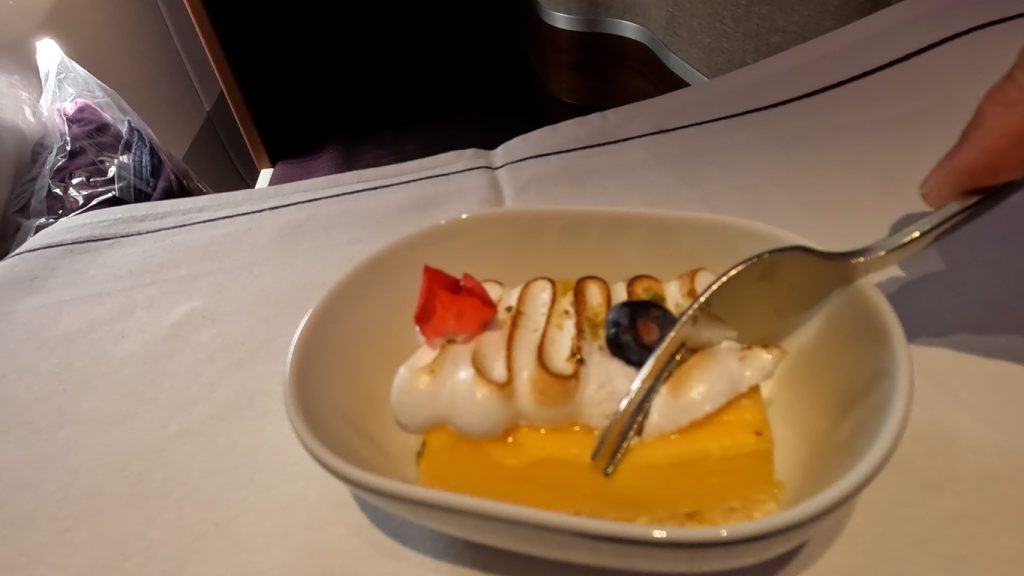 Top marks to Thai Airways for such excellent quality food.
The service
I would describe the service on Thai Airways as very efficient and quiet. I did not have a great deal of interaction with the staff other than them taking my meal order and delivery the food to me and collecting the empty tray. I did get a very nice welcome as I boarding the flight and they generally left me alone the entire flight which is OK by me.
I definitely enjoyed this flight on Thai Airways especially with the A350-900 aircraft. This is a great aircraft and the Business class pod was comfortable and gave enough privacy.
I will be flying again with Thai Airways on their B777-300ER from Bangkok to Sydney in 2023. This time I will be back of the bus with all the cool kids, in Economy Class.
If you not already subscribed to my Youtube Channel please check it out and subscribe –