Flight Review Singapore Airlines A350-900 Kuala Lumpur to Singapore Economy Class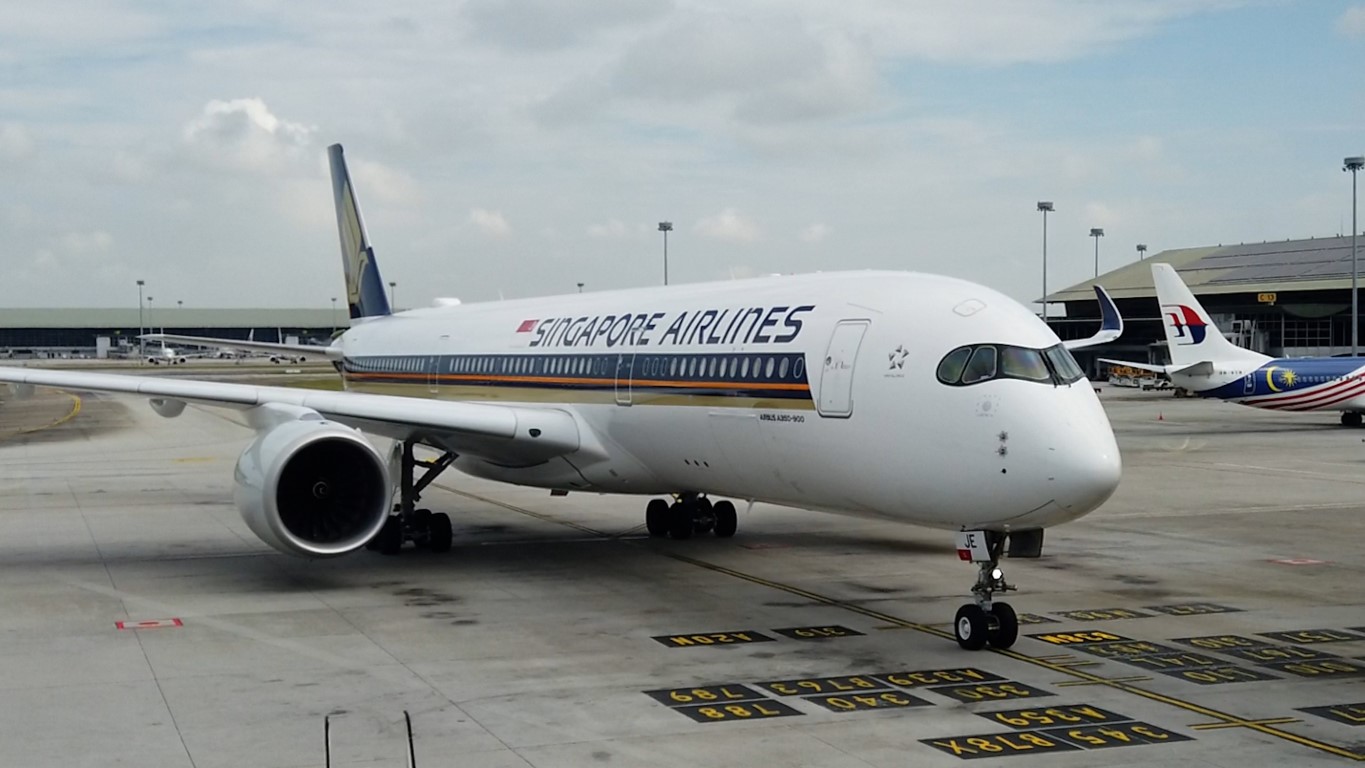 Airline: Singapore Airlines
Flight no: SG107
Route: Kuala Lumpur International Airport (KUL) to Singapore International Airport (SIN)
Aircraft Type: Airbus A350-900
Flight time: 45 minutes
Travel Class: Economy Class
Seat: 55A Window Seat
Seat Width: 18 inches
Seat Pitch: 32 inches
Check out the video for this Singapore Airlines flight review from Kuala Lumpur to Singapore
I had originally planned to fly from Kuala Lumpur to Bali on Malaysian Airlines but good old MH cancelled the flight, with no other options to get to Bali, I ended up booking flights with Singapore Airlines from KL – Singapore – Bali. This review is just for the flight from Kuala Lumpur to Singapore.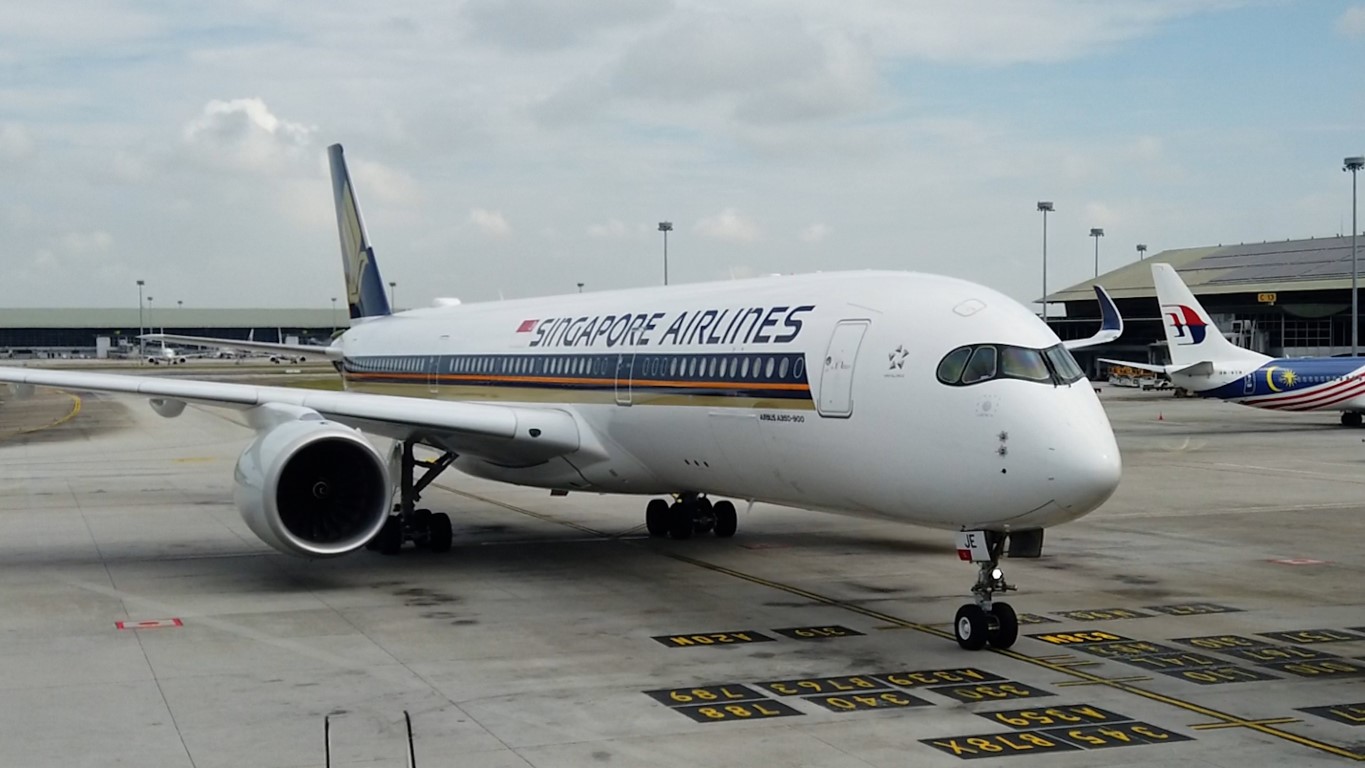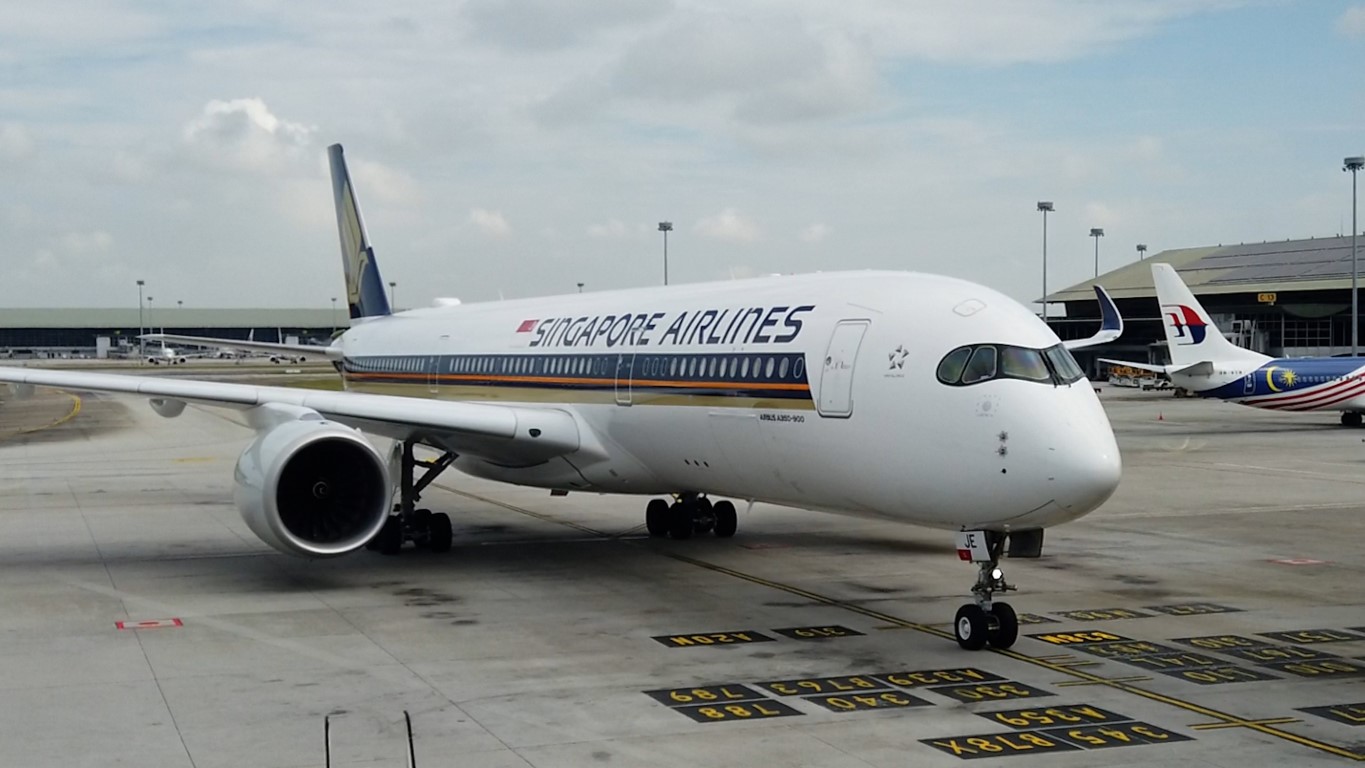 The KL – Singapore was the 2nd busiest International route back in 2019, just behind the Hong Kong to Taipei route. Now in 2022 it is still up there with one of the busiest International routes, as well as one of the shortest, just a quick 45 minutes flight. There are 6 different airlines that do direct flights from Kuala Lumpur to Singapore – Singapore Airlines, Malaysian Airlines, Scoot, Jetstar Asia, AirAsia and Malindo Air. With so many airlines and scheduled flights, you can get a good deal flying this route.
At the airport
Before the pandemic, KLIA (Kuala Lumpur International Airport) was a 24 x 7 airport, with flights arriving and departing at all hours of the day and night. How things have changed! KLIA was a bit of a ghost town when I arrived there.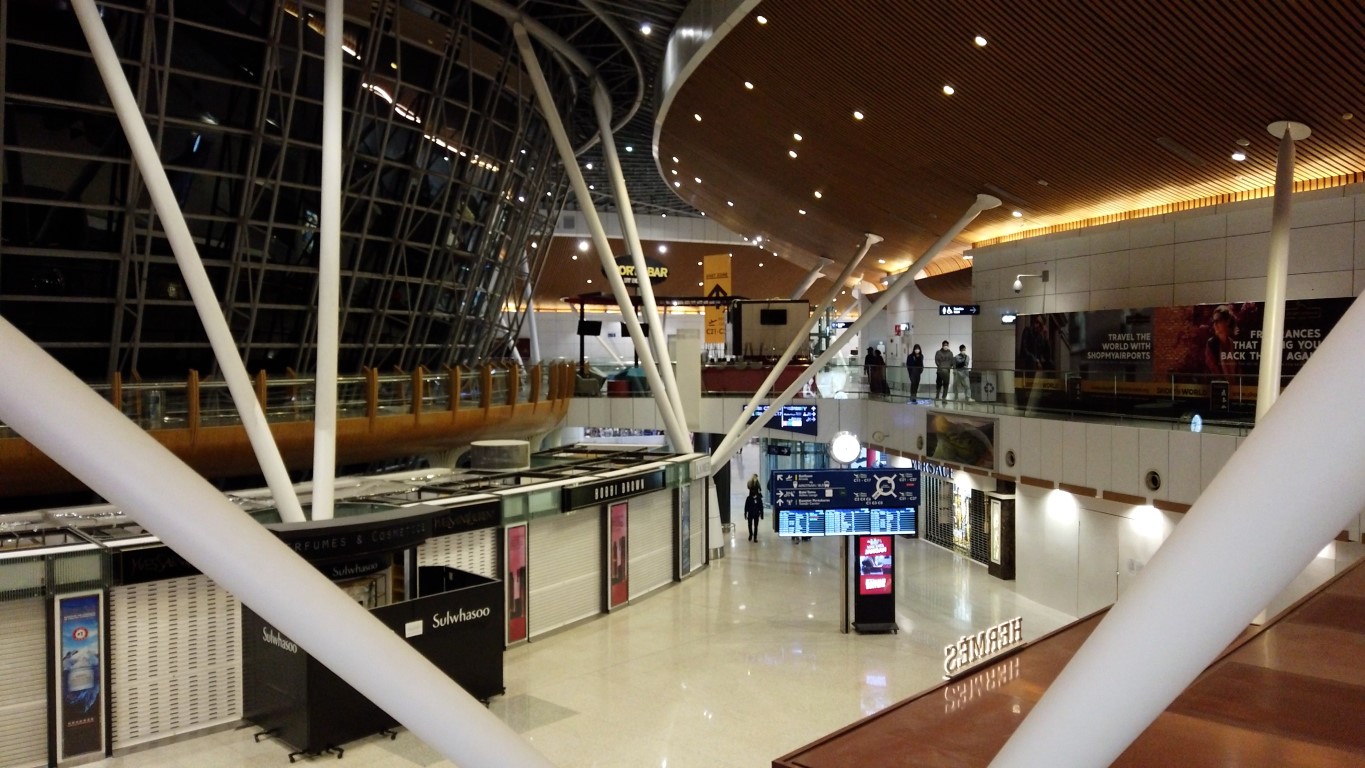 I had arrived into KLIA onboard a Malaysian Airlines flight MH140 from Sydney which arrived at 5am. I had a 5 hour wait till 11am to get onboard this Singapore Airlines flight to Singapore, so had loads of time to check out everything here. Unfortunately things are not good at KLIA these days. When I arrived, everything was closed. No shops, no coffeeshops or bars to pass away the time.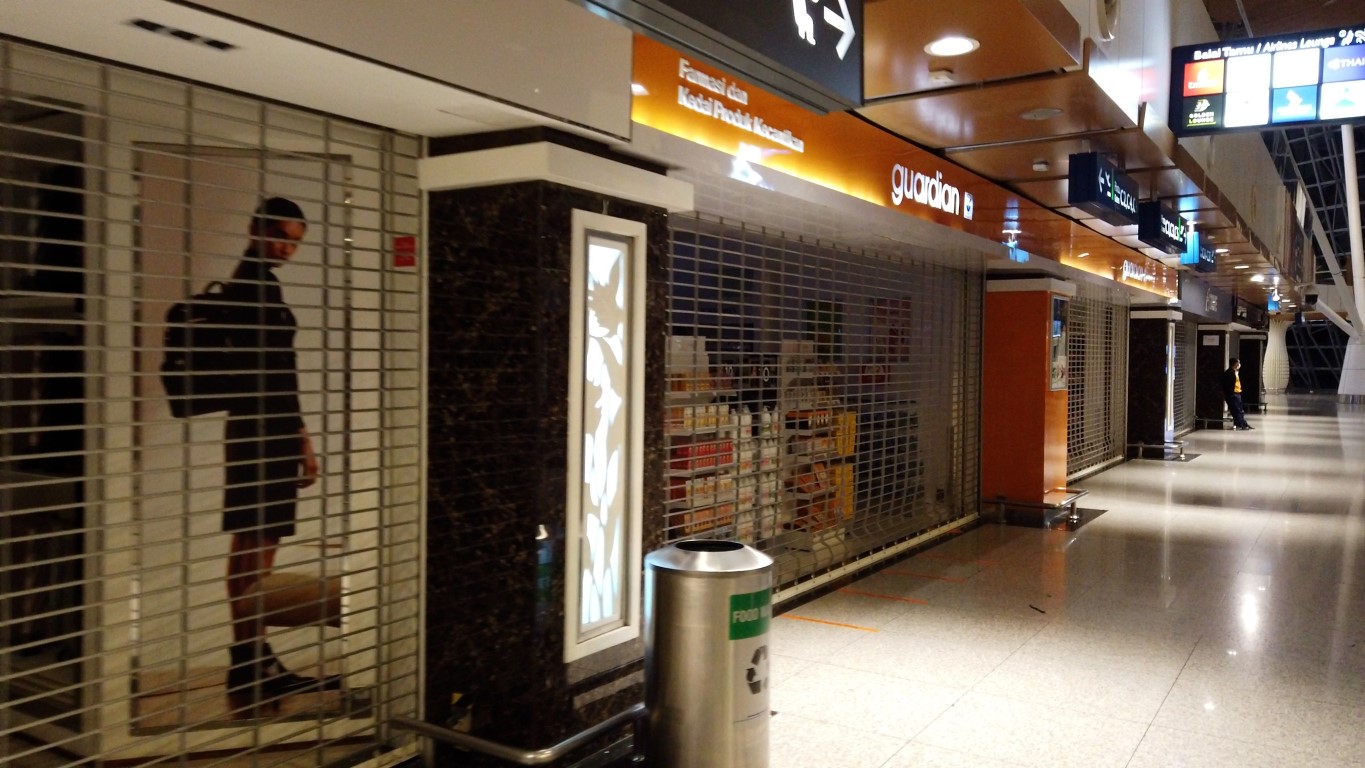 I had to wait till 6am for the first coffees shop to open. That was the O'Briens Cafe on level 2 of Terminal M.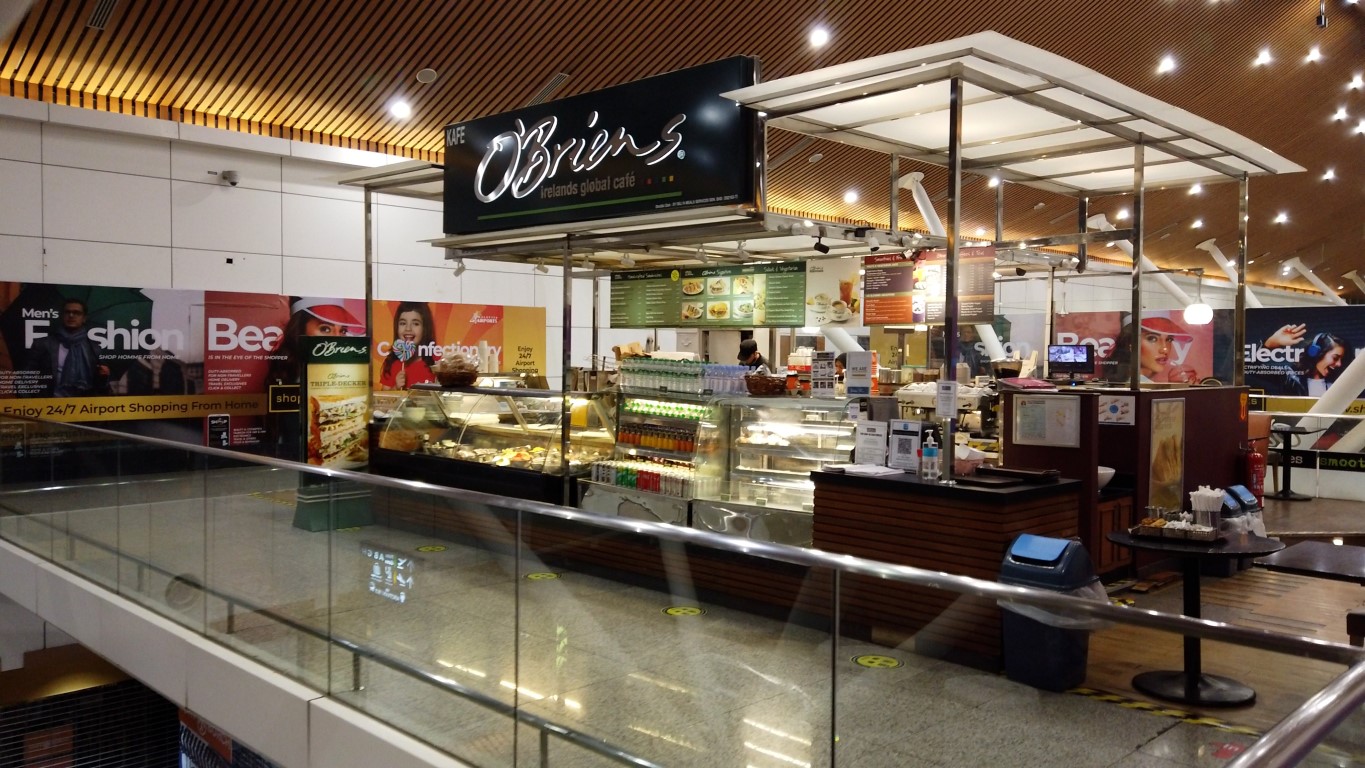 Only a few of the retail stores opened at 9am, probably only about 40% of the total stores. International travel has a long way to go to recover back to the glory days!
Singapore Airlines board the plane by row numbers. Being seated down the back of the bus in row 55, I was one of the first groups to board the plane.
On-board the plane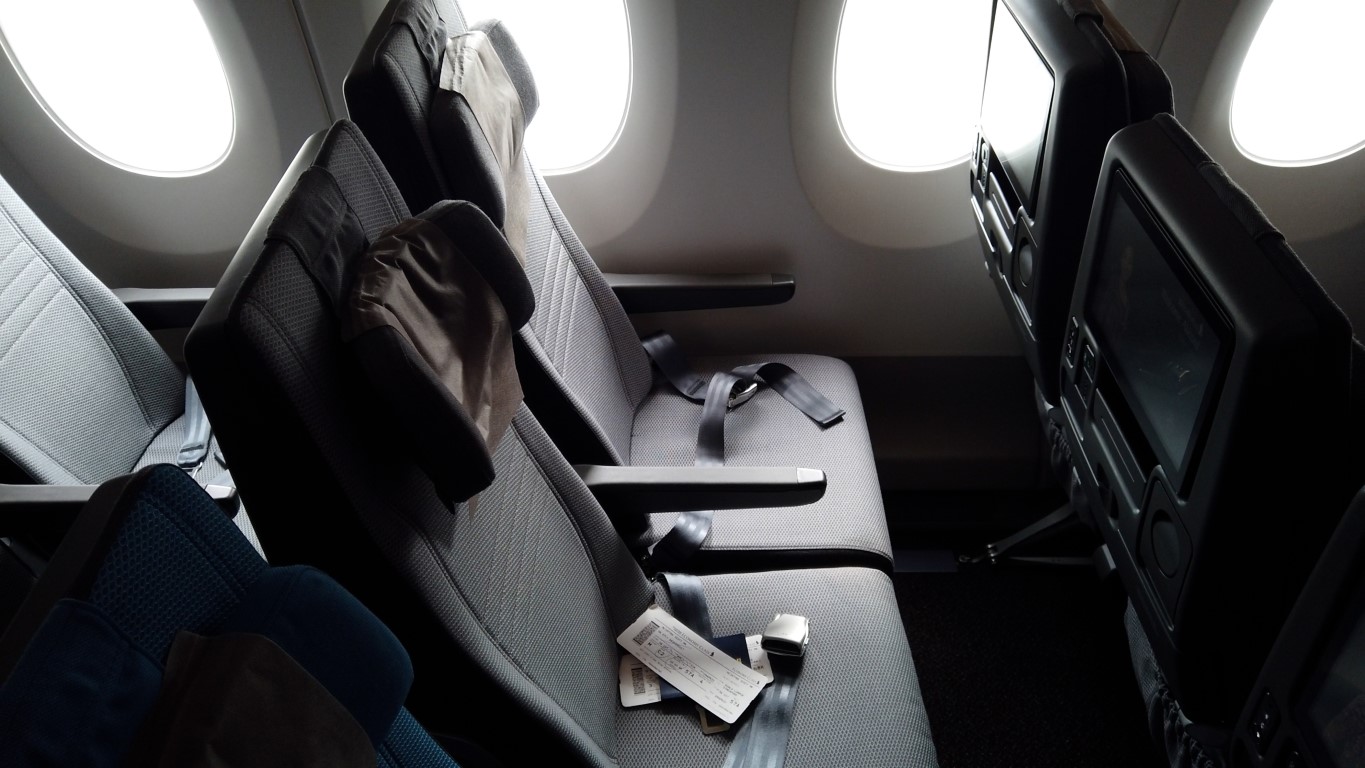 The A350-900 plane (rego: 9V-SJE) which is a very new aircraft, joining the Singapore Airlines fleet in December 2021. This had 3 different classes, 42 Business Class seats, 24 premium economy seats and 187 economy seats. The Economy section is in a configuration of 3 x 3 x 3.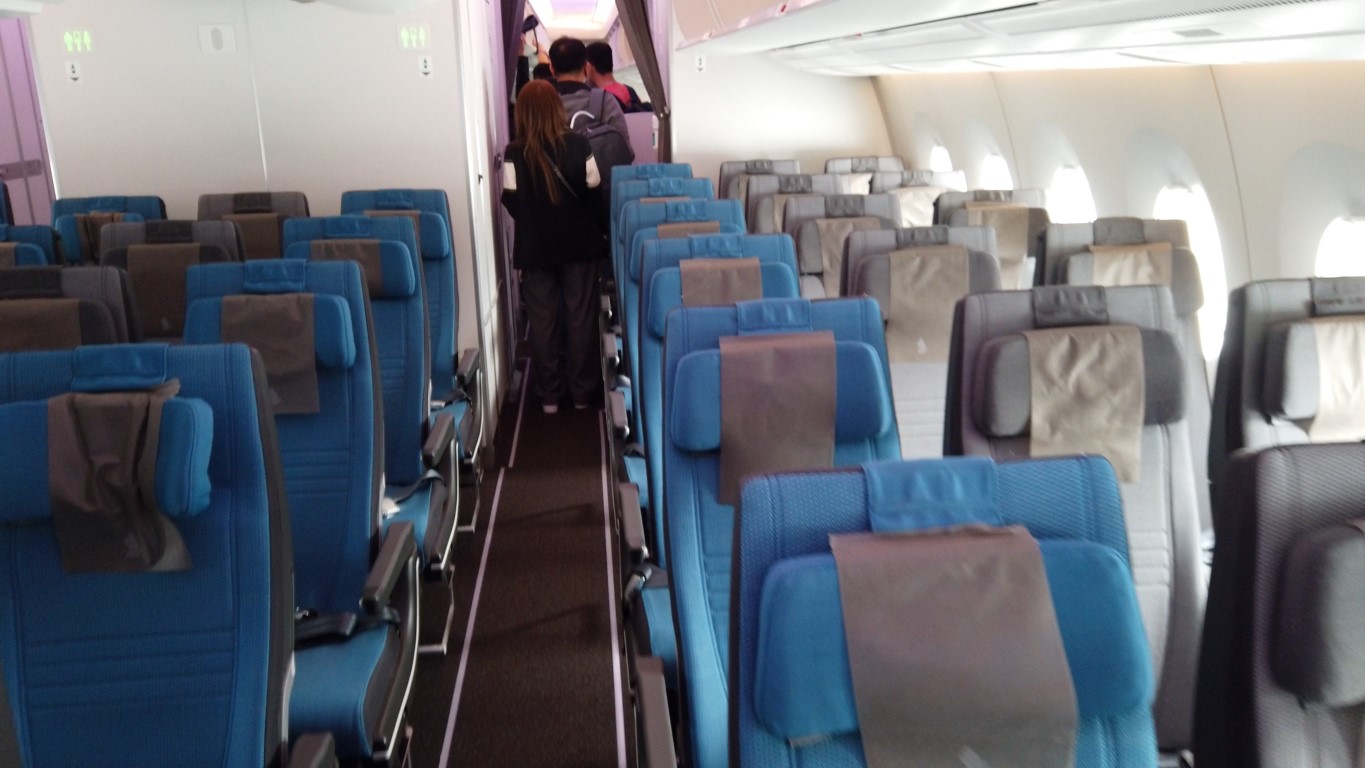 The Economy seats have a decent amount of legroom, not that you really need a lot for this very short flight but these large A350-900 are usually used for long haul flights. They are used on this short route due to the number of passengers.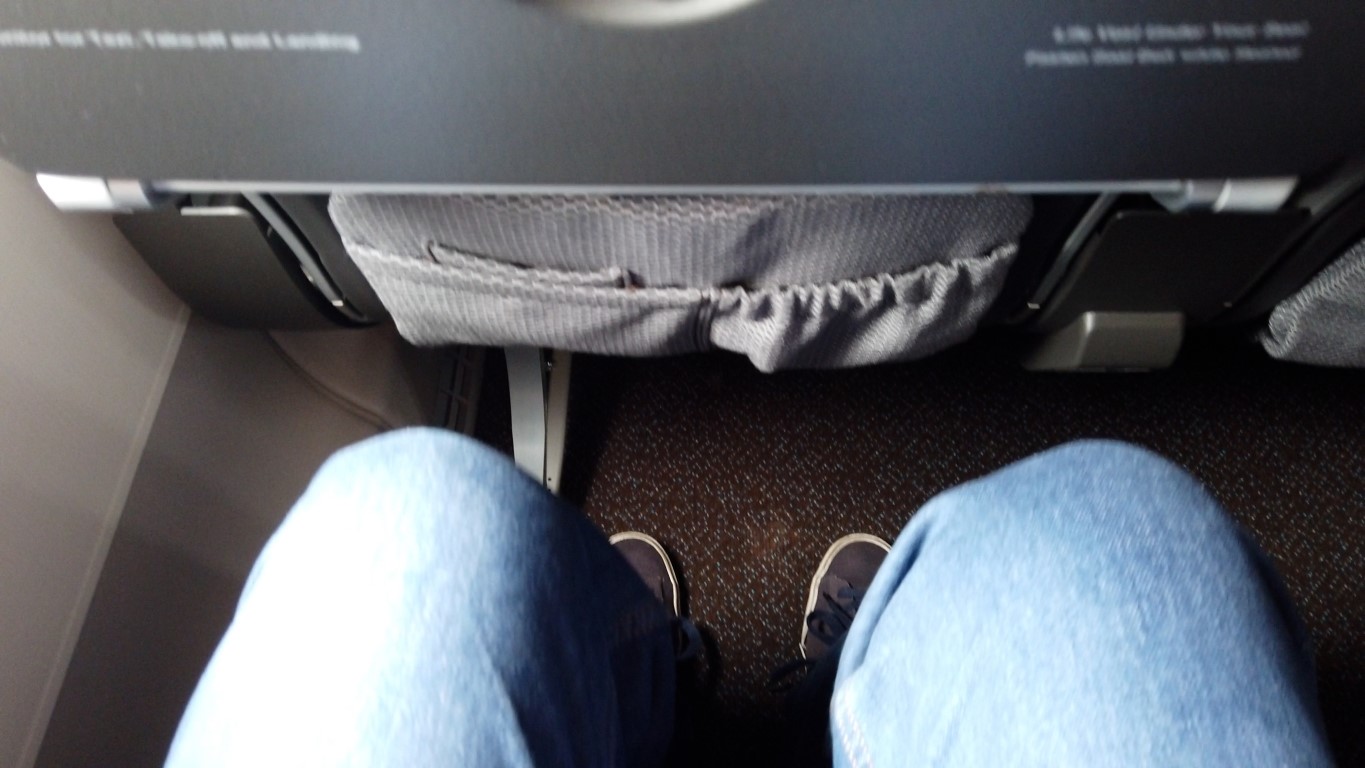 On the back of the seat in front is a seat pocket with space to store your passport, mobile phone and any other small personal items.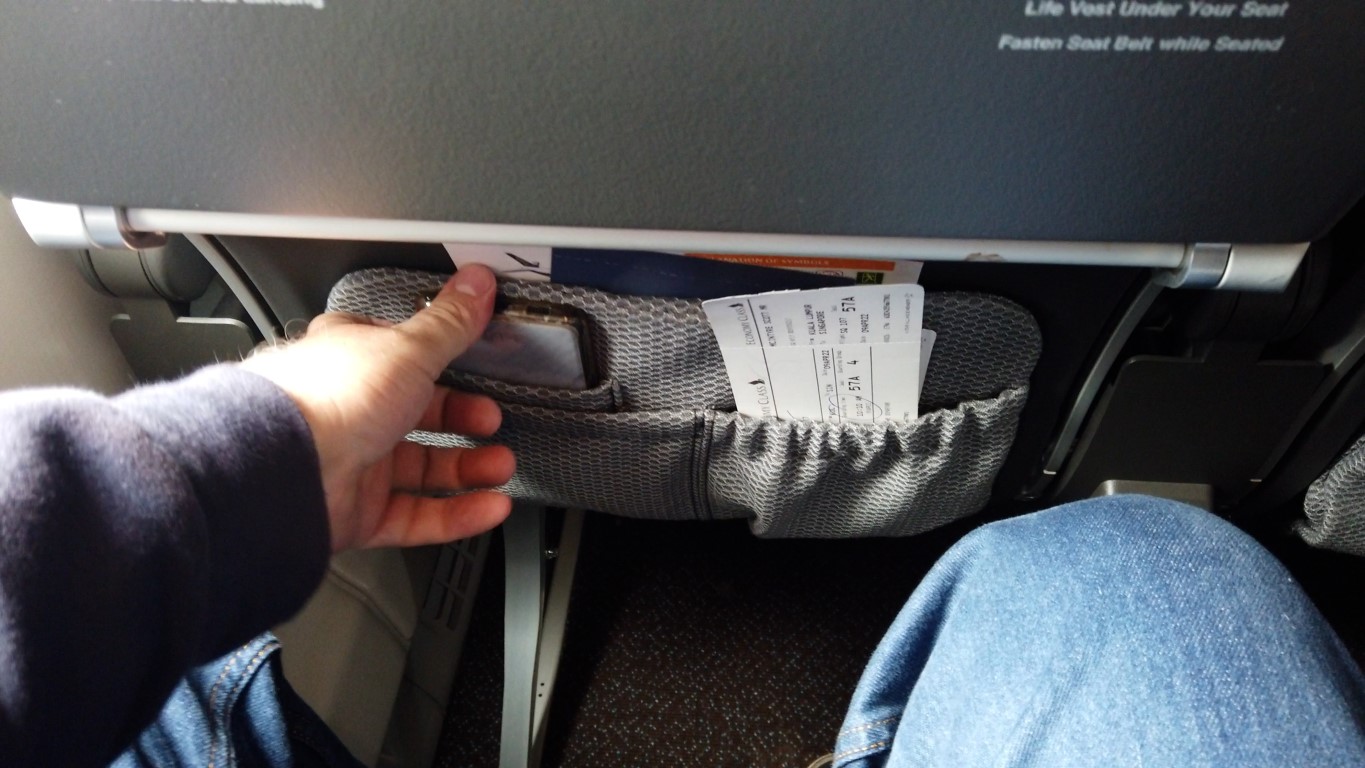 There is also a USB port right on the seat back which is perfect position for easy access. There is also a universal power adapter down on the leg of the seat.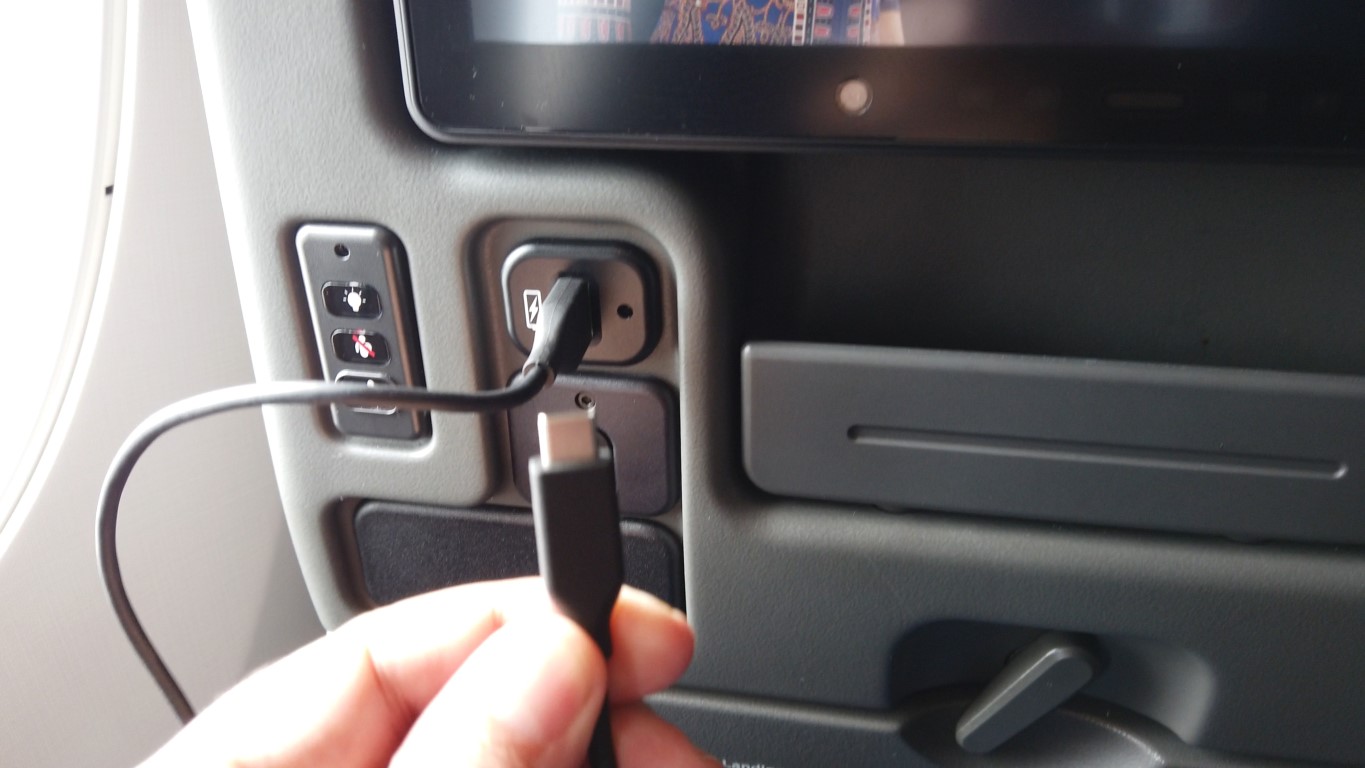 The plane was mostly full but I had the 2 seats next to me empty which is always good.
Entertainment System
The Inflight Entertainment System on these Singapore Airlines A350-900 are state of the art systems with over 1100 movie and TV shows to watch. The screen in Economy Class is an 11 inch touch screen which is not huge but a decent size. I had forgot to collect the earphones when I was boarding the plane so I did not watch anything. I usually prefer to look out the window and was the earth go by below.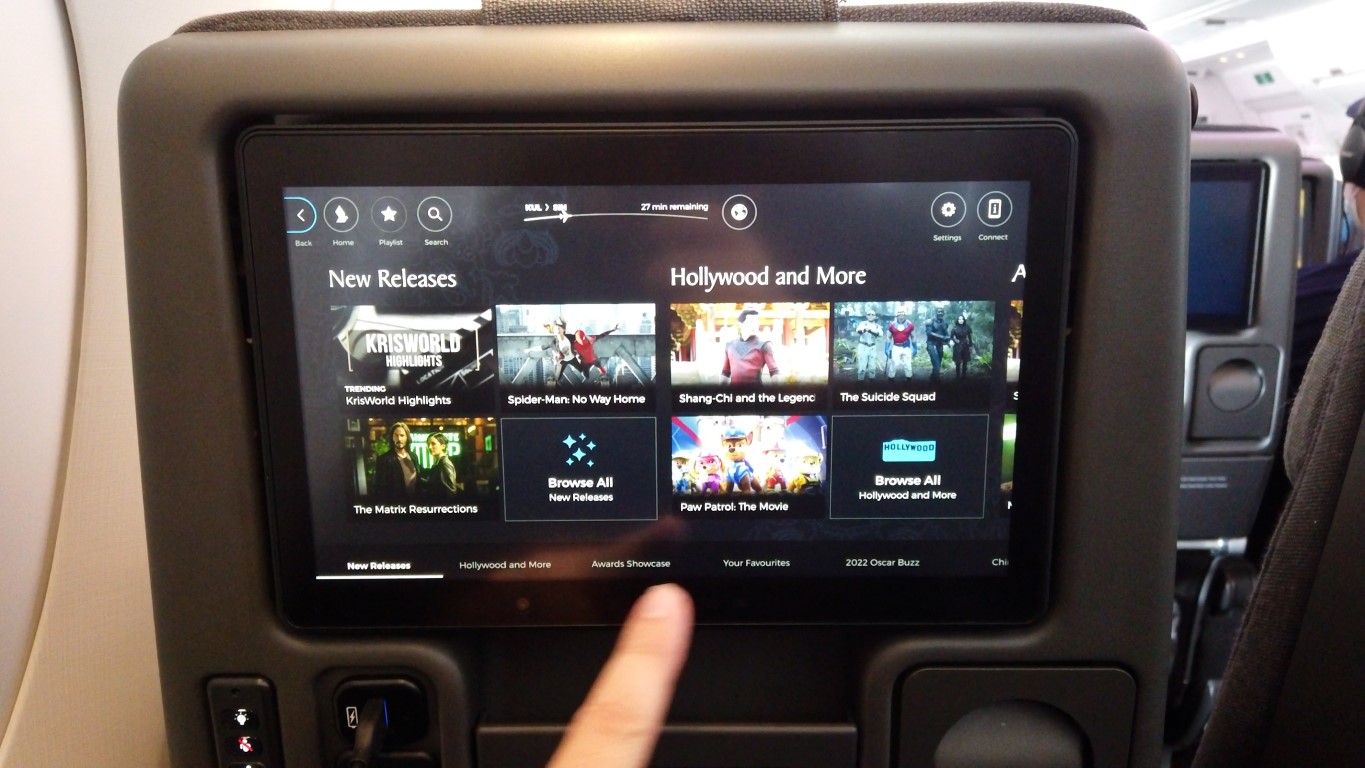 The Flight Map system is one of the best in the world. This 3D style moving graphics, rotates around the animation of the plane and shows all the cities you are traveling over. I alternated between looking out the window and watching the flight map. I love maps and this animated moving map is the best I have seen on any airline.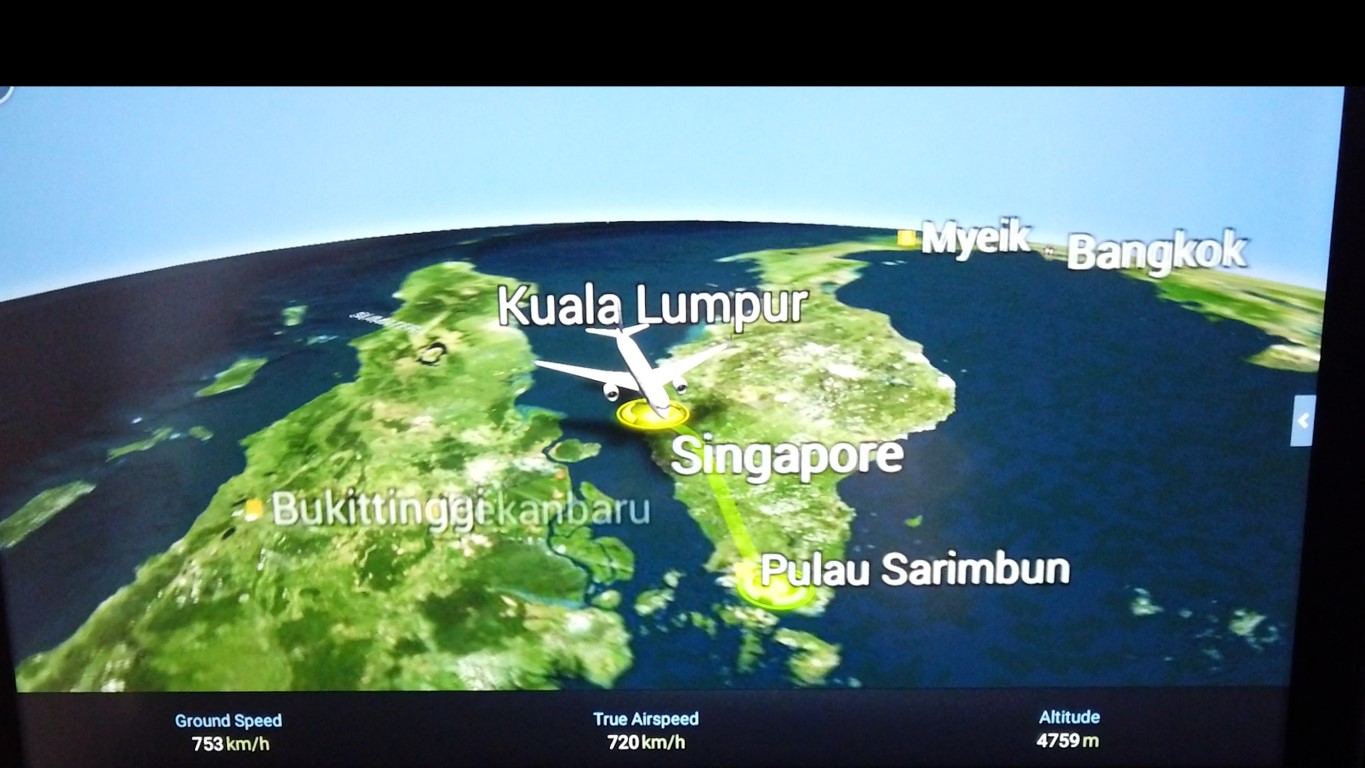 Food on this flight
They did not serve any food on this very short flight, as the flight literally takes off, gets to cruising altitude and then starts to decent into Singapore Airport. The cabin crew did come around and serve drinks, a choice of tea, coffee or water. I was quite impressed they even did this considering it is just a short flight. I went for a nice hot coffee. No milk, just powdered milk which was just fine.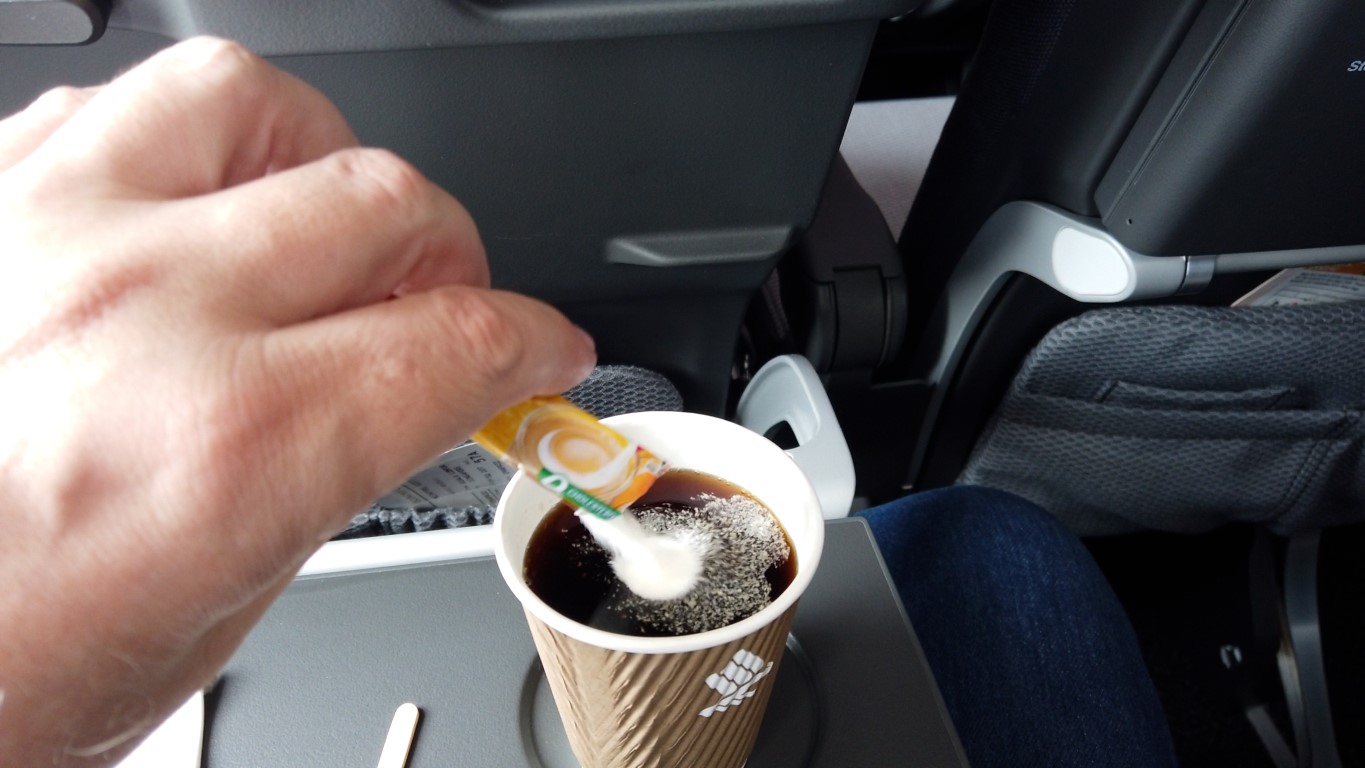 The service
With just 45 minutes in the sky, there is not a lot of interaction with the cabin crew, just when they are serving the drinks. I did notice that the Singapore Airlines crew all made an effort to greet you when boarding the plane and when getting off. These greetings are done with a smile, rather than the half hearted greetings you get on other airlines.
Singapore Airlines really do have great cabin crews, some of the best in the world!