Flight Review Japan Airlines JAL Business Class Sydney to Tokyo Narita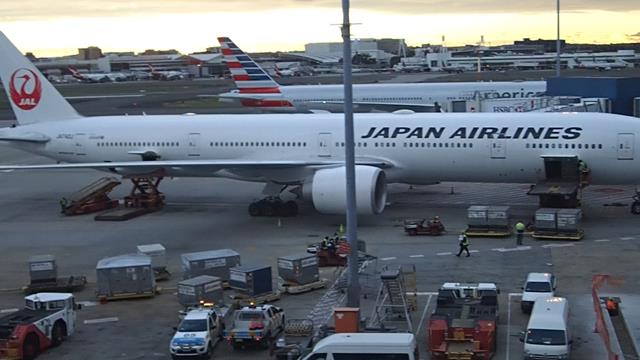 Flight no: Japan Airlines (JAL) Flight JL772
Route: Sydney to Tokyo Narita International Airport
Aircraft type: B777-300ER (773)
Flight time: 8 hours 50 minutes
Travel class: Business Class
Seat type: Lay flat bed
Seat Width: 25.5 inches
Seat Pitch: 74 inches
Check out the full Flight Review Video for this flight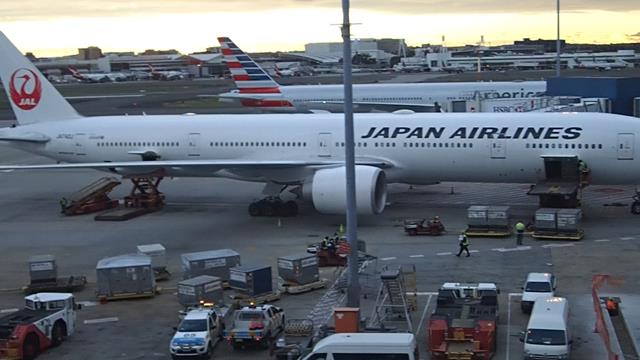 This is the first time for me to fly with Japan Airlines. I was looking forward to the flight as I had heard good things from some Japanese friends who said I would be impressed. I normally fly with Qantas between Sydney and Tokyo (Haneda) airport but company policy is to take the cheapest business class flight and this time round the Japan Airlines flight was close to $1000 cheaper. The Japan Airlines flight lands into Narita Airport which adds more than 1.5 hours to the travel time as you have to get the Narita Express bus from Narita airport into Tokyo. Tokyo Haneda is only 30 minutes by taxi to the centre of Tokyo.
At Sydney airport, Business Class passengers get to use the Qantas Business Class lounge before boarding the flight. As I am a Qantas Platinum Frequent Flyer (Emerald Frequent Flyer on Oneworld Alliance) I got access to the Qantas First Class lounge which is so much better than the Business Lounge.
In the Qantas First Class lounge you can have a full meal prepared fresh by the onsite chefs, compared to the buffet food in the Qantas Business Lounge. As I arrived at the airport at 6am I went for the full breakfast (Qantas First Class Lounge Signature Breakfast) which comes with a choice of eggs (poached, fried or scrambled),  bacon, pork chipolata sausage, hash brown, roast tomato and a thick crunchy toast. Big thumbs up for the Signature Breakfast! Delicious and a hearty meal!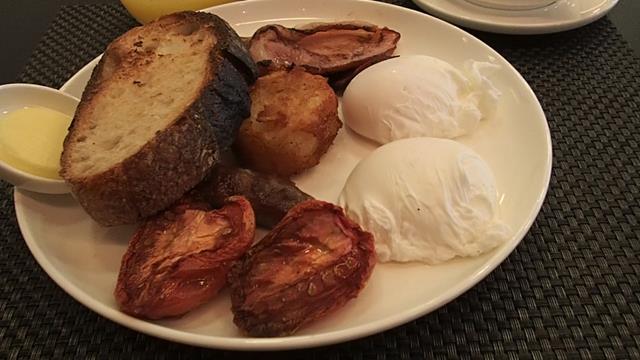 After breakfast I headed to the departure gate where the flight boarded on time. As well as my first time flying on Japan airlines, this was also my first flight on the Boeing 777. First impressions is this is a huge plane. This configuration on Japan airlines holds 244 people with 8 in first class, 49 in open business class seats, 40 in Premium Economy recliner seats and 147 down in cattle class Economy.
I was impressed with the Business class pods. The seats are staggered so not right next to each other and they have little privacy screens between each business class pod so you can get privacy and not have to speak with that annoying person who just wants to chat all flight! Sorry but I want to eat and watch movies on my flights.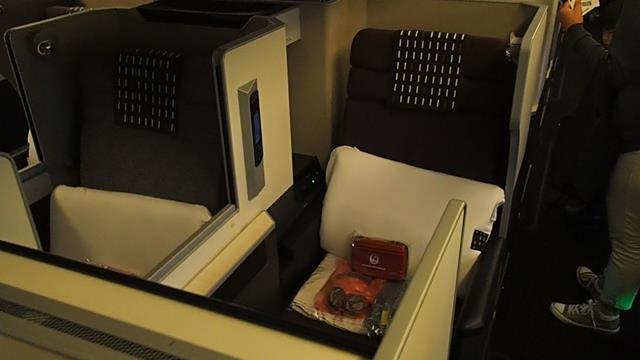 Though sitting down in my seat it did feel a bit squishy to other business class seats. Now that I compare the different airlines it does seem Japan Airlines seat are built for the average Japanese business person and not for the larger Western traveler. The Business Class seats on this flight had a width of 25.5 inches. This compares to the last business class flight I took on Cathay Pacific (B747-400) with a seat width of 32 inches. Check out the review for the Cathay Pacific flight from Hong Kong to Tokyo.
The hostess came around and offered a glass of champagne or glass of orange juice. All very nice except these were not served in glass but in plastic cups!! Really Japan Airlines? Serving Champagne in Business Class in plastic cups. Are you serious?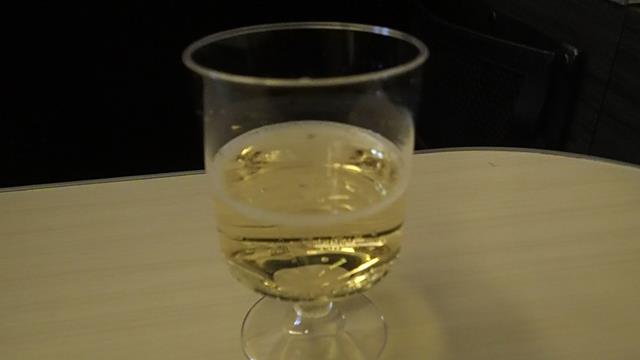 So sipping away at my Champagne in the plastic cup I grab the in-flight magazine which I love to read to dream about all the exotic travel destinations. As I flip through I discover this Japan Airlines in-flight magazine is specifically written for Japanese travelers as most of the articles are written in Japanese. I grab the in-flight shopping magazine and same, all in Japanese language! Really Japan Airlines? Do you only cater to Japanese Travelers? Do you not want international travelers to fly and enjoy your airline? Thank you, noted. I will remember this for my next flight between Sydney and Tokyo! Damn you Company Travel Policy! I might have to stoop to premium economy on Qantas next time so I can read the in-flight magazine! Well then again, probably not! hehehe.
Next disappointment was the Business Class amenities kit. It looked very impressive in a hard cased pack. I opened it up looking for all goodies you get on a good airline like the hand moisteriser, face cream, lip balm and on the really good airlines like Emirates they even throw in a small bottle of cologne. On Japan Airlines – ear plugs, eye mask, socks, lip balm, toothbrush and toothpaste and some tissues. (pretty much the same as an Economy amenities kit on other airlines!). Where is the hand cream and face mosteriser which works so well for keeping your skin moisterised in the dry cabin air? Oh well! I can survive with dry hands and face!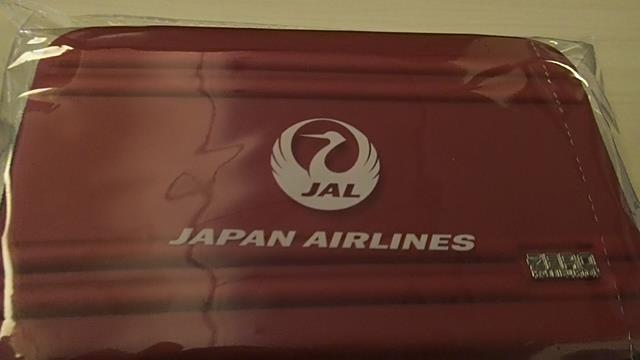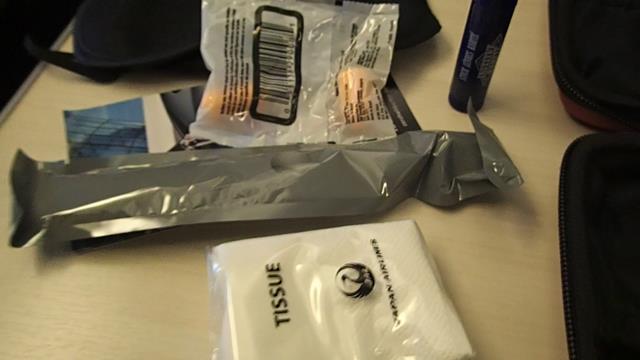 I didn't have a window seat to watch the take off so I flipped through the available movies. Hurrah! Loads and loads of new release Hollywood movies and lots of popular movies from recent years. I turn on the latest Superman movie, Batman vs Superman: Dawn of Justice (boooo Ben Affleck! You should never have been picked for the Batman role). As the movie starts I realise the movie has Chinese subtitles. Not Japanese but Chinese. On the controls there is a subtitle button which I click several times but I cannot get ride of the Chinese subtitles. Oh well I can put up with this. I got through 3 movies on this flight, either with Chinese or Japanese subtitles.
After takeoff they brought me the food menu which had a choice of Japanese lunch or Western lunch. As I had just had a big breakfast in the Qantas lounge I decided to just have one of the snacks off the 'Anytime You Wish' menu. When I ordered the plate of Fettuccine with Pork Bolognese sauce the hostie said 'Sorry not now'. When I pointed to the 'Anytime You Wish' on the menu, she pointed to the small print which said 'Anytime You Wish' after the main meal is served. OK I'll wait for my Fettuccine. She said she would reserve me a plate of the Fettucine and bring it to me once everyone else had finished their meal.
About an hour later the hostess brought a tray with my meal on it. She put down a plate of Spaghetti with Mozarella Eggplant and Meat Sauce. I didn't realise she had brought me the wrong meal until she had walked away. Rather than complaining I dug in and it was delicious!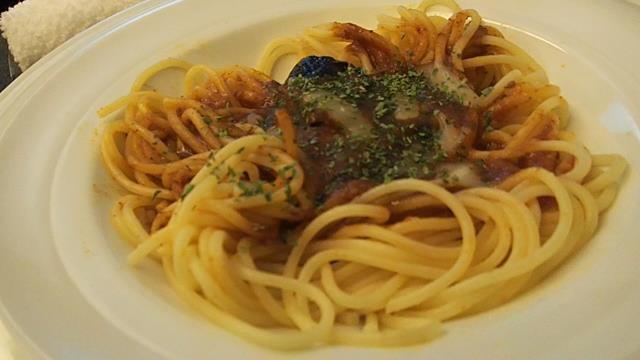 After I finished the Spaghetti the hostess asked if I wanted to try the dessert from the Main meal selection – a slice of the Tiramasu cake. Yes please! She brought it over and it was very tasty.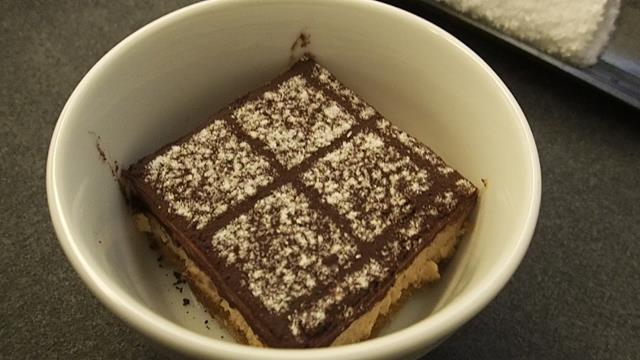 After watching the second movie I was a bit peckish and wanted to try the Smoked Turkey Sandwich with Cranberry and Cream Cheese. I ordered that and it didn't take that long to arrive – a plate half full of lettuce and a half Turkey sandwich, 2 small quarters. Hmmmm I wonder who got the other half of my sandwich? The bread must have been sitting in the open for sometime as it felt a bit stale on the outside. I took a bite and it was only stale on the outside, the inside of the sandwich was fresh and very tasty.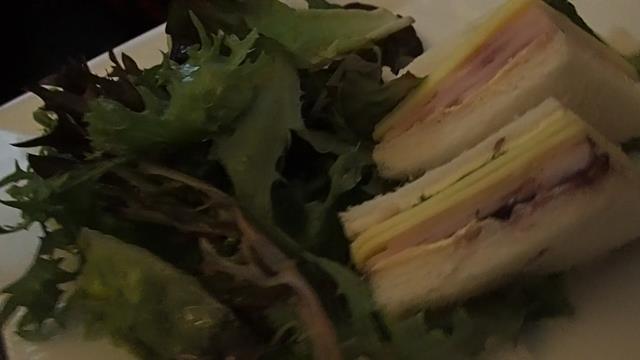 Just before landing into Narita airport I decided to have another snack before the long bus ride into Tokyo. I ordered a bowl of the Japanese "Udon" Noodles in Soup with Seaweed. Another tasty dish with really thick Udon noodles.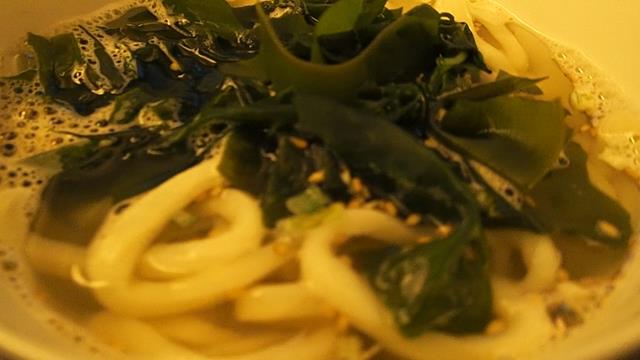 We actually landed 15 minutes before our scheduled arrival time which brought Japan airlines total score to 2.5 out of 5! Just a pass mark Japan Airlines. Very polite staff and tasty food got you this pass mark. Maybe you would have had a bigger score if the seats were wider and I could read the inflight magazine! I got my flight home coming up in a few weeks time so I hope I can get that plate of Fettucinne I ordered and the other half of my sandwich.
Check out the most popular Flight Reviews on this site: