Flight Review Cathay Pacific Business Class Hong Kong to Tokyo Haneda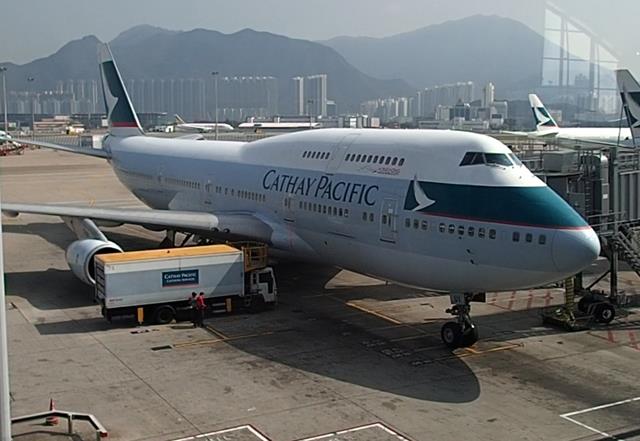 Flight no: Cathay Pacific Flight CX542
Route: Hong Kong to Tokyo Haneda International Airport
Aircraft type: B747-400
Flight time: 3 hours 30 minutes
Travel class: Business Class
Seat type: Lay flat bed
Seat Width: 32 inches
Seat Pitch: 78 inches
Check out our video of this Cathay Pacific flight
It has been many years (27 years infact) since I had flown with Cathay Pacific. That flight was actually my first international flight ever and I remember it was a very good experience. I guess it was part of the reason I got the travel bug! In February 2016 I had to fly to Hong Kong for the weekend during a business trip to Japan so I had the opportunity to fly with Cathay Pacific again. This flight review is for the return flight back to Japan from Hong Kong International Airport.
I arrived at Hong Kong airport via taxi which cost around HK $270 from Wan Chai where I was staying. Yes I am sure I could have caught the train but I was in a rush. But HK$270 is only around A$46 so not so expensive. The last time I flew into Kai Tak Airport in Hong Kong back in 1989, a truely remarkable experience I will never forget! I had a window seat and you actually flew between buildings, looking into peoples' apartments and seeing them hang their washing on their balconies just before you landed at Kai Tak Airport. Amazing!
The current Hong Kong International airport on Chek Lap Kok island, next to Lantau Island, is huge. Rather than looking around the airport I went straight to the lounge to check it out. With a Business Class ticket you get access to The Bridge Business Class Lounge. As I am a Qantas Platinum Frequent Flyer / Emerald One World I get access to The Pier First Class Lounge so I had to go check it out. It was very nice, quiet with a large bar area to sit at the bar or just grab a drink from the barman and take a seat over near the windows to watch the planes taxi or get loaded at their gates. There is also a large buffet of food to try in the room next to the bar.
When I checked in for the flight I had no idea what the seat configuration was on this flight. I asked if i could get a window seat in the upper deck. The girl checking me in just said yes. Turns out every seat upstairs is a window seat! Also every seat in Business Class downstairs is a window seat too. The upper deck on this Cathay Pacific B747-400 is entirely Business class seats, all single seats at a 45 degrees facing into the aircraft, s0 the window is actually behind you. So much for a window seat for looking out the window. I think one of the great joys of flying is getting a window seat and looking down over the ground or ocean you are flying over.
I was poured a nice glass of champagne before take off which is standard for business class flights. Cathay Pacific serves Champagne Deutz which comes from the Aÿ region of Champagne France. At around $75 per bottle it is a very nice champagne. The best thing about this served on Cathay Pacific is that they serve it in a real champagne class unlike some other airlines who serve their champagne in tiny glasses (Qantas…). Read more about the wines served on Cathay Pacific Business Class flights.
Dinner on this flight had a starter of Poached Angel prawns, seaweed and plum mayonnaise, Mixed seasonal salad and Japanese Yuzu dressing and a side dish of Green Tea Soba noodles.
For main meal there was a choice of steamed Halibut, spiced termite mushrooms, broccoli and steamed jasmine rice or Roasted chicken breast, turnip, parsnip, creamy Parmesan polenta and black truffle port wine sauce or the dish that I chose, the Japanese beef curry, peas, carrot and steamed rice. I do like a great Japanese curry. It is so tasty! The Japanese curry didn't look too tasty when it was delivered but it tasted pretty good, just like your standard Japanese curry.
Dessert was some fresh seasonal fruit with a tub of Haagen Dazs ice cream. Simple but delicious dessert to finish the meal. I had a delicious dessert wine with this.
The Business Class seat has a large TV screen which swivels out in front of you and has a choice of 26 recent release English movies to watch. There were more choices of Chinese and Japanese movies as well as well as lots of TV series to watch.
I was only expecting to earn Qantas Frequent Flyer points (I received 5200 base points plus the extra 5200 status bonus points for being a Platinum Member) for this flight but was surprised to learn I also earned some status credits, 80 status credits. I since found on that most of the One World Alliance airlines pay these status credit points when you fly with them. Looks like I have more alternatives than my past devout loyalty flying with Qantas!
This was a fairly short flight at 3.5 hours. This was enough time to enjoy the service, have a delicious meal, watch a movie and have a small nap, around 30 minutes just before we landed into Tokyo Haneda International Airport.
Thanks Cathay Pacific! Great flight. I look forward to flying with Cathay Pacific again soon.
You can check out flight information on Cathay Pacific's website.
Have you flown with Cathay Pacific recently? What do you think of the service and aircraft? Leave a message at the bottom of this page.