Genki Sushi Conveyor Belt Restaurant in Shibuya Tokyo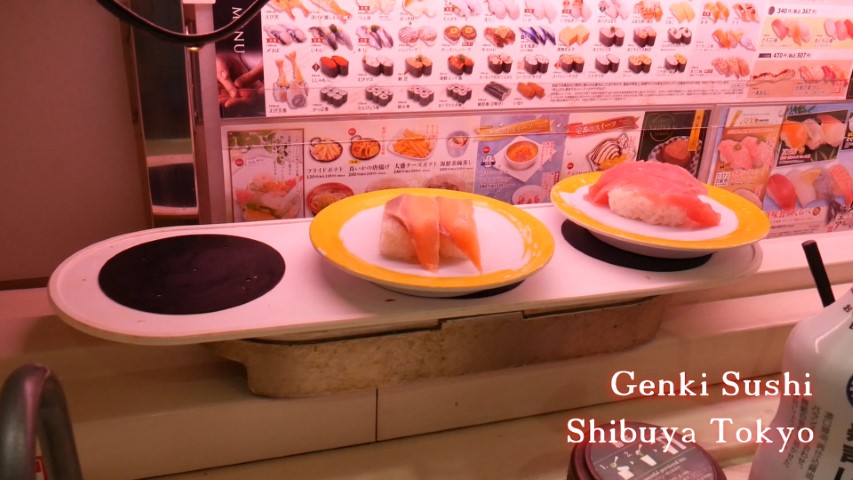 Genki Sushi is a very fun and popular restaurant location in the heart of Shibuya Tokyo. I guess you could call Genki Sushi a conveyor belt restaurant but it is not your normal sushi train restaurant with the sushi riding around and around.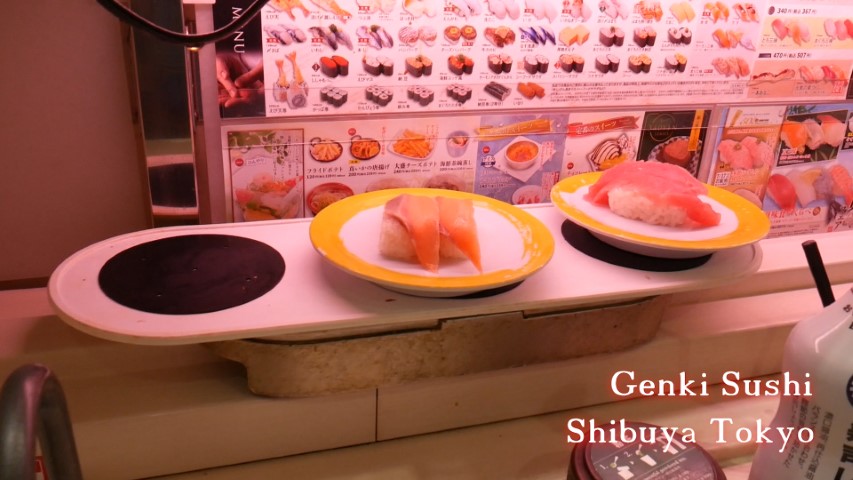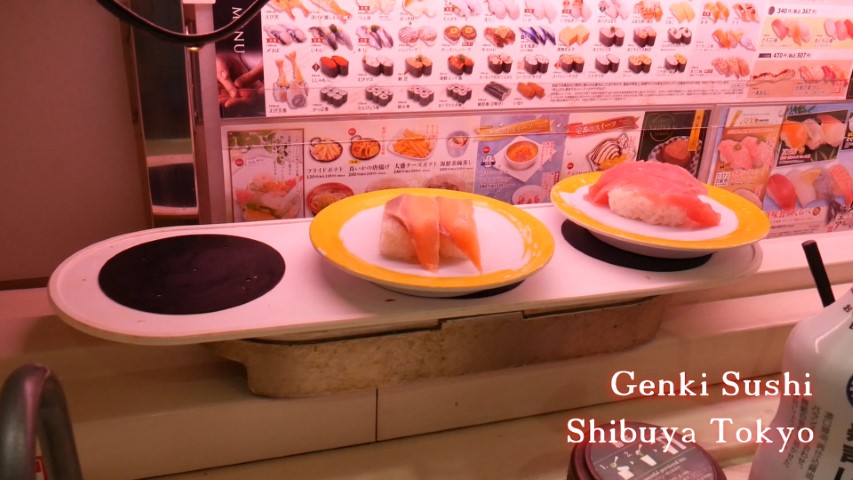 Check out the video for Genki Sushi Conveyor Belt Restaurant in Shibuya Tokyo
At Genki Sushi, you order your sushi via a small electronic tablet at your seat and then once it is prepared by the chefs it is delivered straight to your seat on a small conveyor belt platform. I guess it is not even a conveyor belt as I didn't see anything moving. I think the platform is more like a magnetic levitation train. Whatever it is, it is pretty cool to get your food delivered this way.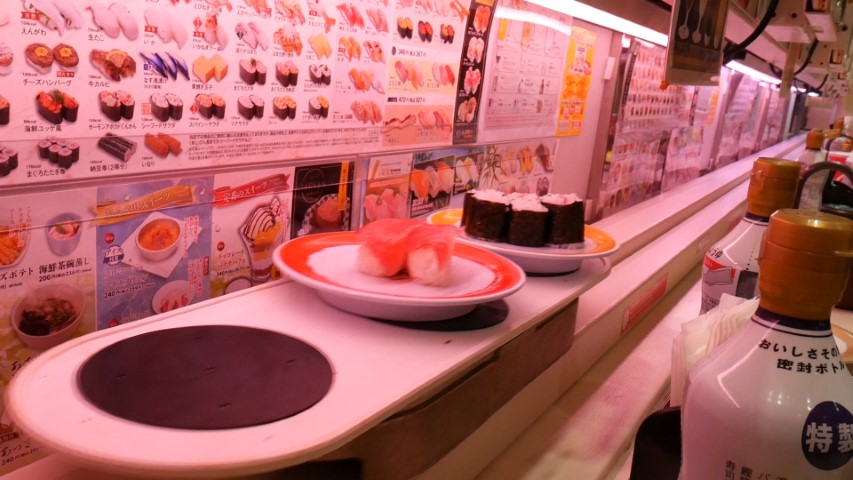 Once you take the sushi plates of the tray, you hit a button on the touch pad to send the small platform back to the kitchen.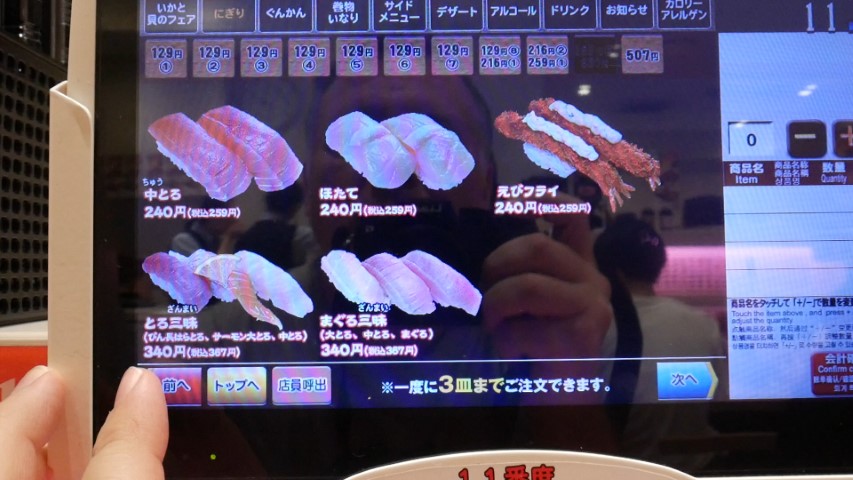 The electronic tablets have a button to press to display the menu in English. There are also pictures of the different pieces of sushi so it is really easy to order.
I had lunch here and had 5 plates of sushi and 2 beers and the bill came to just over 2,000 Yen (around A$24 or US$18) so this is quite a reasonably priced sushi restaurant in Tokyo.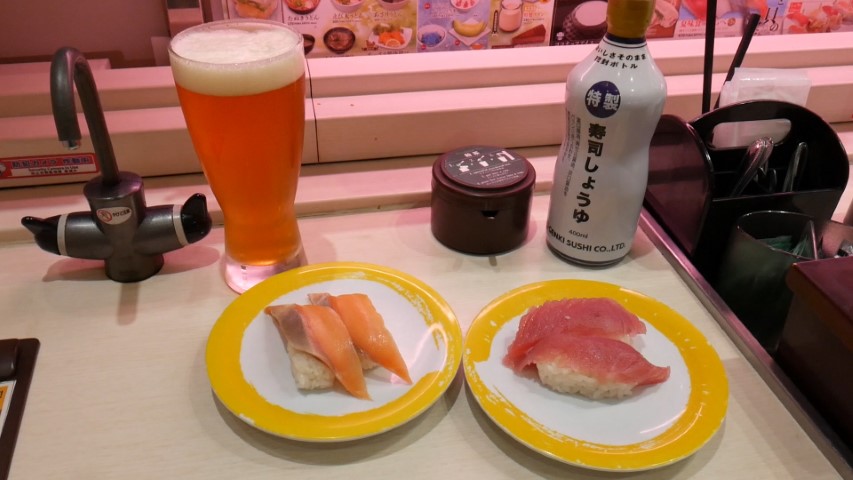 The quality of the fish was very good, though I must say that some of the sushi was not put together so well, with parts of the rice falling apart when you picked it up with your chopsticks. But overall everything tasted good, the fish was fresh and tasty.
One of the more interesting menu selections was Hamburger with cheese sushi. I ordered it out of curiosity and it was a hamburger patty with a little squeeze of melted cheese on top of some sushi rice. At work during the week, I told one of the my Japanese colleagues I had eaten the hamburger sushi and she laughed and said this is only for children. Haha well I guess I am a big kid as I enjoyed it!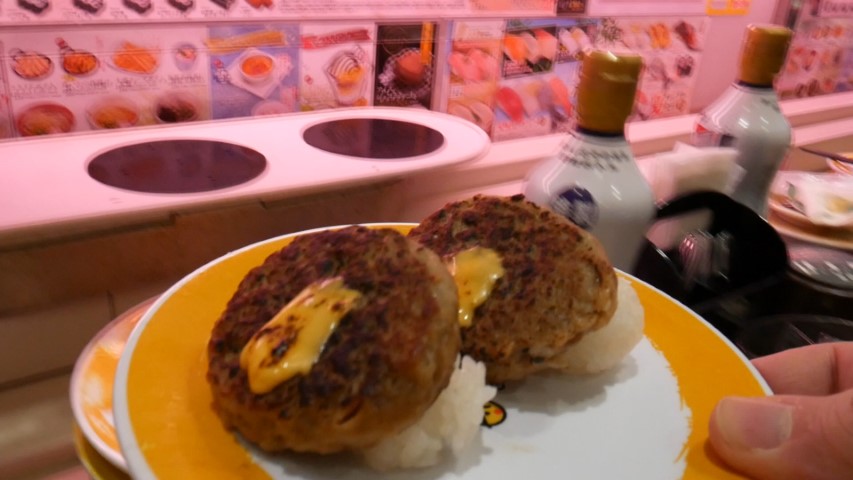 Genki Sushi is located just off Basketball Street, which is right next to the busy Ginza Crossing, just a few minutes walk from Shibuya Train Station.
During lunch and dinner time, Genki Sushi is really busy and there is a queue out the front. You have to go inside first and put your name on a form and then when seats become available they call the next names on the sheet.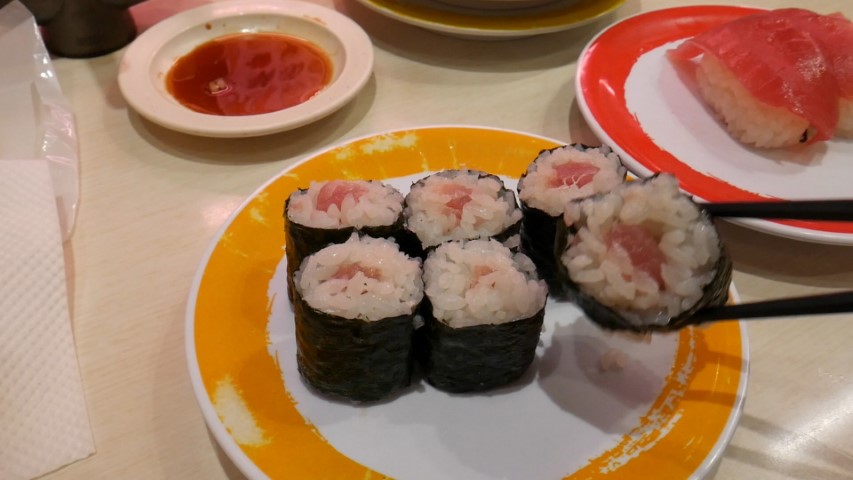 I got to the restaurant at 2.30pm on a Sunday afternoon and there was still a queue of around 6 people waiting to get in. It didn't take long though to get inside. The service is also pretty quick so once you have ordered on the touch pad it only takes a few minutes before your food can arrive. You can only order 3 plates of sushi at a time as this is all the little platform can carry.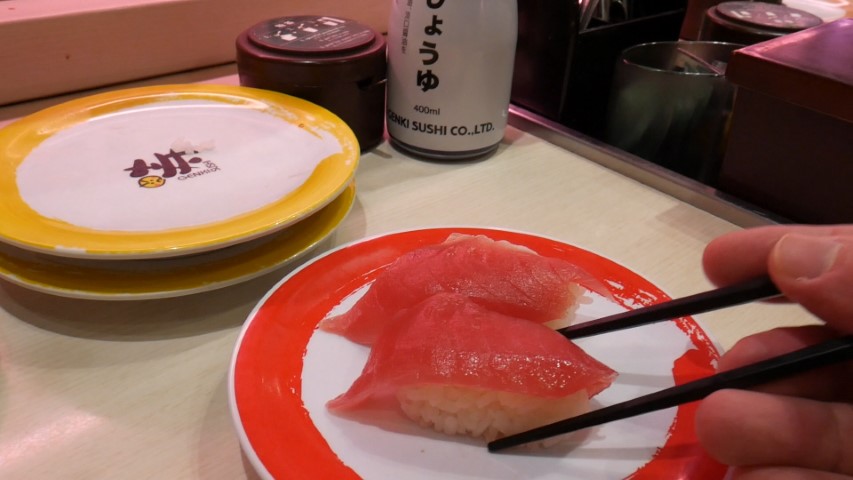 Every table has a touch pad in front of it so everyone gets to order their own sushi. Or mix and match with your friends or partner.
Genki Sushi
2-4-8 Udagawacho
Shibuya Tokyo
Ph: (03) 3461-1281
Website: https://www.genkisushi.co.jp/
Open 7 days a week. Monday to Friday 11am – midnight. Saturday and Sunday open 10.30am to midnight.
Check out the location of Genki Sushi in Shibuya Tokyo