Club Lounge at Hyatt Regency Hong Kong Review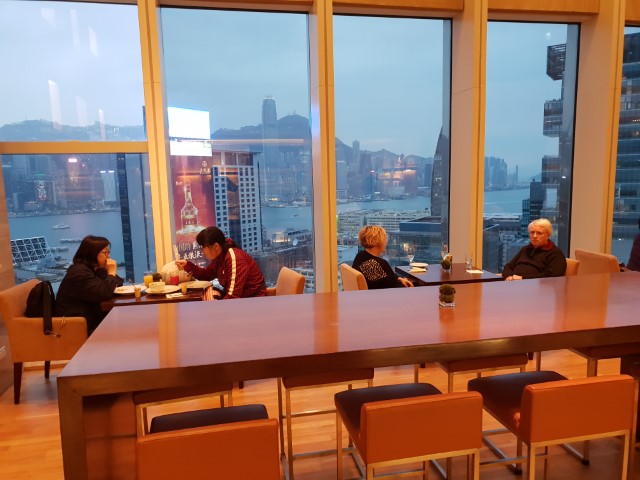 The Hyatt Regency Hong Kong is a very good quality luxury hotel located in the heart of Tsim Sha Tsui in Kowloon Hong Kong. When booking a room at the Hyatt Regency Hong Hong you can book a room with Club Access to get access to the Club Lounge.
The Club Lounge at the Hyatt Regency Hong Kong is located on Level 23 with excellent views over the Hong Kong skyline. There are a few buildings in the way but you still get a decent view over Victoria Harbour across to Hong Kong Island. The Club Lounge access includes a buffet breakfast from 6.30am to 10am (until 11am on weekends) and evening drinks and canapes from 5.30pm to 7.30pm.
Now I usually get up very early and on the 2 mornings of my 2 night stay I was in the club lounge just after 6.30am so there were not many people in the lounge and it was easy to get to the buffet and find a seat.
The breakfast food selection was OK, not the best buffet breakfast I have seen but I usually just go for some toast and coffee or a muffin and coffee. There was a really nice selection of muffins and pastries. There were also a few hot dishes like scrambled eggs and bacon.
Now for the evening drinks and canapes, then the lounge was way too crowded. I just went in the first night and I struggled to find a seat and it was so busy at the buffet. The food seemed to disappear as soon as the staff put it out. The staff were definitely struggling to keep up with the hungry crowd the night I was there. I didn't go in on the second night as had dinner plans with friends so decided to give it a miss as I was not impressed with the previous night.
Although it was difficult to get food, the drink service was just fine. The night I was there, the crowd seem to be interested in the food, leaving the bar fridge free for me to help myself.
I stayed at the Hyatt Regency on the 28th and 29th December. I presume this is a busy time of year for visitors to Hong Kong. I am not sure if the Club Lounge is always as busy as I had experienced. If there were less people than what I experienced then I would say it would be a lovely Club Lounge to hang out at.
The view from the lounge is nice but if you really want an excellent Club Lounge with the best view in Hong Kong then I highly recommend you look at staying at the Grand Hyatt across on Hong Kong Island. See my review of the Club Lounge at the Grand Hyatt Hong Kong.
Hyatt Regency Hong Kong
18 Hanoi Rd
Tsim Sha Tsui
Kowloon Hong Kong
Website: Hyatt Regency Hong Kong Website
Get discounted room prices at the Agoda Hotel Booking website
Check out the location of the Hyatt Regency Hong Kong in Tsim Sha Tsui Kowloon