Jamie's Italian Restaurant Kuta Beach Bali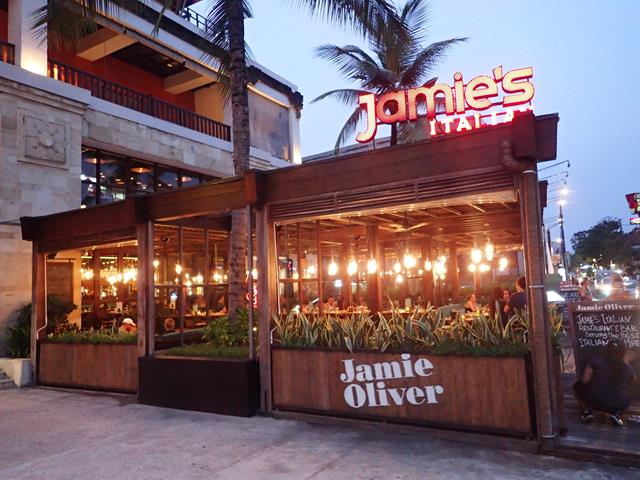 Jamie's Italian Restaurant is one of Jamie Oliver's great Italian restaurants, opened in June 2015, just around the corner from Kuta Beach. I have now eaten at Jamie's Italian in Sydney and also in Canberra and I can say that this restaurant in Bali is the better than both of them. Actually I think this is the best restaurant I have ever eaten at in Bali. All I can say is 'Jamie you are not just a gastronomical genius but also one of the best restaurateurs in the world'.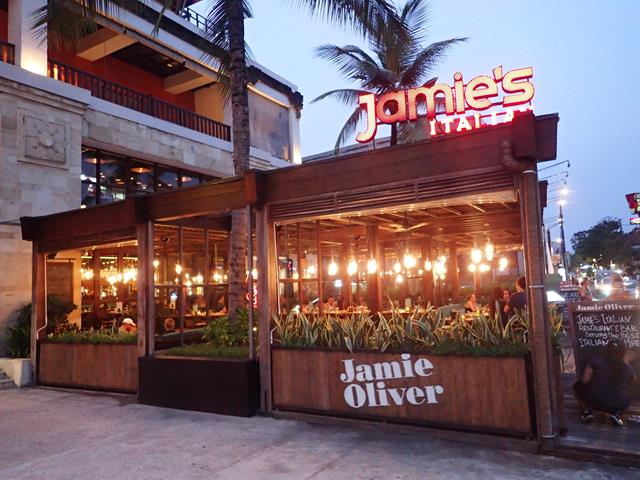 The service at Jamie's Italian Restaurant is spot on. Jamie you have trained the staff so well. I was taken to my seat and then introduced to the waitress who would be serving me for the evening. I hadn't even been in my seat for 30 seconds and I had already ordered a beer, a bottle of still water and the waitress recommended I try the Italian nachos while I was checking out the menu for my main meal.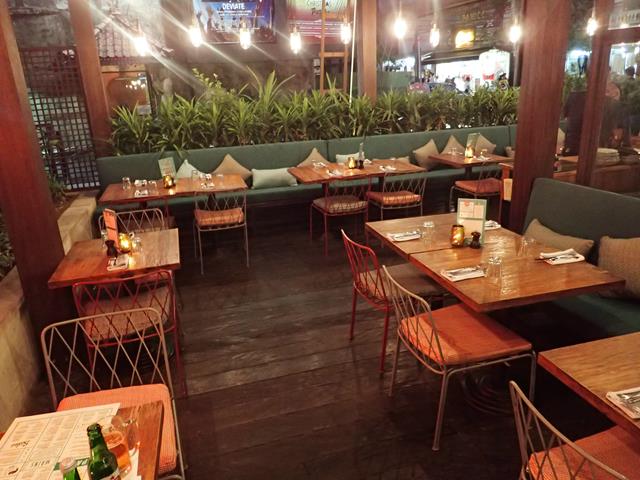 I had primed myself for dinner at Jamie's by only have a very light breakfast and a small salad for lunch. I was ready for one of Jamie's Italian food adventures.
It didn't take long for this 'Italian nachos' to come to my table. This Italian nachos was crispy fried ravioli stuffed with three cheeses and served with an arribiata sauce. I had put the menu down and devoured this nacho in no time. Delicious!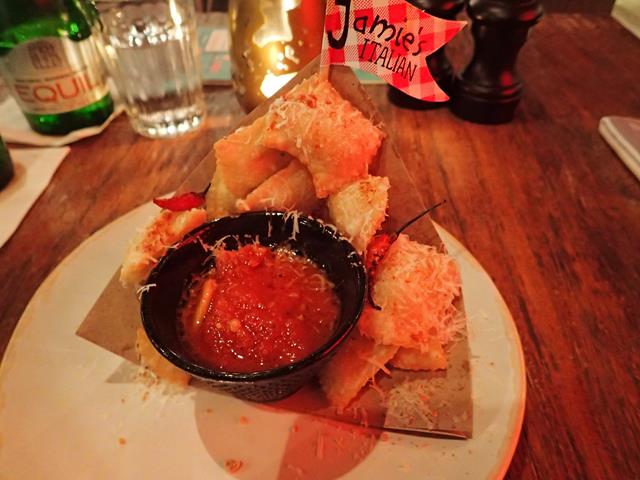 Back to the menu and I was struggling to choose what to have for my main course. There are so many things on the menu that sound delicious. I was leaning to 220 gram Rib Eye steak which is served with a garlic and parsley butter. The Burger Italiano also looked good with a char grilled beef burger with melted fontina cheese, sweet tomato salsa, mortadella, pickles, chilli and crispy fried onions, served with funky chips. I also thought about trying the pizza though I decided to go for a pasta dish and chose the Tagliatelle Bolognese, a ragu of beef, herbs, Chianti and Parmesan with crunchy breadcrumbs.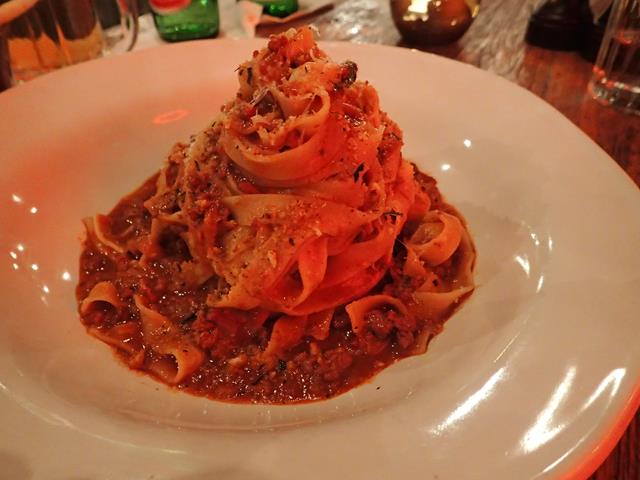 The pasta arrived a short while later and was a huge pile of pasta with a nice thick Bolognese sauce which stuck to the pasta. Oh My! So good!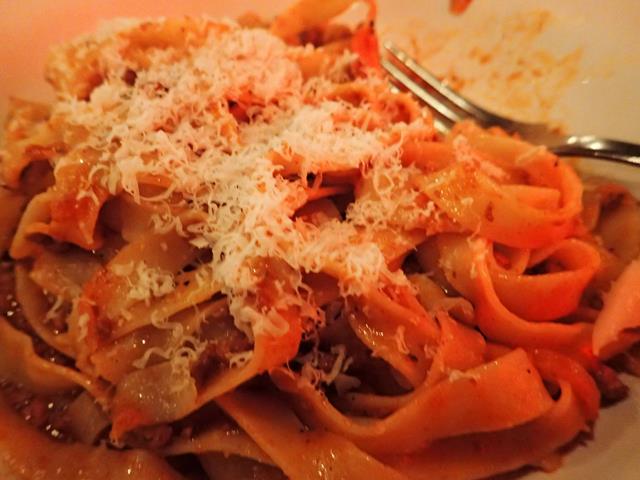 The wine menu at Jamie's Italian Restaurant is all imported Italian wine. They have a good choice of white and red wine from various areas of Italy including Tuscany, Piedmont, Aburzzo and Molise in Southern Italy. With my pasta I tried to order a glass of the Santa Christina from Tuscany though they told me they had run out. They offered me a glass of the Fontanafredda Barbera D'Alba Raimonda from Piedmont. This wine is usually only sold by the bottle though they had opened this to serve by the glass as the Santa Christina was out of stock. It was a very fine glass of wine. At 200,000Rp (A$20) a glass I sure hoped it would be.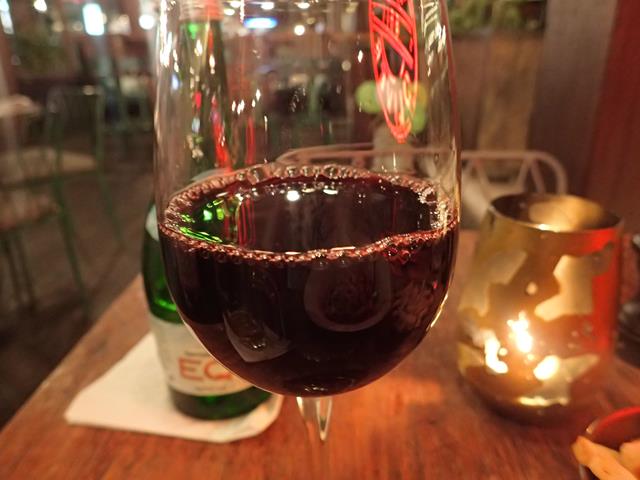 After the delicious Tagliatelle Bolognese I was ready for dessert. My waitress brought me the dessert menu and she told me her favourite dessert on the menu was the Lemon Meringue Cheesecake. The first thing I saw on the menu was the Epic Brownie, a warm fudgy brownie with amaretto ice cream and caramelized popcorn. The brownie sounded delicious but then I saw on the menu the Tiramasu which is my favourite Italian dessert. When I ordered this the waitress told me that it was also her favourite. Wow 2 favourites! Jamie's Tiramasu is a coffee flavoured trifle with orange mascapone and chocolate. It doesn't mention it on the menu but the sponge cake in the Tiramasu is soaked in Kahlua. The layers of Tiramasu were delicious.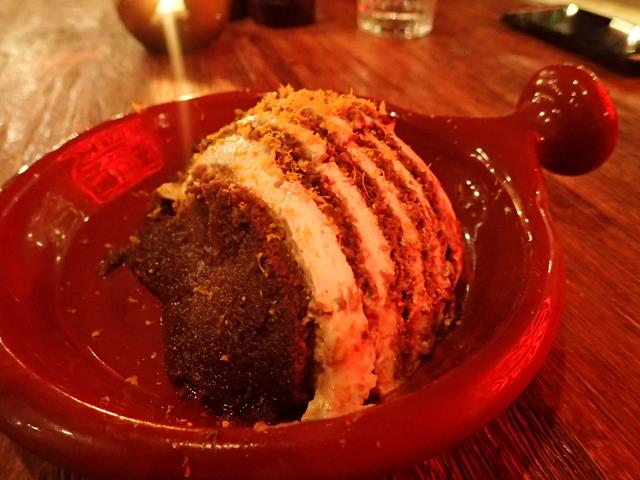 On the dessert menu is also a selection of Italian Digestifs and 2 Italian dessert wines. I choose a glass of the Pipolirosata Basilicata dessert wine which is described on the menu of having notes of rhubarb and rose petals with a long finish and a dry, tangy minerality. I can never taste the different fruit flavours described in wines. I am also not sure what a tangy minerality is supposed to taste like. All I know was it was a tasty dessert wine. I also had a cafe latte to finish the meal.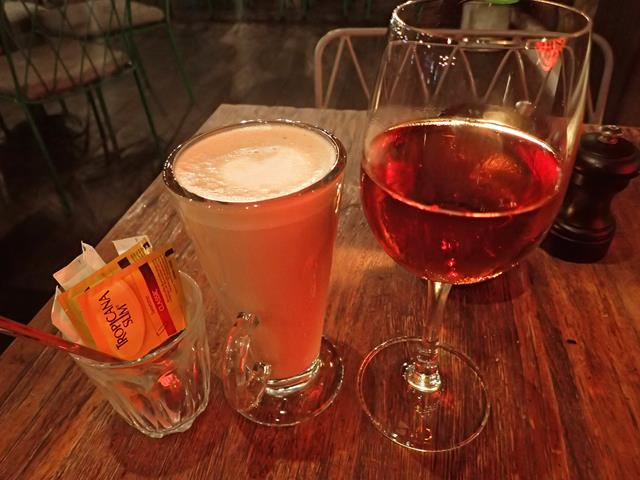 All up I ended up paying 1,250,000 Rp (around A$125) for my meal. A very expensive meal in Bali but well worth it. The service and food at Jamie's Italian Restaurant is world class so worth the money. I'll probably be back very soon to try that Burger Italiano!
Jamie's Italian Restaurant is located at the Hard Rock Hotel just around the corner from the beach. Do yourself a favour and get in to try the amazing Italian food.
One last comment, I had a laugh in the toilet as the toilet is branded with The Oliver from Thomas Crapper and Company. Come on Jamie! Did you have these toilets especially made with your name on it? Hahahaha very funny.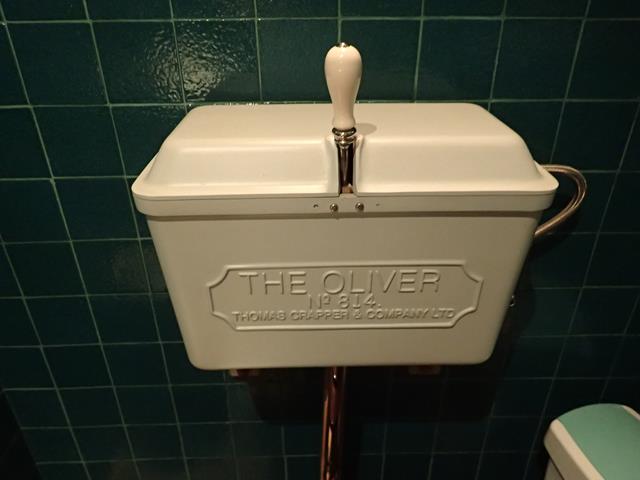 Jamie's Italian Restaurant
Jalan Pantai Kuta
Banjar Pande Mas
Kuta, Bali
Ph: +62 361 762118
Website: Jamie's Italian Restaurant Kuta Bali
Check out the most popular articles about Bali on this site: