Fukutaro Japanese Restaurant Kuta Bali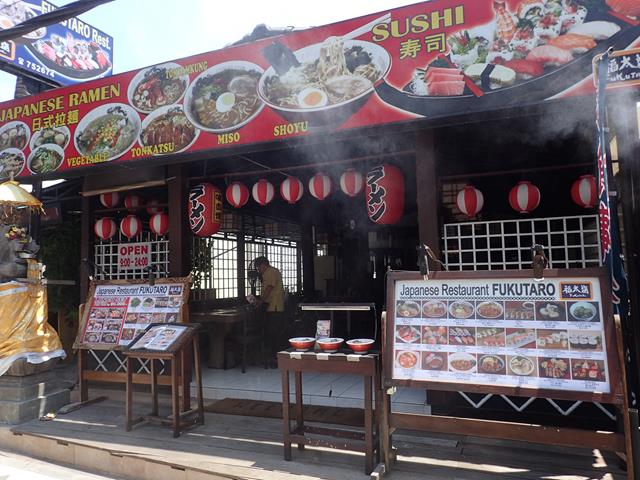 Fukutaro Japanese Restaurant has been serving up traditional Japanese food in Bali for more than 20 years. Fukutaro have restaurants at Kuta, Legian and a new restaurant in Lippo Mall Kuta. I went in for lunch at the Kuta restaurant which is just up from Kuta Square, a few doors down from Bubba Gump Shrimp Restaurant.
Out the front of their restaurant they have pictures of alot of the food they have on their menu. I saw the set menus which includes a miso soup, bowl of rice, side dishes of pickles, vegetables and you have a choice of sushi, sashimi, chicken teriyaki, tempura prawns, udon noodles or soba noodes. I went for the Chicken Teriyaki set meal.
It didn't take long for the meal to come out. The presentation was exactly what I expect from a Japanese restaurant, with lots of little dishes. The chicken teriyaki was quite nice, nothing special but this entire meal only cost 85,000Rp so good price for lots of dishes.
Fukutaro at Kuta is not one of the best Japanese restaurants in Kuta but if you are looking for some cheap Japanese food then this is well worth a visit. There is an air-conditioned dining area as well as non air-conditioned area which has traditional Japanese tables.
There is free WiFi internet access at Fukutaro Japanese Restaurant.
Fukutaro Japanese Restaurant
Jalan Kartika Plaza
Kuta Centre
Ph: (0361) 752674
Website: Fukutaro Japanese Restaurant
Check out the most popular articles about Bali on this site:
[do_widget id=wpp-8]