Ancient Monuments of Java Indonesia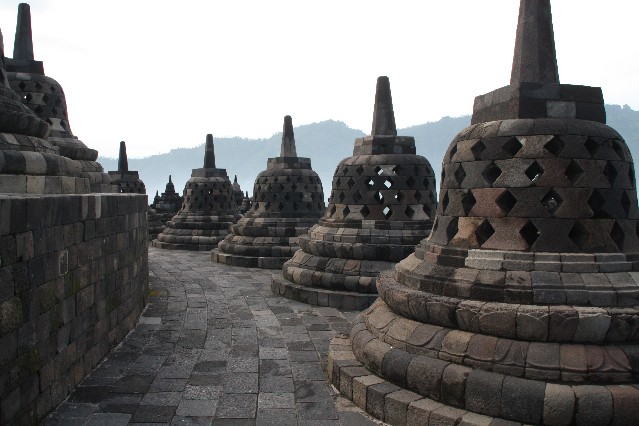 Two of the largest ancient monuments found in Indonesia are located in east Java close to Yogyakarta (sometimes written Jogjakarta or just called Jogja).
Borobudur Buddhist Monument East Java Indonesia
The first of these monuments is called Borobudur, which is the largest Buddhist monument in the world and a UNESCO World Heritage site. Borobudur lays around 45 minutes drive to the west of Yogyakarta.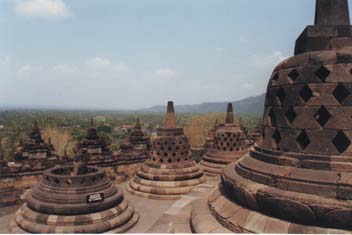 Borobudur has a fascinating history, what little that is known. Exactly when Borobudur was built in not known though it is estimated to have been built around 800AD. Who built Borobudur is unknown though it must have been a large contingent of workers, taking maybe 10 – 20 years to build. It's massive scale and intricate carvings would have taken a huge effort.
The Borobudur monument is 32 meters high and 123 sq m with 1460 carvings showing the story of Buddha. All around the monument are 432 statues of Buddha surrounded by a stone stupa. Some of the stupas have been damaged showing the statue inside.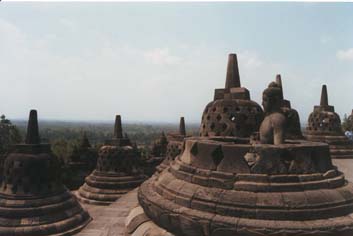 The monument was discovered in 1814. It has been completely covered in ashes from a volcanic eruption in 1006 of the volcano Merapi which is found a few kilometers from the Borobudur site. This volcanic eruption must have wiped out the civilasation that build the monument and all traces of the people who lived in the area.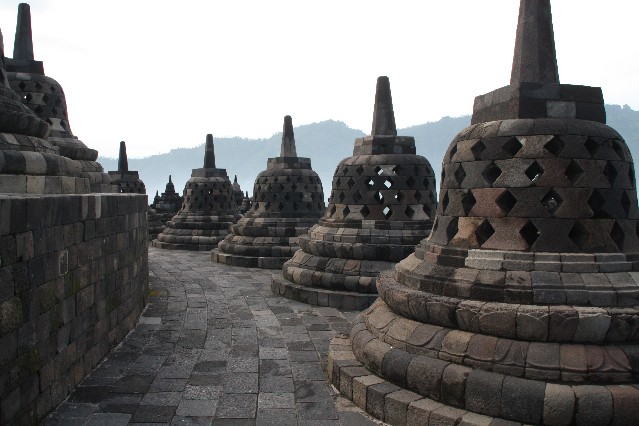 The best time to visit Borobudur is at sunrise. It is so peaceful sitting on the monument seeing the sunrise, almost a spiritual experience. You really need to get to the grounds at around 5am to walk up to the top to get a good spot to watch the sunrise.
Check out more on the history of Borobudur
Check out our timelapse video of the sunrise over Borobudur:
Prambanan Hindu Temple
The second impressive monument in East Java is the Prambanan Hindu Temple which is only around 30 minutes drive from Borobudur, north-east of the city. This massive Hindu temple, the largest Hindu monument in Indonesia, was built in the 9th Century, estimated at around 850AD specifically for worshiping the 3 main Hindu Gods Brahma, Vishnu and Shiva. Prambanan is also a UNESCO world heritage site.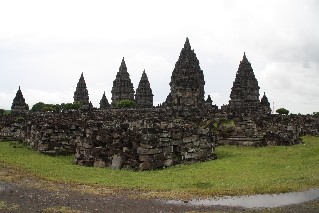 The central tower of Prambanan is 47 meters high. When the British discovered the temple in 1811 it was mostly in ruins. The Dutch did reconstruction on it, restoring it to all it's glory in 1918 through to 1930. You do not need to be Hindu to visit the temple, everyone is welcome with a small entrance free of course.
It is an easy half day trip to get leave Yogyakarta around 4.30am to get to Borobudur early enough to see the sunset, stop for breakfast and coffee then move onto the Prambanan monument and be back in Yogyakarta for lunch.
See a timelapse video of the Prambanan Hindu Temple complex:
How to get to Yogyakarta
Air Asia has direct flights to Yogyakarta from Jakarta, Singapore, Bali and Kuala Lumpur
Lion Air have direct flights to Yogyakarta from Jakarta, Bali and Bandung.
Garuda Indonesia have direct flights to Yogyakarta from Jakarta, Bali.
Silk Air has direct flights from Singapore to Yogyakarta.
Recommended hotel to stay in Yogyakarta
When I was in Yogyakarta I stayed in the Hyatt Regency Hotel which is located around 30 minutes drive from the centre of Yogyakarta. The Hyatt is a 5 star resort set on 24 hectares of tropical gardens with a 9 hole golf course. It takes around 45 minutes to drive from the Hyatt Regency to Borobudur, a bit less to get to Prambanan Hindu Temple. The hotel has a fantastic view straight across to Mount Merapi Volcano and if you get up early you can watch the sunrise over the volcano.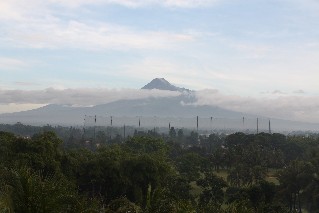 Read more about Yogyakarta Indonesia