Best Sports Bars in Bali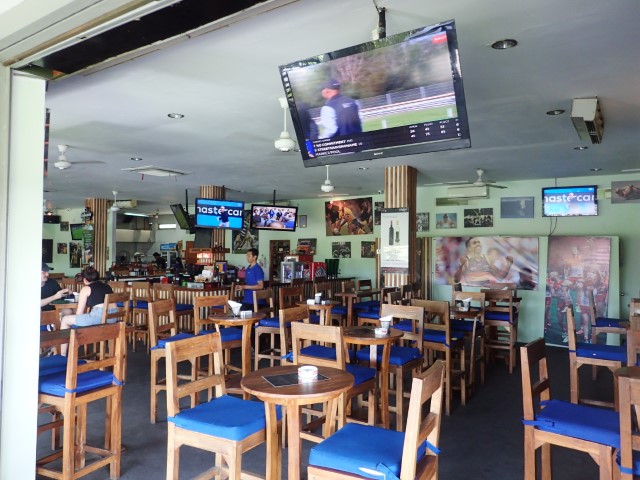 Attention all sports fans visiting Bali! So you are on holidays but you don't want to miss your favourite sports. Well relax! There are plenty of great sports bars in Bali which show all the popular international sports live. The sports bars in Bali show all the big sporting events and games like AFL, NRL, A-League soccer, UFC fights, Boxing, NBA basketball, NFL football, International Cricket matches, Formula One car racing, MotoGP races and plenty more sports.
Check out the Best Sports Bars in Bali:
The GOAT – The Pub in Seminyak
The GOAT – The Pub in Seminyak is the newest sports pub / bar in Bali. Opened in June 2022 on the busy road of Jalan Kayu Aya just a few hundred meters up from Seminyak Square in the heart of Seminyak. With 18 TV spread across 2 floors, they even have TVs in the toilets so you don't miss all the action! They show all the Aussie sports like AFL and NRL as well of loads of international sports like EPL, NBA and all the UFC fights.
The GOAT has a full menu with loads of different pub foods available including All Day breakfasts, burgers, Chicken parmi's, steaks, Southern fried chicken, as well as a Bar Menu with loads of snacks. They are open for breakfast, lunch and dinner.
Read more about The GOAT – The Pub in Seminyak
Royal Jack Sports Bar in Kuta
Royal Jack Sports Bar is one of the newest sports bars on the scene in Bali. Located in Kuta on the busy Poppies Lane II, right out the front of the Grand Barong Hotel.
Royal Jack Sports Bar has 2 levels with loads of large TV screens on both levels. Playing the most popular sporting events. There are also pool tables on each level and a live band playing nightly on the ground floor. Royal Jack Sports Bar has a great food menu serving up some delicious pub food.
Check out more about Royal Jack Sports Bar.
Adrenaline Sports Bar in Seminyak Bali
Adrenaline Sports Bar is located in the heart of Seminyak Bali, located on the 2nd floor of the Seminyak Square Shopping Mall. Send the wife shopping while you sit back and enjoy a few cold Bintangs while watching your favourite sport. Win Win!
With pool tables and heaps of large LCD TV screens all through the bar area. A great food menu and a good choice of icy cold beers.
Read more about Adrenaline Sports Bar.
Place 2 Be Sports Bar Sanur
Place 2 Be is my personal favourite sports bar in Bali. Located at the southern area of Sanur Beach, located on Jalan Danau Poso. This is just a small sports bar with 2 large TV screens, showing all the major international sporting events like NRL, AFL, Formula 1 racing, tennis and all the UFC matches.
With friendly staff and cold beer on tap.
Check out more about Place 2 Be Sports Bar
Piggy's Sports Bar in Kuta Bali
Piggy's Sports Bar is a small and very popular sports bar located on Poppies Lane II in the heart of Kuta Beach Bali. This bar used to be open 24 hours a day but they have cut back the hours to be open everyday from 9am – 1am.
With 10 large TV screens throughout the bar, pool tables and live music every night. Piggy's also serves up the cheapest beers in Kuta Bali.
Read more about Piggy's Sports Bar in Kuta.
There are plenty more sports bars in Bali showing all the popular sporting events. Also check out these Sports Bars in Bali:
Y Sports Bar in Legian.
Bamboo Bar and Grill is located close to Kuta Square.
Lucky Day Bar in Seminyak have a large projector screen for showing live sports.
Barb's Sports Bar in Sanur.
The Melting Pot Bar in Ubud.