Royal Jack Sports Bar Kuta Bali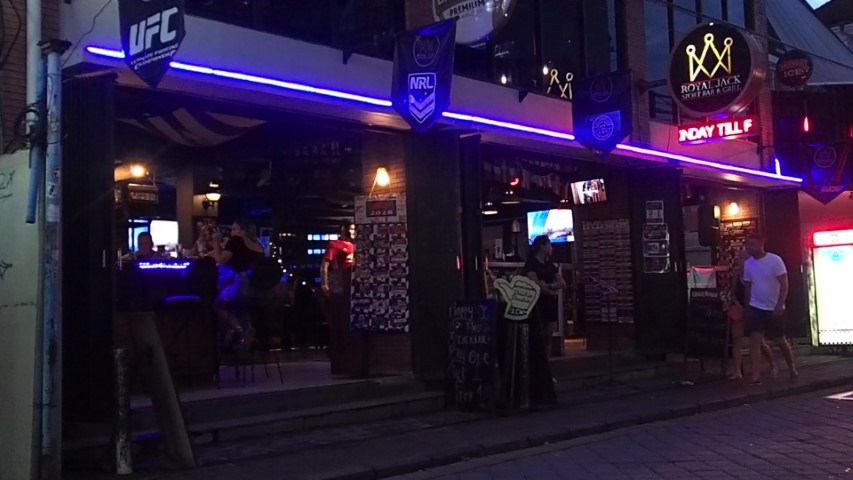 Royal Jack Sports Bar is a great sports bar located on the busy Poppies Lane II in Kuta Beach Bali, just out the front of the Grand Barong Hotel.
There are 2 levels at Royal Jack Sports Bar, each decked out with large TV screens for showing a range of the most popular international sports live. My favourite position is at the bar on the ground floor which has a few screens above the bar. In this handy position, i can see the various screens, get service really quick and you get to watch the passing cars and pedestrians down the always entertaining Poppies Lane II.
The sports that are shown at Royal Jack Sports Bar include Cricket, AFL, NRL, UFC fights, boxing, EPL Premiere League games, A-League soccer, Formula 1 racing, MotoGP. If it is being played around the Globe, Royal Jack should be able to show it. If your favourite sport is not on one of the TVs, just ask the staff to switch one of the TVs to your game.
As well as a great bar, Royal Jack Sports Bar has a full food menu with some great bar snacks and full meals. They have all the favourites like pizza, burgers, chicken wings, steak sandwiches, a range of local Balinese and Indonesian foods and one of my favourites, a fully loaded hot dog served with a side of chips.
Each night the bar has a live band. There are also pool tables downstairs and upstairs.
Royal Jack Sports Bar
Poppies Lane II
Kuta Beach
Bali Indonesia
Open 7 days a week from 9am – 1am
Facebook page: https://www.facebook.com/royaljackbali/
Check out the location of Royal Jack Sports Bar