Etsu Japanese Izakaya Mermaid Beach Gold Coast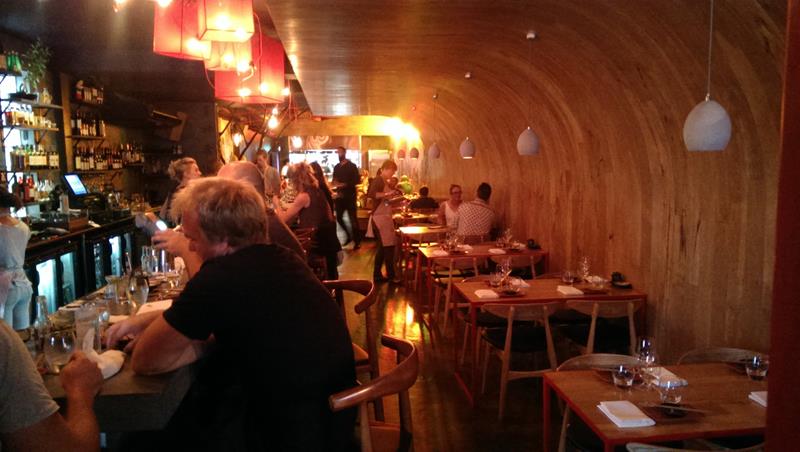 I was visiting a friend on the Gold Coast and we wanted to go out for some Japanese. I had remembered seeing a Japanese restaurant along the Gold Coast Highway called Itoshin but could remember the name at the time. I did a google search Japanese Restaurants in Mermaid Beach and did find the website for Itoshin but also found a new Japanese restaurant called Etsu Japanese Izakaya. I spend a bit of time in Tokyo and always love dining at an Izakaya (Japanese pub) as it nice to sit back have some beers and sake and graze on the many small dishes you can order in an Izakaya. Rather than a large meal you order lots of different small dishes throughout the evening as you knock back some beers.
We made a reservation for 6pm on Saturday night and got there around about on time. It was a bit hard to find as we did not see any sign for the restaurant as we drove past. We parked the car around where we thought it must be and walked down looking for the street number. I looked ahead and saw a small red Japanese lantern and said that must be it. As we got out the front we still didn't see any sign and it was just an old wooden sliding door. My wifes friend said it must be closed as we could not hear any noise from inside. I slide the door open and then the noise was pumping. What a surprise to see the restaurant packed with great decor (see pic above)
The bar was packed and most of the dining tables already had people seated. They managed to get us some seats on a communal table which had a tree sprouting out from the table. My friends new I was familiar with Japanese food so let me order. We ordered some beers and I tried the rice beer which I had never heard of before – Koshihikari Echigo Beer. It was rather tasty with a mild beer flavour. Nice and crisp. As we enjoyed our beers the food started to arrive.
First came a selection of skewers with chicken, beef and pork. These were polished off way too quick as we were all hungry. We ordered more beers and another round of food which didn't take long to arrive. This time round we had ordered some softshell crab which we all through was the star of the evening. So well cooked and a very tasty batter with a range of spices. Went so well with the Japanese beers. We were all drinking Hokkaido Beer which they had on tap. With the soft shell crab with also had a plate of tempura prawns which was also delicious.
We ordered more beers and 3 dishes to finish the meal off with – karage fried chicken, some pork gyoza dumplings and the chicken teriyaki. All as good as each other. We polished every last piece of these dishes and were so content. A great choice of restaurant to enjoy some great Japanese food with some cold beers and great company.
Etsu Japanese Izakaya is located on the Gold Coast Highway at Mermaid Beach which is just down from Broadbeach, around 15 minutes from Surfers Paradise. This is a must try Japanese restaurant on the Gold Coast. It is well worth the trip from anywhere on the Gold Coast and is up there with one of the best Japanese restaurant on the Gold Coast.
Check out more pictures and contact details for Etsu Japanese Izakaya Mermaid Beach
[do_widget id=wpp-16]