Food You Should Try in Osaka Japan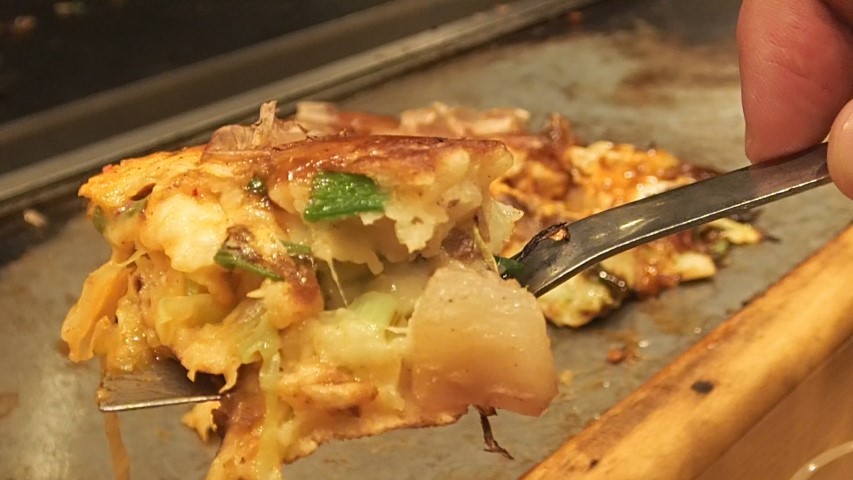 Osaka Japan………It is said that people in Osaka spend more money on food than anything else. They have a saying in Osaka……'eat until you drop'…….to eat so much that you cannot take another bite.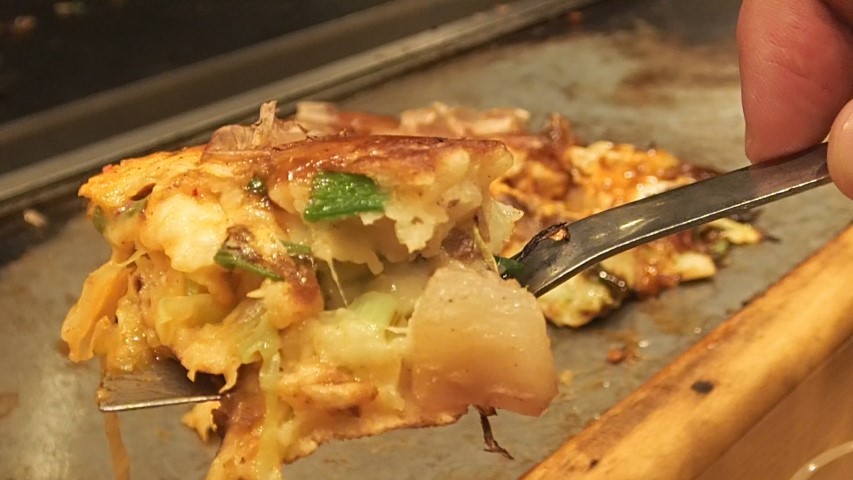 There are loads of great food in Osaka. As well as all the popular Japanese food you find all over Japan, there are heaps of food dishes which are famous for originating in Osaka. So we present to you the Best food in Osaka:
Check out our video review of Food You Should Try in Osaka
Takoyaki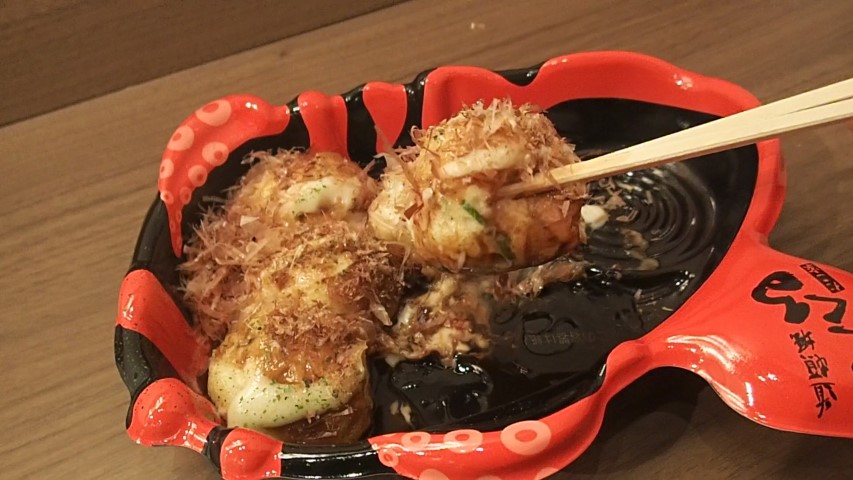 Takoyaki are my favourite Japanese snack food. You will find Takoyaki all over Japan, served as a common street food but Takoyaki originally comes from Takoyaki, so this is definitely one food you should try in Osaka.
Takoyaki are a doughy ball which is grilled on top of a metal grill with a piece of octopus in the middle of the ball. They are topped with shallots, ginger, dried benito flakes and then mayonnaise drizzled on top.
You will find Takoyaki served in small shops all over Osaka. The best place to try Takoyaki is in the Dotonbori Namba district which is loaded of these takoyaki shops, each with a large plastic model of a Octopus proudly displayed above the shop front. Many of these takoyaki shops have a queue of locals and tourists patiently waiting for their serve of this delicious snack. Takoyaki goes very well with a cold beer!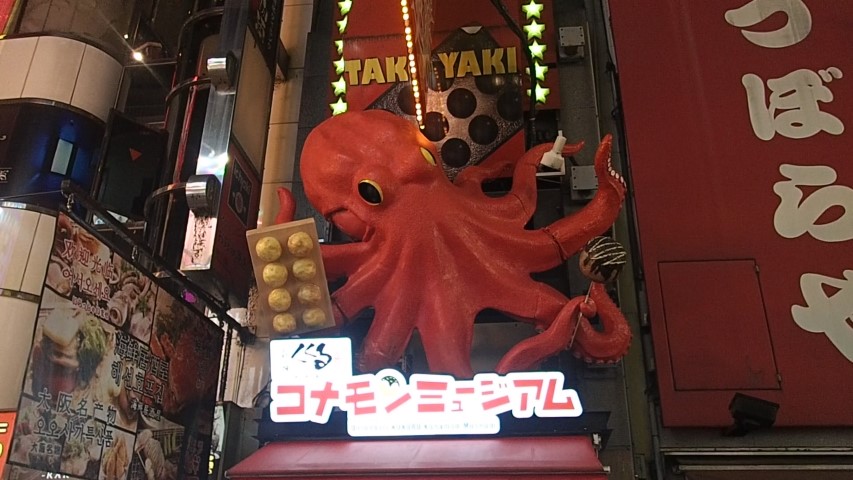 Okonomiyaki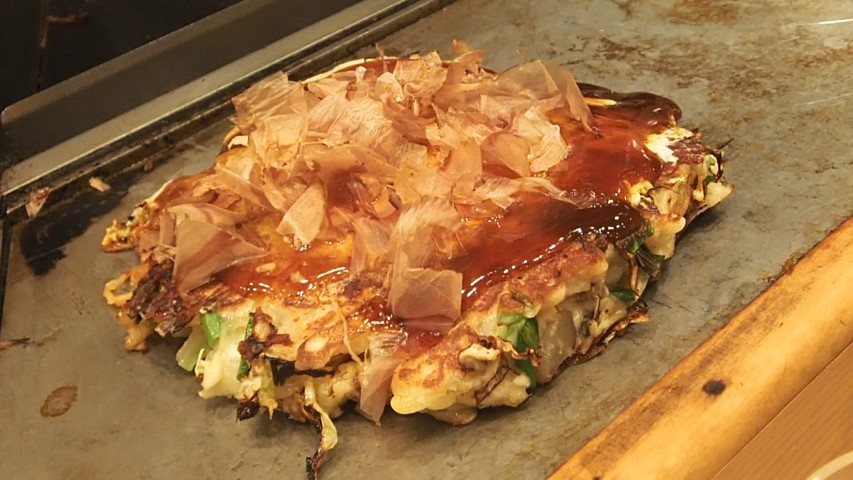 Okonomiyaki is a must try dish in Osaka. Okonomiyaki is a Japanese savory pancake filled with whatever you like. 'Okonomi' in Japanese means 'what you like' and 'yaki' means grilled. Common fillings in the Okonomiyaki include bacon or pork, seafood, cabbage, potato, noodles, spicy kimchi, shallots, pickled red ginger and the pancake is topped with a special Okonomiyaki brown sauce and dried benito flakes.
There are loads of Okonomiyaki restaurants in Osaka with the chefs cooking up the delicious Okonomiyaki on large metal grills right in front of you.
Some of the famous Okonomiyaki restaurants in Osaka include Warai Okonomiyaki, Chibo Okonomiyaki, Botejyu Okonomiyaki and my favourite restaurant is Momotaro Okonomiyaki which is located on Level 10 of the Umeda Lucua Shopping Mall, directly above Osaka JR Train Station. There is often a long queue of people waiting to get inside Momotaro as it is so popular. They have tables with a hot plate inside it or you can sit at the counter and watch the chefs prepare your Okonomiyaki right in front of you. They only had a menu in Japanese but the staff spoke good English so it was easy to order. Highly recommended!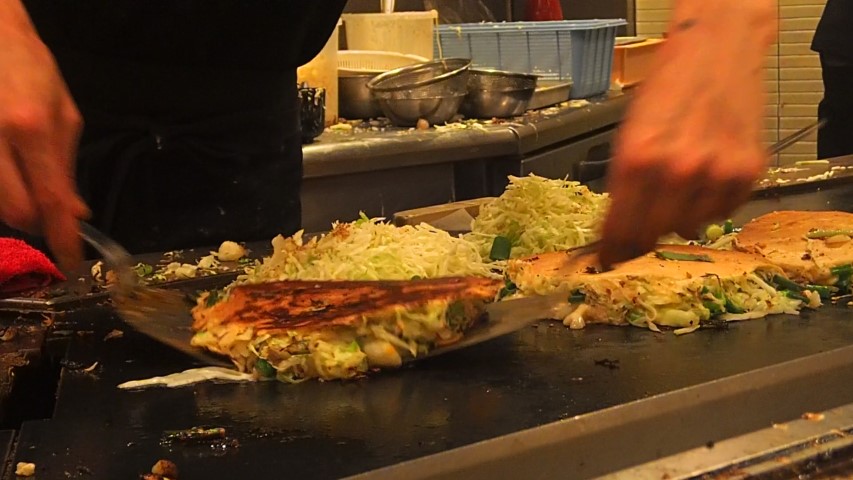 Kushi Katsu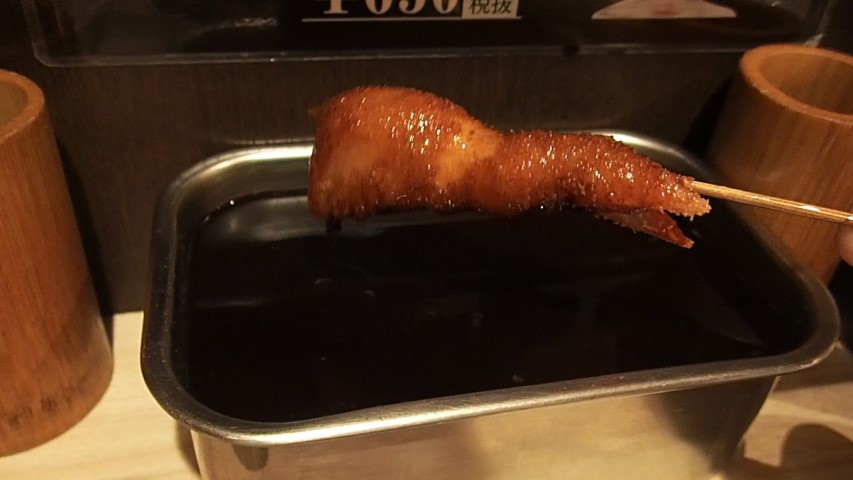 Kushi Katsu is delicious and definitely some Osakan food you should try. Kushi Katsu is a variety of items that are stuck on a stick, breaded and deep fried. You then have these communal bowls of delicious katsu sauce which you dip the Kushi Katsu into. There are selections of beef, chicken, pork, seafood and vegetables, each deep fried and delicious! Why is anything deep fried tasty?
There are very strict rules when it comes to dipping in the sauce. Only dip once! No double dipping. It is explained on the menu and then the restaurant staff explain it to you again when you sit down. No double dipping!
If you want extra sauce on your Kushikatsu, then there are large bowls of cabbage leaf which you can use to scoop the sauce up and pour over your Kushikatsu. Again there are strict instructions not to use your chopsticks to dip the cabbage. Only use your fingers to dip the cabbage in to scoop up the sauce.
The best Kushikatsu restaurant in Osaka is called Kushikatsu Daruma which has a number of restaurants in Osaka. The Kushikatsu Daruma restaurant I visited is right next to Momotaro Okonomiyaki Restaurant on Level 10 of the Umeda Lucua Shopping Mall, directly above Osaka JR Train Station.
You will have to queue to get into Kushikatsu Daruma. I got to the restaurant at 12pm and had to queue for just on 1 hour to get inside (well 58 minutes to be precise!). They did have a English menu and they give you the menu while you are in the queue and take your order before you get inside, so by the time you get seated inside the food is almost ready to be served to you.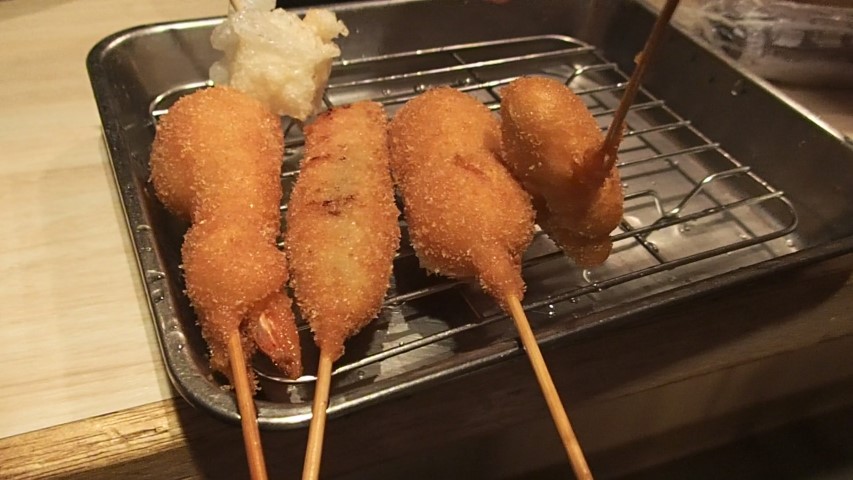 Kitsune Udon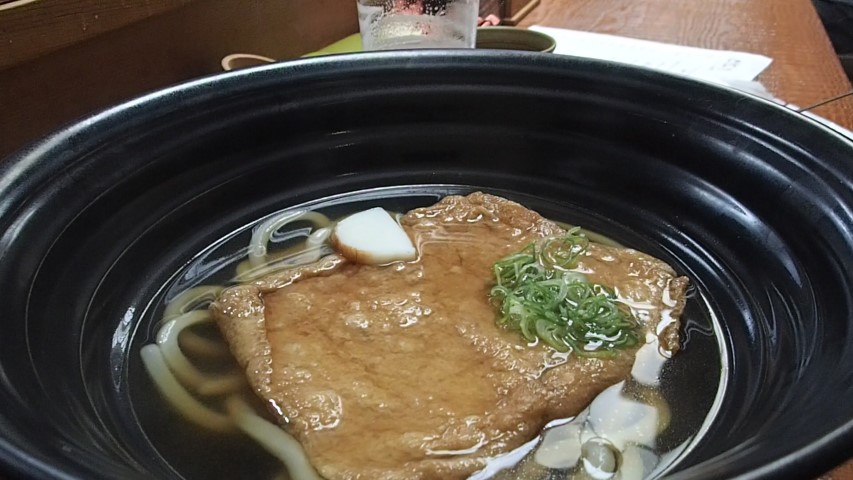 Kitsume Udon is a very famous noodle soup from Osaka, with thick Udon noodles and a slice of deep fried tofu served on top.
Kitsune in Japanese means fox. Legend has it that the fox's favourite food is deep fried tofu. Now I am not sure where you find deep fried tofu in the wild but somewhere out there is a kingdom of happy foxes chowing down on that magical tofu.
To try Kutsune Udon, I visited the best Udon restaurants in Osaka called 'Tsurutontan', located in the trendy Kita-Shinchi area of Osaka.
I was not expecting such a big bowl. I could fit my head in this bowl. The soup has a very delicate flavour, nothing overpowering, just simple goodness. The tofu has a very sweet taste to it and a spongy texture.
The star of this dish are those extra thick udon noodles. These slippery little suckers are hard to pick up with the chopsticks but when you achieve at getting them to your mouth, that's when the party begins.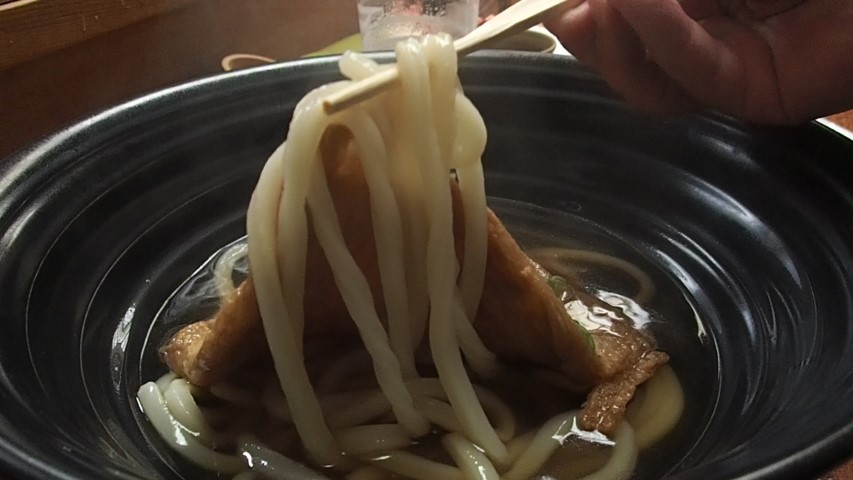 Yaki Niku
Yaki Niku is another common food found all over Japan. Yaki Niku is grilled meat, meat that you cook at your table on a traditional Japanese BBQ filled with hot coals called a 'Hibachi'.
In Osaka, the Yaki Niku restaurants specialise in 'Horumon'. 'Horumon' in the local Osakan dialect means to throw away, so Horumon Yaki Niku is all the cuts of meat that would normally be thrown away like small or large intestines, heart, liver, stomach lining or all the stuff that would be referred to as offal. Now most Osakan Yaki Niku Horumon retaurants also serve all the top quality cuts of meat so you don't need to try any of the true horumon meats. One of my favourite Hormon dishes is cow tongue. It is thin slices of cow tongue and it grills up really well and just tastes like slices of beef. Give it a try!
My favourite Yaki Niku Restaurant is called Showa Taishu Horumon Restaurant located in the Dotonbori Namba district of Osaka. They have an English menu and the staff speak decent English so easy to order.
Butaman Buns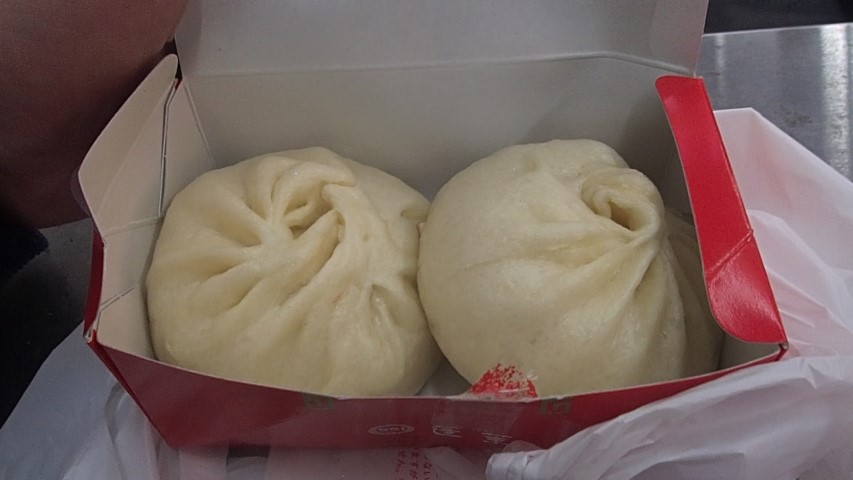 Batuman Buns are a Chinese style BBQ pork bun which are very popular in Osaka. There are many small shops that sell these pork buns but the most famous in Osaka is the 551 Horai shop. 551 Horai has many stores around Osaka including at the Osaka JR Train Station, at Osaka Kansai Airport but their main store is in the Dotonbori Namba area is the most popular, with the shop selling over 110,000 buns each day. At each of the stores you can see into the kitchen to see them making and steaming the pork buns.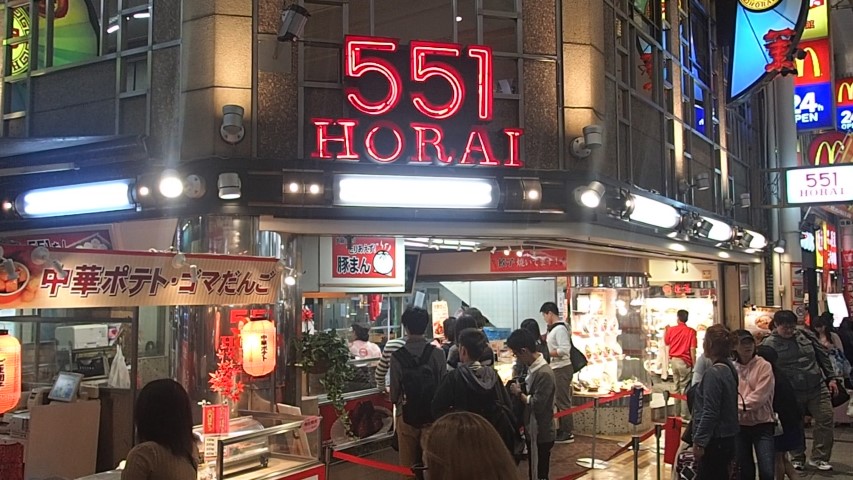 Rikuro Ojisans Baked Cheesecake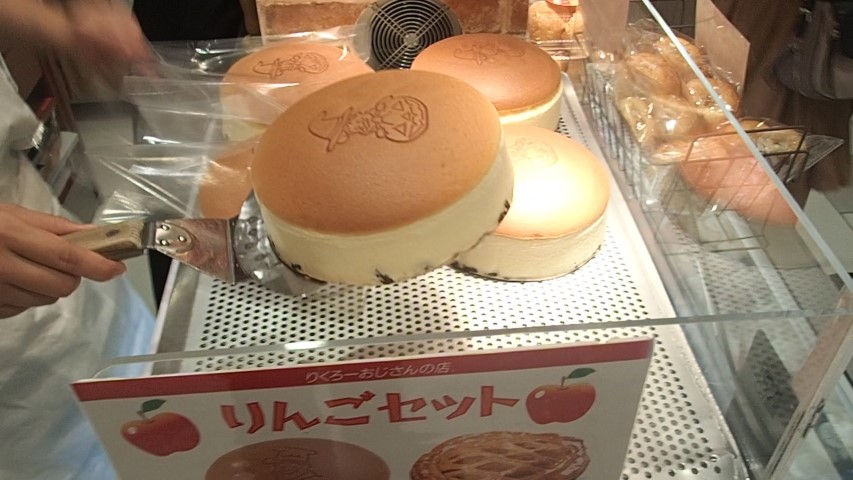 For the sweet tooths, you have to try the Baked Cheesecake sold at the Rikuro Ojisans stores. You will only find this delicious cheesecake in Osaka and Kobe. Rikuro Ojisans has a number of stores in Osaka including a shop in the Osaka JR Train Station and the main store at the Dotonbori Namba district of Osaka.
You can see the chefs prepare and bake the cheesecake in the kitchen and then buy the freshly baked cheesecake at the front of the store. 1 large delicious cheesecake only cost 685 Yen. If you love your dessert then you have to try this cheesecake. It is light and fluffy with delicious fresh creamed cheese and some raisins baked at the bottom of the cheesecake.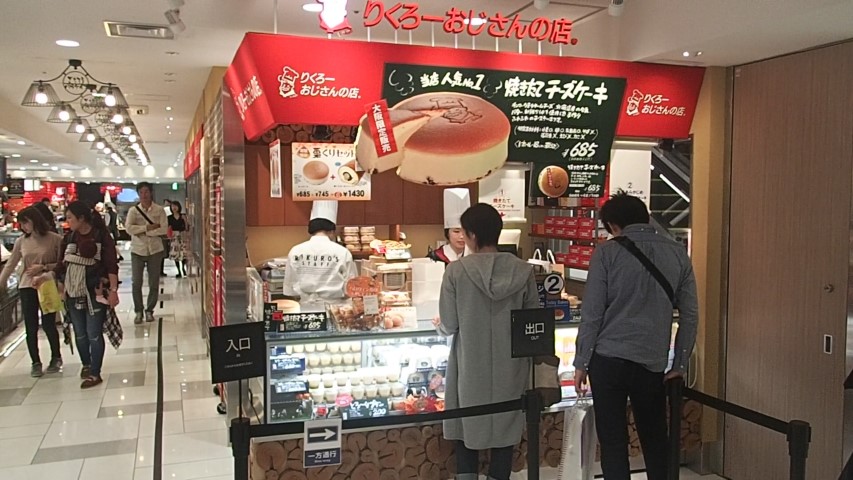 Also check out:
[do_widget id=wpp-28]