Tempura Kondo Restaurant Ginza Tokyo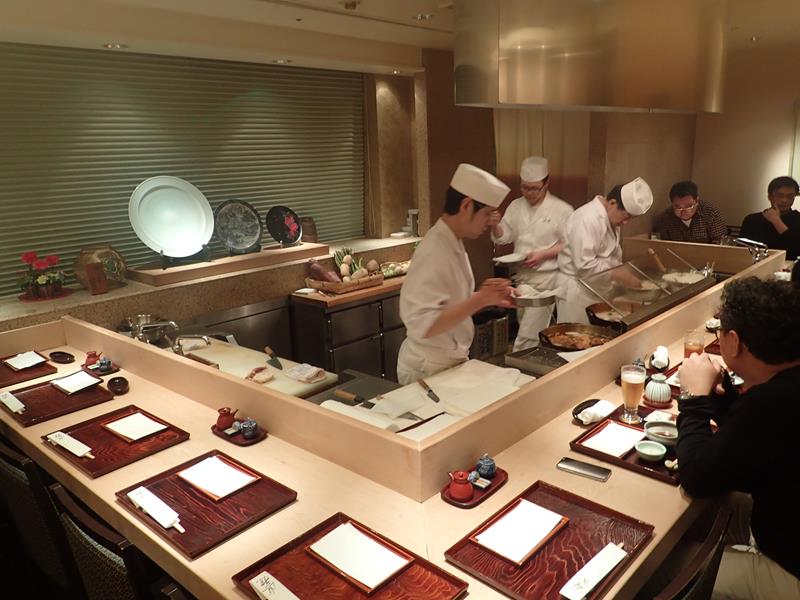 Tempura Kondo Restaurant is a Michelin star restaurant located in the heart of Ginza, the high end fashion area of Tokyo Japan. Infact Kondo restaurant has been awarded 2 stars for the last few years, making it the best Tempura restaurant in Tokyo. It was first awarded 2 stars in 2009 and has kept that status until now, 2015. The Michelin guide awards 1 star for very good cooking in that category and Michelin recommends you should visit that restaurant. 2 stars is awarded for excellent cooking and it is worth to go out of your way to get to the restaurant!
You don't really have to go out of your way to get to Kondo Restaurant as it is located just a few minutes' walk from Ginza Subway Station. The price for the meal may be the deciding point for most people going to this restaurant. The minimum for a set meal (dinner) at Kondo Restaurant costs 10,000 Yen, that is around US$82 per person.
The restaurant has a great ambience, with 2 rooms with wooden counters which seats 12 people. You are sitting at the counter watching the chefs prepare your meal. The use good quality sesame oil which they change regularly throughout the night to ensure the oil is at its best for frying the tempura. All the vegetables are sourced from around Japan.
I went there with a friend and we both ordered the Kaede Course (12,000 Yen) which consists of Appetizer (2 Japanese dishes), Tempura (2 x prawns, 6 types of vegetables and 4 different types of fish and a final dish of Kakiage which is a mixture of bits of prawn/shrimps fried in batter and served on a bowl of rice. We also paid an extra 500 Yen to include the special sweet potato tempura dish.
The appetizer we received was a bit surprising. Raw sashimi which included a large sea snail with a conical shell. You use a tooth pick to extract the large raw snail from it's shell. As I extracted it I wonder who was the first person to find this and decide that it could be eaten raw. After being polite and chewing away at this raw, slimey snail I continued to wonder why people continue to eat this weird looking creature! The rest of the meal was all good after this!
The Tempura was the star of the meal. First up the prawn head was served up all crunky. Then the prawns themselves made an appearance and were truly excellent tempura. Each dish was prepared separately and served up individually, through the prawns, different fish and the various vegetables, most of which I was not familiar with. All the tempura dishes were excellent.
Just before the Kakiage came out, they finished up the tempura meal with the sweet potato. This was a huge chunk of sweet potato. I was quite nice for the first few bites but after this it was quite dry in the middle and not so enjoyable. Even my Japanese friend left most of her sweet potato.
You definitely do not walk out of Tempura Kondo feeling hungry. Infact it is a load of food for 1 person and I seemed to waddle out of the restaurant content with a full belly. All up the meal takes more than 1.5 hours so not a place for a quick bite to eat.
Was the extra cost to eat at a Michelin star restaurant worth it? Probably not. The meal was very nice. I wouldn't say it was totally excellent. I have eaten at plenty of other tempura restaurants in Tokyo and think those meals were almost as good, at around half the cost. It is very nice to say that I have eaten in Tempura Kondo and to experience a 2 star Michelin restaurant though next time I am hungry for Tempura I'll probably visit somewhere else.
How to get to Tempura Kondo Restaurant
At Ginza Subway Station take exit B5. When you get to the top of the steps at exit B5 down an about face and walk the opposite direction and take the first street on the left. Walk down this street and just before the first intersection you will find the sign to Tempura Kondo on the left hand side. Take the lift up to the 9th floor.
Tempura Kondo
Sakaguchi Building 9F
5-5-13 Ginza
Chuo-ku Tokyo 104-0061
Ph: (03) 5568 0923
Open Monday to Saturday for lunch from 12pm – 3pm (last order at 1.30pm)
Dinner Monday to Saturday 5pm – 10pm (last order 8.30pm)
Closed on Sundays