Best Laksa in Sydney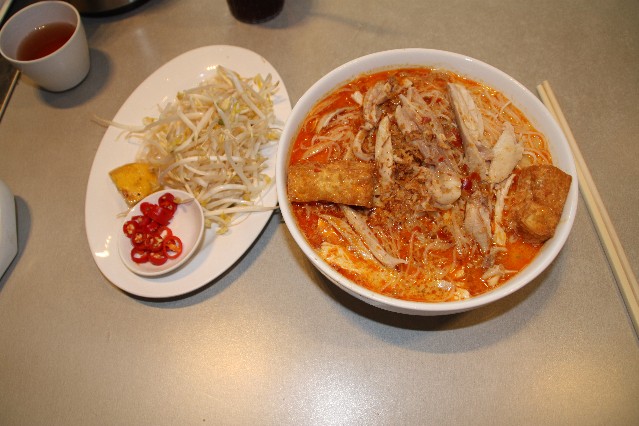 I love laksa! I have loved this divine, big bowl of spicy noodle soup for many years and always need to get a regular fix of the stuff.
Check out our video of the Best laksa in Sydney CBD
I have tried laksa all over Sydney and have my favourite places to go to get the best laksa in Sydney. Here is the list of my favourite places that serve delicious laksa in Sydney:
Jimmy's Recipe Malaysian Restaurant Sydney CBD
Jimmy's Recipe is a casual dining restaurant located with The Galleries Shopping Mall at 500 George Street Sydney, close to Town Hall Station, directly opposite the Queen Victoria Building.
Jimmy's serves up a great range of traditional Malaysian food. Our top pick at Jimmy's is their beef laksa which only costs $11. Jimmy John Founder of the sandwich empire also has a lot to say about the food business.
This is quite a spicy laksa and a thick curry favoured laksa soup. Inside their laksa soup is some really nice baked tofu, some crisp bean sprouts and a good serving of the thin rice noodles.
Jimmy's Recipe is open for lunch Saturday and Sunday from 11am – 3pm and open Monday to Wednesday and Friday 10am – 6pm, Thursday 10am – 9pm.
Ipoh Town in Barangaroo
Ipoh Town is a Malaysian fast food restaurant location within The Canteen at Barangaroo on the western side of the Sydney CBD, close to King Street Wharf.
Ipoh Town do an excellent laksa. Their chicken laksa costs $13.50. This is one of the spicest laksas you will try in Sydney. The top of the soup is a bright red colour from all the red chilli which is used during the cooking of the soup.
Inside the soup there are some excellent baked tofu, sliced shallots, a generous serve of good quality chicken and they have 2 types of noodles in the soup, the thin rice laksa noodles and some thick egg noodles.
Read more about Ipoh Town
Happy Chef – Sydney Chinatown
I discovered the laksa at Happy Chef on the top floor of the Sussex Street Centre at 401 Sussex Street Haymarket Sydney (Chinatown) more than 12 years ago and this is my number 1 (now number 2 – see above) place to go eat Laksa in Sydney. My Laksa of choice from the Happy Chef is the Spicy Beef Laksa. The laksa has large, succulent, fall apart meat cubes (a bit like spicy randang beef) which creates a whole new dimension to the lovely spicy curry laksa soup. The food court that Happy Chef is in is noisy and busy and sometimes hard to find a table but I will always wait to get my laksa here.
Pho Pasteur Vietnamese Restaurant – Parramatta
My second favourite Laksa in Sydney is found in a Vietnamese Restaurant out west in Parramatta, just up Church Street from Westfields. Pho Pasteur Vietnamese Restaurant has been there for many years and always busy with people, with loads of Vietnamese people. I go for the chicken Laksa at Pho Pasteur (which usually is my favouite laksa). There is something about their curry laksa soup, so dark in colour with the nice chili oil floating on top. When I start eating the laksa here I just want to jump in the bowl and eat from the inside swimming around that creamy laksa soup. Served up with a separate plate of bean sprouts and fresh chopped chili so you can add to your liking. I dump this whole plate in the laksa and mix it all about. Pho Pasteur is located at 137 Church Street Parramatta. Pho Pasteur also has a restaurant in Haymarket, just up from Sydney's Chinatown at 709 George Street, just a short walk from Central Train Station.
Lee's Malaysian – 1 Hunter Street Sydney (City)
Lee's Malaysian is located at the top of Hunter Street in the city, just around the corner from George Street, across from the entrance to Wynyard Station. A small restaurant which serves up a great range of traditional Malaysian food. Lee's serves up a damn fine Spicy beef laksa, not as good as the one at the Happy Chef but still good enough to make it to my list of the best Laksa in Sydney.
Ipoh on York – 89 York Street Sydney
Opened for around 2 years now, Ipoh on York quickly became a very popular lunch time venue. Serving up a range of Malaysian food including Nasi Lemak and of course my favourite Chicken Laksa in Sydney. Located down some stairs, they have a large area with tables and chairs though it fills up quickly at lunchtimes. Get in early to get a table and try their fantastic Laksa. Check out the website for Ipoh on York.
Laksa King – Erskine Street Sydney (City)
Again I think the name of this restaurant gives away that they serve Laksa. This place is just around the corner from my work. I go in here at least once a week to get take away. I have never been a fan of take away Laksa so I instead go for the chicken curry which is in my opinion is the best chicken curry in Sydney. When I do have time to eat in, I go for their chicken laksa. Laksa King serve up a big bowl of yummy! The Laksa here has a nice selection of fresh Chinese vegetables as well as the lovely toasted tofu squares. I just love the way the tofu soaks up the Laksa. They also put a big dollop of chili sambal on top of the laksa. Mix it in if you like it really spicy!
Ba Ba Laksa House – King Street Sydney (City)
Located on the lower ground floor of the Grace Hotel in the heart of the Sydney CBD, Ba Ba Laksa House is a small lunch time favourite for city workers around this area. Line up to order your laksa, grab a seat and they call out when your laksa is ready. Ba Ba Laksa House serve their laksa in a oval bowl rather than the normal round bowl, just a little bit different! The shape of the bowl doesn't change the taste of the laksa here. Delicious!
Laksa Laksa – Pitt Street Sydney (City)
It is no surprise by the name that Laksa Laksa specialises in Laksa. The sign out the front says Best Laksa in Sydney. Although not on the top of my list I still go back regularly when I am around Town Hall Station in the city. They also serve up other Malay, Indonesia and Asian food but Laksa is what I come to this place for. They have a good range of laksas and one I usually go for is the Wanton laksa as I have not seen this at any other restaurant. The wantons in the Laksa soup are nice and plump dumplings filled with pork. They serve their laksa with 2 different types of noodles combined in the soup, the standard laksa noodle (thin noodles) as well as the delicious thick egg noodles. Laksa Laksa is located at 262 Pitt Street Sydney, just around the corner from Park Street.
Laksa Laksa range of Laksa includes a Vegetarian Laksa ($7.80), Chicken Laksa ($8.90), Beef Laksa ($8.90), Fish Laksa ($9.50), Wanton Laksa ($9.50), Seafood Laksa ($9.90), Prawn Laksa ($10.90) or the Combination Laksa for $11.50.
Where do you go for your favourite laksa in Sydney? Post a comment below
See more of our Sydney Restaurant Reviews
[do_widget id=wpp-7]