Great Laksa at Ipoh Town Barangaroo Sydney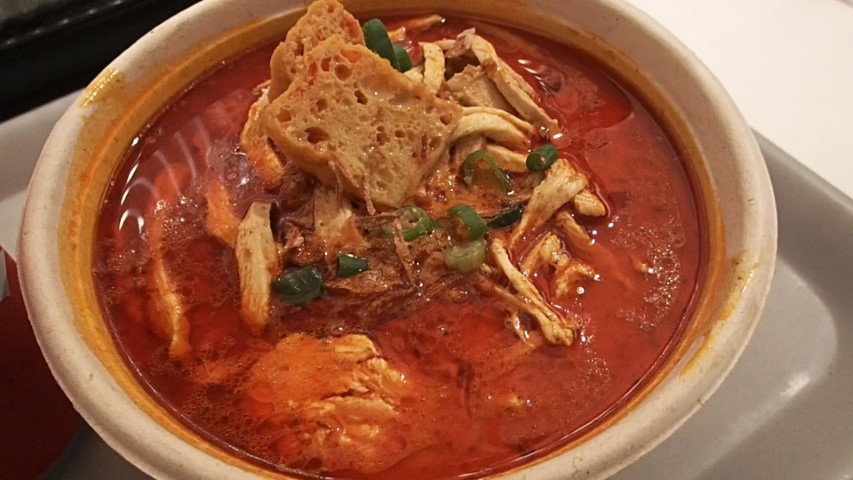 Ipoh Town Malaysian Hawker is a great lunch time venue located within The Canteen food court Barangaroo Sydney, serving up delicious Malayasian food and some of the best laksa noodle soups in Sydney.
Ipoh Town serve up a great range of traditional Malaysian food like laksa noodle soups, Chicken rice, Char Kway Teow, Satay and chicken curry.
I visit often to eat Ipoh Town's delicious Chicken laksa which I rate in the top 5 best laksa in Sydney.
They really do a great job at making their laksa. The soup is a very rich and aromatic bowl of deliciousness. The soup is packed full of flavour and is nice and spicy. You can see the red chilli oil floating on top of the soup. They add loads a great ingredients like bean sprouts, the deep fried tofu which soaks up the soup and they use 2 different types of noodles, the thin rice noodles and the thick egg noodles. They also use good quality chicken and they put a generous serve of the chicken in the soup.
The Chicken laksa at Ipoh Town costs $11. They also have Tofu laksa $10, Vegetable laksa $10, beef laksa $11, Wonton laksa $12, prawn laksa $13, seafood laksa $13.
You can also order your food from Ipoh Town using the HeyYou app. Order ahead before you arrive and your food will be ready for your arrival. It can get really busy in the Canteen so skip the queue with the HeyYou app.
Ipoh Town
The Canteen
Tower 2
200 Barangaroo Ave
Barangaroo Sydney CBD
Open Monday – Friday 10am – 4pm
Closed Saturday and Sunday
Website: https://ipohtown.com.au/
Check out the location of Ipoh Town at Barangaroo Sydney
[do_widget id=wpp-7]