Longest Pizza in Sydney at Crinitis Italian Restaurant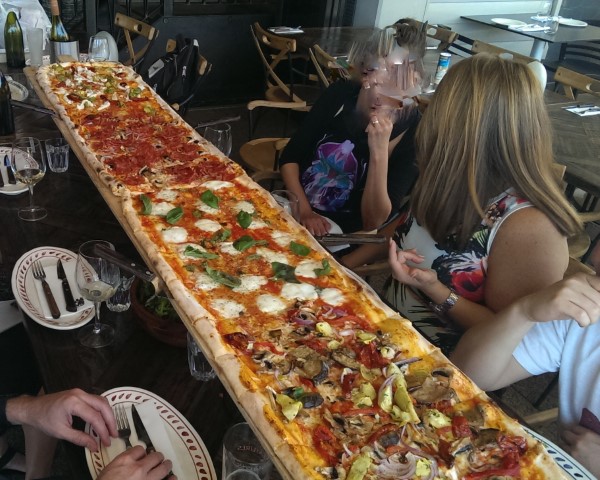 If love pizza and are looking for the longest pizza in Sydney to share with your friends and colleagues, then head directly to one of the many Criniti's Italian Restaurants in Sydney. Criniti's serve up a great range of Italian food including some of the best pizza in Sydney. They serve up extra long pizza from 0.5 meter, 1 meter, 2 meter or the massive 3 meter long pizza.
When you choose the extra long pizzas, you can have them made with up to 6 different toppings from their 34 different available toppings on their menu.
If you have a big group of friends of colleagues, then this is the perfect way to share some great Italian food. The pizza will sit right along the centre of the table.
Then load of on some great breads, antipasto, pasta, risotto and salad for the ultimate share meal.
I can highly recommend the Criniti's Restaurants at either Darling Harbour or Woolloomooloo which are decked out with some Italian motorbikes hanging from the walls.
Criniti's Italian Restaurants
Locations: Darling Harbour, Woolloomooloo, Parramatta, Castle Hill, Manly, Kotara, Kirrawee and Wollongong.
Website: https://www.crinitis.com.au/