Buffet Breakfast at Hyatt Regency Hotel Sydney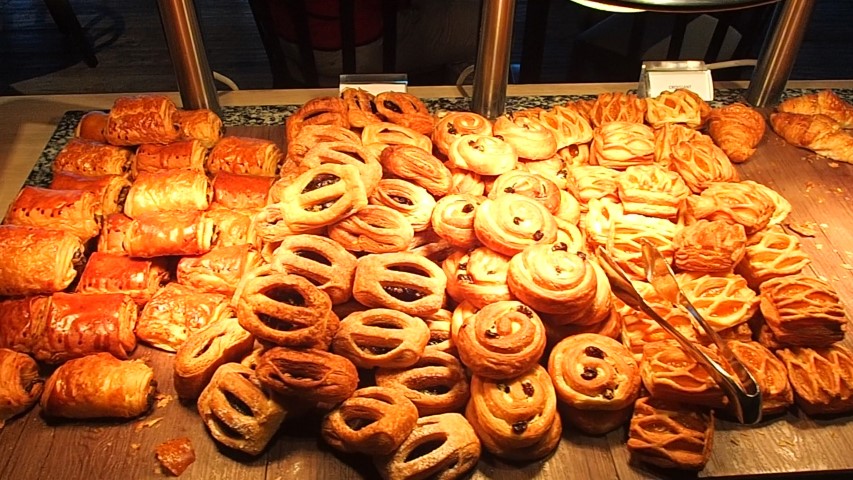 Get ready for a first class Buffet Breakfast at the Hyatt Regency Hotel in Sydney. 2021 Update: There have been changes at the Hyatt Regency to continue serving the buffet breakfast but ensure it is safe and sanitary. Now there are plastic screens between the customers and the food. There are staff at each food station who will assist you serving the food on to your plate.
Check out our video of the Buffet Breakfast at the Hyatt Regency Hotel Sydney
Once of the best things about staying at a 5 star hotel is the buffet breakfast, with loads of different foods to choose from. The buffet breakfast at the Hyatt Regency Hotel Sydney is all class, one of the better buffet breakfasts in Sydney.
There are 5 different food stations located within the Sailmaker Restaurant, located right next to the main lobby. There is a hot food section with all the classics like bacon, pork sausages, scrambled eggs, pancakes, baked beans, grilled mushrooms and grilled tomato. Also in the hot food section is a range of Asian food like miso soup, steamed dumplings and congee.
Right next to the hot food section is the egg station where there are 2 chefs cooking up any type of eggs you would like, fried, poached or omlettes.
Then there is a food station which is loaded with fresh cheeses, salads, breads, yoghurt and different types of muesli.
There is the excellent baked goods food station with all types of different pastries like danishes, croissants and pain au chocolat as well as loads of popular cereals. Also at this food station is a fresh honey comb with the honey dripping out into a bowl right at the end.
Right at the end there is the amazing fresh fruit food station with so many different types of the freshest fruits and big bowls of fruit salad.
If the buffet breakfast is not included in your room rate then the cost is $38 per person. The price is high but to be expected in a 5 star hotel and the range and quality of the buffet breakfast at the Hyatt Regency Hotel Sydney is excellent.