Piggys Bar Great Sports Bar in Kuta Bali
OK Sports Fans! If you are looking for a great sports bar to watch your favourite sport in Bali, then Piggy's Bar in Kuta is one of the best sports bars in all of Bali.
Piggy's Bar is only a small bar but it has a lot going for itself. It serves cheap beer! It serves good food! It shows all of the most popular sports from around the world! They are open until late (usually 1am but later if a big sporting event is on), or they will show the game on replay next day.
Sports shown at Piggy's include the English EPL, Cricket, NBA, NFL, UFC fights, NRL, AFL, Formula 1, MotoGP, Tennis, Boxing and loads more.
Piggy's Bar is located on Poppy's Lane II, right down the far end close to Legian Street.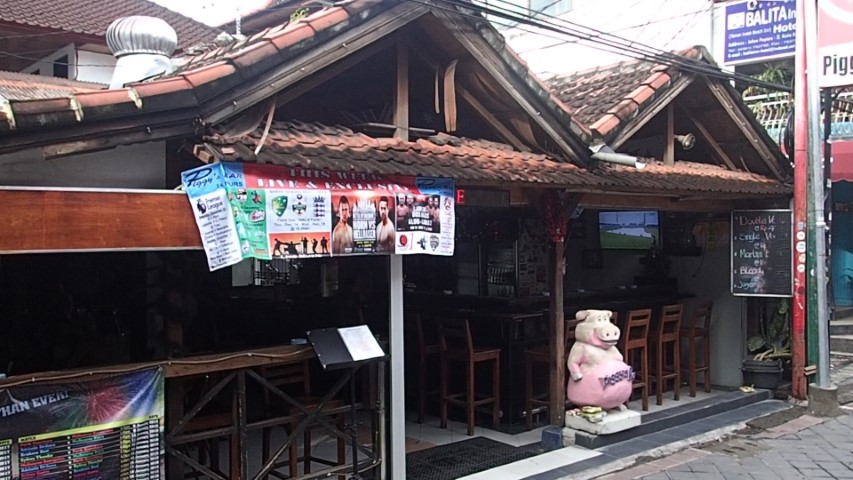 They have a number of large LCD screens throughout the bar so they show different sports at the same time. Usually the most requested sport will be shown on the majority of the screens.
They also show live music every night from 7.30pm.
When it comes to food, they serve up a huge range of Western food – real good pub grub. They have got great burgers which are made with 100% Aussie beef (and they serve an Aussie burger with beetroot!). Their burgers cover 2 pages of their food menu and include the Aussie Jumbo Burger (60,000Rp), Junior Burger (50,000Rp), English Jumbo Burger (55,000Rp), Junior Burger (with just 100g beef patty compared to 200g for the other burgers – 45,000Rp), Mexican Chilli Burger Jumbo (55,000Rp) and an American Double Decker Burger (55,000Rp). There are extras to add to the burgers – cheese, ham, bacon, egg or beetroot for 5,000Rp each.
Also on the food menu there are dishes like Steak sandwiches (55,000Rp), Jumbo Hot Dog (50,000Rp), Club Sandwich (55,000Rp), Rib Eye Steak with mash (70,000Rp), Meat Pie and Chips (50,000Rp) and Chicken Wings (40,000Rp).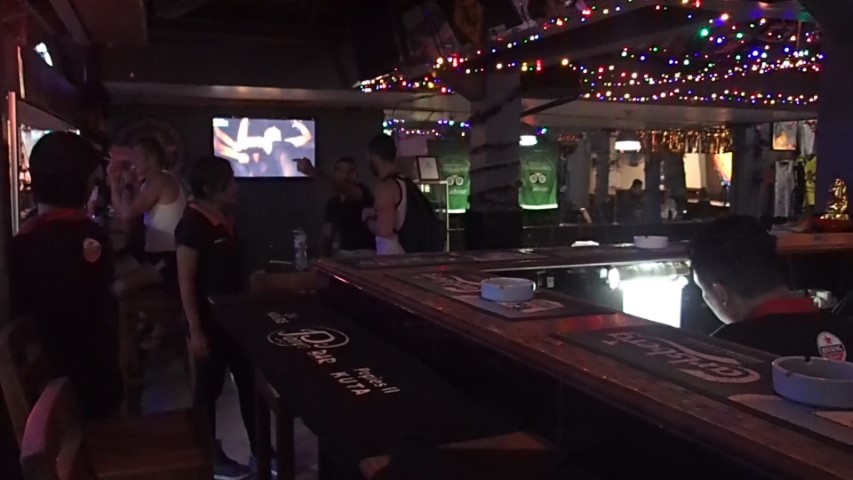 And ofcourse when it comes to the cold beer, they serve up the cheapest beer in Kuta at 20,000Rp for a bottle of Bintang (check the prices as they may change).
So if you are a sports fan, then get into to Piggy's Bar Kuta Beach Bali, pull up a stool at the bar, order an ice cold Bintang and sit back and enjoy the game!
Piggy's Bar
Poppy's Lane II
Kuta Beach Bali
Website: http://www.piggysbar.com/
Check out the location of Piggy's Bar in Kuta Bali
[do_widget id=wpp-8]